This week's gluten-free Healthy Meal Plan includes six nutrient-dense, clean dinner recipes and one delicious dessert! Print out the grocery list to snag all your groceries for the week in one trip!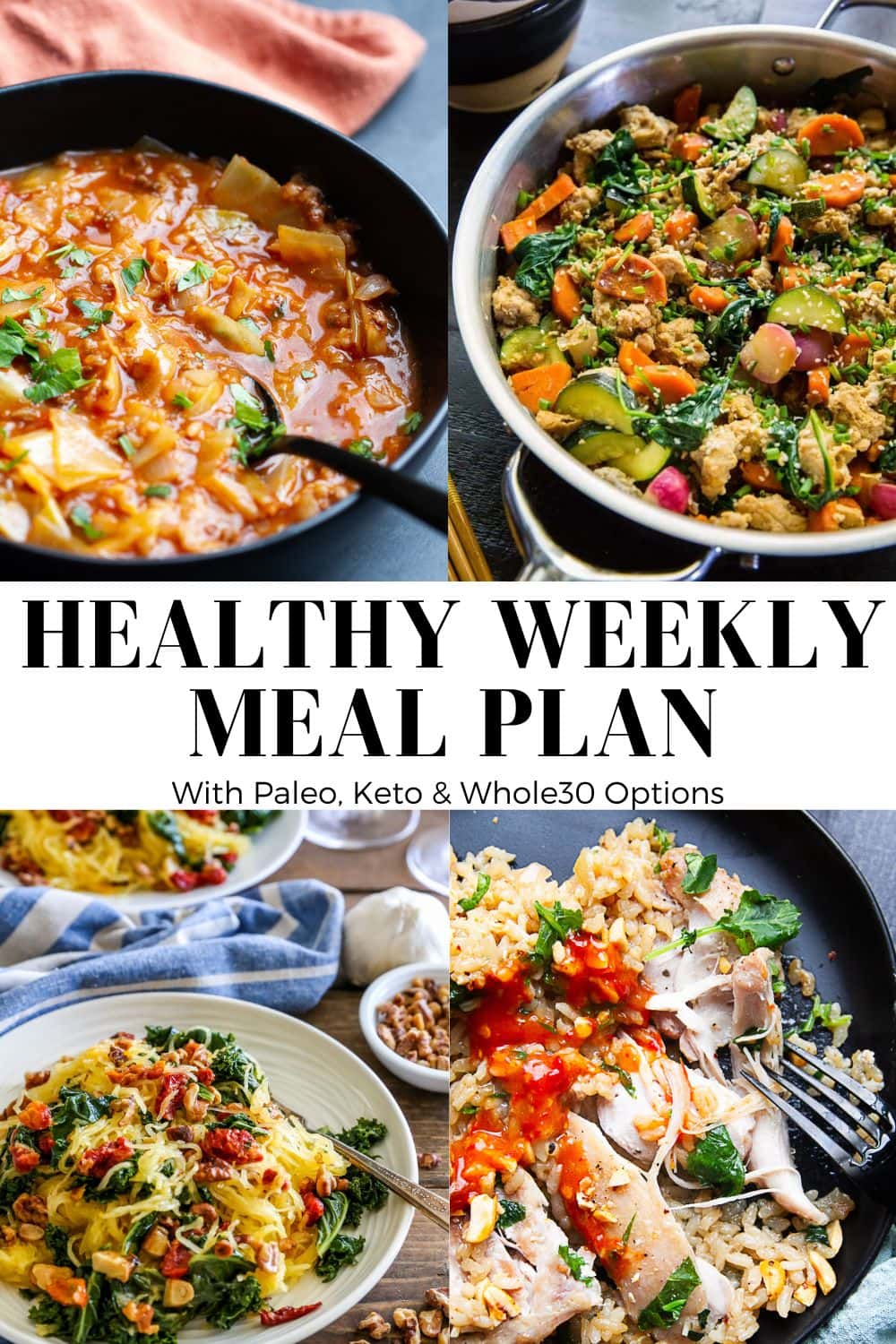 Clean comfort food is the name of the game for this week's meal plan!
From cozy soups, to a meatless entrée, to easy skillet meals, this week's healthy meal plan is full of variety and all sorts of flavor!
Plus, our dessert this week is easy enough to whip up on any night of the week, yet decadent enough to share for special occasions (like Valentine's Day!!).
If you're looking for side dishes to add to any of these meals, I recommend my Roasted Asparagus with Parmesan and Lemon, Rustic Minestrone Soup with Rice and Kale, and Sauteed Brussel Sprouts with Butter and Garlic.
Also, if you didn't catch my Oatmeal Protein Pancakes or my Blueberry Banana Oatmeal Muffins, I recommend them for a tasty healthy weekend treat!
And now for the food! I hope you enjoy this week's meal plan.
As always, let me know if you have any questions or requests. xo
SUNDAY:
Easy Cabbage Roll Soup – This easy & delicious Instant Pot Cabbage Roll Soup has all of the flavors of traditional cabbage rolls with a fraction of the work! Ground beef, tender pieces of cabbage, and a tangy tomato broth combine for an easy weeknight meal that the whole family will love.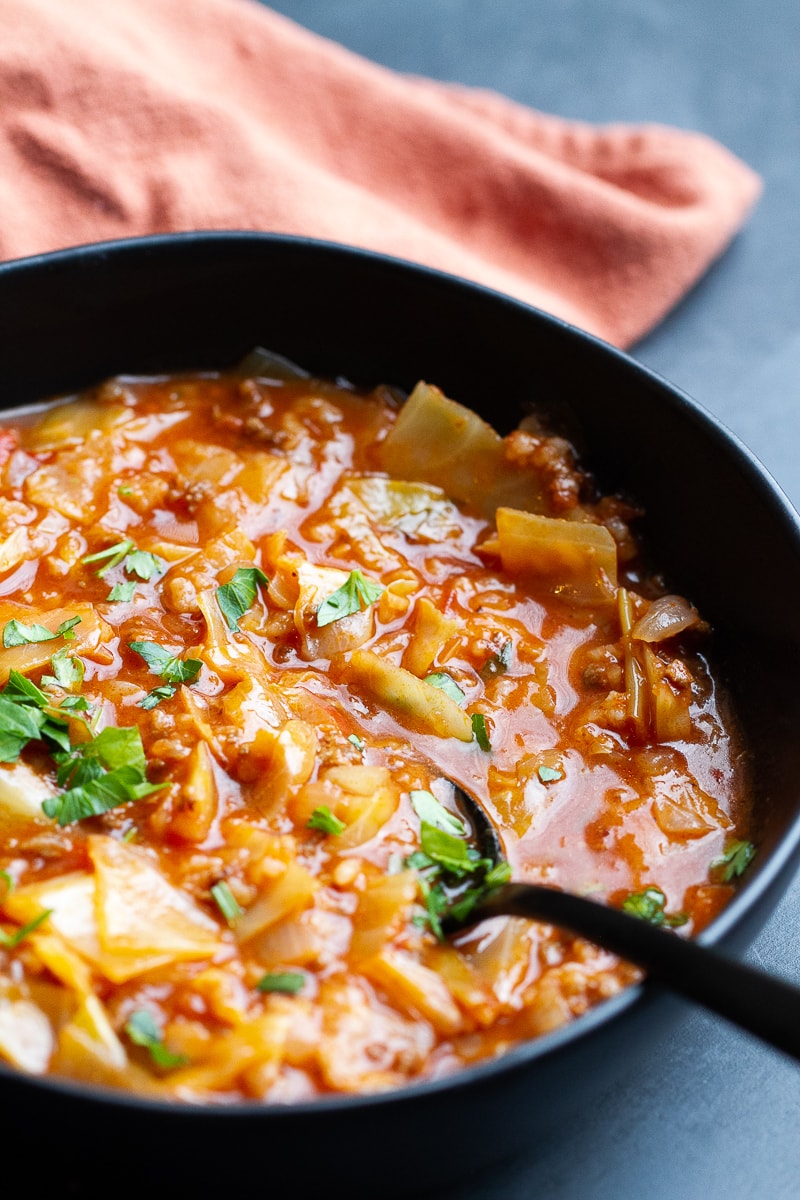 Special Diet: Recipe is gluten free and dairy free. To make it grain-free you can omit the rice as well as a cup of the broth.
Prep Ahead: Cabbage and onion can be chopped ahead of time.
Substitutions/Notes: You can replace the white rice with brown or wild rice, but add COOKED brown or wild rice at the very end of cooking. Quinoa can also be used as a substitute, added when the recipe states.
MONDAY:
Roasted Butternut Squash and Chicken Spinach Salad – A delicious, filling healthy spinach salad with butternut squash, chicken, pecans, apples, golden raisins and cinnamon maple cider vinaigrette. Perfect for fall and winter!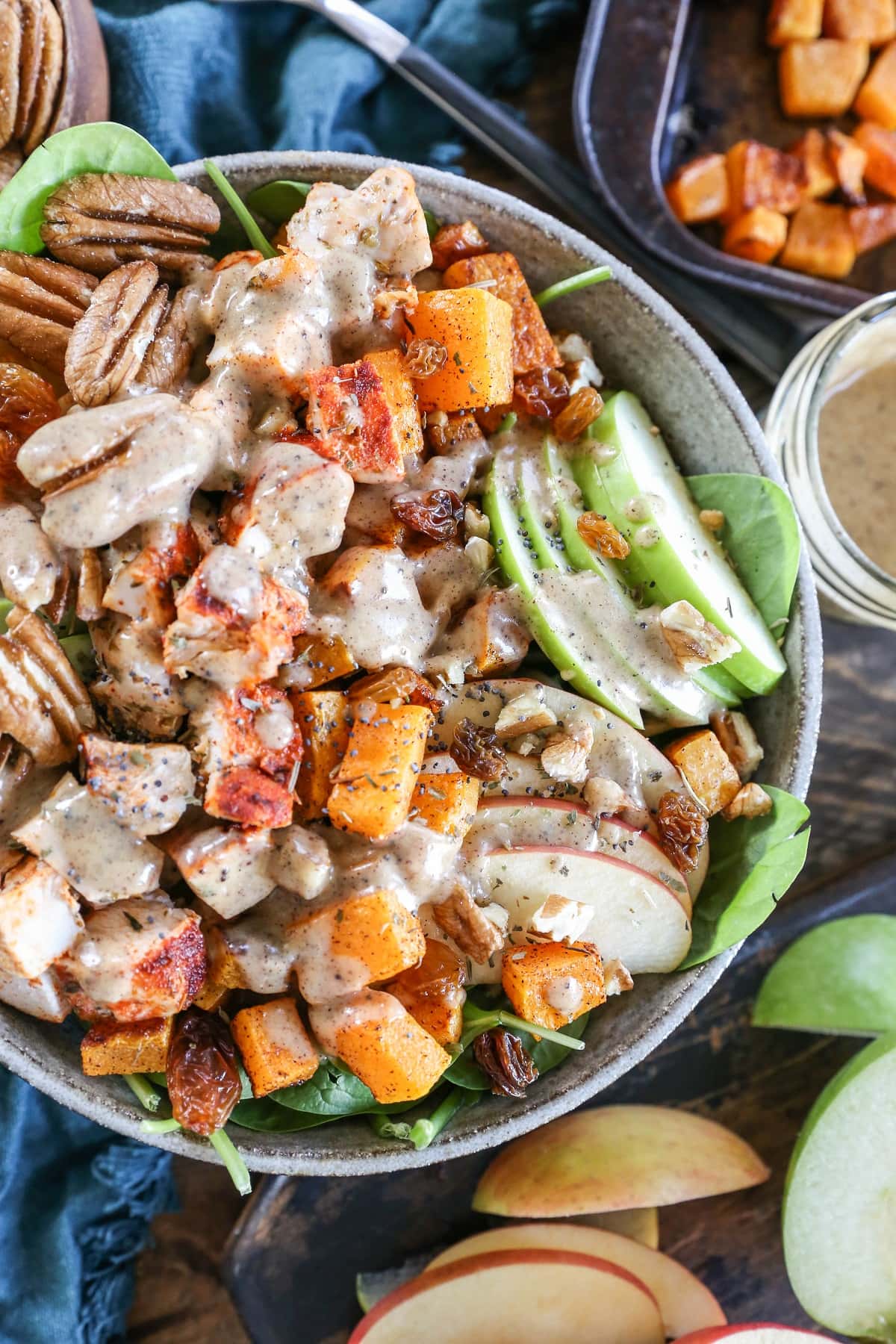 Special Diet Notes: Recipe is paleo! Make it whole30 by omitting the pure maple syrup.
Prep Ahead: The butternut squash and chicken can be roasted up to 3 days ahead of time.
Substitutions/Notes: Use ground beef or chicken instead of turkey if you'd like.
TUESDAY:
One Pan Coconut Chicken & Rice – Tender, juicy chicken thighs are nestled in creamy, savory coconut rice with bits of kale and peanuts for garnish. Ready in 45 minutes!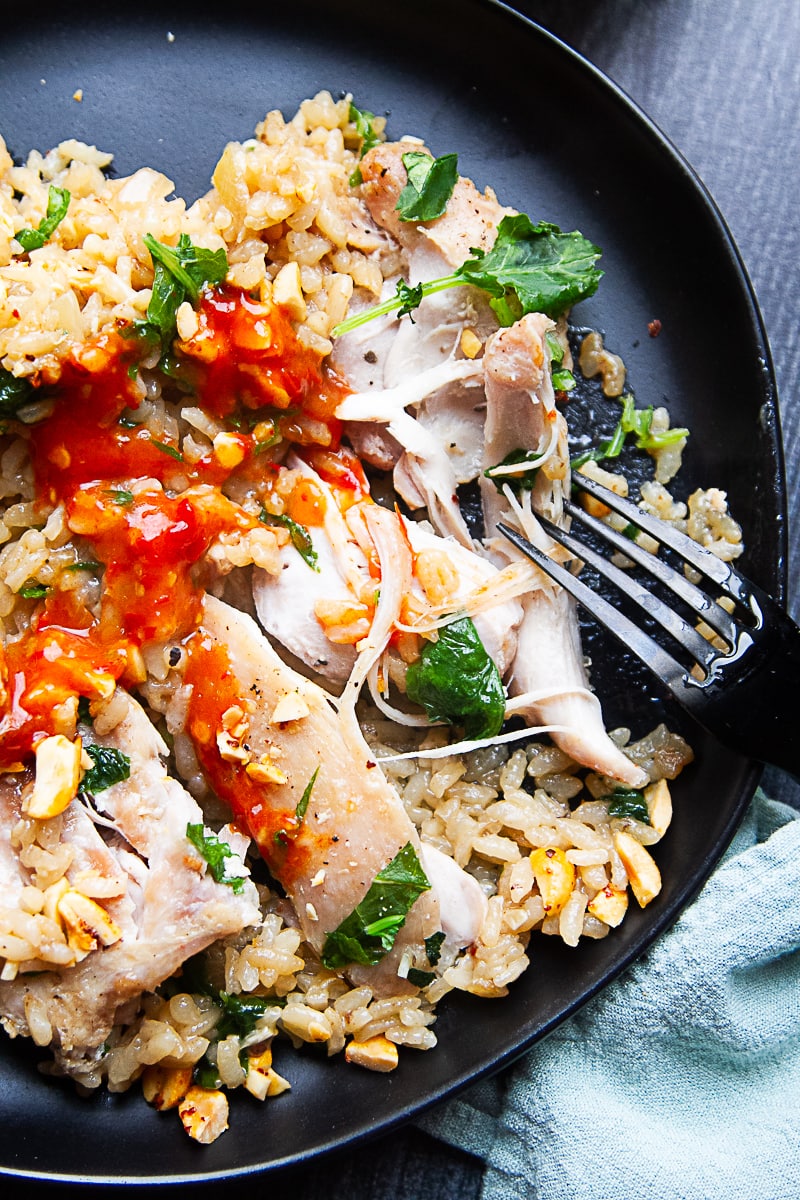 Special Diet Notes: This recipe is gluten free & dairy free.
Prep Ahead: No need to prep ahead!
Substitutions/Notes: Use any type of dark leafy greens in place of the kale. Or any finely shredded vegetable that steams quickly, like cabbage or brussels sprouts. The peanuts are optional. Cashews would also work well!
WEDNESDAY:
Teriyaki Ground Turkey Skillet with Vegetables – Easy to customize, you can mix and match your favorite veggies and use any type of ground meat. This simple yet complete meal comes together in 45 minutes or less!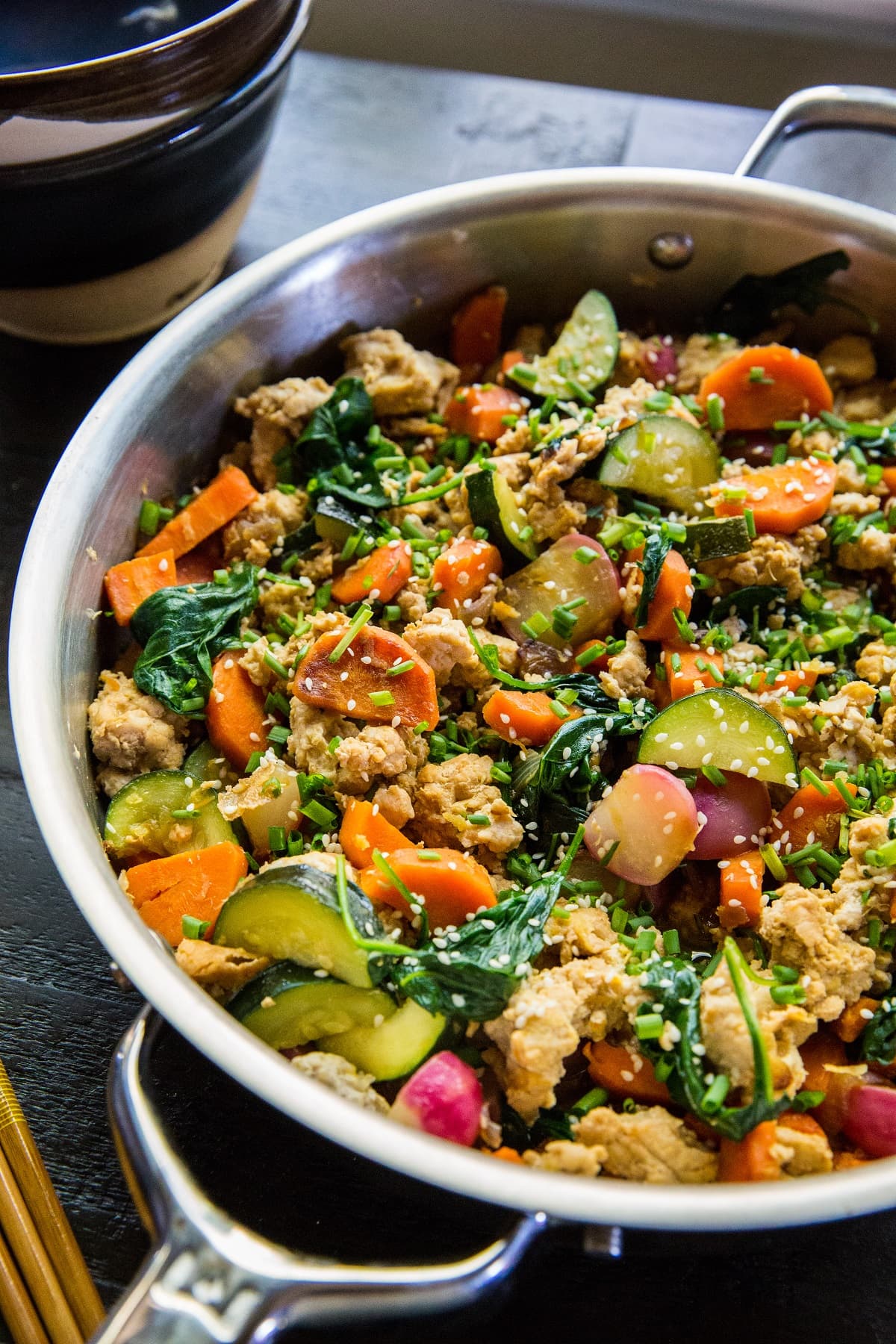 Special Diet Notes: Paleo and low-carb! Make it keto by using a keto-friendly teriyaki sauce.
Prep Ahead: Because this recipe comes together quickly, there is no advance prep needed!
Substitutions/Notes: Swap out any of the veggies with your favorites (broccoli and cauliflower are great additions), or use ground beef or ground chicken instead of turkey
THURSDAY:
Quick Thai Coconut Soup with Shrimp – This quick Thai Coconut Soup (inspired by Tom Kha soup) has tender bits of shrimp and sautéed mushrooms in coconut-lime broth. And it's done in under 30 minutes!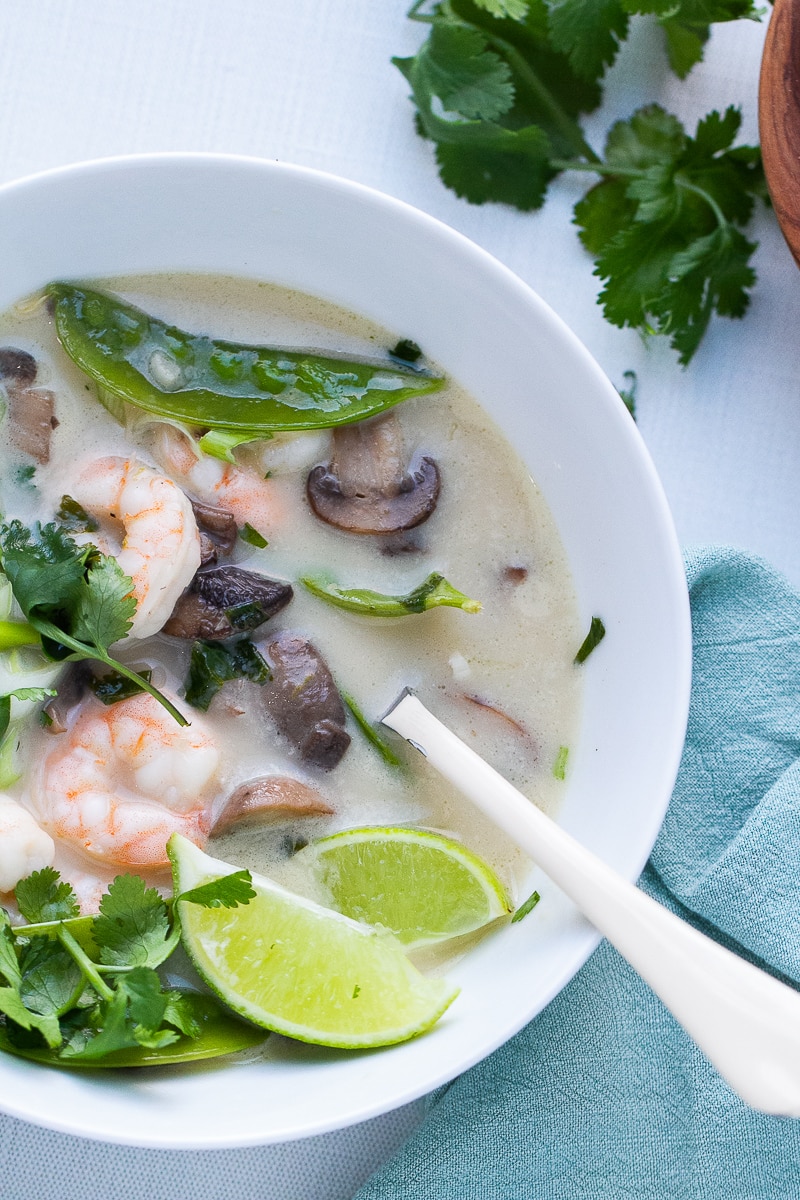 Special Diet Notes: Recipe is paleo friendly. Omit the honey to make it Whole30 friendly.
Prep Ahead: Prep the shrimp ahead of time if you need to remove the peels and tails. Buying pre-sliced mushrooms saves time, too.
Substitutions/Notes: Replace the mushrooms with another quick cooking vegetable if you like! Shredded carrots & cabbage would be good here, too.
FRIDAY:
Roasted Garlic Kale Spaghetti Squash – Cozy, comforting spaghetti squash with roasted garlic, kale, sun-dried tomatoes and walnuts makes for a comforting, low-carb meal requiring only 5 main ingredients!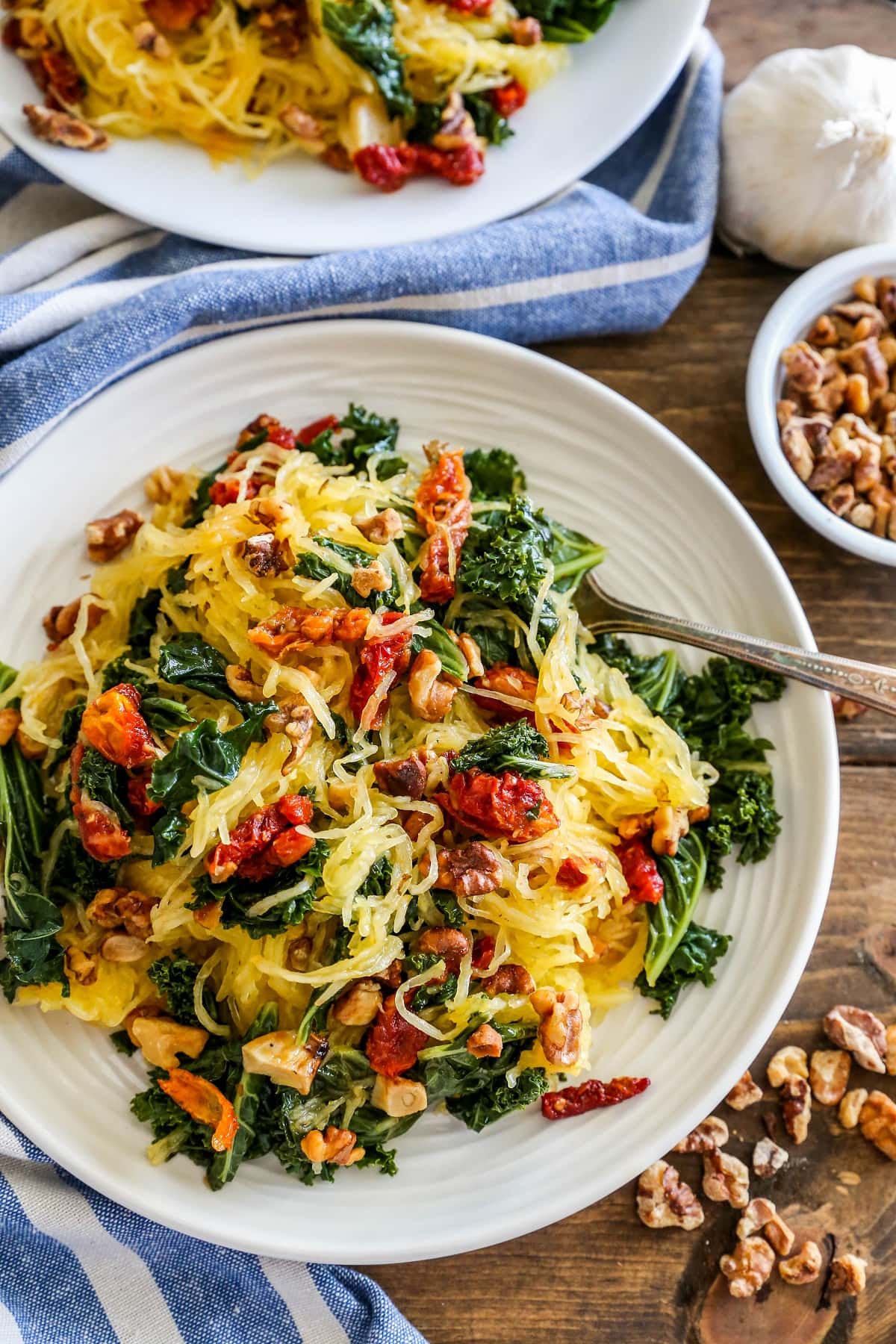 Special Diet Notes: This simple recipe is vegan, paleo, vegetarian, and whole30.
Prep Ahead: Roast the spaghetti squash up to 4 days ahead of time. The rest of the recipe comes together very quickly!
Substitutions/Notes: Add in your favorite veggies, such as broccoli, cauliflower, or swap the kale for spinach. You can also add your protein source of choice.
DESSERT:
Gooey PB Chocolate Lava Cakes – The only thing better than a gooey chocolate lava cake is a gooey chocolate lava cake with peanut butter oozing out. Oh, and this one is grain-free and easily made dairy-free!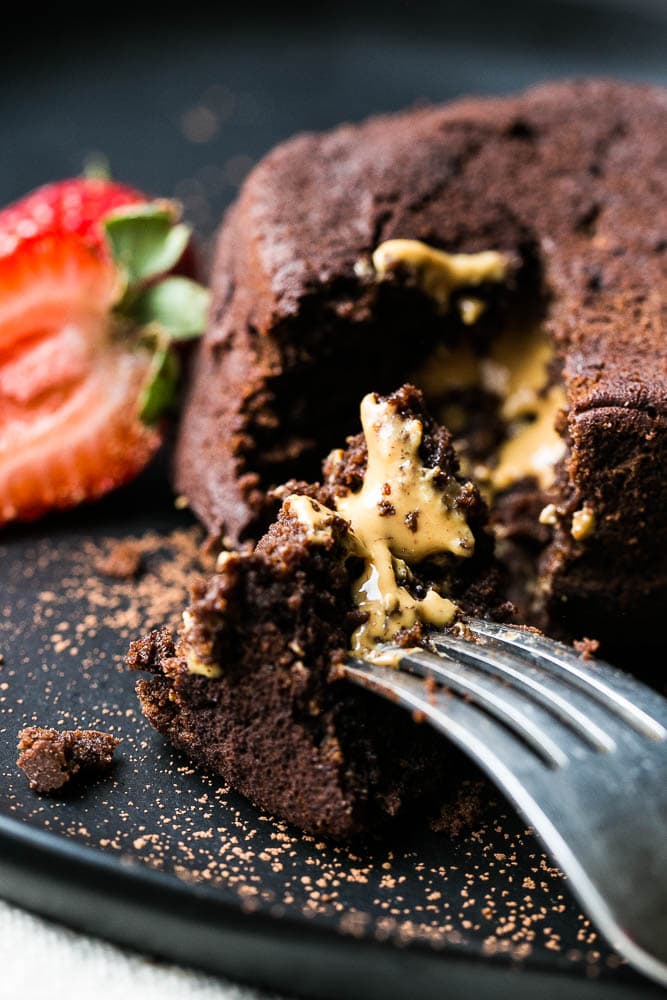 Special Diet Notes: Recipe is grain-free & dairy-free (with coconut oil). Use stevia-sweetened chocolate to reduce the amount of sugar if you like.
Prep Ahead: These are best made and eaten fresh instead of in advance.
Substitutions/Notes: Use any kind of nut butter you like if you don't eat peanut butter. Just ensure that it has a loose consistency.
GROCERY LIST:
Click HERE to print this week's grocery list!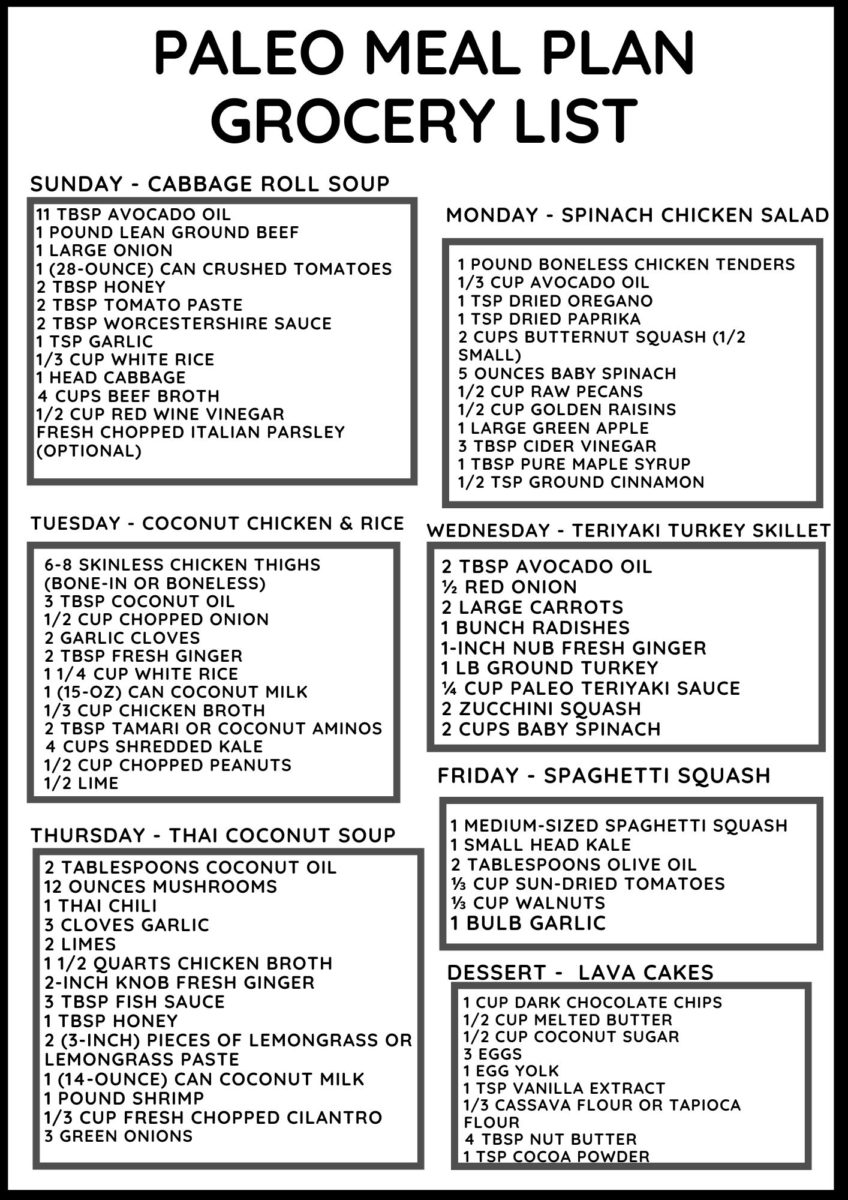 Enjoy! xo
Check out our previous weekly meal plans to keep the meal prep fire alive!
More Healthy Meal Plans: