70+ Sexy and clean Aphrodisiac Dinner Recipes from around the web for getting your groove on. All of the recipes in this roundup are gluten-free, and most are paleo, keto, or low-carb. Plus, have you had a looksy? They're sultry AF.
Valentine's Day is coming up…you ready for this?
Do you partake?
Can we speak about sexy things?
If it were up to me, we'd talk about sex and poo frequently.
Intimacy (not just sex…but overall connection) is an essential vitamin, and we all have varying needs in volume. If you're deficient in it, your mind and body suffer.
Let's face it: at a certain point in a relationship, the prioritization for intimacy decreases, which can lead to deficiencies for one or both partners.
From my standpoint, connection (this includes friendship), intimacy, and sex are pivotal in a healthy lasting relationship. For this reason, I thought I would do us all a solid and round up some sultry, sexy aphrodisiac dinner recipes to fire up you and your partner's mojo on Valentine's Day.
Even if you don't celebrate Valentine's Day, these sexy aphrodisiac dinner recipes are marvelous for any date night. You don't need to use a holiday as an excuse to have a lovely evening in with your special someone.
So what are some aphrodisiac foods? I'm SO GLAD you asked!
Aphrodisiac Foods:
Some of the most common aphrodisiac foods, which are known to increase blood circulation and get the love/sex neurons in your brain and loins firing are:
Fish & seafood (particularly oysters), avocado, chili peppers, olive oil, asparagus, chocolate, figs, berries, arugula, bananas, honey, pine nuts, artichokes, maca, garlic, cinnamon, pomegranate, cherries, pumpkin seeds, beets, almonds, ginger, coconut water, vanilla, and more!!
In general, you're aiming for a meal that feels nourishing, complete, and satisfying without causing inflammation.
In essence, stick with clean and healthful versus carb and dairy-laiden. I know they are tempting on special occasions, but avoid fried food like the plague. Your goal is to get your freak on prior to falling into a sweet, sweet sex coma…not going into a full-tilt food coma before anything fun happens.
Foods to Avoid:
If possible on date night, avoid foods that are high in omega-6 fats, are heavily processed, contain a high amount of sugar (even natural sugars like honey, pure maple syrup, etc), wheat, dairy, or legumes. These foods tend to be pro-inflammatory. The goal is to keep inflammation low so that you're feeling great and ready to get your groove on.
This way, you won't run the risk of experiencing major bloat and/or fatigue before bedtime 😉
70+ Aphrodisiac Dinner Recipes:
All of the recipes in this roundup are gluten-free, and the majority of them are paleo. There are also tons of keto (low-carb) options as well as Whole30-approved recipes! We're aiming for a romantic, sexy meal that is also clean and nutritious.
At the very end, I have even included some healthy dessert recipes for Valentine's Day!
I have broken out the recipes by type of animal protein. I hope you enjoy!
xo
Sexy Beef Recipes:
Prime Rib Recipe from The Roasted Root – Everything you need to know about cooking prime rib is right here in this post! From prime rib seasoning to prime rib cooking time, differences between various cuts of roast, and more. This easy recipe made the best prime rib in the world!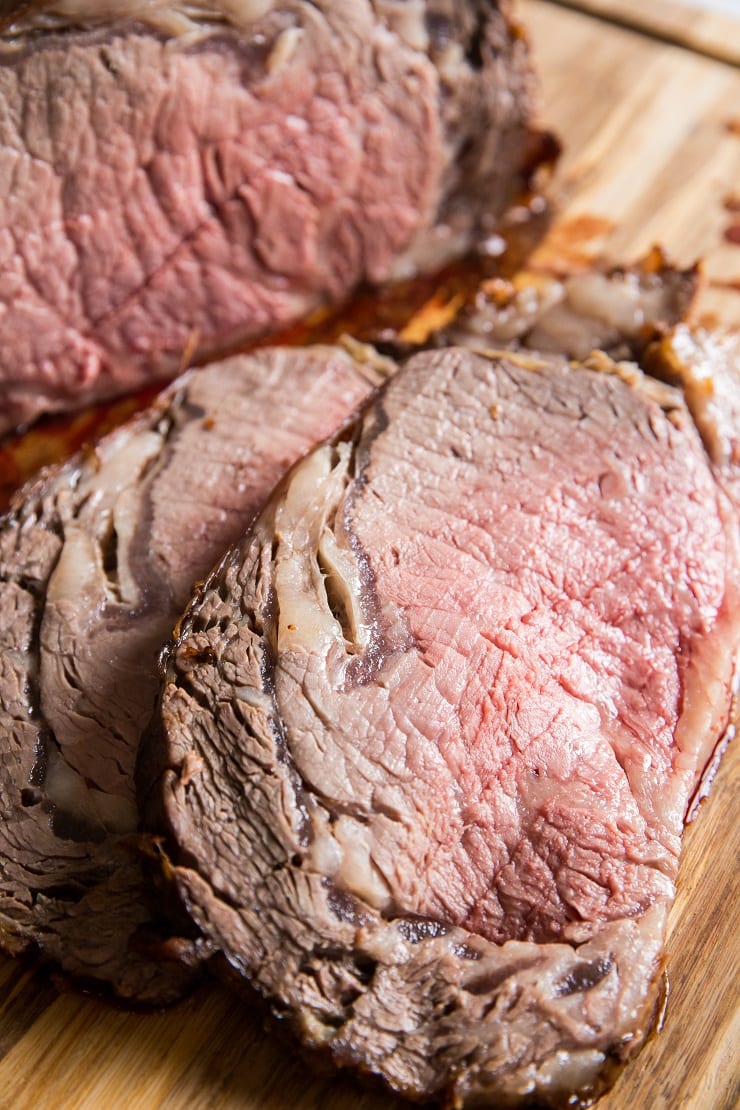 Instant Pot Short Ribs from The Roasted Root – Tender, flavorful short ribs made with tart cherry juice for a paleo-friendly short rib recipe. Serve these Paleo Instant Pot Short Ribs on top of mashed sweet potatoes for a complete, satisfying meal!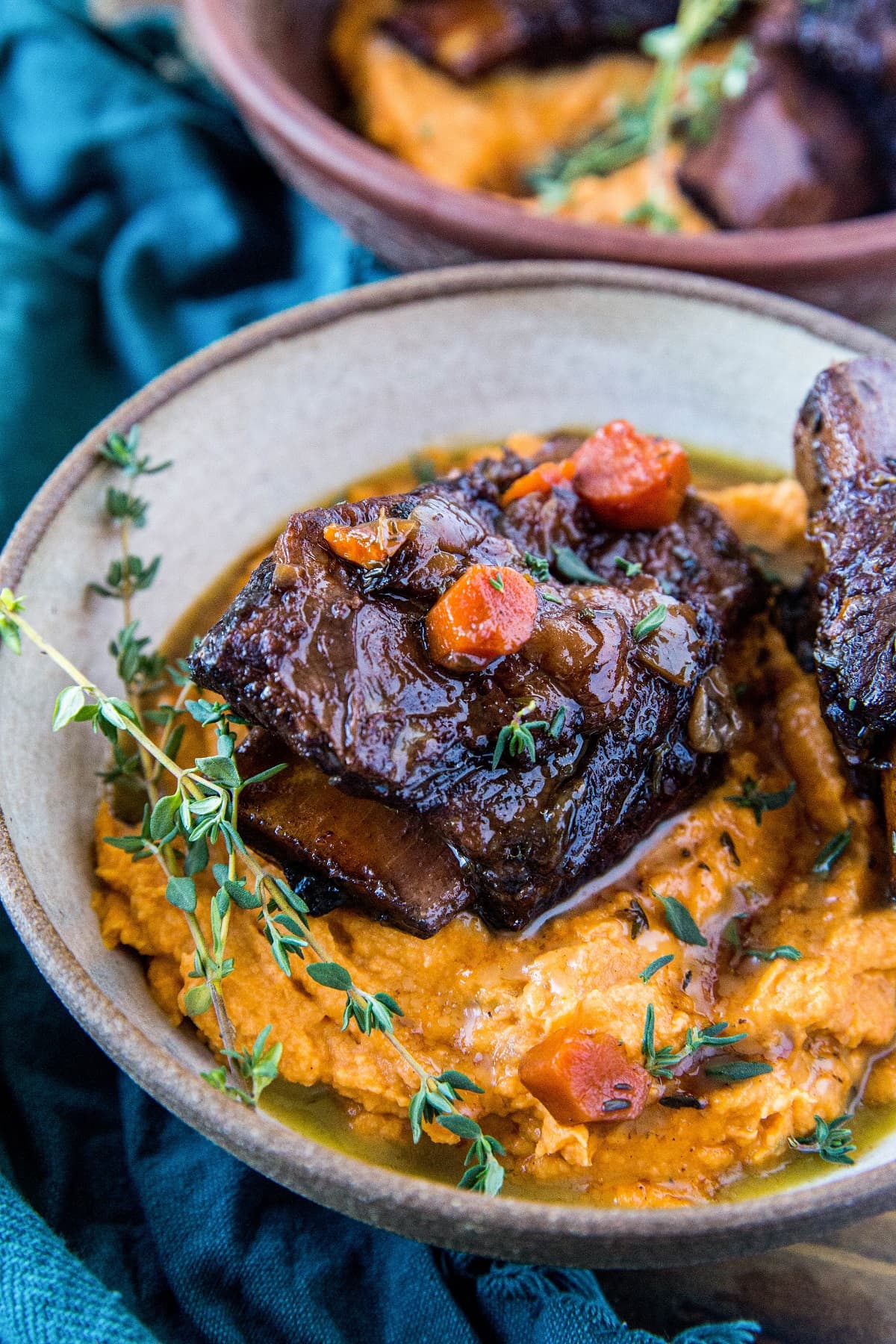 Weeknight Instant Pot Beef Ragu from Snixy Kitchen – This quick and easy weeknight Instant Pot beef ragu is made using a jar of marinara to develop rich flavors. Pot roast shreds into a comforting pasta sauce that tastes like it took hours to make! Serve over pasta, polenta, or even a baked potato.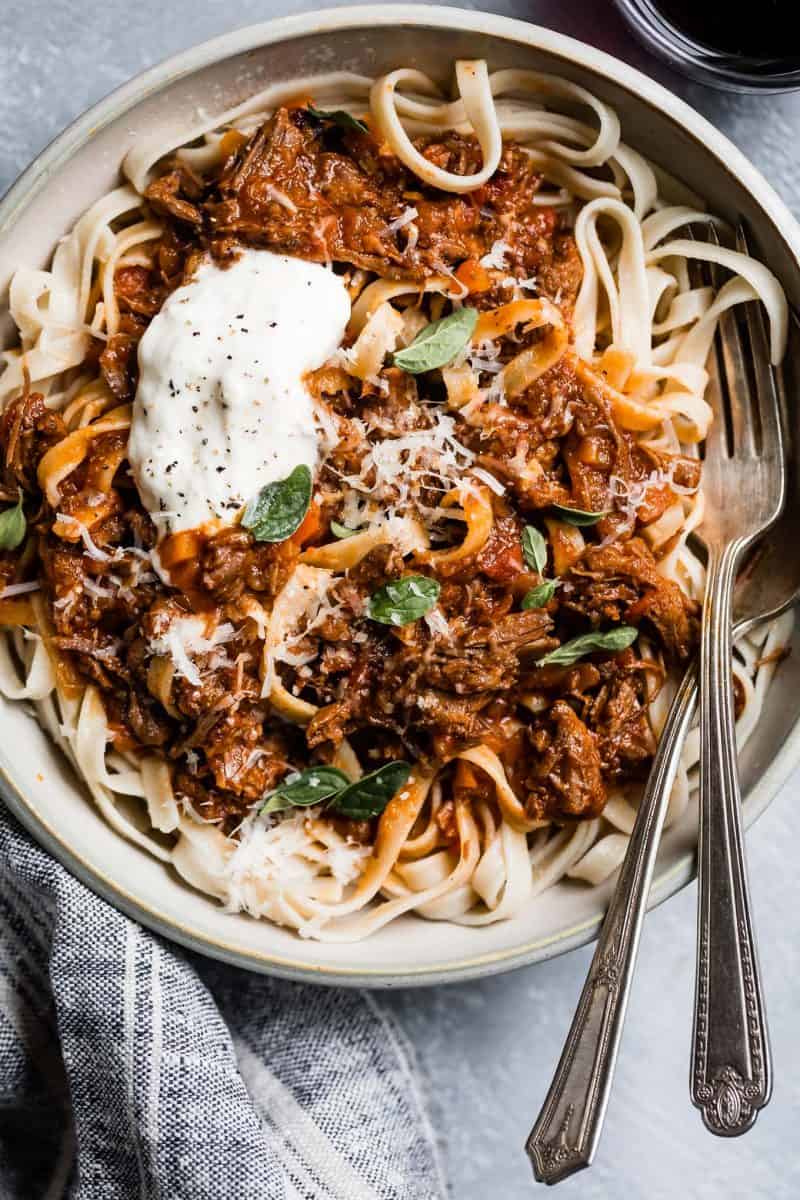 Slow Cooker Ropa Vieja from The Roasted Root – Ropa Vieja (or tender Cuban-style shredded beef) is stewed in a pepper tomato sauce. With slow cooker and pressure cooker instructions, you can make this delicious recipe in either your crock pot or Instant Pot!
Beef Tenderloin Recipe from The Roasted Root – How to make the perfect beef tenderloin roast for a super tender, mouth-watering meal. Whether you're enjoying a fancy evening in with your special someone or serving guests, this beef tenderloin recipe is sure to please!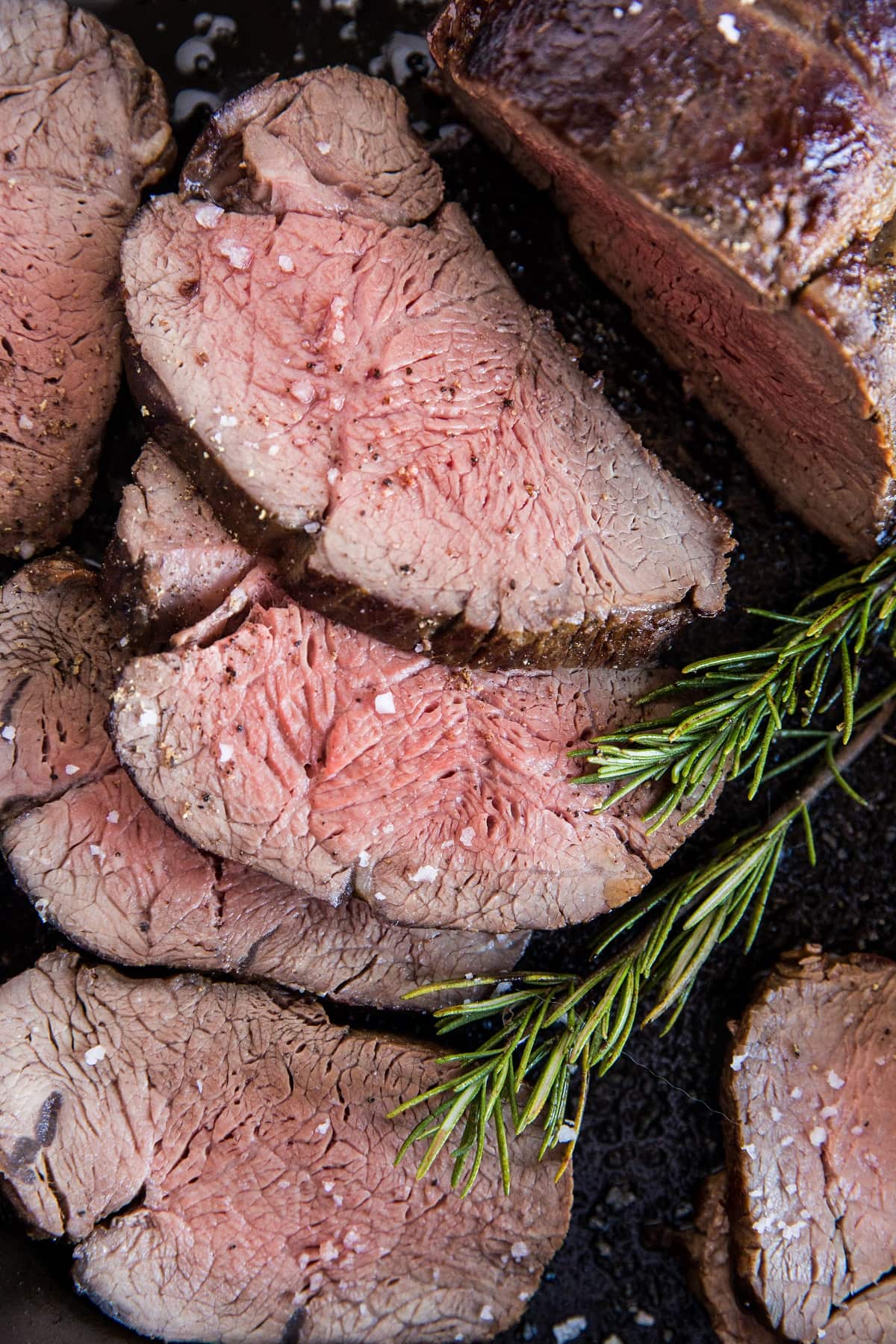 Slow Cooker Chipotle Shredded Beef from Perry's Plate – Make this chipotle shredded beef in your slow cooker or Instant Pot! It's a perfect meal prep recipe to give you a head start on weeknight dinners.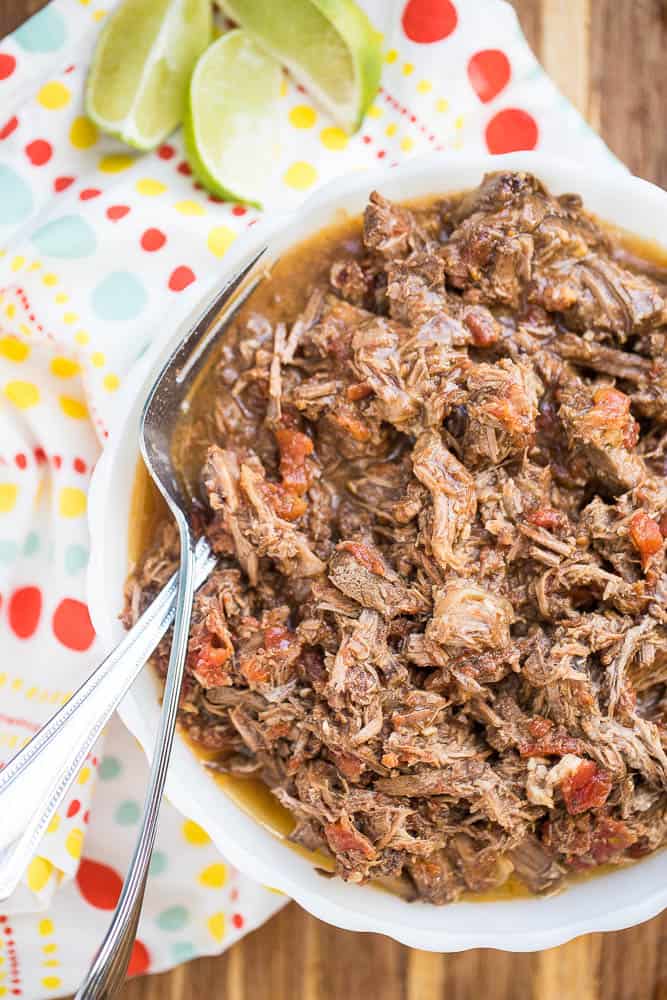 Tenderloin Steak with Mushroom Butter from All Day I Dream about Food – Pan seared beef tenderloin steak recipe with a garlicky mushroom compound butter. This is low-carb dining at its finest!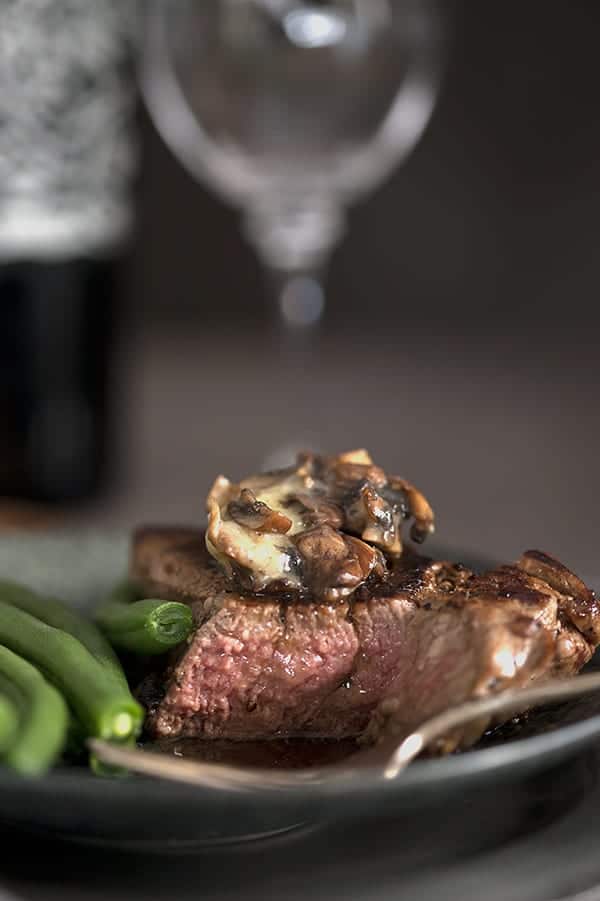 Pomegranate Flank Steak from Running to the Kitchen – A simple sauce and a balsamic marinade transform this pomegranate flank steak into a flavorful and festive dinner.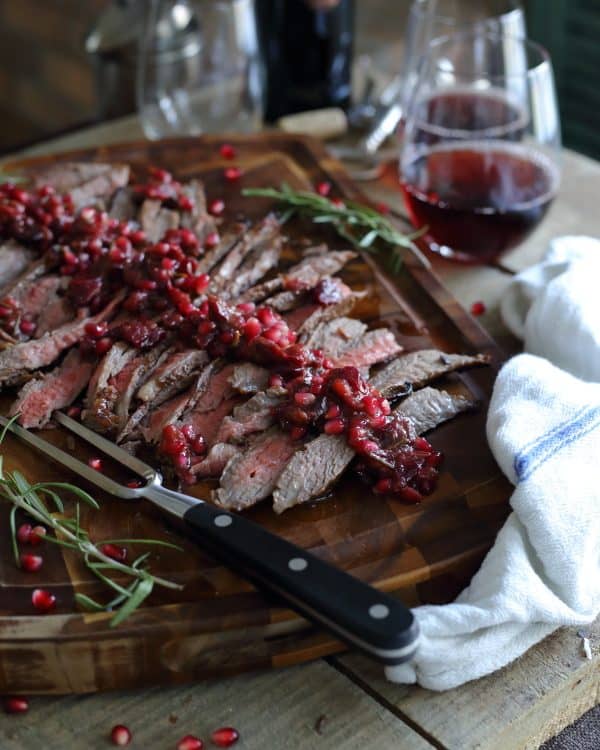 Paleo Beef Stroganoff from The Roasted Root – Paleo Beef Stroganoff made dairy-free, quickly, and easily. A delicious staple to add to your weeknight meal plan or make it for a romantic dinner.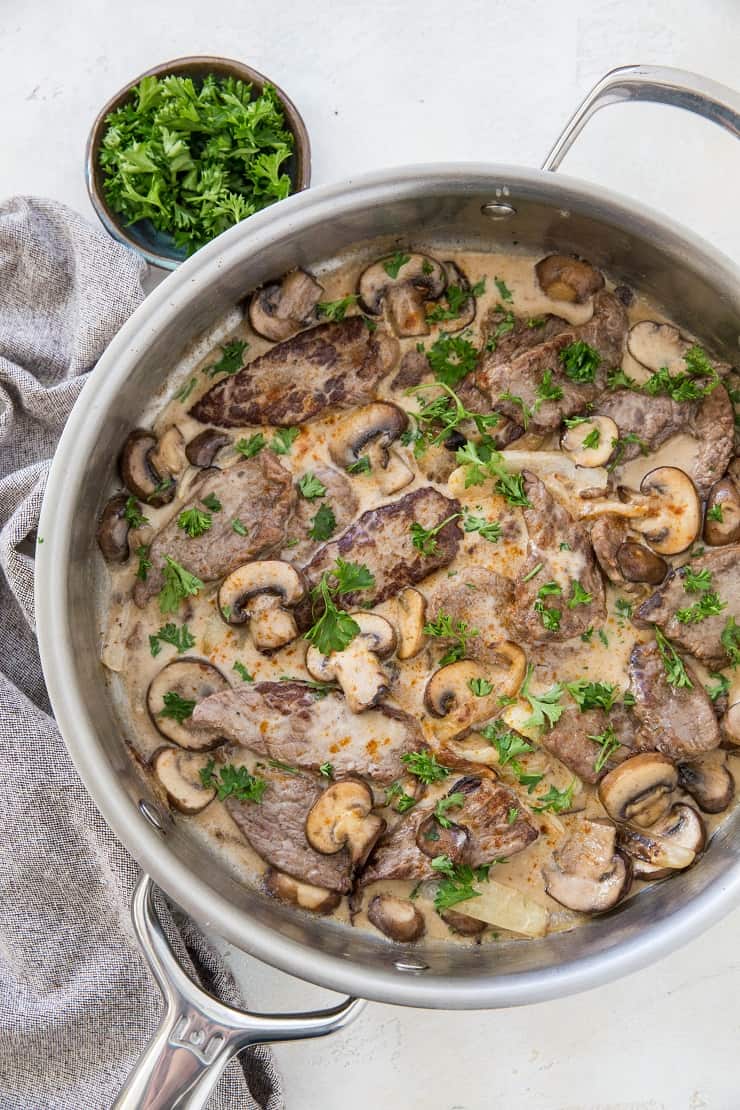 Easy Steak Bites from All Day I Dream About Food – These Asian Steak Bites are tender, juicy, and oh so easy to make. A deceptively simple keto dinner recipe that the whole family loves. Paleo and dairy-free too!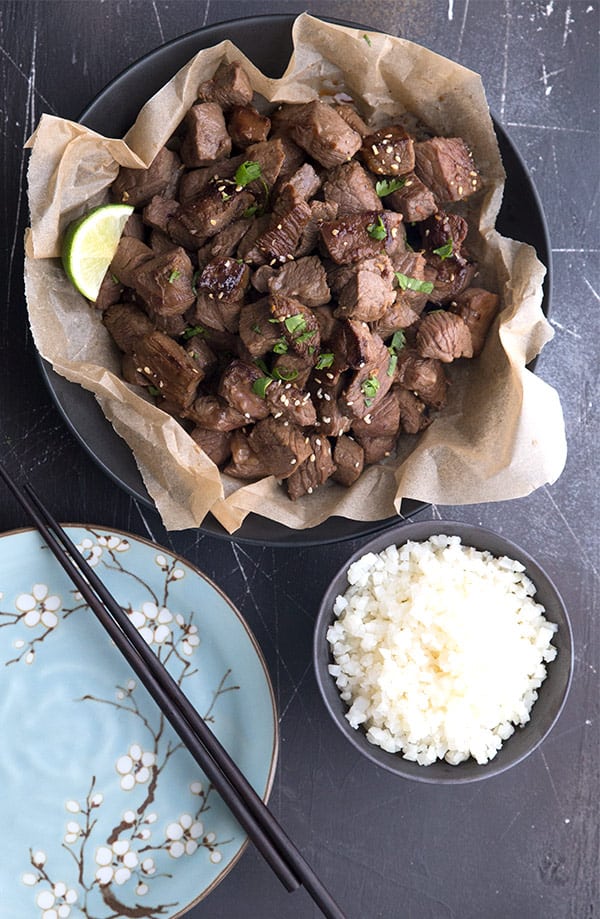 Paleo Hungarian Goulash from Perry's Plate – No, not the American mesh of macaroni, ground beef, and spaghetti sauce, but authentic Hungarian goulash with tender beef pieces and fiery paprika sauce. Includes adaptation for a slow cooker, too!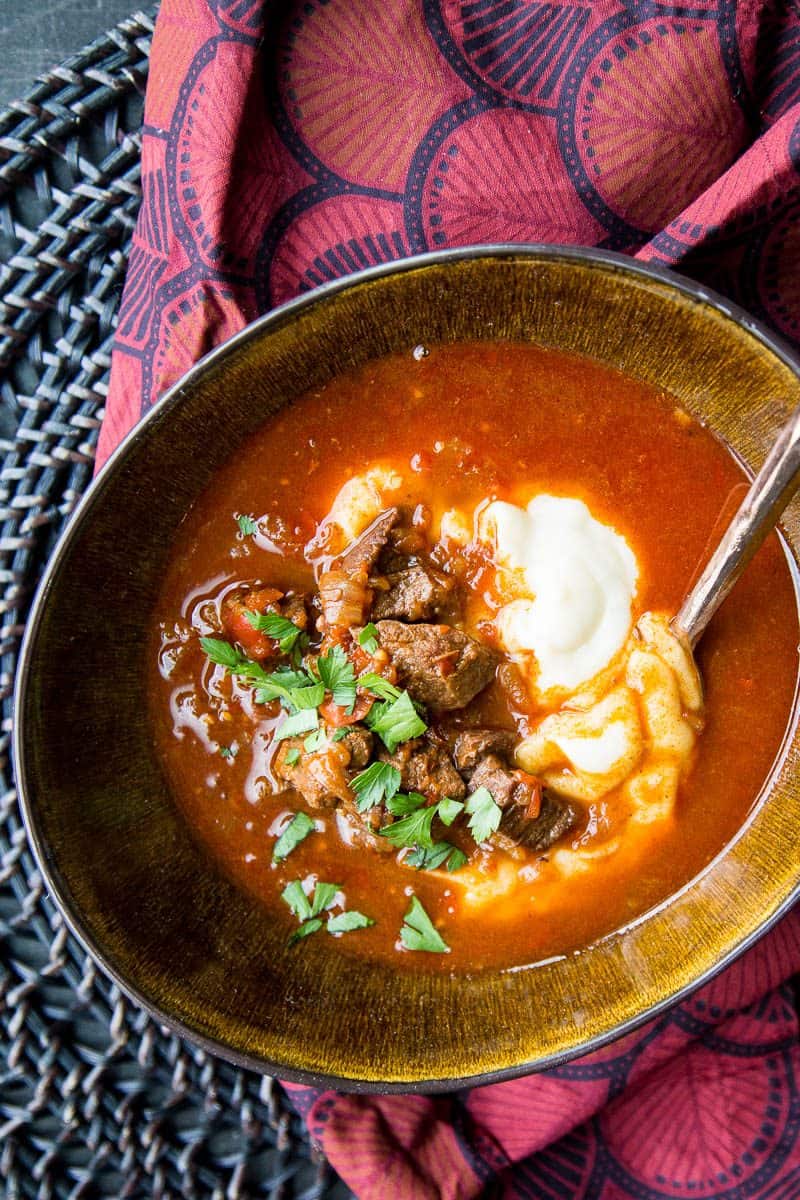 Easy 30-Minute Mongolian Beef from The Roasted Root – Paleo Mongolian Beef is so easy to make, and is soy-free, grain-free, and refined sugar-free! This healthy Mongolian Beef recipe includes tender yet crispy chunks of flank steak in a sweet and tangy sauce that will knock your socks off!
Instant Pot Pot Roast from Noshtastic – Fall apart tender Instant Pot Pot Roast is an easy pressure cooker recipe to make and includes directions for cooking potatoes and vegetables for an all in one pot dinner!
Scampi Steak and Scallops from Savoring Today – Tenderloin steak seared in butter and finished with scallops in subtle accents of lemon zest, white wine, garlic, and fresh basil is surf-n-turf heaven.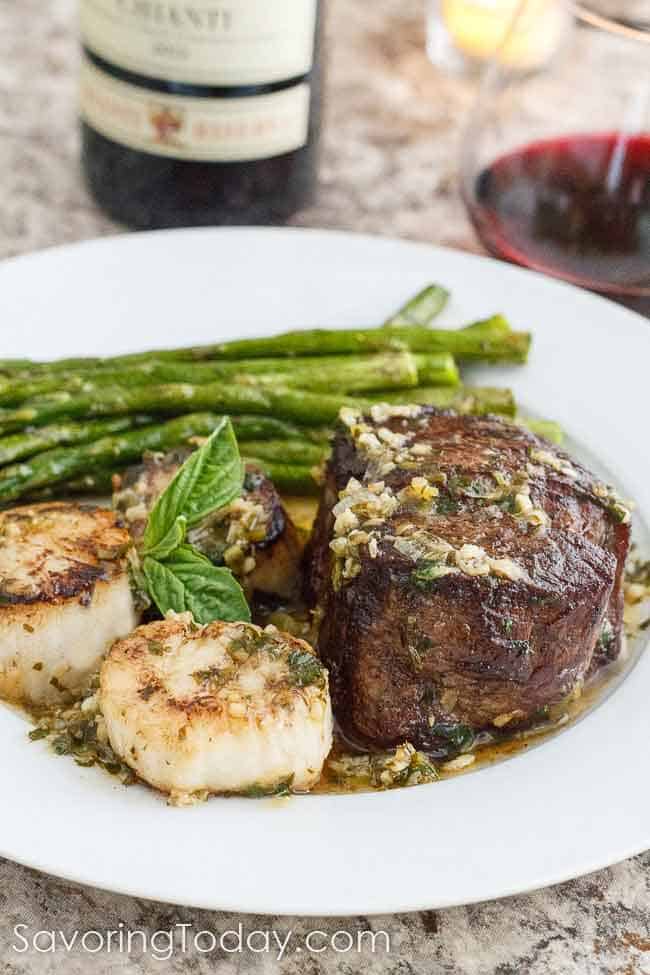 Instant Pot Beef Stew from The Roasted Root – Hearty Instant Pot Beef Stew with carrots, parsnips, and butternut squash. This potato-free stew recipe is filling, nutritious, paleo, whole30 and AIP-friendly.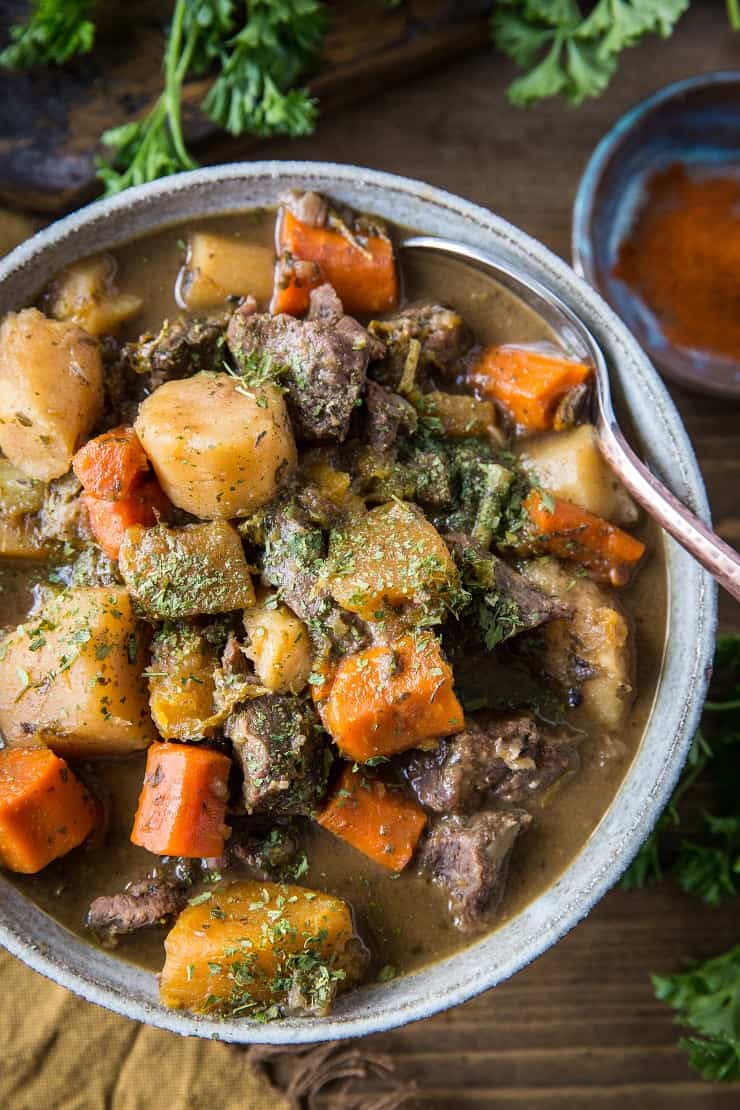 Sexy Turkey and Chicken Recipes:
Immunity Boosting Turmeric Chicken Soup from The Roasted Root – This turmeric chicken soup includes carrots, parsnips, kale, bone broth, and more for an immunity-boosting powerhouse meal. It's super quick and easy to make and is paleo, keto, AIP, and whole30.
Healthy Sheet Pan Fajitas from Get Inspired Everyday – These Healthy Chicken Sheet Pan Fajitas are my new favorite super easy to make dinner that's also perfect for meal prepping!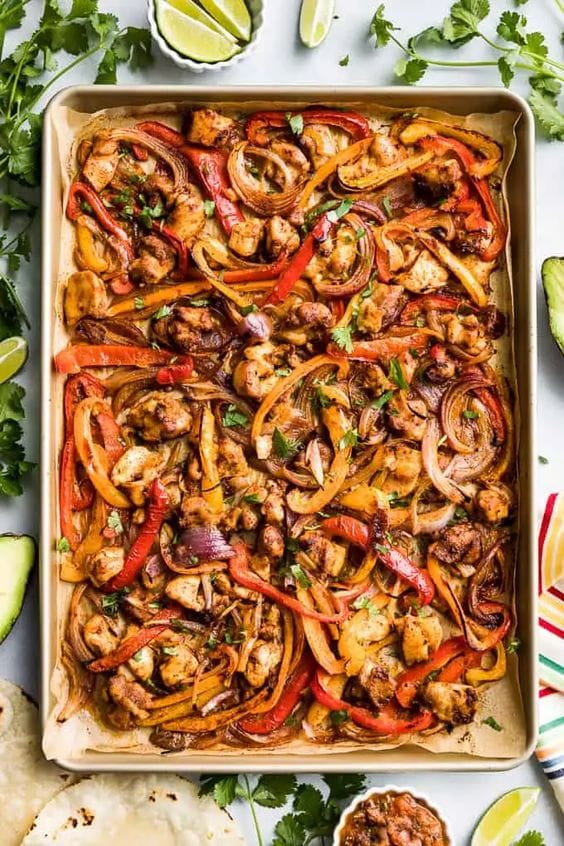 30-Minute Mushroom Chicken from The Roasted Root – One of those all star recipes that comes off as fancy yet is so quick and easy to make! The dairy-free creamy sauce is everything! Serve it up with your choice of sexy sides for a complete meal. Also try my Crock Pot Creamy Mushroom Chicken with Potatoes for a balanced meal.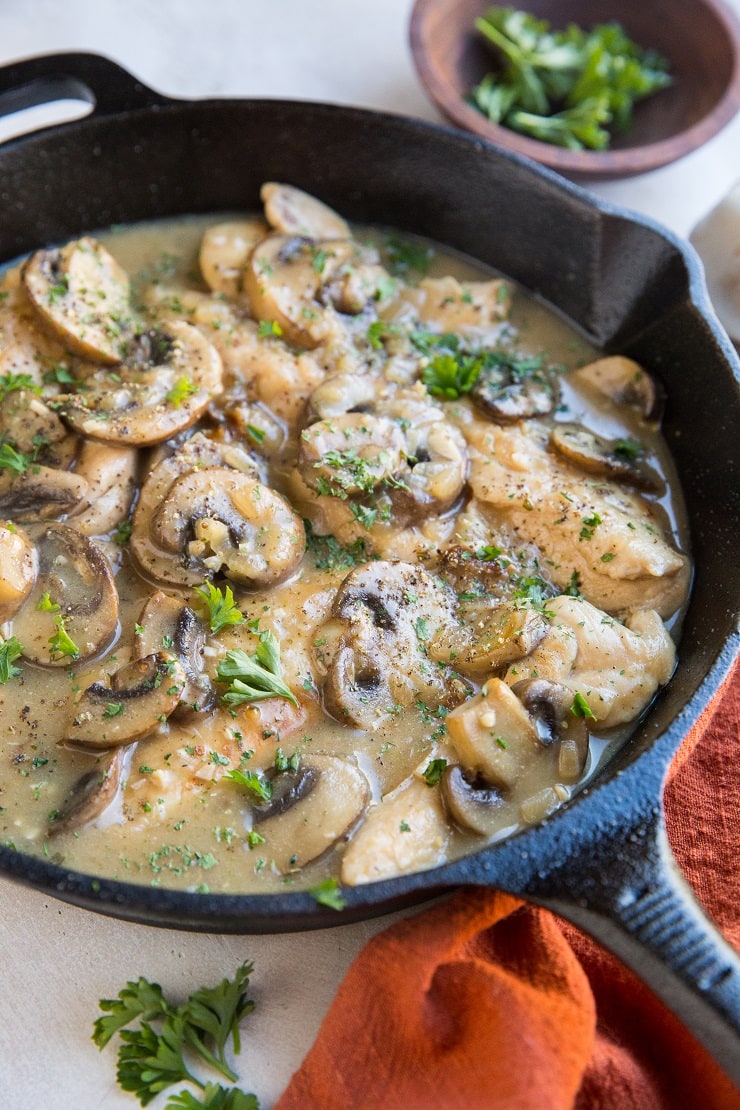 Thai Coconut Lime Chicken from Get Inspired Everyday – Meet your new favorite easy weeknight dinner that's even better than takeout! This Thai Coconut Lime Chicken is packed with flavor, oh so creamy, and it's simple to make as well, with minimal ingredients.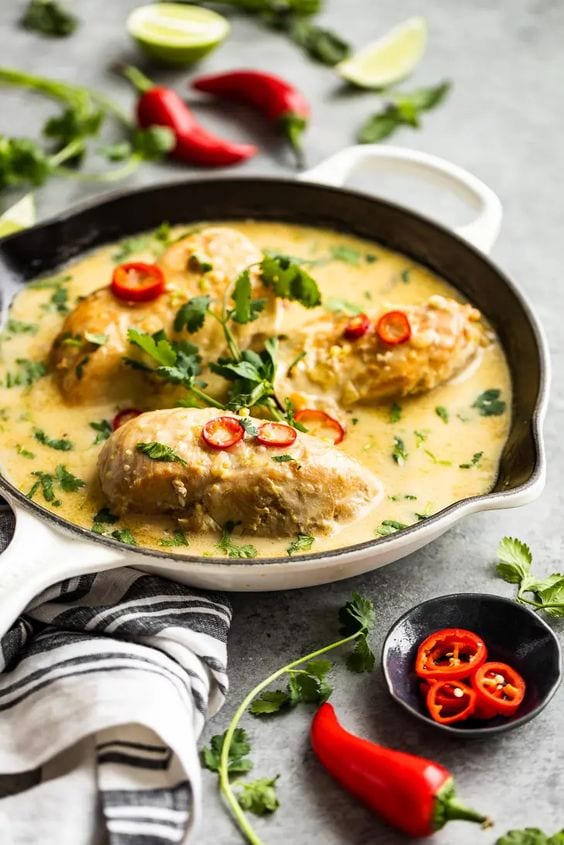 Sheet Pan Balsamic Chicken Tenders from A Cedar Spoon – Sheet Pan Honey Balsamic Chicken Tenders and Vegetables is an easy no-fuss meal that cooks on one sheet pan with little clean-up required.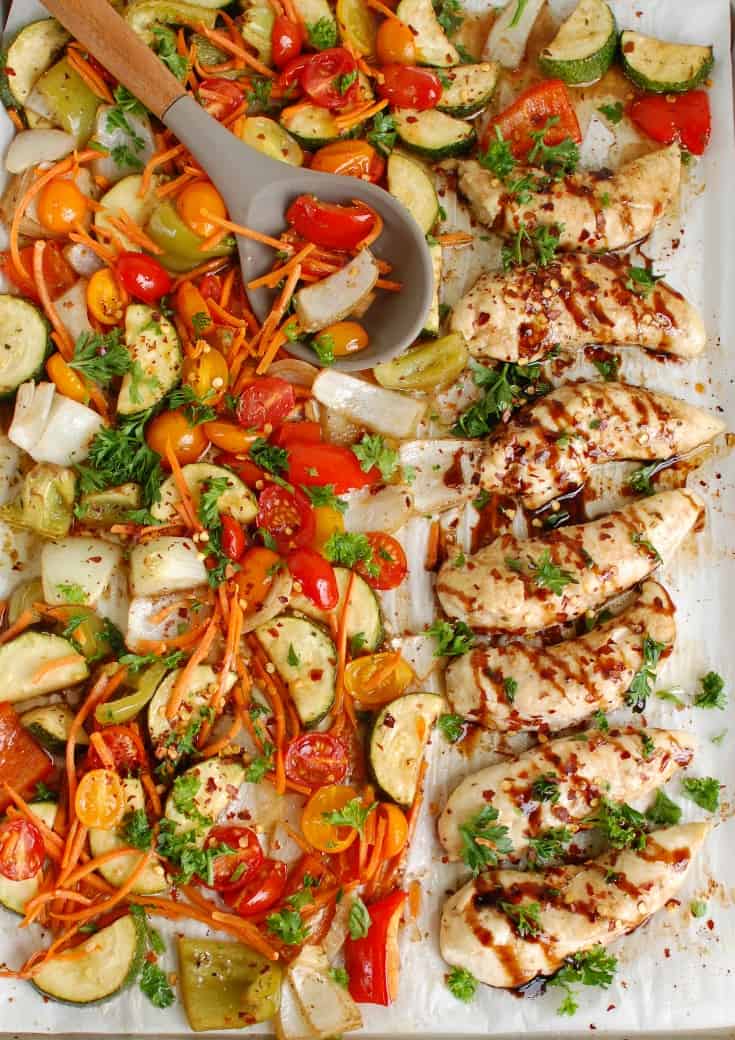 Cranberry Balsamic Roasted Chicken from Cotter Crunch – This cranberry chicken recipe makes an easy healthy meal for a holiday table. Tangy balsamic marinade keeps the chicken juicy, while cranberries and fresh thyme add flavor! It's a great meal prep recipe or make ahead meal.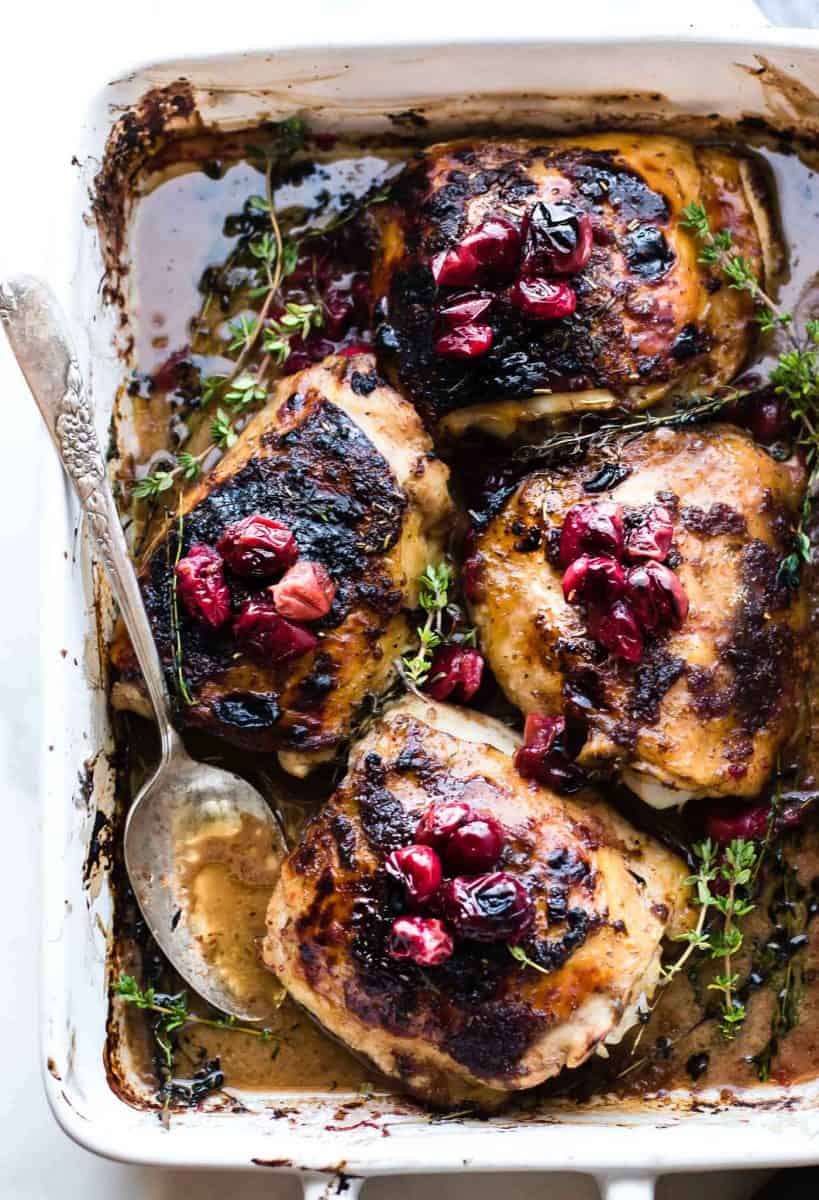 Instant Pot Chicken Cacciatore from The Roasted Root – This easy take on the Italian classicr is goof-proof and results in the most tender fall-off-the-bone chicken in an amazing herby red sauce. Serve it over rice or pasta for the most comforting meal that you'll surely put on repeat.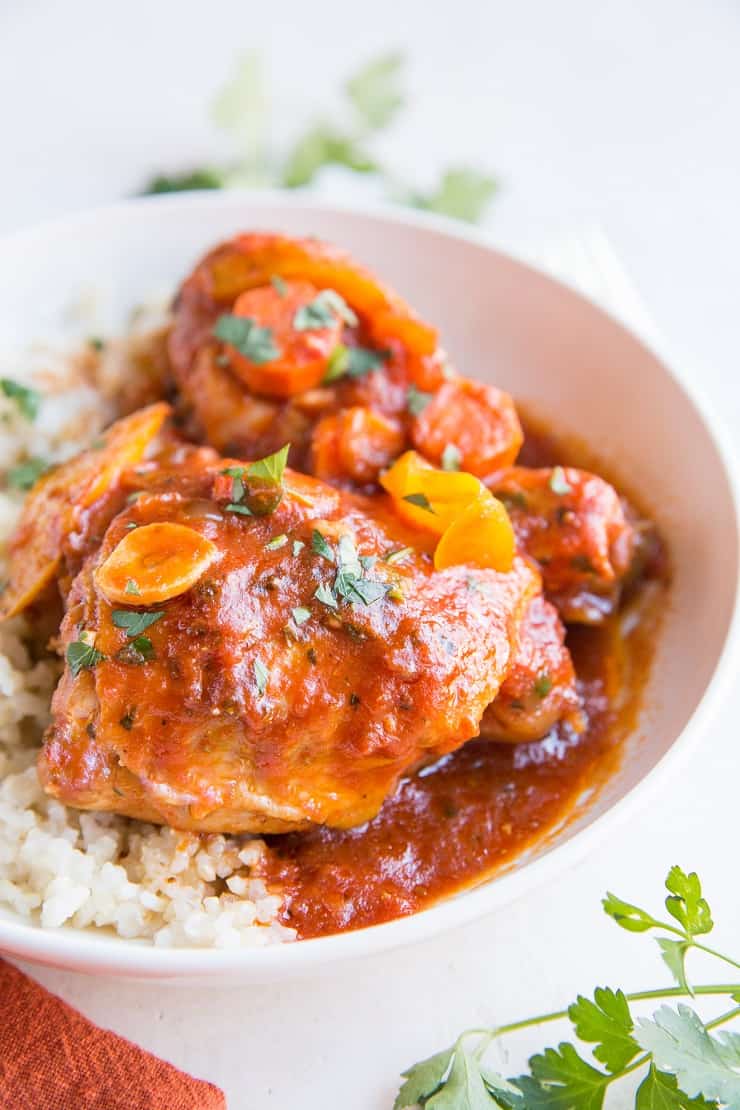 Keto Asian Chicken Lettuce Wraps from Tasty Yummies – These simple Keto Asian Chicken Lettuce Wraps are a tasty, one pan meal that is a restaurant-classic reimagined. Ready in no-time, these paleo and Whole30 lettuce cups pack a flavor punch.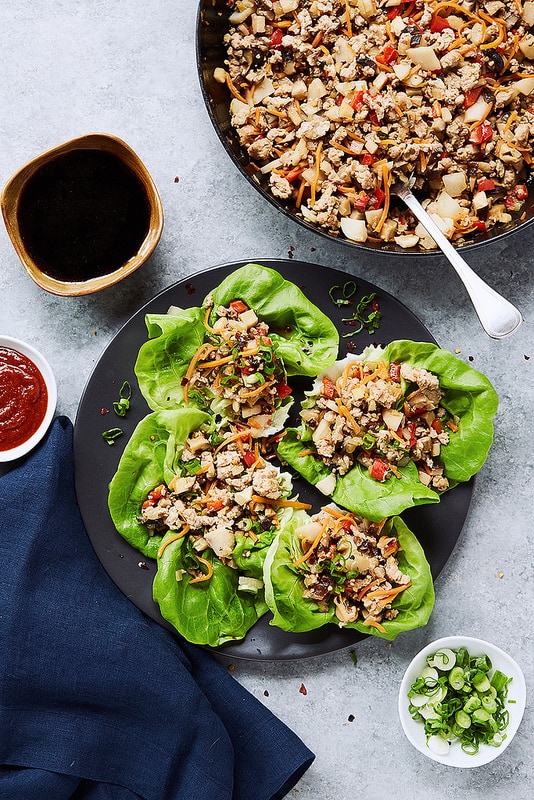 Slow Cooker Mediterranean Whole Chicken from A Cedar Spoon – Slow Cooker Mediterranean Whole Chicken is tender, juicy and rich with Mediterranean flavors. Cooking a whole chicken in the slow cooker is not only easy, but is a great way to meal plan, providing chicken for multiple meals during the week.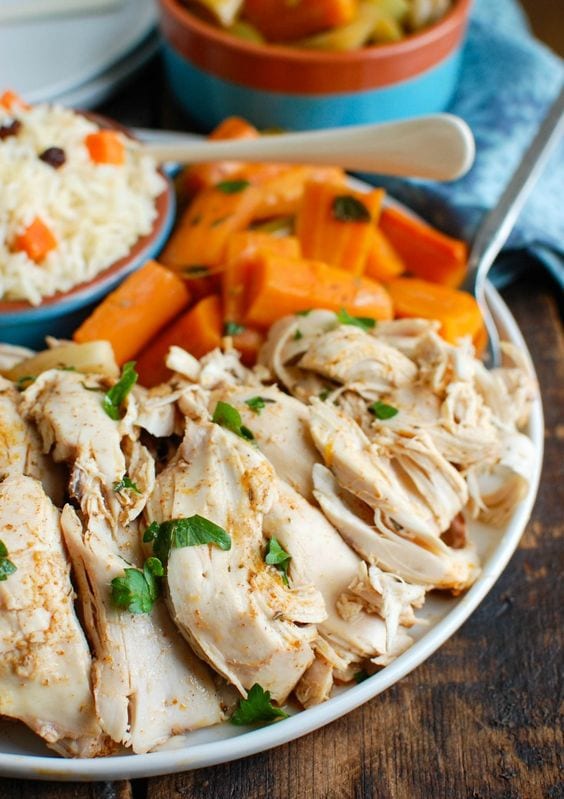 Instant Pot Chicken Adobo from Kitchen Confidante – Learn how to make Instant Pot Chicken Adobo! This Filipino adobo recipe gets a pressure cooker update – use your Instant Pot to make adobo more flavorful and tender!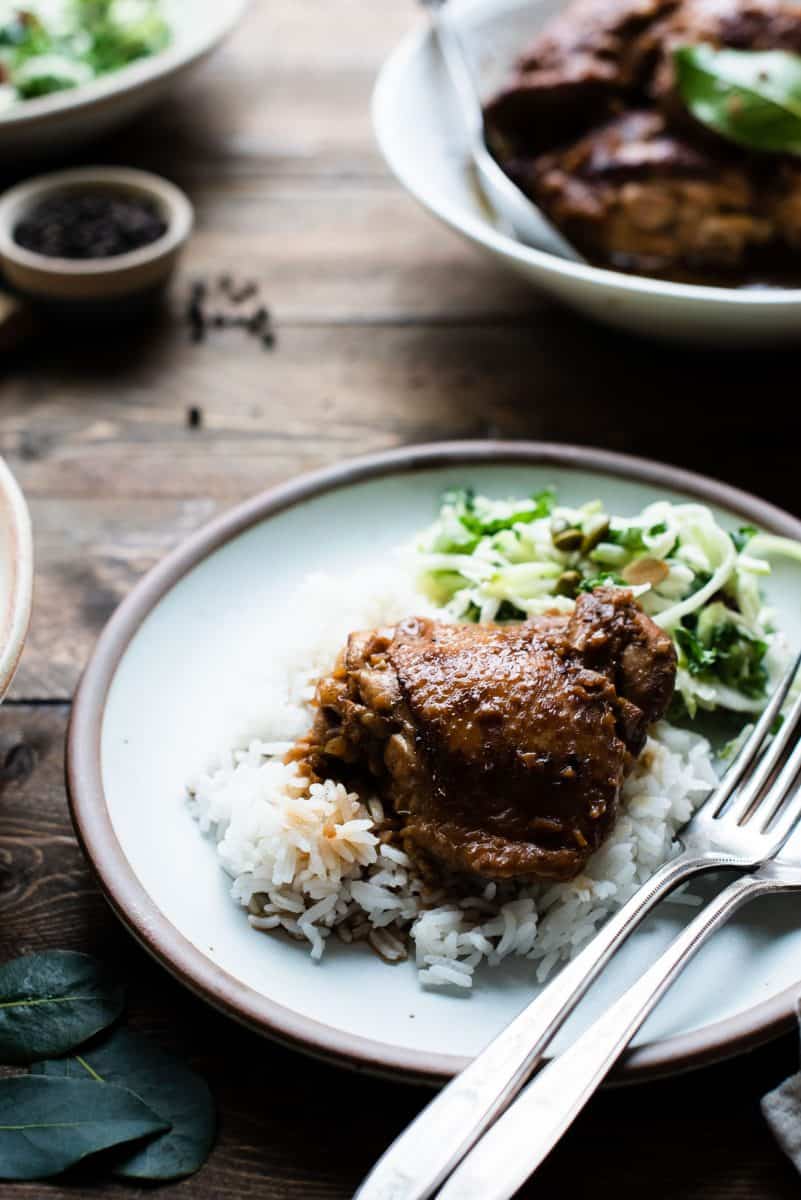 Chicken and Sausage Gumbo from The Speckled Palate – Chicken and Sausage Gumbo is the ultimate Louisiana comfort food! This Cajun gumbo is filled with chicken and sausage and cooks low and slow all day. Learn how to make gumbo for a crowd and serve it over rice!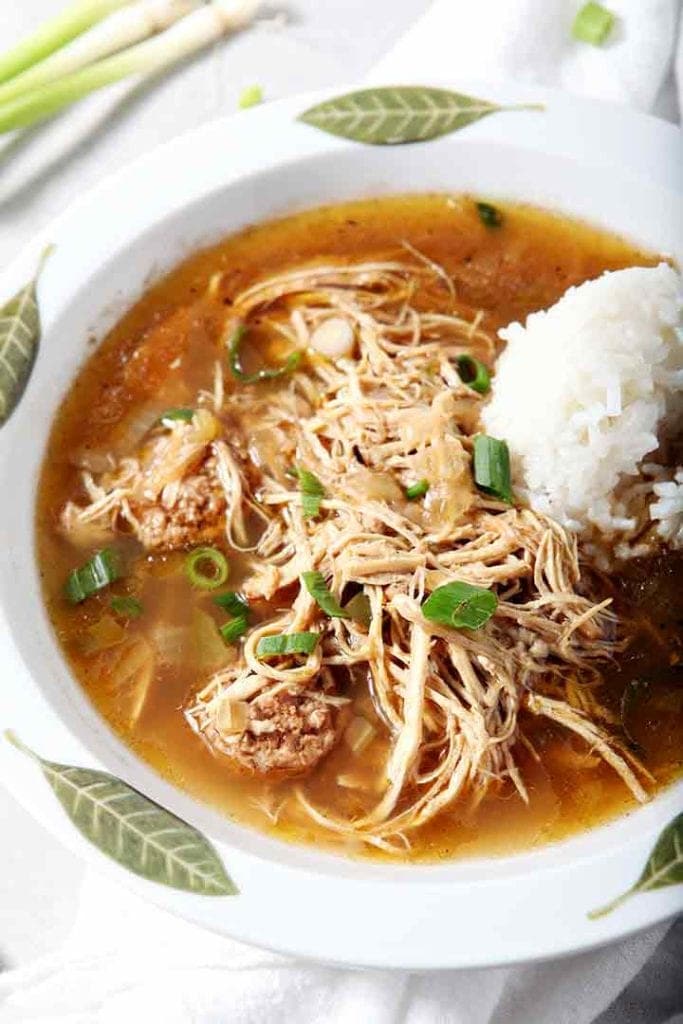 Instant Pot Turmeric Chicken and Root Vegetables from The Roasted Root – Instant Pot turmeric chicken in an aromatic turmeric coconut milk sauce with carrots, sweet potatoes, and parsnips. This nutritious meal is perfect for any night of the week!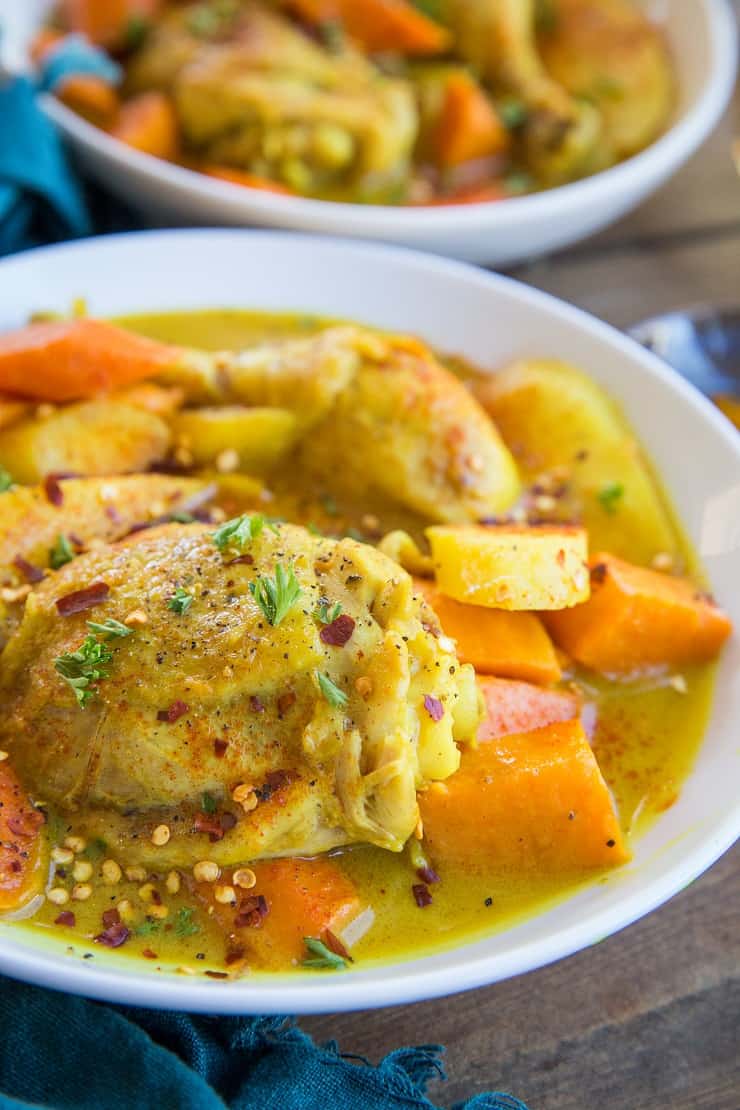 Chicken Egg Roll Bowl from Simply Scratch – In this Chicken Egg Roll Bowl, ground chicken is cooked and tossed with napa cabbage, bok choy, shiitake mushrooms and carrots in a light ginger garlic sauce.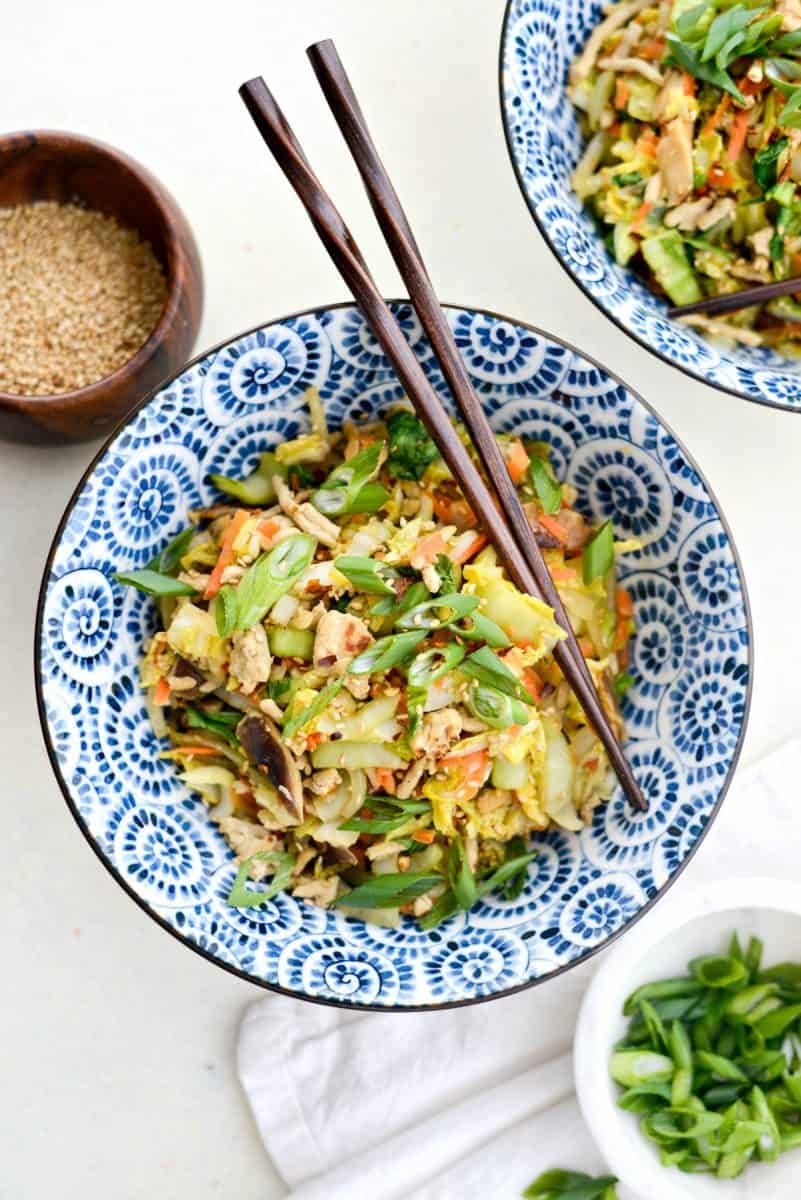 Paleo Turkey Meatballs with Basil Black Walnut Pesto from Food Faith Fitness – These healthy turkey meatballs are simmered in coconut milk basil pesto cream sauce for an easy, weeknight meal that will please even picky eaters!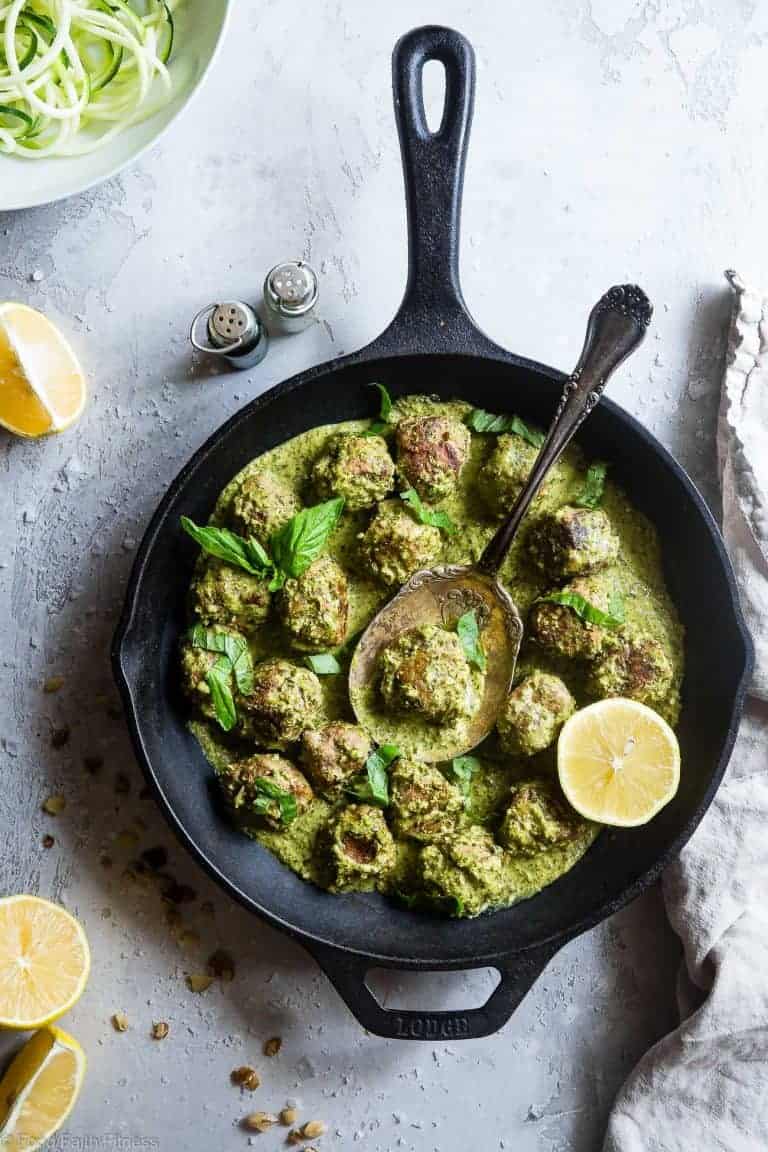 Sexy Fish & Seafood Recipes:
Crispy Skin Salmon from The Roasted Root – Easy oven-baked crispy skin salmon makes for a mouth-watering, nutritious dinner. This quick and simple recipe only requires about 15 minutes from start to finish!
Almond Crusted Salmon from The Roasted Root – Crispy on the outside, moist and tender on the inside Almond Crusted Salmon made with only a few basic ingredients. This easy recipe is paleo, keto, whole30, and mouth-wateringly delicious!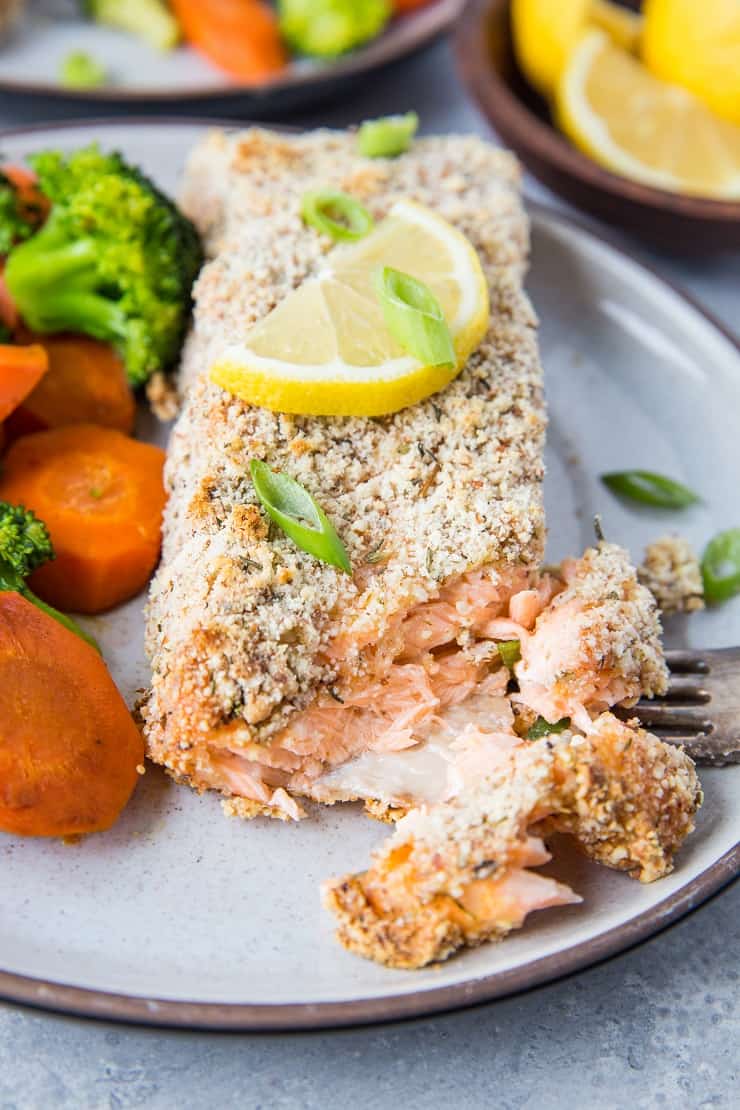 Shrimp in Romesco Sauce from The View from Great Island – Shrimp in Romesco Sauce ~ serve this grilled shrimp and bold roasted red pepper sauce along with some crusty bread for a Spanish style tapas menu. It's a wonderful way to celebrate the return of warmer weather.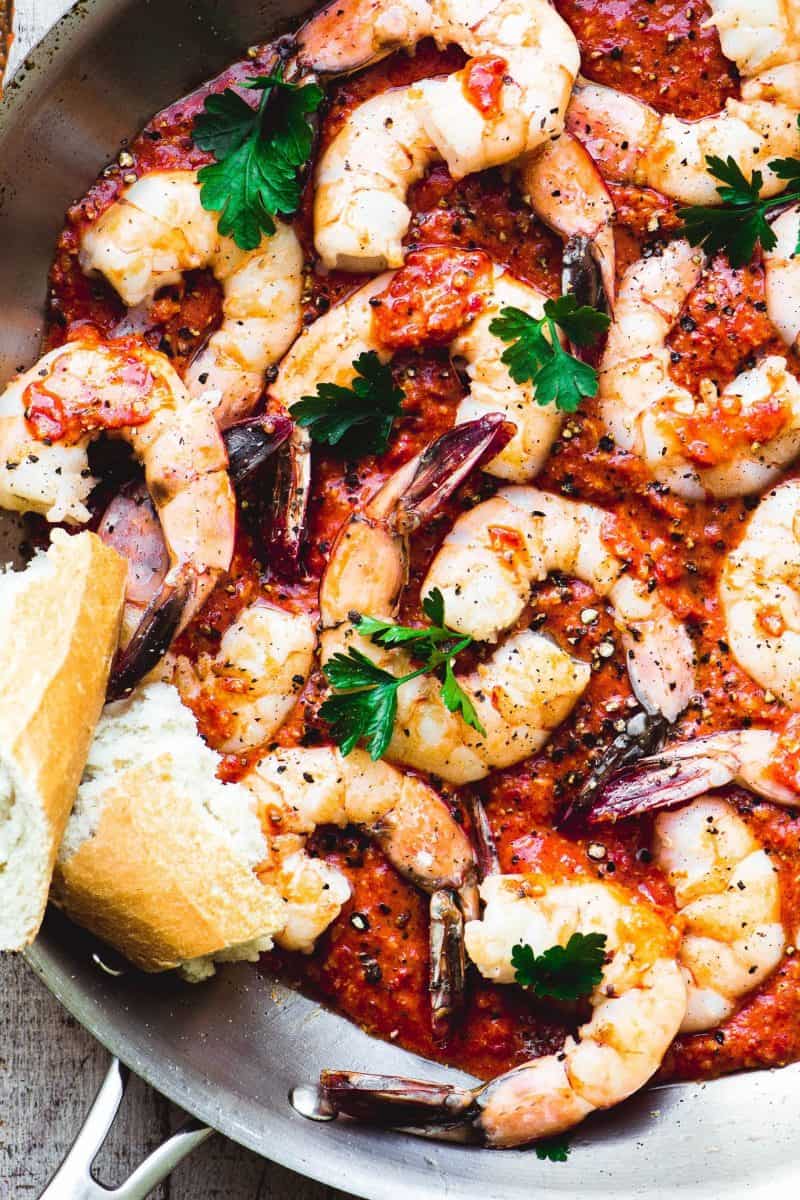 Coconut Curry Mussels with Zucchini Noodles from Eating Bird Food – Coconut curry mussels are steamed in a red curry broth and served with zucchini noodles for a healthy, yet rich and satisfying appetizer or light meal. Gluten-free.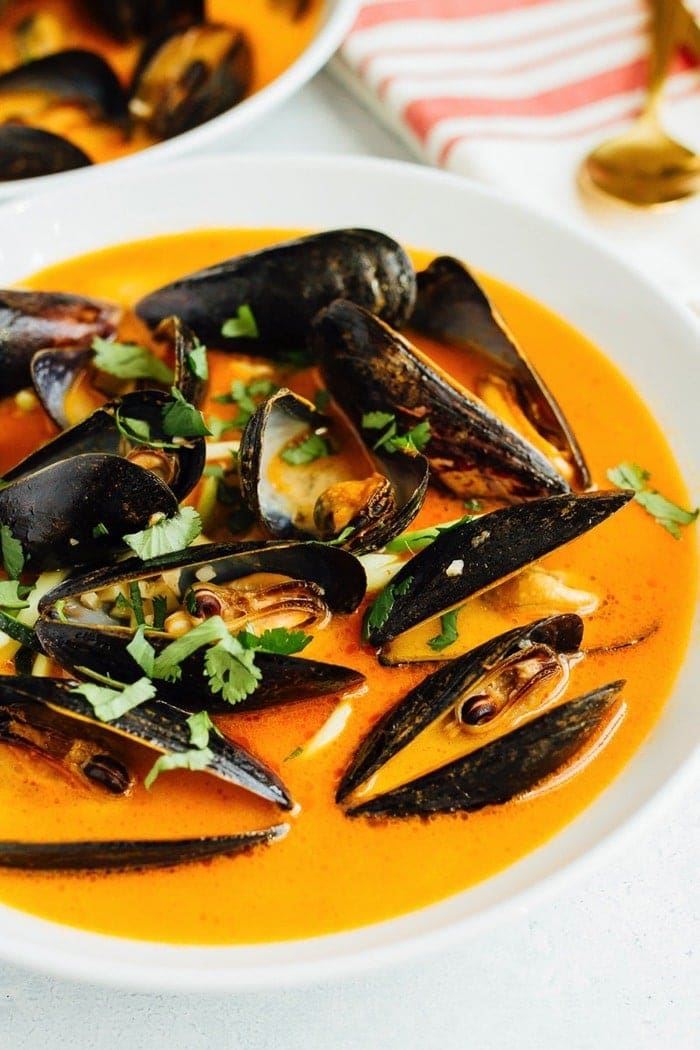 Salmon Salad from Eating Bird Food – This salmon salad is loaded with roasted sweet potato croutons, avocado, pickled onions and dressed in a light lemon vinaigrette! It's an easy go-to meal you'll love having as part of your weekly rotation.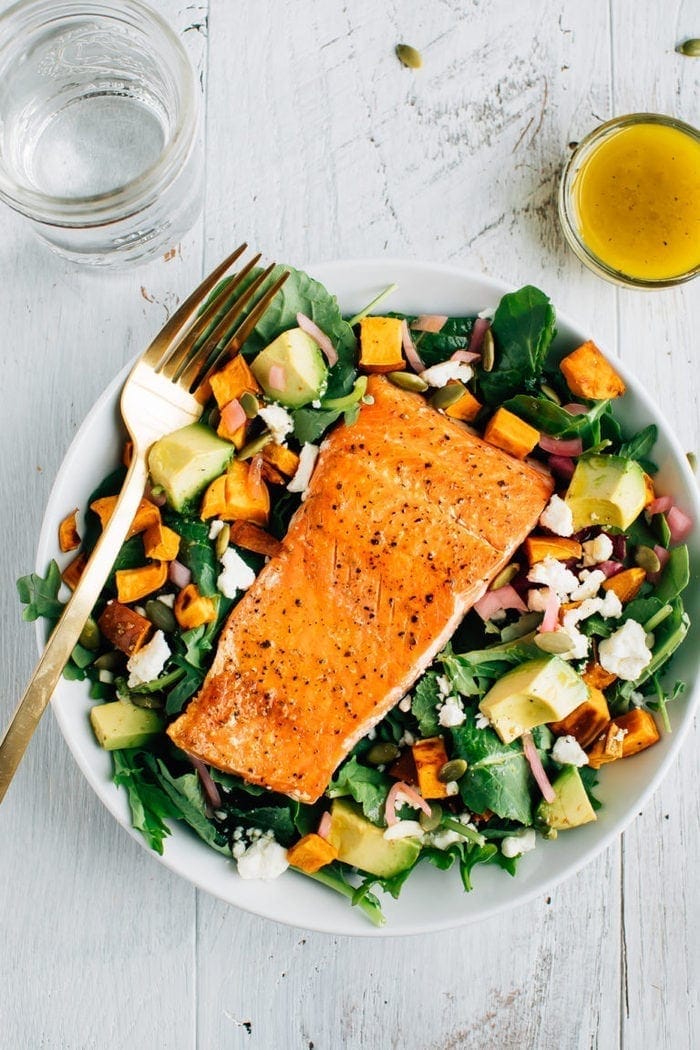 Chili Lime Baked Cod from The Roasted Root – Zesty, flavorful chili lime baked cod marinated in a quick and simple marinade. This easy baked cod recipe results in perfectly tender and flaky fish that it ultra mouth-watering and healthful.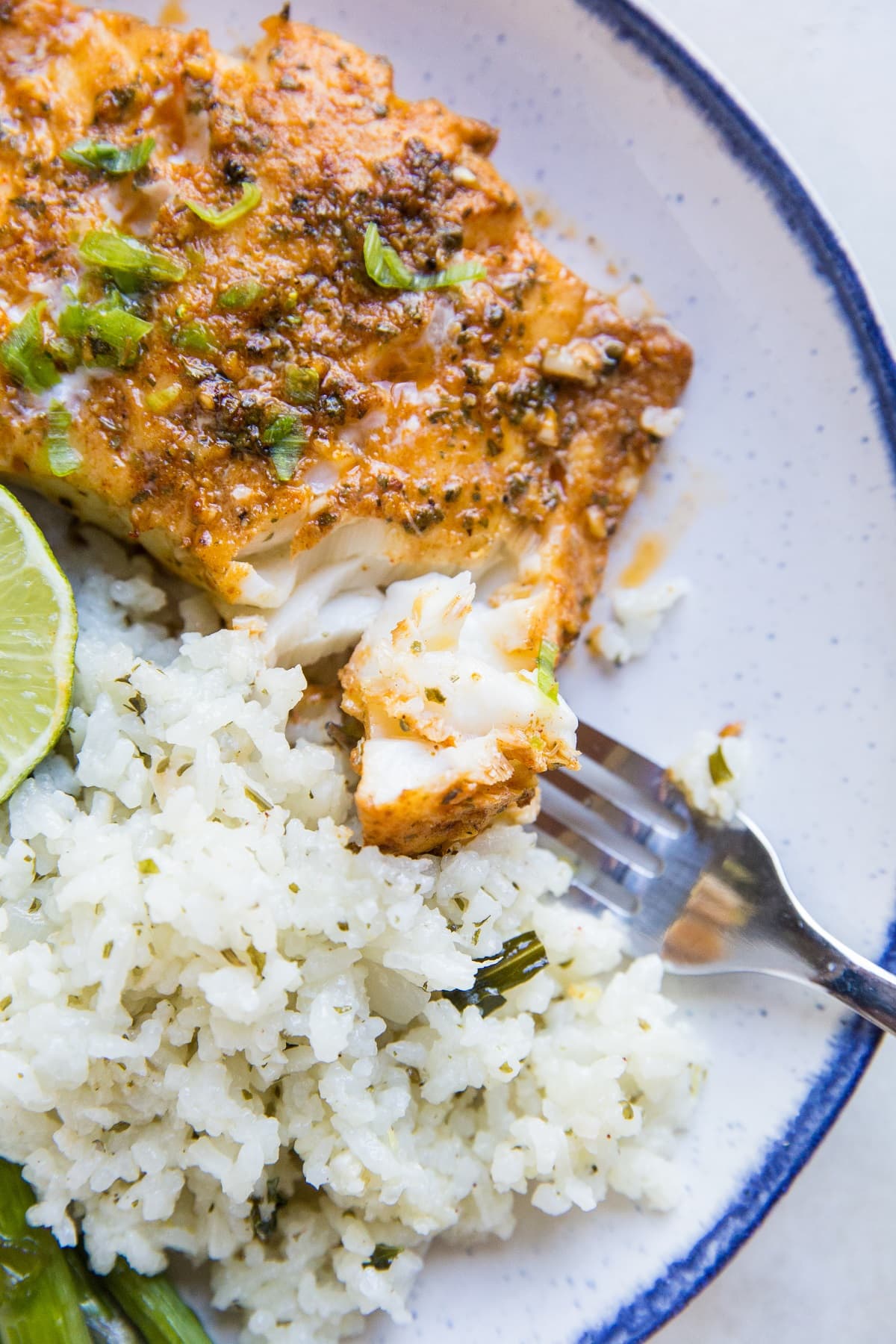 Pan Seared Salmon with Chive Pistou Potatoes and Tomatoes from Salt Pepper Kitchen – Pan-Seared Salmon with a fresh Chive-Walnut Pistou, Crispy Fingerling Potatoes and Semi-Dried Grape Tomatoes is a fish dinner treat you will want to repeat.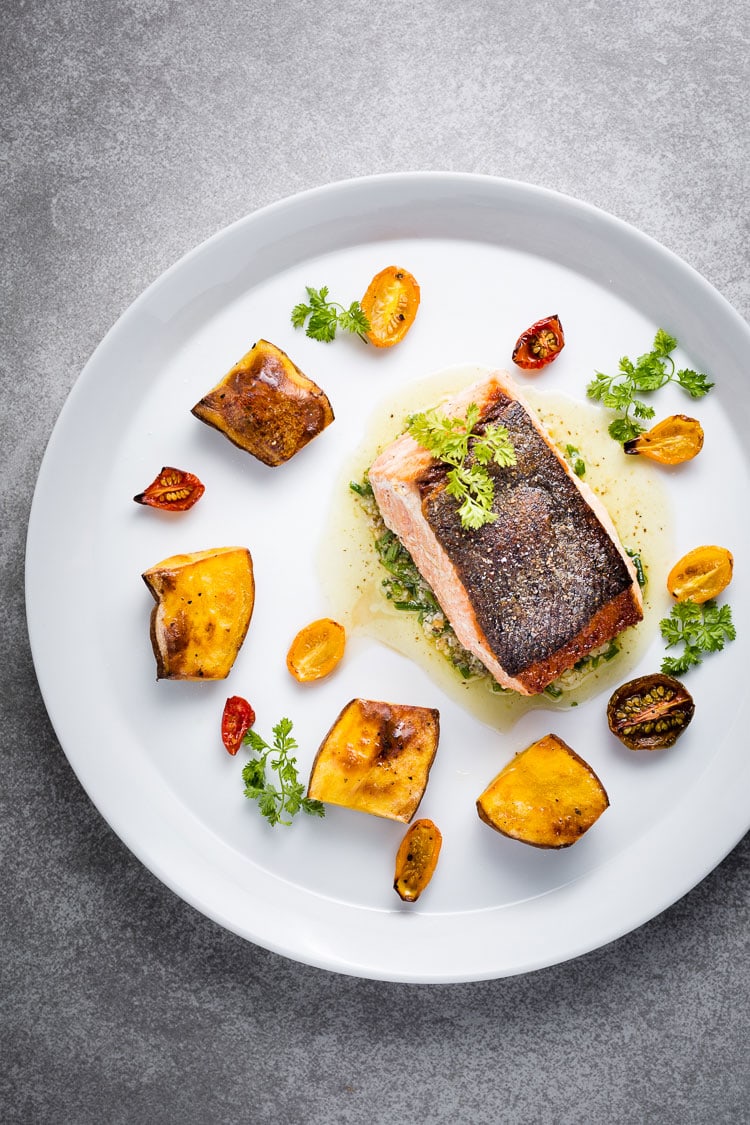 Orange Butter Lemon Salmon from The Roasted Root – Tangy, citrus lemon salmon with orange and ghee. This easy pan-cooked salmon recipe requires less than 30 minutes to prepare and is a delicious paleo, low-carb, keto main entrée.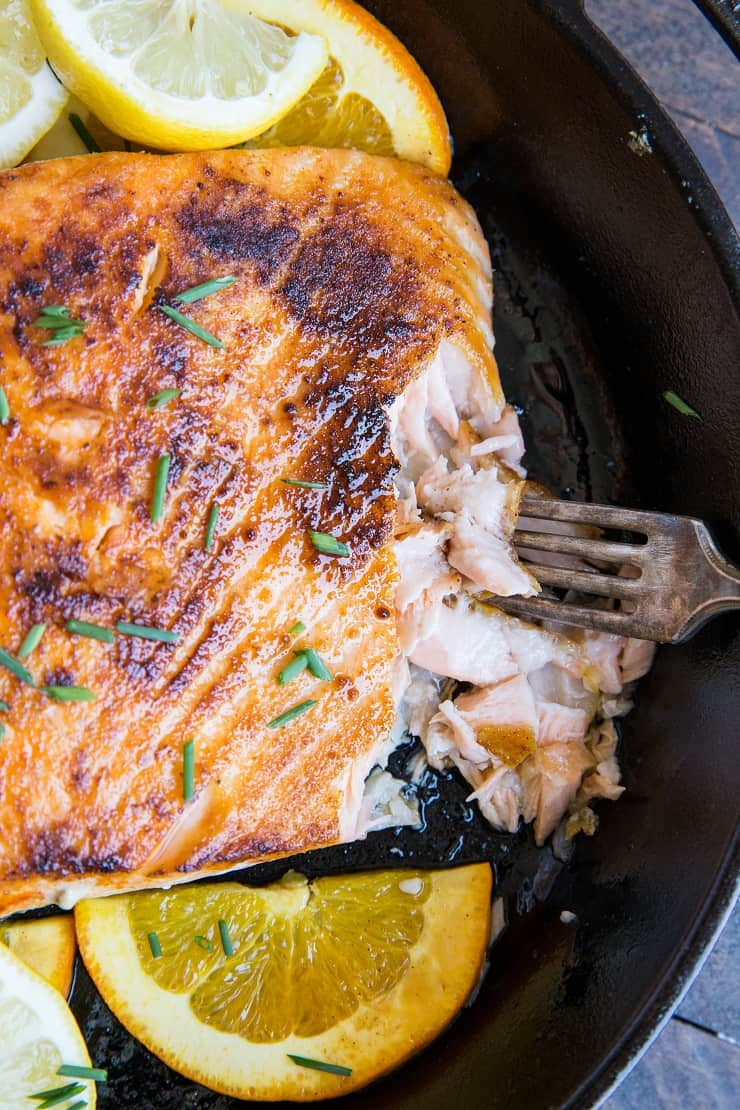 Bone Broth Risotto with Pan-Seared Scallops from Tasty Yummies – One of the best parts about this Bone Broth Risotto with Pan Seared Scallops is that it is packed with flavor, ingredients that you know have added nutritional value, but the best part is you save more than half of the amount of money on this dish making it at home than buying at a restaurant.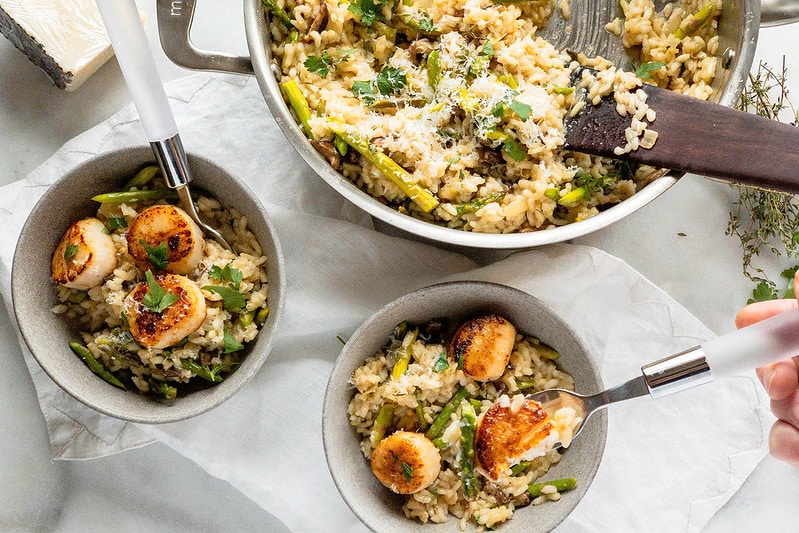 Pan-Seared Salmon with Avocado Gremolata from Cotter Crunch – Pan Seared Salmon with Avocado Gremolata is a Whole30 compliant, healthy fish recipe. Making this crispy skin salmon requires just 7 ingredients and 10 minutes of cooking time! This is a quick, easy, kid-friendly meal. It's grain-free, gluten-free, low carb, paleo, and using oil instead of butter, it can be dairy-free, too!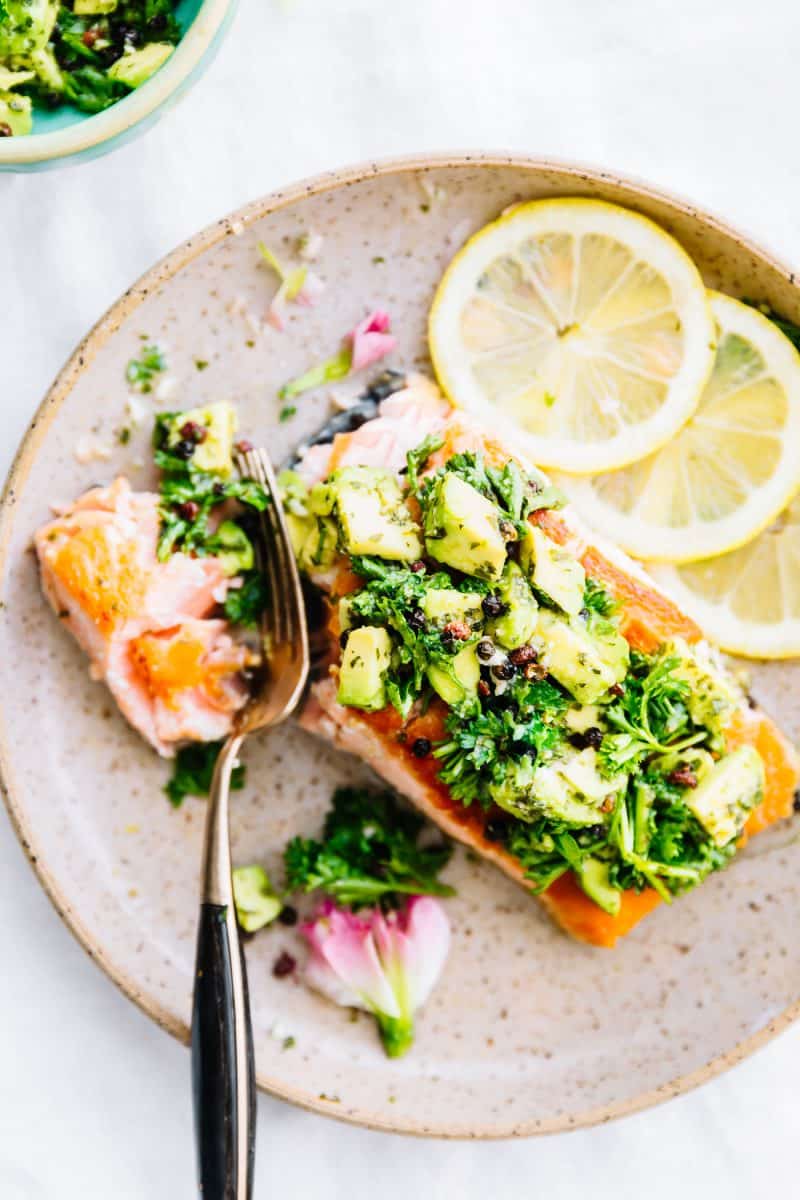 Seared Scallops with Chimichurri Sauce from The Roasted Root – Seared scallops are a delightful romantic dinner! Learn everything you need to know about making perfect seared scallops right here!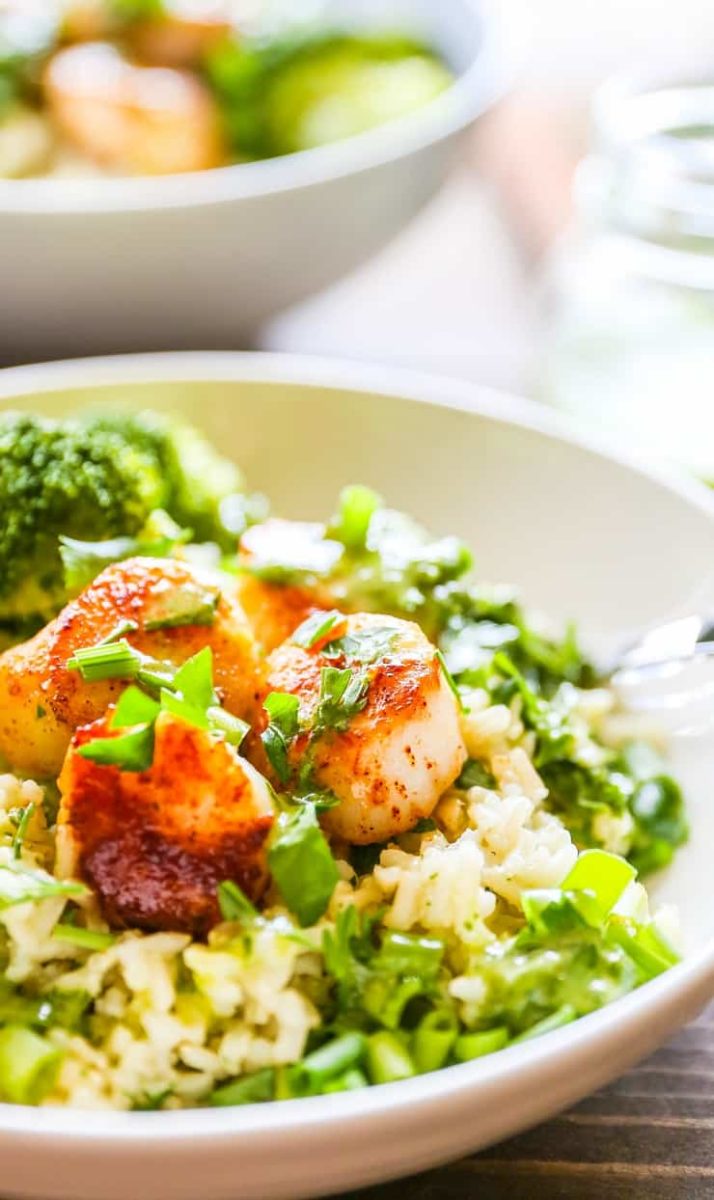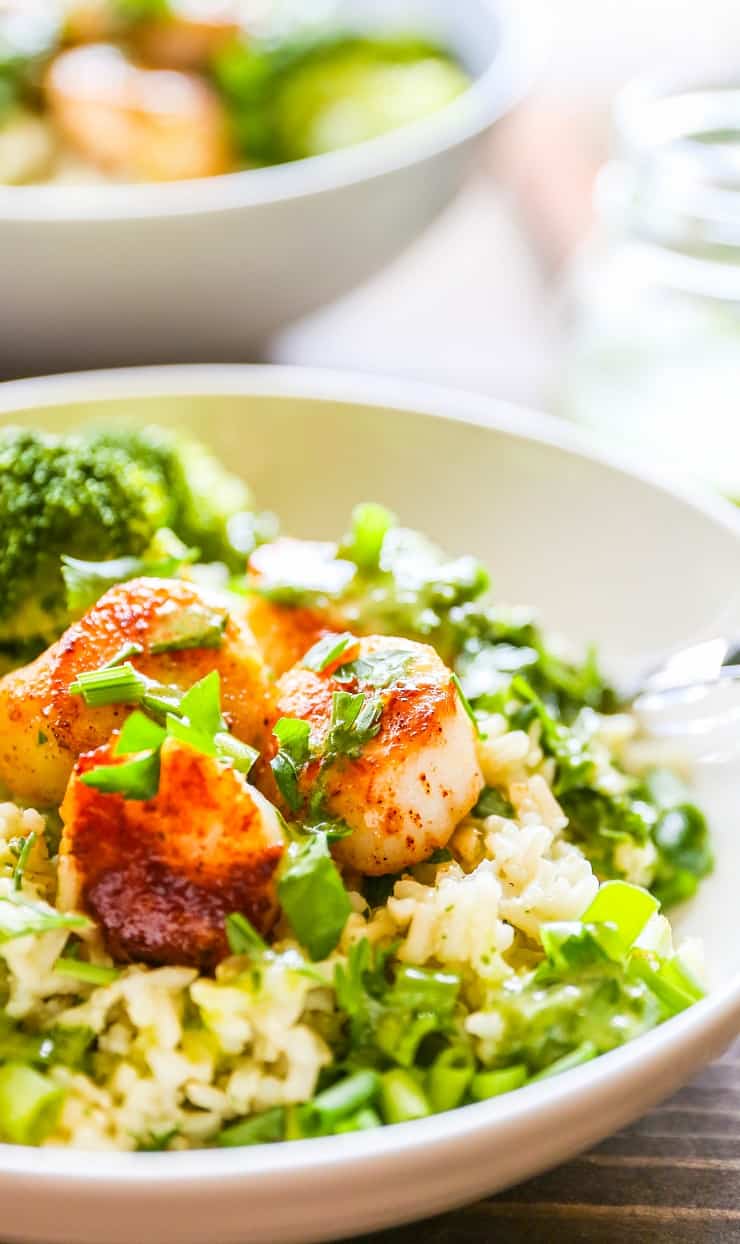 Blackened Salmon from Noshtastic – Blackened salmon with homemade blackened seasoning is crispy yet tender with a delectable smoky flavor.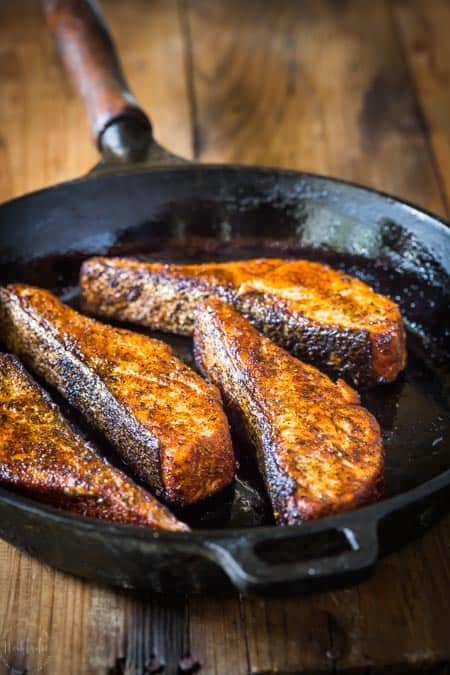 Mediterranean Salmon in Parchment Paper from The Roasted Root – Mediterranean-inspired salmon in parchment paper with sun-dried tomatoes, dill, capers, artichoke hearts, kalamata olives, and pesto sauce is a mouth-watering experience for a lovely evening in.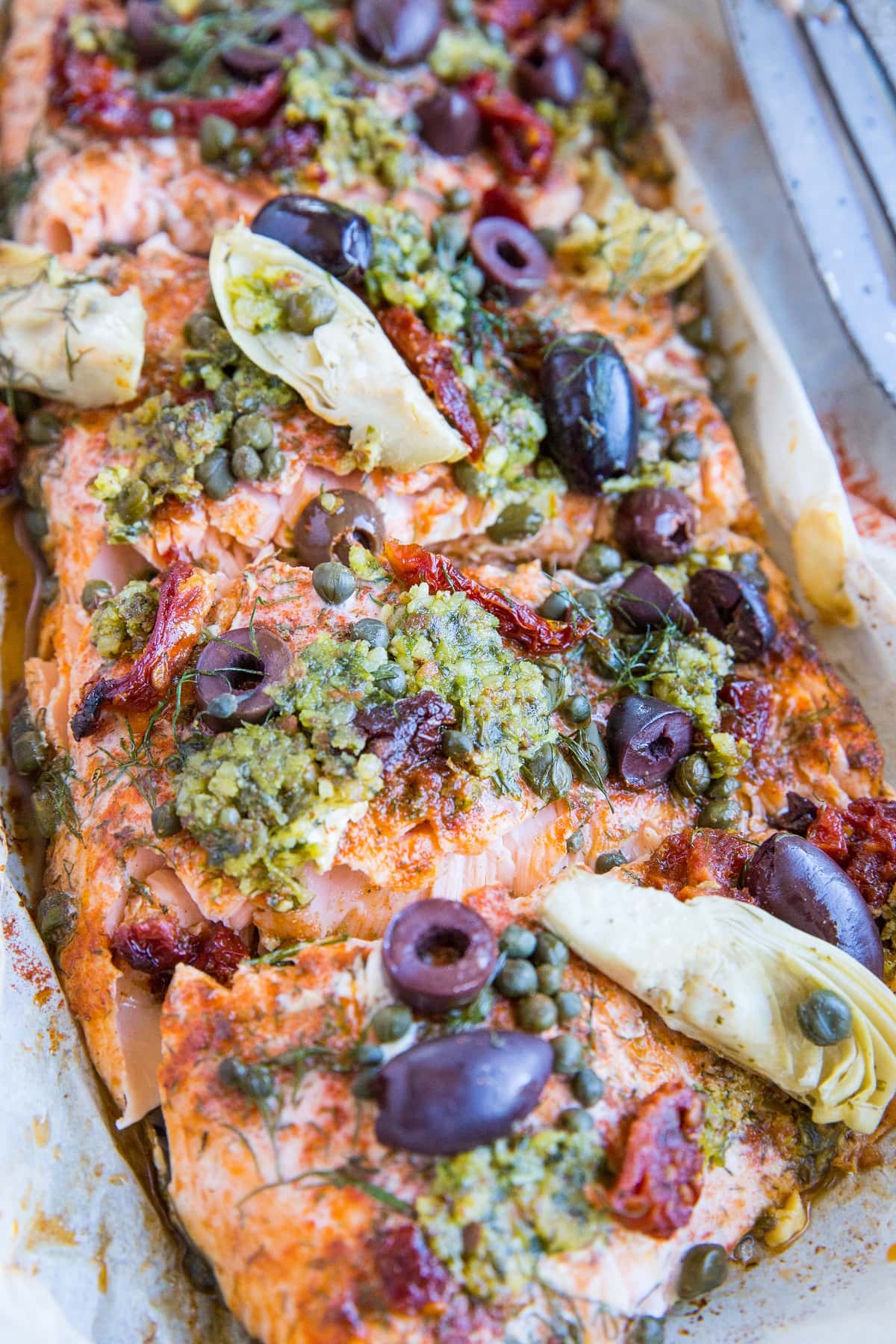 Tart Cherry Glazed Salmon from Running to the Kitchen – This tart cherry glazed salmon is broiled to perfection with a tart and slightly sweet caramelized cherry exterior. It's a great way to get all the superfood benefits of salmon with the recovery and sleep benefits of tart cherries.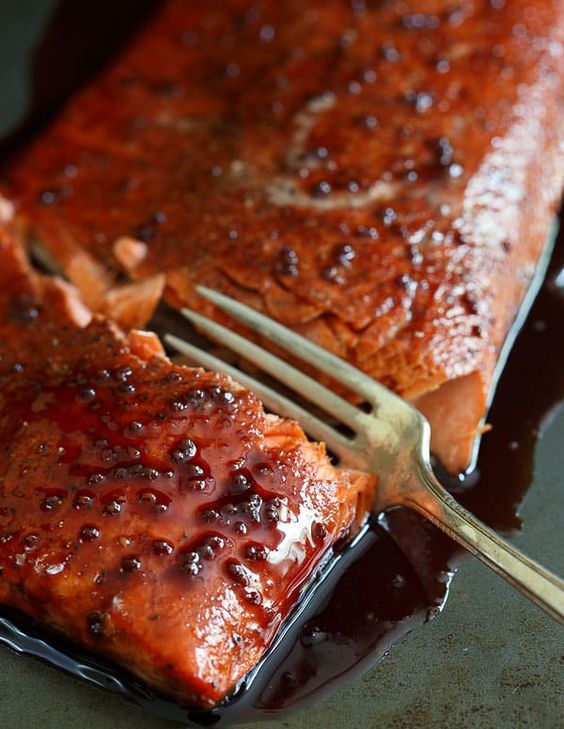 Salmon with Parsley Sauce from Dessert for Two – Salmon sauce recipe that makes Whole30 salmon so delicious! This bright parsley sauce enlivens anything it touches! Plus, an easy recipe for salmon that starts on the stove and finishes in the oven for perfect salmon, every time!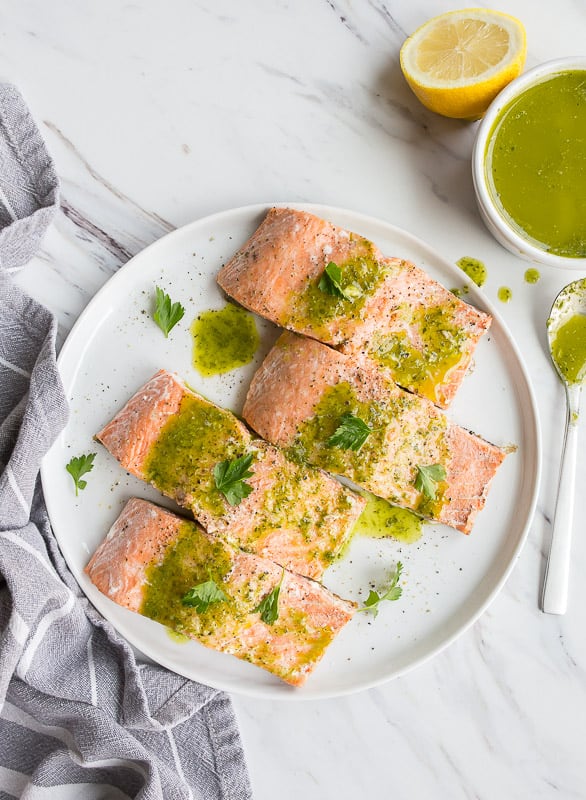 Pan Roasted Swordfish with Cherry Tomatoes and Capers from Jersey Girl Cooks – This pan roasted swordfish is a healthy, delicious fish recipe and can be on your table in under 30 minutes. Cook this and you will win the dinner lottery!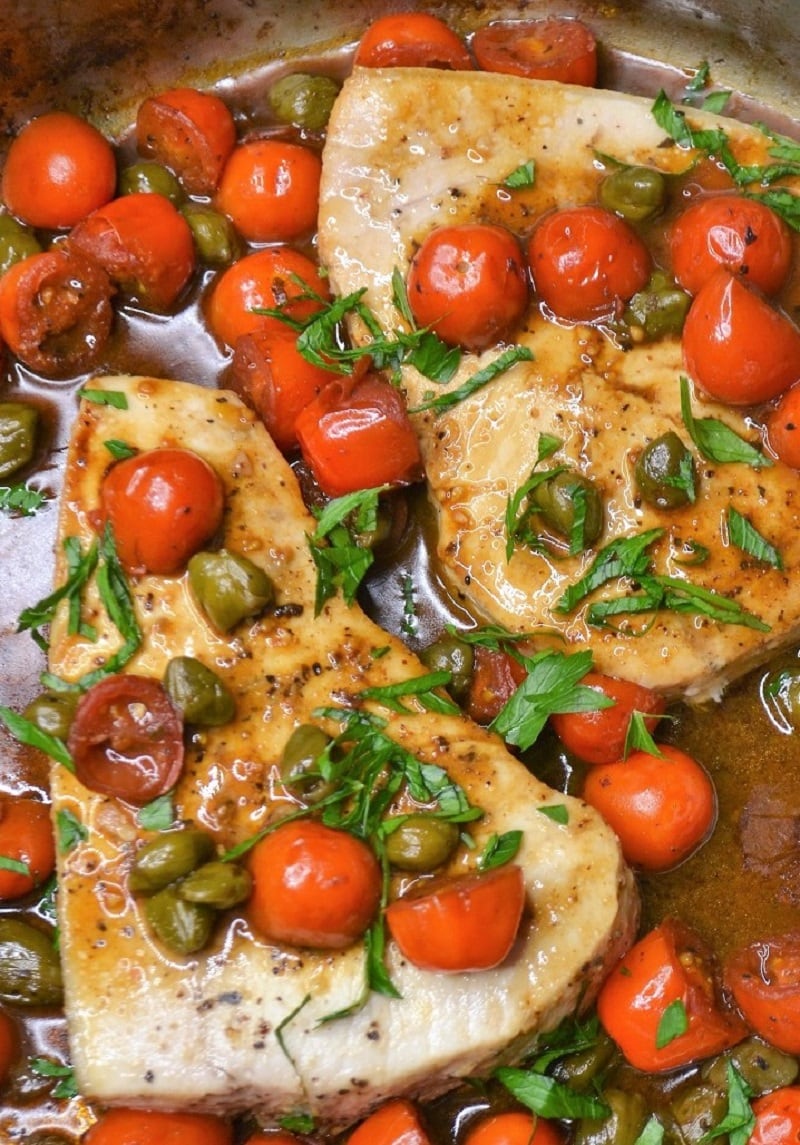 Smoked Walnut Crusted Salmon from We're Parents – Smoked Walnut Crusted Salmon is a deliciously tender fish recipe with an amazing crusted topping.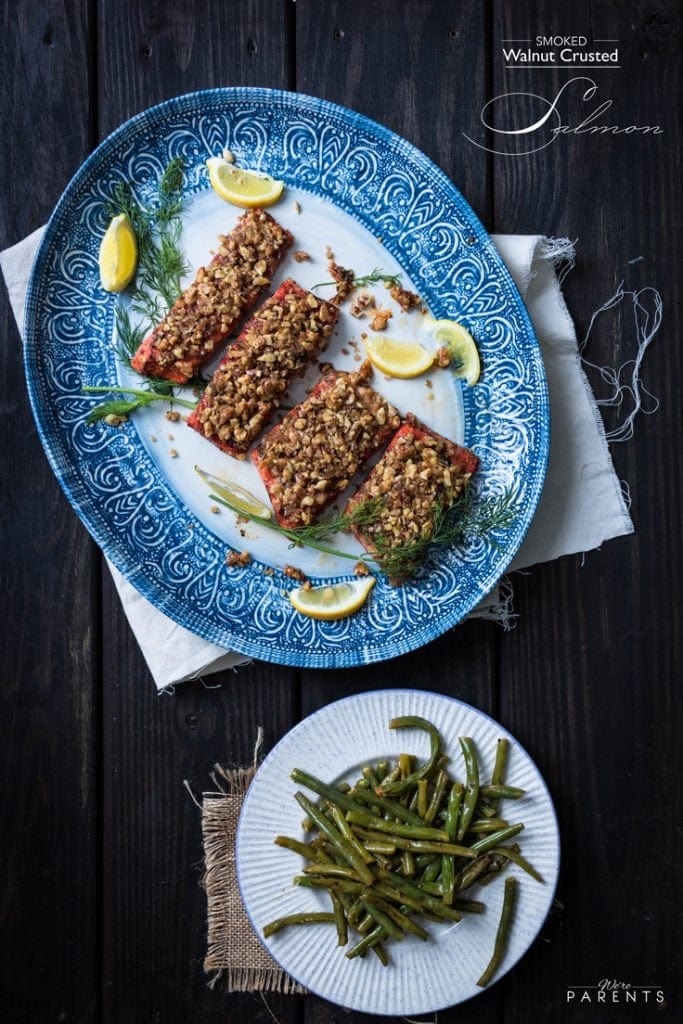 Seafood and Chorizo Paella from Little Ferraro Kitchen – Seafood and chorizo paella recipe is full of Pacific Northwest clams and mussels, wild salmon, spicy chorizo and garnished with sweet peas and bright lemon.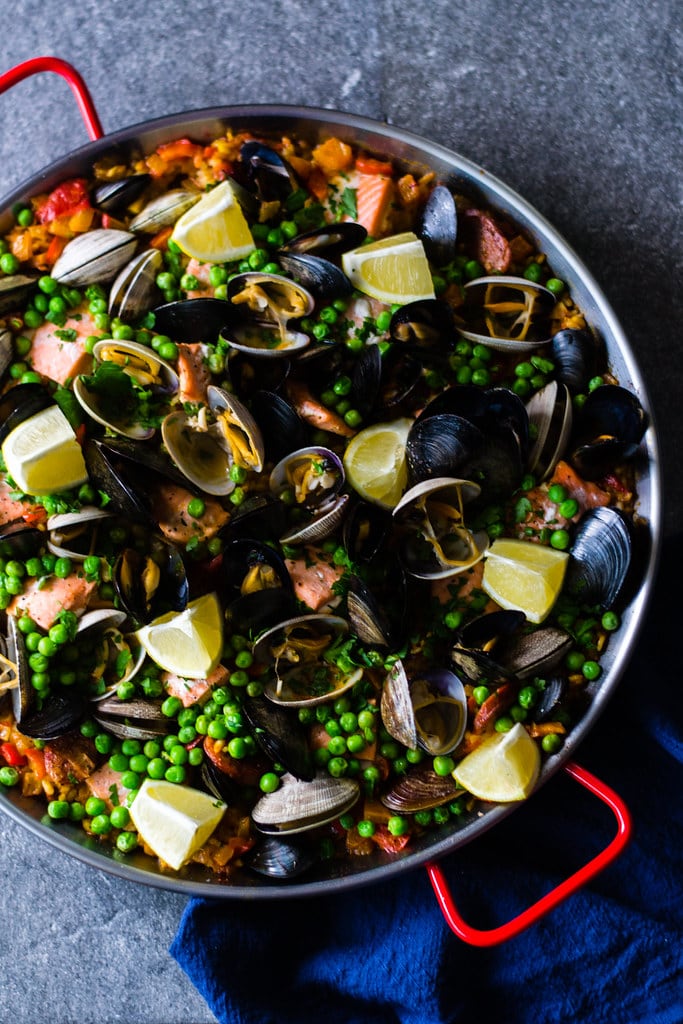 Sweet Chili Sriracha Salmon from Peas and Crayons – Looking for a new way to jazz up salmon and make it taste GREAT!? This tasty glazed Sweet Chili Sriracha Salmon is quick, easy, and makes an impressive weeknight dinner that's full of flavor!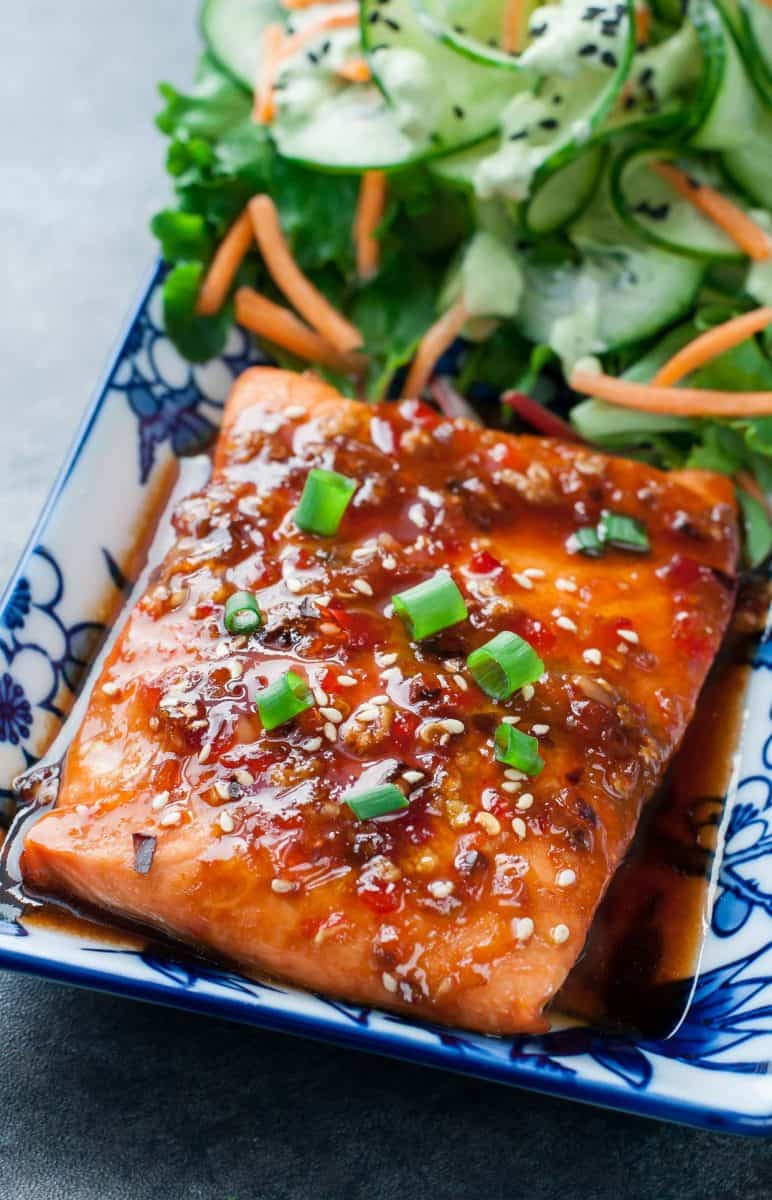 Pesto Baked Salmon from Wholesome Yum – Flavorful basil pesto salmon with tomatoes is one of the easiest meals ever! This baked pesto salmon recipe needs just 4 ingredients and 20 minutes.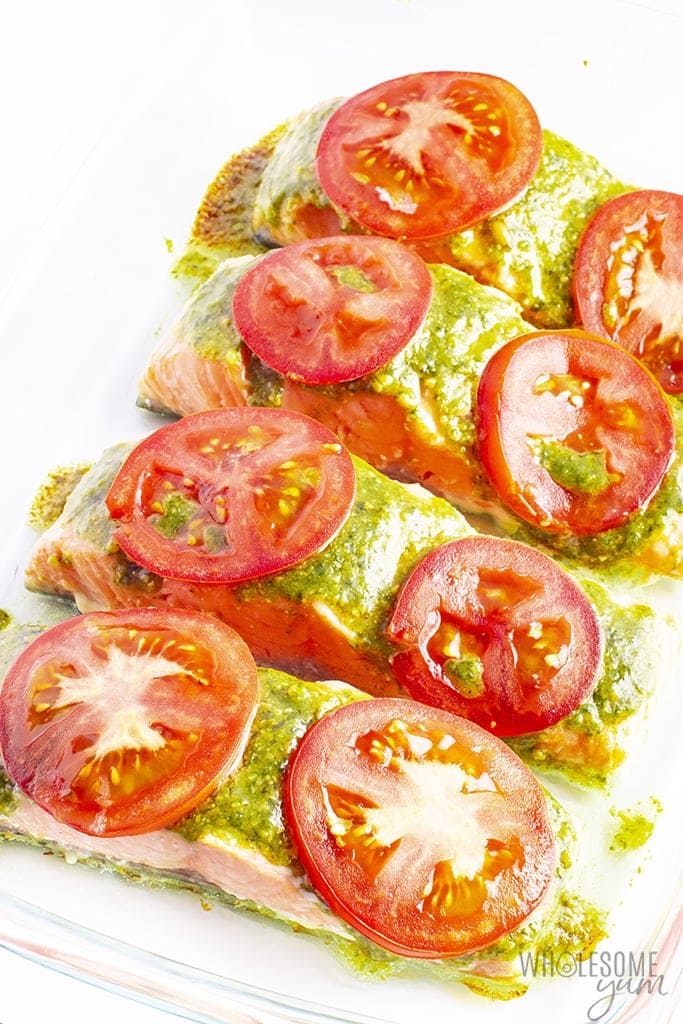 Grilled Salmon with Lemon Garlic Sauce from The Lemon Bowl – Loaded with Omega 3's and ready in under 30 minutes, this grilled salmon with lemon garlic sauce is sure to please any palate.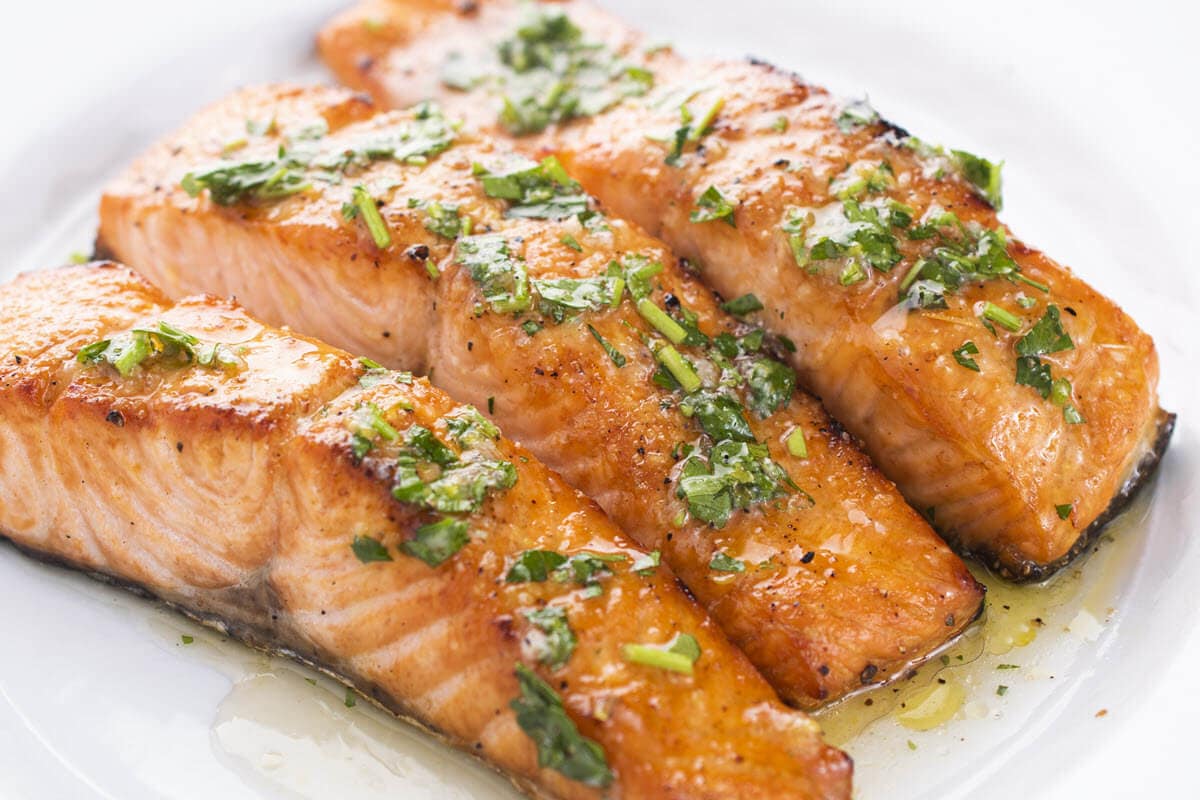 Salmon Bowls with Pesto Spaghetti Squash from The Roasted Root – Salmon bowls with spaghetti squash tossed in pesto sauce with sauteed vegetables. These bowls can be prepared year-round with seasonal produce and are paleo, keto, low-carb, and whole30.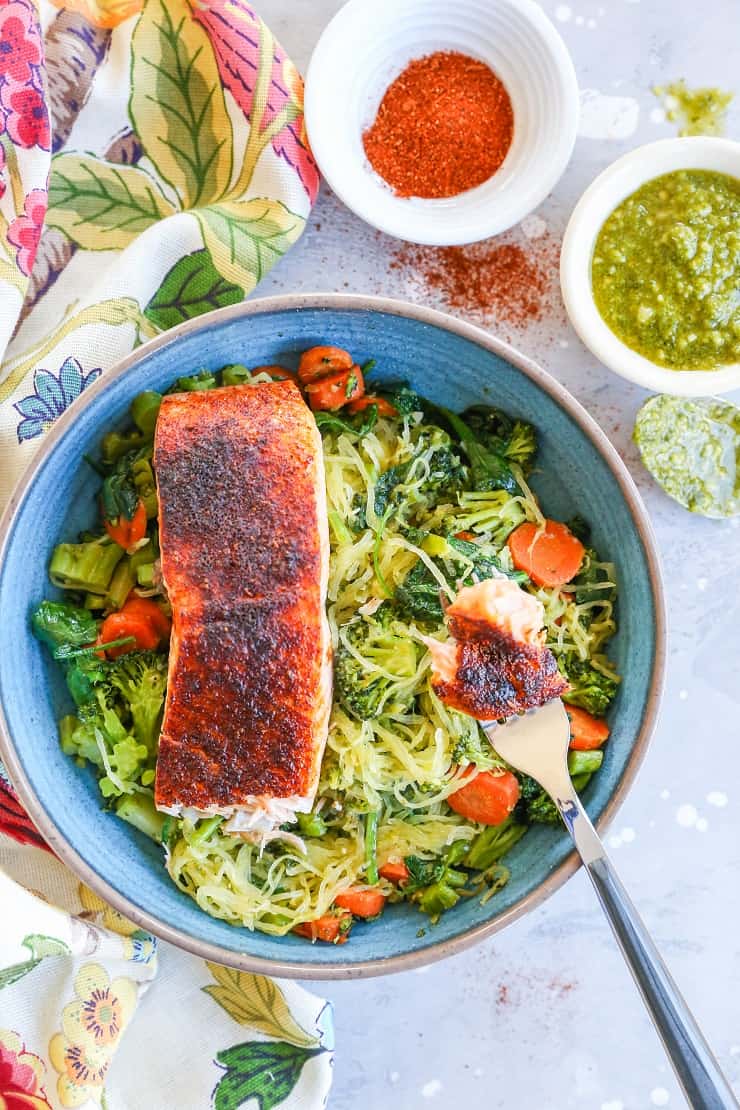 Zucchini Noodles with Coconut Curry Salmon from Food Faith Fitness – This low carb Indian salmon curry is a SUPER easy, 5-ingredient, healthy meal that is paleo, gluten free and whole30 compliant! Perfect for busy weeknights!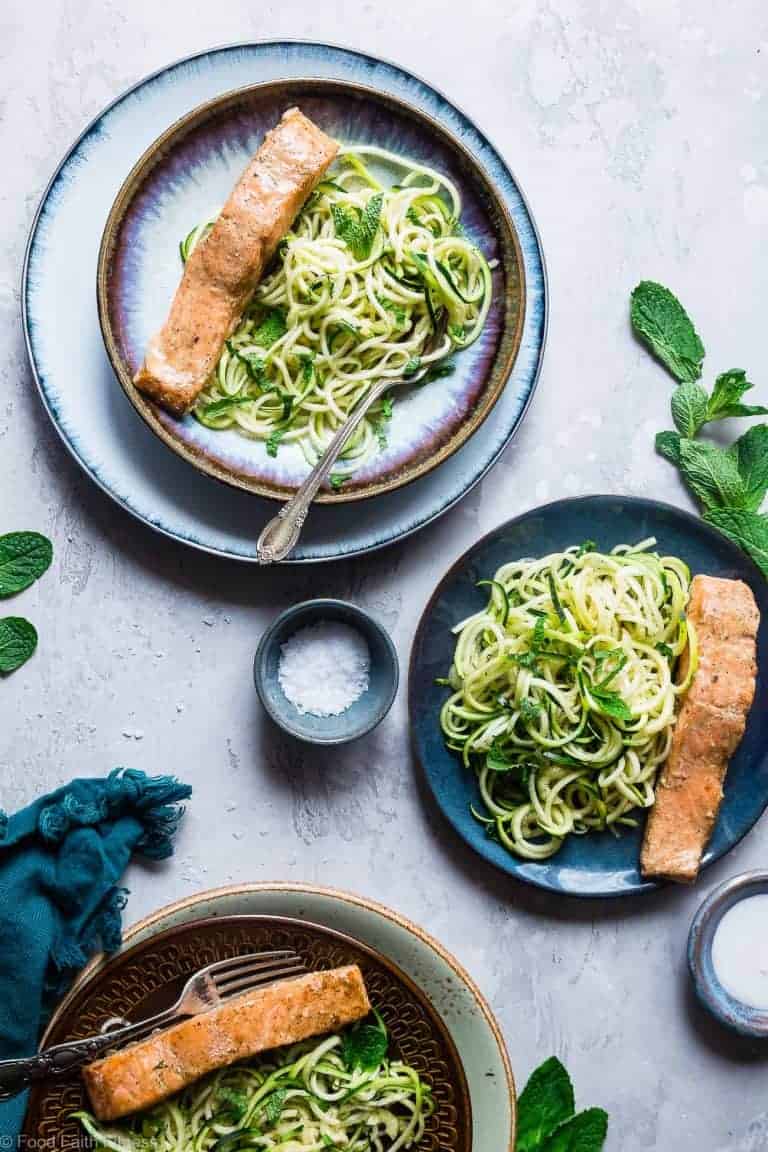 Lemon Butter Crab Stuffed Salmon from Wholesome Yum – This crab stuffed salmon recipe looks fancy and tastes delicious, but is quick and easy to make with common ingredients. You'll love this simple take on lemon butter salmon and crab stuffed fish. Naturally low carb, gluten-free and paleo, but you'd never guess!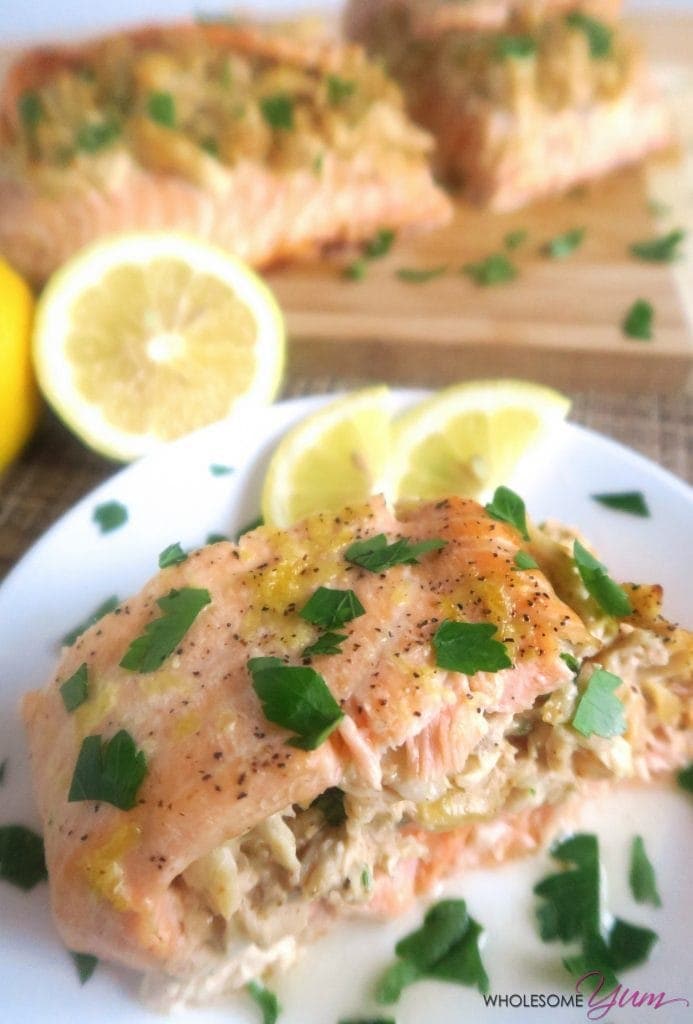 Easy Lemon Garlic Shrimp Pasta from The Roasted Root – Made gluten-free and dairy-free, this high-carb meal is still easy on digestion and magically sexy! Make my Keto Shrimp Scampi for a lower carb version.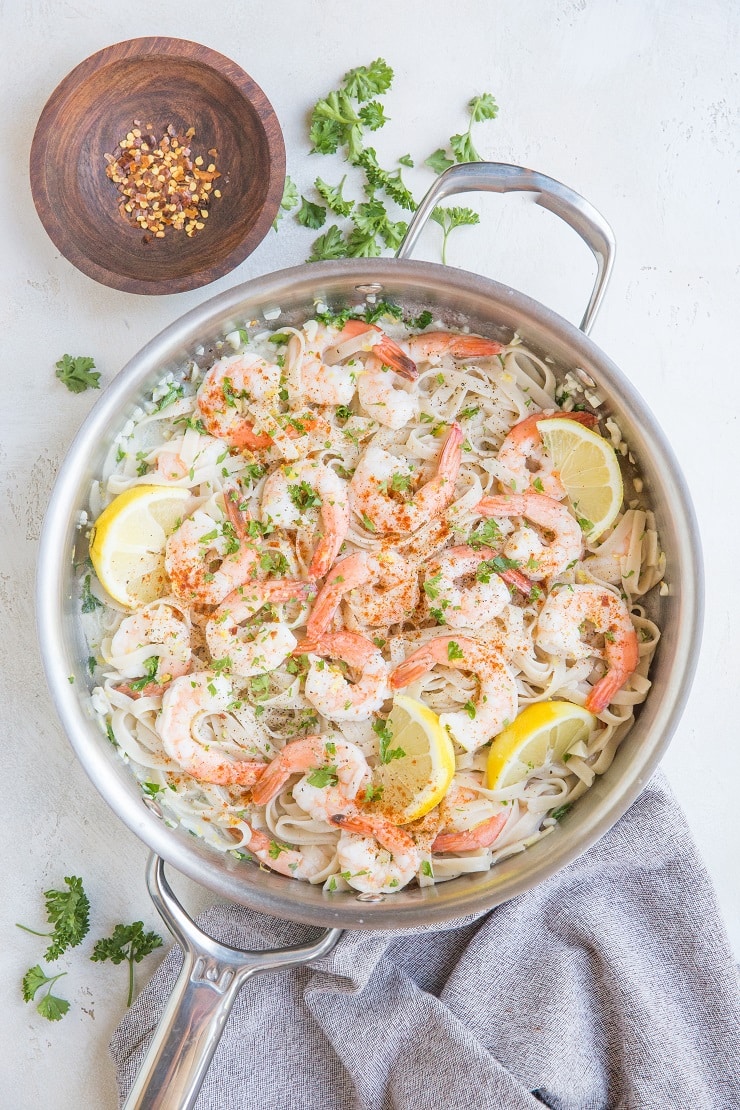 Sexy Side Dishes:
Crowd-Pleasing Roasted Vegetables from The Roasted Root – A basic recipe for roasted vegetables that never fails to impress! This healthy and delicious side dish is perfect for meal prepping or serving a group of people.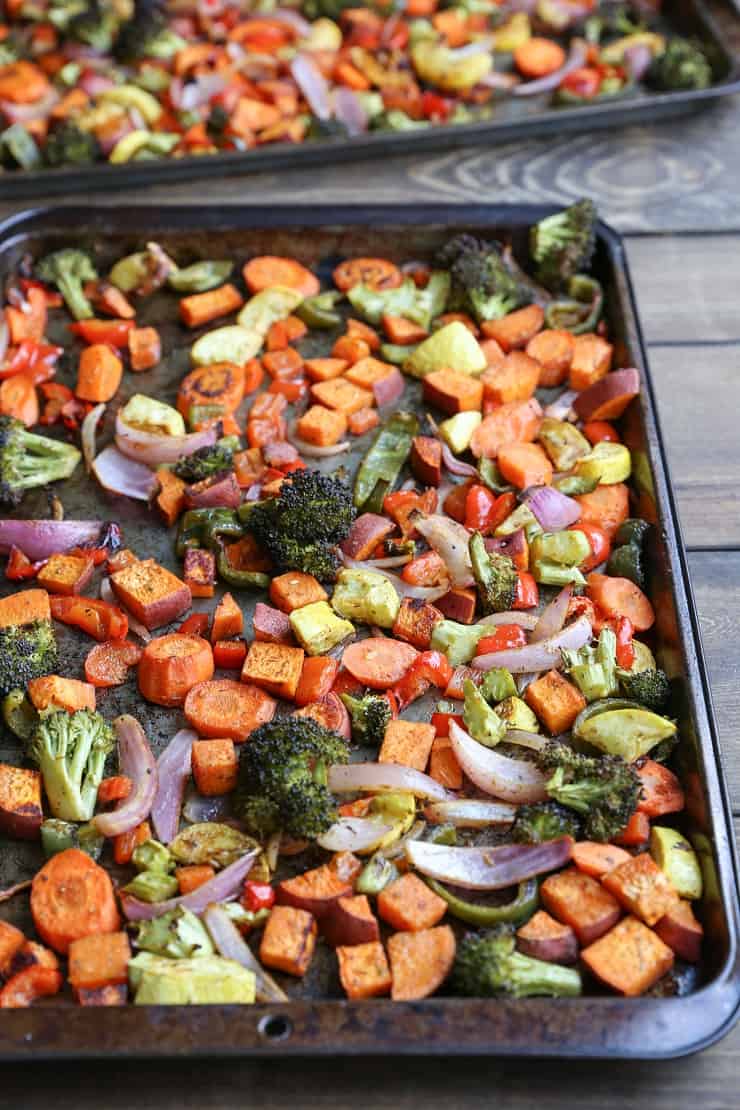 Saffron Risotto from Bellalimento – Saffron Risotto, also known as, Risotto alla Milanese. Luxurious simplicity.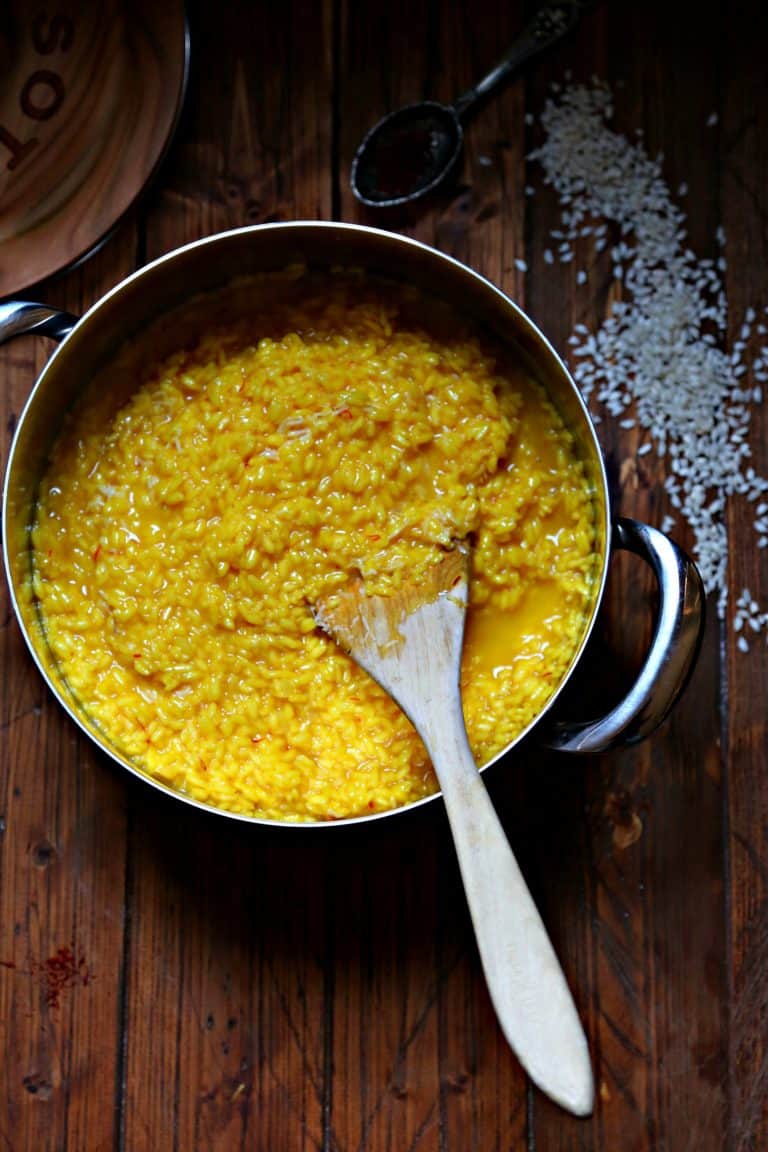 Golden Beet Orange Pomegranate Salad from Flavor the Moments – Golden Beet, Orange, and Pomegranate Salad is fresh, flavorful salad tossed in a white balsamic orange vinaigrette. Healthy never tasted so good!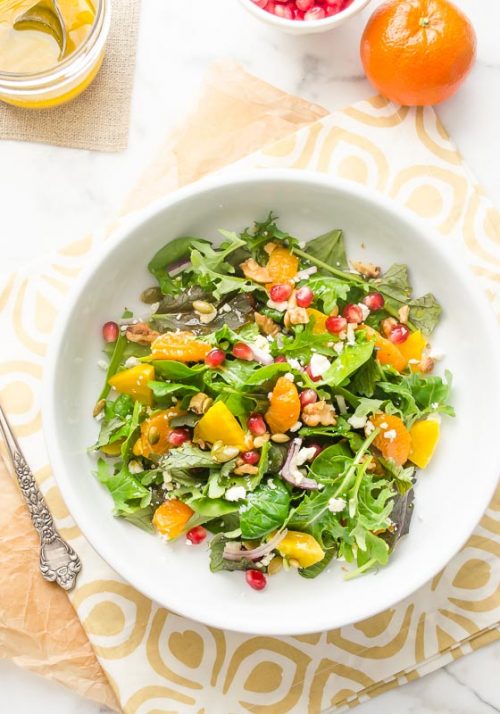 Avocado and Herb Salad from The View from Great Island – This Avocado and Herb Salad is a delicious example of the new trend in healthy eating ~ fat (the good kind) is back! There's no sacrifice involved with decadent avocados and lots of bright fresh herbs, in fact this easy vegan salad deserves a recurring role in your weekly meal plan.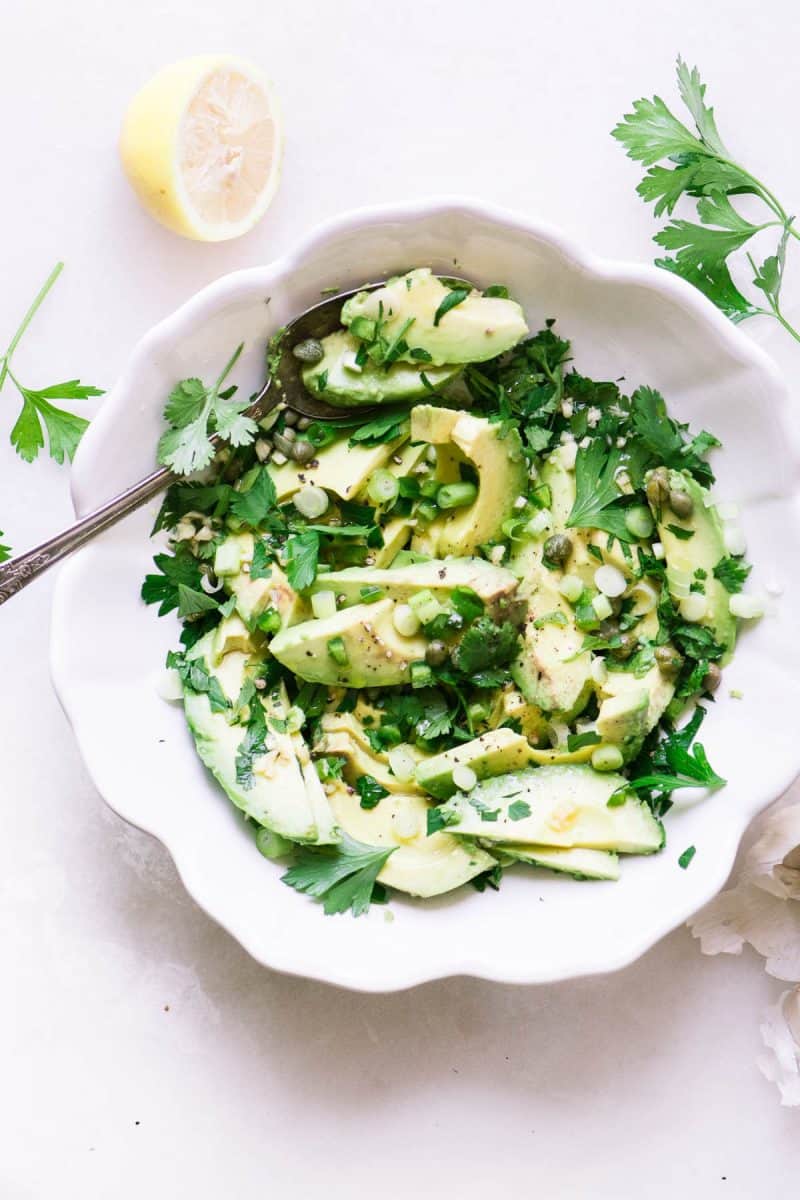 Roasted Beet and Garlic Hummus from The Roasted Root – For those of us who love slathering just about anything with hummus, this version is otherworldly.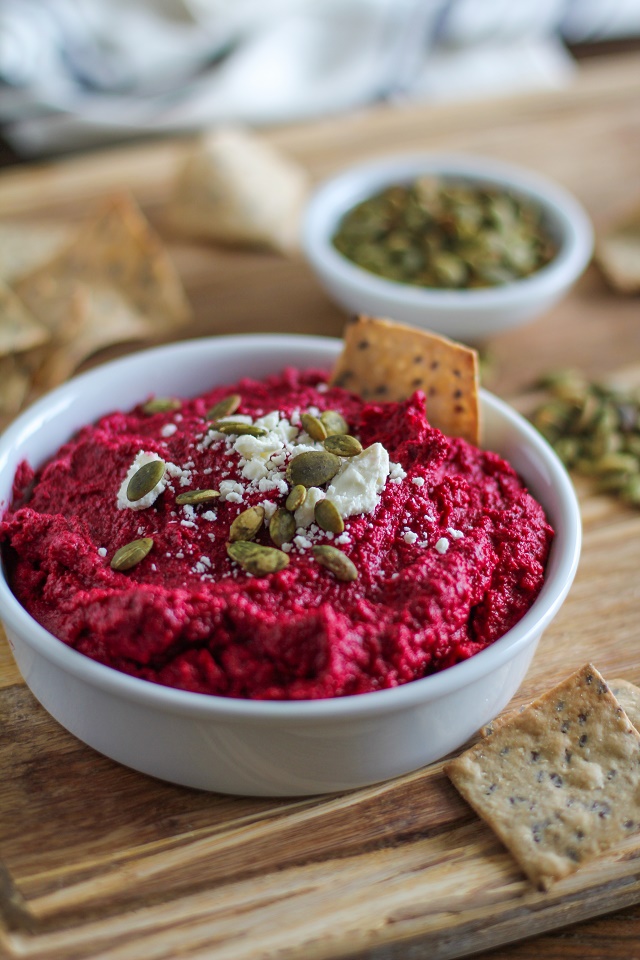 Stuffed Grilled Avocados with Shrimp and Mango Salsa from The Roasted Root – Stuffed grilled avocados with grilled shrimp and delicious mango salsa. These stuffed avocados are perfect for sharing with friends and family all grilling season long.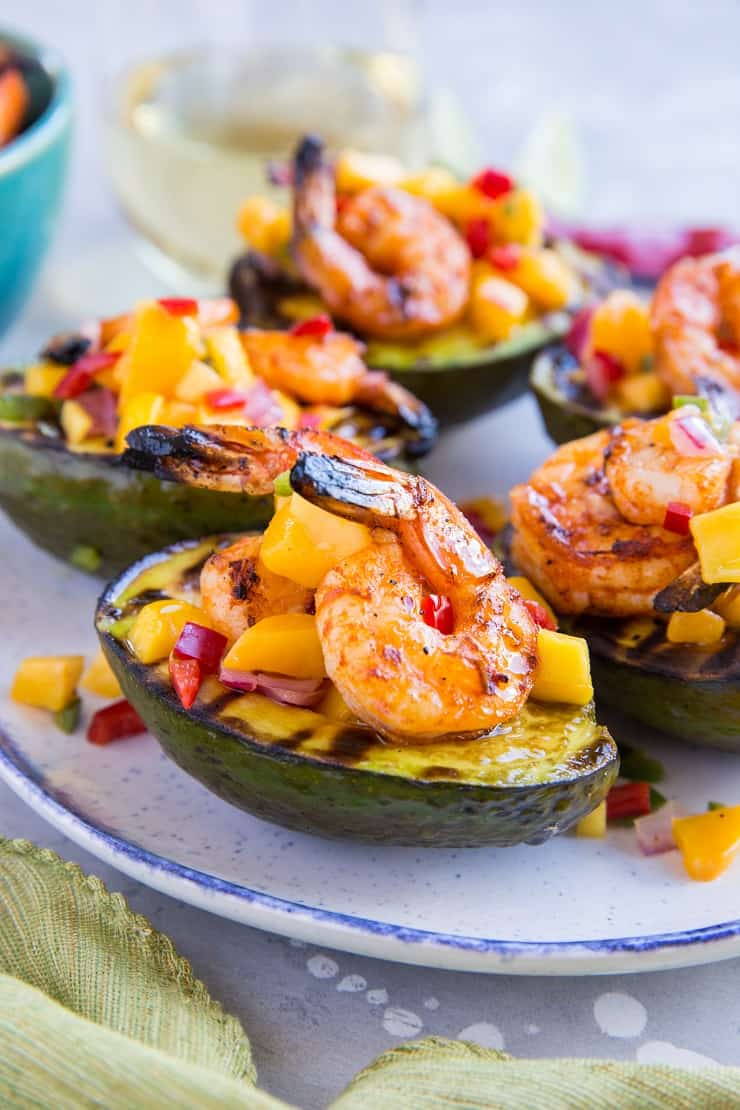 Pesto Quinoa Salad with Asparagus, Avocado and Kale from The Roasted Root – Light, flavorful pesto quinoa salad with avocado, walnuts, feta cheese, asparagus, and kale. This nutrient-packed dish is perfect for packing up and taking for lunches or to barbecues and picnics.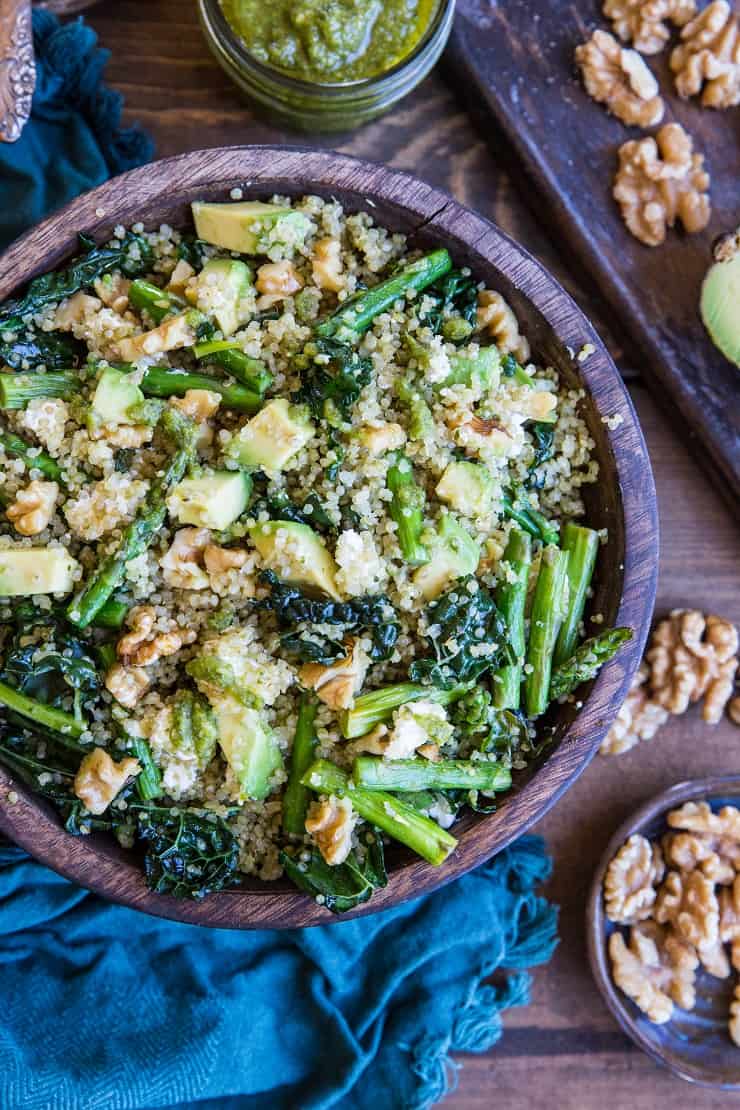 Moroccan Carrot Soup from Snixy Kitchen – Creamy Moroccan carrot soup with white beans is seasoned with za'atar and topped with cinnamon hazelnuts and a lemon yogurt swirl. This bright comforting soup is filling and flavorful.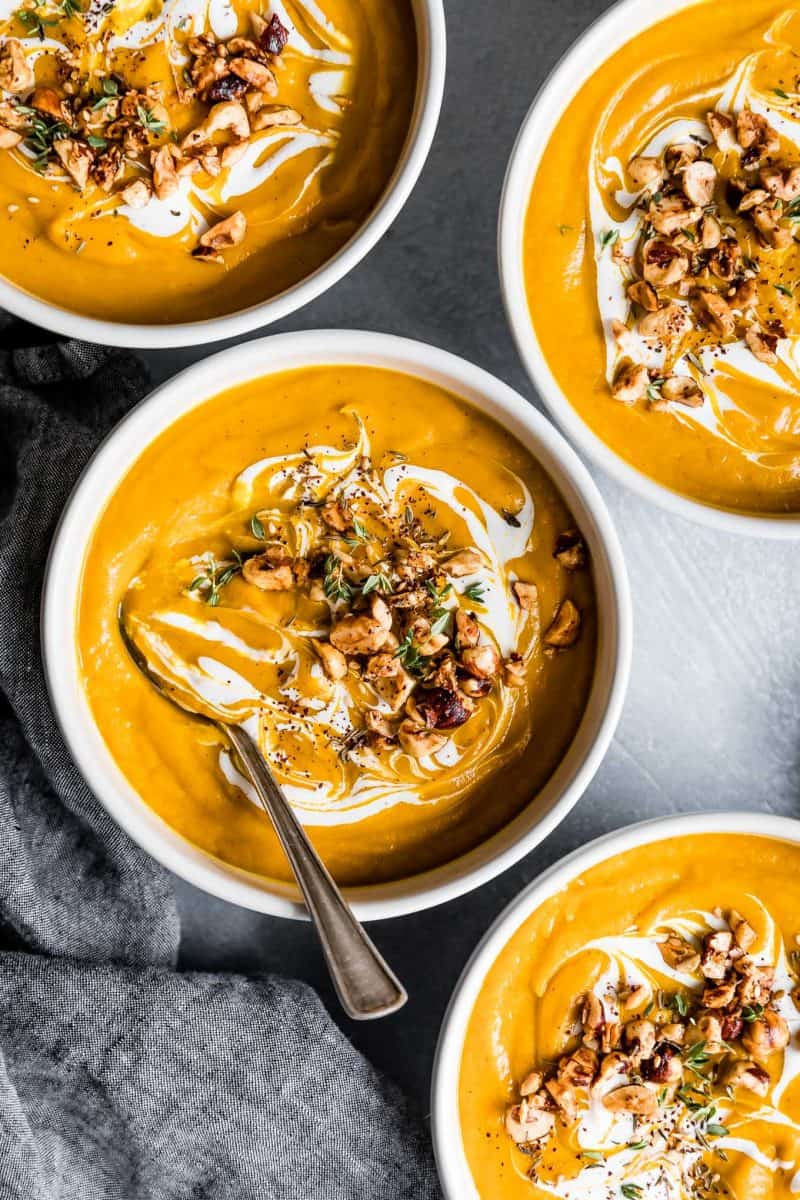 Roasted Winter Vegetable Quinoa Salad with Cider Vinaigrette from The Roasted Root – Roasted Vegetable Quinoa Salad with roasted sweet potato, carrots, butternut squash, walnuts, and maple-cider vinaigrette. This colorful, hearty salad is a marvelous side dish for fall and winter.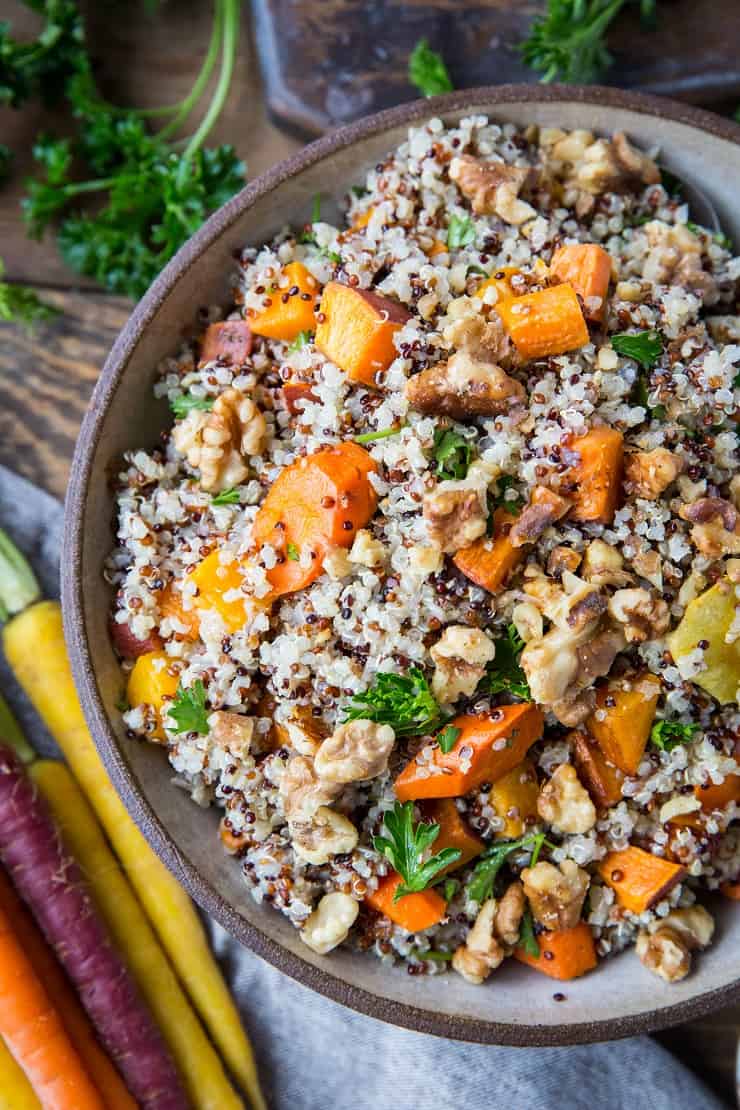 Sexy Dessert Recipes:
Flourless Keto Chocolate Cake from The Roasted Root – A quick, 7-ingredient Flourless Keto Chocolate Cake recipe that is sinfully rich and fancy yet so easy to make. Share this sultry cake with your loved ones to fully celebrate the glory of chocolate.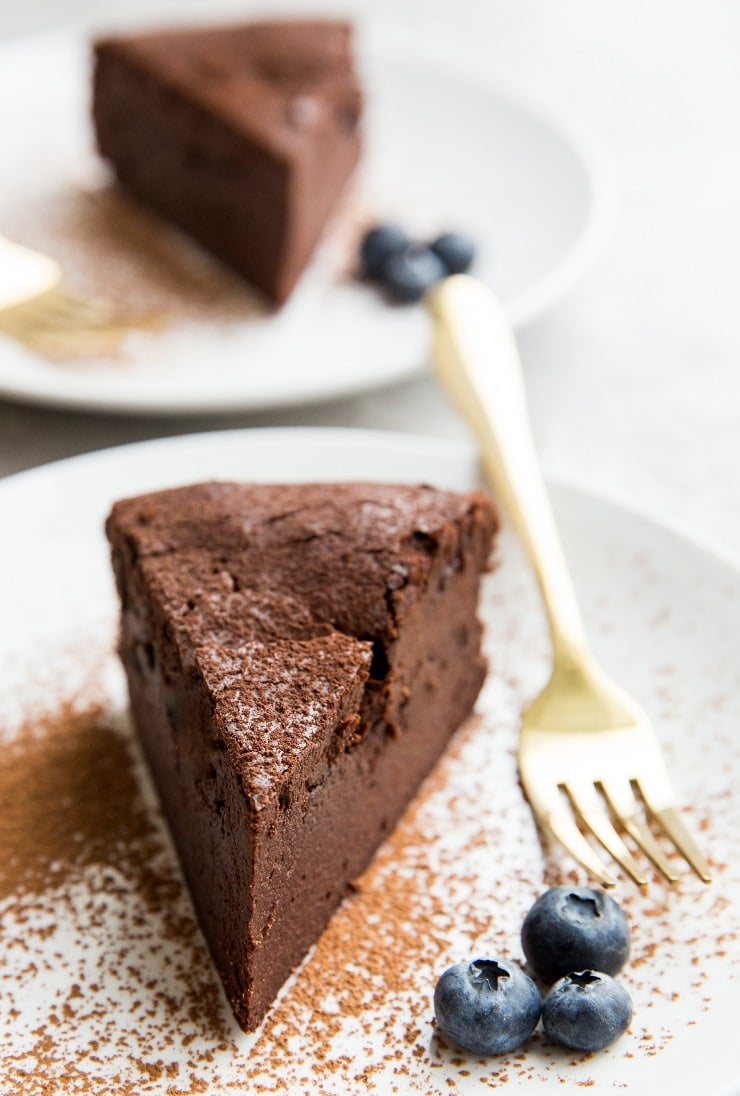 Gooey Peanut Butter Chocolate Lava Cake from Perry's Plate – The only thing better than a gooey chocolate lava cake is a gooey chocolate lava cake with peanut butter oozing out. Oh, and this one is grain-free and easily made dairy-free!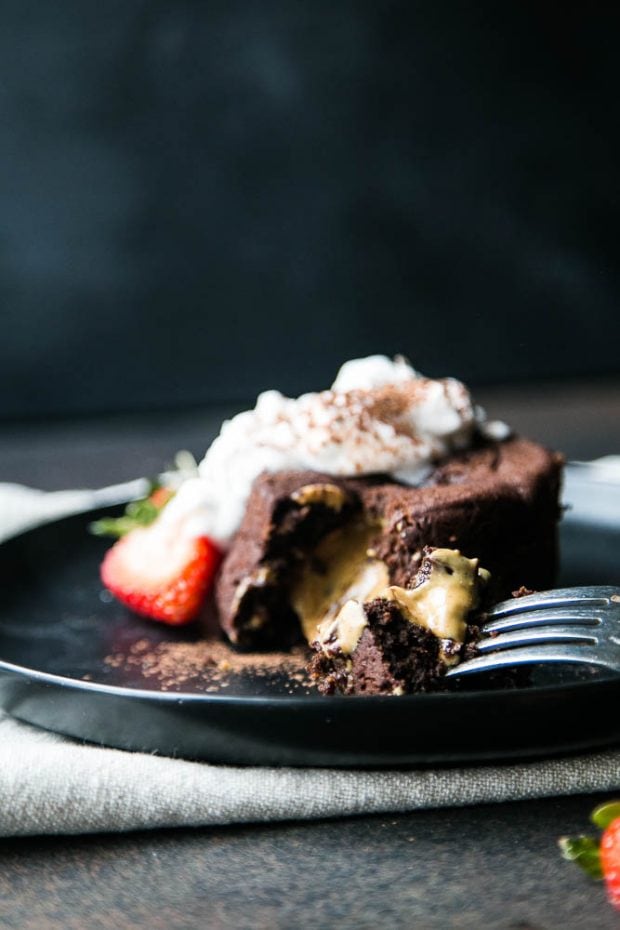 Paleo German Chocolate Cake from Food Faith Fitness – You'd never know this rich, moist German Chocolate Cake is a healthy remake that is paleo friendly and gluten, grain, oil, butter and refined sugar free!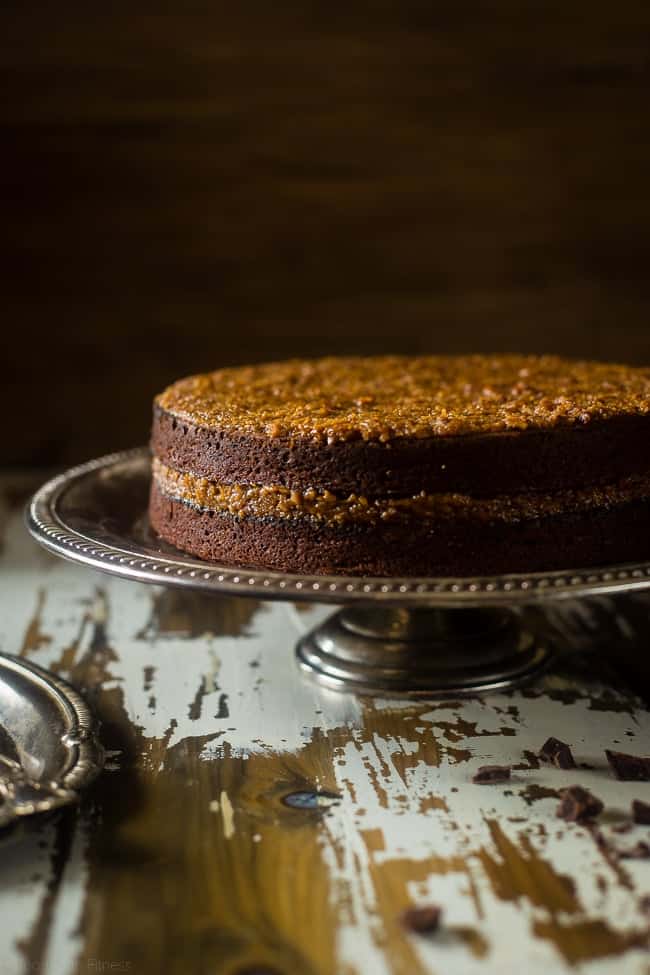 Gluten-Free Vegan Cookie Dough Brownies from Bakerita – This recipe for Gluten-Free Vegan Cookie Dough Brownies features a rich, fudge brownie topped with a thick layer of eggless cookie dough! They are refined sugar-free and sure to be one of your new favorite desserts.
Raw Chocolate Fudge Brownie Bars from Well & Full – Basically, they're little chocolatey squares of decadent heaven. This is a recipe you can't miss, people!!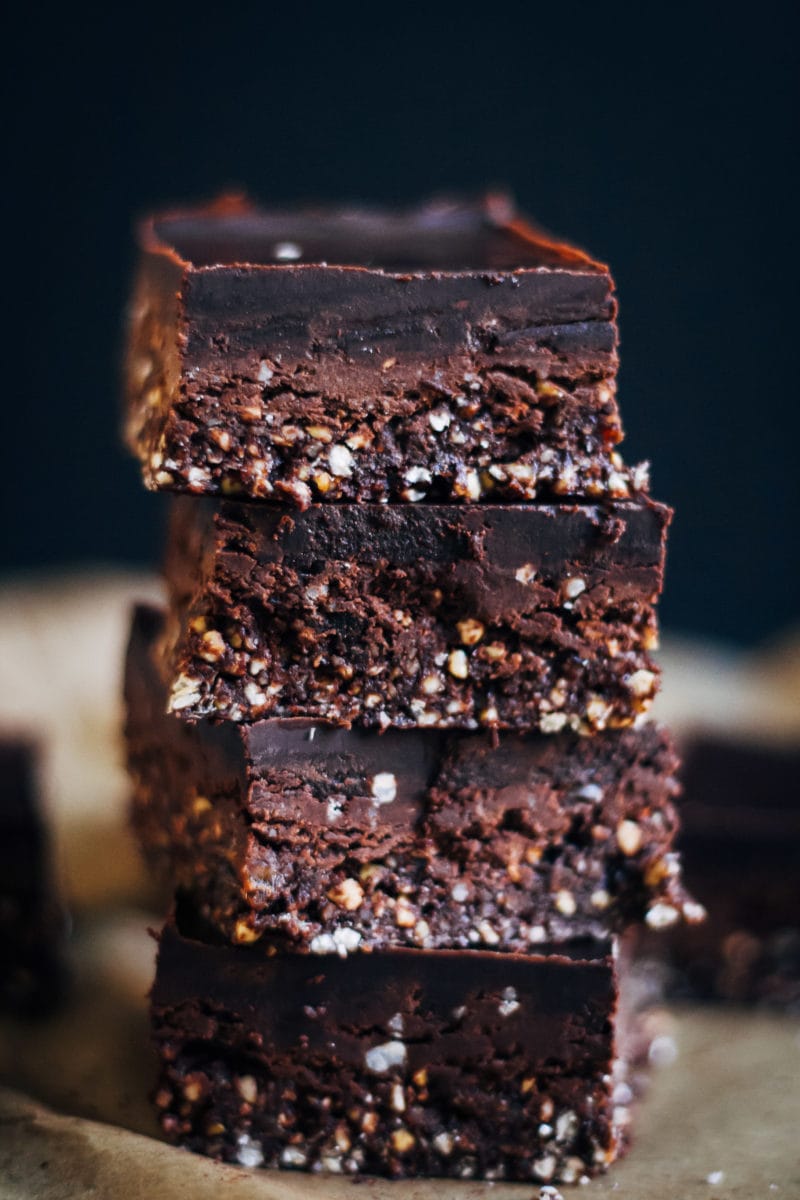 Low-Carb Dark Chocolate Chip Cookie Dough Bites from Tasty Yummies – These delicious Low-Carb Mint Chip Cookie Dough Bites take a bath in rich, silky dark chocolate for an easy, fun and super tasty sweet treat! So easy to put together and you can sweeten to your liking. These Cookie Dough Bites are low carb, keto-friendly, paleo, vegan.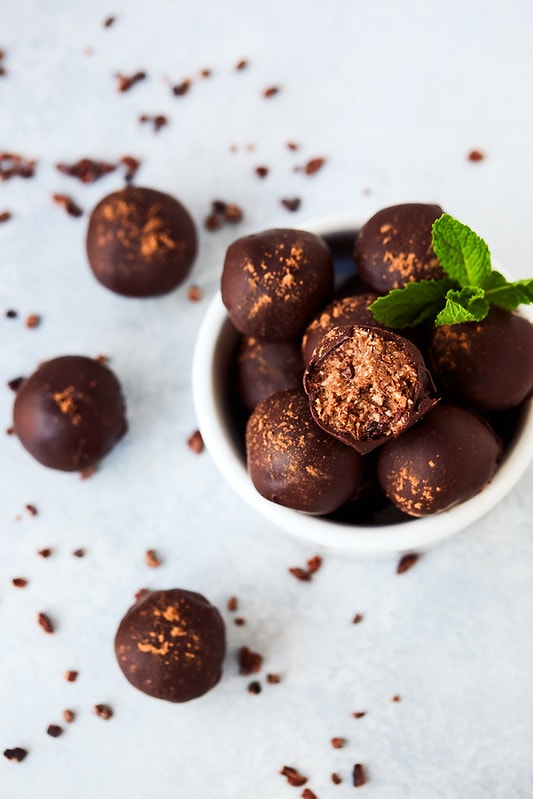 Enjoy!!
xo
My cookbook,
Paleo Power Bowls
, is now available! CLICK HERE to check it out. Thank you for your support!