Seared scallops are a delightful romantic dinner! Learn everything you need to know about making perfect seared scallops right here!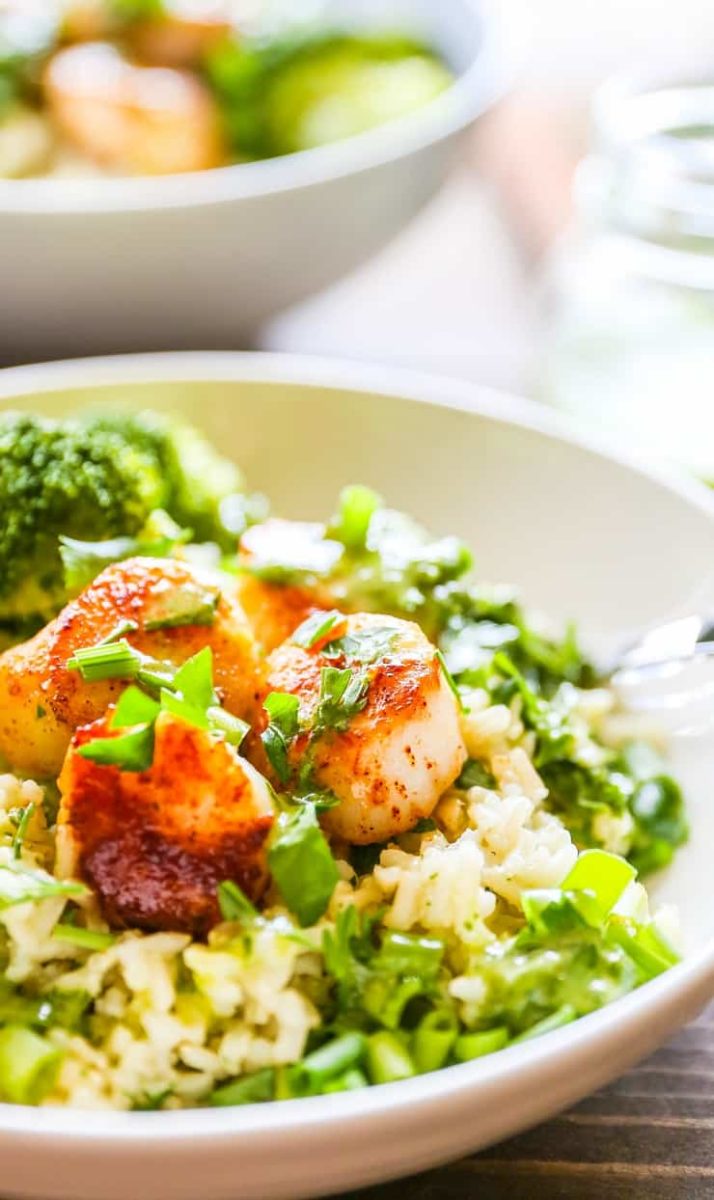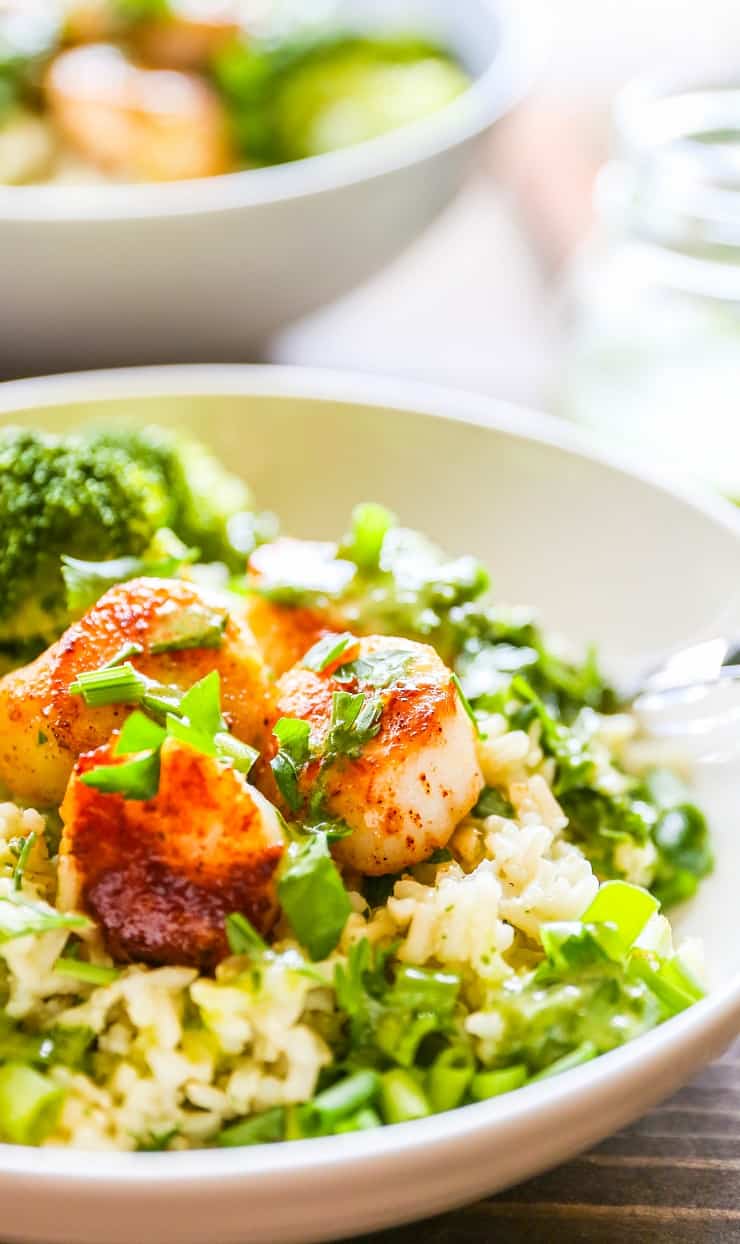 Can you believe after running this site for almost 9 years, I have never posted a recipe for seared scallops??
It baffles me, considering how much I love fish and seafood.
Nevertheless, here we are! And we have much to discuss. In this post, I have included everything you need to know about cooking perfect seared scallops (and then some)!
Naturally buttery in flavor, a great seared scallop will have a perfect crisp on the outside and melt in your mouth.
One of the best parts about scallops is they are so versatile. You can flavor them any way you'd like with seasonings and sauces, and serve them any which way (think: in pasta, over rice, in a seafood soup, alongside a salad, with side dishes like roasted vegetables, etc!).
So let's do a deep dive into scallops!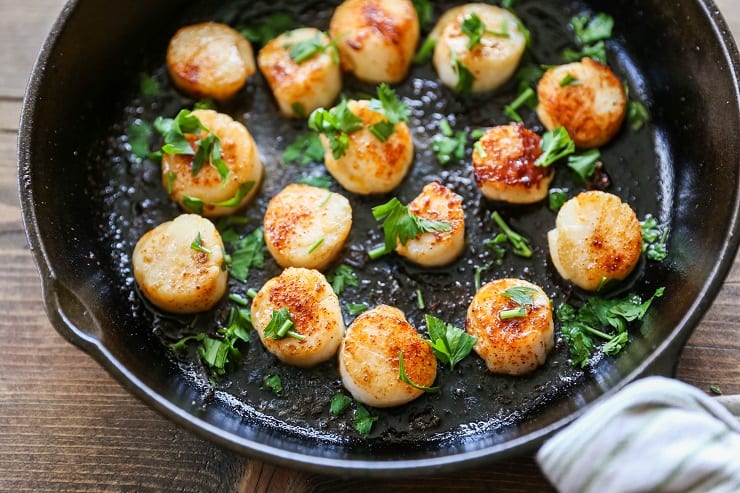 How to Source Scallops:
In my experience, scallops are best when purchased fresh from the seafood counter. While you can absolutely buy frozen scallops, speak to the person behind the seafood counter to see when the latest shipment came in. When fresh, scallops are otherworldly delicious!
Scallops should not have a fishy odor, or really much of an odor at all. If you purchase scallops and they have a pungent scent, pitch them.
How to Season Scallops:
Scallops are naturally very light in flavor, so if you're going for a meal that is bold in flavor, you will either need to season the scallops with dried spices and herbs or make a sauce (such as chimichurri sauce, pesto, or a buttery lemon sauce).
At a minimum, season the scallops with sea salt. You can also sprinkle with black pepper, paprika, garlic powder, onion powder, Cajun seasoning, or your favorite seasonings.
I personally go light on the seasoning (I just use sea salt and paprika) to preserve the subtle buttery flavor, and then I go bold with a sauce.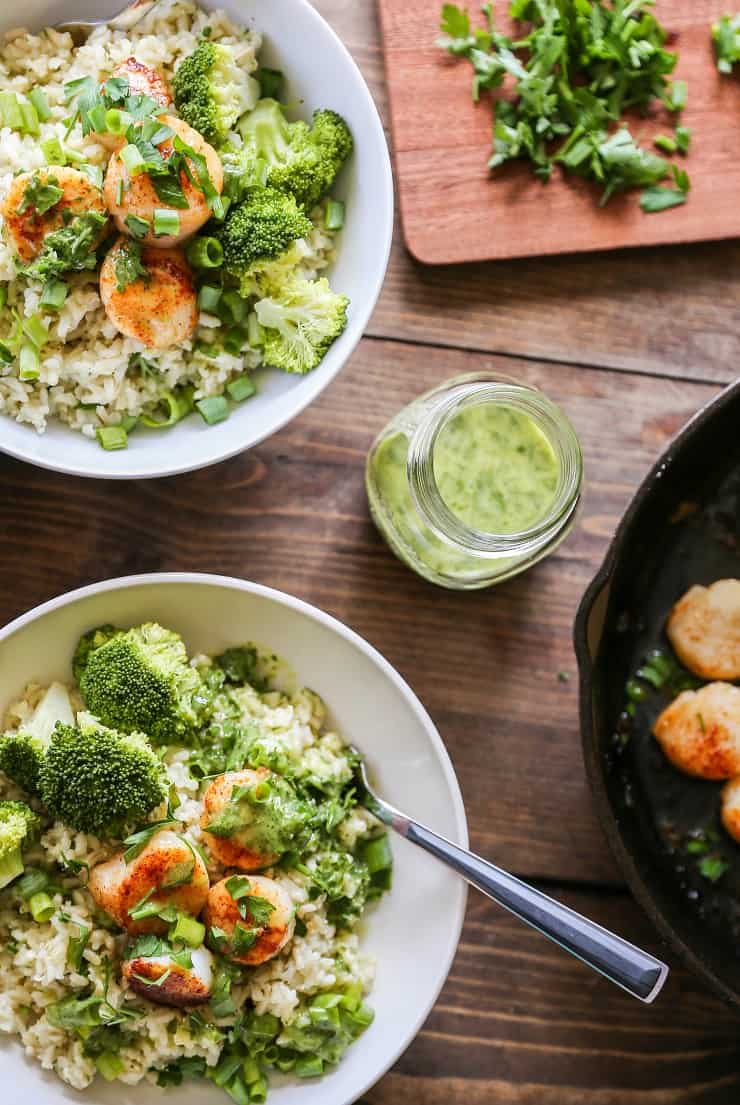 How to Make Seared Scallops:
Place the scallops on a plate lined with a paper towel. Use a second paper towel to gently pat the scallops to remove any excess moisture. Sprinkle the scallops with sea salt and paprika.
Add enough cooking oil (I recommend avocado oil) to a cast iron skillet to generously coat the surface, along with some butter (or ghee).
Note: if using butter, be sure you still add a high temperature cooking oil to protect the butter from burning. You can do up to 2 tablespoons of butter (or ghee) and one tablespoon avocado oil.
Heat the skillet over medium or medium-high (depending on how hot your stove top cooks) and wait a minute or two for it to warm up.
Once the skillet is completely hot, carefully place the scallops on the surface. Be sure to give them plenty of room for even cooking.
Cook for 2 minutes, until the scallops have a nice sear on them. Carefully flip and cook on the other side an additional 1 to 2 minutes, or until the scallops are opaque (white and no longer transparent) and feel firm when gently poked with your finger.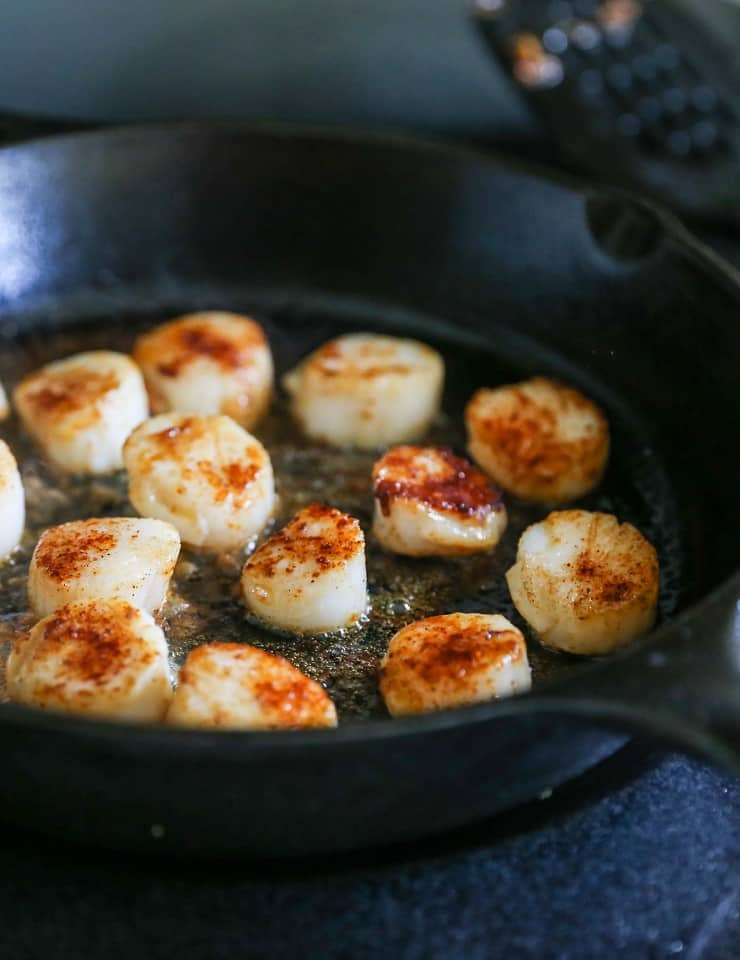 Serve scallops with your favorite side dishes and enjoy!
Now that you know how to cook scallops in a skillet, let's dive deeper and discuss some additional tips.
How to Thaw Frozen Scallops:
If you purchase scallops frozen, thaw them in the refrigerator overnight in their original packaging. I don't recommend defrosting them in the microwave.
If you're under a time crunch, you can fill your sink or a large bowl with cold water and submerge the package in the water until thawed. Don't use warm or hot water for this process.
Baking Instructions:
If you would prefer to bake the scallops, no sweat! Simply preheat the oven to 400 degrees F and line a baking sheet with foil or parchment paper.
Lightly coat the scallops with avocado oil (or high temperature cooking oil of choice), then sprinkle with sea salt and your preferred seasonings. Bake for 20 minutes, or until the scallops are opaque and feel firm when poked.
How to Make Chimichurri Sauce:
Because scallops are so light in flavor, I love adding a nice tangy/bold/acidic sauce to offset the natural creaminess of them. I typically go for a dairy-free pesto or chimichurri sauce.
In order to make chimichurri sauce, Add all ingredients except for oil to a blender or food processor. Turn blender/processor on a low speed to chop the ingredients. Slowly add the oil while the machine is on. Pour chimichurri sauce into a jar and seal to use for up to 1 week or use immediately on the scallops.
Serving Suggestions:
Here are some stellar side dishes to serve alongside your seared scallops with chimichurri sauce: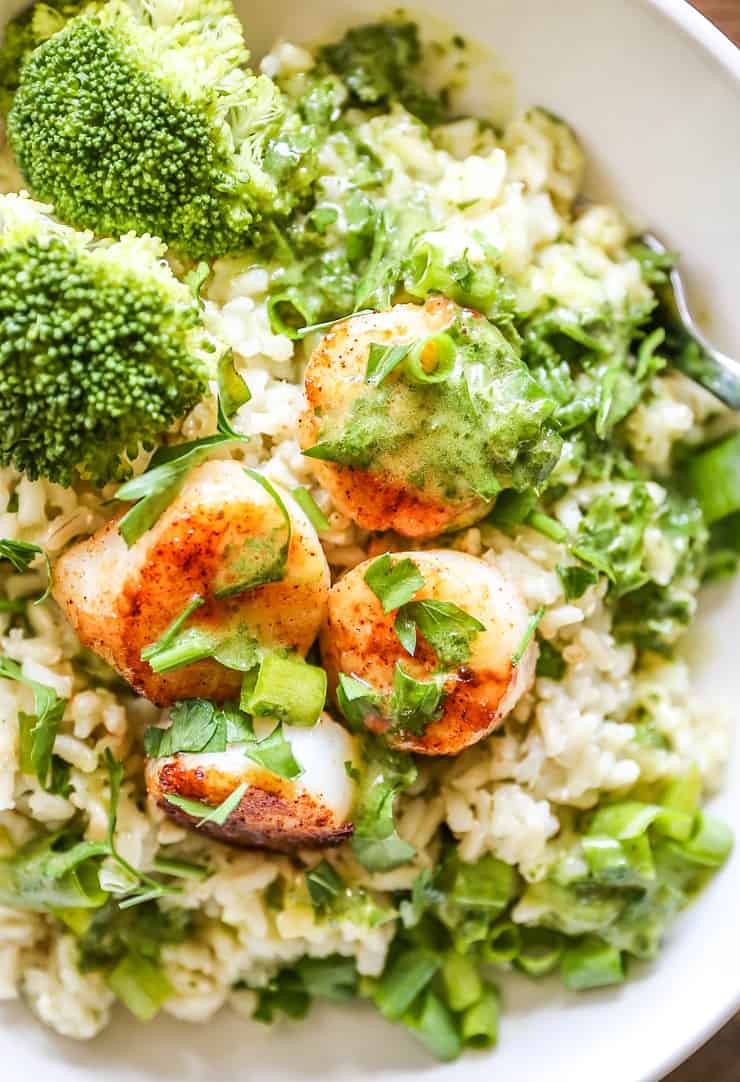 Enjoy!
My cookbook,
Paleo Power Bowls
, is now available! CLICK HERE to check it out. Thank you for your support!
If you make this recipe, please feel free to share a photo on Instagram and tag @The.Roasted.Root!
Seared Scallops with Chimichurri Sauce
Pan-cooked seared scallops with tangy delicious chimichurri sauce
Ingredients
Chimichurri Sauce:
2

cups

flat leaf parsley

packed

1/3

cup

fresh oregano

loosely packed

4

cloves

garlic

minced

1

lime zested

3

Tbsp

fresh lime juice

1

tsp

pure maple syrup

optional

3/4

tsp

sea salt

1/4

tsp

black pepper

3/4

cup

avocado oil

or olive oil
Instructions
Seared Scallops:
Pat scallops dry with a paper towel and season with sea salt and paprika (and/or any of your favorite seasonings).

Heat a large cast iron or stainless steel skillet over medium to medium-high heat and add the avocado oil and butter. Allow skillet to get completely hot.

Place the scallops on the hot skillet, ensuring they have plenty of room for cooking evenly. Cook for 2 minutes, then flip using tongs and cook 1 to 2 minutes longer, until scallops are opaque and firm when poked.

Serve with chimichurri sauce and choice of sides
Chimichurri Sauce:
Add all ingredients for the chimichurri sauce except for the oil to a food processor or blender. Pulse to chop. Leaving the machine on, slowly stream the oil through the opening and continue processing until sauce reaches desired consistency. Use immediately or store in a jar in the refrigerator for up to 1 week.
Nutrition
Serving:
1
of 2
|
Calories:
350
kcal
|
Carbohydrates:
4
g
|
Protein:
19
g
|
Fat:
27
g
|
Fiber:
2
g