Roasted beet hummus is loaded with nutrients and makes for a beautiful appetizer or condiment! Serve it up with pita bread, chips, and raw vegetables, or use it to spread on sandwiches, burgers, pizzas, you name it!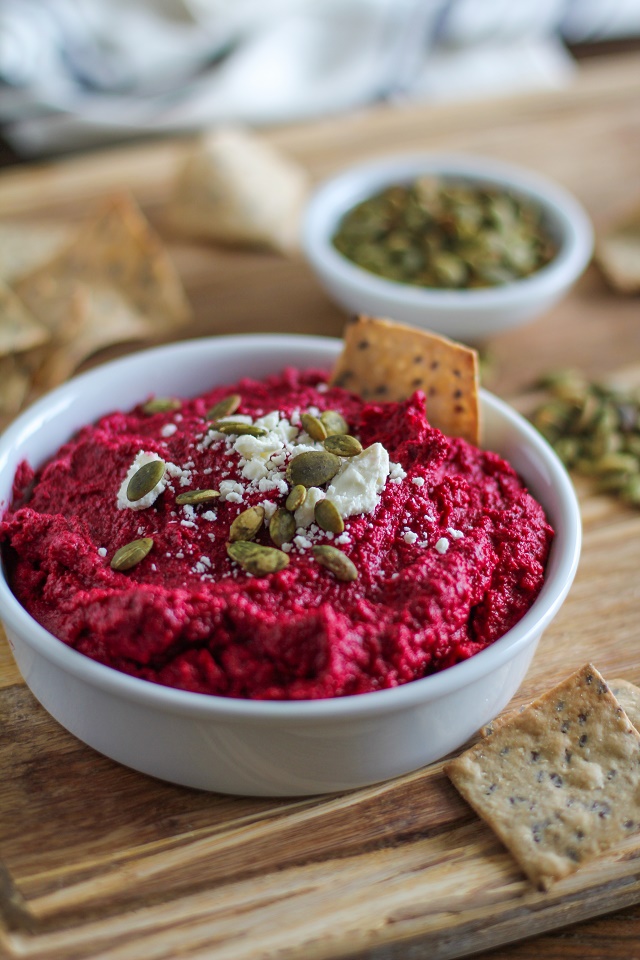 For those of us who love slathering just about anything with hummus, this version is otherworldly.
Although I'm a big fan of classic hummus recipes, I also love to change them up from time to time by adding nutrient-packed ingredients. I've been known to add kale to hummus, as seen in my Roasted Garlic Kale Hummus – guilty as charged.
Don't put it past me to roast a full bulb of garlic and toss it in the food processor with garbanzo beans either.
Ingredients for Roasted Beet Hummus:
Two small cooked beets (you can roast them yourself or buy pre-cooked beets), garbanzo beans, garlic, tahini, lemon juice, cumin, olive oil, and turmeric. I like serving it with some feta cheese and pumpkin seeds on top just for fun.
How to make Beet Hummus:
Simply cook your beets according to your method of choice (I roast mine or I buy pre-roasted beets).
Add all of the ingredients to a food processor and process until your desired texture is reached.
Use this beet hummus on sandwiches, pizzas, in wraps, on burgers, and more!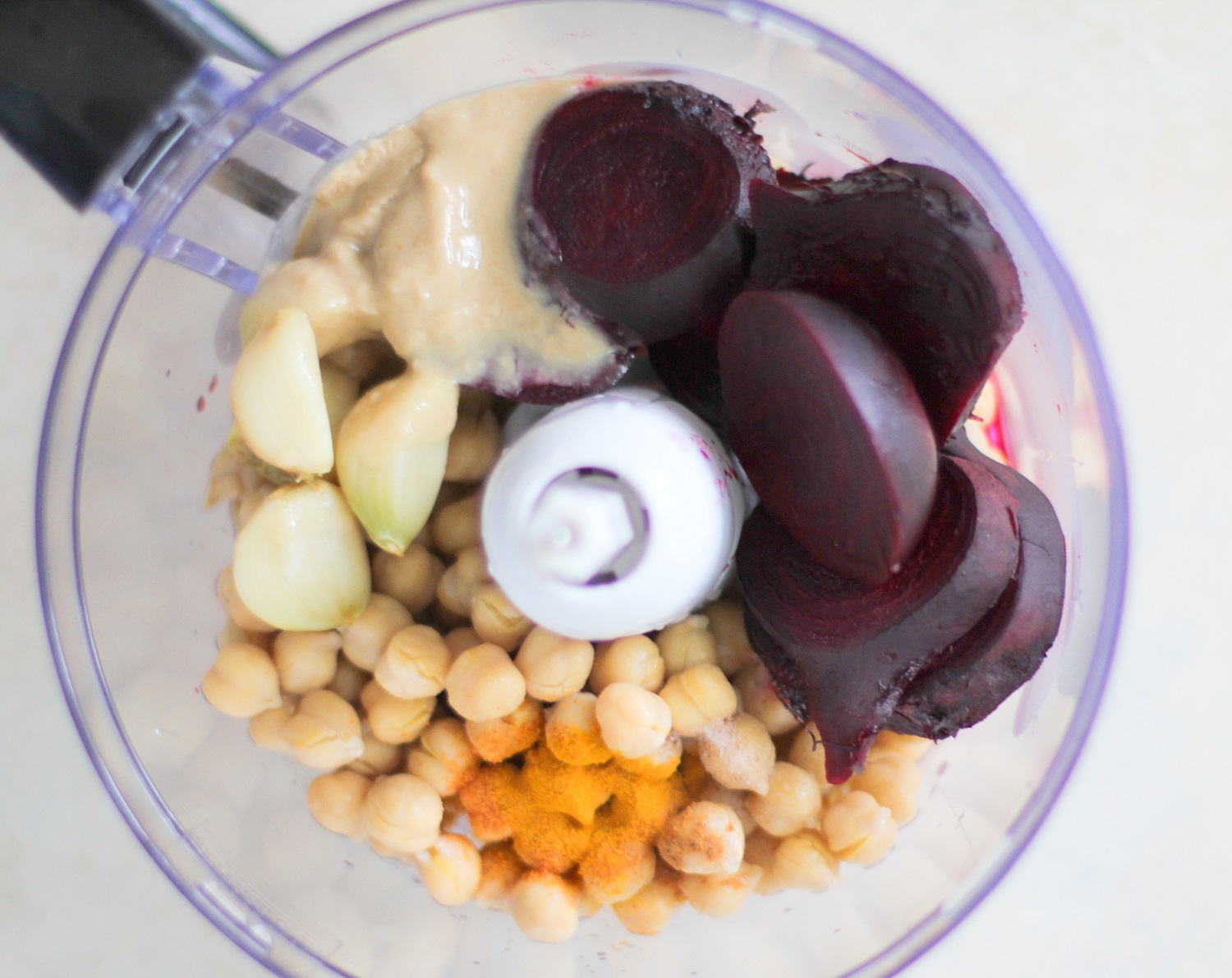 You may remember from the Beet Hummus and Caramelized Onion Crostini recipe I posted a while back that I'm all about changing up my garbanzo dip with various flavors and ingredients.
Given my undying love for red beets, it's only natural that they should end up in my hummus at some point.
Roasting a couple of beets along with garlic is a simple extra step that takes your hummus experience from Cloud Eight to Cloud Nine…just trust!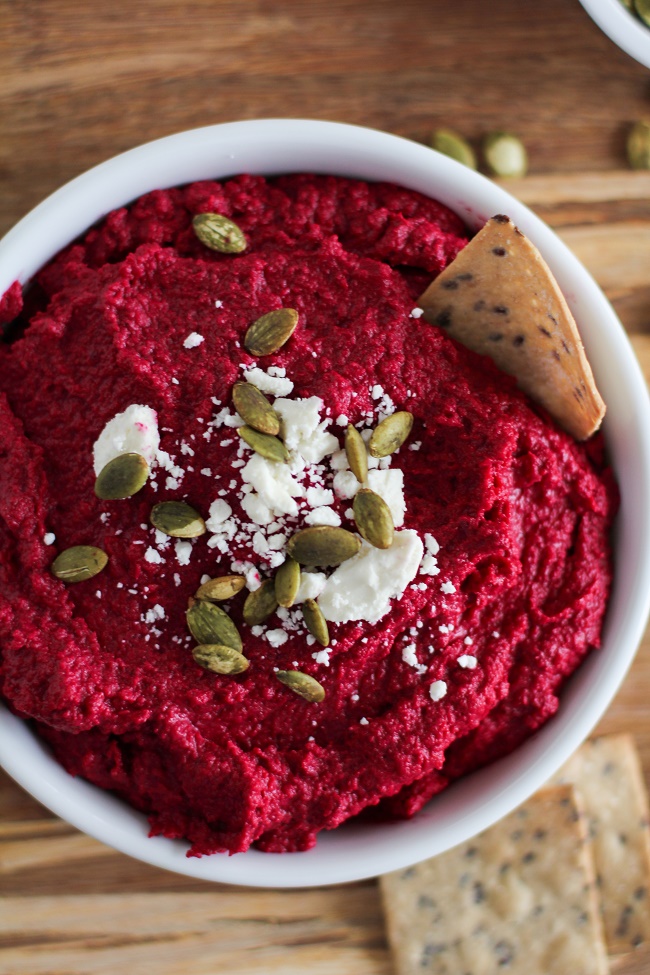 To throw an extra spin into this whirlwind of flavor, add a pinch of ground cinnamon. It may sound strange, but cinnamon adds unique flavor and warmth to the dipping experience.
For a supercharged vitamin and protein-packed dip of your dreams, here's what you'll need:
Roasted Beet and Garlic Hummus
Roasted beet hummus is loaded with nutrients and makes for a beautiful appetizer or condiment!
Ingredients
1

15-oz can garbanzo beans, drained and rinsed

2

small beets

6

cloves

large garlic

¼

cup

lemon juice

¼

cup

tahini

well stirred

¼

tsp

ground turmeric

¼

tsp

ground cumin

1/8

tsp

red pepper

optional

Pinch

ground cinnamon

½

tsp

sea salt

¼

cup

olive oil

3

Tbsp

feta cheese crumbles

3

Tbsp

pumpkin seeds
Instructions
Preheat the oven to 400° F.

Wash the beets and pat them dry. Chop them into ¼"-1/2" slices and place on a large strip of foil. Fold the foil over the beets, creating a packet.

Slice the top off a bulb of garlic, drizzle it with olive oil and add it to the foil wrap. Place the packet of beets and garlic on a baking sheet and roast 40-45 minutes or until juices are seeping out of the beets. Remove the packet from the oven and allow the beets and garlic to cool.

Add all the ingredients except the oil to a food processor. Process until smooth. While the food processor is running, drizzle the olive oil slowly through the top spout and continue to process until it's creamy. You may have to stop the food processor a few times and scrape the sides to get everything to blend together.

Sprinkle feta cheese and pumpkin seeds over the top of the hummus. Serve with fresh raw vegetables, chips or crackers.
Nutrition
Serving:
1
Serving
|
Calories:
279
kcal
|
Carbohydrates:
23
g
|
Protein:
11
g
|
Fat:
19
g
|
Fiber:
6
g
|
Sugar:
3
g