An Immunity-Boosting Turmeric Chicken Soup recipe to keep your body feeling strong and energized year round! This turmeric chicken soup includes carrots, parsnips, kale, bone broth, and more for an immunity-boosting powerhouse meal.
This amazing healthy chicken soup recipe is quick and easy to make and is paleo, keto, AIP, and whole30. Recipe includes a Low-FODMAP option.
Is there anything more gratifying than a big bowl of chicken soup?
Truthfully, I don't discriminate when it comes to chicken soup genre – I'll eat it all! Pho, ramen, classic Chicken and Rice Soup, Thai Chicken Soup, White Chicken Chili …You name it, I'm ON it!
I find the whole process of preparing a big batch of chicken soup and enjoying it for days on end to be incredibly therapeutic. The scents, the familiarity, the belly-feel…it's all so pleasant and uncomplicated.
If you're like me and you enjoy a big bowl of chicken soup during those chilly fall and winter evenings, you're going to go BONKERS over this recipe.
The basic premise is this is a classic chicken soup with the added pizzazz of turmeric, ginger, parsley, and kale for a nice antioxidant punch, giving you even more nutrients and flavor.
In addition, I add coconut milk to balance out the sting of the turmeric and ginger so you're left with a beautifully flavored, oh-so satisfying bowl of yummy superfood.
This is a powerfully healing recipe for both preventing and getting rid of colds. Since cold and flu season is upon us, you'll want to keep this one in your arsenal to stay on top of your immunity game, and to whip up when someone in your house gets sick.
In case you're new to turmeric, I'll give you a brief run-down about why it's so cool.
Health Benefits of Turmeric:
Natural anti-inflammatory (great for those with autoimmunity, arthritis, or those looking to heal from something…anything!)

Packed with antioxidants, which helps eliminate free-radicals, thereby preventing disease, slowing down the aging process, and fighting cancer.

Boosts levels of your brain hormone, BDNF, which can help reverse and prevent brain-related illnesses like Alzheimer's and depression.

May lower your risk of heart disease by improving the function of the endothelium (the lining of your blood vessels).
I will say, you can absolutely over-do it on turmeric, so be careful not to get too excited and add too much.
I find 1 teaspoon is the perfect amount for this soup, where you get a hint of the flavor but it is far from overpowering. If you're a turmeric-loving badass, you can adjust up if you'd like.
One of the best parts about chicken soup is it is incredibly easy to make, and doesn't require very much hands-on time.
How to Make Turmeric Chicken Soup
Start by sautéing the vegetables in a large stock pot (I use my French oven). Add the chicken and allow it to brown for a few minutes.
Add the spices and stir well. You'll want to continue sautéing everything until you can smell the turmeric.
Add the bone broth and coconut milk, cover, and cook at a simmer for at least 15 minutes, preferably 1 hour.
Once the soup is nice and flavorful, add the chopped kale leaves and stir them in. Continue cooking until they are nice and wilted.
Serve it up with your choice of crackers, bread, grilled cheese…however you like to eat your soup!
Recipe Adaptations:
To make this recipe Low-FODMAP, omit the onion and garlic – don't worry, the soup will still be plenty flavorful!

If you want to infuse this soup with even more vegetation, consider adding broccoli or cauliflower florets, or even bok choy.

Add ⅓ cup rice or quinoa for some grain action.

Add 1 Yukon gold potato or a small sweet potato for some veggie starch action.

I like using bone broth for maximum nutrients, but you can use regular chicken stock or even vegetable broth.
My cookbook,
Paleo Power Bowls
, is now available! CLICK HERE to check it out. Thank you for your support!
If you make this recipe, please feel free to share a photo on Instagram and tag @The.Roasted.Root!
I hope you enjoy this colorful display of belly-warming comfort food!
Immunity-Boosting Turmeric Chicken Soup
A nutrient-dense anti-inflammatory chicken soup recipe, great for a boost to the immune system!
Servings:
3
to 4 Servings
Ingredients
1

Tbsp

avocado oil

1/2

small yellow onion

finely diced*

2

large carrots

peeled and chopped

1

large parsnip

peeled and chopped

3

stalks celery

chopped

3

cloves

garlic

minced*

1

lb

boneless skinless chicken breasts

chopped

2

tsp

dried parsley

1

tsp

ground turmeric

1/2

tsp

black pepper

1/2

tsp

ground ginger

1/2

tsp

sea salt

to taste

3

cups

chicken bone broth

2/3

cup

full-fat canned coconut milk

1

small head kale

chopped**
Instructions
Heat the avocado oil in a large stock pot or Dutch oven over medium heat. Add the onion and saute, stirring occasionally, until transluscent, about 5 to 8 minutes. Add the carrots, parsnips, celery, and garlic and continue sauteeing, stirring occasionally, until vegetables are softened but still al dente, about 3 to 5 minutes.

Add the chopped chicken and cook just long enough to brown the meat, about 2 to 3 minutes.

Add the remaining ingredients, stir well and cover. Cook at a gentle simmer, stirring occasionally, for at least 30 minutes (ideally one hour). Taste soup for flavor and add more sea salt if desired. Serve and enjoy!
Notes
*Omit onion and garlic to make Low-FODMAP and add 1 to 2 tablespoons of lemon juice or lime juice.
**If you have trouble digesting kale, replace it with 4 cups of (loosely packed) baby spinach.
Nutrition
Serving:
1
of 4
|
Calories:
278
kcal
|
Carbohydrates:
10
g
|
Protein:
27
g
|
Fat:
14
g
|
Sugar:
4
g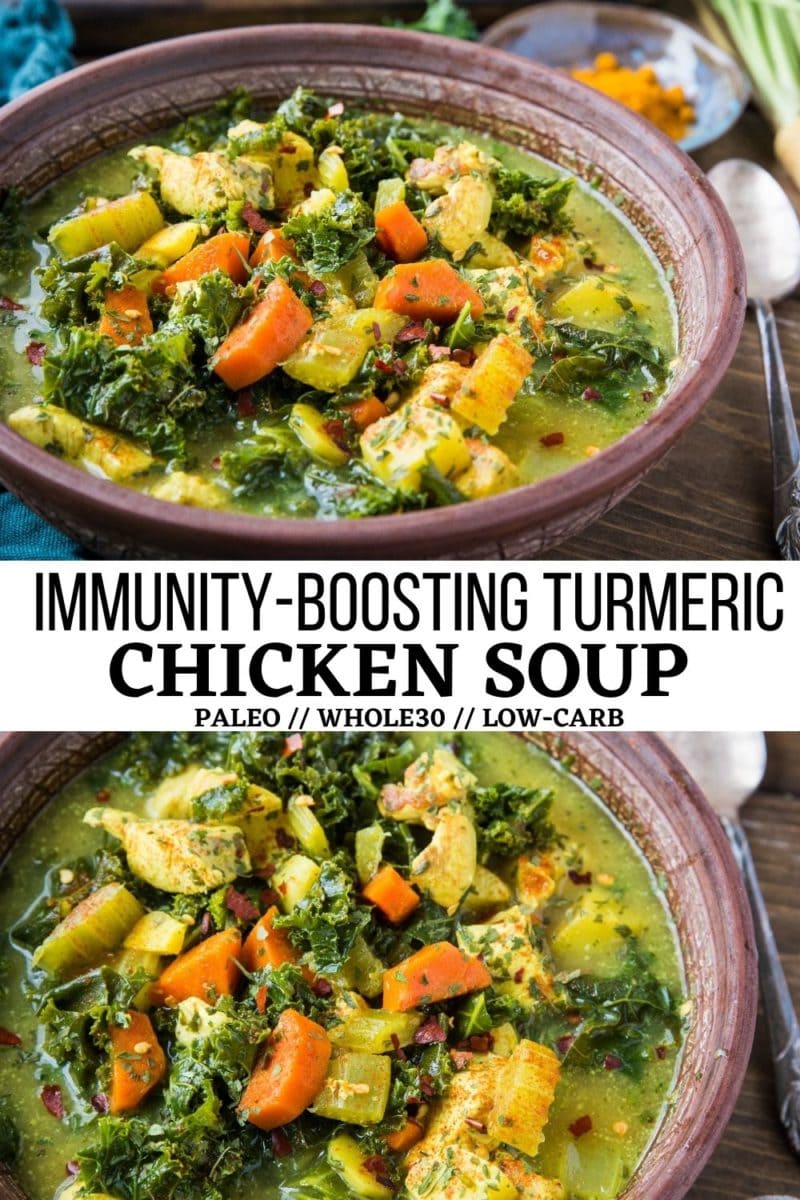 This post contains affiliate links, which means I make a small commission off items you purchase at no additional cost to you.