Salmon bowls with spaghetti squash tossed in pesto sauce with sautéed vegetables. These bowls can be prepared year-round with seasonal produce and are paleo, keto, low-carb, and whole30. Plus they taste real nice. 😉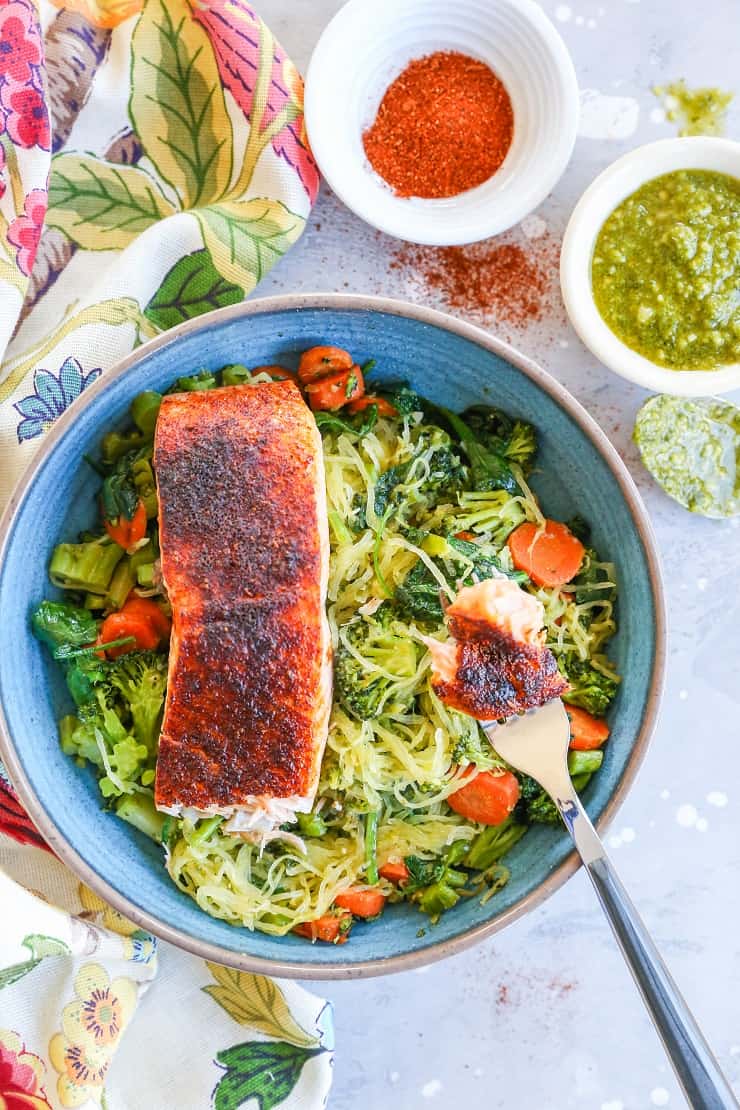 I've been meaning to show you this recipe for months.
At the beginning of summer, I began making these bowls for dinner and haven't really stopped. I idled back on posting it because I figured it was too simple or too hippy or too Julia, but after making it dozens of times, I realized a few of you out there may form the same bond.
It's just such an easy meal and it checks all my boxes.
Easy on the digestive system, not overly carb-rich, nutritious, protein-packed and full of healthy omega-3 fatty acids.
In essence, it's a dream come true for those of us who follow a Low-FODMAP, paleo, keto, or low-carb diet.
And for those of you who follow none of the above? Well it's just a really tasty, clean meal! Perfect for basically anyone looking for a filling, feel-good lunch or dinner.
How to Make Crispy Salmon Bowls:
Roast the spaghetti squash. If you haven't done so before, you can follow my instructions on How To Roast Spaghetti Squash.
Sauté carrots, broccoli, and spinach to desired done-ness in a skillet. You can use any of your favorite seasonal produce. I also like adding zucchini, bell peppers, and sweet potatoes from time to time…get creative with your sautéed veg!
Sprinkle the salmon with sea salt, paprika, and any other spices you fancy and pop it in the oven under the high broil setting. It's done 10 minutes later…15 minutes tops (depending on thickness).
Toss the spaghetti squash and sautéed vegetables together in pesto sauce, and serve in bowls with the salmon on top!
Meal Prep Options:
Make the pesto sauce up to 7 days in advance.

Roast the spaghetti squash up to 5 days in advance.

Sauté the broccoli and carrots to 2 days in advance.

In my opinion, salmon is best when eaten fresh out of the oven, but you can cook it up to 3 days ahead of time.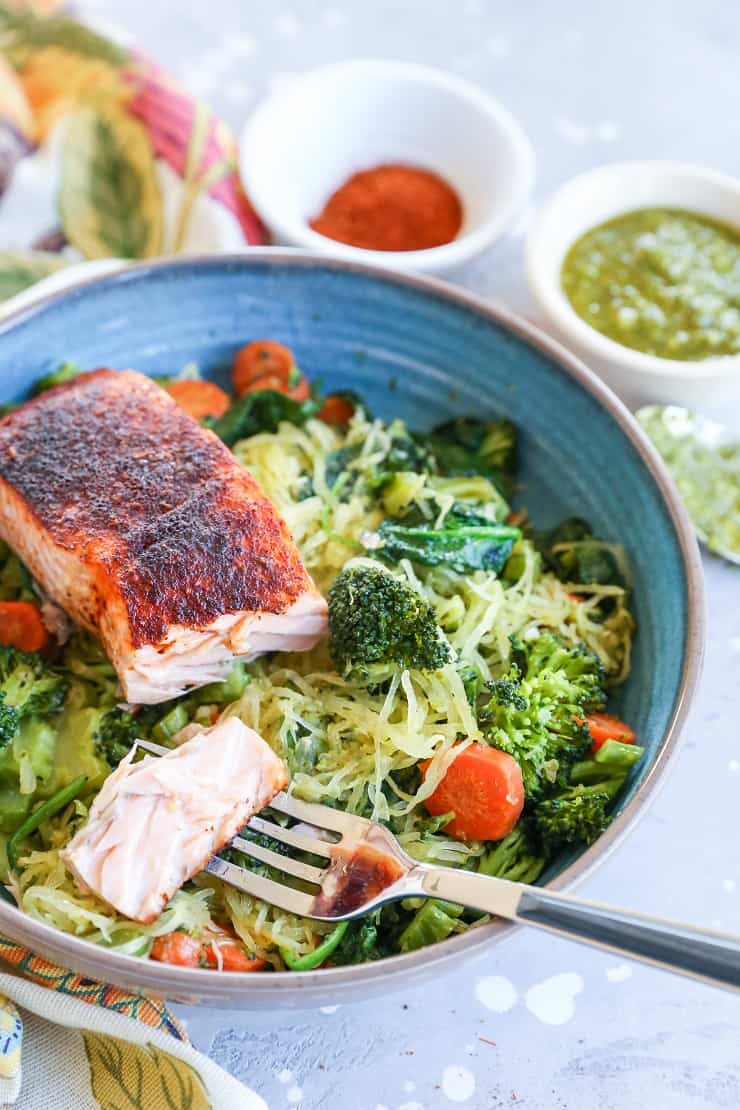 Recipe Adaptations:
If you aren't a fan of spaghetti squash, no sweat. You can make zucchini rice or zucchini noodles, or sweet potato rice or regular rice if you aren't low-carb. Essentially, you can swap out the spaghetti squash for any of your low-carb lookalikes.
The pesto sauce is what makes this meal oh-so flavorful. I use my Low-FODMAP Pesto Sauce (it's garlic-free and dairy-free for those of us with intolerances), but you can really incorporate any pesto sauce your heart desires.
In fact, you can check up on my classic Basil Pesto Sauce, Beet Green Pesto, Broccoli-Pumpkin Seed Pesto, Roasted Beet Pesto, Kale Pesto, etc., etc.
That's all she wrote on this one, folks. It's easy, it's (IMO) delicious, it's healthful, all natural, real, won't talk back or call you names…I'll stop.
More Healthy Salmon Recipes:
My cookbook,
Paleo Power Bowls
, is now available! CLICK HERE to check it out. Thank you for your support!
If you make this recipe, please feel free to share a photo and tag @The.Roasted.Root on Instagram!
Salmon Bowls with Pesto Spaghetti Squash
Salmon Bowls with Pesto Spaghetti Squash and sauteed vegetables for a low-carb dinner
Ingredients
For the Pesto Spaghetti Squash:
Instructions
Cook the spaghetti squash according to these instructions, and prepare the pesto sauce.

When the spaghetti squash is about 10 minutes from being finished, sauté the vegetables. To do so, heat the avocado oil in a large skillet over medium heat. Add the carrots and broccoli and stir well. Cover, stirring occasionally, until vegetables reach desired done-ness, about 5 to 8 minutes. Add the spinach, cover, and continue cooking until wilted, about 2 minutes

Once the spaghetti squash has finished roasting and is cool enough to handle, use a fork to release the "spaghetti" strands, then add them to the skillet with the sautéed vegetables. Add the pesto sauce and sea salt and stir well. Taste the veggies for flavor and add more pesto sauce or sea salt to taste.
Cook the salmon:
Turn the oven on the high broil setting. Lightly spray or oil a casserole dish and place salmon fillet in it. Drizzle salmon with avocado oil and use your hands to smooth it over the flesh so that all the flesh is lightly coated in oil. Sprinkle with paprika, ginger, and sea salt.

Broil on the second to the top shelf of the oven for 10 to 15 minutes (depending on thickness of fish), until salmon is golden-brown and crispy. Allow salmon to rest 5 minutes before cutting into smaller pieces for serving.
Prepare the Bowls:
Divide the spaghetti squash and sauteed vegetables between 2 or 3 bowls. Top with crispy salmon and serve.
Nutrition
Serving:
1
of 3
|
Calories:
508
kcal
|
Carbohydrates:
15
g
|
Protein:
41
g
|
Fat:
33
g
|
Fiber:
3
g
|
Sugar:
5
g