32 Anti-Inflammatory Recipes to Support Your Immune System using nutrient-dense ingredients. These easy recipes are packed with antioxidants to lower inflammation and boost your immune system.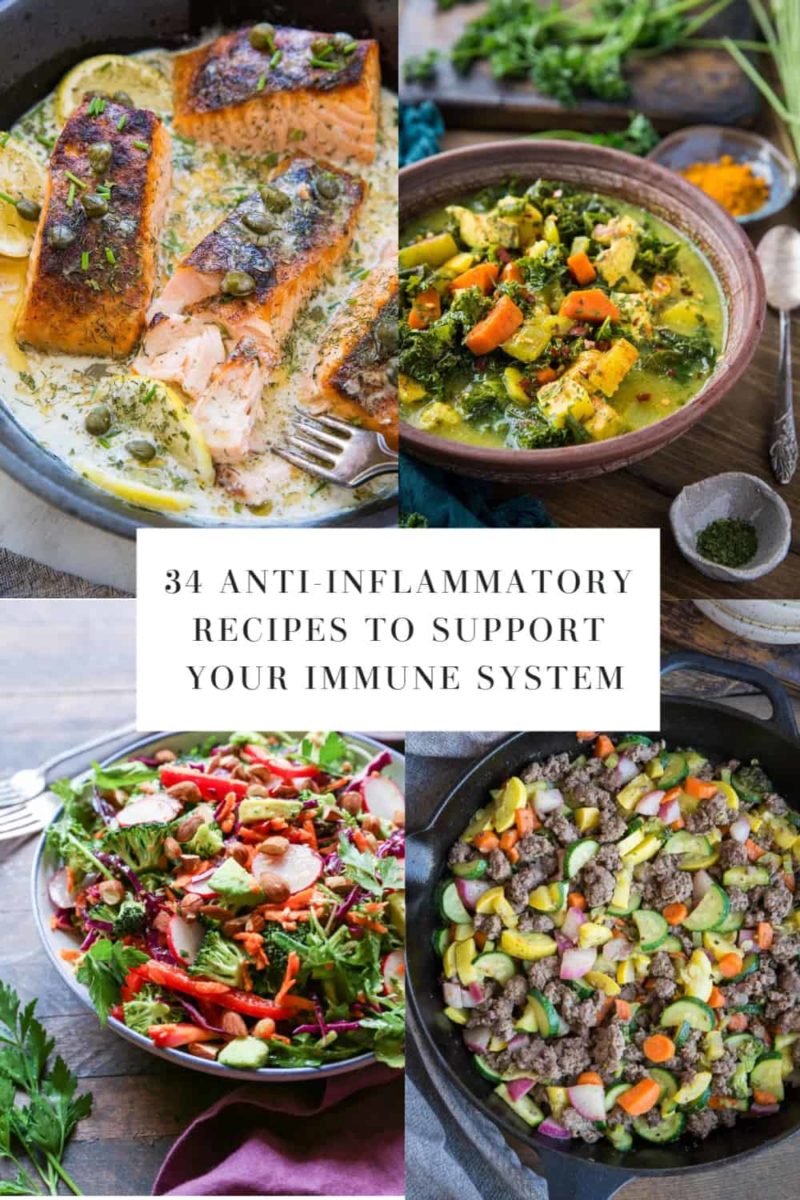 Are you curious about ways you can throw a bone to your immune system to prevent or eliminate illness?
On the prowl for anti-inflammatory recipes for dinner?
Do you believe in the healing power of food?
Are you looking to lower inflammation and/or keep autoimmunity symptoms at bay? Are you immunocompromised?
Do you try to maintain a nutrient-dense diet?
If any or all of the above apply, this blog post is for you!
In this post, I discuss what the terms "anti-inflammatory" and "immunity-boosting" mean, provide additional resources where you can learn more, and give you a plethora of high-octane nutritious healthy anti-inflammatory recipes to keep your inflammation under control and provide support to your immune system.
Let's dive in!
What Does "Anti-Inflammatory" Mean?:
Put simply, something that is "anti-inflammatory" not only doesn't cause inflammation, but also helps lower it. There are plenty of foods and activities that don't cause inflammation, but adding foods and beverages to your diet and specific self-care routines to your lifestyle can help lower systemic inflammation.
Monitoring your inflammation is one of the wisest moves you can make when it comes to your health. In addition to diet choices, you can also reduce inflammation by exercising regularly (at a moderate rate. Too much exercise can cause inflammation), sitting in a sauna, yoga, dry brushing your skin, red light therapy, sleeping 7 to 9 hours every night, CBD oil, and more.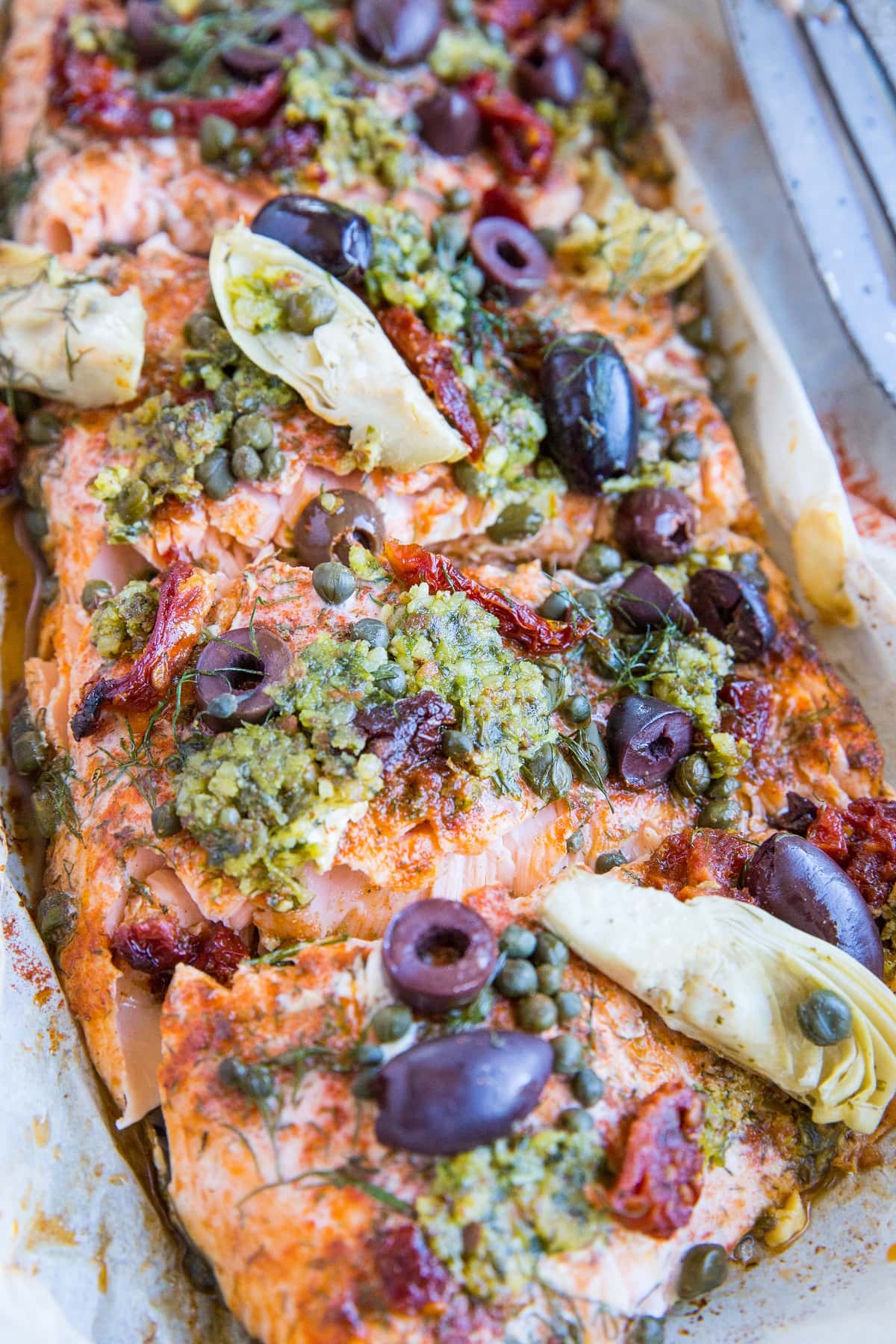 Foods That Help Reduce Inflammation:
Some of the most impactful anti-inflammatory foods are: turmeric, ginger, parsley, berries (blueberries, raspberries, blackberries, strawberries, etc), fatty fish rich in omega-3 fatty acids such as salmon, sardines, and mackerel, broccoli, avocado, green tea, peppers, mushrooms, dark chocolate, cherries and more.
Incorporating anti-inflammatory recipes in your diet can help keep your inflammation low.
In addition, foods that generally don't cause inflammation are fresh fruit and vegetables and quality grass-fed, pasture-raised, or wild caught animal protein. Essentially, whole foods.
Foods that cause inflammation are processed foods (flours from grains, packaged foods high in sugar, processed meats, etc), dairy, processed grains in excess (moderate amounts of white rice and brown rice are fine as long as you don't have high blood sugar), alcohol, vegetable oils and processed seed oils, nuts and seeds eaten in excess, fruit high in sugar consumed in excess, processed sugars including cane sugar, pure maple syrup, honey, etc.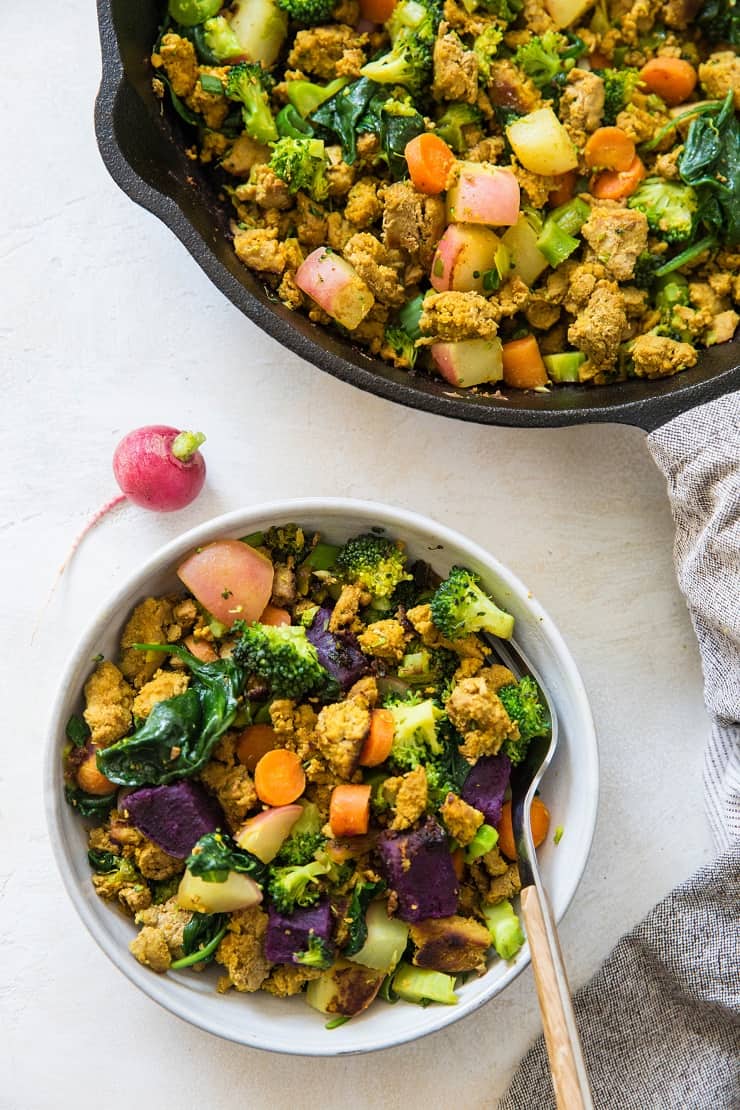 While some people are more prone to inflammation than others, you can lower your inflammation through diet (anti-inflammatory recipes) and lifestyle choices.
To learn more about inflammation, check out Erin Holt's podcast: New Years' Resolutions, Carb Fear, Keto for Women, Anti-Inflammatory Diets.
How Can I Boost My Immune System?:
You can boost your immune system not only by avoiding foods and activities that cause inflammation, but also adding foods and activities that reduce inflammation. If you have low immune function (low secretory iga), or autoimmune disease, keeping inflammation low requires more effort than those with a fully functioning immune system.
The anti-inflammatory recipes in this post should help!
Taking supplements like probiotics, Vitamin C, and fish oil help lower inflammation. In addition, ensuring you're paying close attention to hormone and gut health is key in ensuring your immune system functions properly.
Now that we've covered some basics, let's up our ante on anti-inflammatory recipes to boost your immune system!
Anti-Inflammatory Recipes:
Immunity-Boosting Turmeric Chicken Soup : This turmeric chicken soup includes carrots, parsnips, kale, bone broth, and more for an immunity-boosting powerhouse meal. It's super quick and easy to make and is paleo, keto, AIP, and whole30.
Nightshade-Free AIP Curry : A quick and easy recipe for nightshade-free AIP curry. This low-inflammatory curry is perfect for those who are sensitive to nightshades, as well as those who eat a whole food, paleo, or keto diet.
30-Minute Vegetable Ground Beef Skillet 30-Minute : 8-Ingredient Vegetable and Ground Beef Skillet. This nutritious recipe contains a plethora of fresh vegetables and grass-fed ground beef – the perfect meal for those who follow a paleo, keto, low-carb, or low-FODMAP diet.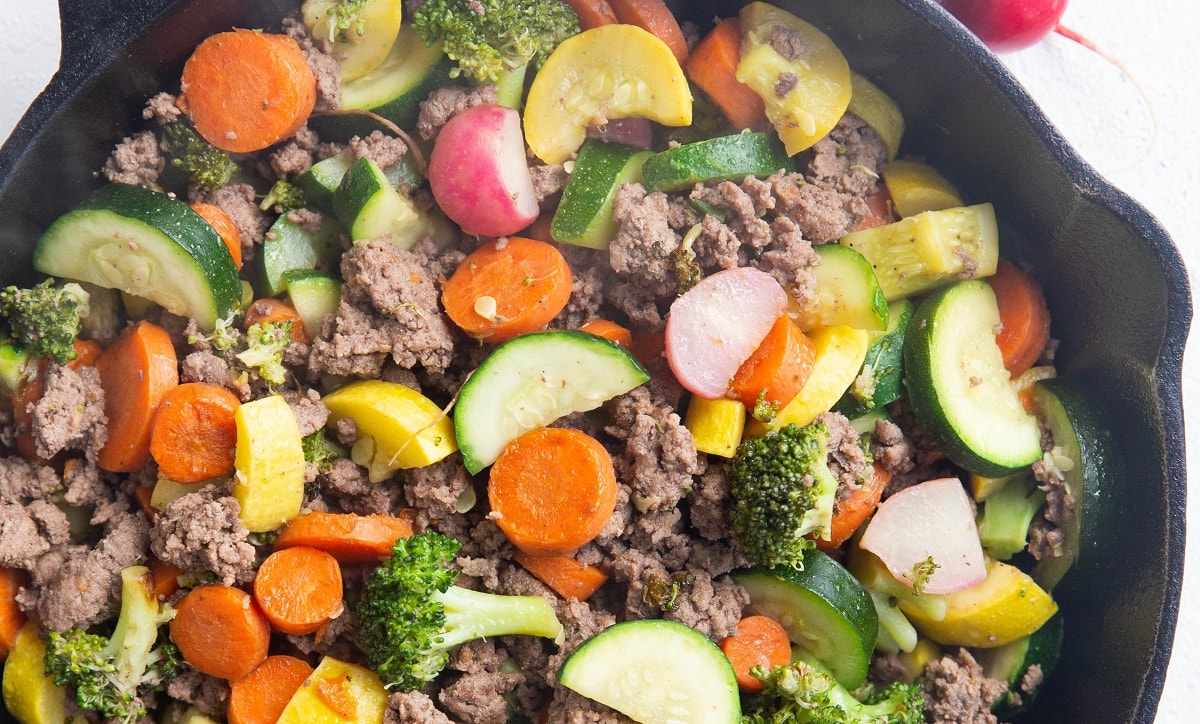 All the Good Veggies Detox Salad with Lemon Parsley Dressing : a clean and nutritious salad recipe that is vegan, paleo, whole30 and requires less than 30 minutes to prepare.
Roasted Garlic Spaghetti Squash with Sun-Dried Tomatoes Roasted : a comforting, low-carb meal requiring only 5 main ingredients! Plus the recipe is simple to prepare!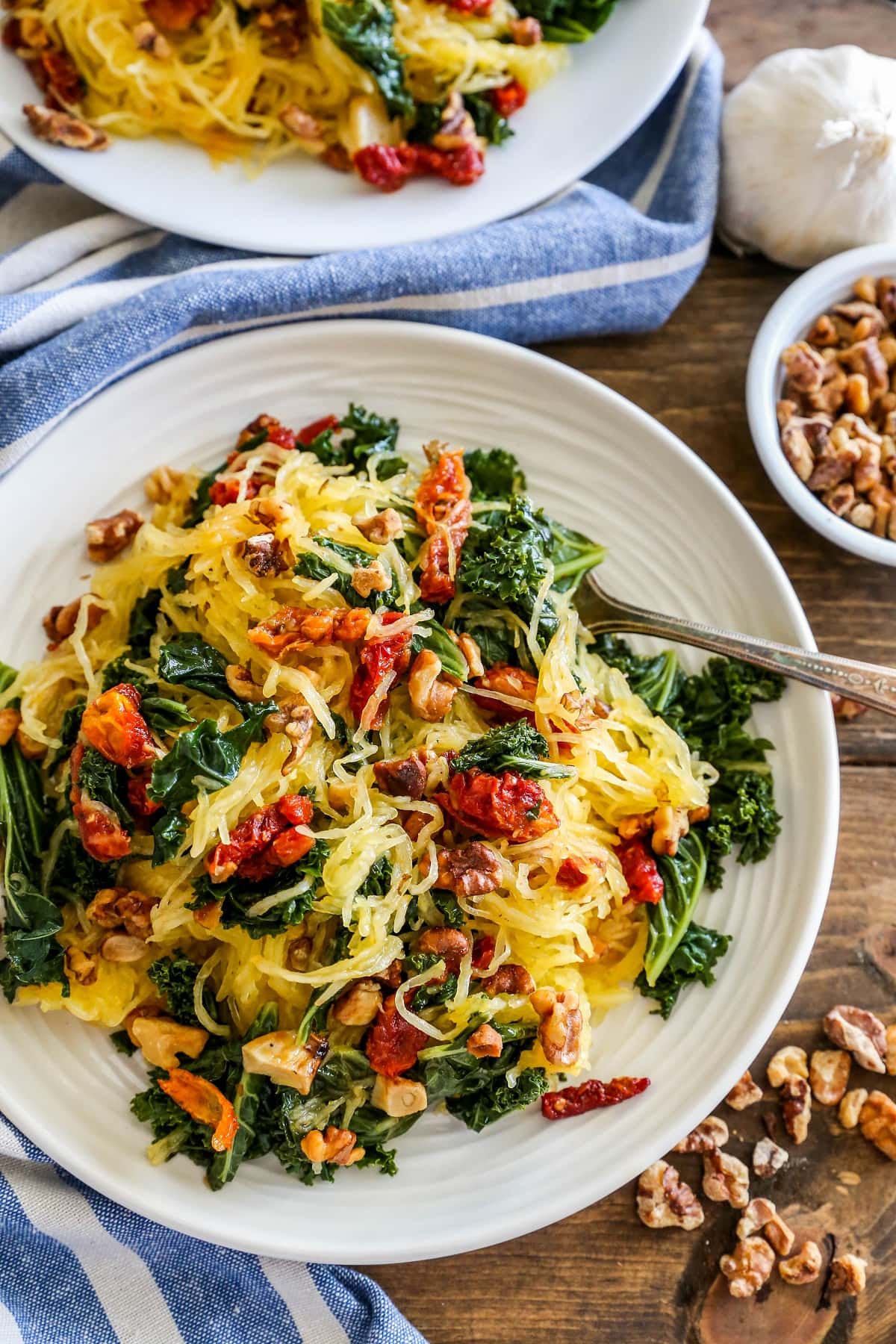 Crispy Skillet Salmon with lemon Caper Dill Sauce : A fresh and flavorful dinner recipe that covers all the flavor bases! This easy meal takes less than 30 minutes to prepare.
One-Pan Meal: Salmon and Vegetables is a great recipe for batch cooking or meal prepping for a busy workweek or for feeding a big family. This carb-conscious meal is packed with protein and vitamins and is paleo, keto, and whole30 compliant. Turn it into a sheet pan dinner recipe if you don't have a casserole dish!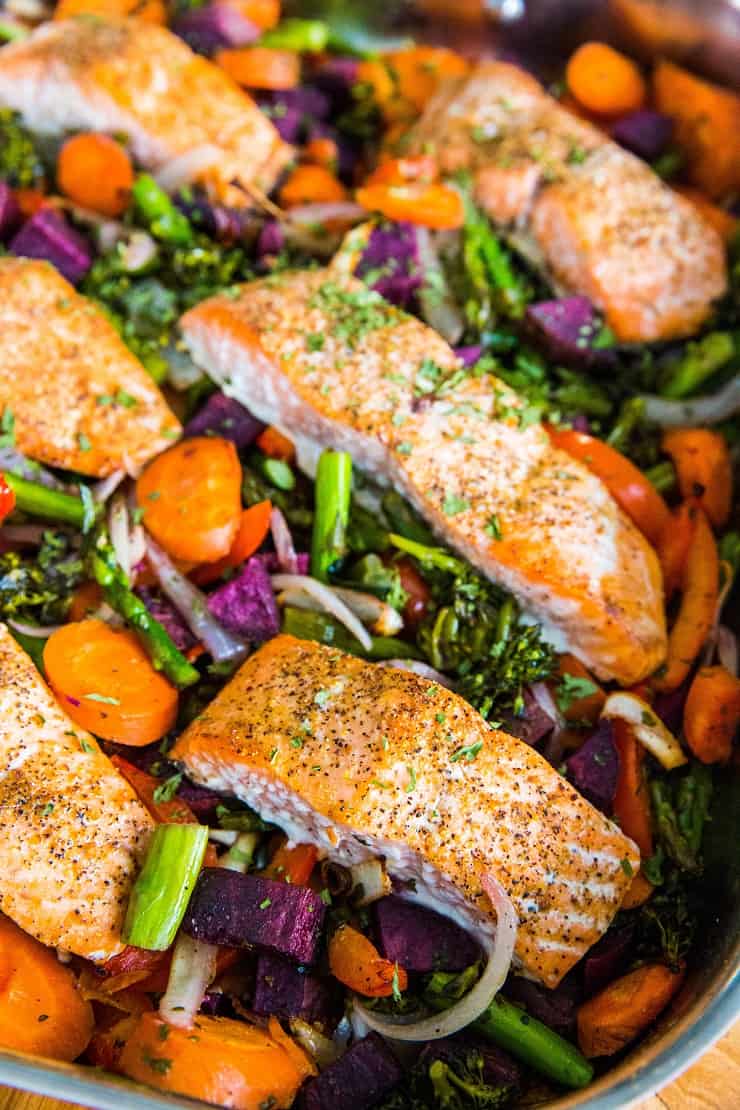 Zucchini and Ground Turkey Skillet : Zucchini and ground turkey skillet with ginger, green onion, baby spinach, coconut aminos and dried herbs adds up to a super clean dinner recipe that comes together in less than 30 minutes!
Ground Turkey Bowls with Mushrooms and Cabbage Rice : A clean, low-carb dinner recipe. Keto, paleo, whole30 and palate pleasing.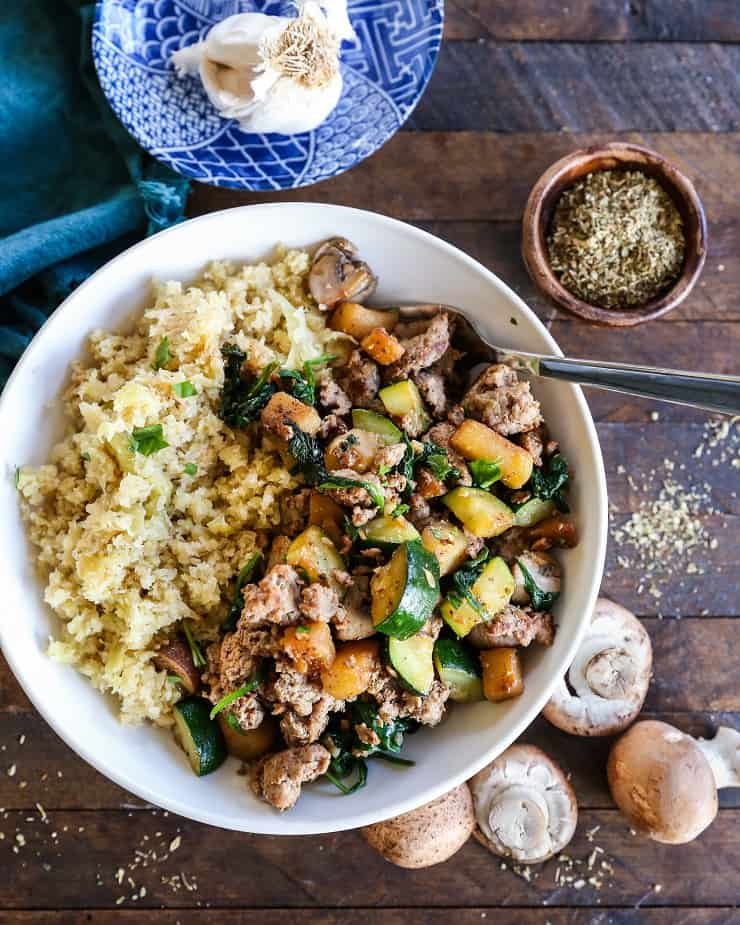 Instant Pot Rotisserie Turmeric Chicken : Perfectly moist and tender whole body chicken recipe that comes out just like rotisserie chicken, but is prepared in your pressure cooker! You'll put this easy, mouth-watering chicken recipe on repeat!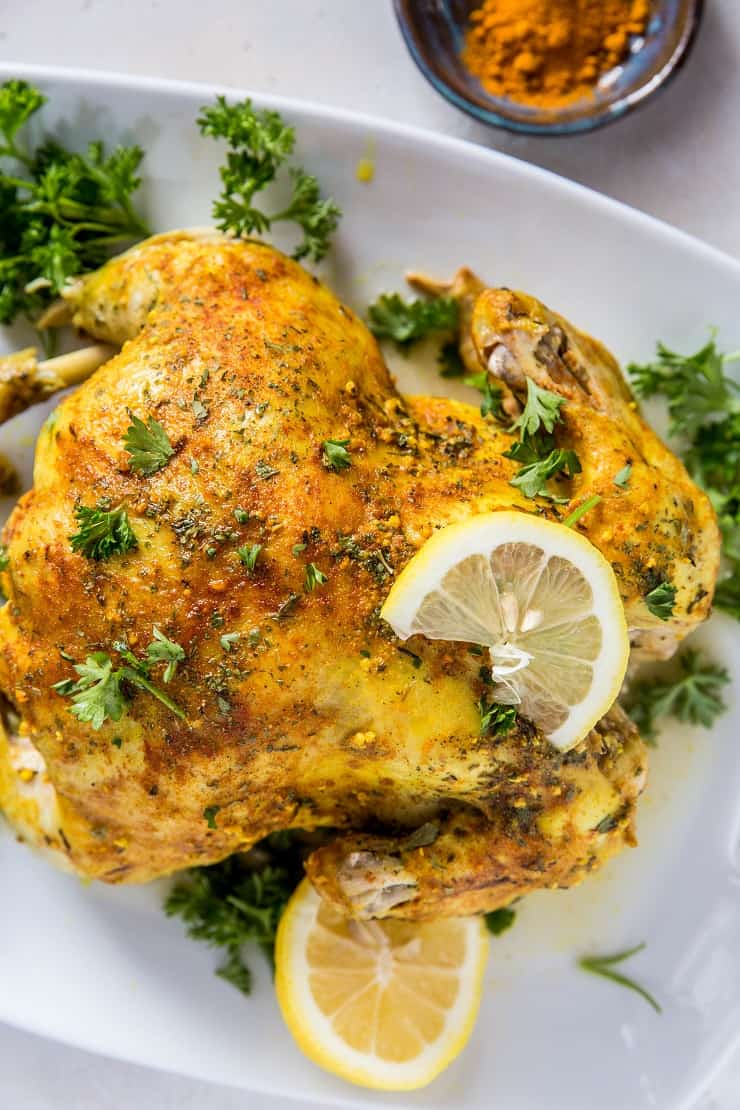 30-Minute Ground Turkey Skillet with Vegetables : Quick and nutritious dinner recipe perfect for any weeknight! This easy ground turkey recipe is AIP, Whole30, paleo, keto and easy on the gut for good digestion.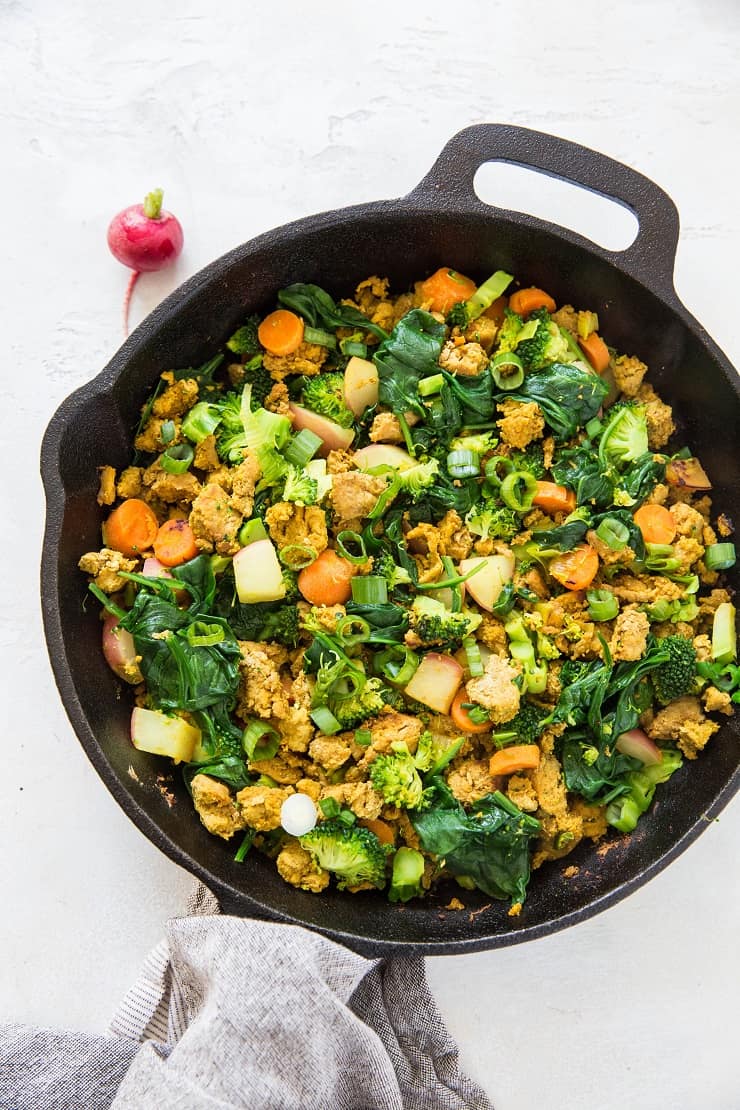 The Ultimate Acai Bowl : The perfect chilled summer breakfast – thick, delicious and nutritious açaí bowl with blueberries, mango, spinach and topped with all sorts of goodness.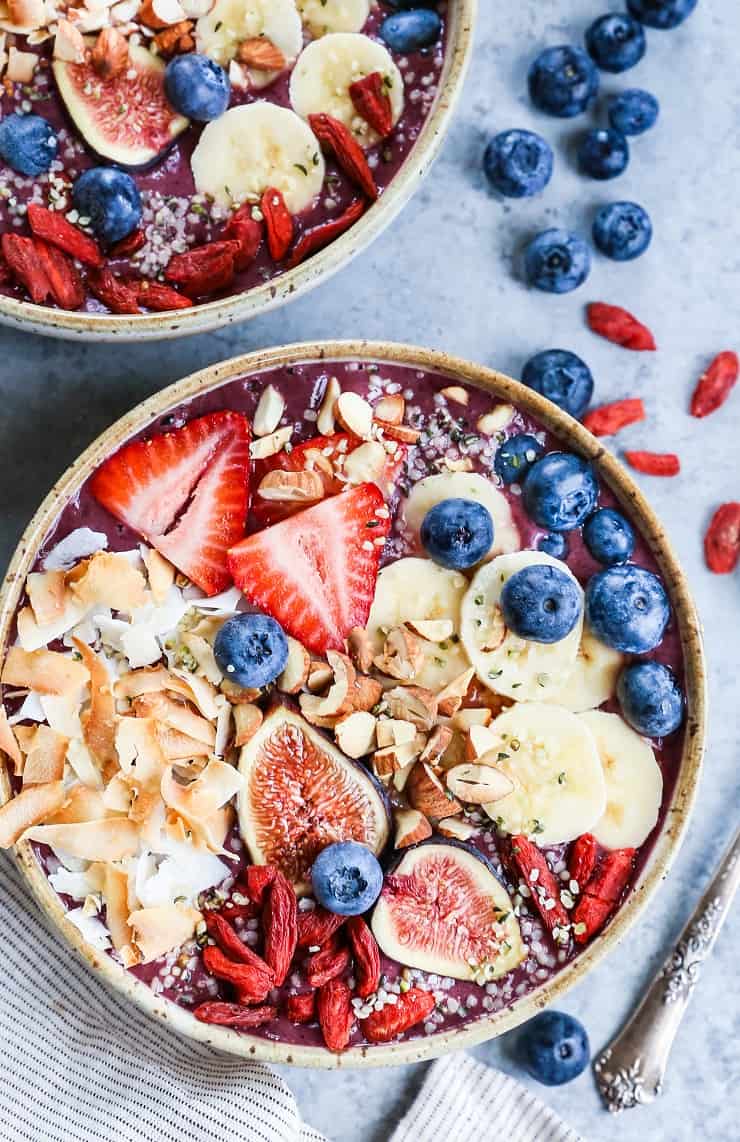 30-Minute Creamy Lemon Garlic Chicken : Packed with antioxidants and pathogen-killing properties from the generous dose of garlic and lemon! Loaded with creamy, zesty garlicky flavor, you'll never look at bland chicken breast the same way!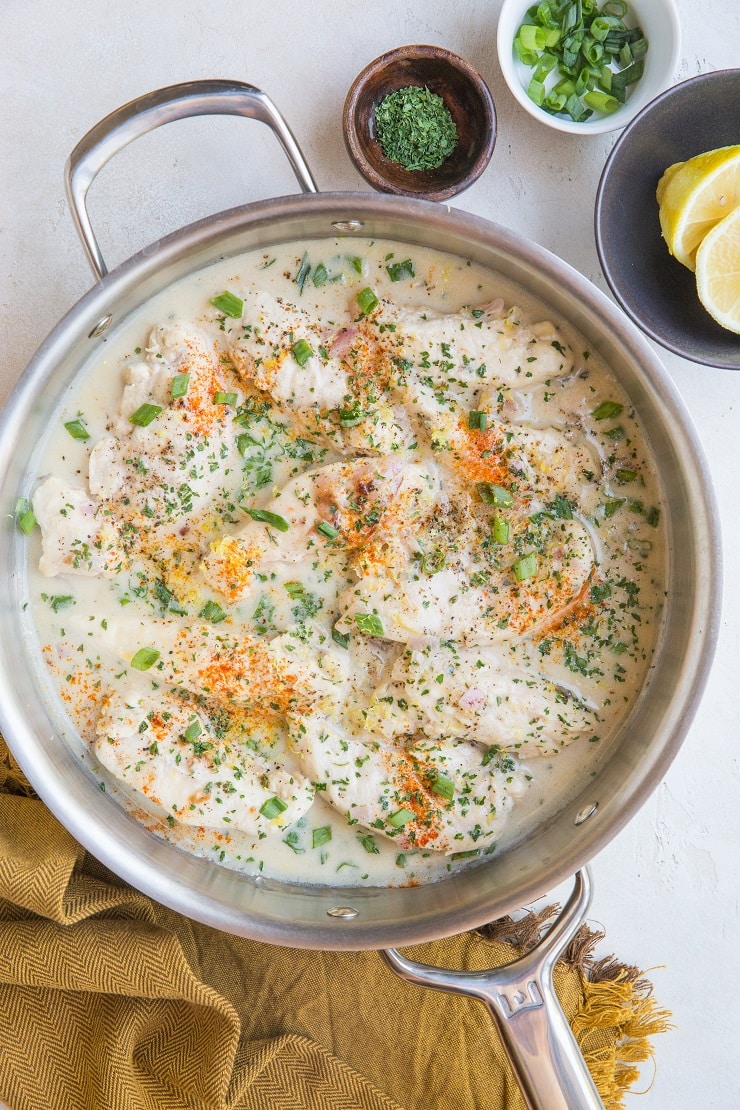 Hearty Ground Turkey Soup : Hearty ground turkey soup with vegetables is a clean and comforting meal perfect for soothing the belly and soul. Make it if you're feeling under the weather, or if you just love a great nourishing soup recipe!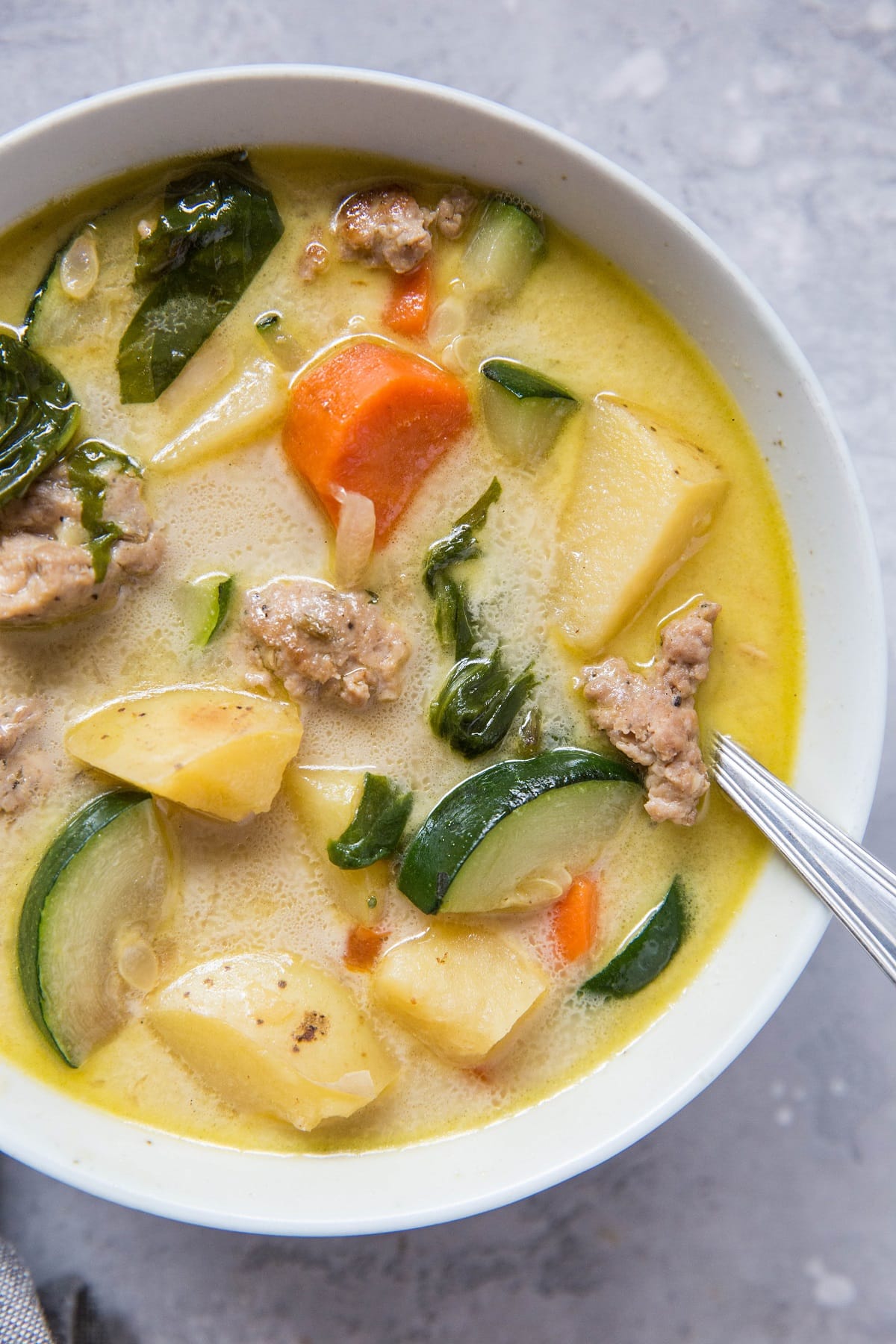 30-Minute Ground Turkey Sweet Potato Skillet : A quick and easy 30-minute meal made in a skillet! This ground turkey and sweet potato skillet meal comes together lightning fast and easily for a nutritious, paleo or whole30 dinner worthy of putting on repeat.
Roasted Vegetable Bowls with Carrot Top Pesto : Forbidden rice bowls with a variety of roasted vegetables and carrot top pesto sauce. This colorful, nutrient-rich meal is perfect for using up your supply of farmer's market veggies.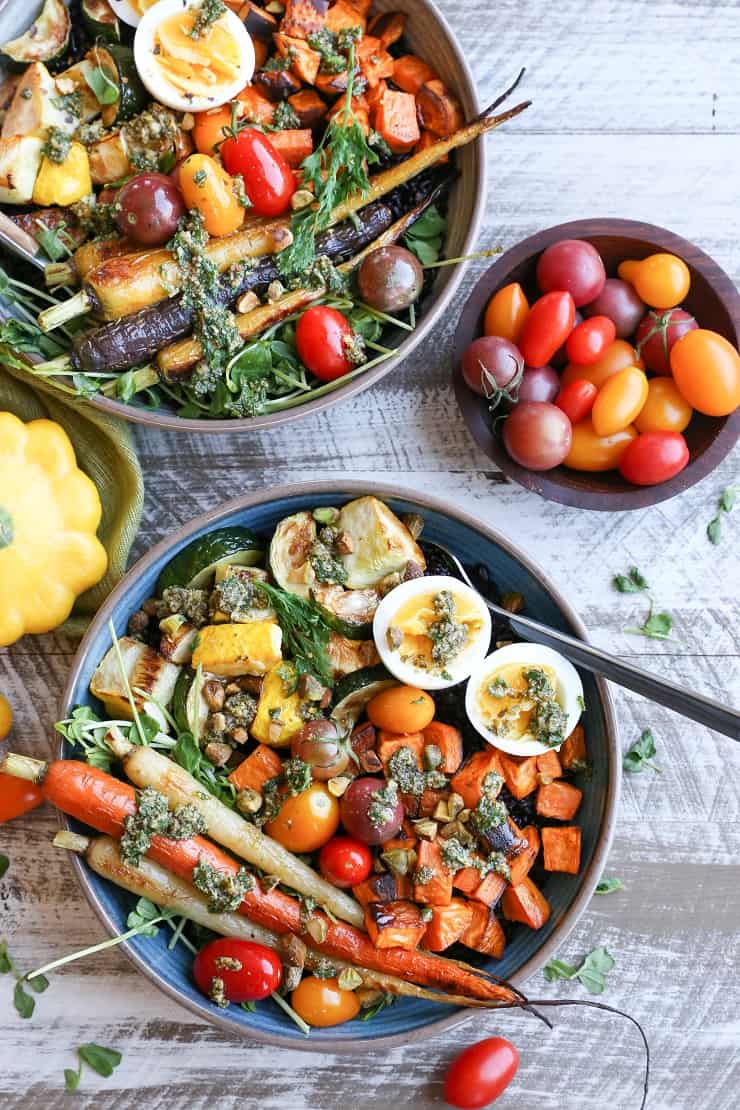 Winter Citrus Roasted Beet Salad : Fresh, vibrant winter roasted beet salad with citrus, pistachios, hemp seeds, and avocado. This vitamin-packed salad will leave you feeling energized and glowy.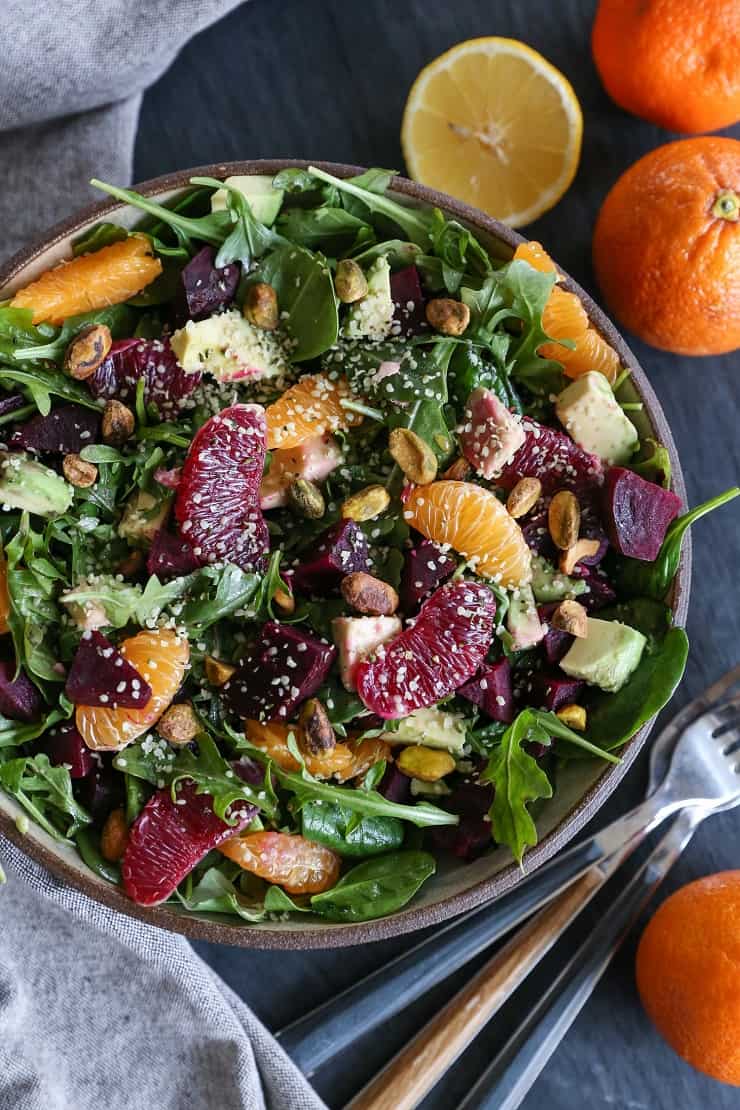 Quinoa Cabbage Broccoli Spinach Salad : Nutrient packed detox spinach salad with quinoa, broccoli, cabbage, cashews, bacon, chopped roast turkey, dried cranberries, and orange-ginger dressing. This super flavorful entree salad recipe is sure to satisfy!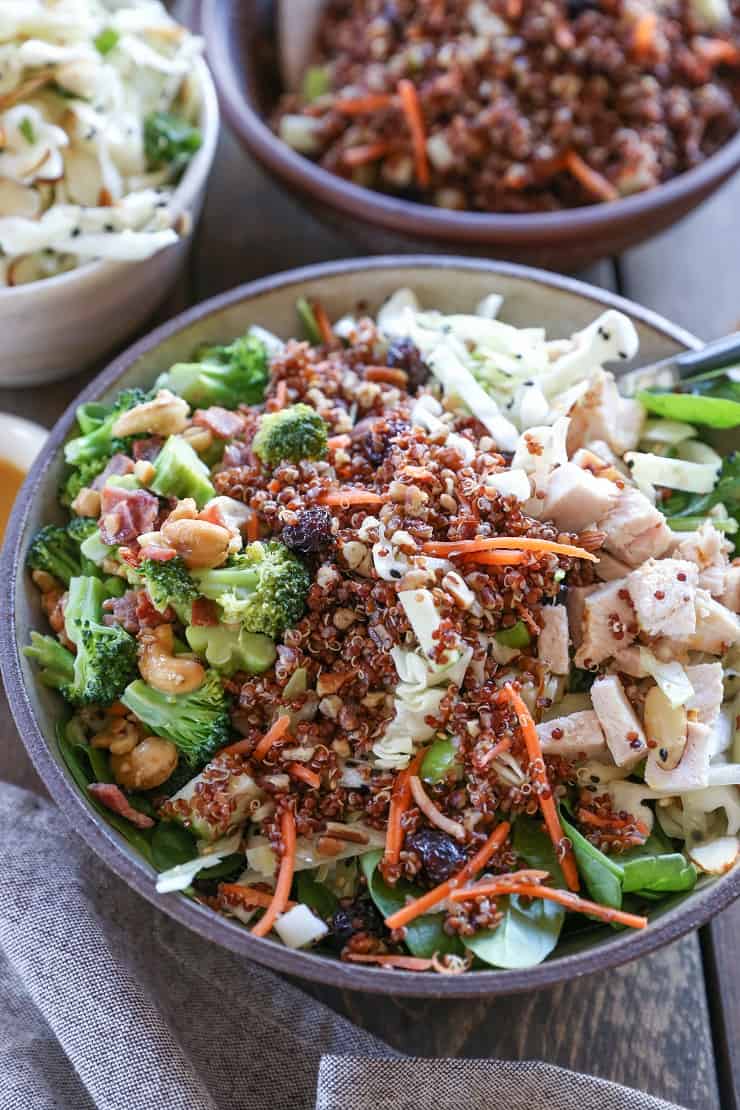 Nightshade-Free AIP Chili Recipe : Nightshade-Free AIP chili made with ground turkey, pumpkin puree, ginger, vegetables and more. This bean-less chili recipe is low-inflammatory, easy to prepare, and so comforting!
Turkey Beet Zucchini Hash : Breakfast hash made with shredded beets, carrots, zucchini, yellow squash, kale, and ground turkey. A nutrient-dense breakfast that happens to be paleo and AIP friendly!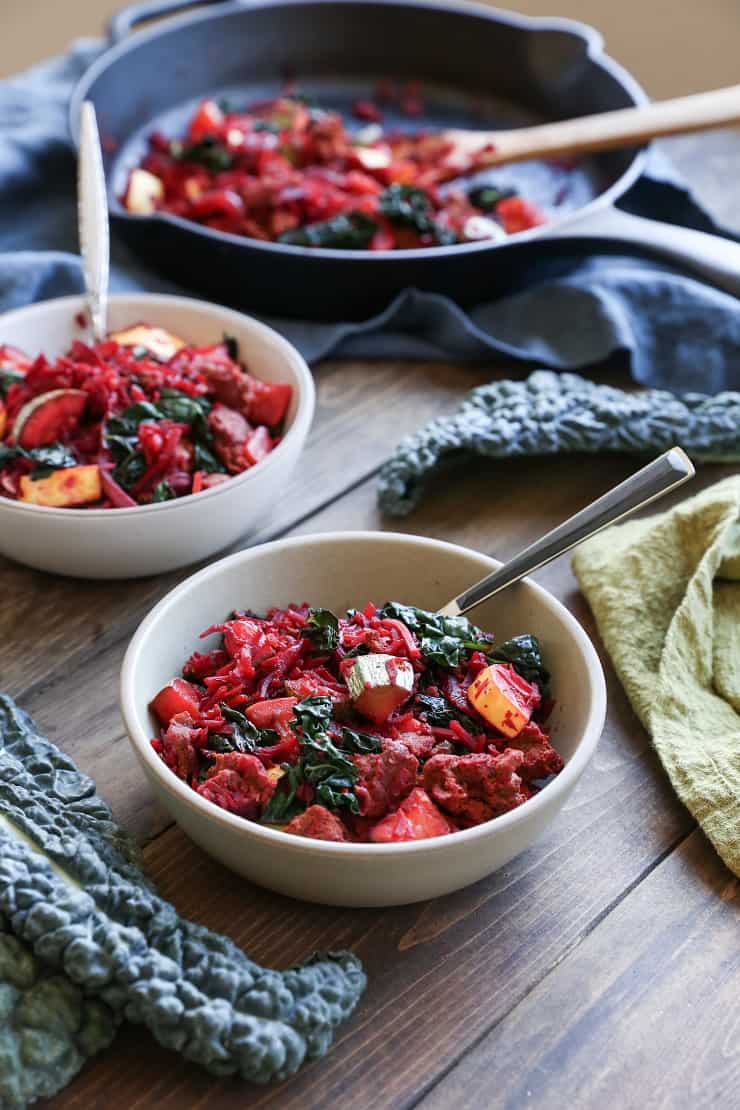 Salmon Stir Fry with Vegetables : Fresh and frisky salmon stir fry for a clean, paleo, keto, and whole30 dinner that is sure to become a staple in your home.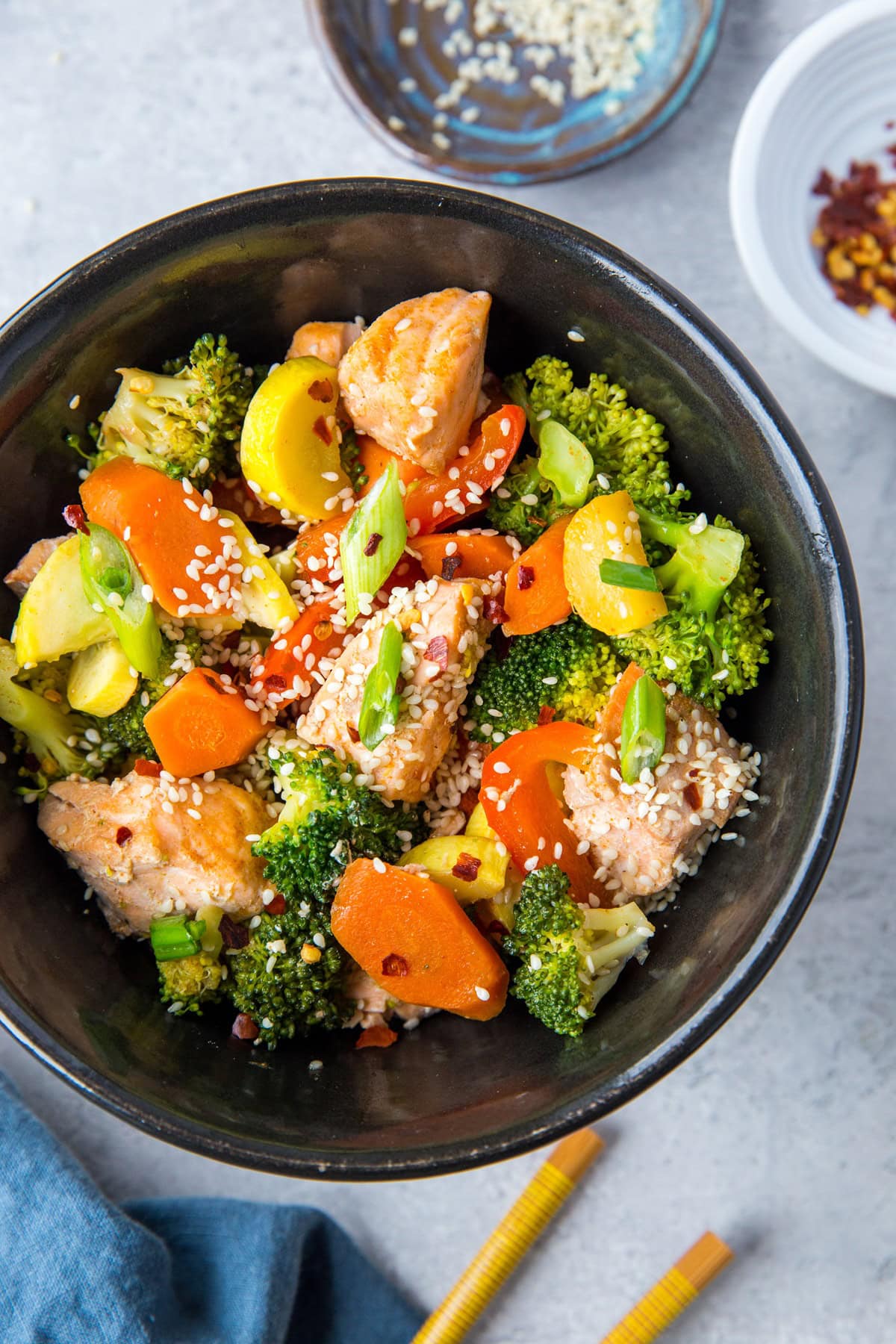 Butternut Squash Ginger Chicken Stir Fry : Simply seasonal chicken stir fry with butternut squash, ginger, broccoli, carrots, and more! This easy meal comes together in less than an hour and is perfect for busy weeknights.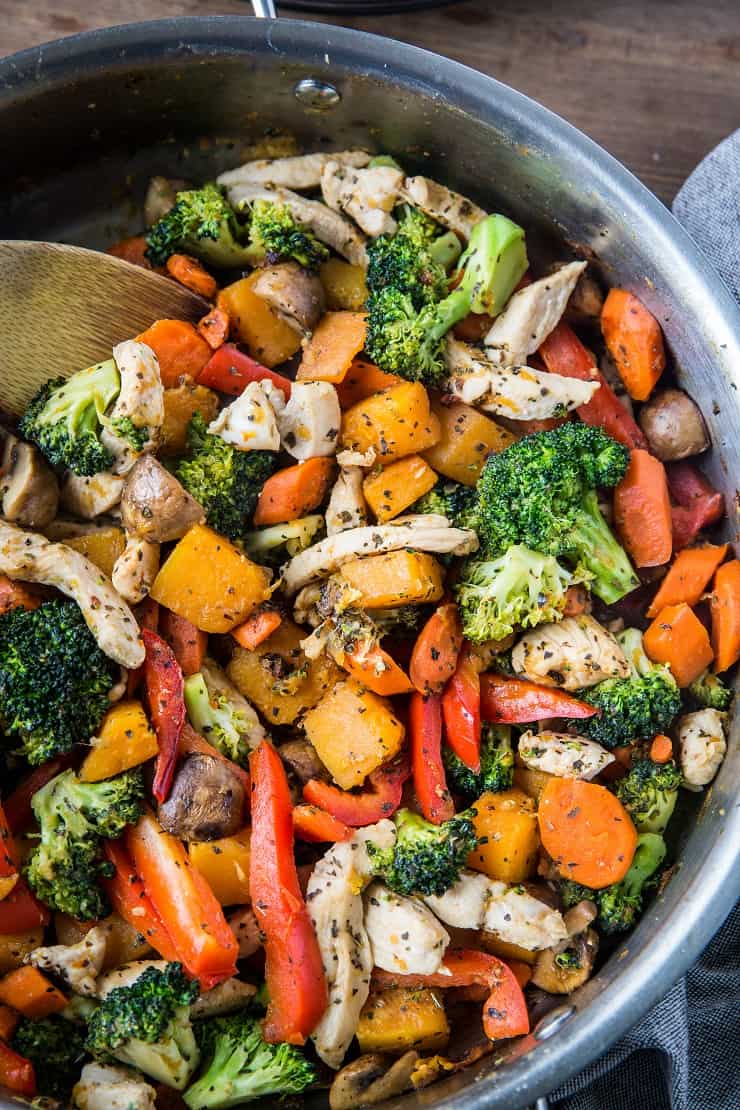 My Easy Go-To Stir Fry Vegetables Recipe : Quick and simple stir fry vegetables. This colorful medley of carrots, broccoli, cabbage, leek, and ginger is a great side dish to any main entree. Whip it up in just 20 minutes!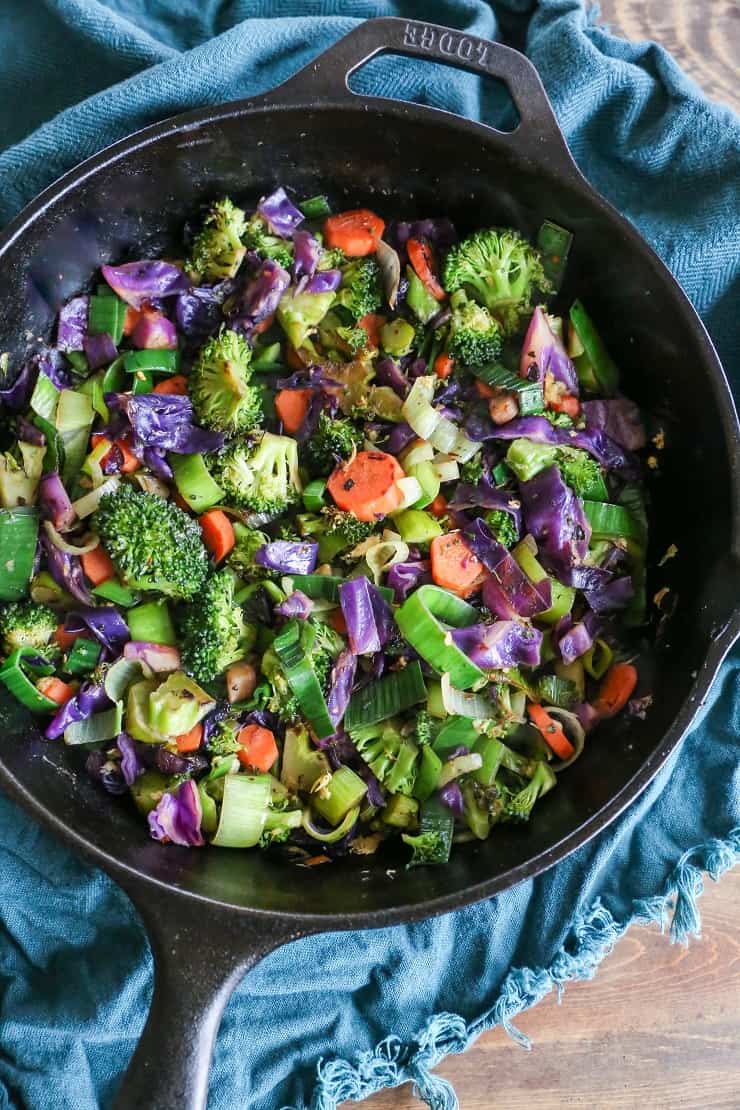 Orange Ginger Chicken Stir Fry : Easy zesty stir fry with chicken onion, bell pepper, broccoli, and carrot is a quick, easy, nutritious dinner recipe. Serve it up with steamed rice, cauliflower rice or roasted vegetables for a well-balanced meal.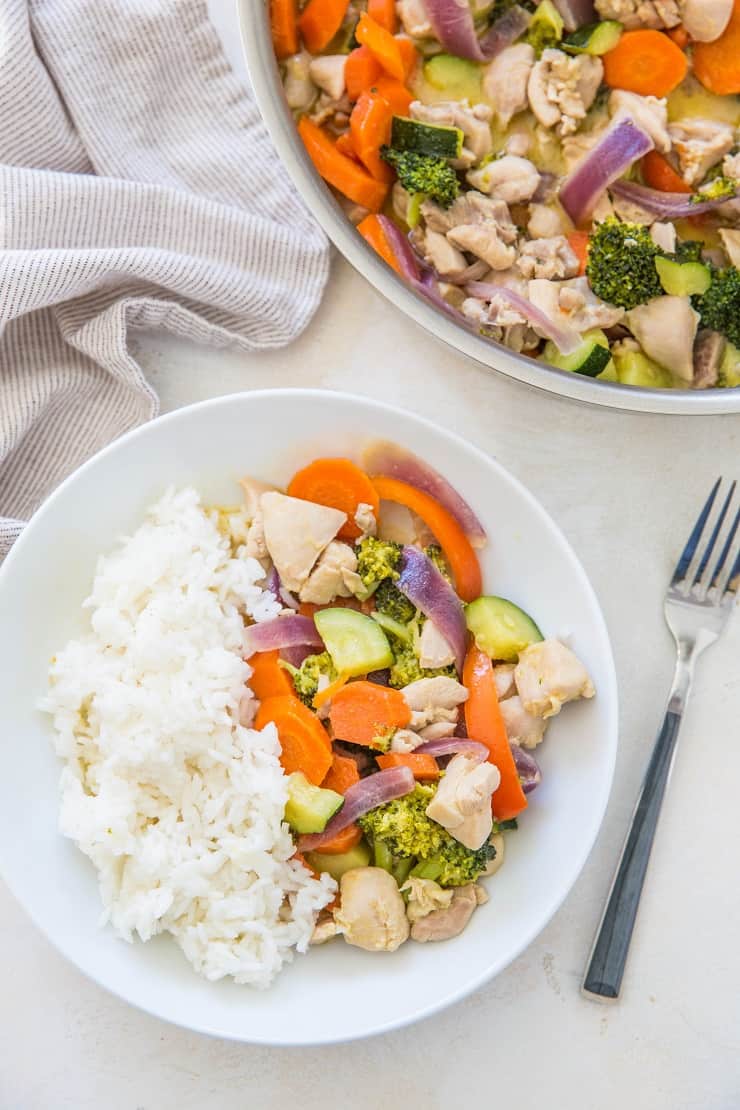 Greek Tuna Salad : Greek tuna salad with avocado, cucumber, fresh dill, kalamata olives, cherry tomatoes, and feta cheese. This fresh and light tuna salad recipe is big on flavor and takes only a few minutes to make.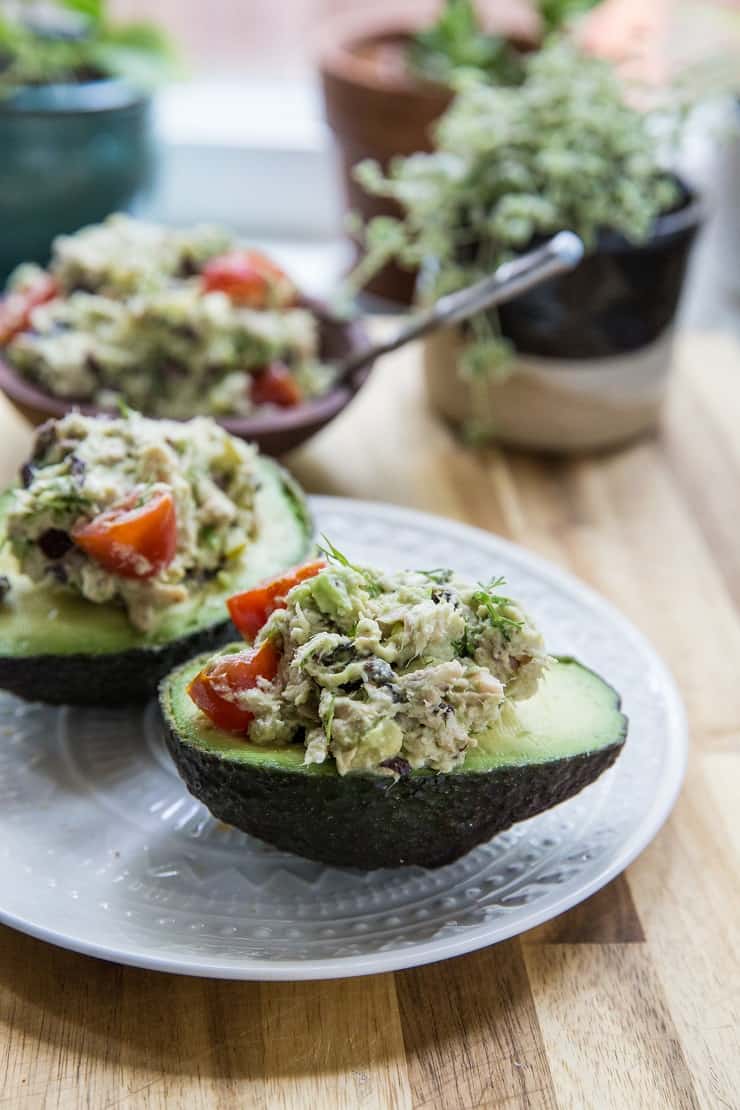 Turmeric Chicken Sheet Pan Dinner : Chicken Sheet Pan Dinner with turmeric-seasoned chicken thighs and vegetables is a quick, clean, easy one-pan dinner recipe. Paleo, Keto, Whole30, and delicious!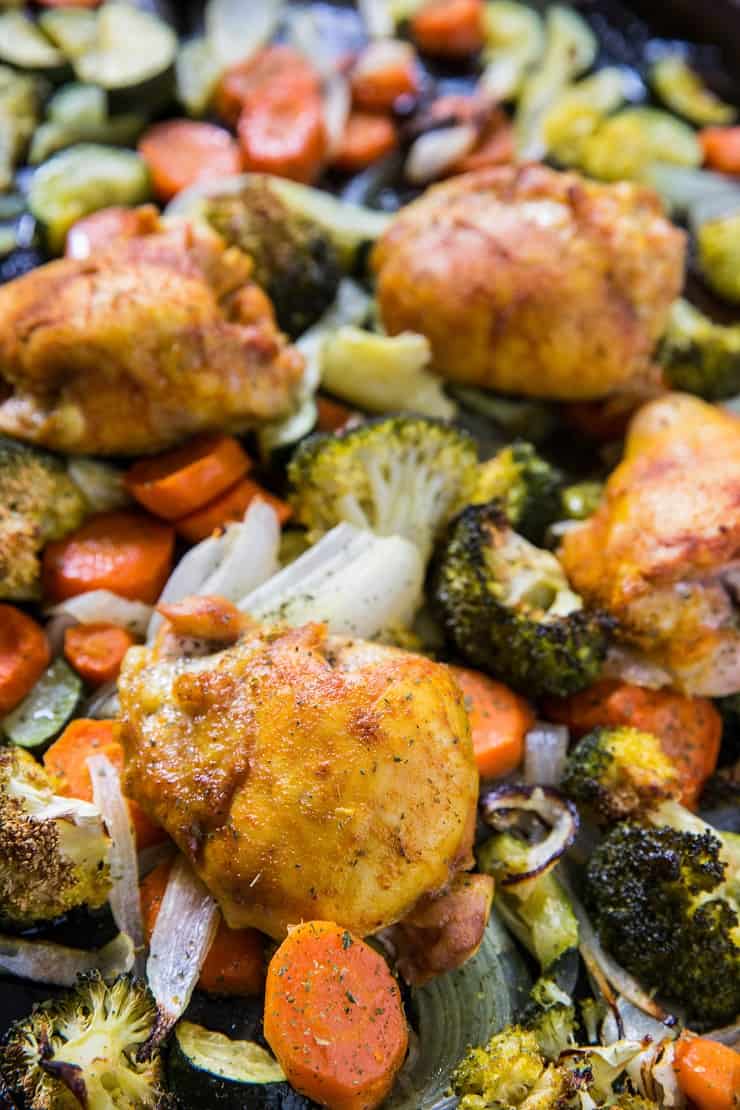 Anti-Inflammatory Smoothies and Drinks:
Liver Detox Smoothie : Nutritious liver detox smoothie with apples, spinach, banana, carrot, parsley, turmeric, lemon, walnuts, and hemp protein powder. This healthful, filling smoothie is packed with everything you need to help cleanse and revitalize your body.
Lemon Ginger Detox Tea : An alcohol-free flu buster//immunity booster toddy. that will help treat and prevent colds while detoxing your holiday cheese and sugar binge.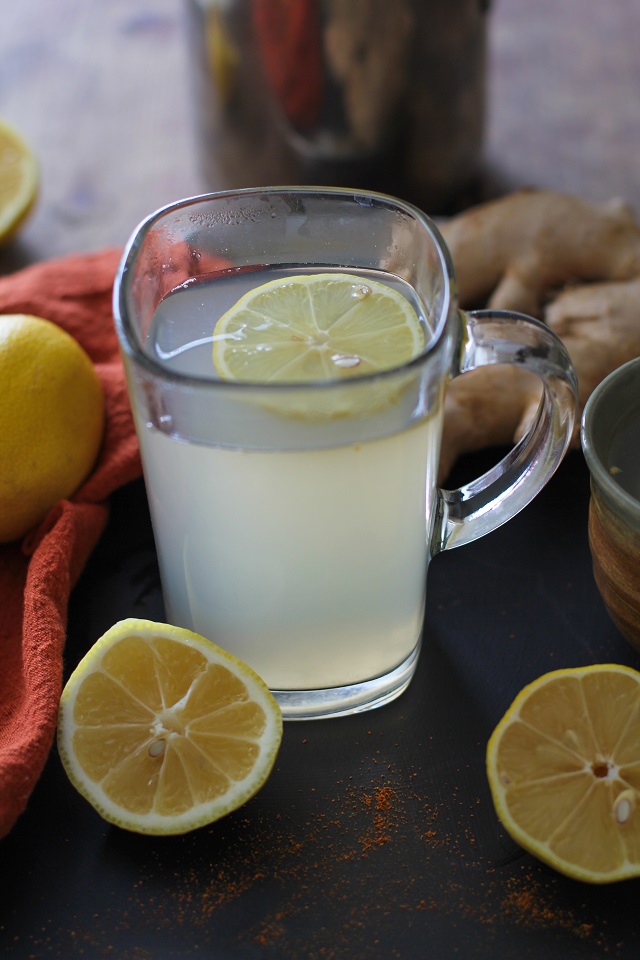 50 Detox Smoothie and Juice Recipes : Recipes for nutritious antioxidant smoothie and juice recipes that help build your immunity.
Anti-Inflammatory Smoothie : An anti-inflammatory smoothie with beets, ginger, turmeric, and strawberries boosts your immune system and helps ease all the bloat.
How to Make Probiotic Ginger Beer : a naturally fermented probiotic drink that is packed with health benefits. This article includes a photo tutorial, information on secondary fermentation, flavoring your ginger beer, and troubleshooting when the process goes awry.
How to Make Homemade Kombucha : Learn how brew kombucha at home using a SCOBY and black tea. Complete with instructions on how to properly do a secondary fermentation. Rejoice in the art of naturally fermented probiotic drinks!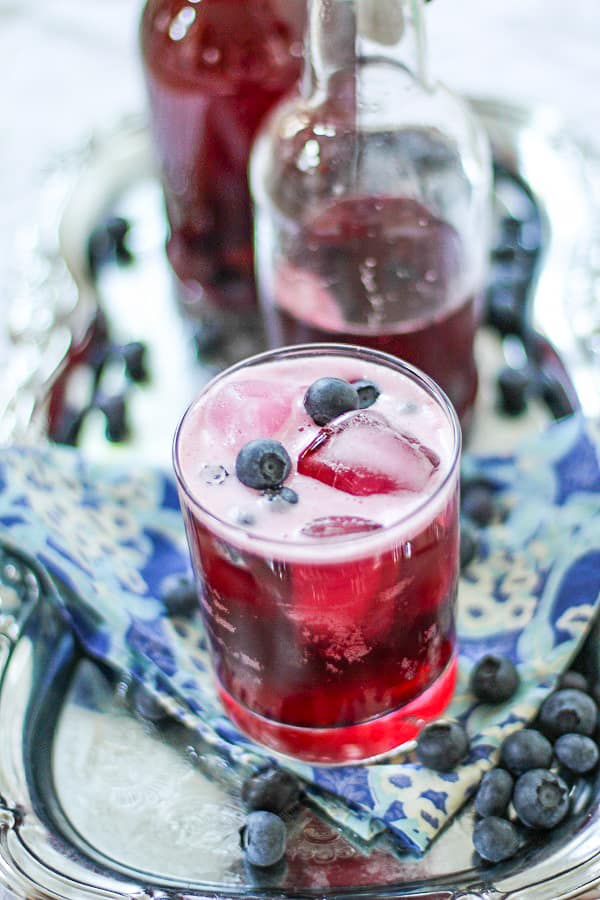 Earl Grey Matcha Latte : Earl Grey Matcha Latte recipe with collagen, gelatin, flax oil and cinnamon. This creamy, frothy beverage contains amazing gut health benefits and is a fabulous way to start the day.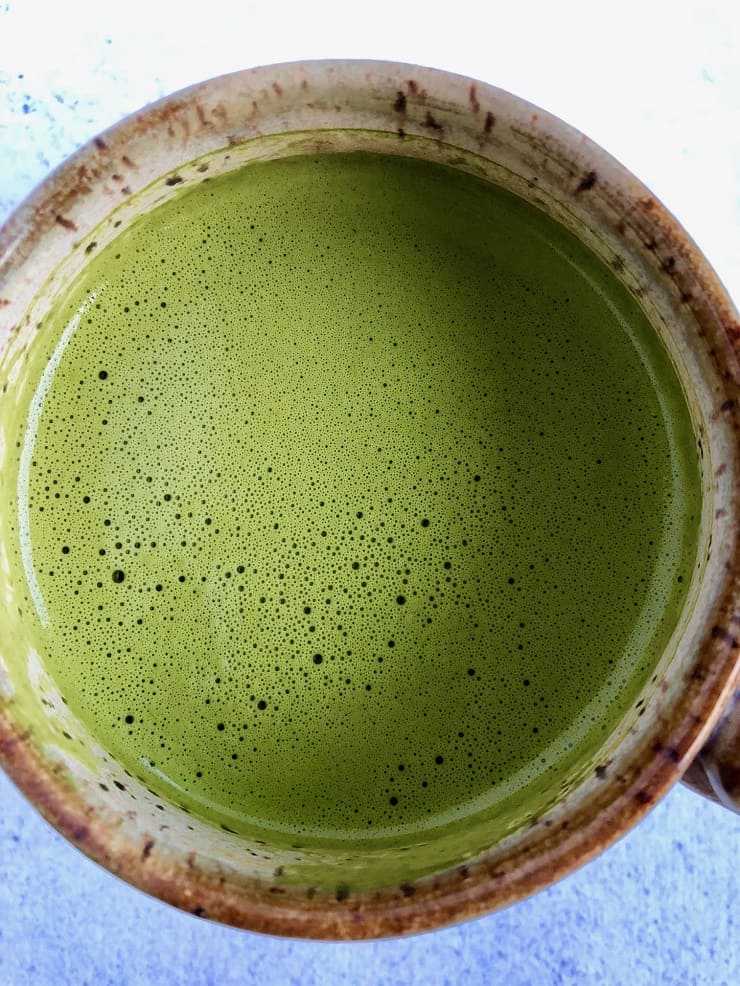 Immunity-Boosting Tropical Smoothie : Immunity boosting smoothie recipe is full of Vitamin C and antioxidants to keep your immune system strong and your skin glowing! Top with your favorite fresh seasonal fruit and nuts for a zesty way to start the day!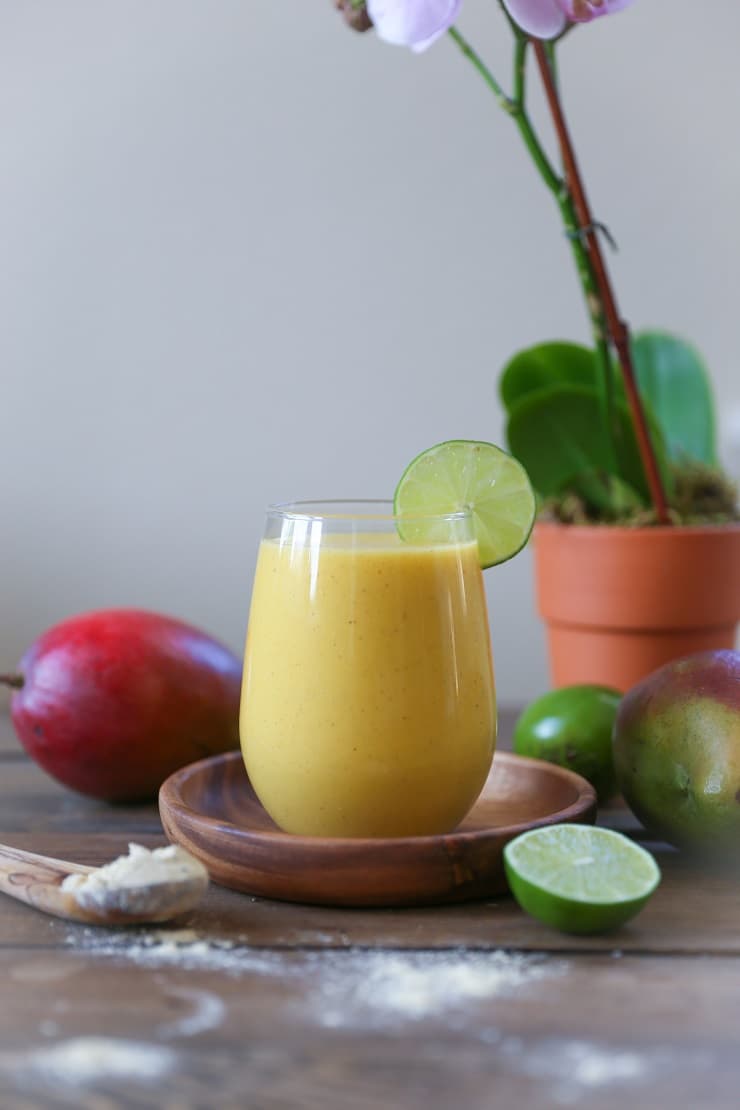 Enjoy these antioxidant recipes to help boost your immunity!
xo