Turkey Beet and Zucchini Hash made with shredded beets, carrots, zucchini, yellow squash, kale, and ground turkey. A nutrient-dense breakfast that happens to be paleo and AIP friendly!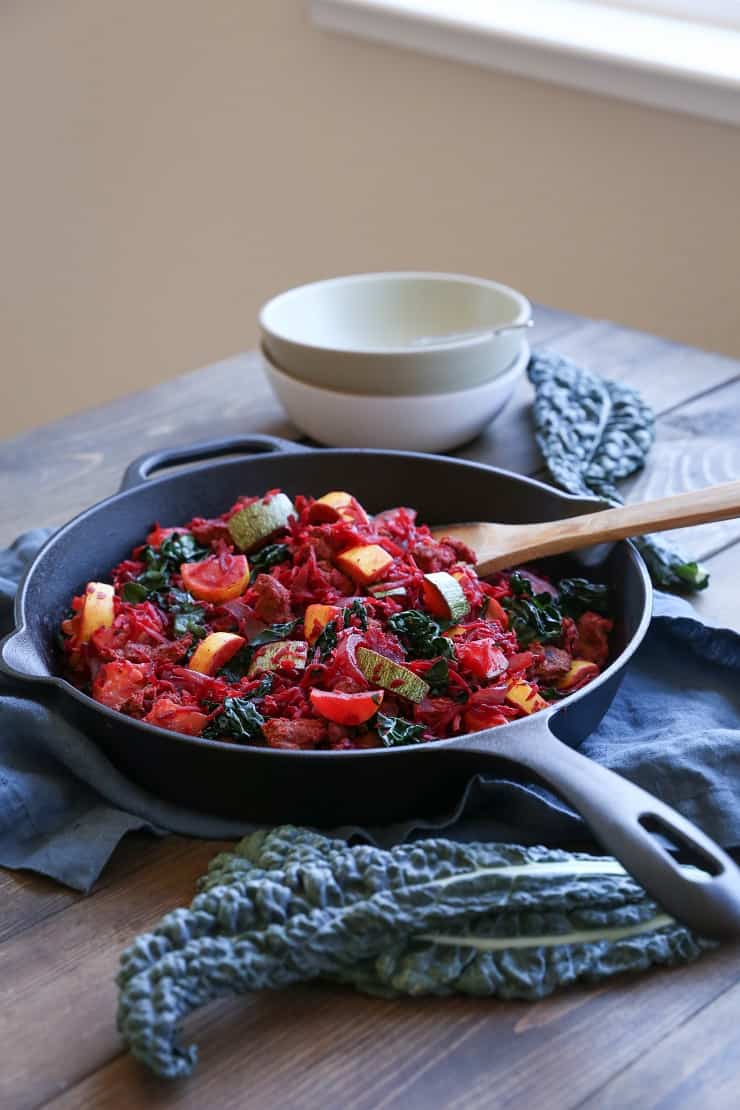 I'm just going to put on my Captain Obvious Cap and come out and say it – these photos aren't exactly the most enticing thing to ever hit the blogland.
Aesthetics aside, this hash has been my favorite breakfast lately!
If you're a savory breakfast person, I highly recommend you give it a go!
We're no strangers to the breakfast hash on this site (just check out my Butternut Squash Hash with Apples and Kale, Rutabaga Hash with Chilis and Bacon, and Sweet Potato and Leek Hash with Andouille Sausage), and for this go round, we're using shredded beets, carrots, yellow squash, zucchini squash, kale, and sausage.
This recipe was inspired by my good friend, Kate, who made a similar recipe for me for breakfast not too long ago.
All things considered, this recipe is nutrient-dense, anti-inflammatory, paleo, whole30 and AIP.
What is Autoimmune Protocol (AIP)?:
She has been battling an autoimmune disease for a number of years, and finds her symptoms improve when she eats the Autoimmune Protocol diet (AIP). She's been eating AIP for 6 months, and is still in the elimination phase of the diet (the elimination phase can take years!).
If you're unfamiliar with AIP, the purpose of the diet is to reduce inflammation – particularly in your digestive system, but inevitably throughout your whole body. It's a very restrictive diet, even more so than Paleo, as in addition to eliminating gluten, dairy, refined sugar, alcohol, beans, legumes, and grains, AIP also omits eggs, nuts, dried fruit, many spices, nightshades (tomatoes, peppers, eggplant), coffee and more. To learn more about AIP, click HERE.
All this to say, Kate is a wizard at coming up with unique breakfast ideas, and this hash was an incredibly pleasant surprise. She's a wizard with AIP recipes!
I'm constantly amazed by her creativity in coming up with unique meals and desserts – having so many limitations can be incredibly inspiring for using various types of fresh ingredients.
Kate used ground beef, which tasted amazing, and for my re-creation, I opted to use ground turkey, as I already had some in the freezer.
If you aren't following a strict AIP or Paleo diet, you can go for uncured bacon or turkey breakfast sausage, but most breakfast meats are not AIP friendly, as they contain sugar, nitrates, and sometimes other additives that cause inflammation. When sourcing your breakfast meats, be sure to read the ingredients, and source wisely!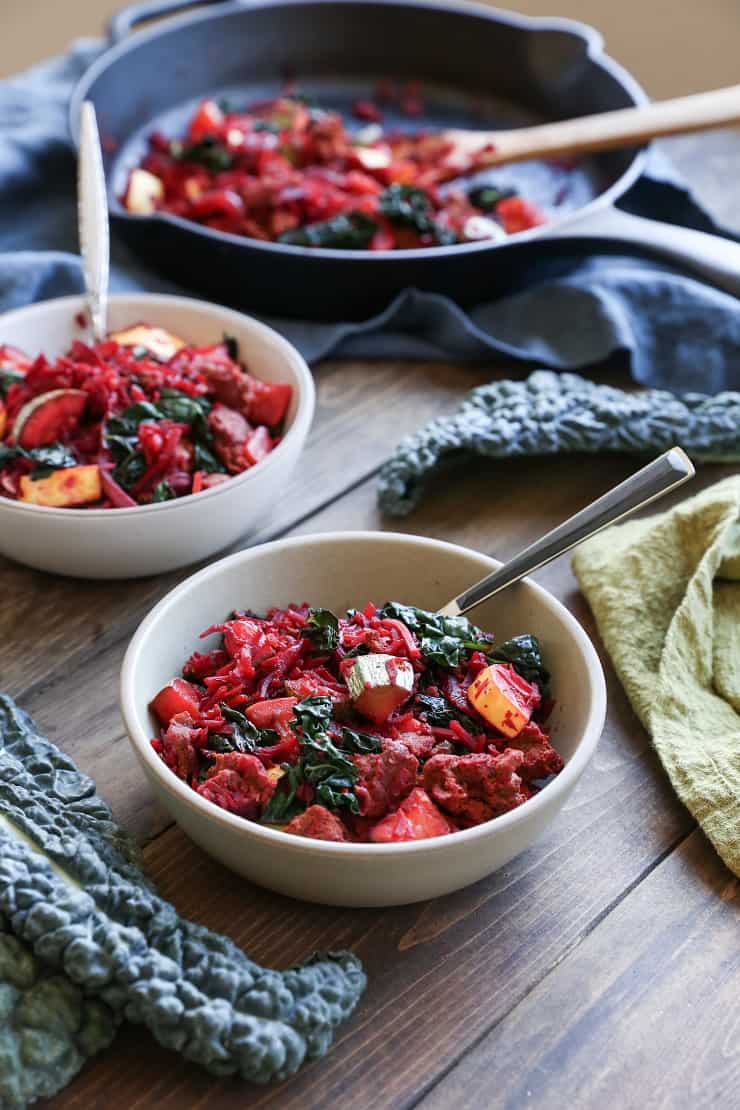 I followed Kate's cooking technique, because she made the whole thing super quickly, and I wanted to be just like her – I chopped the squash and ran the beets and carrots through my food processor using the shredder attachment.
If you're opposed to beets, don't be scared!
The hash turns out super flavorful from the meat, and in the end, the beets give a sort of potato-y essence to the dish. Plus, you get the chard little crispy bits of beets and carrot on the bottom of the cast iron skillet once you're finished, which to me are good as gold!
Recipe Adaptations:
You can add, subtract, multiply, and divide to make this recipe your own.
Use any veggies you have on hand – if you have a CSA box, throwing the veggies into a hash like this is savage!
You'll notice the recipe calls for 1 pound of ground turkey sausage – I ended up wishing there was less meat when all was said and done, so you can opt for ½ pound, or do as I did for a meatier experience. You can also do as Kate did and use some tasty grass-fed ground beef.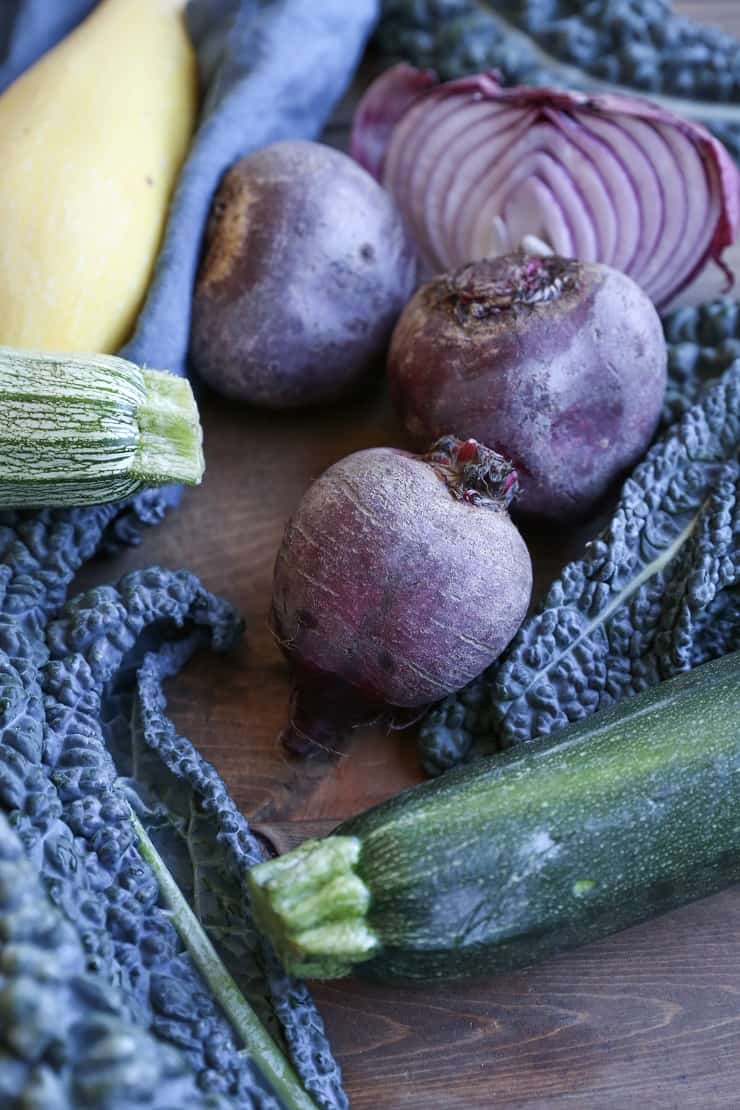 Even if you don't follow a Paleo or an AIP diet, this hash makes for such an nutrient-dense breakfast!
It's delicious and filling and starts your day off with powerful fuel to keep you energized and make you feel great!
Questions about paleo, AIP, this hash, and/or why the world smells so nice after it rains? Hit me up!
I hope you love this Turkey Beet and Zucchini Hash as much as I do!
Turkey Beet Zucchini Hash
The most nutritious and unique breakfast hash you'll ever make!
Ingredients
3

tablespoons

coconut oil

1

pound

ground turkey

see note*

1/2

red onion

sliced

3

medium beets

shredded, about 2.5 cups

2

large carrots

shredded, about 2 cups

1

large yellow squash

chopped

1

large zucchini squash

chopped

1/2

head kale

chopped

2

teaspoons

dried oregano

1

teaspoon

sea salt
Instructions
Heat the coconut oil over medium-high in a large (I used a 12-inch) cast iron skillet or pot. Add the ground turkey and press into a layer on the skillet without breaking the meat up too much. Allow the meat to brown for 2 to 3 minutes, then flip it to the other side and cook an additional 2 to 3 minutes (avoid cooking the meat all the way through just yet). Break the meat into smaller chunks using a wooden spoon or spatula

Add the red onion and cook, stirring occasionally, until onion begins to soften, about 3 minutes.

Add the shredded beets and carrots. Cover and cook 8 minutes, stirring occasionally. Add the squash, oregano, and sea salt. Cover and cook an additional 3 to 5 minutes, stirring occasionally.

Remove the cover and continue cooking and stirring until any remaining liquid has burned off and the squash reaches desires done-ness.

Taste the hash for flavor and add more sea salt to taste. Serve and enjoy!
Notes
*I use Diestel Ground Turkey, which you can buy online, or get at Whole Foods or your local natural food store. You can also use ground beef for this hash - just be sure to use a leaner grind and drain some of the fat before adding the vegetables to the skillet.
Omit the onion if following a low-FODMAP diet
Nutrition
Serving:
1
of 4
|
Calories:
362
kcal
|
Carbohydrates:
22
g
|
Protein:
26
g
|
Fat:
19
g
|
Fiber:
6
g
|
Sugar:
16
g