Forbidden rice bowls with a variety of roasted vegetables and carrot top pesto sauce. This colorful, nutrient-rich meal is perfect for using up your supply of farmer's market veggies.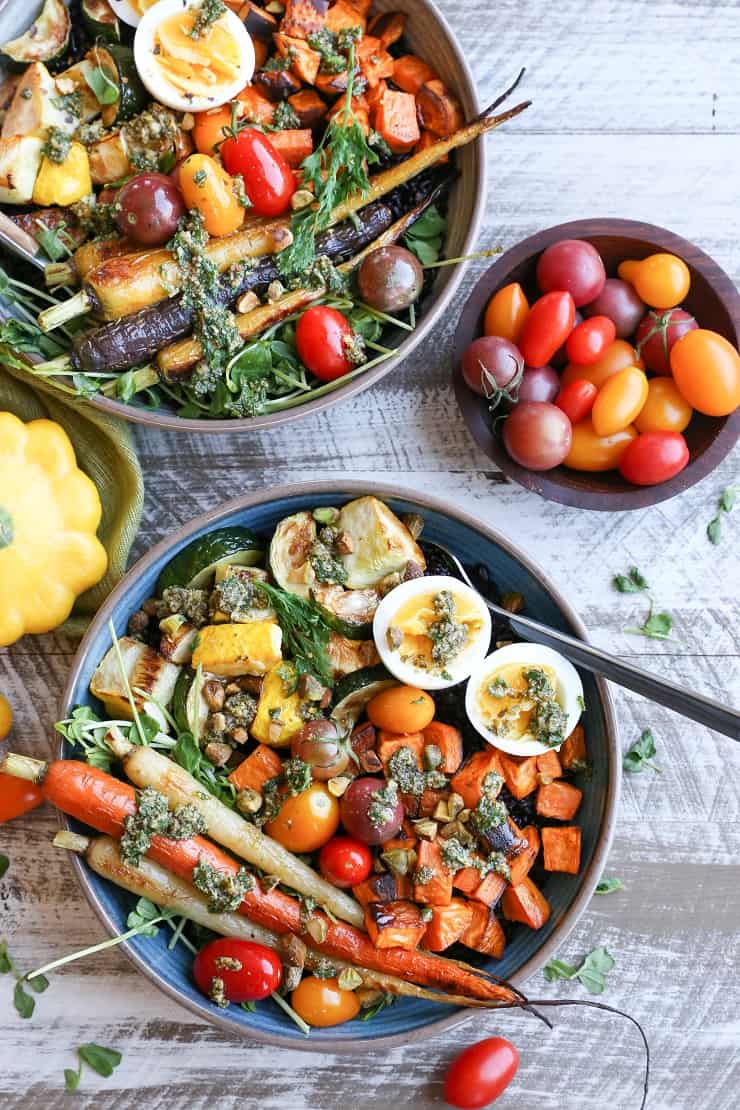 First and foremost, thank you so much for your support on my Mega Announcement! I'm so grateful to be able to connect with so many beautiful individuals and my heart and hugs go out to all of you for your warm wishes and comments!
UPDATE: Paleo Power Bowls has been published!! You can order now through Amazon!
In case you need to play catch-up, the gist of it is, I'm currently writing cookbook #3! In honor of the topic, I thought I'd share a recipe (or recipe concept) with you all that has been near and dear to my digestive system this summer.
And can you believe summer is coming to a close? The upcoming long weekend marks the unofficial wrap up, but I'm still holding on to the long sunny days and warm evenings. Who here could use about 6 more months of summer?
The good news is we can still enjoy summer produce over the coming weeks!
Plunk a variety of roasted summer veggies in a bowl with some rice (be it actual rice, sweet potato rice, broccoli rice, etc), some form of protein, and sauce, and I'm all doe-eyed and hearts and flowers. Make it colorful, and I'm swooning!
These forbidden rice bowls are the perfect swoon-worthy meal. Clean, full of variety, flavor, and texture, and a most excellent way of using up the random vegetables we find in the nooks and crannies of our fridge.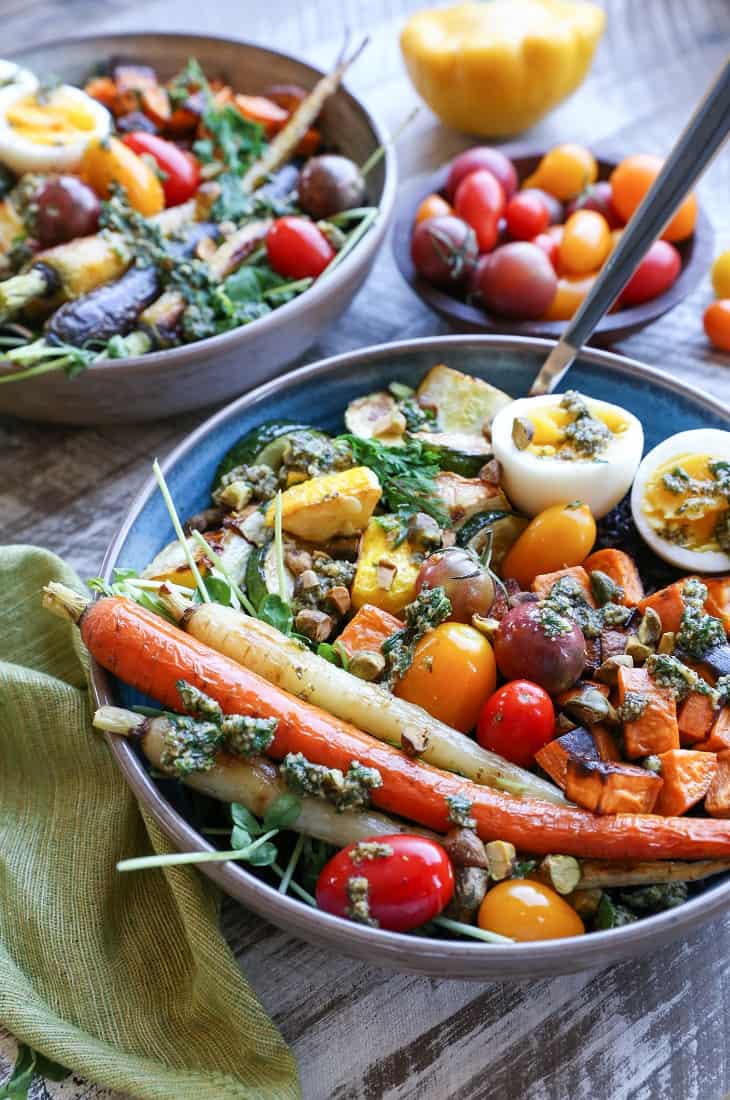 The combination of roasted heirloom carrots, summer squash, sweet potato, heirloom cherry tomatoes, a jammy egg or two with some homemade pesto sauce in these forbidden rice bowls is all sorts of dreamy.
What is Forbidden Rice?:
Forbidden Rice is simply another name for black rice (also known as purple rice). Grocery stores place it right next to brown and white rice in the rice aisle 🙂 If you prefer using a different rice, go for it!
Lettuce discuss the elephant in the room: the rice.
Whether or not rice and potatoes are paleo-approved completely depends on who you ask…and the answer is usually a reflection of whether or not that person can tolerate one or the other. You can read more about this in my blog post, Is Rice Paleo?.
I handle rice like a true champ, so my one modification to eating paleo is I do consume rice. With that said, if you already know your body doesn't bode well with rice, you can easily swap it out for cauliflower rice (or vegetable rice of choice, such as sweet potato, beet, broccoli, etc), spaghetti squash, zucchini noodles (or vegetable noodle of choice), quinoa, etc. Point is, you have options!
Roasted Vegetable Forbidden Rice Bowls with Carrot Top Pesto:
And it's so simple to make! Sure, there are many components, but the main bullet point of this thing is we roast, we pile, we sauce, we devour.
I love using vegetable greens in pesto sauce, which is exactly what I did with the carrot tops here. Simply use them in combination with basil or your favorite fresh herb for a dreamy-fresh sauce!
Because I'm sensitive to garlic, I made the carrot top pesto sans. If you're stomach is cool with it, feel free to add in 1 to 3 cloves, depending on your personal preference.
To keep the pesto dairy-free, I simply roasted some walnuts and added nutritional yeast, both of which can yeild that nutty, creamy, cheesy flavor so that we're not missing out on anything. AND if you're looking for a different type of pesto, I've got you covered! Try my beet green pesto, kale pesto, roasted beet pesto, basil pesto sauce, or your favorite pesto sauce of choice.
Recipe Notes:
For meal prep, make the pesto sauce up to 5 days ahead of time and store in an air-tight container in the refrigerator.
Roast the vegetables and cook the rice up to 2 days ahead of time.
Use your favorite homemade or store-bought pesto sauce.
Use any type of rice, vegetable "rice," or vegetable noodle as the base for these bowls.
Add grilled chicken, steak, or salmon for added animal protein.
Other modifications you can make to this forbidden rice bowl? Generally, if it's local, or if it's in season, I say go for it. Use your farmer's market and CSA produce to your heart's delight!
My cookbook,
Paleo Power Bowls
, is now available! CLICK HERE to check it out. Thank you for your support!
If you make this recipe, please feel free to share a photo and tag @TheRoastedRoot on Instagram!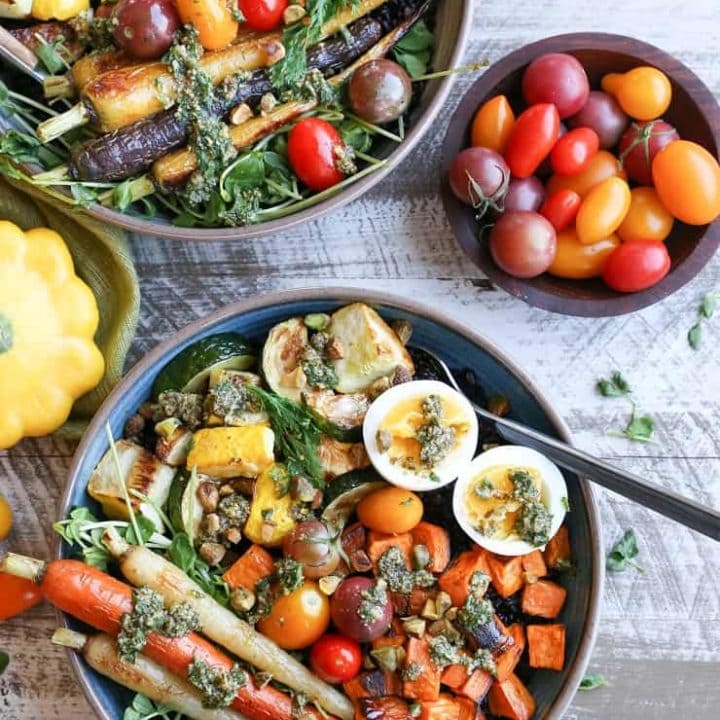 Roasted Vegetable Forbidden Rice Bowls
Roasted vegetables, forbidden rice and homemade carrot top pesto comprise these delicious bowls
Ingredients
Carrot Top Pesto
1 bunch carrot tops, about 1.5 cups chopped
1 cup fresh basil
2/3 cup raw walnuts
Roasted Vegetable Forbidden Rice Bowls
1 large zucchini squash, chopped
1 large patty pan squash, chopped
1 bunch heirloom carrots, tops removed
1 large sweet potato, chopped
3 to 4 cups cooked forbidden rice
1.5 cups heirloom cherry tomatoes
2 ounces microgreens
4 to 8 large eggs, soft or hard boiled
Instructions
Make the Carrot Top Pesto
Add pesto ingredients minus the oil to a food processor and pulse until roughly chopped. Leaving the food processor on, slowly stream the olive oil through the opening of the top. Taste pesto for flavor and add more sea salt and/or cider vinegar to taste. Transfer to a sealable container or jar and refrigerate until ready to use.
Prepare the Roasted Vegetable Bowls
Preheat the oven to 415 degrees F.
Spread the chopped zucchini, patty pan squash, heirloom carrots, and sweet potato over 2 large baking sheets. Lightly drizzle with olive oil and sprinkle with sea salt. Use your hands to toss everything together so that the vegetables are coated with oil. Roast for 25 to 35 minutes, until vegetables reach desired doneness, giving the vegetables a stir or shake halfway through roasting.
Divide the rice between 3 or 4 large bowls. Top with roasted vegetables, cherry tomatoes, microgreens, and hard or soft boiled eggs. Drizzle with desired amount of carrot top pesto, and serve!
Notes
*Use 1 cup parmesan cheese for an un-paleo version
**Use 1/3 to 2/3 cup olive oil, depending on desired pesto sauce consistency.
If you aren't sensitive to garlic, add 1 to 2 cloves raw or roasted garlic to the pesto.
Nutrition Information
Yield

3
Serving Size

1 g
Amount Per Serving
Unsaturated Fat

0g