Earl Grey Matcha Latte recipe with collagen, gelatin, coconut oil and cinnamon. This creamy, frothy beverage contains amazing gut health benefits and is a fabulous way to start the day.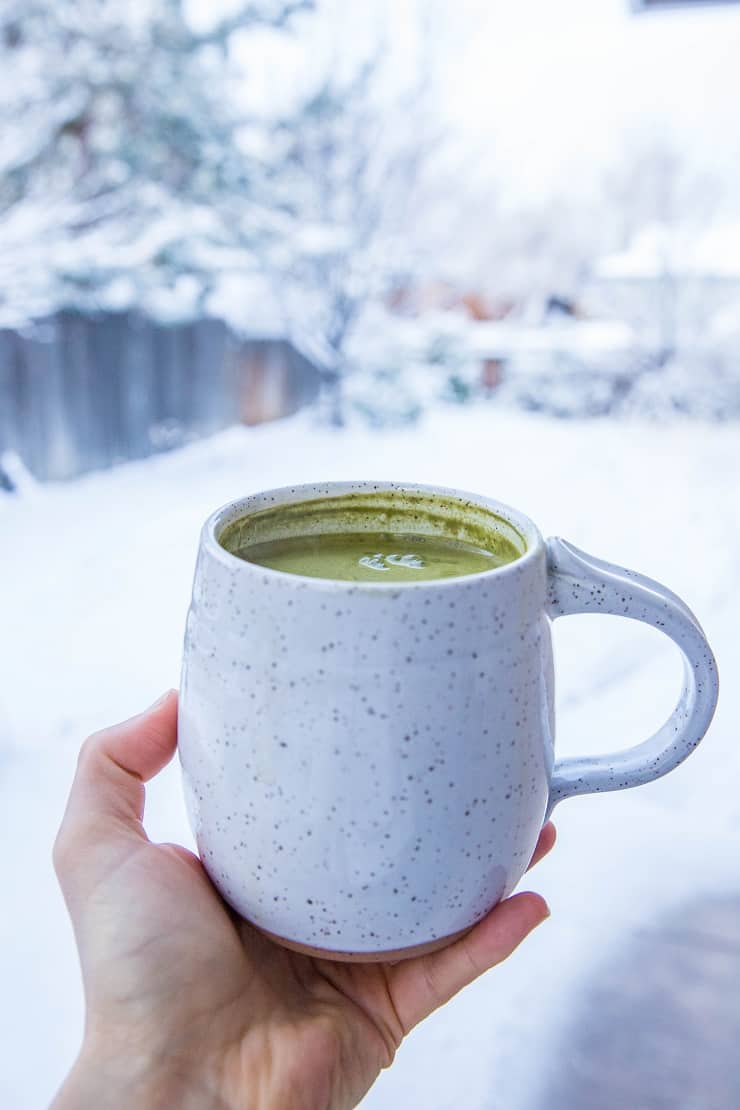 Welcome to my morning obsession.
Confession of a former coffee addict: Coffee used to control my life.
I suppose that is a bold statement, but the truth is, I'd throw an internal fit unless I consumed at least 20 ounces of battery acid strong bulletproof coffee first thing in the morning before anything else occurred.
Not a big deal for most people, right?
But I noticed my coffee habit was getting in the way of my health. I took a food sensitivity test, which unveiled my immune system reacts strongly to coffee – essentially, coffee weakens my immune system.
I was also diagnosed with hypothyroidism 6 months ago, and it is generally recommended you avoid coffee (and high amounts of caffeine, but let's face it, we need to baby steps this out) if you're trying to reduce your symptoms naturally. Not to mention, I have had chronic gut issues for the last 8+ years.
All of this added up to one blaring realization: it's time to kick coffee to the curb.
I had a sneaking suspicion that I could level up in my hormonal and gut health if I cut down on coffee. So I came up with a plan. Rather than eliminating and being miserable, replace my much coveted morning beverage with an equally satisfying, yet better-for-me option.
Enter: Earl Grey Matcha Latte.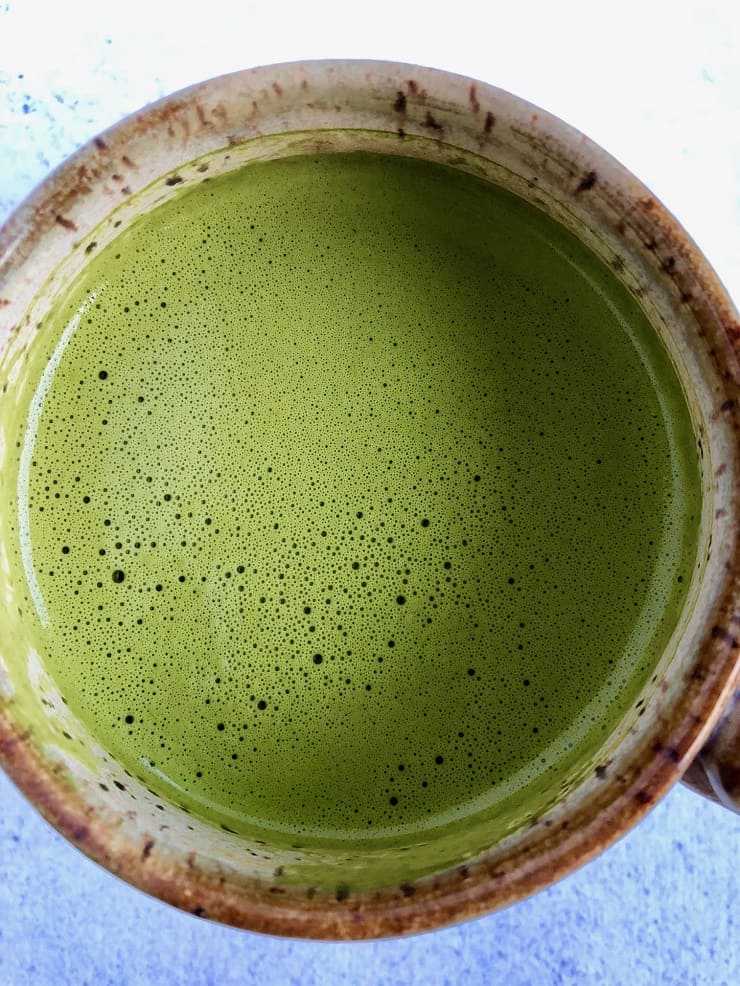 For years, I have quit coffee for a week or so at a time and replaced it with matcha lattes, but I always found matcha alone to be a bit underwhelming. I've always loved Earl Grey Tea and feel I do need caffeine to get things moving in the morning (girl's gotta poop!), so I combined forces, made it bulletproof, and lo and behold my new morning addiction is this very latte.
I read this article a few months ago suggesting Black Tea is great for your gut microbiome. It not only increases the diversity of your good gut bacteria, but it also feeds the bacteria for many hours after consumption.
If you're familiar with probiotics, you may already know that most probiotics only survive in your system for 20 minutes after you consume them, which is why it is brilliant to consume foods and drink that help the survival of your beneficial bacteria.
Studies have shown both black and green tea are great for repairing your stomach and intestinal lining, which is fabulous for those who suffer from any sort of GI symptoms, especially leaky gut.
Sure, both black and green tea contain caffeine, but the caffeine isn't a huge concern of mine, so much as the way it is metabolised. I definitely have more sustained energy throughout the day and find my anxiety is much, much lower when I drink an Earl Grey Matcha Latte as opposed to coffee.
In fact, since I've been on this kick for a few months now, I have come to drink coffee less and less (I was doing 2 cups per week and now, I'm closer to 1 cup every week or two) because I simply feel better when I don't drink it.
When I drank bulletproof coffee, I used ghee for my fat choice. When I switched to my tea latte, I also changed up my fat selection to coconut oil. Coconut oil is touted as being great for digestion. I find it helps me get things moving in the morning. 😉
Spoiler alert: I love the flavor! The combination of black tea, green tea, flax oil, and beef gelatin yields a super creamy, frothy latte that goes down so very nicely!
Which brings me to my next point: If you haven't used beef gelatin powder in your morning bulletproof coffee or latte, it is a total game changer! It creates that smooth, frothy essence we all love so much in a regular latte, PLUS it's loaded with health benefits.
Beef gelatin, similar to collagen, is comprised of amino acids and is amazing for healing your gut lining. It is also crucial in re-building healthy skin, nails, hair, and connective tissue. In essence, supplementing your collagen is a very wise health choice. I encourage you to read this article by Chris Kresser on why you need to eat gelatin for more information!
I have found beef gelatin to yield a much frothier latte than collagen, although I do still use collagen in my lattes periodically.
Let's dive deeper into the ingredients I use.
Ingredients for Earl Grey Matcha Latte:
Earl Grey Tea: I use Mighty Leaf Organic Earl Grey Tea , because I love the quality and flavor. It brews such a delicious, smooth tea! Use your favorite Earl Grey tea bags or loose leaf tea. I buy it in bulk on Amazon, but you can also find it at many grocery stores.
Ceremonial Grade Matcha Powder: Aiya Organic Ceremonial Grade Matcha Powder is the brand of matcha powder I use. It has a lovely smooth flavor. It is my favorite matcha powder I've used to date (and I've tried A LOT of brands!). I buy it on Amazon.
Beef Gelatin (and/or Marine Collagen): I use Vital Proteins Beef Gelatin, which as mentioned before, gives the beverage the latte effect. It thickens it up a bit and makes it frothy, so it almost tastes as though you're drinking frothed milk.
Cinnamon: Ceylon cinnamon has been touted as a superfood for your health! It helps lower your blood sugar, so adding it to your morning beverage is fabulous for those who have a high fasted blood sugar, and/or those who are prediabetic or diabetic. Plus, a tiny shake gives your latte an amazing warm flavor. I use Simply Organic Ceylon Cinnamon, which can be found at some natural food stores or online.
Coconut Oil: I use organic coconut oil, which you can get from most grocery stores, your local natural food store or Whole Foods.
Let's make it already!
How to Make Earl Grey Matcha Latte:
Brew 16 to 20 ounces of Earl Grey Tea using 2 to 3 teabags. Allow tea to steep for 5 to 8 minutes.
While the Earl Grey tea is steeping, add the matcha powder, beef gelatin, cinnamon, and coconut oil (or fat of choice) to a high-powered blender.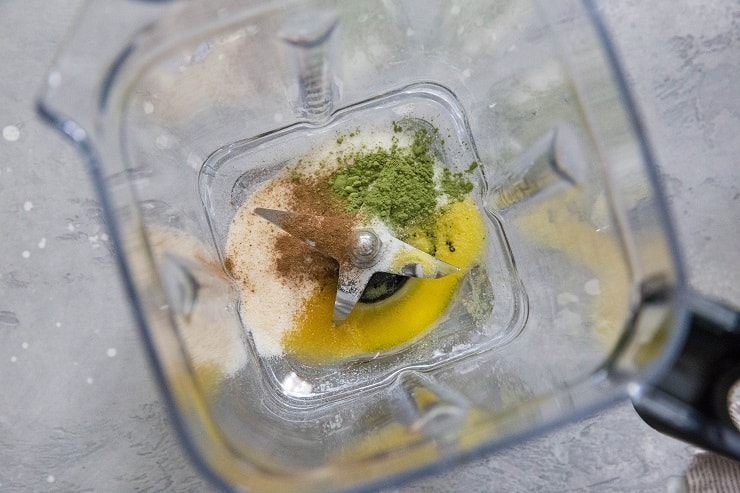 Pour the brewed Earl Grey tea into the blender with the rest of the ingredients. Blend on high for 2 minutes.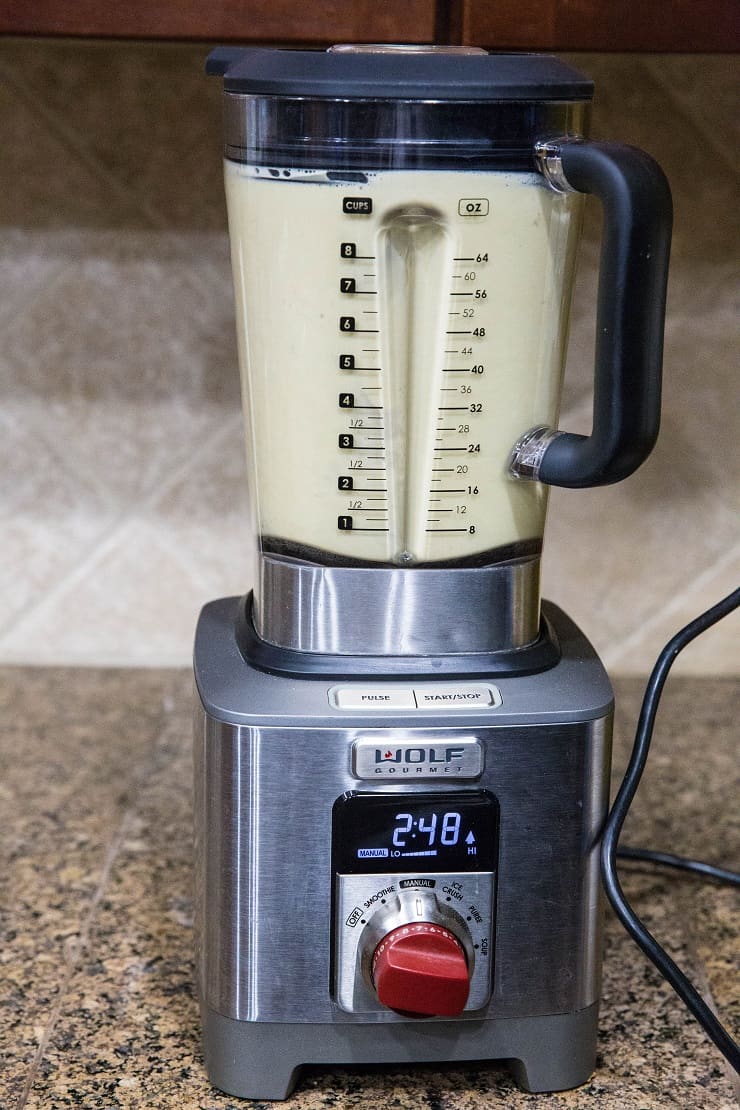 Pour latte into your favorite huge mug, sip, and enjoy!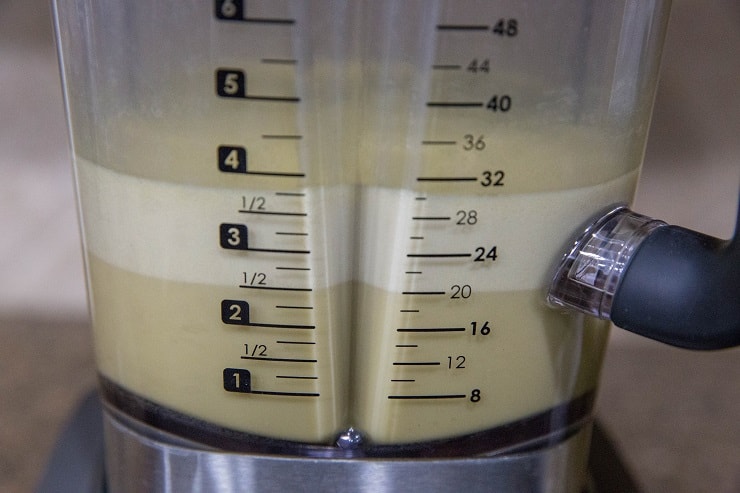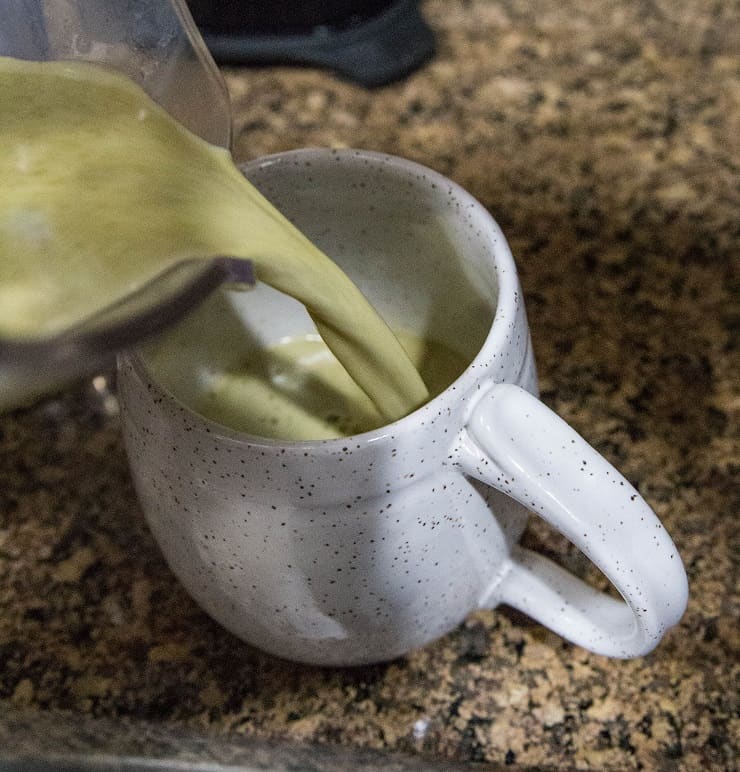 Recipe Adaptations:
Depending on how strong you like your tea, you can increase the amount of matcha powder to 1 to 1.5 teaspoons.

If you're looking to reduce your caffeine intake, use decaffeinated Earl Grey tea.

Add sweetener, like honey, pure maple syrup, or erythritol or xylitol if you like a sweeter beverage.

Rather than using coconut oil, you can use 1 tablespoon of ghee or flax seed oil (or a mixture of your favorite fats).

Omit the cinnamon.

Add vanilla bean scrapings to get real fancy for a vanilla flavor.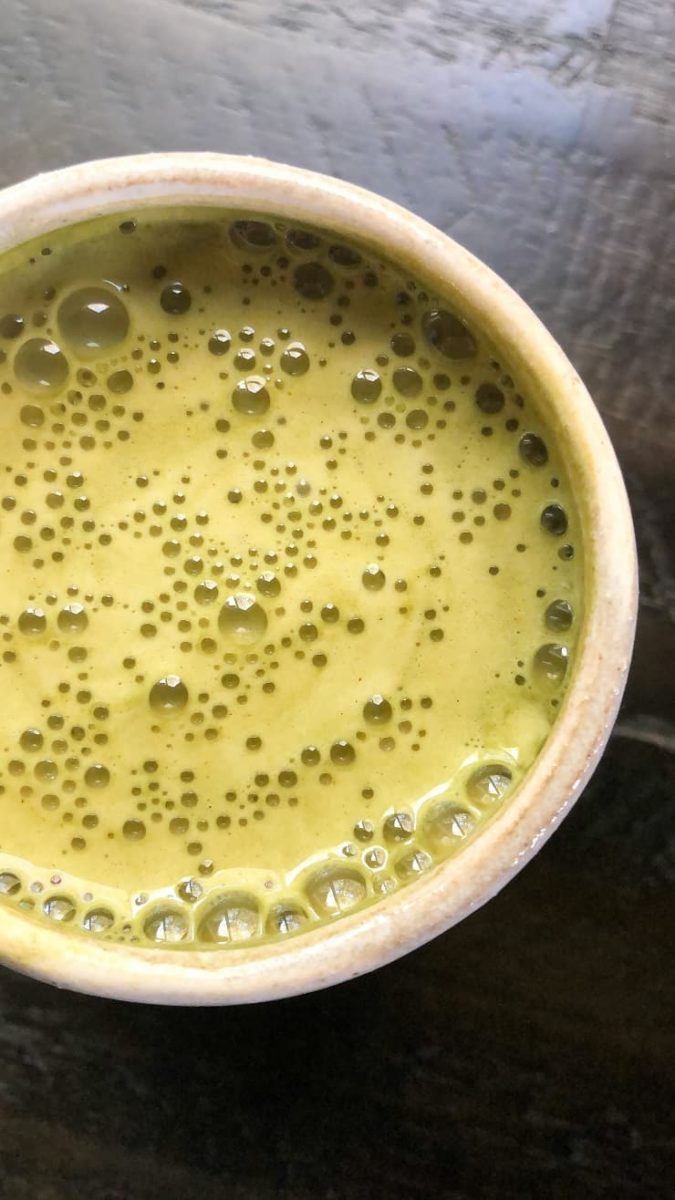 I hope you enjoy this delicious morning beverage as much as I do! If you give it a shot, let me know what you think!
My cookbook,
Paleo Power Bowls
, is now available! CLICK HERE to check it out. Thank you for your support!
If you make this recipe, please feel free to share a photo and tag @TheRoastedRoot on Instagram!
Earl Grey Matcha Latte
A bulletproof matcha latte recipe made with Earl Grey tea
Instructions
Brew a strong mug of Earl Grey tea using 2 to 3 Earl Grey tea bags. Allow the tea to steep for 5 to 8 minutes, depending on your desired strength.

Add the matcha powder, cinnamon, beef gelatin powder and flax oil to a high powered blender.

Pour the brewed Earl Grey Tea into the blender with the remaining ingredients. Blend on high for 2 minutes.

Transfer to your favorite mug and enjoy!
Nutrition
Serving:
1
latte
|
Calories:
183
kcal
|
Carbohydrates:
1
g
|
Protein:
15
g
|
Fat:
13
g