Nutrient packed spinach salad with quinoa, broccoli, cabbage, cashews, bacon, chopped roast turkey, dried cranberries, and orange-ginger dressing. This super flavorful entrée salad recipe is sure to satisfy!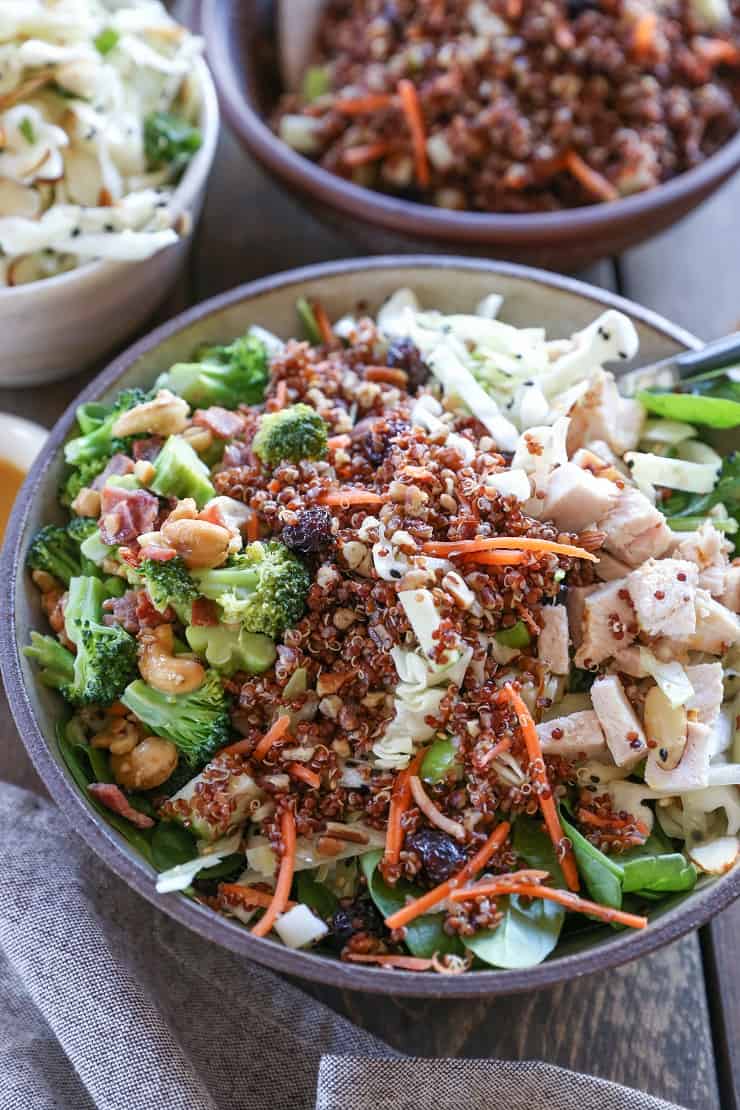 This Quinoa Cabbage Broccoli Spinach Salad with turkey, cashews, and dried cranberries is an all but the kitchen sink approach to salad!
I just about titled this post "All the Salads Salad," because (spoiler alert) it is comprised of four different salads. I know, crazy, right? four salads in one?! Why would we do such a thing?? Lettuce back up.
My favorite salad is a salad that has multiple "salads" wrapped into it.
It's a salad that contains broccoli salad, cabbage slaw, quinoa salad, a lean protein source, an epic amount of greens, a tasty dressing, perchance some feta, and a shower of nuts and dried fruit.
When I'm too lazy to cook, the ultimate treat for me is to drive myself to Whole Foods and just go to town in their salad bar, adding all the salads to my salad box on top of a bed of spinach, then mixing everything together feverishly in a glorious stream of balsamic vinaigrette.
I always end up with at least 2 pounds in my salad bar box.
Now you know what I consider to be a hot night.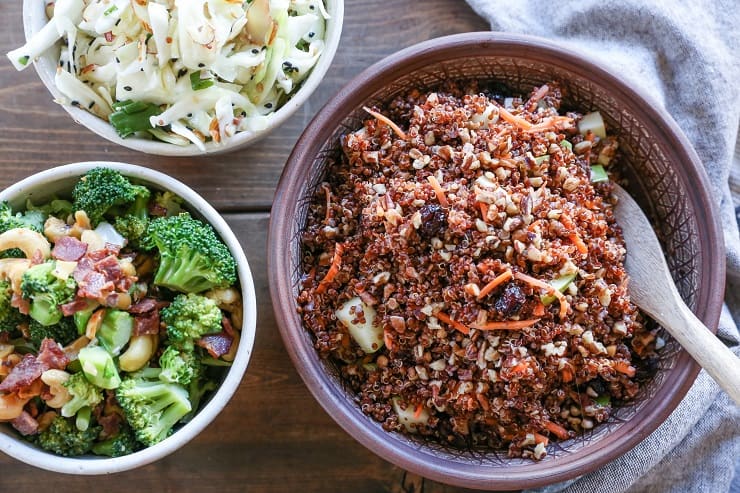 After years of this salad bar obsession, some rocket science and some old fashioned long division, I finally figured out I could try this sultry salad composition at home.
I finally resolved to make multiple salads to salad together.
This way, I can all the salads salad the WHOLE WEEK away, thereby gifting myself my favorite meal experience ON REPEAT.
So here it is: a re-creation of my favorite spinach salad, which will last you multiple meals and make you mind-body-tummy chakra love rabbit food with all its soulful might.
It's comprised of a 1.) quinoa salad with carrots and cranberries, 2.) a broccoli salad with toasted cashews and bacon, 3.) a cabbage slaw with sesame seeds and green onion, 4.) some chopped roasted turkey (hint: you can use any animal protein that suits your fancy), all on top of a bed of spinach with an orange-ginger dressing to tie everything together.
BOOM a filling, nutritious salad at its finest.
Let's break down each salad to make this all make sense:
Components to this Salad:
1.) Broccoli Salad: We blanch some broccoli, and allow it to cool. While the broccoli is cooling, we cook some bacon, toast some cashews, and make the dressing for the broccoli salad. Once the broccoli is cooled, we toss everything together in a big mixing bowl (or storage container for less cleanup and ease of storage.)
2.) Quinoa Salad: Cook 1 cup of dry quinoa and toss it in a mixing bowl with carrots, dried cranberries, pecans, some lemon juice and sea salt. You can get creative here by adding fresh or dried herbs and/or any spices or seasonings.
3.) Cabbage Slaw: A super easy approach to slaw with sliced cabbage, sesame seeds, sliced almonds, green onion, dressed in grapeseed oil (or olive oil) and lemon juice
4.) Put it All Together: To compile the massive salad, just stick a bed of baby spinach in a huge bowl and top with all of the above salads. Add chopped roast turkey (or chicken or protein of choice) and drizzle with orange-ginger dressing. Stir everything up feverishly for a mega flavorful salad!
A you can see, this is definitely a meal prep situation.
It does take some time to compile all the salads, so it's a great activity for when you have a large chunk of free time, OR it can be made in parts by prepping one salad at a time.
The benefit to this approach is you can make a huge salad as your main lunch or dinner meal throughout an entire week, and/or you can feed your whole household a big ass salad for multiple meals.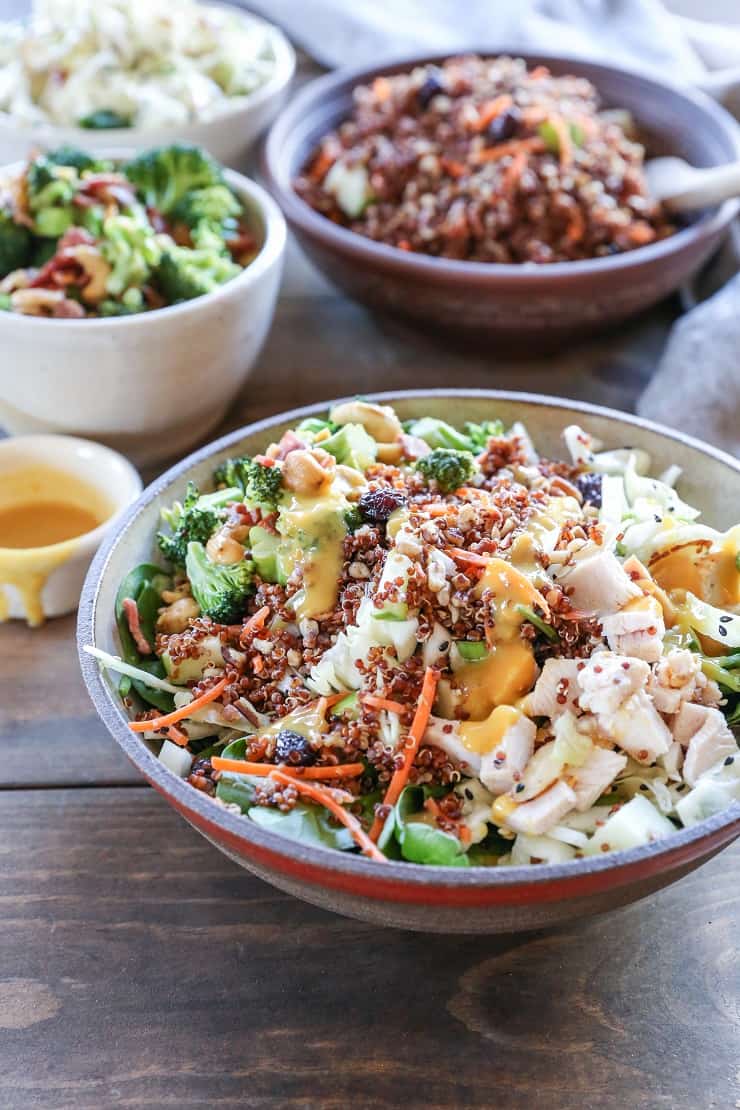 There are options galore for changing up, substituting, omitting ingredients in this recipe.
You can absolutely make it vegan by omitting the animal protein and adding some chickpeas or black beans for plant-based protein, and/or you can swap out the nuts and seeds, add kale and feta, mess with the dressing, you name it! Get creative with this spinach salad!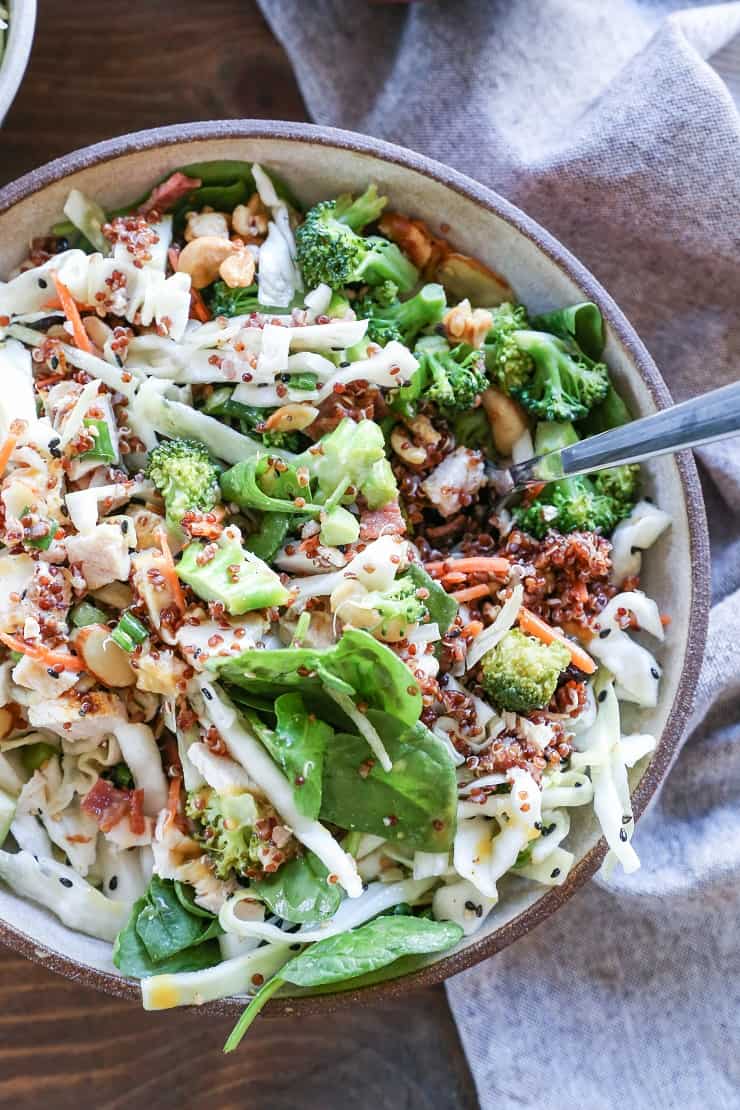 Also check out My Current Favorite Salad Recipe and my Thai Chicken Chopped Salad.
Hope you love this epic crunch fest as much as I do!
Crunchy Quinoa Broccoli Cabbage Spinach Salad
My all-time favorite combination of salads in one big nutritious bowl! You'll love how the flavors and textures come together!
Ingredients
Broccoli Salad:
3

cups

broccoli florets

blanched and cooled

3

strips thick-cut bacon

cooked and chopped

1

teaspoon

coconut oil or olive oil

1/3

cup

raw cashews

1

tablespoon

pure maple syrup

see note*

1/4

cup

golden raisins

1/4

cup

avocado mayonaise

see note**

2

tablespoons

lemon juice

to taste

1

pinch

sea salt

to taste
Quinoa Salad:
3

cups

cooked quinoa

(1 cup dry)

1/3

cup

dried cranberries

1

cup

shredded carrots

1/3

cup

raw pecans

chopped

1

green apple

cored and chopped

1

tablespoon

lemon juice

to taste

1/2

teaspoon

sea salt

to taste
Cabbage Slaw:
1/2

medium head green cabbage

thinly sliced

3

stalks green onion

chopped

1/3

cup

sliced almonds

1

tablespoon

sesame seeds

3

tablespoons

olive oil

1/4

cup

lemon juice

1/4

teaspoon

sea salt

to taste
To Assemble the Spinach Salad:
5

ounces

baby spinach

roast turkey

chopped
Orange-Ginger Dressing:
1/3

cup

orange juice

1/2

cup

grapeseed oil or olive oil

1

teaspoon

fresh ginger

peeled and grated

1

small clove garlic

minced

2

teaspoons

pure maple syrup

1/2

teaspoon

sea salt

to taste
Instructions
Assemble Broccoli Salad:
Fill a pot with water and bring to a boil. Add the broccoli florets and cook just until bright green and slightly softened, 1 to 2 minutes. Strain, immediately run cold water over the broccoli, and allow it to cool. Heat the oil in a small skillet over medium heat and add the cashews and pure maple syrup. Cook, stirring occasionally, until cashews are toasted, about 3 to 4 minutes. Stir together the mayonnaise, lemon juice, and sea salt in a small bowl. Combine the blanched broccoli, cooked bacon, raisins, and toasted cashews in a mixing bowl. Toss in the mayonnaise dressing and stir until everything is combined. Taste salad for flavor and add more lemon juice and/or sea salt to taste.
Assemble Quinoa Salad:
Toss together all ingredients for the quinoa salad in a large mixing bowl. Taste for flavor and more lemon juice, sea salt, and/or any spices or seasonings you like.
Assemble the Cabbage Slaw:
Toss together all ingredients for the slaw in a mixing bowl. Add more lemon juice and/or sea salt to taste.
Make the Orange-Ginger Dressing
Add all ingredients for the dressing to a small blender and blend until thick and creamy. Refrigerate until ready to use.
Assemble Spinach Salad:
Assemble a large salad by adding desired amount of spinach to a large bowl, followed by desired amount of broccoli salad, quinoa salad, cabbage slaw, and roast turkey. Drizzle desired amount of orange-ginger dressing over your massive salad and toss everything together.
Notes
*Omit the pure maple syrup to make this Whole30 compliant
**Use your favorite mayonaise, aioli, kefir, or whole milk greek yogurt
Nutrition
Serving:
1
Large Salad
|
Calories:
762
kcal
|
Carbohydrates:
65
g
|
Protein:
30
g
|
Fat:
35
g
|
Fiber:
12
g
|
Sugar:
3
g