An Anti-Inflammatory Smoothie recipe with beets, ginger, turmeric, and strawberries boosts your immune system and helps ease inflammation.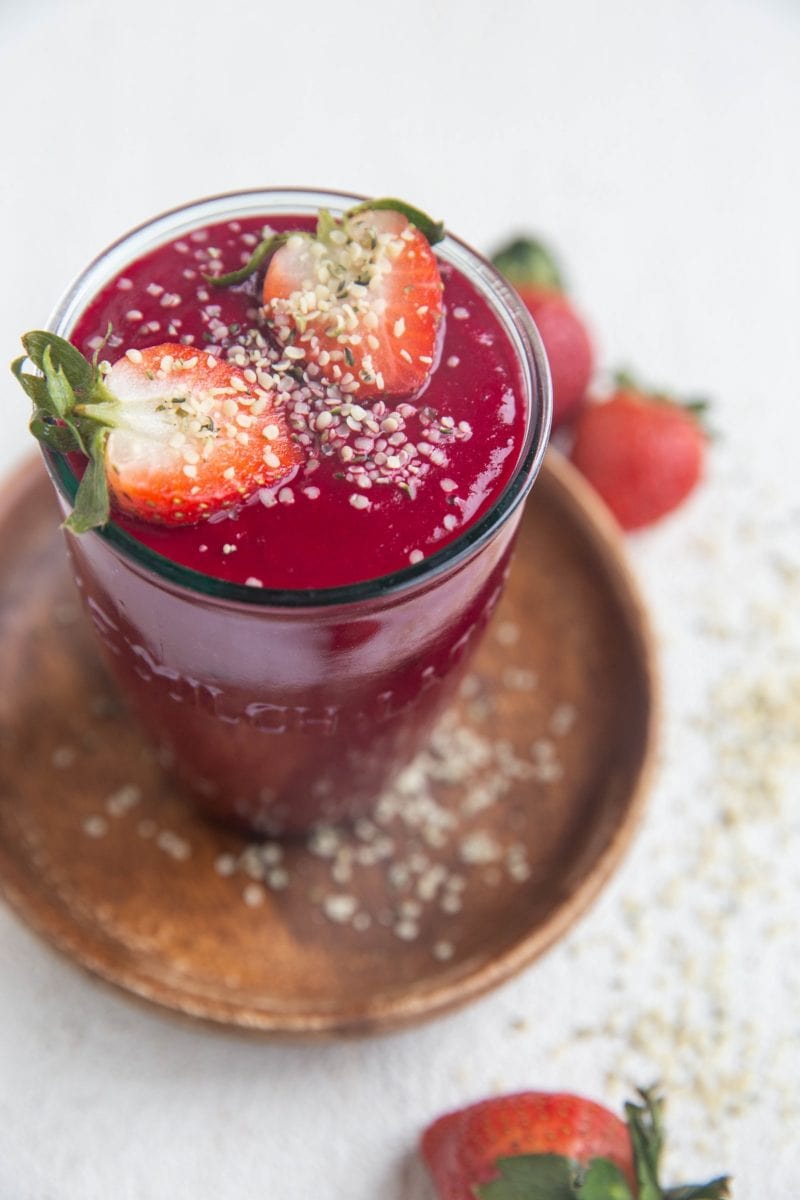 I made this smoothie because I was bloated.
There, I said it.
From time to time, you may feel as though all the waterways in the world are ebbing and flowing throughout your body.
And not in an I-feel-so-connected-to nature sort of way, but in a someone-stab-me-I-feel-like-a-balloon sort of way.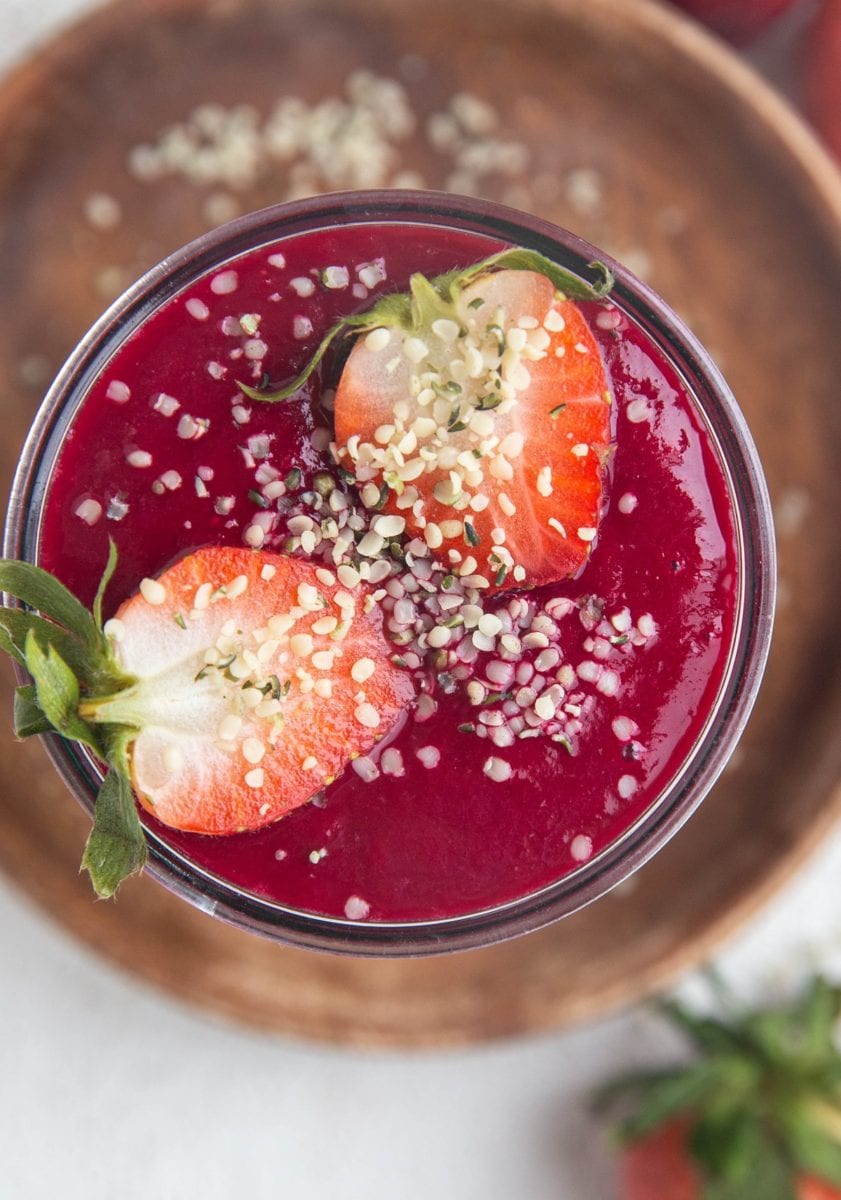 Laaaaaadies < – sung like Missy Elliot. Sorry.
I try to live by the "let food be thy medicine and medicine be thy food" mantra.
So when I occasionally feel inflamed, I try to stick to foods that will lessen the problem rather than worsen it.
Hence: a smoothie that is made with anti-inflammatory ingredients.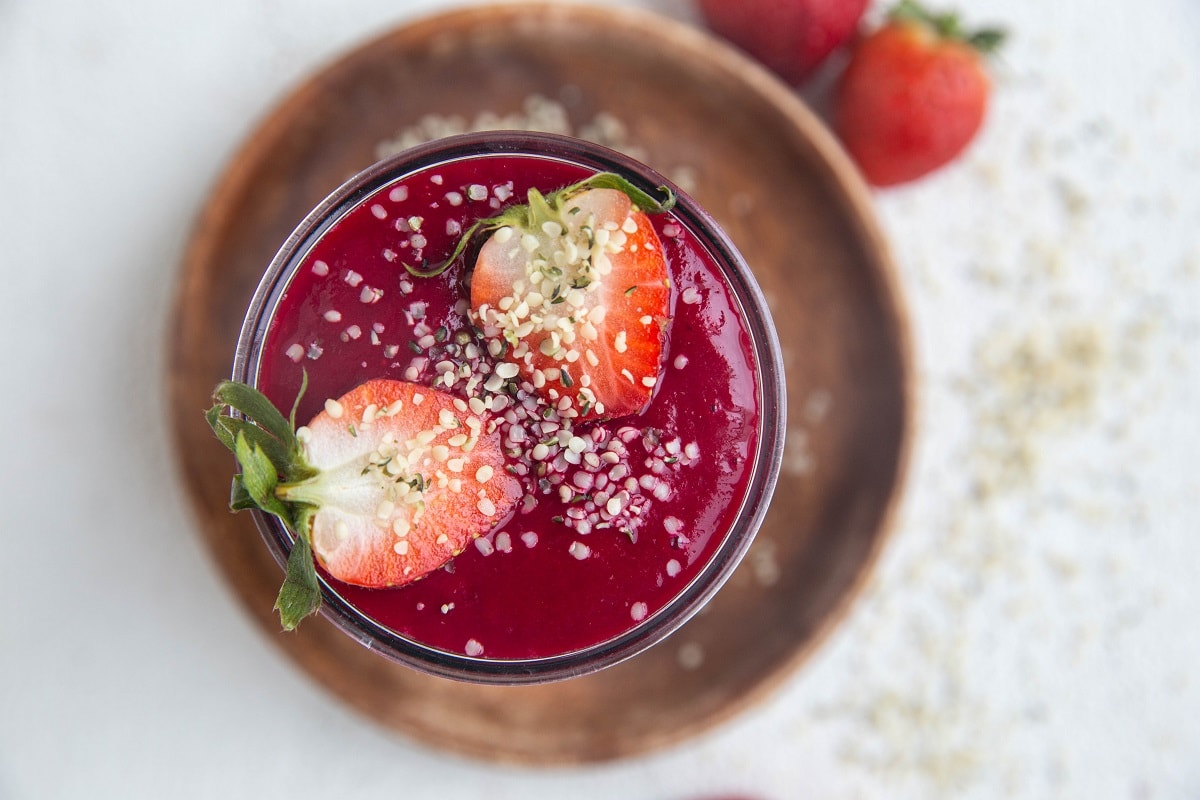 Ingredients for Anti-Inflammatory Smoothie:
My medicine of choice for this occasion?: beets, turmeric, ginger, and strawberries.
These four key ingredients are superfoods, containing a high concentration of nutrients while being calorically light.
I use both orange juice and a non-dairy milk like oat milk to blend the smoothie. The orange juice bring citrus flavor and sweetness, while the plant-based milk adds creaminess.
Recipe Adaptations or Additions:
You can use other juices, such as apple juice or cranberry juice instead of orange juice.
Add your favorite smoothie ingredients, like blueberries, banana, mango, pineapple, etc.
For an ultra green smoothie, add a handful or two of fresh baby spinach or kale.
To add richness and creaminess to the smoothie, use full-fat canned coconut milk for the milk portion of the smoothie.
Add your favorite protein powder.
Toss in 1 to 2 tablespoons of nut butter (such as almond butter or cashew butter) for added creaminess and healthy fats.
Make it a Seed Cycling Smoothie:
If you're into seed cycling, feel free to add your seeds to this smoothie, depending on what phase of your cycle you're in.
For Days 1-14 (Follicular Phase), add 1 to 2 tablespoons of pumpkin seeds and 1 to 2 tablespoons of flax seeds. For Days 15-28 (Luteal Phase), add 1-2 tablespoons of sunflower seeds and 1 to 2 tablespoons of sesame seeds.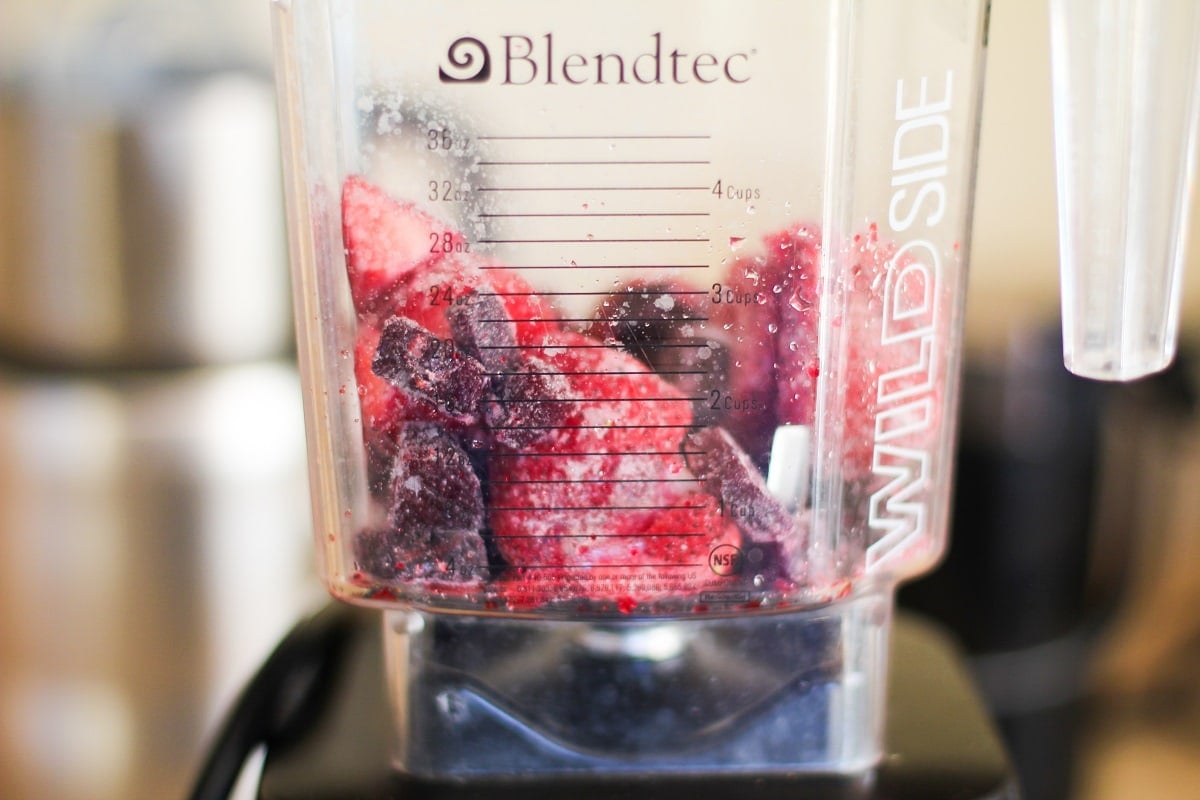 What Makes This An "Anti-Inflammatory" Smoothie?:
Root vegetables are famous for their high concentration of anti-oxidants and anti-inflammatory properties.
Beets: Beets contain a high concentration of betalains, which are a natural anti-inflammatory. They are high in folate, Manganese, and copper.
Many compounds in beets such as betaine, ferulic acid, rutin, kaempferol, and caffeic acid have been shown to have cancer-fighting properties when tested in the lab using cancer cultures and beet extract.
The nitrates in beets are also reportedly helpful for athletic performance, as nitrates improve the efficiency of mitochondria (cellular power plants) in the cell. While exercise has a pro-inflammatory response in your body in the short term, the long term effect lowers systemic inflammation.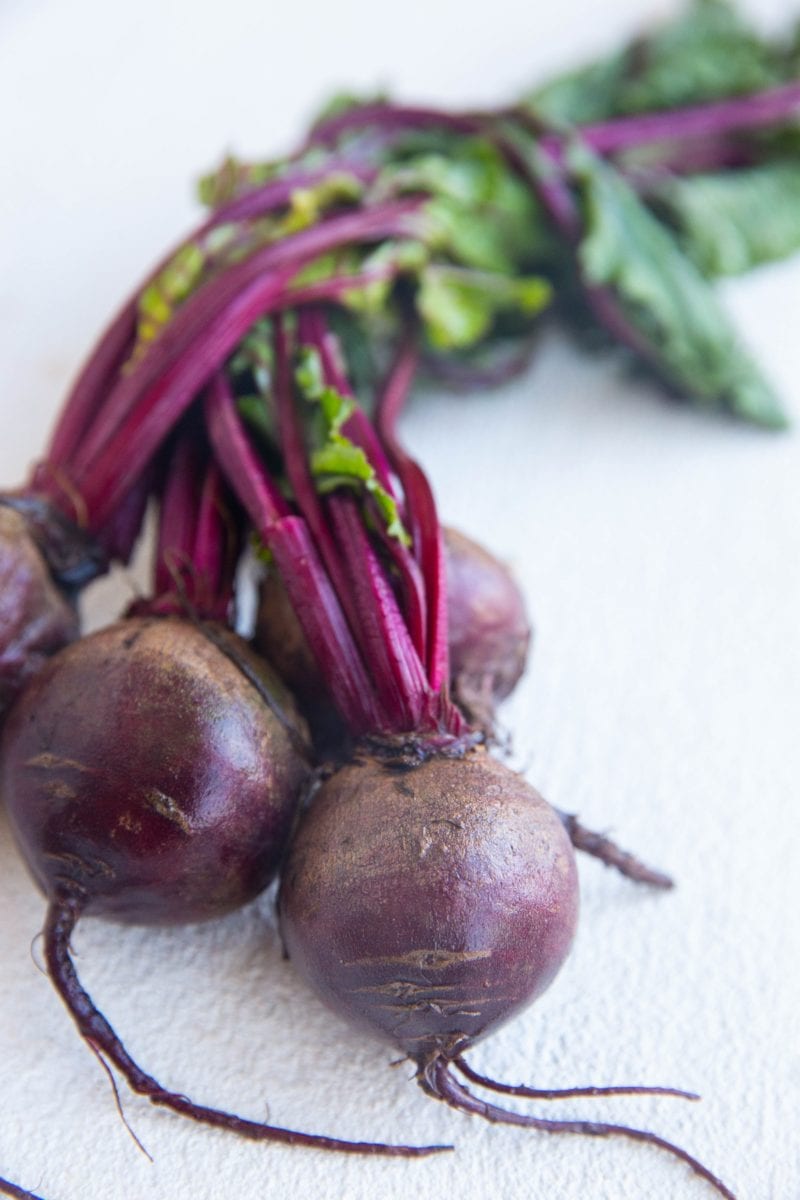 Ginger & Turmeric: Both ginger and turmeric are touted as being remarkably potent for easing inflammation. Ginger also helps ease nausea and aids with proper digestion.
Beets, turmeric, and ginger have superpowers when it comes to fighting disease and easing inflammation.
All the vitamins and minerals in this smoothie work wonders for keeping your immune system high.
Strawberries: Did you know strawberries also help ease inflammation? They do!
Both beets and strawberries lower the levels of C-Reactive Protein (which is an inflammation-causing protein) in your blood stream.
The level of CRP in your body has more to do with infection and disease and less to do with the occasional bloat, but it's still good to know that strawberries have their own anti-inflammatory characteristic.
I also learned strawberries help burn body fat, so there's an added bonus.
To summarize, this anti-inflammatory beet smoothie recipe is loaded with the tools to lower inflammation in a way that's simultaneously easy to digest.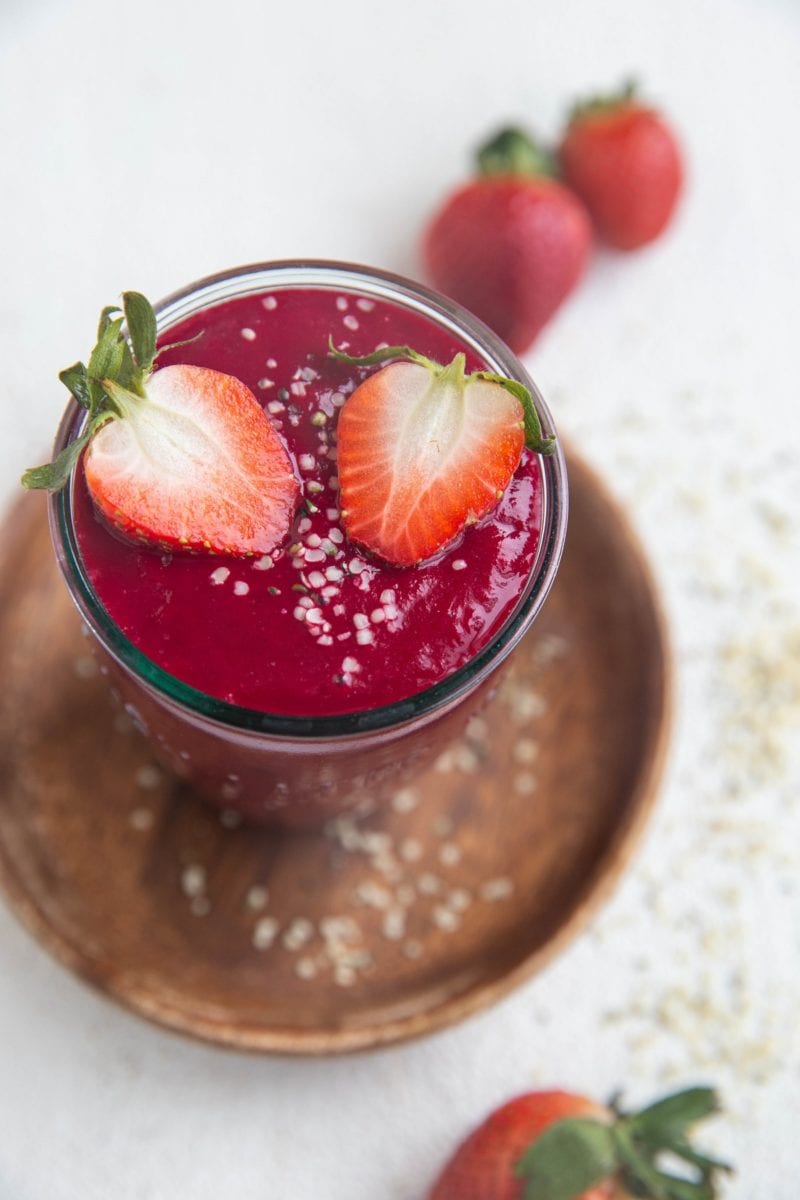 What Does This Smoothie Taste Like?
The strawberry and citrus flavors shine through the most in this smoothie so you're getting a lot of tangy flavor with some subtle sweetness.
You can taste the beet, although it isn't overpowering.
Is this a dessert-in-a-glass kind of smoothie? Absolutely not.
This is a let's-exorcise-the-bloat-demon smoothie and let's do so lickety split kind of smoothie.
Which is my way of saying this smoothie doesn't taste like butterfly kisses in a glass, but it also doesn't taste bad. It has a creamy, earthy, zesty flavor.
If you're accustomed to green smoothies, you'll take to it like white on rice.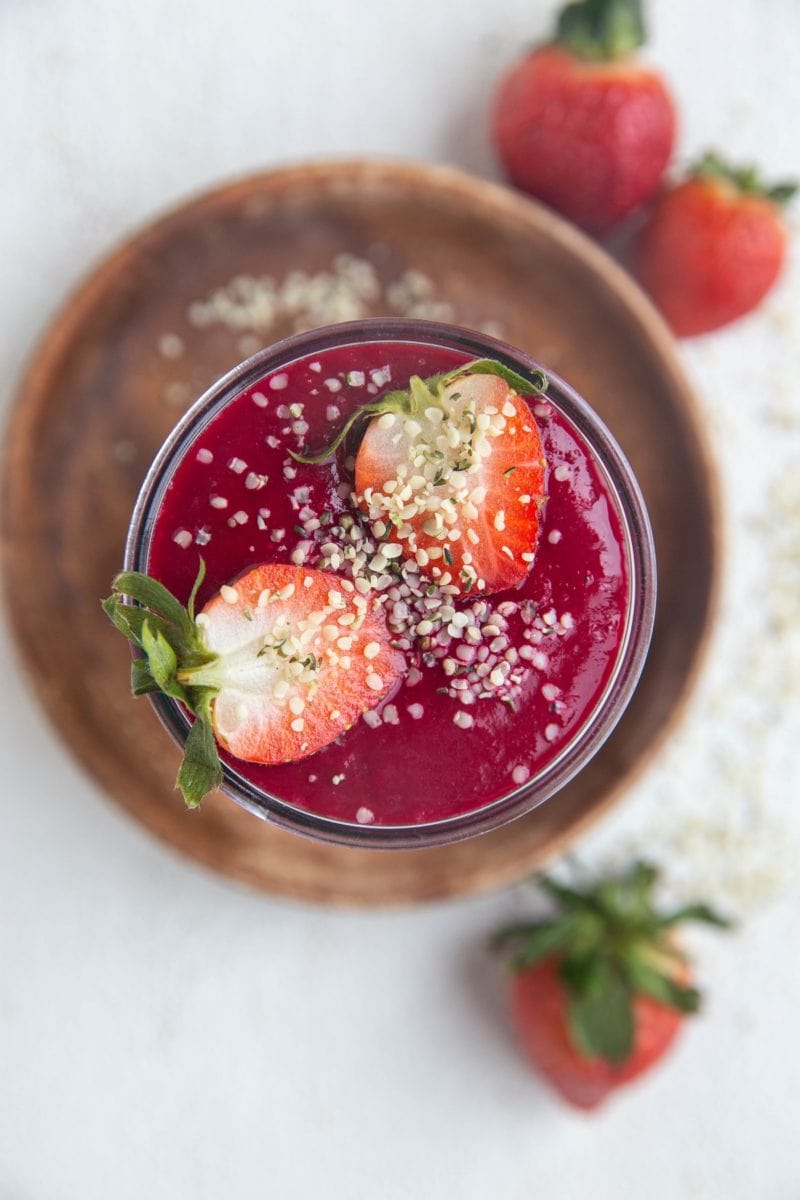 How to Make an Anti-Inflammatory Smoothie:
First cook the beet according to your preference. I like to chop the beet into small pieces, wrap them in foil, then bake them in the oven for 45 to 50 minutes at 375 degrees F.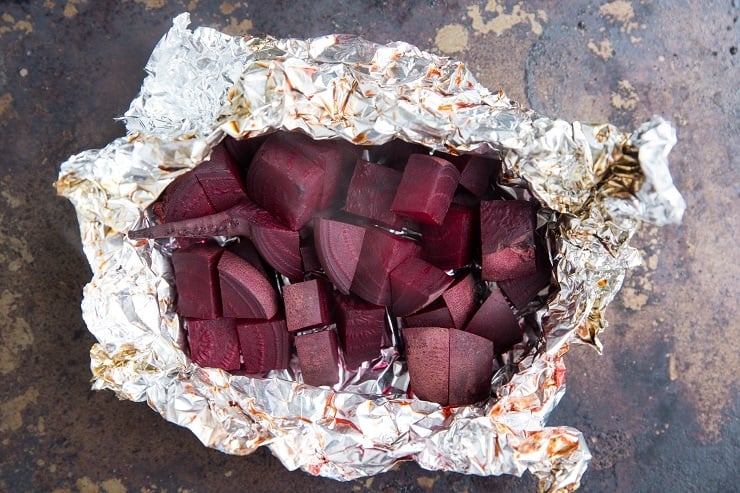 You can also buy pre-cooked beets from some grocery stores, so keep an eye out for them in the produce section.
Once your beet is cooked, either allow it to cool to room temperature and use it in the smoothie with ice, or freeze it to make your smoothie later.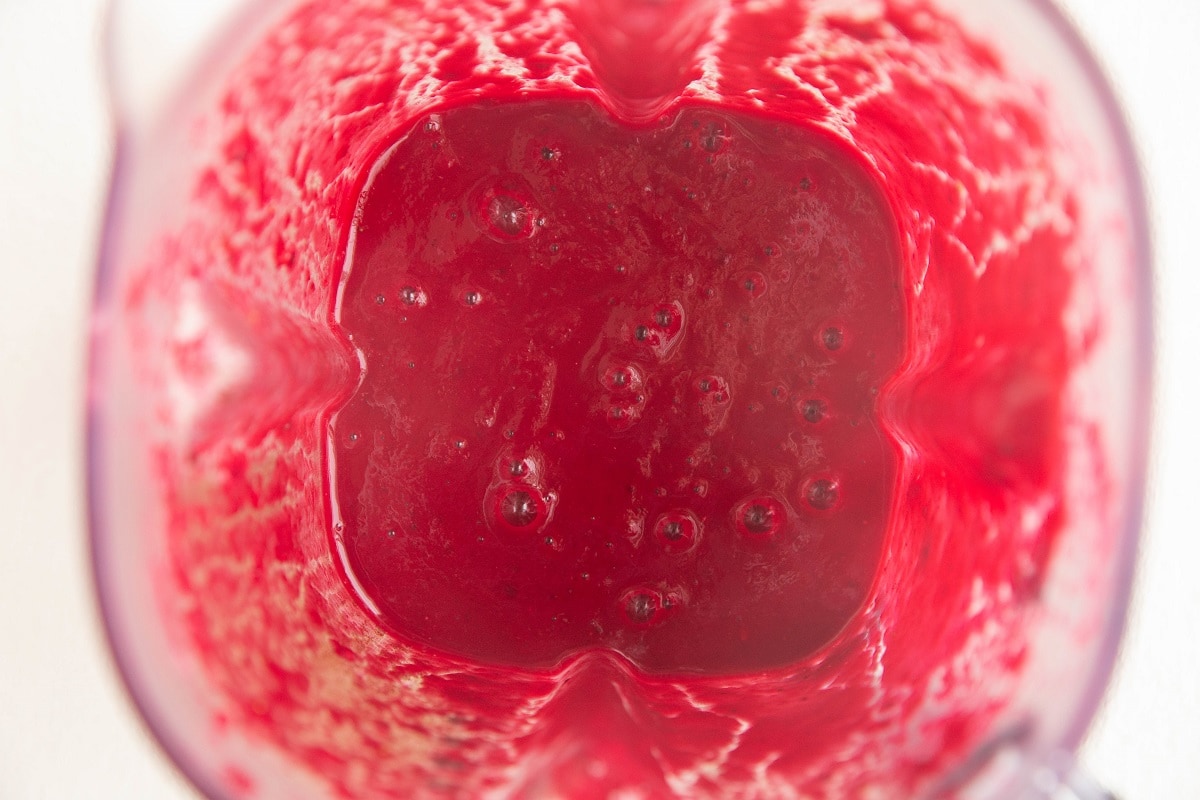 Simply add all of the smoothie ingredients to a high-powered blender, blend until completely smooth, then pour the smoothie into a glass.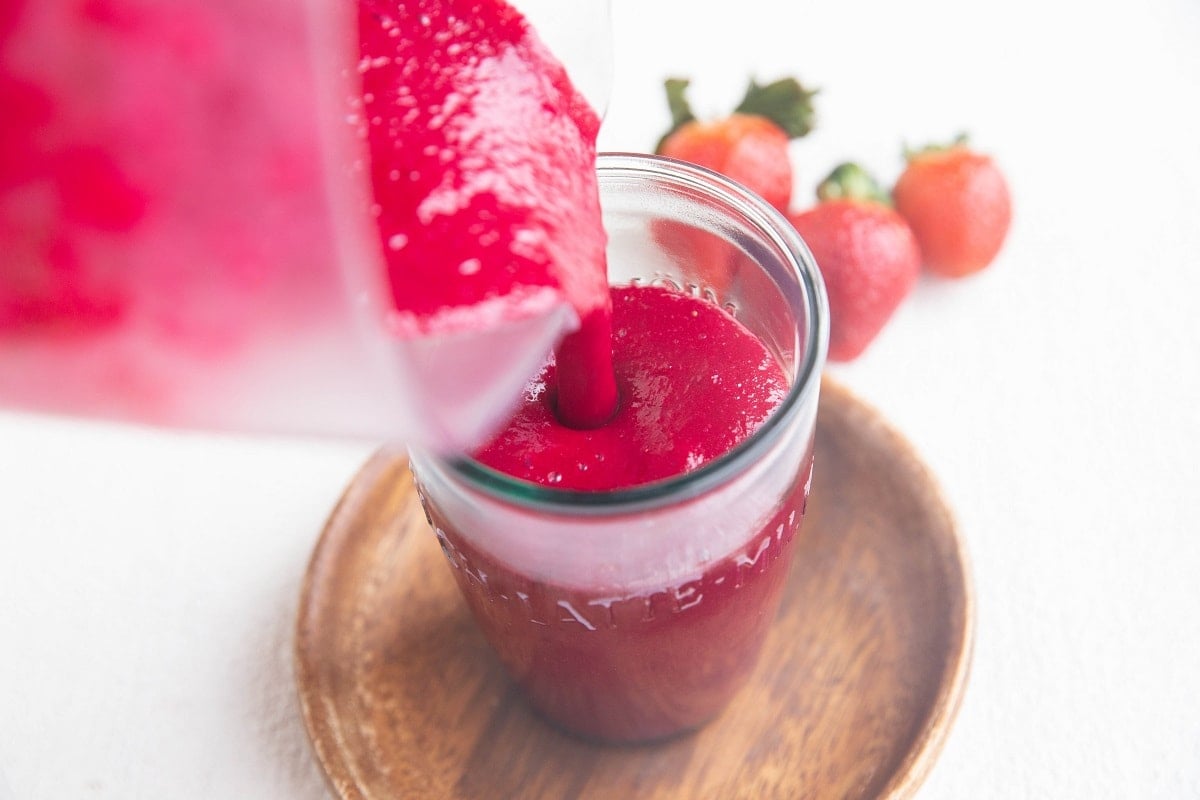 You can top the smoothie with all sorts of yummy treats like hemp seeds, goji berries, cacao nibs, cashews, etc.
And that is all. Let's drink our anti-inflammatories!
My cookbook,
Paleo Power Bowls
, is now available! CLICK HERE to check it out. Thank you for your support!
If you make this recipe, please feel free to share a photo and tag @The.Roasted.Root on Instagram!
If you love smoothies with benefits, also try out these healthy smoothie recipes.
Additional Healing Smoothie Recipes:
Drink your beets!
Anti-Inflammatory Smoothie
A healthy anti-inflammatory smoothie recipe that is banana-free
Servings:
1
large smoothie
Ingredients
2/3

cup

beet

roasted, chopped and frozen

2

cups

ripe strawberries

chopped and frozen

1

tsp

fresh turmeric

peeled and grated*

1

tsp

fresh ginger

peeled and grated

1

cup

unsweetened almond milk or non-dairy milk of choice

½

cup

orange juice
Optional Toppings or Additions:
Goji Berries

Raw cashews or almonds

Yogurt or coconut milk

Fresh fruit of choice

Protein Powder
Instructions
Start by roasting or steaming your beet. I chop my beets into ½" pieces, wrap them in foil, and bake them in the oven for 45 to 50 minutes at 400 degrees. You can also chop the beet in half and steam it for 15 to 20 minutes or until it's soft when poked with a fork.

Once your beet is cooked, allow it to cool, then freeze it for at least two hours. You only need 2/3 cup so you may have extra roasted beet, which you can use for your salads.

As an alternative, you can allow the beet to cool to room temperature and add ice to the smoothie if you don't want to take the time to freeze the beet.

Add all ingredients to a blender and blend until completely smooth.

Pour the smoothie into a glass, and enjoy! If you'd like, you can top the smoothie with fun ingredients like goji berries, hemp seeds, raw cashews, cacao nibs, etc.
Notes
*Use 1/2 tsp dried turmeric if you can't find fresh turmeric.
Swap the orange juice for cranberry juice or apple juice if you'd like.
Nutrition
Serving:
1
Smoothie
|
Calories:
326
kcal
|
Carbohydrates:
61
g
|
Protein:
8
g
|
Fat:
10
g
|
Fiber:
10
g
|
Sugar:
38
g
This post contains affiliate links, which means I make a small commission off items you purchase at no additional cost to you.
I originally shared this recipe on June 12, 2014. I re-photographed the recipe and added more information to the post but the recipe itself is the same.