This week's Paleo Healthy Meal Plan features six seasonal dinner recipes and one healthier dessert! Complete with a printable grocery list, these meal plans are designed to make life easy and nourishing!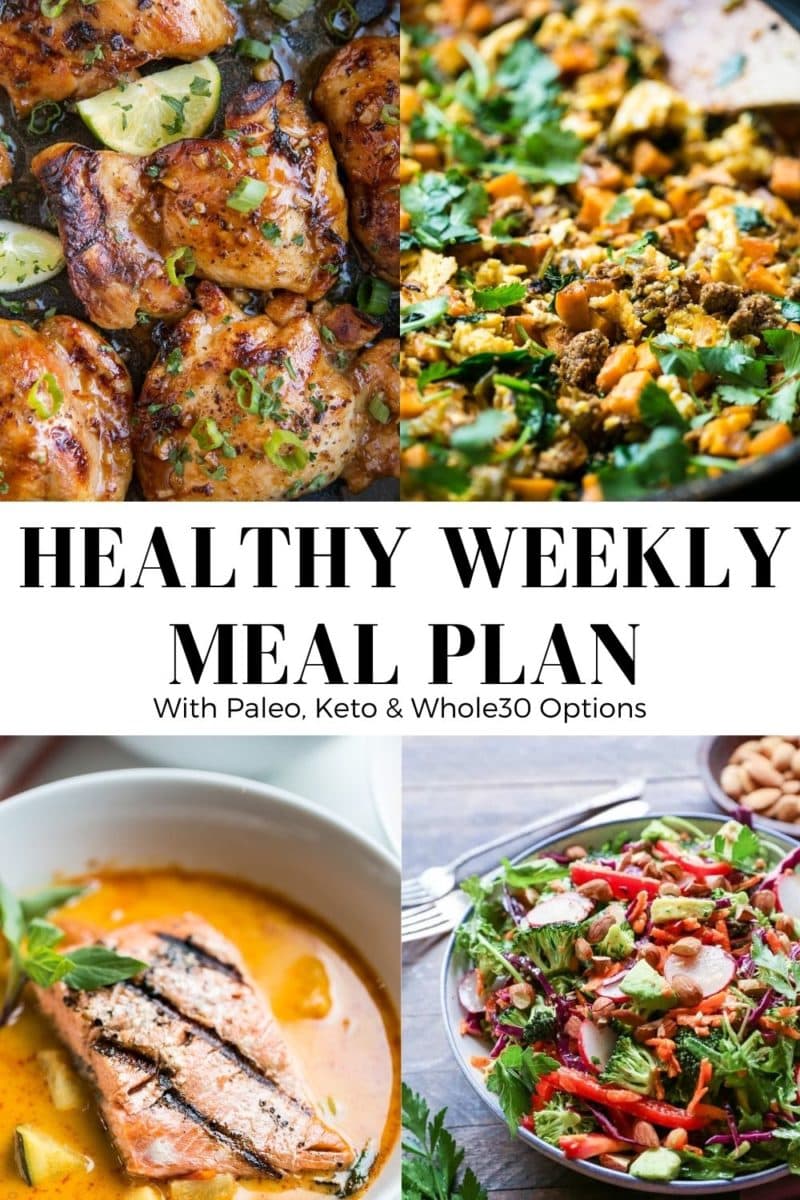 This week's meal plan is focused on healthy comfort food that packs a powerful nutrient punch!
Trust me, you're going to love the simplicity and the deliciousness of all these flavorful meals.
From a light cleansing salad to a comforting curry recipe, this week has it all! We're covering all the flavors, so much produce, and all sorts of protein types.
This setup is ideal for those who love changing up their meals!
If you're looking for side dishes to pair with any of the main entrees in this healthy meal plan, some of my favorites are Roasted Brussel Sprouts with Garlic and Lemon, Italian Pasta Salad, and Balsamic Roasted Vegetables.
Be sure to print out the grocery list at the end of this post to make meal prepping for the week super easy.
Also, if you didn't catch my 4-Ingredient Banana Oatmeal Bars or my 3-Ingredient Nutty Banana Cookies, both have been a huge hit, and both are so incredibly easy to make!
And now for the meal prep! I hope you enjoy this week's healthy meal plan.
As always, let me know if you have any questions or requests.
xo
SUNDAY:
Asian Boneless Baked Chicken Thighs – Asian Baked Boneless Chicken Thighs with garlic and sesame are incredibly flavorful, loaded with sweet and savory flavors.
These tender yet crispy boneless chicken thighs are easy to prepare and are a perfect meal prep recipe. Serve it up with cauliflower rice or Vegetable Fried Rice.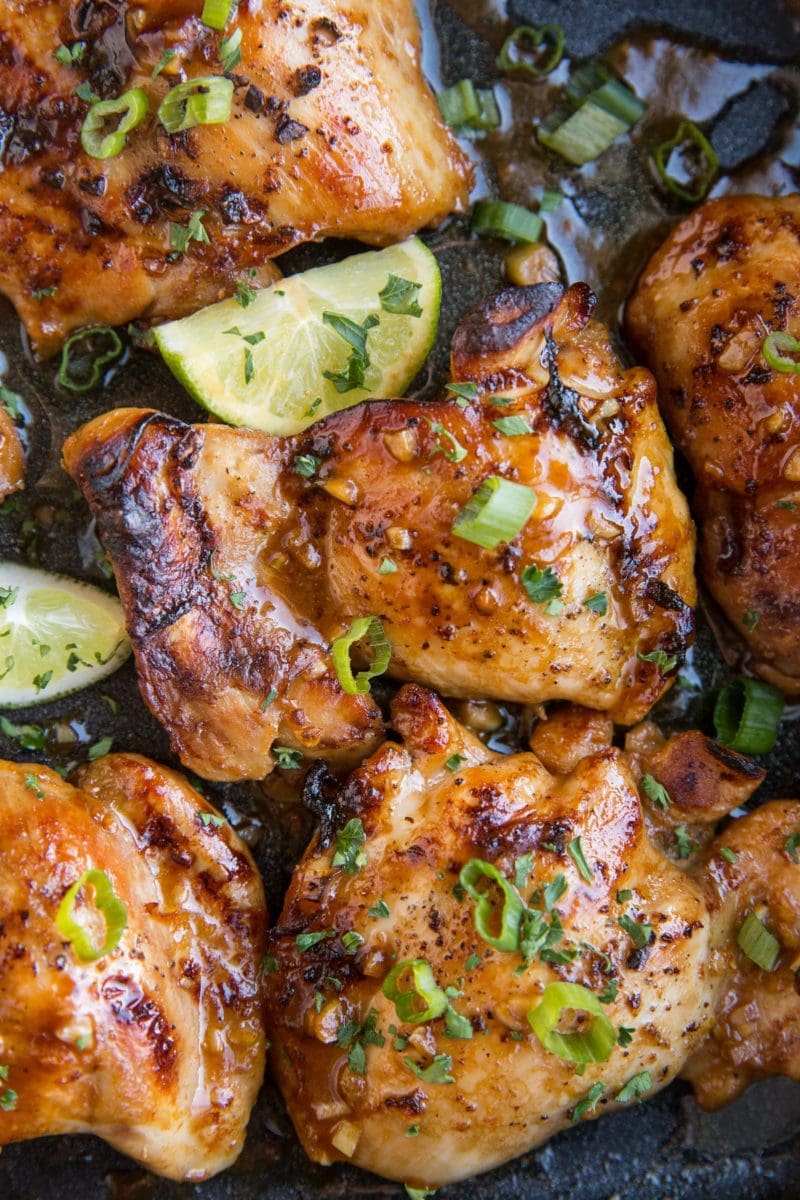 Special Diet: The recipe is paleo as written.
Prep Ahead: The chicken can be marinated up to 24 hours in advance.
Substitutions/Notes: Replace the coconut aminos with soy sauce or liquid aminos.
MONDAY:
Sweet Potato Hash with Turkey Chorizo – This paleo sweet potato hash is easy to prepare and infused with spicy turkey chorizo! This yummy breakfast recipes doubles as taco or burrito filling! It also makes a great meal prep recipe and warms up beautifully for a healthy meal the next day or a make ahead breakfast during the week.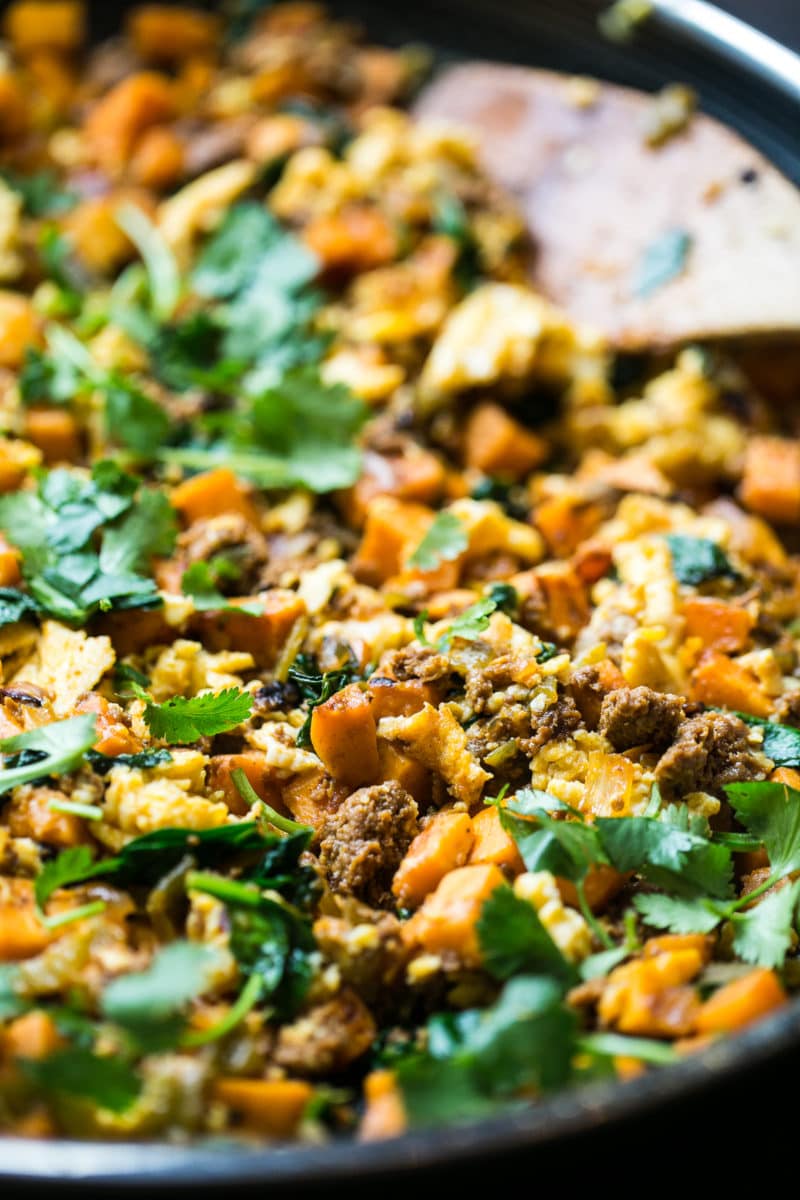 Special Diet Notes: This recipe is paleo and Whole30 friendly if you can find compliant chorizo. Try Diestel Turkey Chorizo, which you can find online, at natural grocery stores, or Whole Foods.
Prep Ahead: No need to prep ahead, as the recipe comes together lightning fast.
Substitutions/Notes: If you have some grain-free tortillas, this makes a really great breakfast burrito/taco filling! You can also make your own Copycat Chipotle Chorizo if you'd like!
TUESDAY:
Thai Turkey & Cabbage Bowls – Thai Turkey Cabbage Bowls with red bell pepper, onions, garlic, ginger, carrots, and an amazing sweet and tangy sauce. This easy meal comes together in 30 minutes or less and is jam packed with flavor!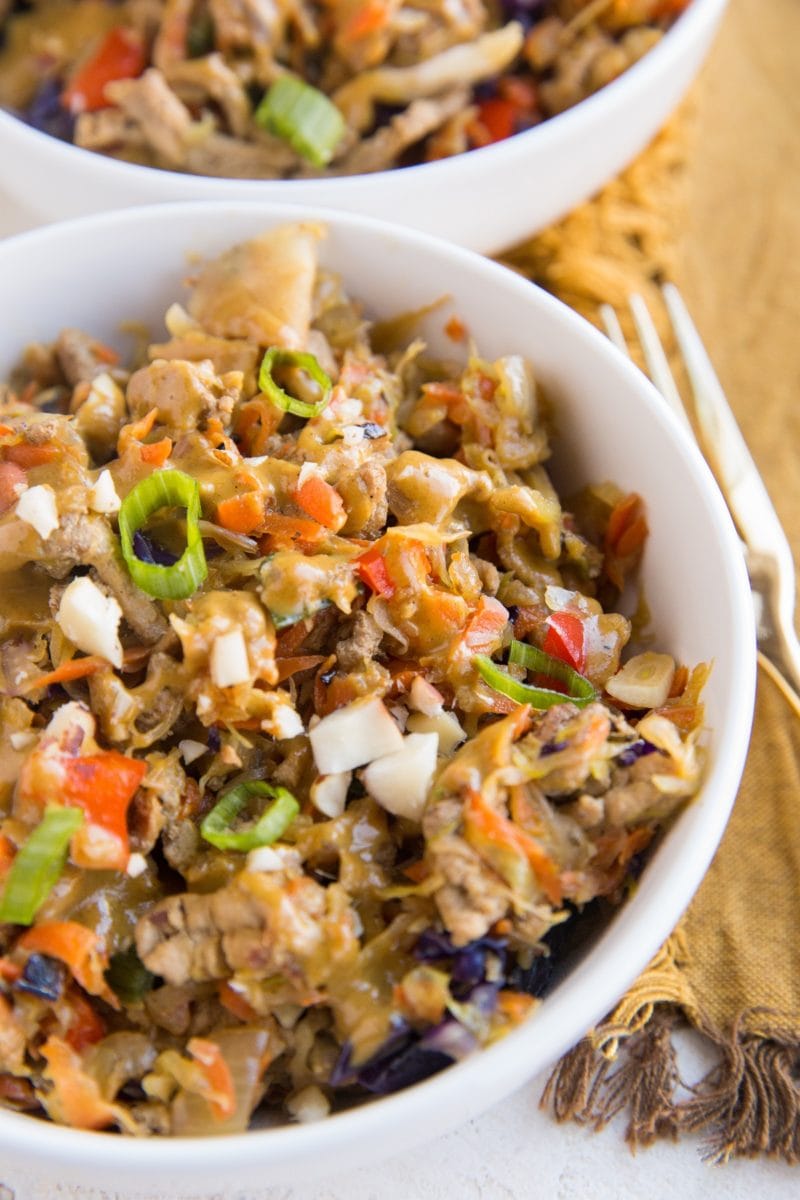 Special Diet Notes: Recipe is paleo and can be made low-carb and Whole30 by omitting the pure maple syrup from the sauce.
Prep Ahead: No advance prep is needed, as the recipe comes together quickly.
Substitutions/Notes: Use liquid aminos or soy sauce instead of coconut aminos.
WEDNESDAY:
Quick Sausage & Veggie Sheet Pan Meal – Sheet pan meals make life so easy, as they come together quickly, they're versatile, and you hardly need a recipe! Swap out the veggies and protein for the ones you love.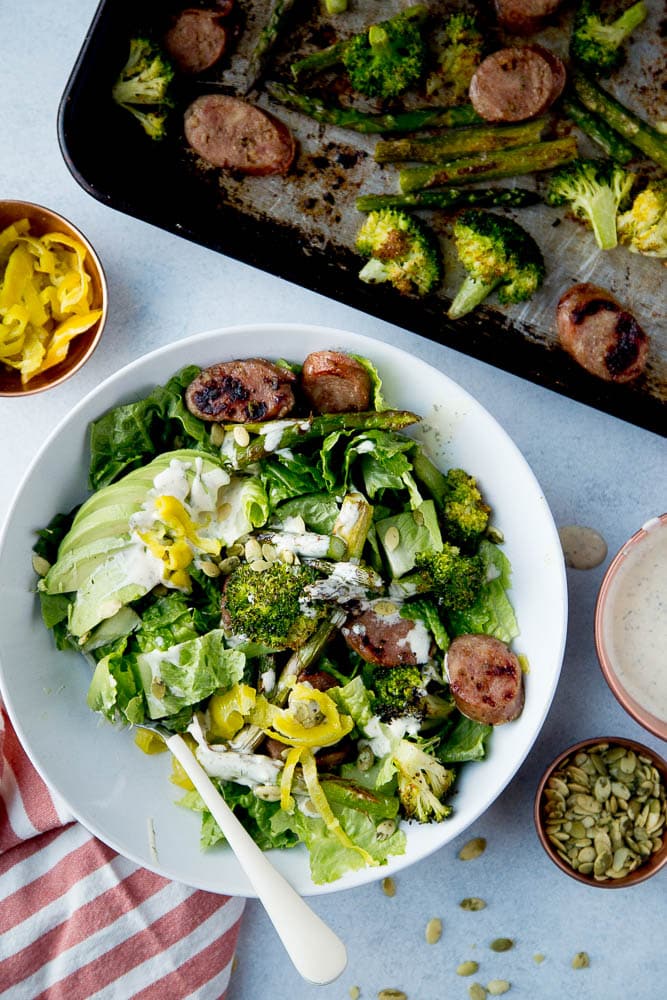 Special Diet Notes: Recipe is paleo. To make this Whole30 friendly, use Aidell's chicken-apple sausages. To make this low-carb, use low-carb vegetables.
Prep Ahead: Everything can be chopped ahead of time and stored in an airtight container until you're ready to roast.
Substitutions/Notes: Serve the sausage and veggies alone with your favorite sauces/condiments, make it into a salad, or serve it with some jasmine or cauliflower rice.
THURSDAY:
All the Good Veggies Detox Salad – All the Good Veggies Detox Salad with Lemon-Parsley Dressing is a clean and nutritious salad recipe that is vegan, paleo, whole30 and requires less than 30 minutes to prepare.
Special Diet Notes: Recipe is paleo and can be made whole30 by omitting the pure maple syrup from the salad dressing.
Prep Ahead: The salad dressing can be made up to 5 days in advance, but the salad is best when served fresh.
Substitutions/Notes: Use any of your favorite store-bought or homemade salad dressings to replace the Lemon Parsley Dressing in the recipe.
FRIDAY:
Pineapple Salmon Curry – This delicious curry is filled with vegetables, sweet pineapple, a rich coconut curry sauce and topped with a tender grilled salmon fillet! Fancy enough for company and easy enough for a weekend family meal.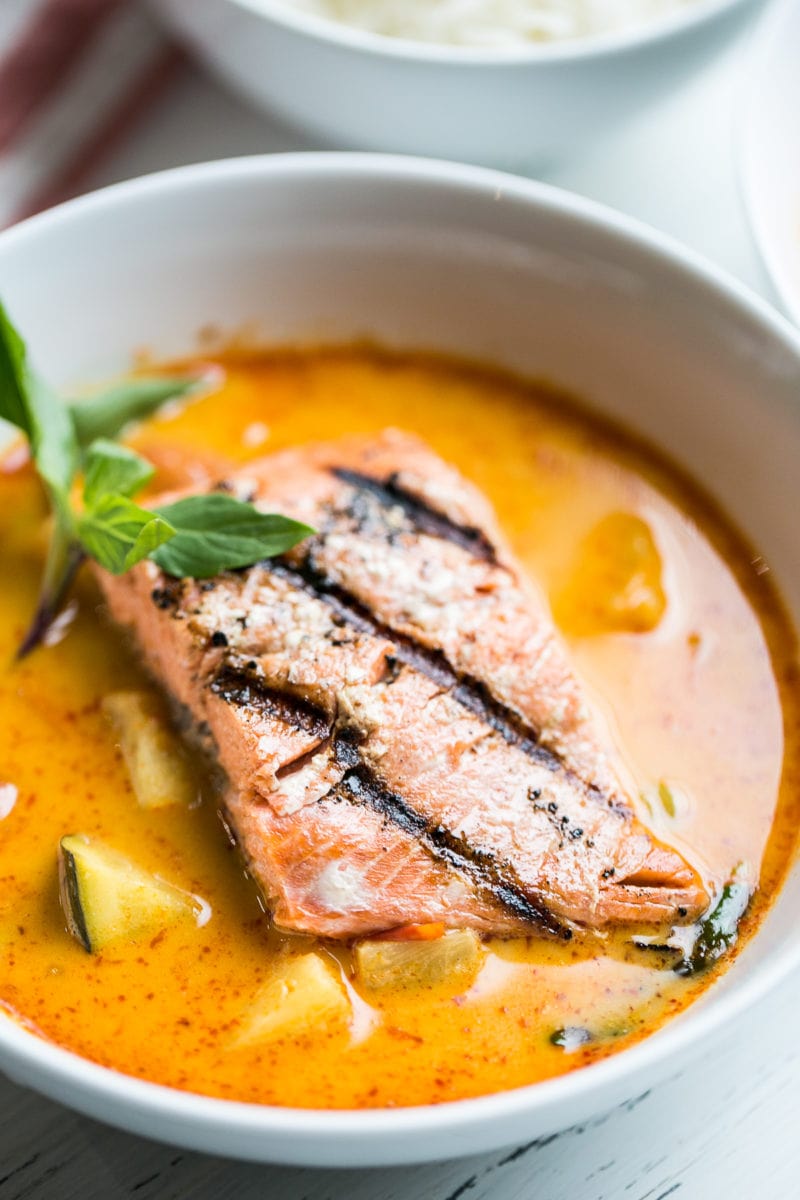 Special Diet Notes: This recipe is paleo served with cauli rice. Make it Whole30 friendly by omitting all sweeteners.
Prep Ahead: You can grill the salmon ahead of time and reheat it by putting the fillets in the curry before you serve it. Veg can also be chopped ahead of time.
Substitutions/Notes: If you don't want to use salmon, use grilled white fish fillets or chunks of chicken breast put into the curry along with the vegetables. You can also swap out any of the vegetables for veggies that you prefer.
DESSERT:
Low-Carb Blueberry Crumb Bars – 5-Ingredient Low-Carb Blueberry Crumb Bars are grain-free, sugar-free, dairy-free, vegan, and so easy to make! With a flaky almond flour shortbread crust, fresh jammy blueberry filling and a crumble topping, these easy low-carb crumb bars are so addicting!
Special Diet Notes: These crumb bars are low-carb and grain-free. They can be made paleo by substituting maple sugar for the sugar-free sweetener.
Prep Ahead: No advance prep is needed!
Substitutions/Notes: Use maple sugar instead of sugar-free sweetener to make the crumb bars paleo. You can also use strawberries, raspberries, or blackberries instead of blueberries or make my Keto Lemon Bars.
GROCERY LIST:
Click HERE to print this week's grocery list!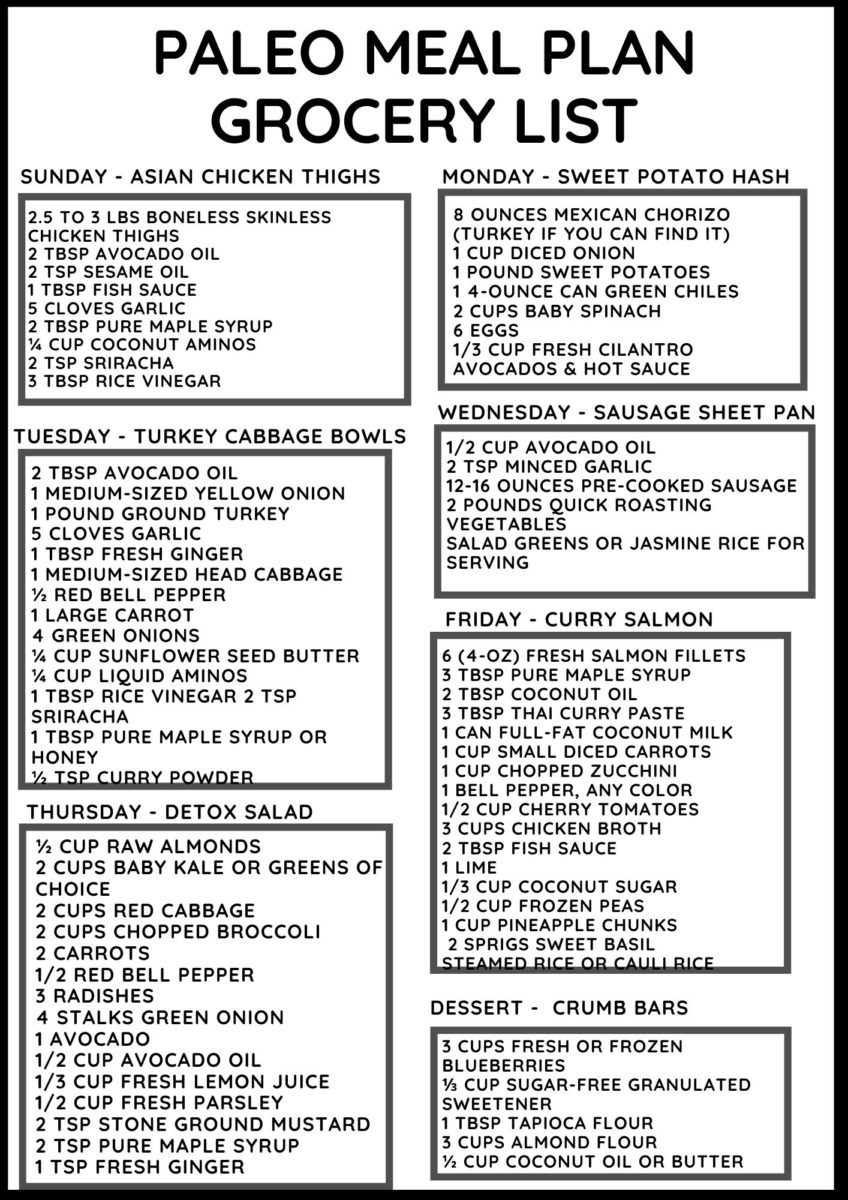 Previous Paleo Meal Plans:
Enjoy!
xo