Vegetable loaded fried rice with broccoli, bell pepper, carrot, green onion, and more! This healthy fried rice recipe is delicious and packed with nutrients!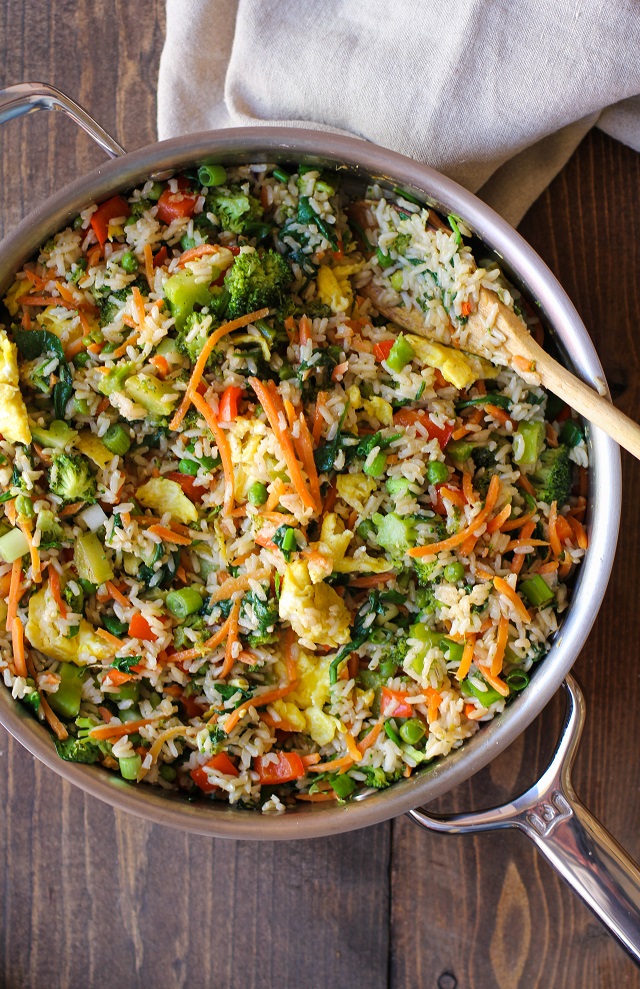 Happy second day of SPRING!
Holy stromboli, are the hills alive here in the Sierra Nevada or WHAT? We're most def experiencing variable Spring time weather with the warm sunny days punctuated by cooler rainy ones. Our mountains are already turning pretty green, our birds are starting to sing a tune or two in the morning, people are acting a-fool, brunch season is game ON, bathing suits are being dusted off and looked at from odd angles, it's time to trade cheese for vegetables (don't shoot the messenger).
Let's discuss Spring produce. Here's what's in season:
apricots
artichokes
arugula
asparagus
beets
bok choy
carrots
fava beans
garlic
green beans
herbs
leafy salad greens
leeks
morel mushrooms
onions
peas
potatoes
radishes
ramps
rhubarb
spinach
strawberries
sweet cherries
The other day I was craving vegetables (shocker)…in the form of fried rice (make sense, right?). Every week, I make a big batch of rice (because: gluten-free carb of choice) to eat alongside whatever kit and caboodles (main entrees) I prepare, and recently it dawned on me : why stop at steamed when I can add a plethora of sauteed veggies and call it an entree? BOOM make-ahead meal of champs.
The vegetable-to-rice ratio in this application is so on point, I can barely stand it. Basically we're looking at a heaping mound of sauteed vegetables with a rice chaser…just the way a good vegetable fried rice should be.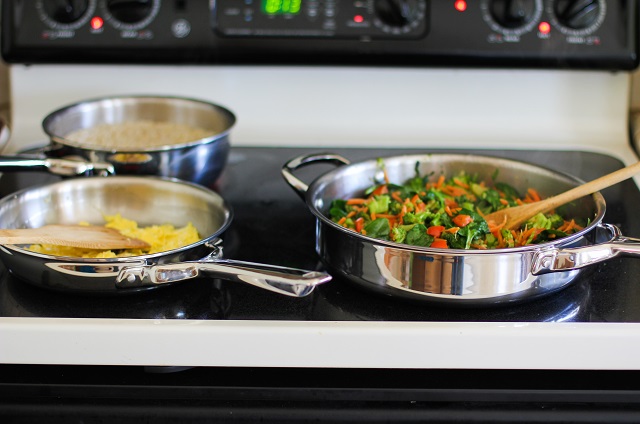 Do you own a wok? Yeah, me neither. I've been relying on skillets the entirety of my adulthood for all things wok-able. Which brings me to my next point…
You don't need to own a wok in order to make fried rice. I simply use my stainless steel skillet. BOOM utilization of resources.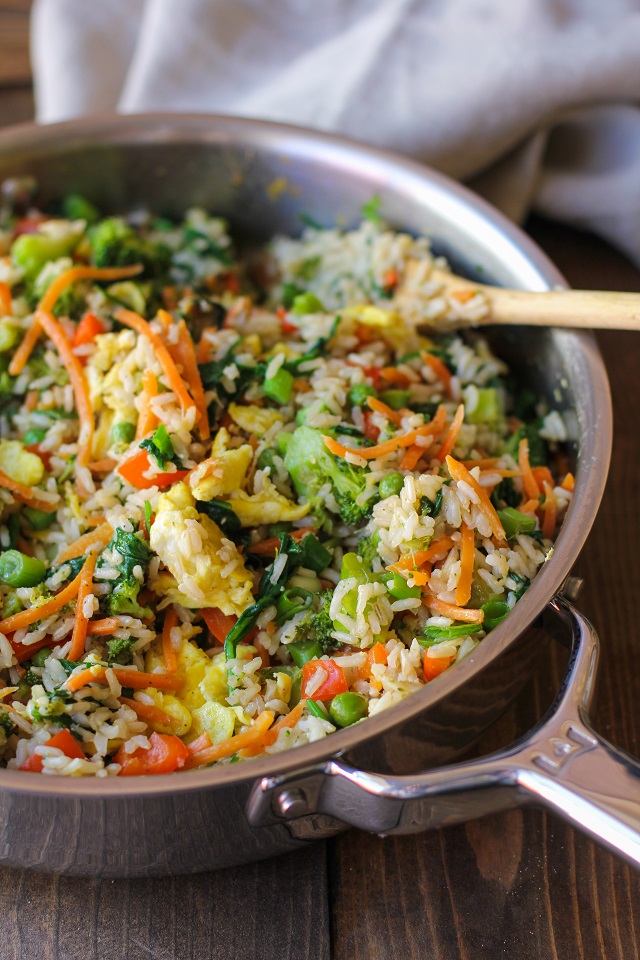 How to Make Vegetable Fried Rice:
All's you do it saute the vegetables, add in the cooked rice, stir in the scrambled eggs, then whamo: Basically a side-dish-made-entree. Basically what I eat when there are no men in the midst to feed. Basically the best companion to binge watching Workaholics on Hulu, slash any Gerard Butler movie.evah.
Mic drop.
My work here is done.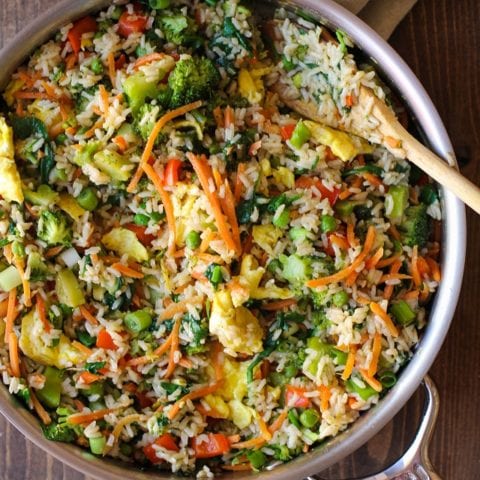 Vegetable Fried Rice
Vegetable-loaded fried rice is easy to make and is an excellent side kick to any main entrée!
Ingredients
2 cups water or vegetable broth
3 tablespoons grapeseed or olive oil
1 red bell pepper, chopped
1 large crown broccoli, chopped into florets
2 cups shredded carrot
1 (2-inch) nub fresh ginger, peeled and grated
5 cloves garlic, minced
1 bunch green onions, chopped
1 cup green peas, frozen or canned
3 tablespoons to 4 liquid aminos, to taste, or low-sodium soy sauce
2.5 ounces baby spinach
3 large eggs, well beaten and scrambled
Optional Add-ins:
Chopped roasted peanuts
teaspoons Wasabi, 2-3 recommended
tablespoons Hot sauce, 1 to 2 Sriracha recommended
Instructions
Cook the brown rice according to package instructions.
While rice is cooking, saute the vegetables. Add the olive oil to a large skillet, wok, or saucepan and heat to medium-high. Add the broccoli and bell pepper and cook 3 minutes, stirring occasionally. Add 3 to 4 tablespoons of water, cover, and continue cooking until broccoli is bright green and veggies have begun softening, about 3 to 5 minutes.
Add the shredded carrot, ginger, garlic, cumin, and cayenne. Continue cooking until garlic and ginger are very fragrant, about 3 minutes.
Transfer the cooked rice to the skillet with the veggies, along with the green onion, peas, and liquid aminos. Stir everything together well and reduce the heat to medium-low. Allow the rice mixture to sit as you scramble the eggs in a separate skillet.
Once cooked through, add the scrambled eggs to the fried rice, along with the spinach. Cover and cook until spinach has wilted, about 3 minutes.
Stir everything well and taste for flavor. Add sea salt to taste, along with more liquid aminos, hot sauce, tahini, wasabi, etc. Serve alongside your favorite entree.
Nutrition Information
Serving Size

1 grams
Amount Per Serving
Unsaturated Fat

0g