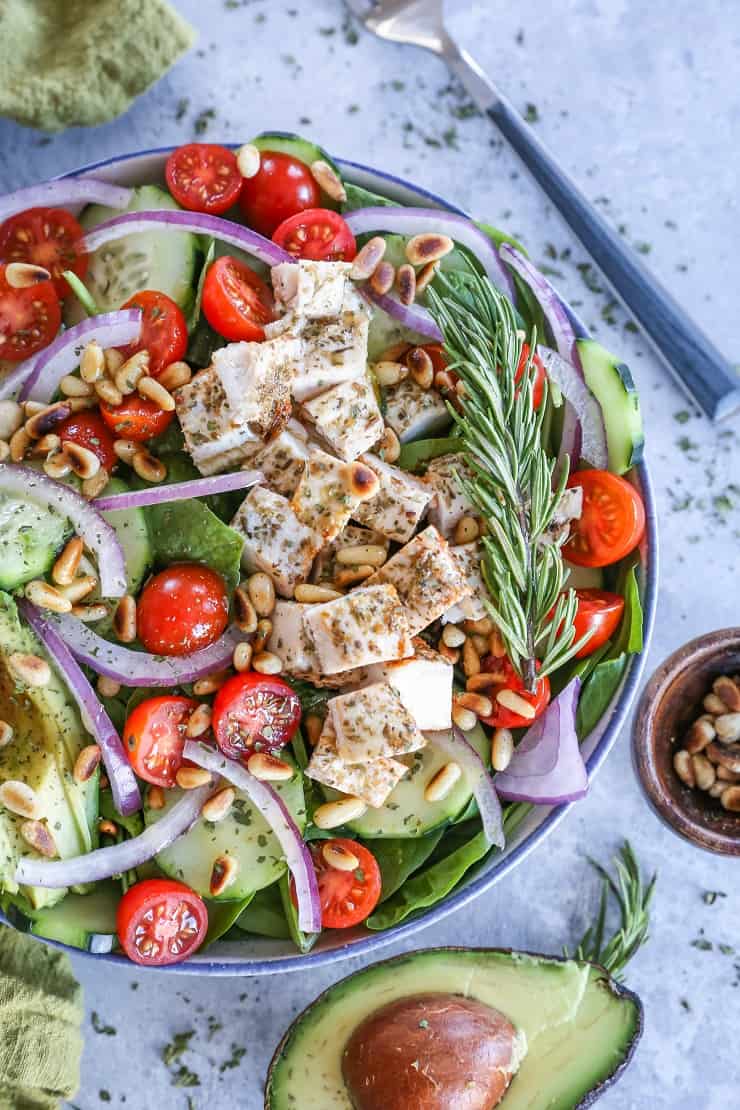 Herby Greek Chicken Salad with baked chicken, spinach, avocado, red onion,pine nuts, and an amazing Greek salad dressing. This fresh and flavorful dinner salad recipe is a filling, clean meal worthy of putting on repeat!
The good news is, this spinach salad is cool, crisp and refreshing on a hot summer's day (not to mention super nutritious and filling!).
The bad news is…we must cook chicken. From a scientific standpoint, this does require heat.
I don't make up the rules. Nor do I often follow them.
But the good news is (part two), the chicken is crazy tender and lovely, and can just as easily be grilled or baked…pick your passion!
AND the good news is (part three) this salad is CRAZY herby and will take you away on a mental vacation to the beautiful Mediterranean.
At first glance, this recipe appears to call for eleventy billion ingredients; however, you'll notice many of them are herbs or spices for the salad dressing and the chicken marinade, many of which cross-over to both the dressing and the marinade.
AND most of which you likely already have in your spice collection!
Don't worry, the process is easy – it's a 3-stepper.
We..
Make the dressing

Marinate and bake the chicken (okay, that's two steps, but three always sounds more enticing than four).

Assemble the salad.
Here's how this plays out in detail:
Read More

about Greek Chicken Spinach Salad (Paleo, Whole30, Keto)