Mega filling Roasted Butternut Squash and Chicken Spinach Salad with pecans, apples, golden raisins and cinnamon maple cider vinaigrette – a super nutritious entrée salad for lunch or dinner!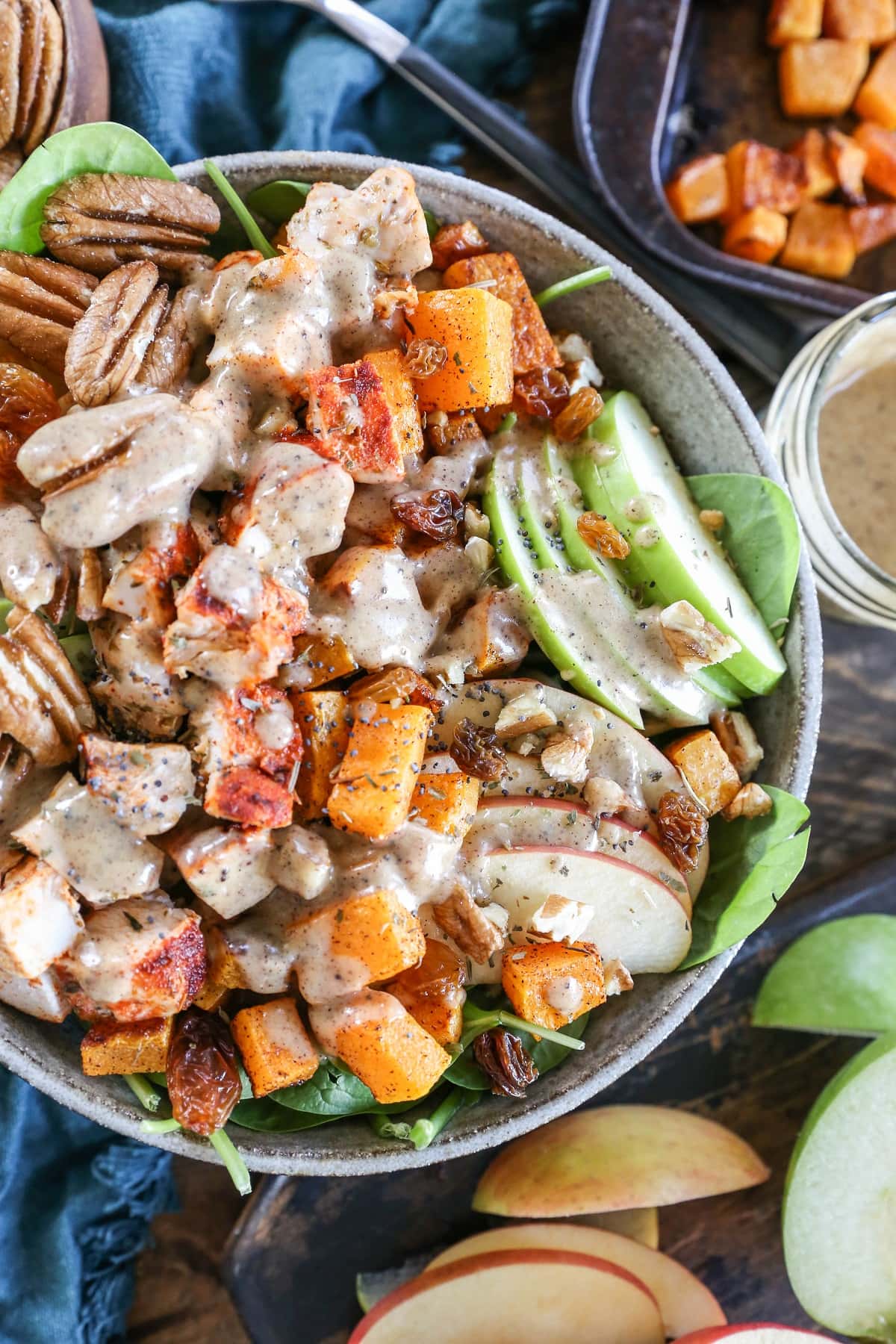 This fall-inspired harvest salad packed with all the autumny delights is loaded with flavor and nutrients!
Plus, it's super filling and makes for a balanced meal.
Protein packed, an amazing source of fiber and complex carbohydrates, and healthy fats, this nourishing meal is an all around feel good experience.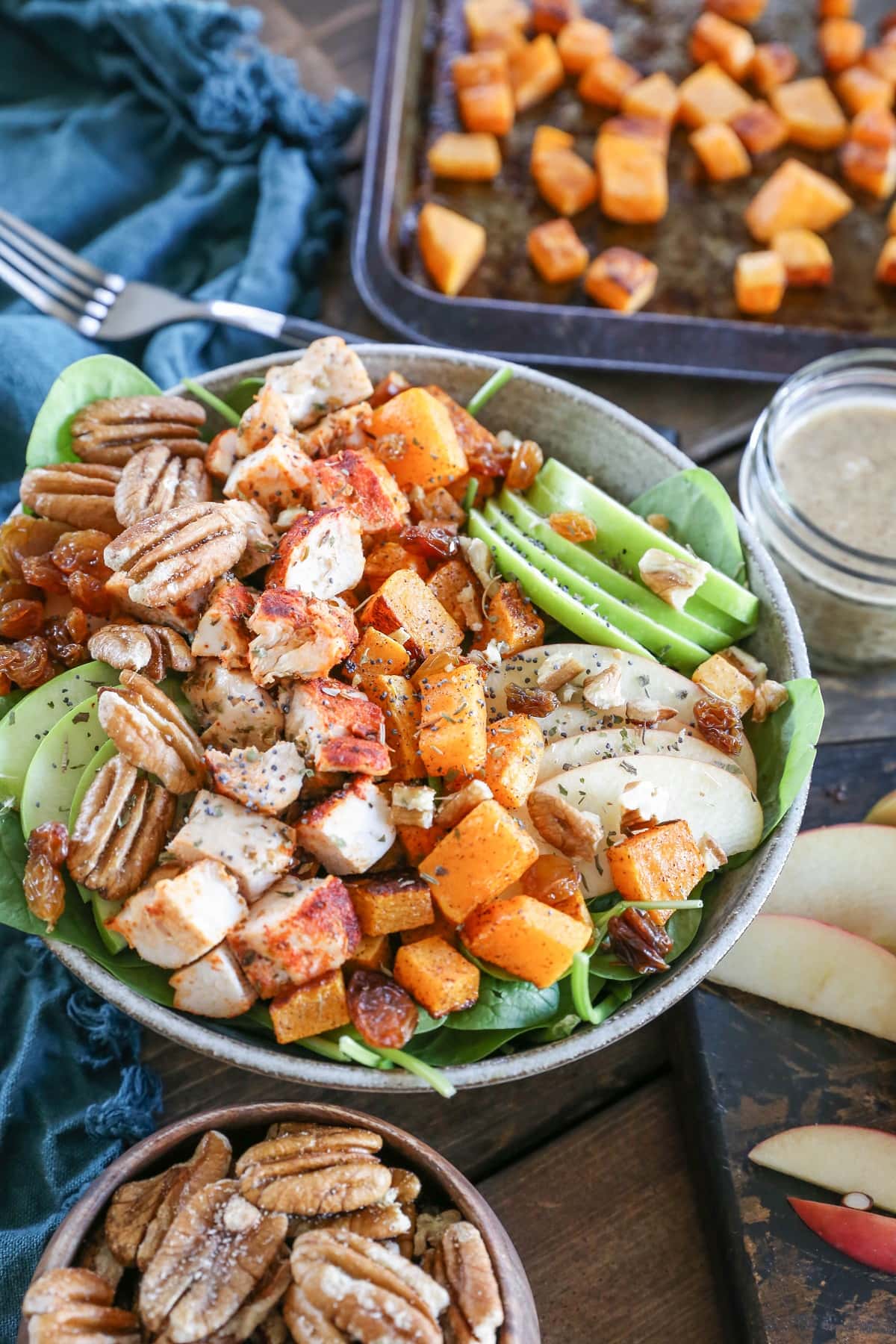 Ingredients For Roasted Butternut Squash & Chicken Spinach Salad:
Baby spinach is our base for some epic fiber, magnesium, vitamins, etc.
We have roasted butternut squash, yielding comfort carbs and awesome volume and texture.
There's roast chicken, which is just the easiest to make (it requires only 4 ingredients, meow!), yielding filling lean protein.
Plus, we have crunchy crispy apple and golden raisins for the sweet balance, and again – awesome texture. And finally, crunchy pecans for the intoxicating nuttiness.
The salad dressing? Swoon-worthy.
It's made with simple ingredients: olive oil, cider vinegar, pure maple syrup, cinnamon, and sea salt.
The perfect vinaigrette to tie all the deliciousness in a smooth, sweet blanket of tang.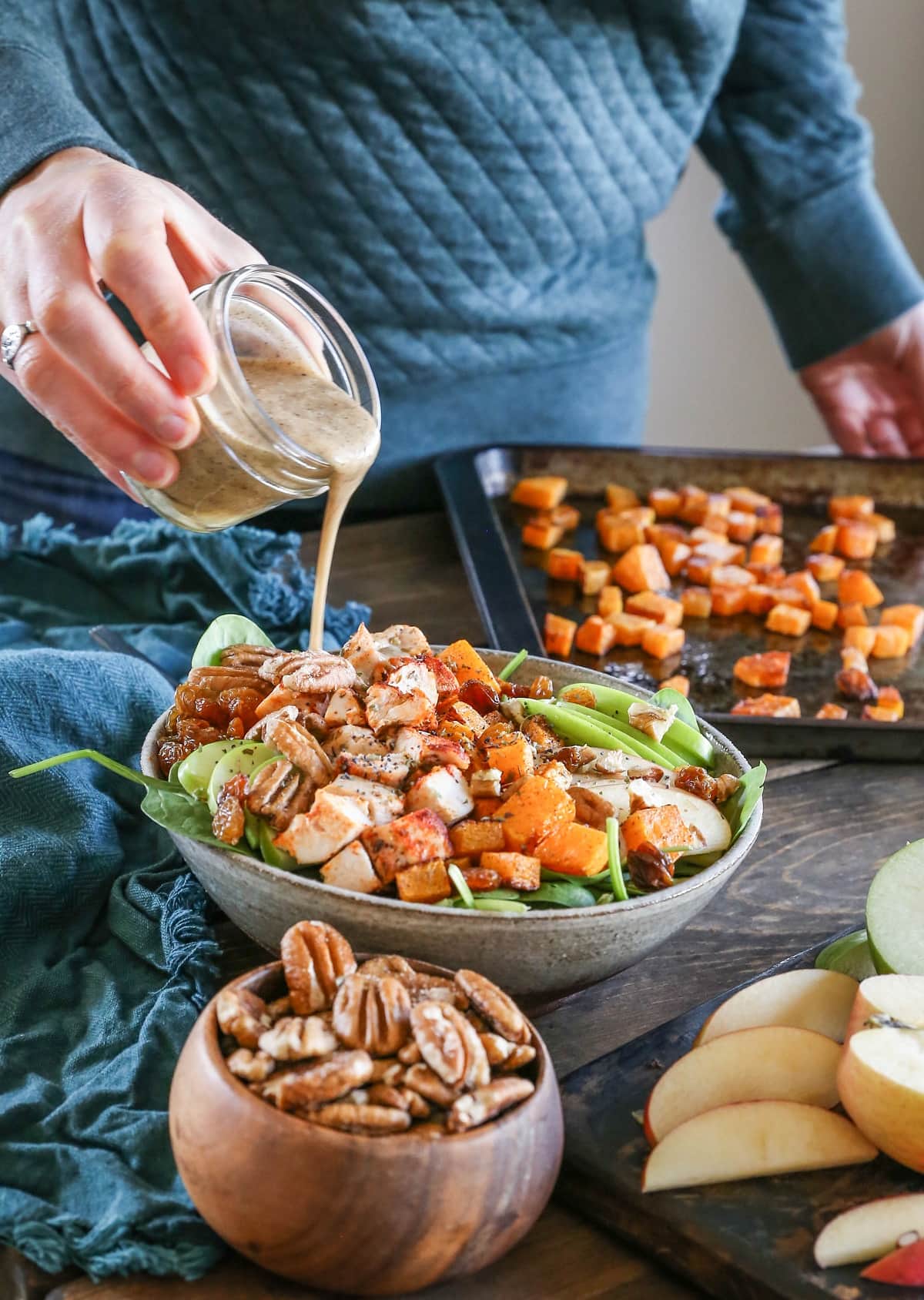 Meal Prep Options:
This salad can easily be made in parts and meal prepped out.
You can roast the chicken and butternut squash up to three days in advance, and similarly, you can make the vinaigrette up to 5 days ahead of time.
If I worked outside of my home, this is the exact meal I would prepare in bulk for work lunches
The chicken is such an easy source of protein, and it can be added to other salads, stir fry, or you can munch on it as a snack.
How to Make This Filling Salad Recipe:
Roast the butternut squash and chicken according to the instructions in the recipe card.
Prepare the homemade vinaigrette (you can do this in advance if you'd like).
Mix everything vigorously in a ginormous bowl and you have yourself a super filling, well-balanced meal, packed with your essential macronutrients and micronutrients.
Seriously, though…what more could you possibly need? Okay, okay, maybe a Christmas cookie or two.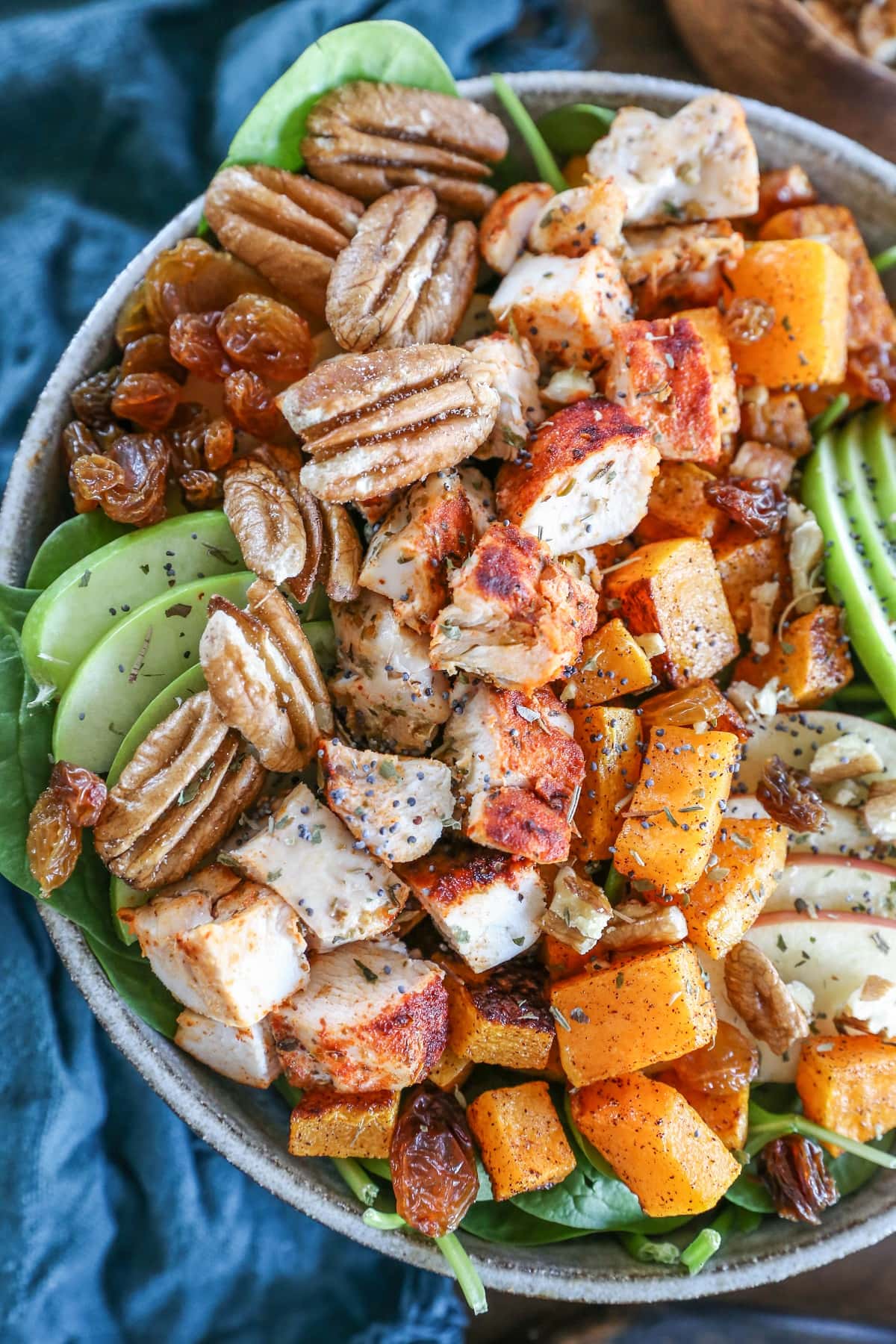 Enjoy this hearty roasted butternut squash salad that screams autumn delight!
Also check out My Current Favorite Salad, Sesame Turkey Avocado Chopped Salad, Crispy Mediterranean Chicken Salad with Lemon Herb Tahini Vinaigrette.
Butternut Squash Chicken Spinach Salad
Hearty, filling fall-inspired salad recipe with all sorts of goodies is the ultimate way to enjoy your greens!
Ingredients
For the Chicken:
1

pound

boneless chicken tenders

or breasts

1

tablespoon

avocado oil

see note

1

teaspoon

dried oregano

1

teaspoon

paprika

1/4

teaspoon

sea salt
For the Salad:
2

teaspoons

avocado oil

see note

2

cups

butternut squash

peeled and chopped

1/2

teaspoon

sea salt

1/2

teaspoon

ground cinnamon

5

ounces

baby spinach

1/2

cup

raw pecan halves

1/4

cup

golden raisins

1

large green apple

cored and sliced
Instructions
Prepare the cider vinaigrette:
Add all ingredients for the vinaigrette to a small blender and blend until thick and completely smooth. Refrigerate until ready to use.
Roast the butternut squash and chicken:
Preheat the oven to 400 degrees F.

Spread the butternut squash over a baking sheet. Drizzle with olive oil and sprinkle with sea salt and cinnamon. Toss everything together using your hands until everything is well coated.

Place the chicken in a casserole dish. Drizzle with olive oil, dried oregano, paprika, and sea salt. Use your hands to mix everything together so that all tenders are well coated in oil and spices.

Roast the butternut squash and the chicken in the oven for 22 to 25 minutes, or until the butternut squash is golden-brown and soft on the inside, and the chicken tenders are cooked through (internal temperature of the chicken should be 160 degrees F.). If the chicken is not finished cooking after 20 minutes, turn off the oven and leave chicken in the still-hot oven 5 to 10 minutes, until all the way cooked.
Prepare the Salad:
Divide the baby spinach between 4 bowls. Top with pecans, golden raisins, roasted butternut squash, chicken, and apple slices. Drizzle desired amount of vinaigrette over each bowl and serve.
Notes
*You can replace the avocado oil with almond oil, olive oil, or grapeseed oil.
Nutrition
Serving:
1
of 4
|
Calories:
493
kcal
|
Carbohydrates:
31
g
|
Protein:
27
g
|
Fat:
30
g
|
Fiber:
7
g
|
Sugar:
20
g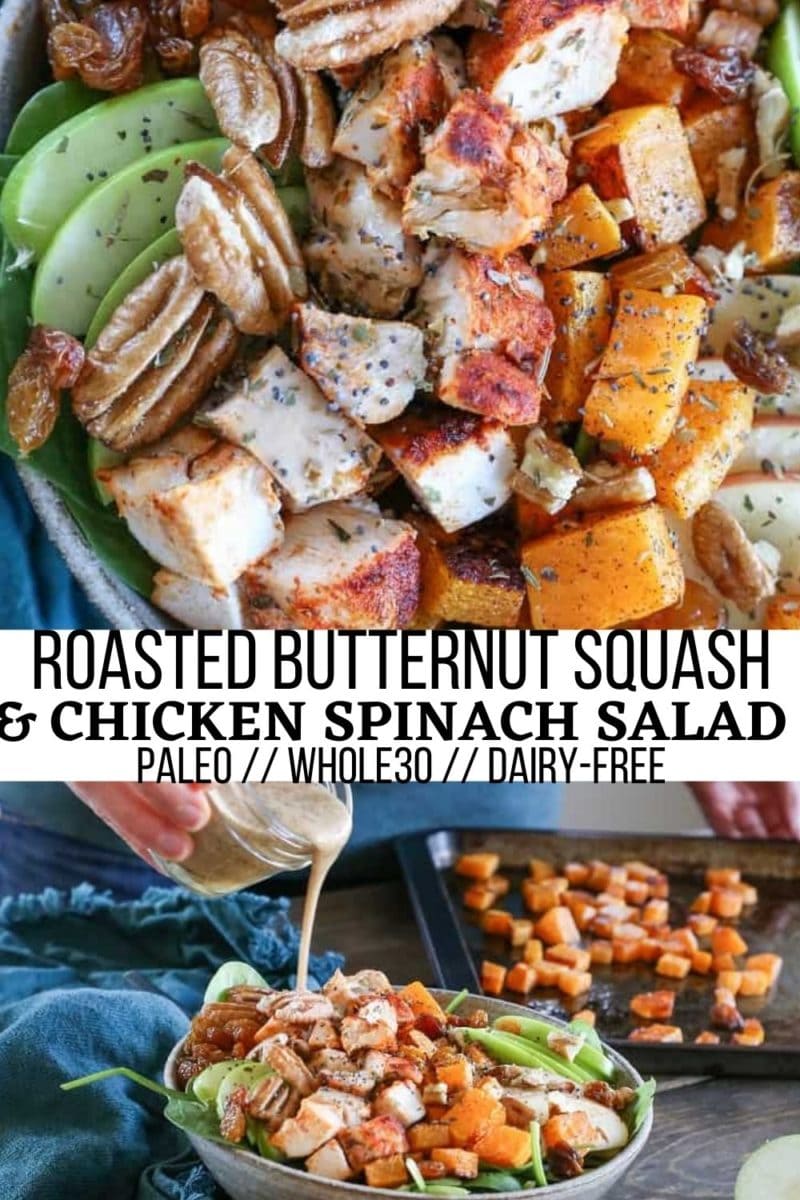 This post contains affiliate links, which means I make a small commission off items you purchase at no additional cost to you.