Roasted carrot spinach salad with feta and roasted pumpkin seeds make for a hearty salad that can be enjoyed as a light main dish or side dish. This clean meal is primal and keto for those looking for low-carb meal options.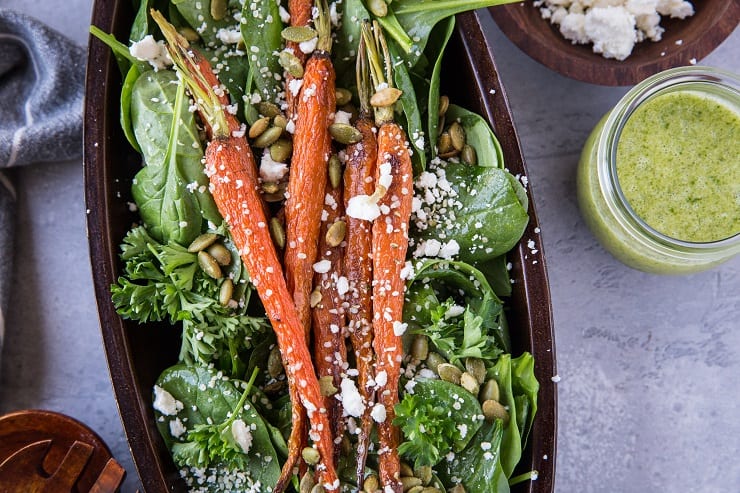 Oh hey! How was your first week of 2019?
For those of you who made resolutions, I hope they are coming along swimmingly. And if you haven't stayed fully on track with your goals or aren't currently where you want to be this very moment, remember to take whatever it is one decision at a time.
One meeting, one class, one nice gesture, one meal, one workout, one step at a time.
For those of us who are Big Picture people, resolutions or goals can seem incredibly daunting and insurmountable. In my experience, this is a sign I'm laser focused on something too large and need to take a moment to break it down into steps. Once it's dissected, the process seems so much more doable and even pleasurable.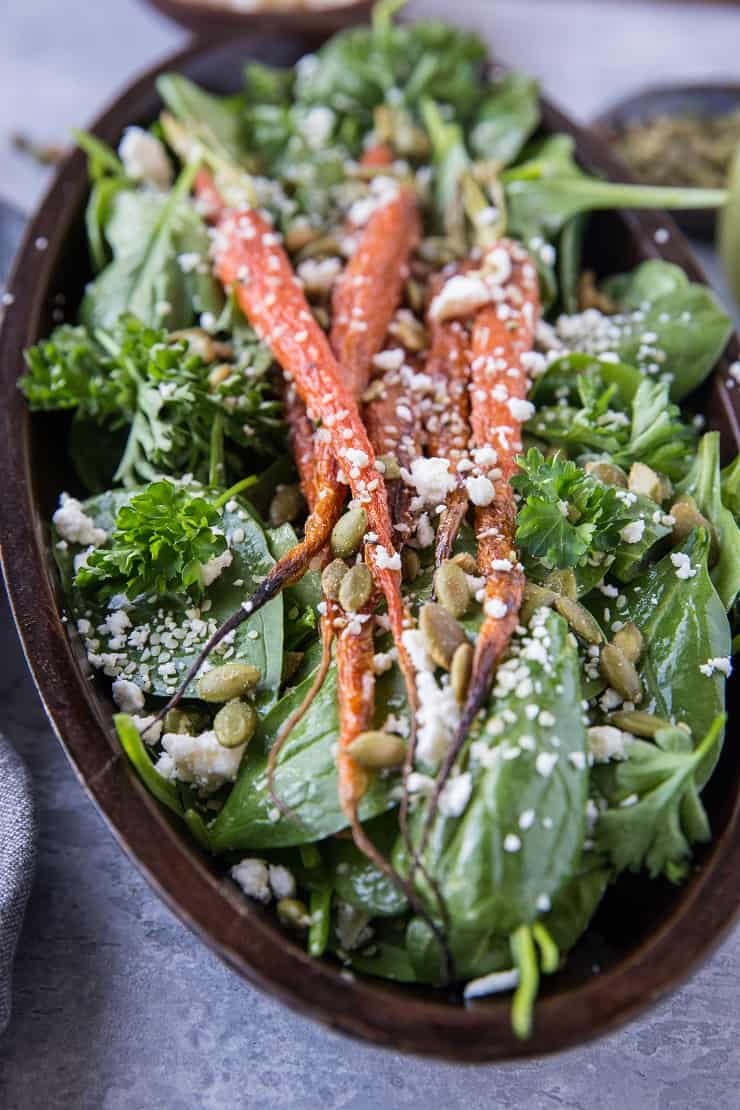 As I mentioned on Instagram, my only intentions for the year are to laugh, love, and learn. I'm keeping it simple and achievable.
Some goals were set. I wouldn't mind learning how to do more inversions in yoga, am taking up Muay Thai (in addition to diving deeper into the land of Jiujitsu), and would like to get back into lifting heavier weights (did you know I used to do CrossFit a million years ago??
I'm not planning on doing CrossFit per se…just heavier weighted exercise). Again: simple and achievable.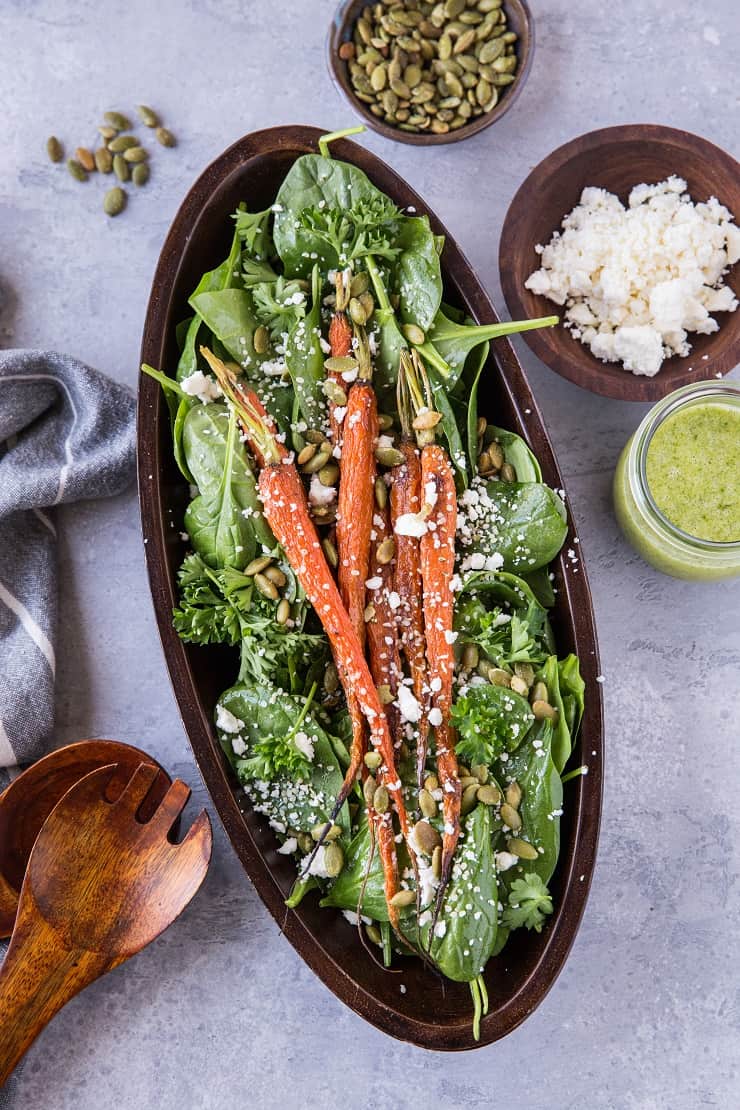 From a recipe development perspective, I aim to create more recipes that are more me. It is easy to get caught up in what is popular and cater to perceived demand, but I find this doesn't feel authentic to me, and it certainly doesn't benefit my own health.
In essence, I'd like to go back to my roots and stay there – meat and vegetables, baby. There's so, so much uncharted territory within the limitations of eating clean, and I aim to be an explorer.
Suffice it to say, this roasted carrot spinach salad is very much a me recipe. It's simple, easily digestible, it involves roasted veg and greens, and is flavorful. If you're a fan of dried fruit and aren't following a ketogenic diet, you can add dried cranberries, blueberries, or goji berries (as pictured below!).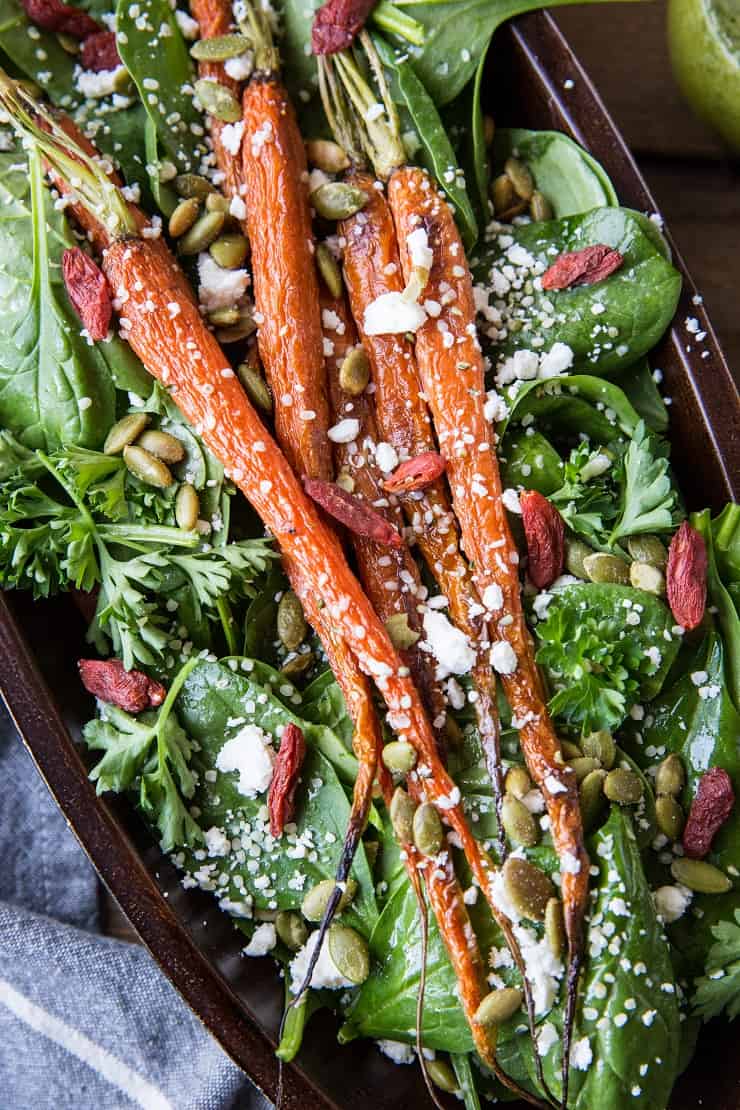 All we do in order to make this beauty is roast up some carrots (I like leaving them whole, but you can 3000% chop them up into bite sizes) and pumpkin seeds. We make a citrusy lemon herb dressing, which we use to toss spinach. Serve it all up with a sprinkle of feta (omit for those of you who don't do dairy), and enjoy!
For me, this is a great light meal for the times I've been eating heavy and need something fresh and clean. It can also become an entrée salad by adding baked chicken or salmon, or it can simply be a side dish for any sort of dinner party you may be throwing.
Also check out my Roasted Sweet Potato and Brussel Sprout Salad with Cinnamon Balsamic Dressing and my Strawberry Spinach Salad with Lemon Poppy Seed Dressing.
I hope you enjoy this beauty! And in case you aren't feeling it today, tomorrow, or next month, remember you are loved.
Roasted Carrot Spinach Salad
Roasted carrots are an incredible addition to salad! This satisfying recipe makes for a light dinner or side dish.
Instructions
Preheat the oven to 415 degrees F. Spread the carrots on a baking sheet, drizzle with avocado oil, and sprinkle with sea salt. Use your hands to toss everything together so that the carrots are fully covered in oil. Roast 25 to 35 minutes, until golden-brown and somewhat wrinkly. Remove from the oven and allow carrots to cool.

5 minutes before the carrots have finished roasting, spread the pumpkin seeds on a baking sheet and place in the oven for 3 minutes, or until they begin turning golden-brown and puff up. Remove from oven and allow pumpkin seeds to cool.

While the carrots are roasting, add the ingredients for the dressing to a blender and blend until creamy and well-combined. Set aside until ready to use. Note: You will end up with more dressing than you need - you can store it in a jar in the refrigerator and use it for future salads or as a marinade.

Add spinach and feta to a large serving bowl. Toss in desired amount of dressing. Serve salad with roasted carrots and pumpkin seeds.
Nutrition