Crunchy superfood hormone-supporting kale and quinoa salad with raw walnuts, pumpkin seeds, hemp seeds, dried cranberries and apple. This super simple, nutrient-packed salad is perfect for putting on repeat throughout the week. Make it in big batches and take it to work!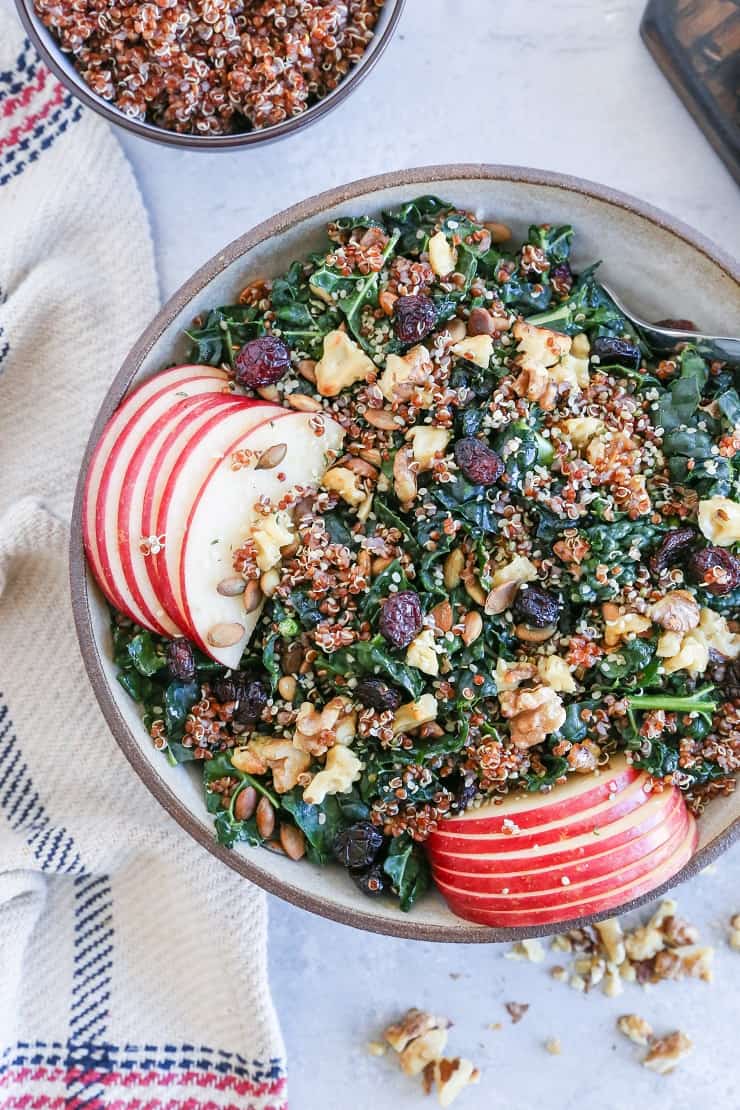 One of the biggest topics in the health community today is hormone health. You can tailor your diet to help bring imbalanced hormones back into homeostasis, which in turn can help with so many hormone-related health issues, such as IBS (hand raised), endometriosis, depression, weight fluctuations, acne, and more.
As someone with IBS, paying attention to my hormones is a crucial part of managing my digestive system, and vice versa.
I get a bit of a kick out of naming recipes based on their health benefits. For instance, the Immunity Boosting Tropical Smoothie, Liver Detox Smoothie, Good Digestion Smoothie, and Aphrodisiac Smoothie all function as the titles proclaim.
As the title of this post suggests, this salad was engineered to be a gem for your hormones. Please take it for what it is: just one simple tool that can be put on rotation alongside additional simple tools, or just a really great healthy salad…but not a cure-all.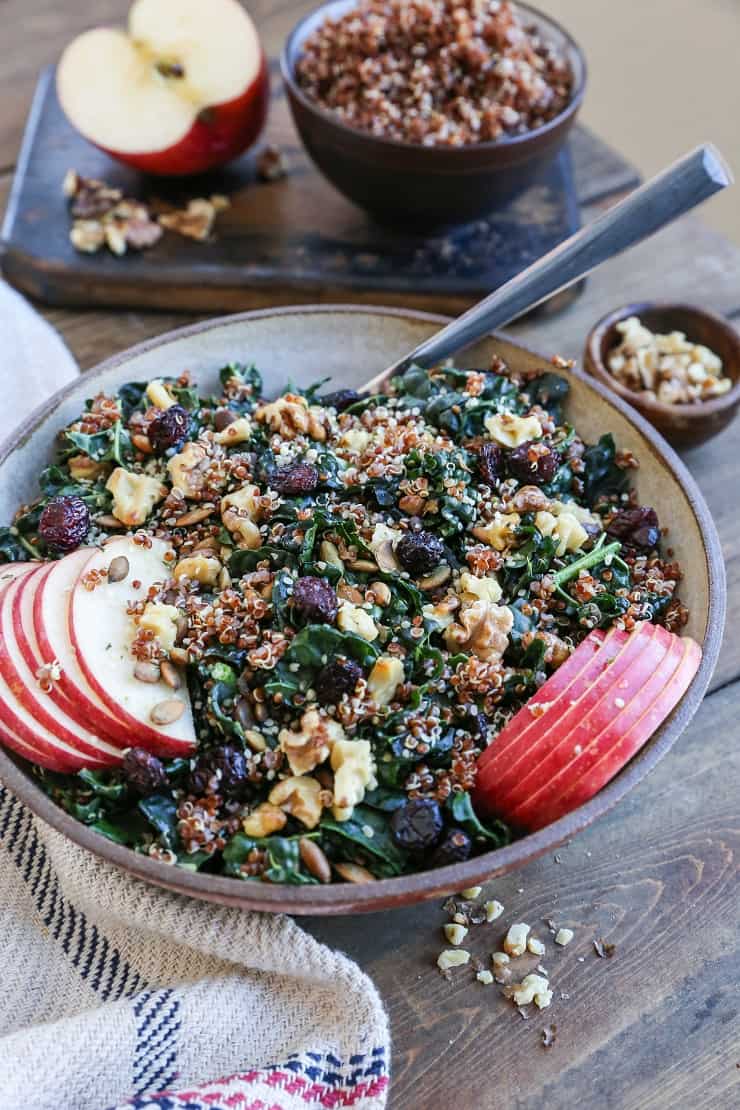 A close friend of mine recently told me about Seed Cycling to promote healthy hormones. The concept behind seed cycling is simple – you consume different seeds during different parts of your menstrual cycle to help balance your hormones.
Seeds contain fats, vitamins, and minerals that may help support the body's production and metabolism of hormones. If you've been down the road of trying to get your hormones in check, you have probably read that getting enough Omega-3 fatty acids (especially in relation to your Omega-6 intake) can be pivotal in maintaining healthy hormone levels.
Regardless of where you stand on self-medicating through nature's readily available resources, your body truly needs certain nutrients in order to function optimally. Hormonal imbalances are no joke, so if you've experienced it or are in the thick of it, seed cycling may be another tool for your arsenal.
That said, I incorporated pumpkin seeds into this salad (as well as walnuts, because: additional omega-3 + yum) to offer up a hormone-supporting meal for your follicular phase.
Lettuce discuss the remaining aspects of this salad that help support healthy hormones.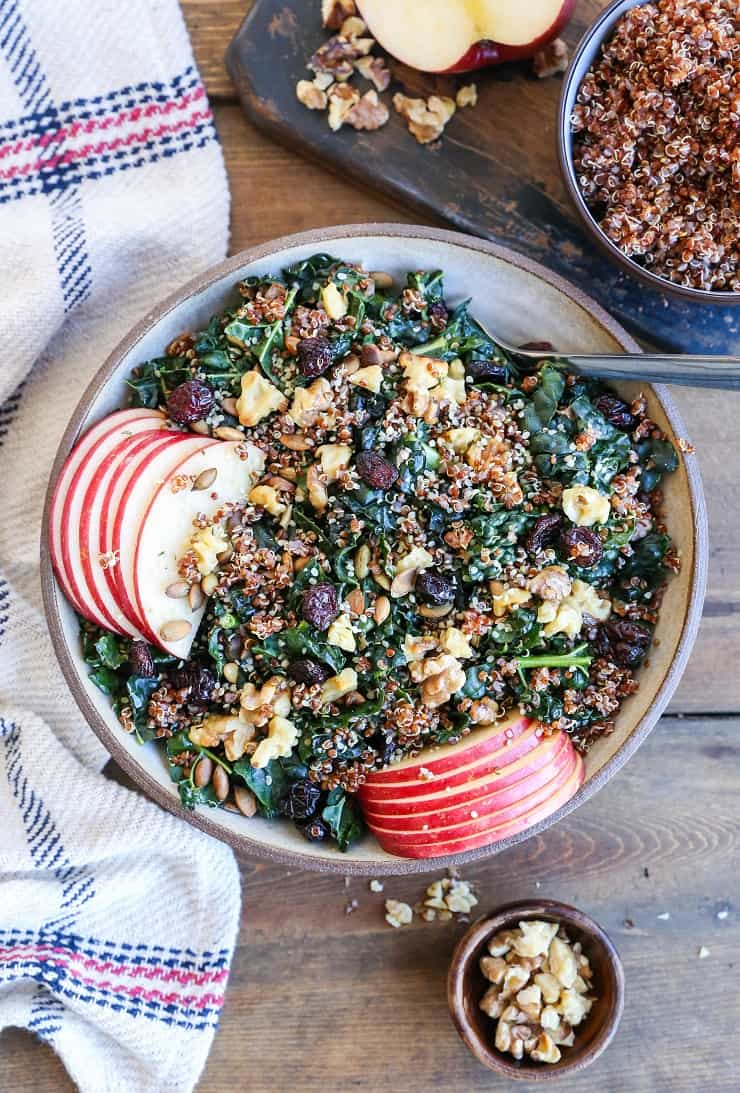 Did you know your body needs fiber in order to eliminate excess hormones? It's true. In addition to creating balance and regularity in your digestive system, the female body requires a great deal of fiber to get rid of bad estrogen. For women who are estrogen dominant: fiber is queen. In this sense, if you have a troubled digestive system, chances are you also have issues with your hormones. Everything is interrelated. I repeat: everything.
So, fiber: kale + apple = you're welcome.
The role of the quinoa is to provide some plant-based protein. Protein is mega essential for hormone health. Not only are amino acids the building blocks of hormones, but getting enough protein ensures satiety, which helps curb your craving for simple carbohydrates, which in turn keeps your blood sugar levels at an appropriate level, which allows your body to create and destroy hormones efficiently.
Being mindful of your carbohydrate intake is very important for keeping a balanced lifestyle. You never want to go too low in complex carbs, and for some of us, going too high in simple carbs is a surefire way of throwing off your hormones.
If you're like me and metabolize salad as though it never happened, you'll want to add a dose of protein to this situation. Sure, the quinoa contains complete protein, but its satiety factor is a drop in the bucket for me. I've been eating the salad with chopped hard-boiled egg to keep it vegetarian, but some roast chicken would work marvelously as well. If you're vegan, adding chickpeas would be a brilliant idea.
One cautionary note: If you have a history of thyroid issues, proceed with caution when it comes to kale. Eating too much kale can exacerbate thyroid problems if you already have existing issues.
Meal Prep Options: While this salad comes together really quickly and does not require advance prep, you can make this in bulk and bring it to work throughout the week. Kale is super hearty and doesn't get soggy the way regular lettuce does.
How do we dress this salad? By keeping it super simple. I drizzle avocado oil and lemon juice (healthy fat + antioxidants) over the salad, sprinkle it with sea salt, and call it good. If you're looking for something fancier, feel free the salad dressings from the Crunchy Quinoa Cabbage Spinach Salad or Roasted Butternut Squash Kale Salad recipes I posted recently.
If you're brand new to the hormone world, my biggest (and most suggested) resources have been Dr. Brooke Kalanick's website and podcast, and the book, Woman Code. I also got a lot out of this this and this episode of Harder to Kill Radio. There are so many resources available on this topic, so as always, go wild with research!
Love your hormones!
If you make this recipe, please feel free to share a photo on Instagram and tag @The.Roasted.Root!
Hormone-Supporting Kale & Quinoa Salad
A nutrient-dense plant-based salad recipe that's here to support your hormones 🙂
Instructions
Place chopped kale in a large serving bowl and drizzle with 2 tablespoons of fresh lemon juice. Use your hands to massage the kale leaves with lemon juice until it begins to soften, about 2 minutes. Allow leaves to sit 10 minutes to allow lemon juice to break down some of the fibers.

Add remaining salad ingredients to the serving bowl. Drizzle desired amount of avocado oil and lemon juice over the salad, and sprinkle with sea salt. Toss well until combined. Serve and enjoy!
Notes
*Use juice-sweetened dried cranberries rather than sugar-sweetened
Nutrition
Serving:
1
of 2
|
Calories:
487
kcal
|
Carbohydrates:
58
g
|
Protein:
19
g
|
Fat:
23
g
|
Fiber:
21
g
|
Sugar:
20
g