Nutritious, filling roasted sweet potato kale salad with avocado, pumpkin seeds, walnuts, and a 6-minute egg. This delicious salad makes for a satisfying complete meal.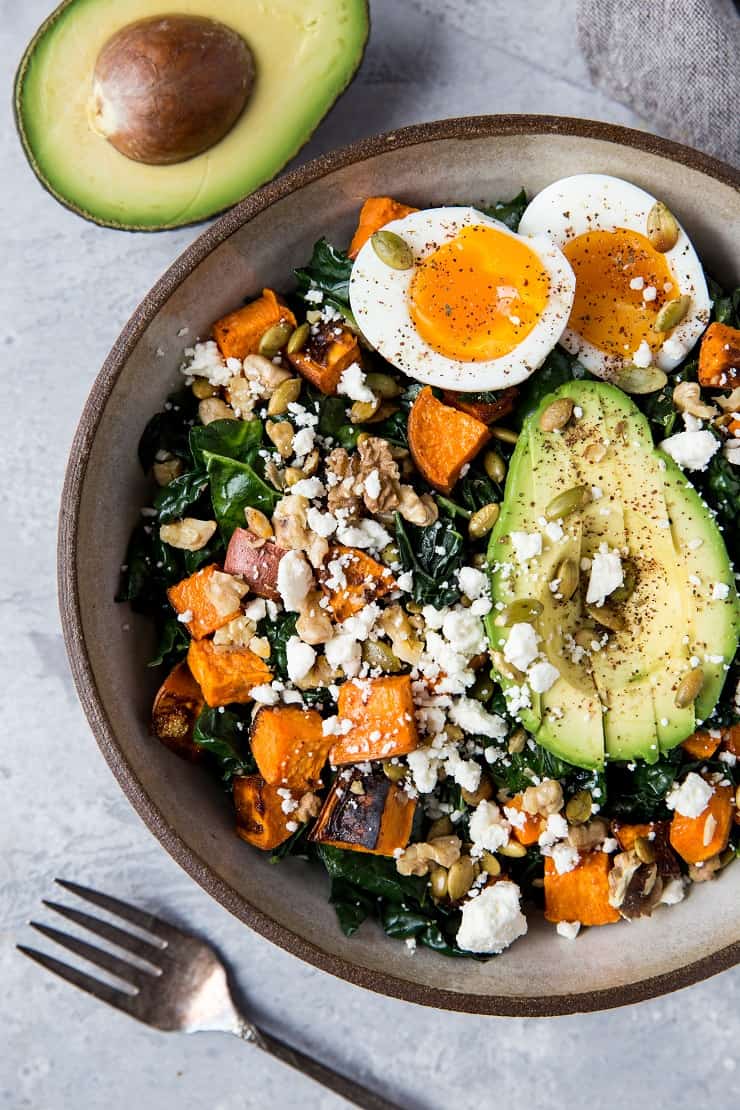 Do you ever find yourself craving the crap out of a ginormous, filling salad? For me, the hankering comes and goes in waves. I can go months without consuming salad, only to go on a salad bender for weeks or months on end. You just never know with this girl.
Recently, I've been on Team Salad Bender. Because I need a great deal of substance within a salad to actually feel satisfied, I'm all about adding roasted vegetables, nuts, seeds, avocado, and protein. You're looking at my exact latest obsession.
Roasted sweet potato kale salad with avocado, roasted walnuts and pumpkin seeds, jammy egg, and a sprinkle of feta cheese for those of us who dabble.
It's magnificently hearty and so fun to crunch all up on!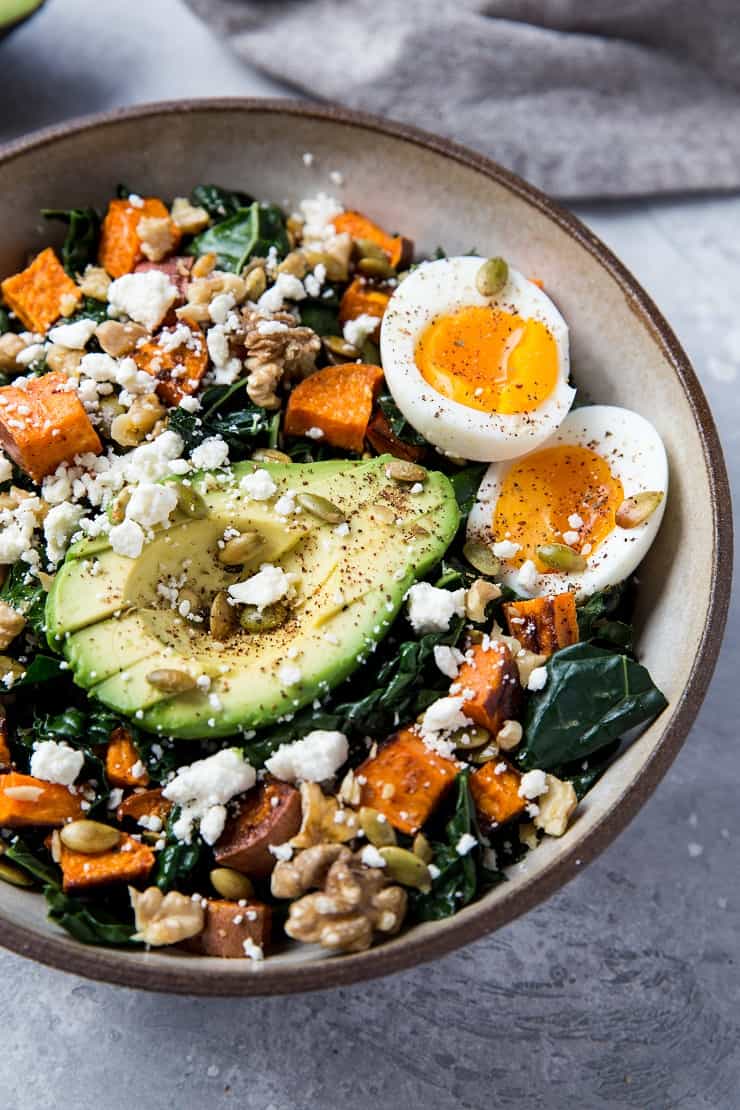 Dressing options? You guys, you can dress this salad however you please.
A homemade lemon-herb dressing is typically how I roll, but you can do a honey mustard, sesame ginger, my Paleo Caesar Salad Dressing, balsamic vinaigrette, Homemade Italian Dressing, raspberry vinaigrette…whatever you're feeling!
I can put a salad on repeat for eons if I simply dress it differently from time to time. This salad? It's been ridden hard and put away wet. Whatever that means in this context…just roll with it.
How to Make Sweet Potato Kale Salad:
The very first thing I do is chop up a sweet potato and roast it. While the sweet potato is roasting, I do all the other things. I cook the egg to give it time to sit in an ice bath, which makes it much easier to peel. I prefer my yolks jammy, so I boil them for 6 minutes. You can easily change this up according to how you like your yolk!
Wash the kale well and chop it up. I like to sauté my kale for a couple of minutes in order to allow it to soften, but you can absolutely leave it raw if you don't mind the fibrousness of it.
Because sautéing generates some liquid, I strain the kale after I have finished sautéing it. I then transfer it to the refrigerator. Note: if you sauté the kale, it will still be a bit warm when you go to serve the salad unless you give it ample time in the refrigerator.
Whip up my lemon-herb dressing, or any dressing of your choosing!
When the sweet potato only has a few minutes left, spread the walnuts and pumpkin seeds on a baking sheet and roast 3- 4 minutes.
Now the fun part!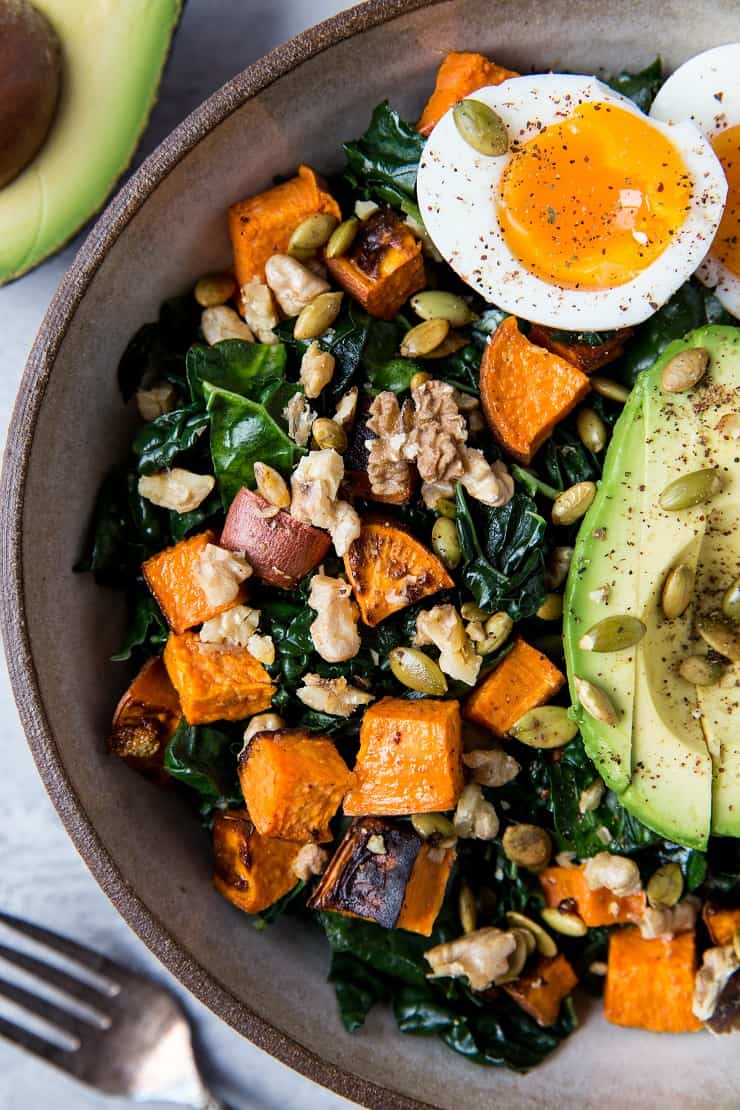 Assemble your salad! I toss the kale in salad dressing first, then add the rest of the ingredients. If you'd like, you can just throw everything in a big bowl and toss it in dressing. FEAST!
The recipe as shown serves 2 people if you're making this an entrée or 4 people if you're using it as a side salad. You can adjust the amount of eggs and sweet potatoes you cook, and the number of avocados based on the amount of people you're serving and your personal preference.
Recipe Adaptations:
Swap sweet potato for carrots, butternut squash, acorn squash, pumpkin, etc.

Toast the walnuts and pumpkin seeds in a small amount of oil and pure maple syrup in a skillet for a few minutes for some added pizzazz.

Change up the cheese to blue cheese, or omit it altogether.

Add rotisserie chicken, steak, or salmon for an even more filling meal.

Toss in some dried cranberries or dried blueberries!

Use basil, cilantro, sage, or oregano in place of the parsley and mint in the dressing.
More Healthy Salad Recipes:
My cookbook,
Paleo Power Bowls
, is now available! CLICK HERE to check it out. Thank you for your all your support!
If you make this Roasted Sweet Potato Kale Salad, please feel free to share a photo and tag @The.Roasted.Root on Instagram!
Get your crunch on!
Roasted Sweet Potato Kale Salad with Avocado
Roasted Sweet Potato Kale Salad with avocado, crunchy walnuts, creamy feta makes for an amazingly flavorful and nutrient-dense meal.
Ingredients
2 to 4

large eggs

2

heads lacinato kale

chopped

1

large sweet potato

chopped

1

large avocado

sliced

1/3

cup

raw walnuts

1/4

cup

raw pumpkin seeds

1/3

cup

feta cheese crumbles

optional
Instructions
Preheat the oven to 400 degrees F. Spread the chopped sweet potato over a large baking sheet and drizzle with avocado oil or olive oil and sprinkle with sea salt. Use your hands to toss everything together until potato chunks are well-coated in oil. Bake in the preheated oven 25 minutes, stirring half-way through.

When potatoes have just a few minutes left, spread the walnuts and pumpkin seeds on a baking sheet and roast 3 to 4 minutes, until golden-brown. Remove roasted sweet potato, walnuts, and pumpkin seeds from the oven.

While potatoes are roasting, cook the eggs. Fill a small saucepan with water and bring to a full boil. Using a slotted spoon, carefully drop eggs into the boiling water. Cook 6 minutes, then immediately transfer to an ice bath. Allow eggs to chill in the ice bath at least 15 minutes before peeling.

Transfer chopped kale to a skillet with 1 to 2 teaspoons avocado oil. Cover and cook, stirring occasionally, until kale has softened but is still al dente, about 2 minutes. Transfer kale to a colander to strain any liquid and allow it to cool.

Divide the kale between 2 to 4 bowls. Drizzle with lemon herb dressing (instructions below) and toss well. Top with roasted sweet potatoes, walnuts, pumpkin seeds, feta, avocado, and jammy eggs. Serve and enjoy!
Make Lemon Herb Dressing:
Add all ingredients for the dressing to a small blender and blend until well-combined. Store any leftovers in a sealed container in the refrigerator.
Notes
*Replace parsley and/or mint with your favorite fresh herbs
Nutrition
Serving:
1
of 2
|
Calories:
732
kcal
|
Carbohydrates:
29
g
|
Protein:
20
g
|
Fat:
60
g
|
Fiber:
9
g
|
Sugar:
8
g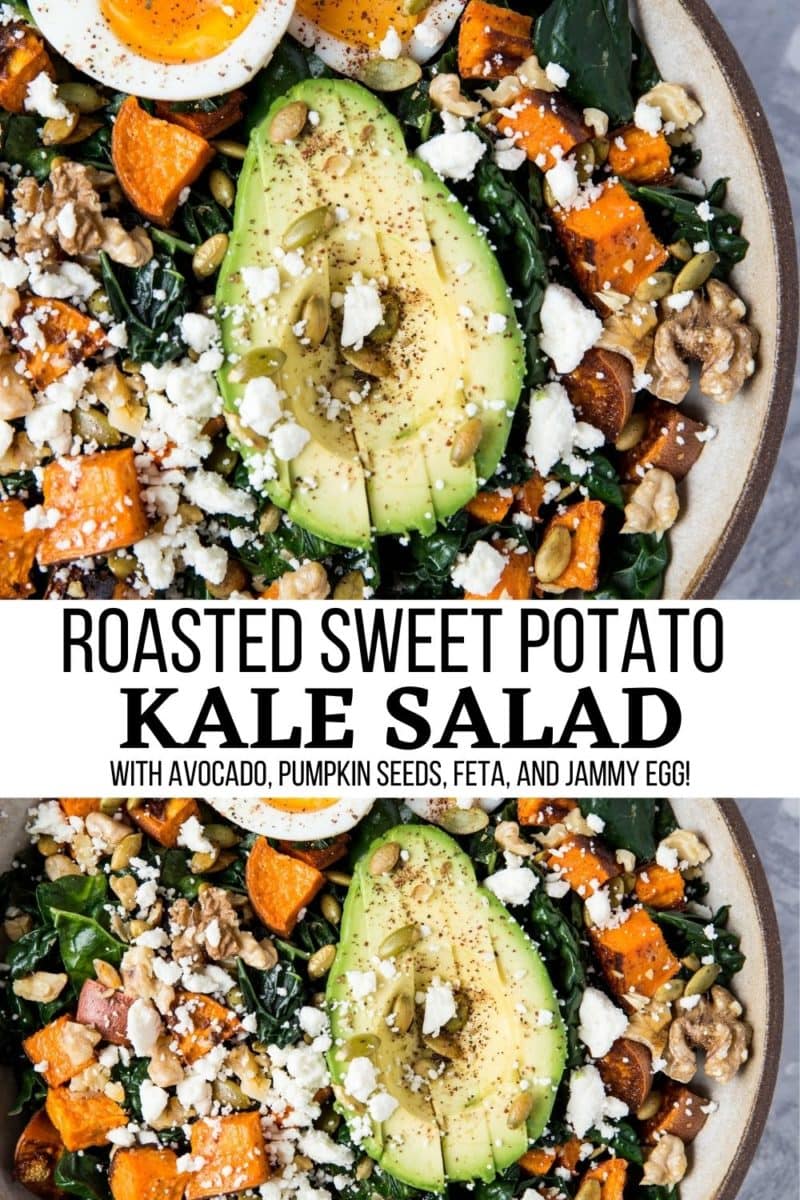 This post contains affiliate links, which means I make a small commission off items you purchase at no additional cost to you.