The Best Salmon Recipes for healthy weeknight meals! This recipe roundup includes every method for cooking salmon as well as various types of cuisines and even complete meals. Everything you need for a delicious salmon dinner is right here!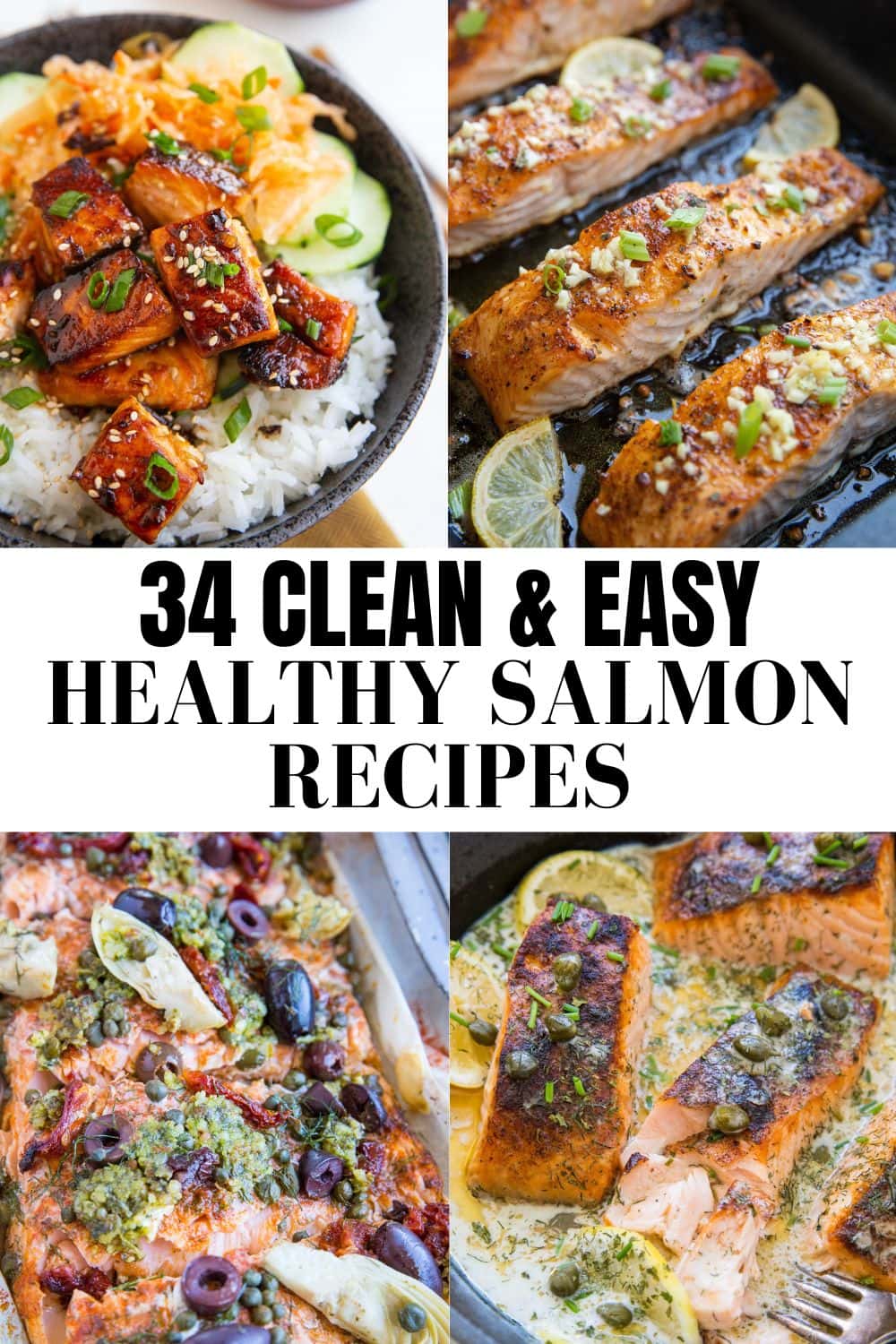 Salmon lovers, have I got a treat for you?!
I have rounded up all of my favorite salmon recipes and put them right here so you'll always have a safe space to return to when you're experiencing a massive salmon craving.
Included in this roundup are recipes for every cooking method, including grilled salmon, baked salmon, broiled salmon, pan-seared salmon, air fryer salmon, and even raw sushi salmon.
In addition to the various best ways of preparing salmon, this roundup has you covered from a flavor standpoint, featuring all sorts of cuisines, flavor profiles, and fresh ingredients to support your love of salmon.
Scroll to the end of the recipes to get more information regarding the health benefits of salmon, nutrition information, and recommended cooking temperatures.
​Easy Salmon Recipes
Crispy Sesame Salmon – My most popular salmon recipe on The Roasted Root! Fresh salmon gets chopped into bite-sized cubes then pan-seared to crispy tender perfection. Sweet and savory sticky salmon will surely bring life to your weeknight meals!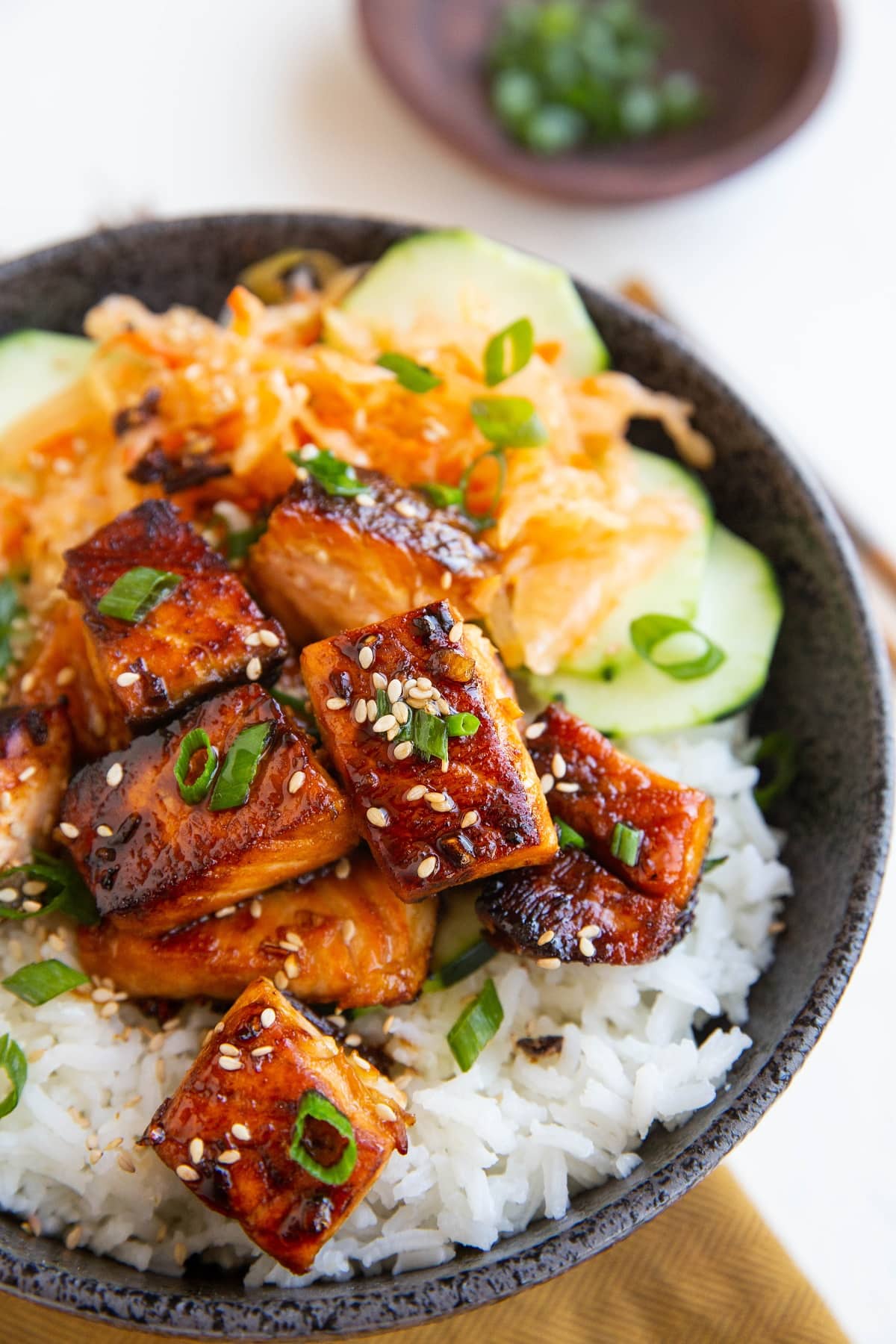 Baked Garlic Butter Salmon – Combining melted butter and garlic is the easiest way to make cooking fish an incredibly palatable experience. Baked Garlic Butter Salmon is simple to make any night of the week and results in a restaurant quality meal! Tender, crispy, delicious!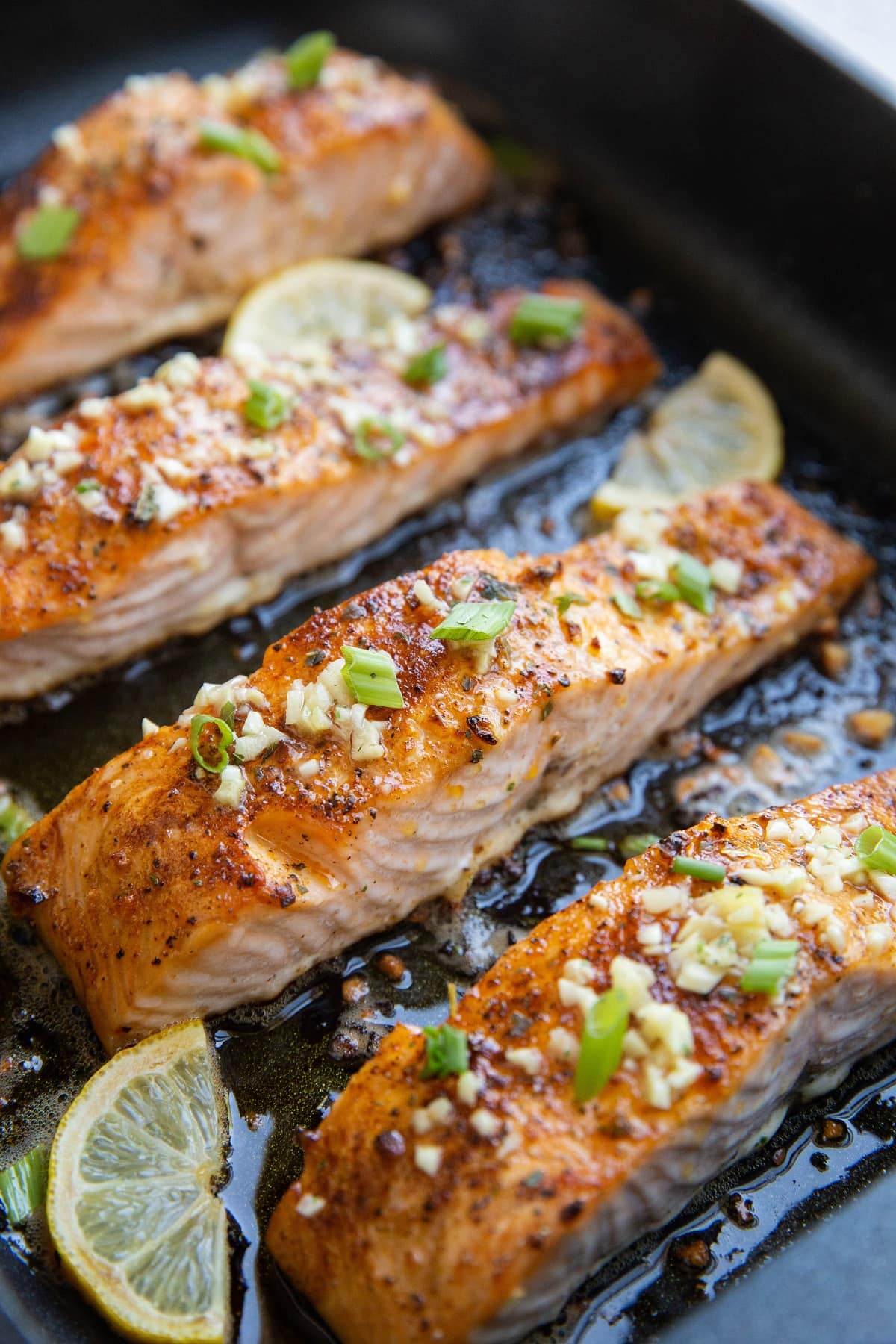 Mediterranean Salmon in Parchment Paper – Mediterranean-inspired salmon in parchment paper (also known as salmon en papillote) with sun-dried tomatoes, dill, capers, artichoke hearts, kalamata olives, and pesto sauce is a mouth-watering experience for a lovely evening in. You can also make it in foil packs instead of using parchment paper.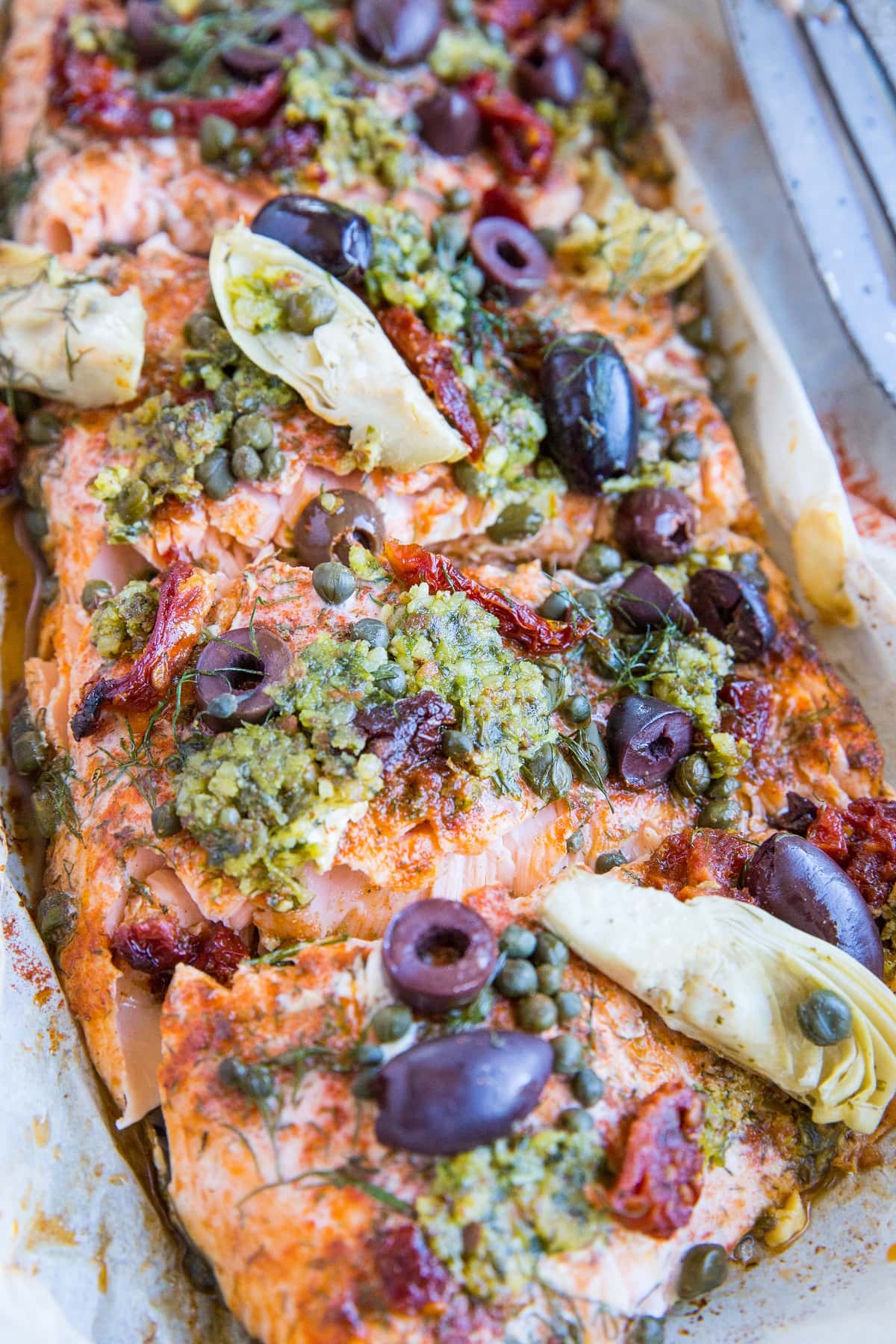 Go-To Crispy Salmon – Easy oven-baked crispy salmon makes for a mouth-watering, nutritious dinner. This quick and simple recipe only requires about 15 minutes from start to finish and happens to be one of my favorite ways of cooking salmon.
Crispy Skillet Salmon with Lemon Dill Caper Sauce – This luscious tender salmon recipe features an amazing fresh and flavorful sauce with lemon juice and fresh herbs for one of the most incredible salmon dinners. This easy meal requires less than 30 minutes to prepare for a quick and healthy dinner recipe.
The Best Salmon Marinade – The best Salmon Marinade for grilled salmon or baked salmon. This easy salmon marinade recipe requires only a handful of ingredients and results in the most flavorful, delicious salmon.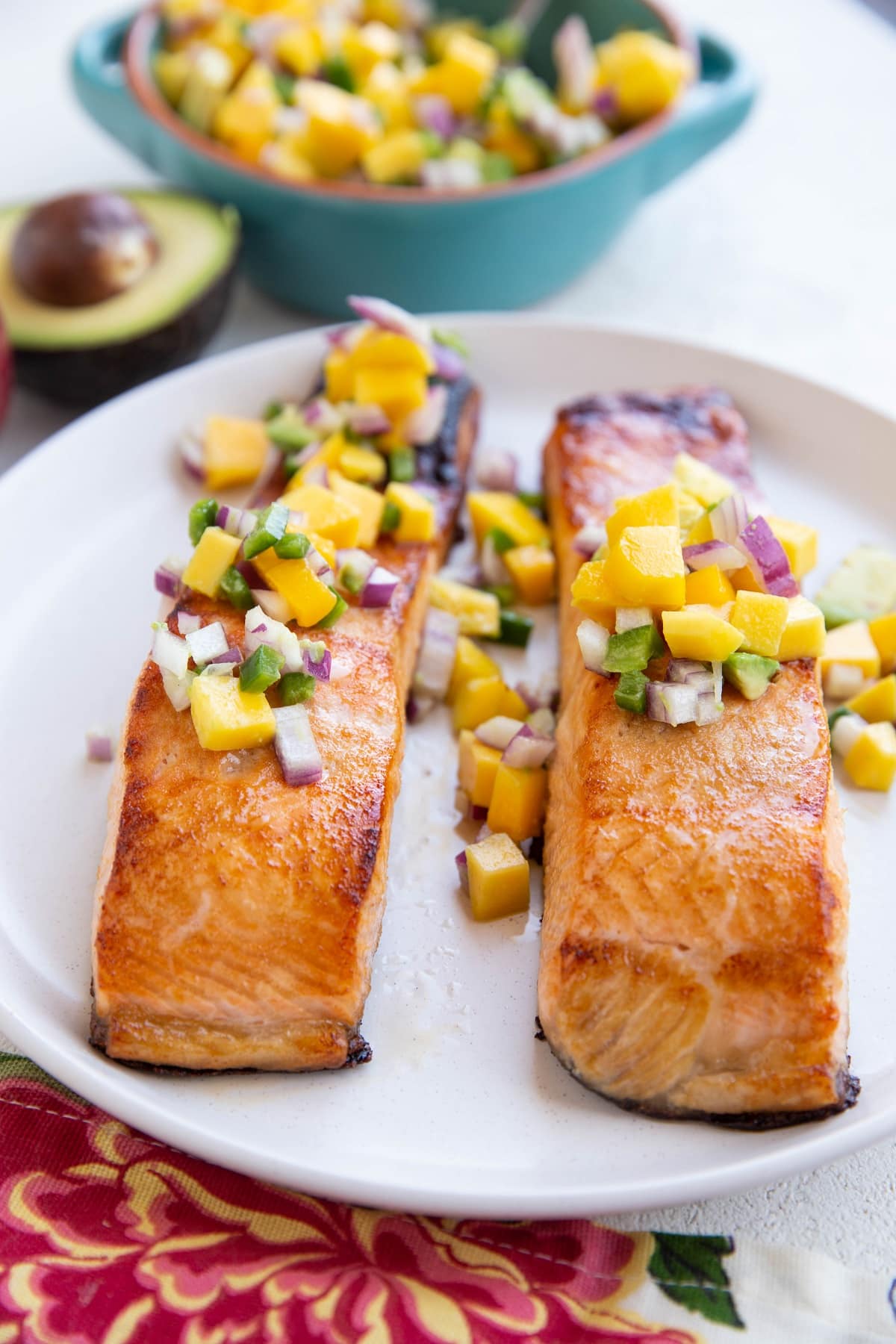 Salmon Poke – A fresh salmon poke recipe with everything you need to know about safely sourcing fish. If you're a sushi lover and want to make poke bowls at home, this amazing salmon sushi is for you!
4-Ingredient Mediterranean Stuffed Salmon – Individual fillets are stuffed with a delicious mixture of sun-dried tomatoes, spinach, and feta cheese. This quick and easy healthy dinner recipe only requires 4 ingredients (not counting oil and sea salt), and comes together in about 40 minutes.
Crispy Salmon Salad – Crispy Salmon Salad with cabbage, carrots, cashews, sliced almonds, dried cranberries, and an amazing peanut dressing to tie it all together. This big, filling entrée salad recipe serves up to four individuals.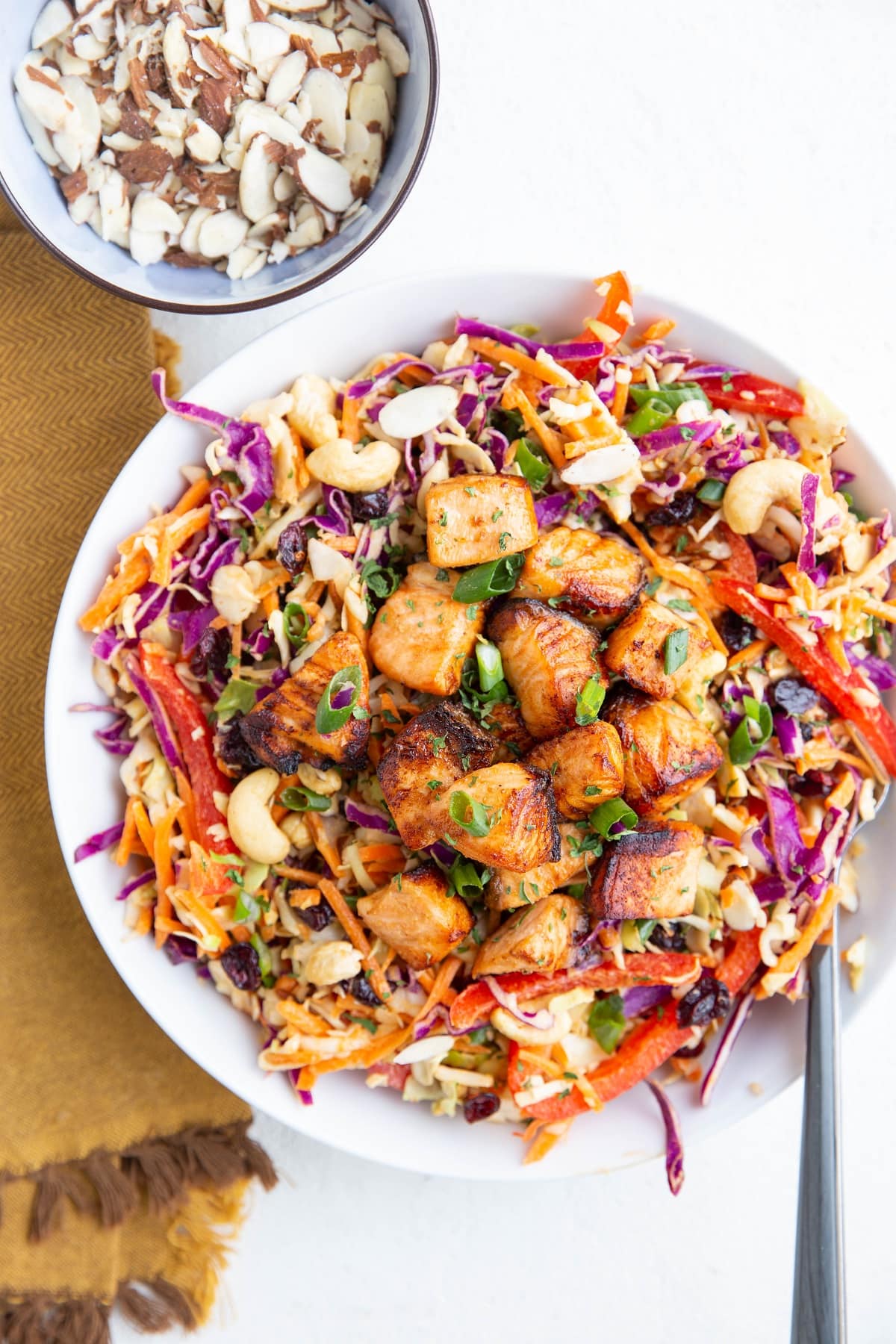 Sun-Dried Tomato and Feta Baked Salmon with Spinach – This Sun-Dried Tomato and Feta Baked Salmon with Spinach features a whole salmon fillet and is packed with tangy, creamy flavors for a bold main entrée. All the goodies are served on top of the fish for a show-stopping unforgettable meal!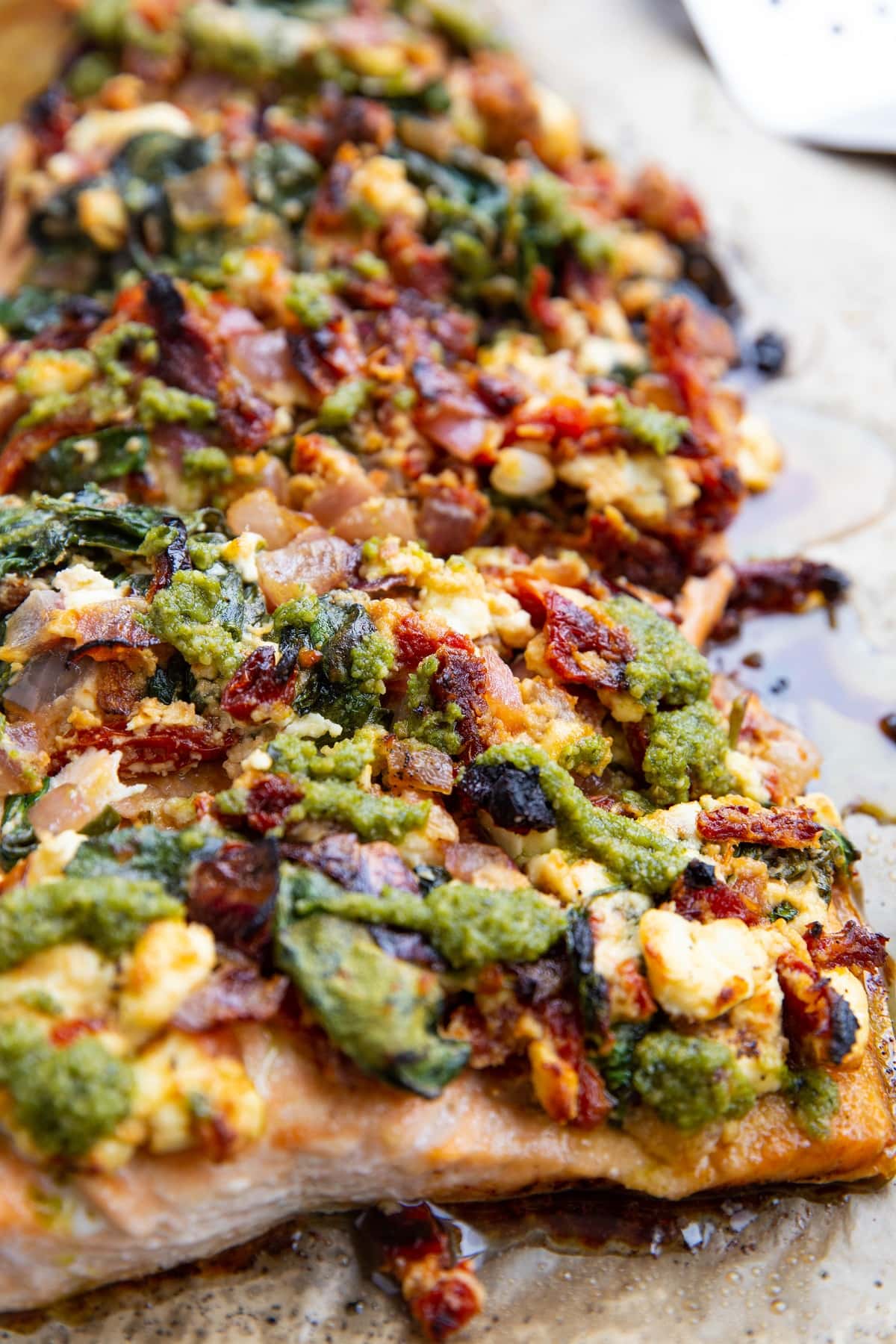 Easy Smoked Salmon – An easy smoked salmon recipe that requires no brining or curing ahead of time. This simple approach results in amazingly flavorful salmon with perfect texture. Serve it up with your choice of sides for a family favorite year round!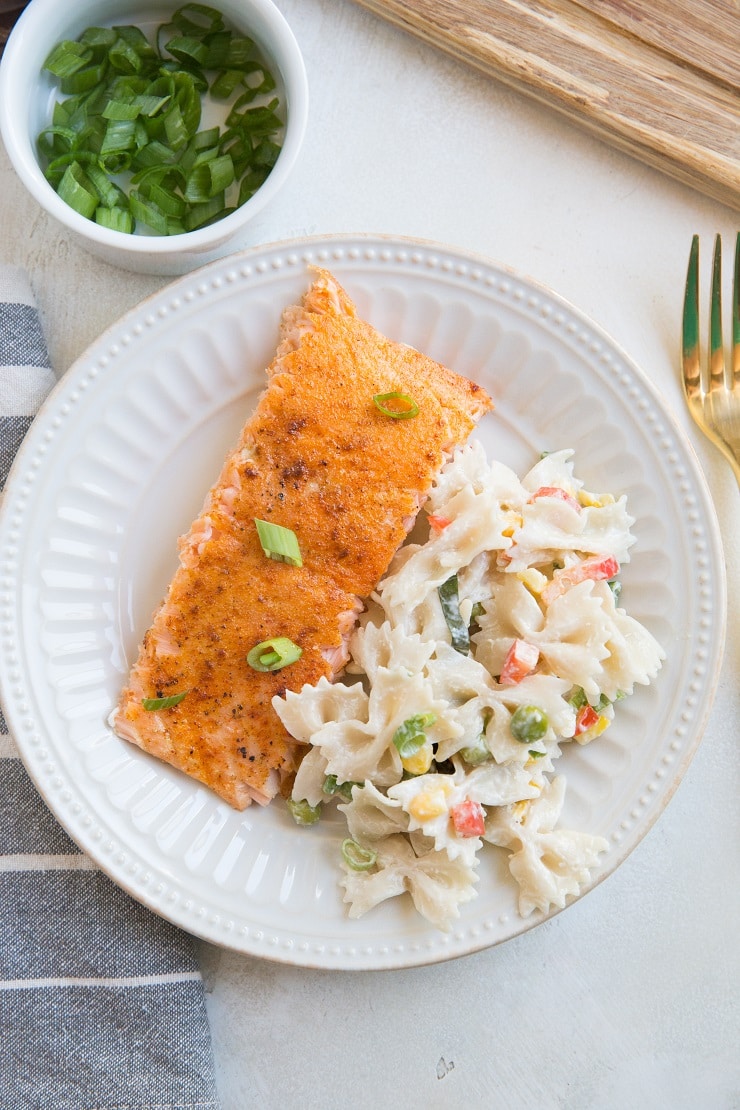 Creamy Tuscan Salmon – Fresh salmon filets are seared in a skillet with rich and creamy dairy-free sauce of sun-dried tomatoes, garlic, and spinach. The whole meal comes together in about 30 minutes.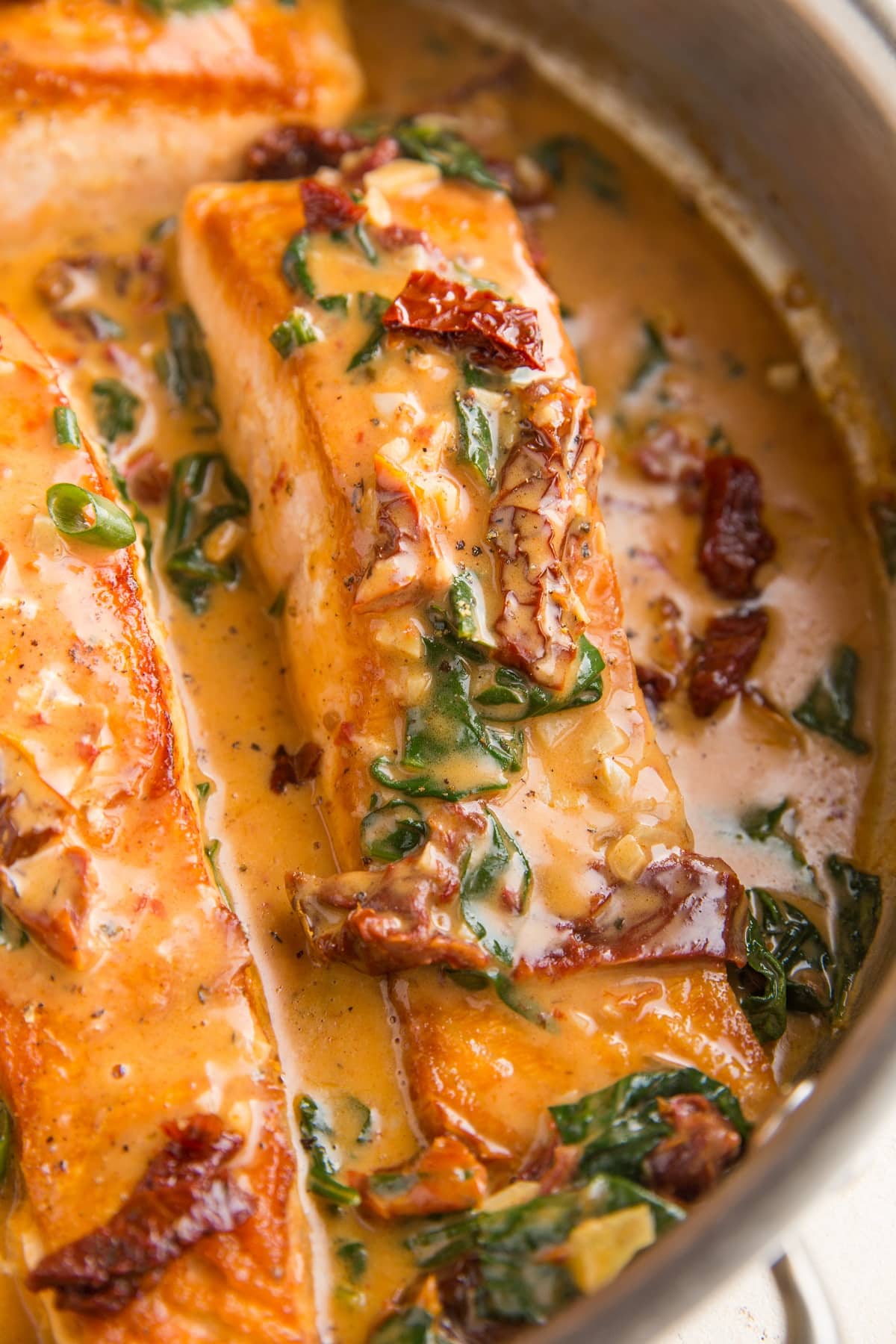 Crispy Air Fryer Salmon – This very basic Crispy Air Fryer Salmon recipe is ideal for those of us who love a nice crisp on the outside with a tender inside. A wise go-to for healthy weeknight eating when you don't want to spend a lot of time cooking!
Grilled Salmon – The only grilled salmon recipe you'll ever need! Crispy and tender perfectly cooked grilled salmon with a grilled zucchini and tomato salsa.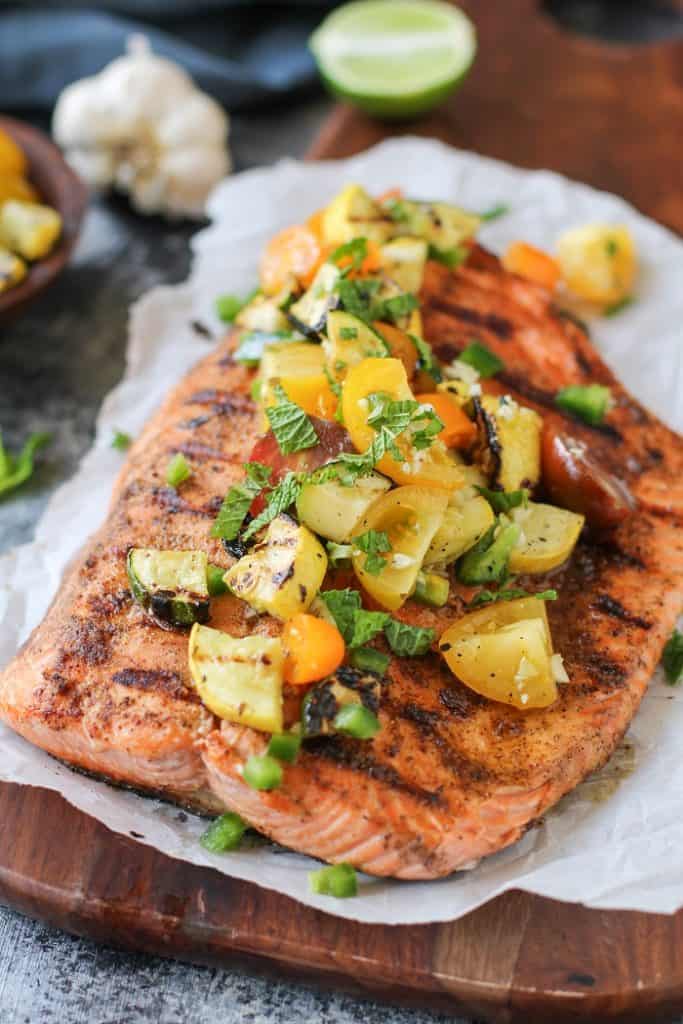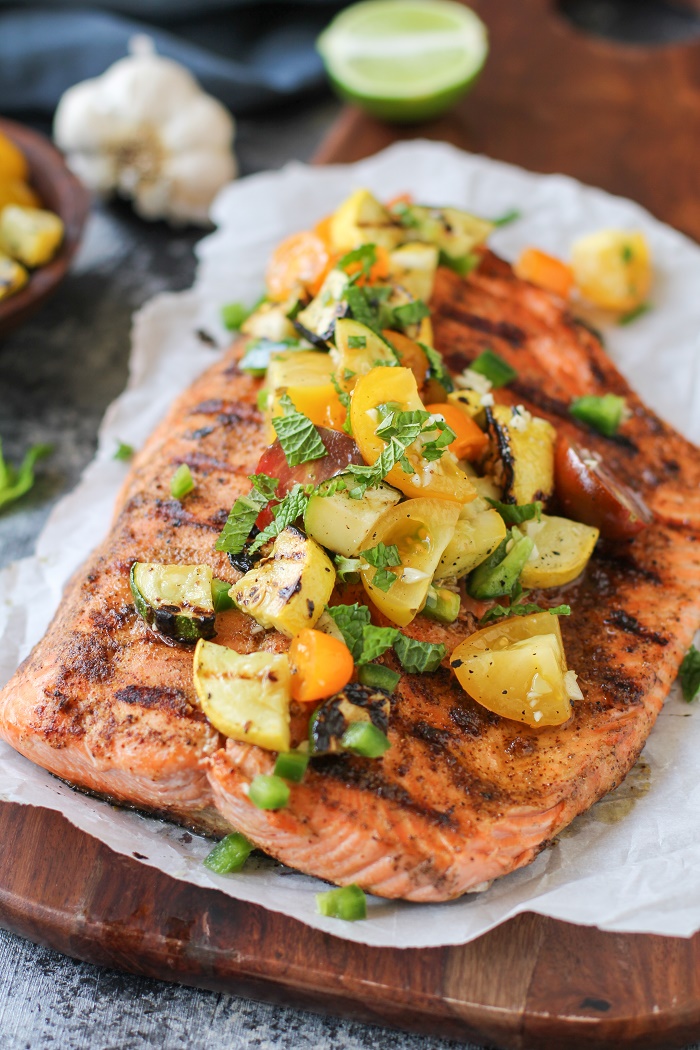 Baked Salmon Burgers – Easy baked salmon burgers made with sockeye salmon. Prepare these tasty salmon patties using fresh salmon in your food processor and a rimmed baking sheet! A quick and delicious low-carb, paleo, whole30 or keto meal!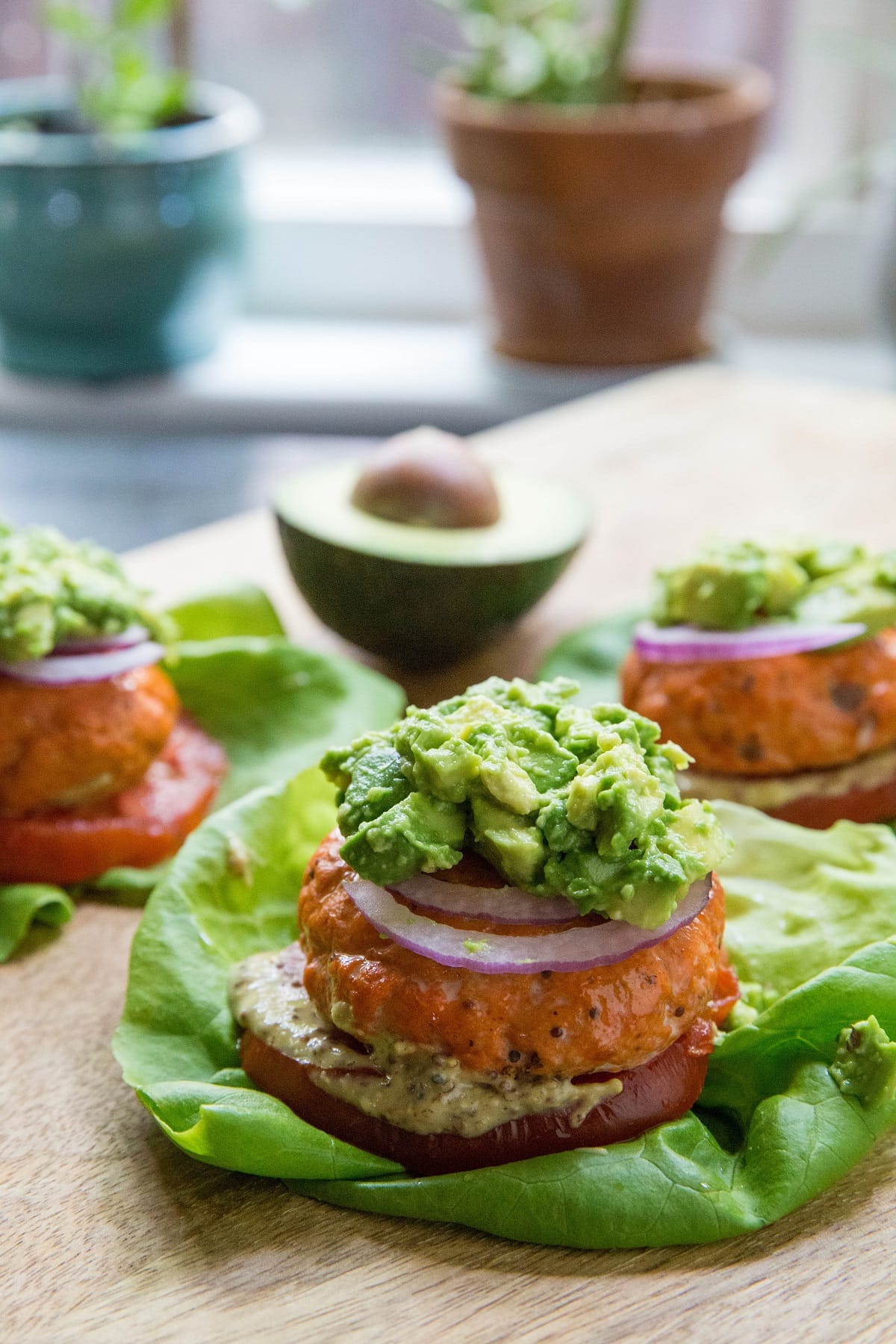 Mediterranean Salmon Salad – Mediterranean Salmon Salad with canned salmon, avocado, red onion, sun-dried tomatoes, and dill is a creamy, wildly flavorful protein-rich meal. Eat it as is or serve it up as a green salad on top of spring greens or sandwich for an amazing meal.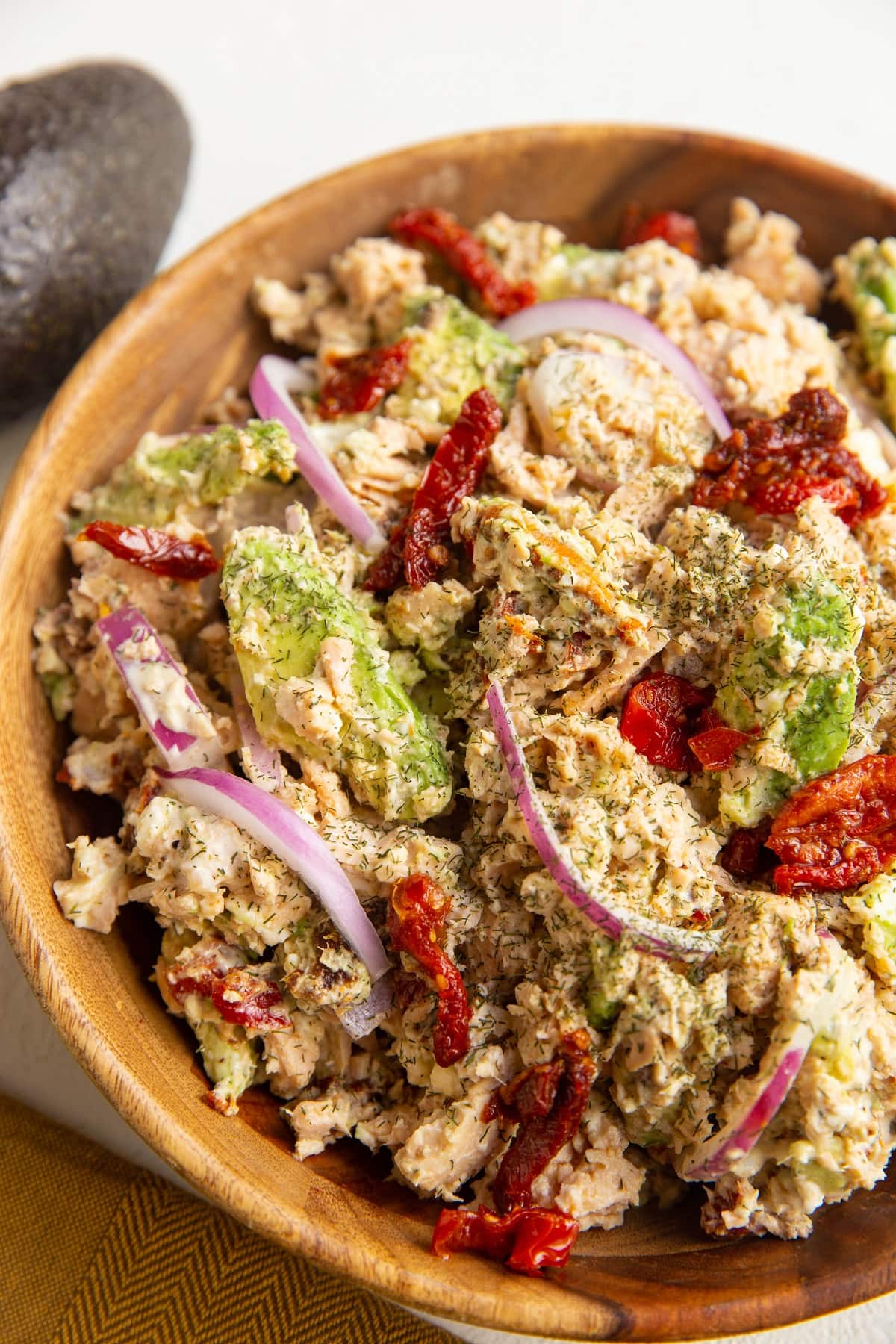 Crispy Skillet Salmon – Includes all the best tips for achieving incredible crispy salmon skin as well as a crispy top and tender fish. This pan-seared salmon recipe starts with the skin side up in a piping hot pan, resulting in one of the most delicious salmon recipes!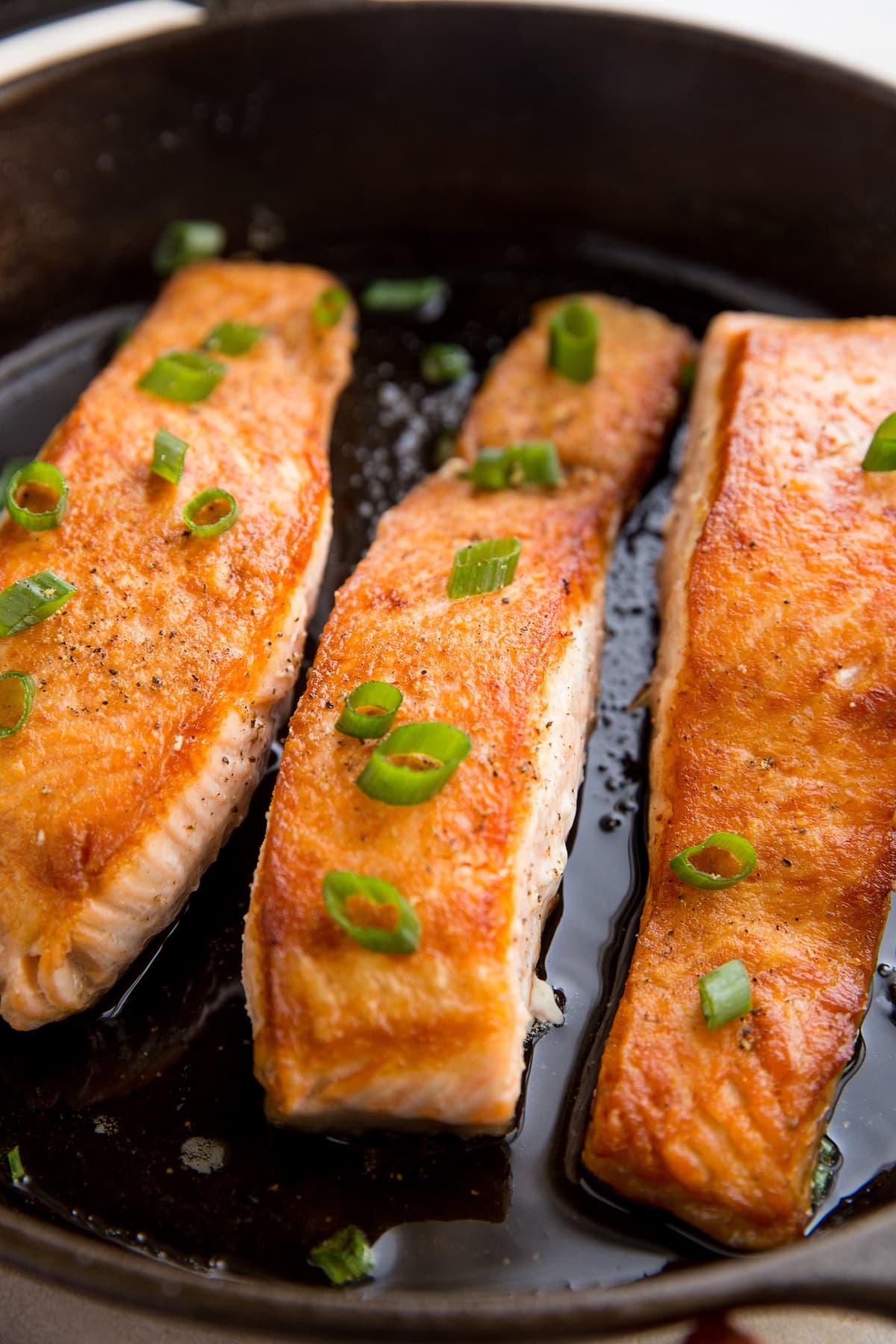 How to Bake Salmon in Foil – A photo tutorial showcasing the simplest foil salmon recipe requiring only a few simple ingredients and hardly any prep. The easiest way to get tender fish every time!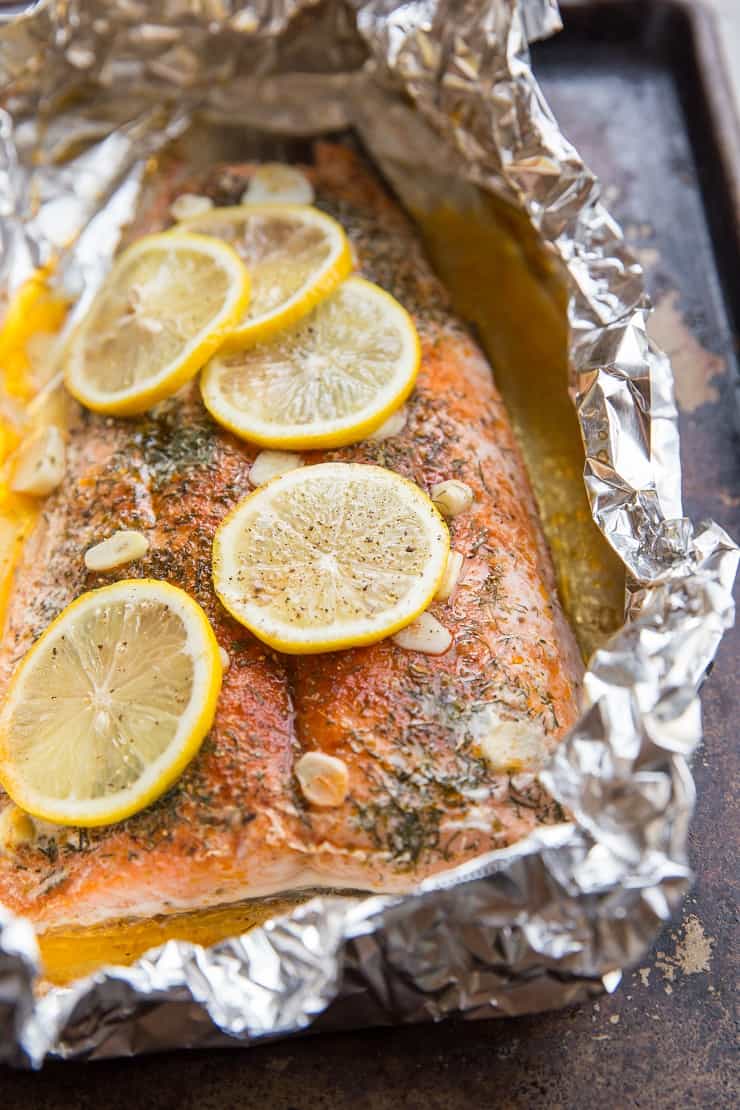 10-Minute Salmon and Rice Bowl – Quick and simple 10-Minute Salmon and Rice Bowl is an all-star meal that comes together easily! Use leftover rice and salmon (or canned salmon), avocado, tamari (or soy sauce), and a touch of sriracha and mayo for a magnificent lunch or dinner.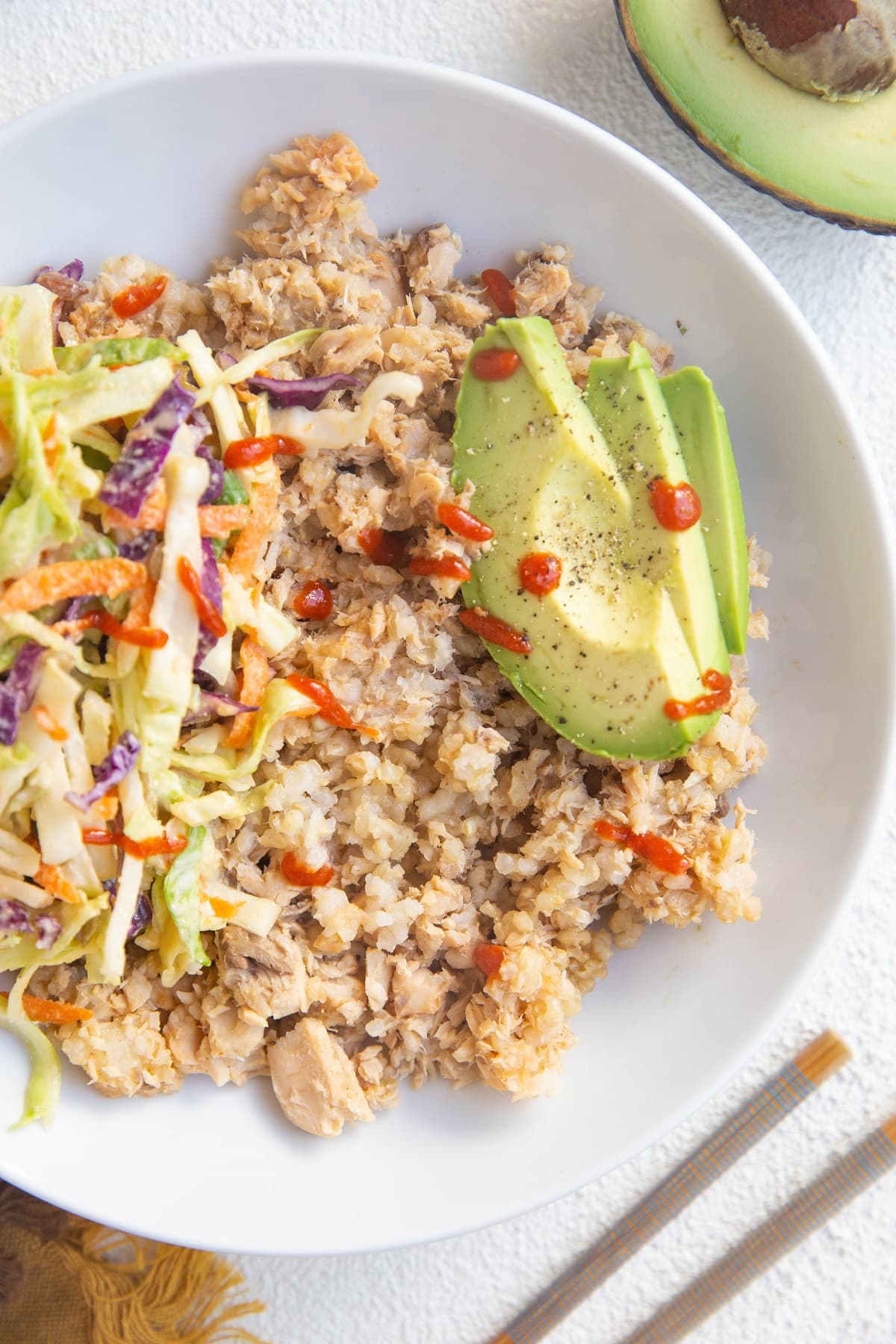 Crispy Paprika Salmon Bowls – Crispy Paprika Salmon Bowls with Ginger Vegetables and Rice are one of the meals I make multiple times per week. They're well-balanced, quick and easy to prepare, and hit the spot no matter the season! This recipe includes a Low-FODMAP option for those with sensitive digestive systems.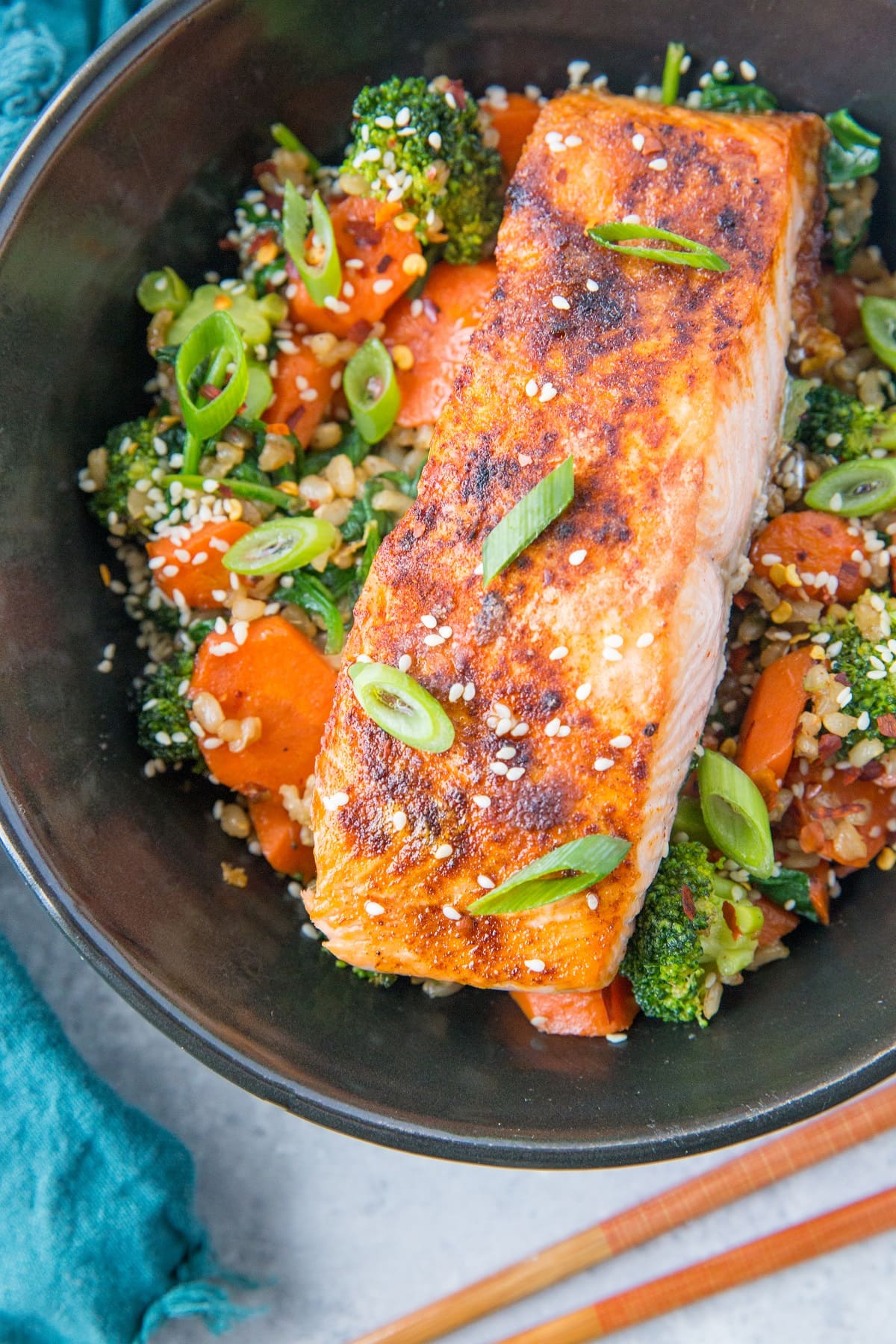 How to Grill Salmon in Foil – An easy tutorial on how to grill salmon in foil packets. This simple method for cooking salmon requires only a few ingredients, a few minutes, and minimal cleanup.
Sesame Garlic Air Fryer Salmon Bites – This Sesame Garlic Air Fryer Salmon Bites recipe come together in a flash and are perfect for salmon lovers who adore crispy skin. Serve them up as an appetizer with spicy mayo dipping sauce or with side dishes for a balanced complete meal.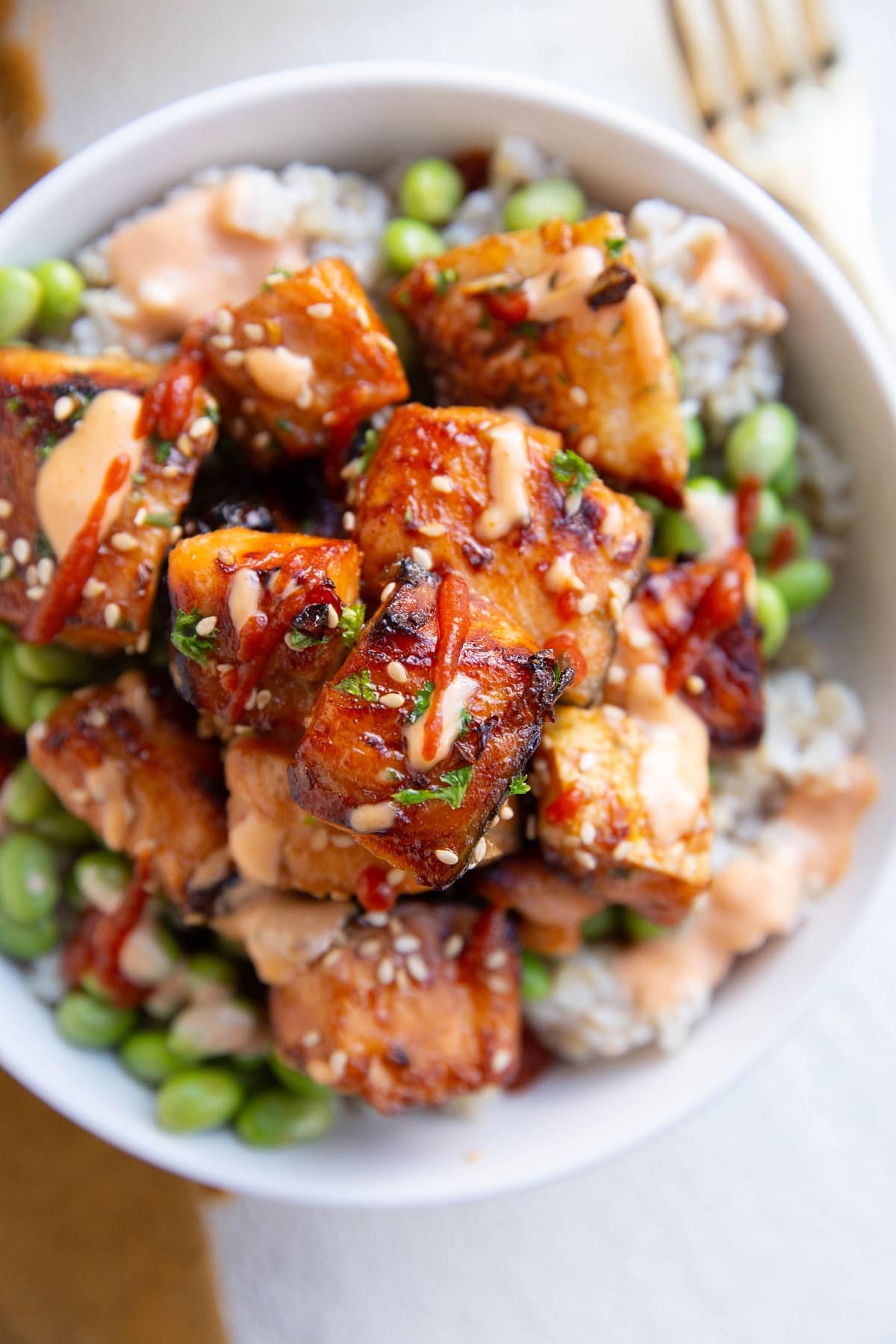 Red Curry Salmon and Vegetables – Thai Red Curry Salmon and Vegetables is remarkably flavorful cozy comfort food! Salmon lovers will delight in this unique and powerfully nutritious meal!
Sheet Pan Salmon and Vegetables – Sheet Pan Salmon and Vegetables is a simple, nutritious meal that can be made any night of the week! Ready in under an hour, this is one of those goof-proof healthy recipes that will always satisfy.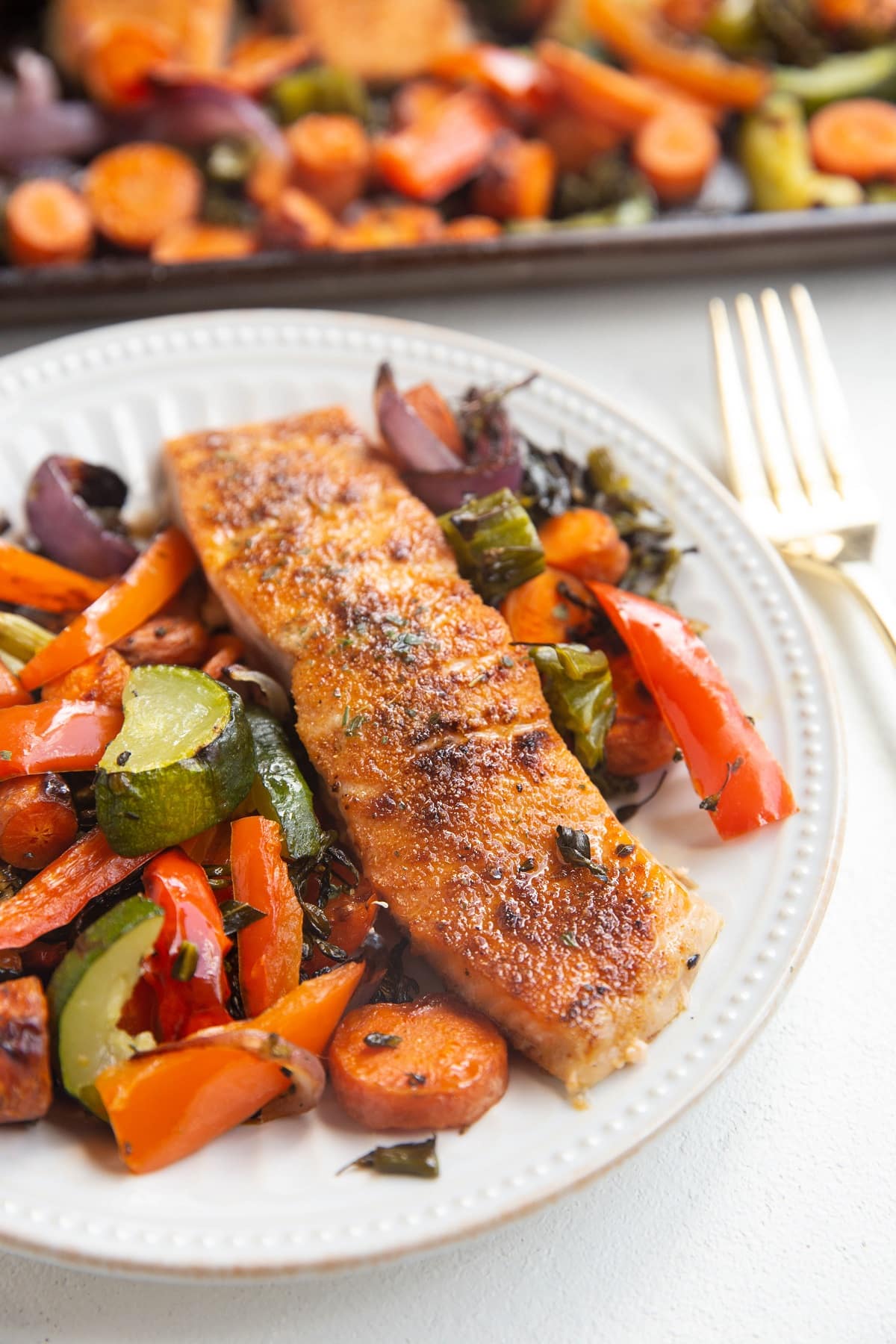 Teriyaki Salmon Bowls – Teriyaki salmon bowls with teriyaki stir fry vegetables and rice. These delicious well-balanced bowls are packed with flavor and nutrients. PLUS, they are quick and easy to prepare on any given weeknight!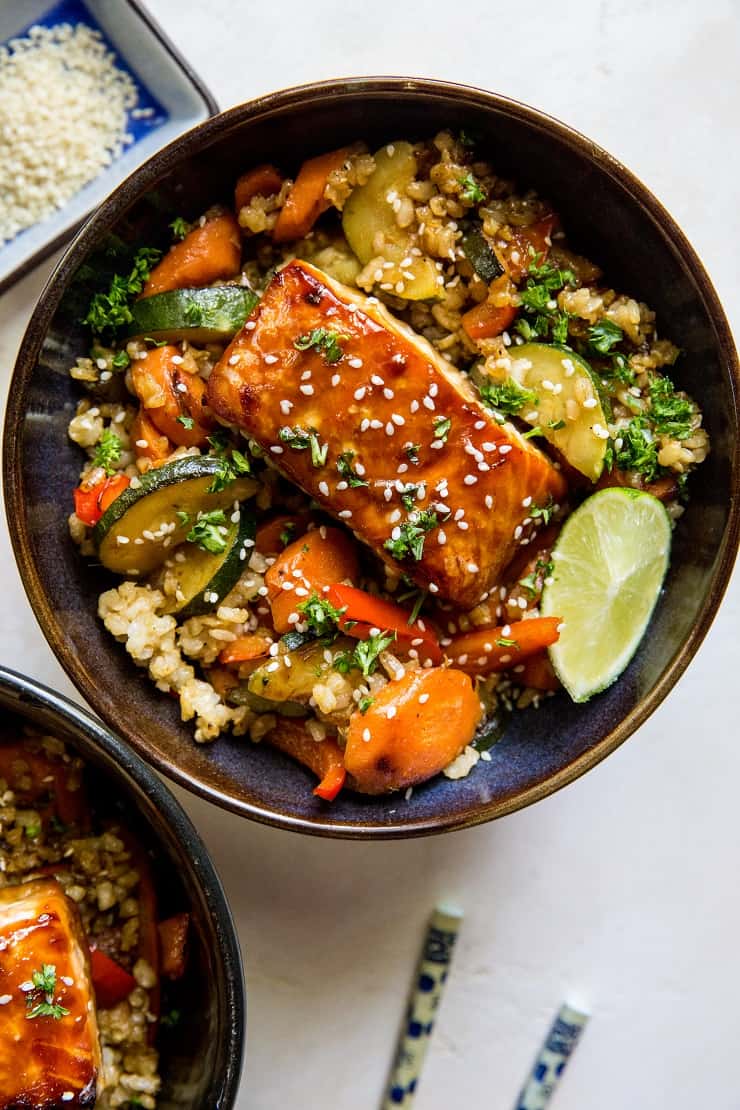 Salmon Stir Fry with Vegetables – Fresh and frisky salmon stir fry for a clean, paleo, keto, and whole30 dinner that is sure to become a staple in your home.
Salmon Poke Bowls with Crab Salad – Easy Salmon Poke Bowls with Crab Salad, seaweed salad, brown rice, and avocado. These delicious bowls are packed with flavor and give you a marvelous sushi experience in the comfort of your own home!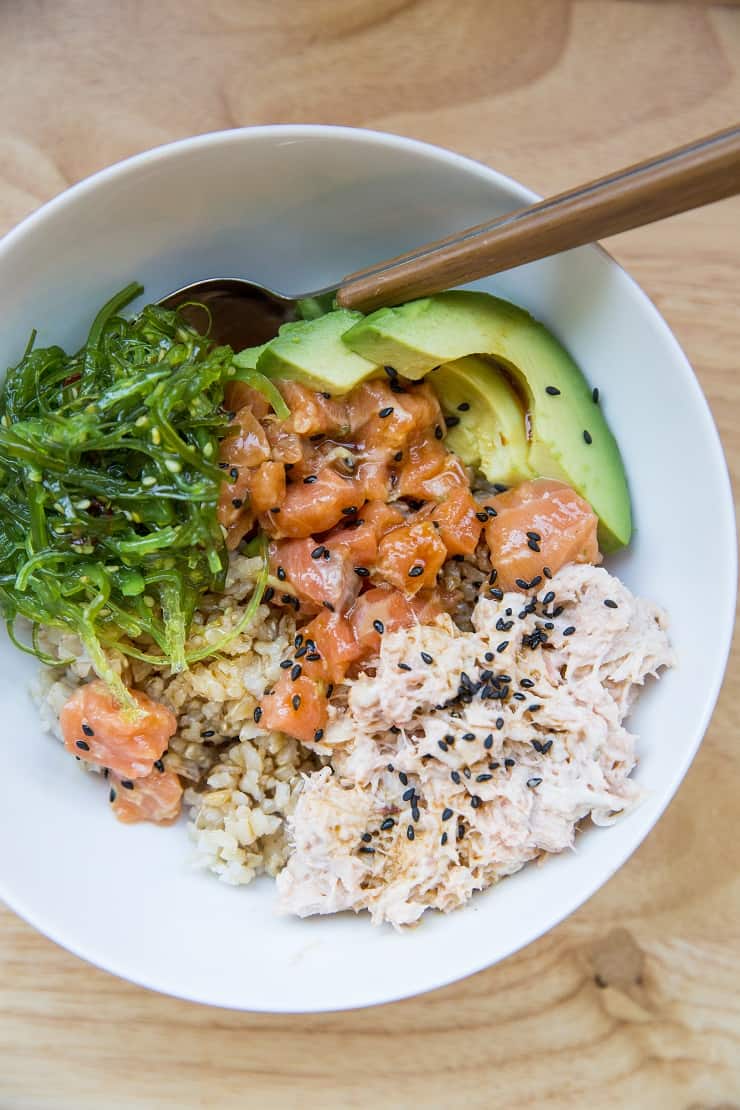 Crispy Honey Glazed Salmon – Crispy honey-glazed salmon with roasted vegetables and kale salad makes for a clean and satisfying meal perfect for any night of the week! Honey Mustard Salmon is quick and easy to make and requires so little effort! The honey garlic sauce is everything here!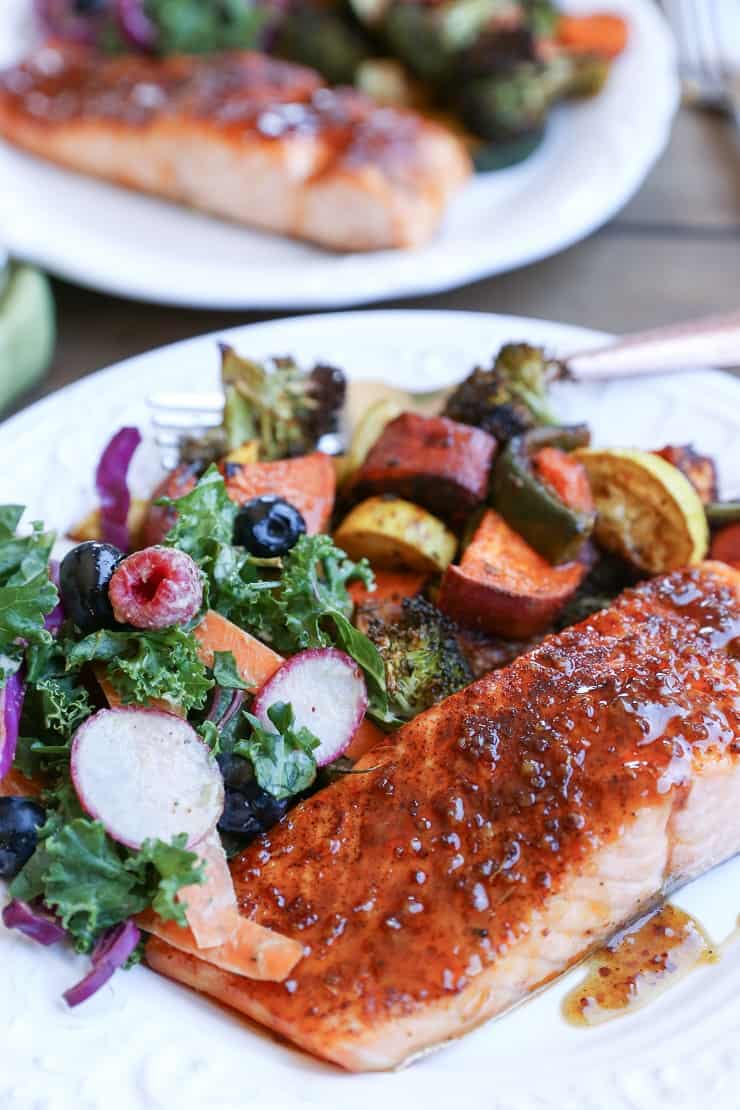 Salmon Bowls with Pesto Spaghetti Squash – A delicious meal that's perfect for anyone who loves a clean meal, these salmon bowls include spaghetti squash tossed in pesto sauce with sautéed vegetables. These bowls can be prepared year-round with seasonal produce.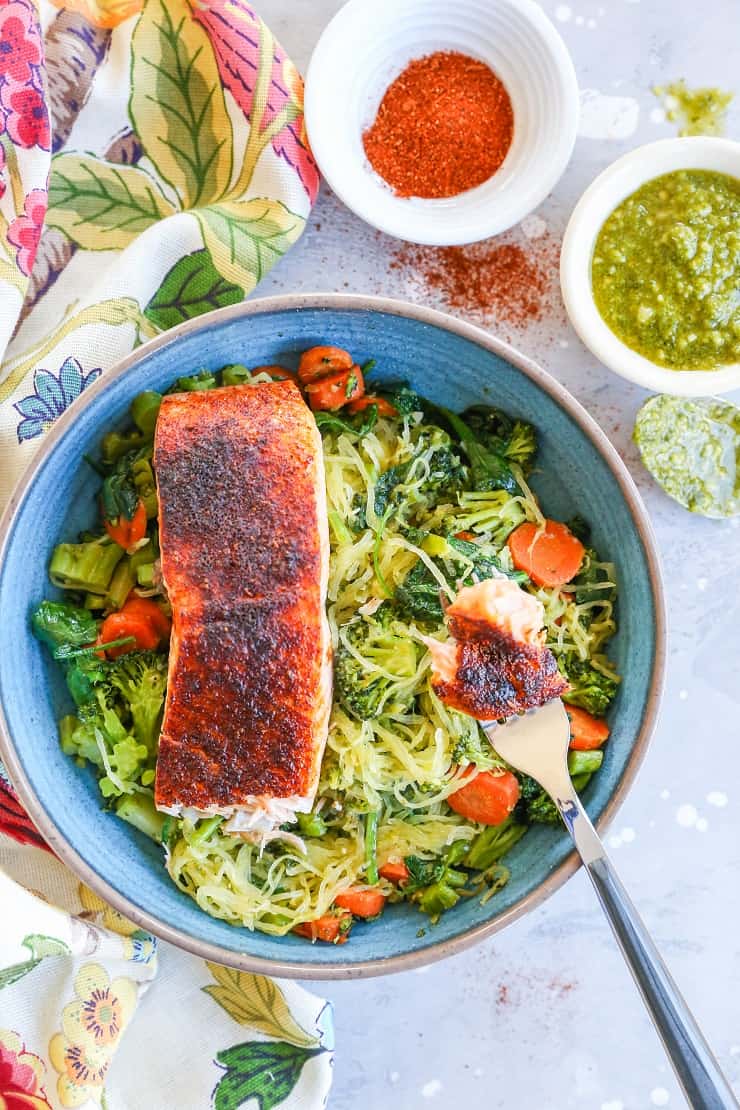 Mushroom and Spinach Stuffed Salmon – An easy dinner for an absolutely show-stopping delicious main dish! This seemingly fancy dinner is ideal for entertaining guests but is also easy enough to make on any busy weeknight! Serve it up with your favorite side dishes for an unforgettable meal.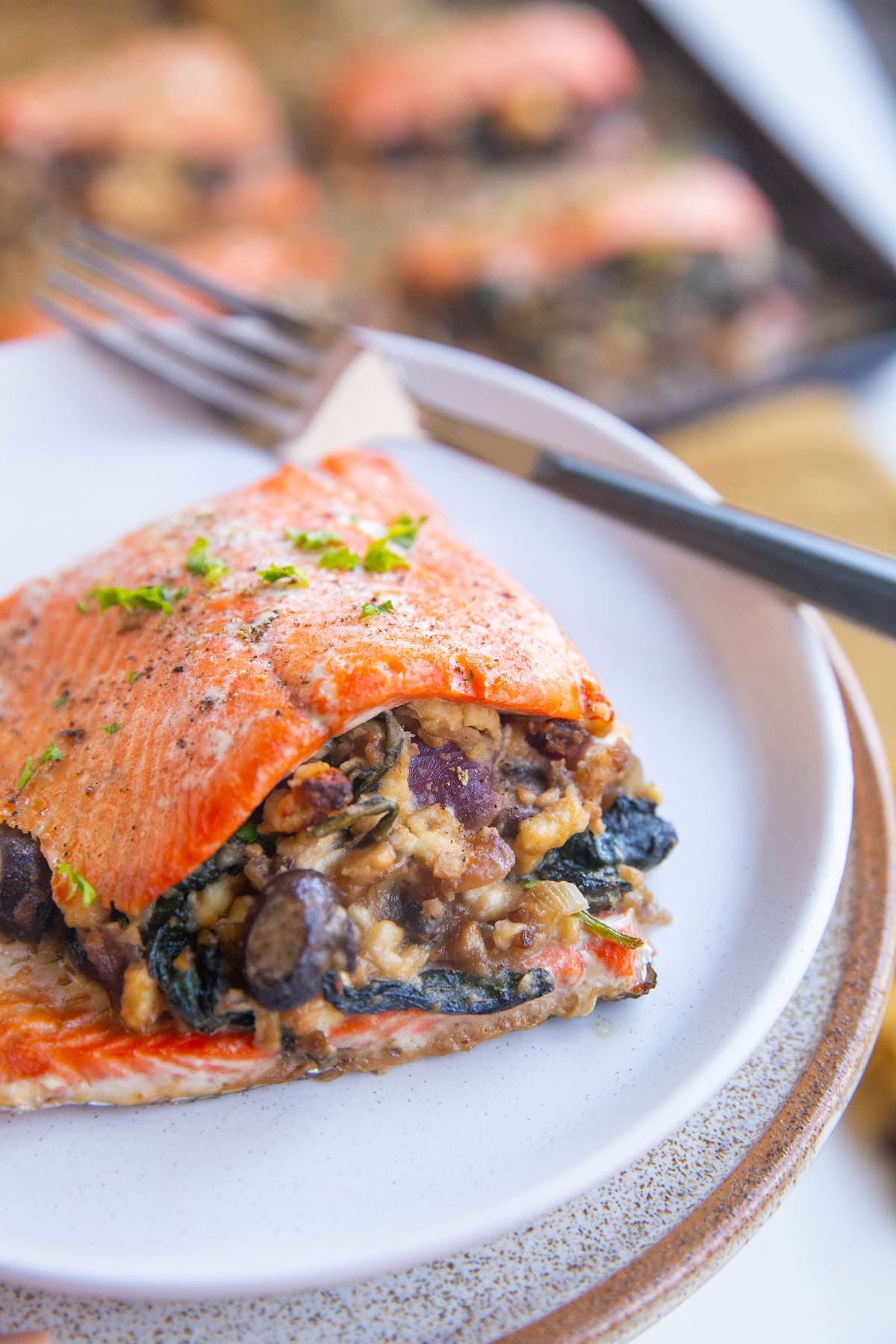 Baked Salmon Power Bowls with Blueberry Salsa – Superfood Baked Salmon Power Bowls with Blueberry Salsa and forbidden rice is a balanced, nutrient-dense dinner recipe that is fresh and light yet satiating! This beautiful power bowl recipe makes for an amazing summer dinner. Recipe post includes both baking and grilling instructions for preparing the salmon.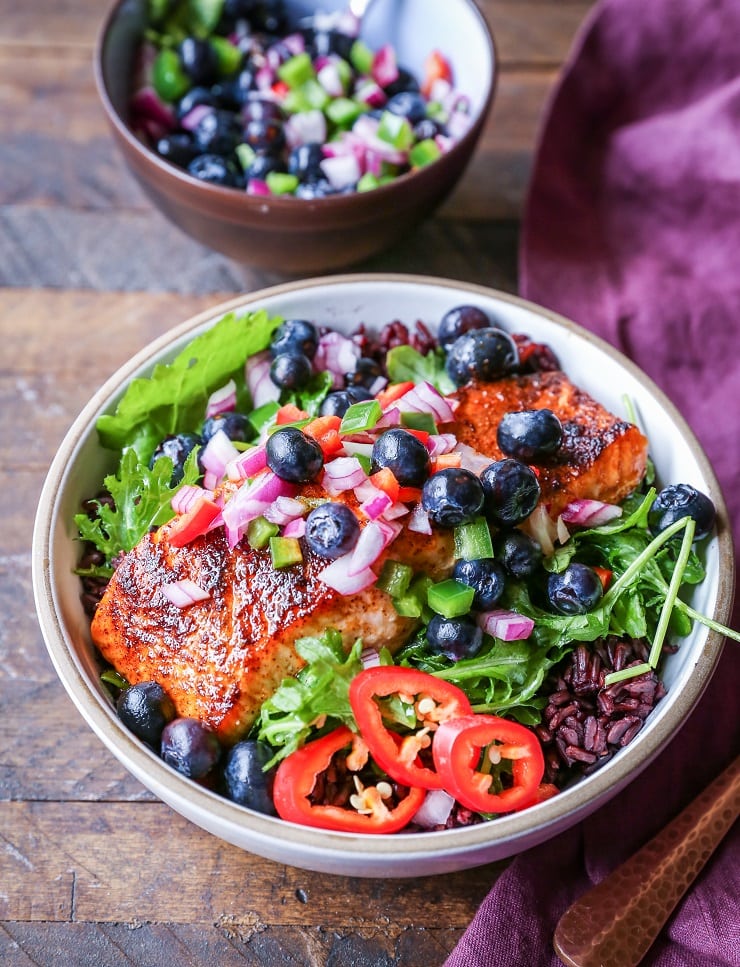 Almond Crusted Salmon – Crispy on the outside, moist and tender on the inside Almond Crusted Salmon made with only a few basic ingredients. This easy recipe is paleo, keto, whole30, and mouth-wateringly delicious!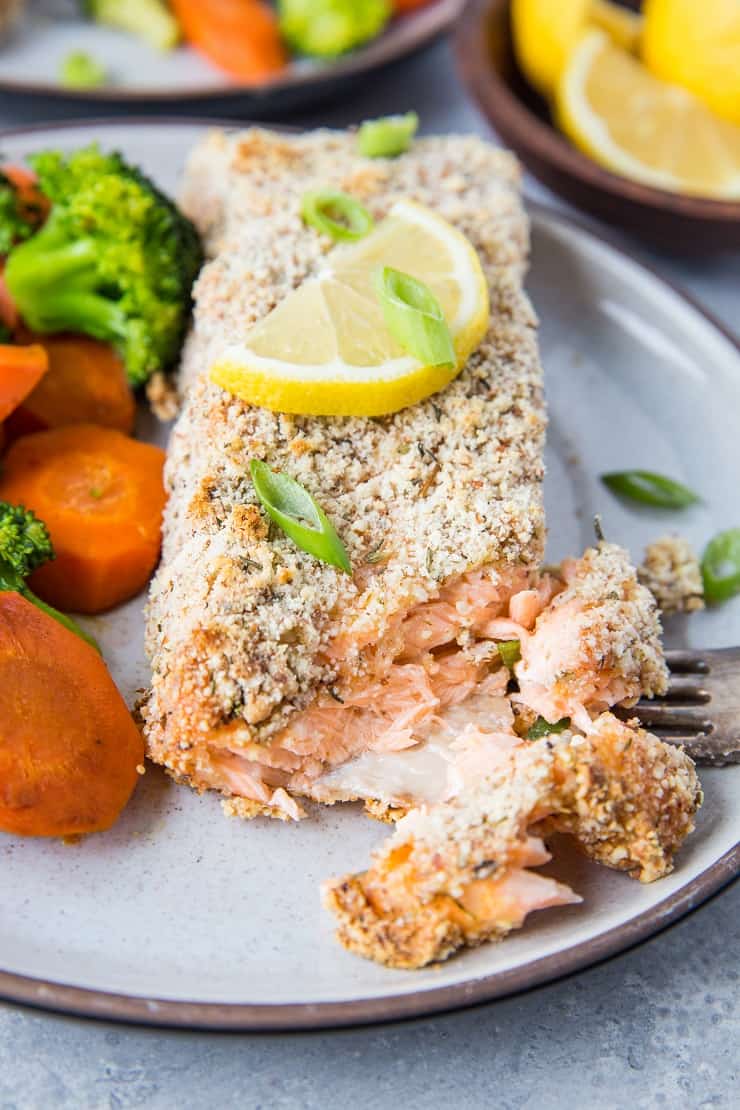 Salmon Tacos with Slaw and Chipotle Lime Sauce – Change up Taco Tuesday with these amazing Salmon Tacos with cabbage slaw, chipotle lime sauce, and avocado!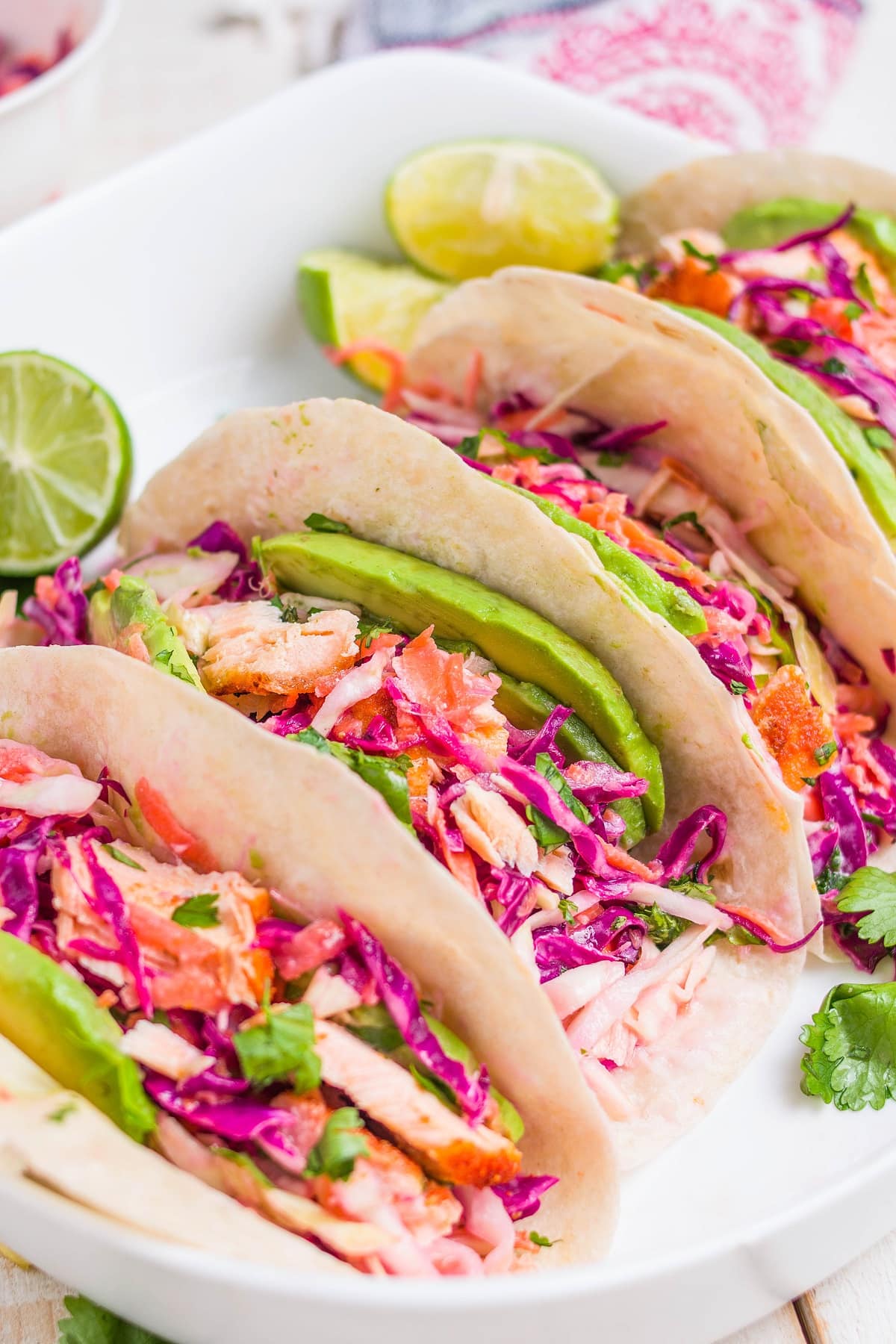 Crispy Jamaican Jerk Salmon with Mango-Basil Vinaigrette makes for a vibrant, well-balanced meal full of sweet and savory flavors. A colorful, delicious healthy dinner recipe that will knock your socks off!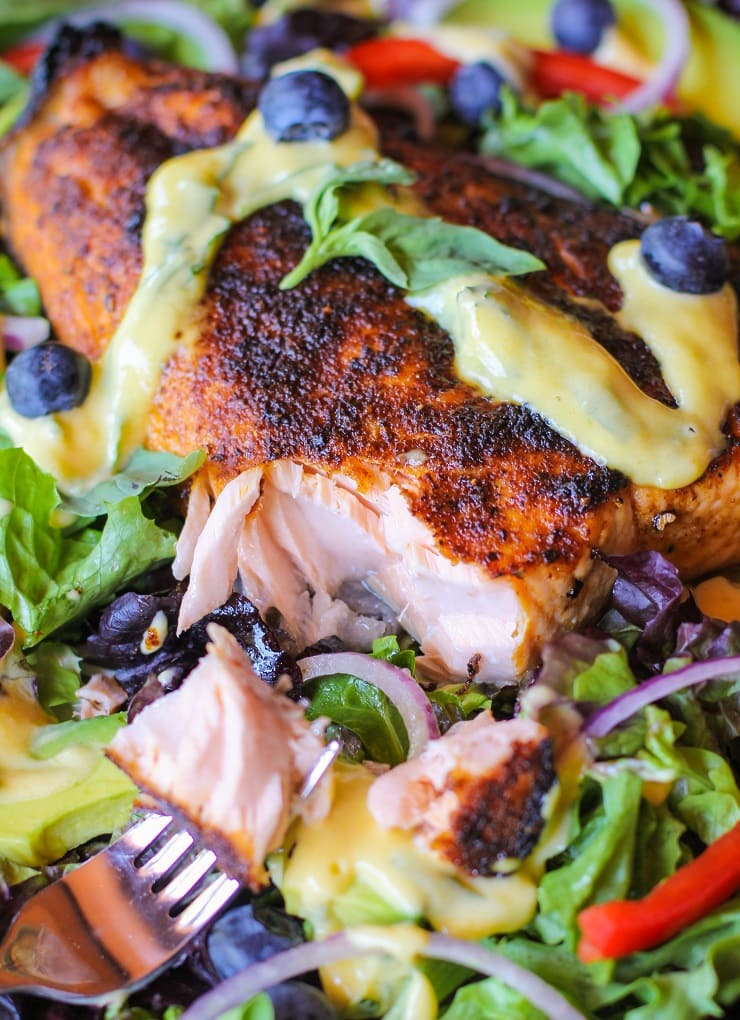 Now that we've been drooling over all of these healthy salmon recipes, let's discuss the health benefits of salmon!
Nutrition Information for Salmon:
The exact macronutrient content of salmon fillets depends on the type of salmon. For instance, King salmon and Atlantic salmon are very fatty fish, whereas sockeye salmon is rather lean and has lower fat content.
A 6 ounce portion of cooked King Salmon contains 393 calories, 23 grams of fat and 44 grams of protein. Included in the fat breakdown is 4 grams of omega-3 fatty acids.
One six-ounce cooked sockeye salmon filet contains 265 calories, 10 grams of fat and 45 grams of protein. 1.8 grams of the 10 grams of fat in sockeye salmon is omega-3 fats.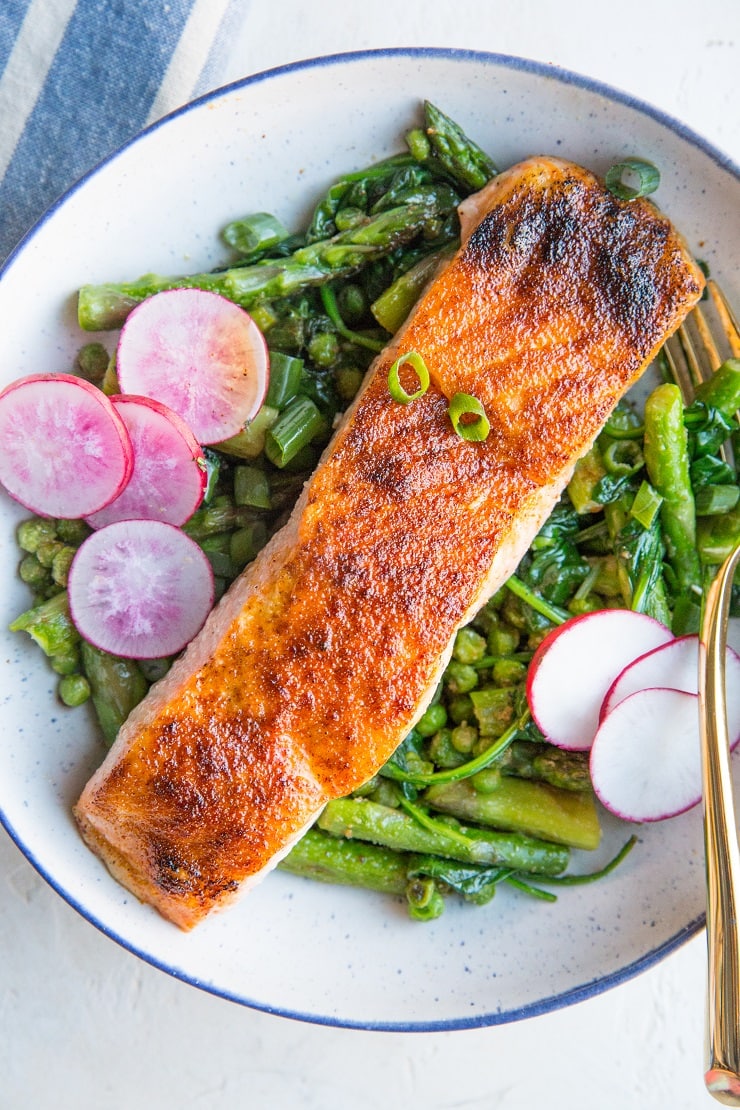 In this sense, you can see the fat and calorie breakdown varies between different varieties of salmon.
Sockeye is the lowest in calories and proportionally the highest in protein, but also contains the lowest about of omega-3 fats, which is where King salmon reigns.
Famous for its content of omega 3 fatty acids, salmon is the richest source of omega-3s per weight.
​Although Atlantic Salmon has very high fat content, is higher proportionally in omega 6 fats than its wild salmon counterpart.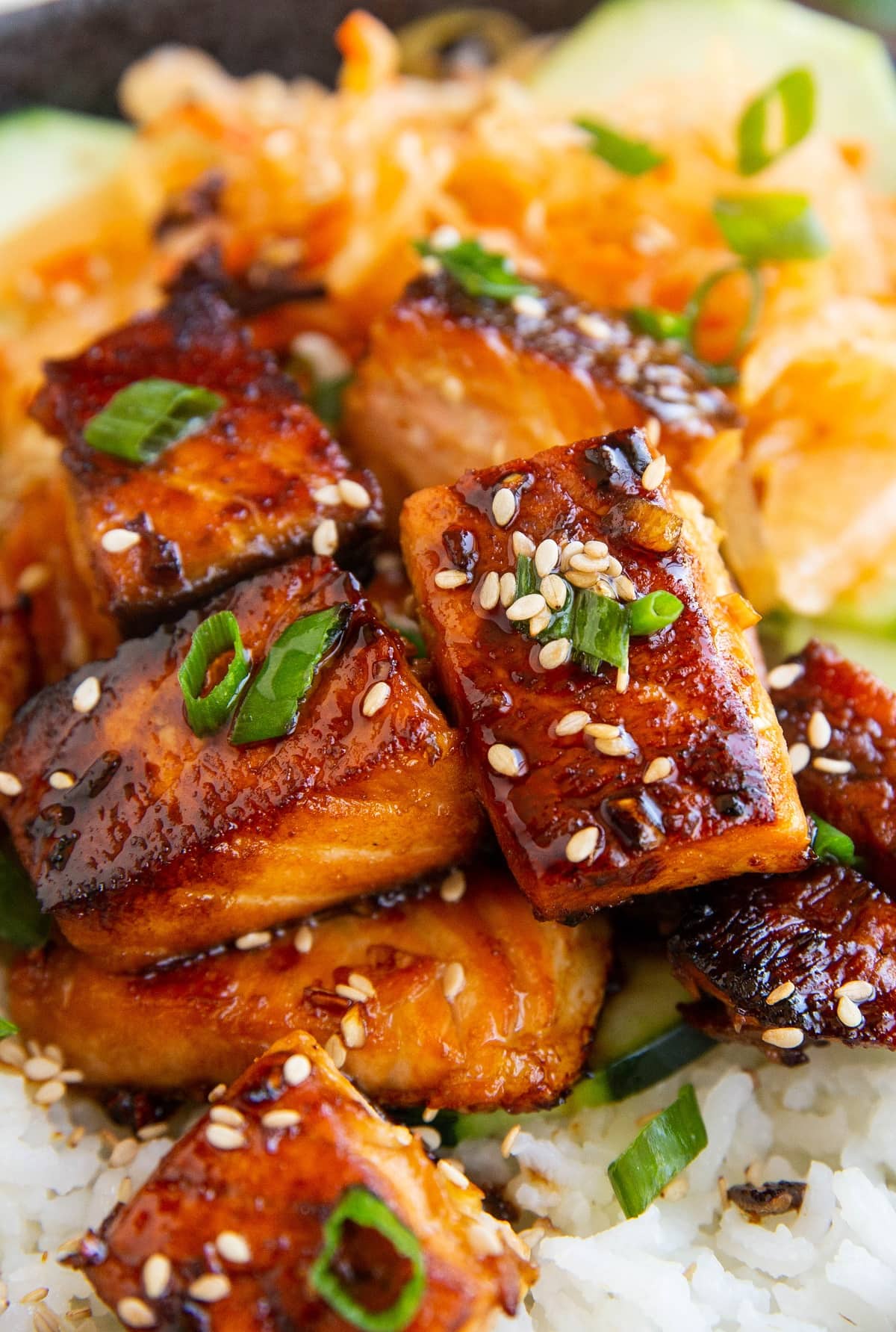 I personally find the fattier cuts of salmon to be my favorite due to the extraordinary amount of flavor and moist, tender texture. Plus, more fat next to the skin equates to crispier salmon skin, which is a significant portion of the reason I love salmon so much.
Omega-3 fats are known to reduce overall cholesterol and increase the ratio of HDL to LDL cholesterol so that it favors good cholesterol.
Omega 3s are incredible for brain health, immune function, and also provide aesthetic benefits to skin and hair.
There is a strong correlation between high doses of EPA (2 grams daily) and positive mental health. For this reason, I take fish oil pills daily in spite of the fact that I also eat fish multiple times per week.
Check the fish counter at your local grocery store to see which varieties are available.
Final Cooking Temperature for Salmon:
The FDA considered salmon to be fully cooked once it has reached an internal temperature of 145 degrees F or higher.
That said, many people prefer their salmon medium-rare and cook it to 125 degrees F. For tender salmon, be sure the salmon cooks to somewhere between 125 and 150 degrees Fahrenheit. Use your judgment and personal preference when determining what temperature to cook your salmon to.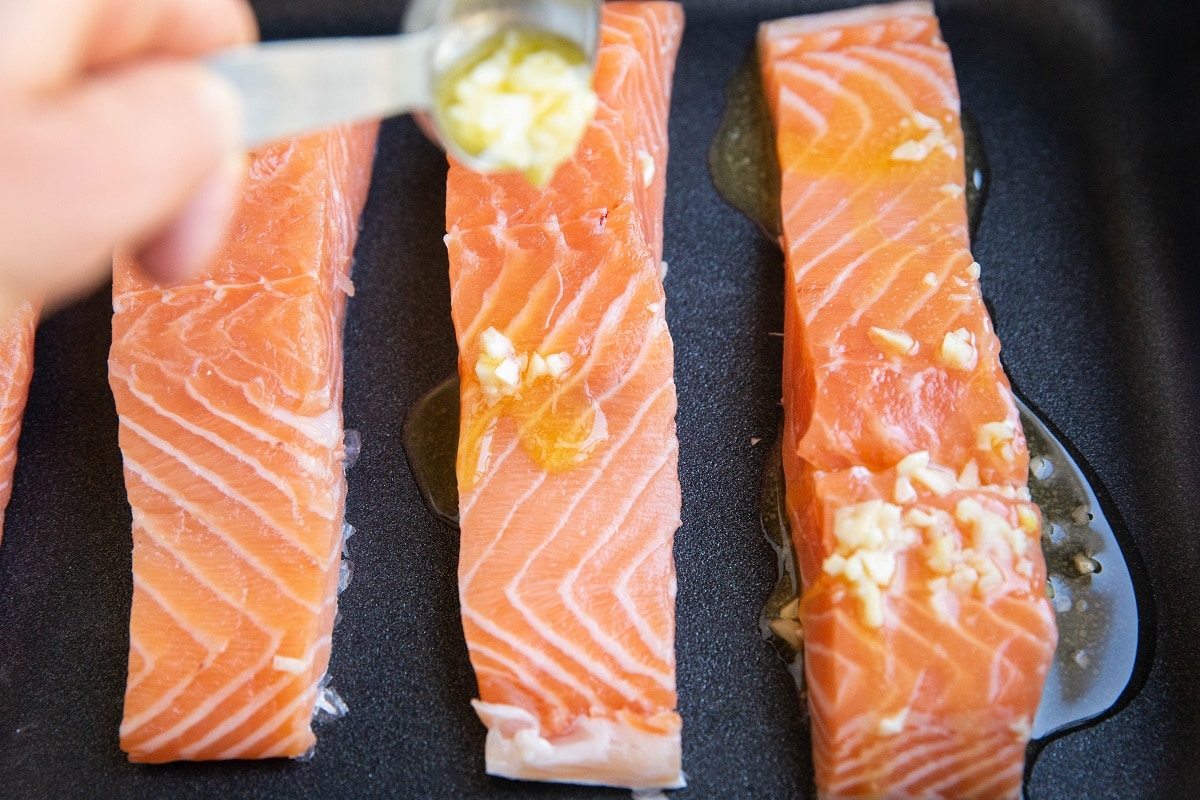 As always, for the best results, be sure to use a digital thermometer to achieve your desired outcome.
How to Store Leftover Salmon:
Store leftover salmon in an airtight container in the refrigerator for up to 3-4 days. Salmon is best when served fresh but it can also be saved for a short period of time for meal prep recipes.
​And there you have it! All sorts of cooking methods for preparing all types of salmon.
Drop a comment below letting me know which one(s) you try!
This post contains affiliate links, which means I make a small commission off items you purchase at no additional cost to you.