Crispy Jamaican Jerk Salmon with Mango-Basil Vinaigrette makes for a vibrant, amazing well-balanced meal full of sweet and savory flavors. A colorful, delicious healthy dinner recipe.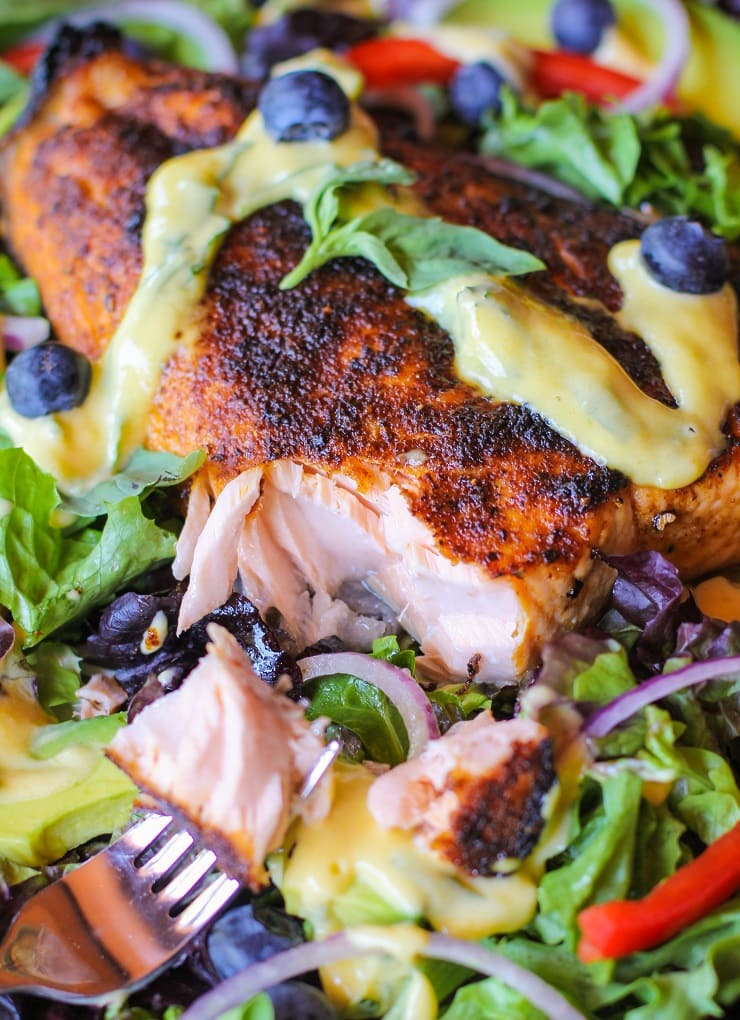 What if I told you this is the best meal I've eaten in I don't know how long?
Crispy spiced salmon with spring greens and avocado, tied together with sweet mango-basil vinaigrette?
A meal that takes no more than 30 minutes to prepare? I'm almost at a loss for words.
Almost.
Crispy salmon bits.
There, I said it
Oh my, I'm obsessed!
As you all know, I'm a big lover of sea dwellers, but what you may not know is I'm certifiably crazy over crispy salmon skin.
The salmon skin hand roll at sushi restaurants? The best ever. The crispy fatty bits crunch like no other crispy morsel and melt in your mouth in fatty deliciousness.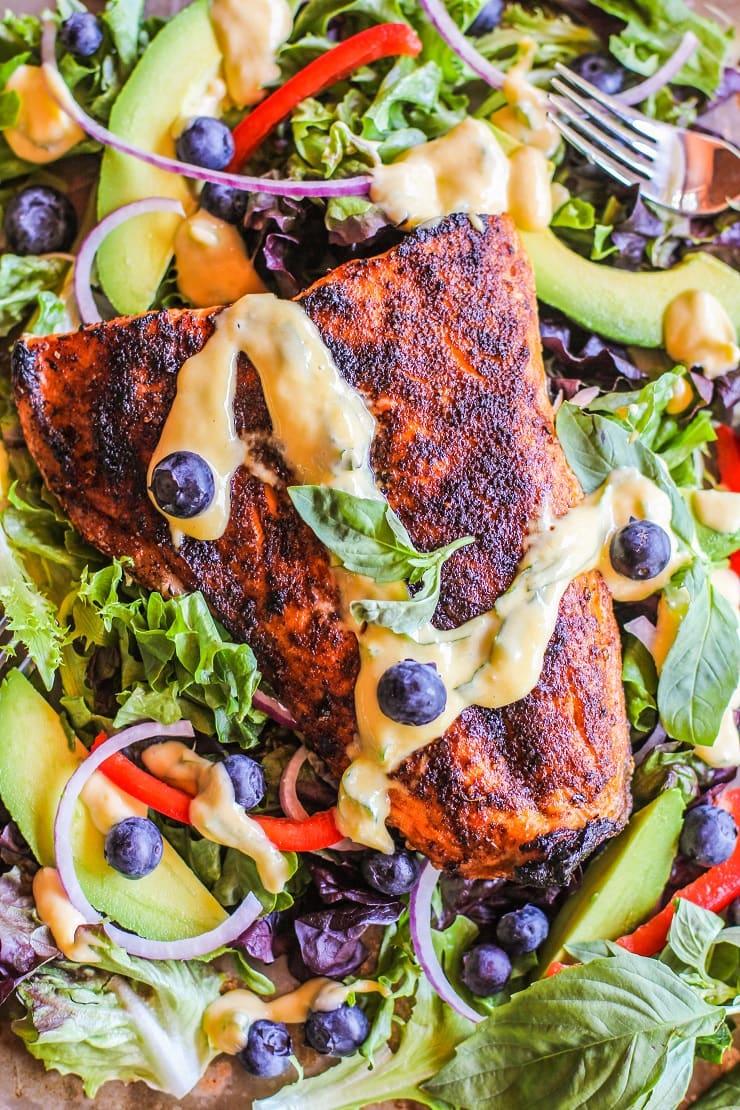 My trick for getting both the flesh and the skin of the salmon all crispy is by broiling it on high in the oven. You may have seen this method in my Go-To Crispy Salmon Recipe.
Works like a charm each and every time! The fish turns out crispy around the outside and super moist and tender on the inside.
PLUS, you don't need to marinate it – all you need is a spice blend and some oil and BAM: dinner in 15 minutes.
What is Jamaican Jerk?:
If you've seen this term used but aren't sure what it is, I've got you. Jerk-style cooking involves a simple combination of spices. The protein is often marinated in said spices then grilled, smoked, slow cooked, or roasted.
You can see this method at play in my Instant Pot Jamaican Jerk Chicken recipe.
Jerk seasoning is a combination of garlic powder, onion powder, cayenne pepper, thyme, sugar, salt, paprika, all spice, cinnamon, black pepper, and ground nutmeg. It may seem like a ton of spices, but it yields an amazing flavor, which can be used on just about any meat!
The Mango-Basil Vinaigrette:
Moving on to the mango-basil dressing.
I had a very ripe mango in my refrigerator along with some basil that needed to be used up before it expired in like 10 seconds (you know how basil is…one minute it's all perky and spry, the next moment it's all flaccid and…neverminded).
Remembering Teighan's post from last week, where she made a peanut-chili-mango-basil hootenanny for her Very Berry Dream Salad so I used her dressing recipe as inspiration for my own mango-basil adventure.
With a few alterations, (I omitted the peanut butter and the chili), I was left with this sweet, tropical, creamy dressing that wowed my face off.
Let's be honest, I wanted to stick a straw in it and drink it like a smoothie, no joke.
I've been envisioning using it as a meat marinade or dressing for a grain salad or potato salad. Can you imagine the possibilities?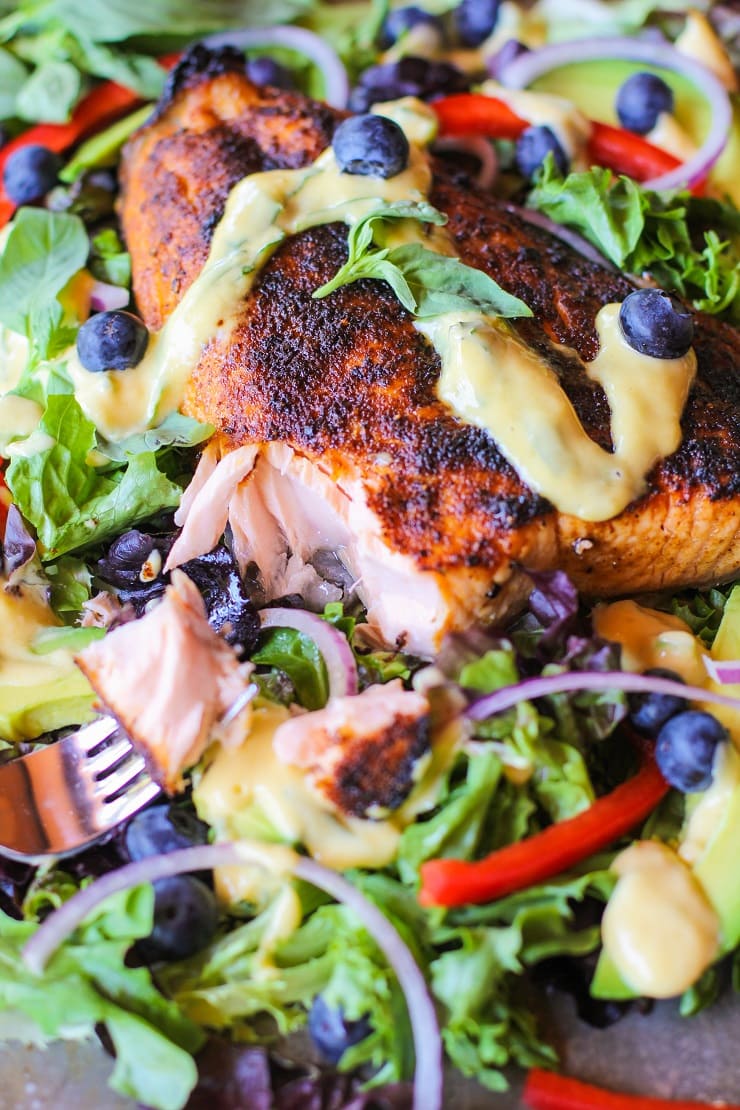 Ingredients for Jamaican Jerk Salmon Salad:
For the Salmon: We need fresh salmon, jerk seasoning and a little bit of cooking oil.
The Salad: Spring greens, red onion, avocado and blueberries! You can mix up the salad add-ins to your heart's delight.
For the Vinaigrette: Fresh mango, olive oil, red wine vinegar, coconut milk, ginger, garlic, and fresh basil.
You'll end up with far more Mango Basil Vinaigrette than you need, which is great news because you'll be able to use it for your future salads and culinary adventures.
Case in point: Crispy yet tender bites of salmon seventh heaven, creamy dreamy tropical dressing of bliss, and a meal to remember! It's time to feast!
If you love this salmon recipe, also try my Greek Salmon Salad and my Teriyaki Salmon!
The crispy fatty bits, though..
Crispy Jamaican Jerk Salmon with Mango-Basil Vinaigrette
Crispy Jamaican Jerk Salmon with Mango-Basil Vinaigrette may just be the most flavorful salmon salad you've ever made!
Ingredients
Mango-Basil Vinaigrette:
1

large ripe mango

peeled and chopped

2

cloves

garlic

minced

1-

inch

piece fresh ginger

peeled and grated

¼

cup

olive oil

¼

cup

red wine vinegar

2

teaspoons

pure maple syrup

1/2

teaspoon

sea salt

to taste

½

cup

fresh basil

chopped
For the Salad:
5

ounces

Spring greens

chopped

½

red bell pepper

cut into matchsticks

1

ripe but firm avocado

peeled and sliced

¼

red onion

thinly sliced

½

cup

fresh blueberries
Jamaican Jerk Salmon:
1

pound

salmon fillet

1

tablespoon

avocado oil or olive oil

1

tablespoon

Jamaican Jerk spice *

see note
Instructions
Prepare the Mango-Basil Vinaigrette:
Add all ingredients for the vinaigrette except for the basil to a high-powered blender (I used my Magic Bullet). Blend until completely smooth. Transfer to a jar and stir in the chopped basil. Refrigerate until ready to use.
Prepare the Salad:
Add all ingredients for the salad to a large serving bowl and toss together.
Perpare the Jamaican Jerk-Spiced Salmon:
Place your oven on the high broil setting and move one of the racks to the top shelf.

Place salmon fillet in a large casserole dish and drizzle with oil. Use your hands to be sure the whole fillet is evenly coated.

Sprinkle the Jamaican jerk spice over the salmon fillet and very gently rub into the salmon to ensure the whole fillet is evenly coated in oil and spice.

Place on the top shelf under the preheated broiler and broil for 10 to 15 minutes (depending on size of fillet. A fillet less than 1-inch thick should only take 10 to 12 minutes). Note: Keep the oven light on to ensure the salmon does not catch fire - while this has never happened to me, it is possible for food to ignite when it's under the broiler.

Remove salmon from oven and serve with salad and mango-basil vinaigrette.
Notes
*You can use store-bought Jamaican Jerk spice or you can make your own blend by following this recipe from Cooking Light
Nutrition
Serving:
1
Serving
|
Calories:
483
kcal
|
Carbohydrates:
18
g
|
Protein:
33
g
|
Fat:
31
g
|
Fiber:
6
g
|
Sugar:
11
g