Crispy honey-glazed salmon with roasted vegetables and kale salad makes for a clean and satisfying meal perfect for any night of the week! Honey Mustard Salmon is quick and easy to make and requires so little effort!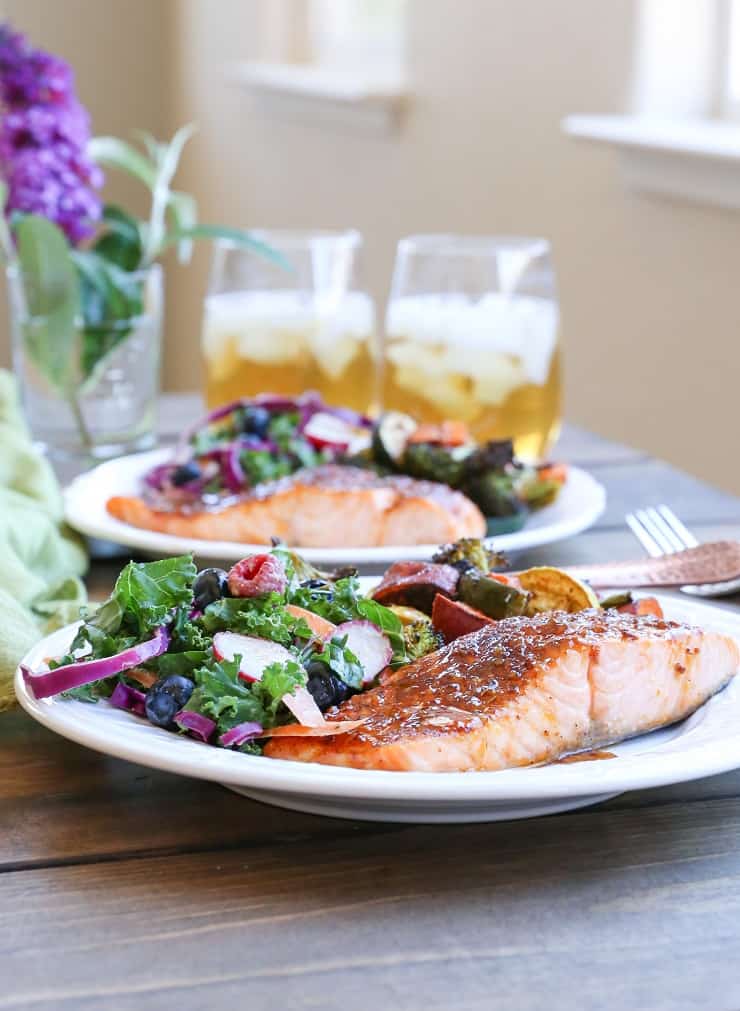 After I went to Cordova, Alaska last year to visit Copper River Salmon, I think of Alaska every time I make salmon.
I think about the beautiful landscape, the people I met on the trip, and I recall the big picture: to know your fisherman, and to source wisely.
In case you're new to The Roasted Root, or you missed the trip recap, feel free to read Part One and Part Two to learn more about my trip, Copper River Salmon and the fishing industry, then circle right on back to this post.
My experience in Cordova, Alaska was incredibly valuable for me. When salmon season started back up again in May, all I could think about was getting back to Alaska.
Alas, life (and work) has a tendency to put a hold on things, so I won't be able to return this year. So in the meantime?: I dream, I reminisce, I source salmon wisely, and consume gratefully.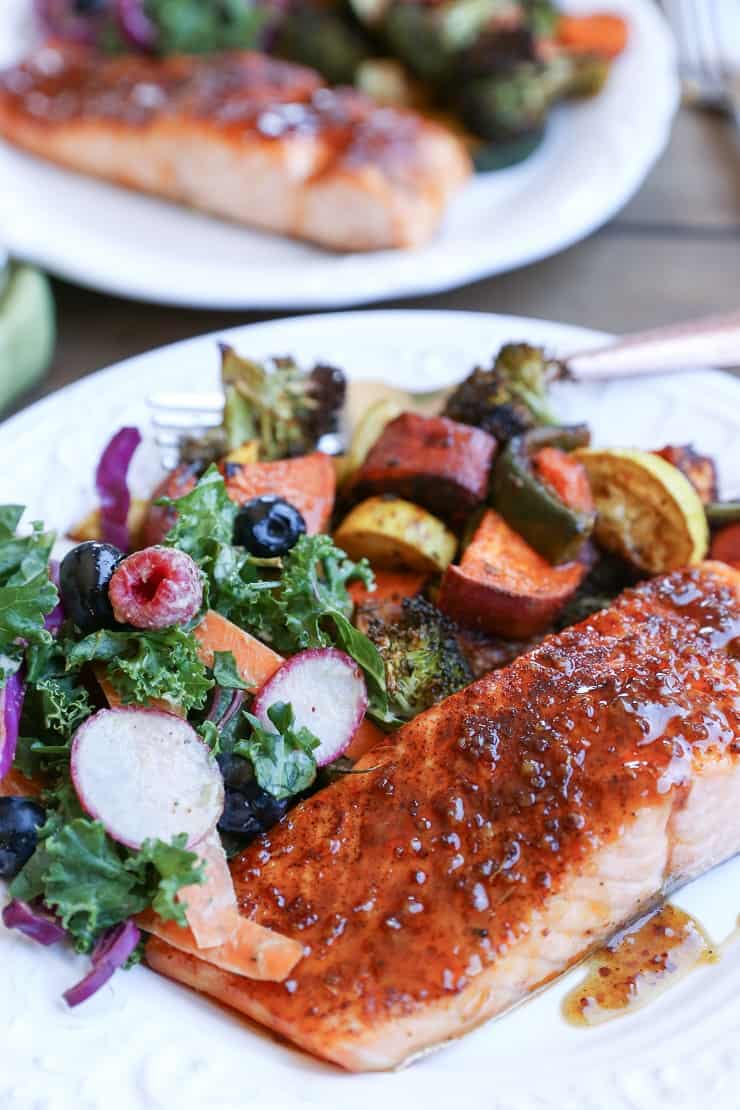 Crispy salmon is like crack for me.
There's just something about a fatty cut of King salmon, broiled to perfection that sends the ultimate pleasure signals to my brain.
I can't think of any other animal protein more satisfying!
If you follow my Instagram stories (or are a seasoned reader of this blog) you know I love broiling salmon with just a few simple spices on top to achieve that optimal crisp.
Although I normally just broil salmon with some olive oil and spices on top for a quick and easy go-to, I recently started making glazes for the salmon (queue your gasp of surprise), which I add once the salmon is almost finished cooking.
This honey mustard salmon recipe is my latest obsession!
The honey mustard combination works like a charm (as does a maple-balsamic), giving sweet yet tangy flavor.
All I did was combine a little honey with olive oil and stone ground mustard to up the ante on this meal.
Here's how it all plays out:
How to Make Honey-Glazed Salmon:
Place salmon fillets on a parchment-lined baking sheet and turn your oven onto the high broil setting. Sprinkle the salmon fillets with paprika, onion powder, garlic powder, sea salt, and dried oregano.
In a bowl, stir together the ingredients for the glaze and set it aside.
Place the salmon on the second to the top shelf in the oven and broil for about 6 to 8 minutes, until you can see the fat start to seep out and the fish begins turning golden-brown on top.
Remove the salmon from the oven and drizzle on the glaze.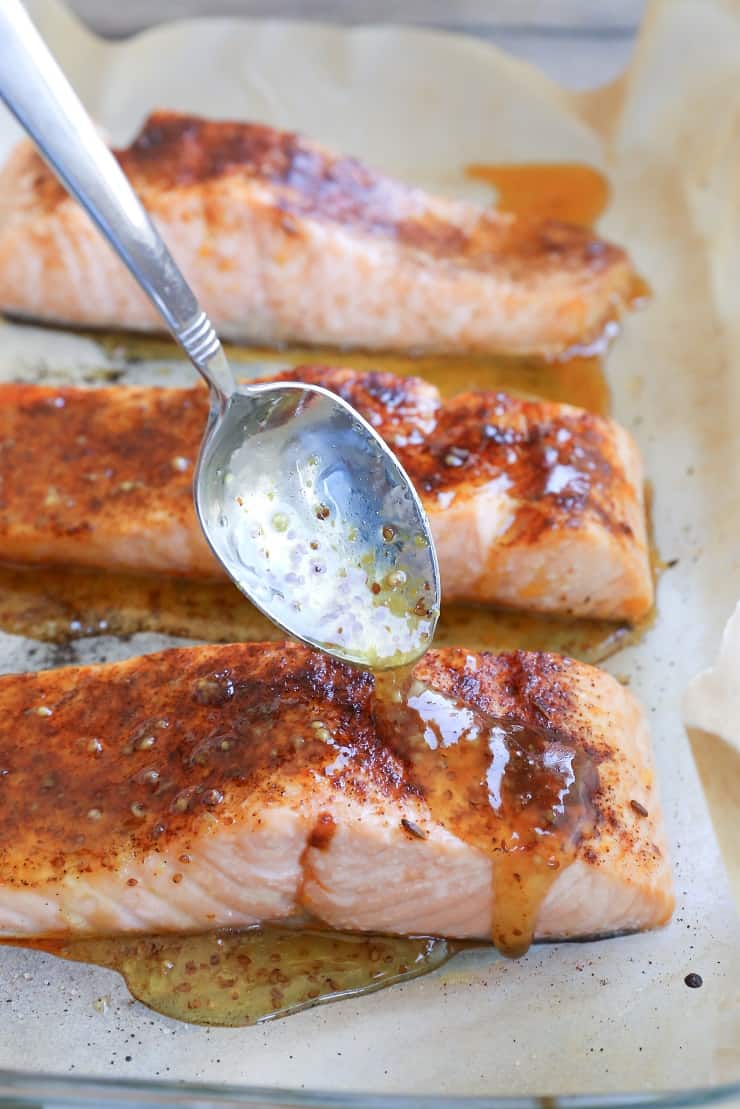 Continue broiling for another 2 to 4 minutes, or until the salmon is cooked through. The end result is a super crispy, perfectly glazed salmon with amazing flavor.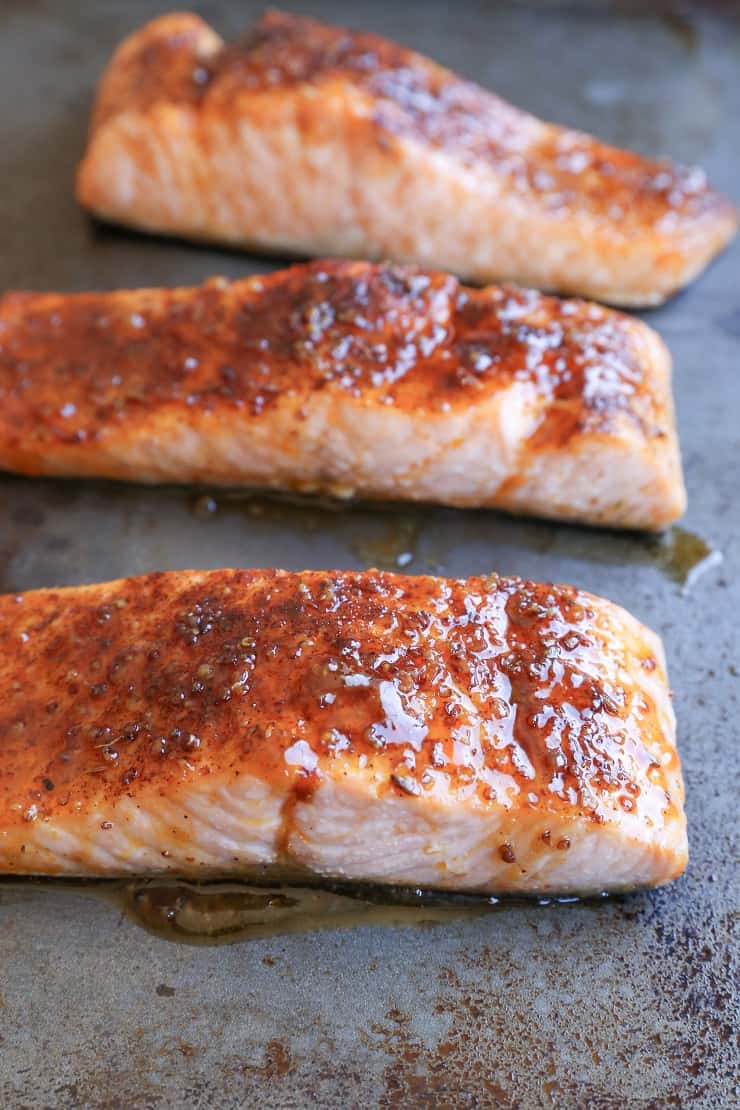 Serve with crowd-pleasing roasted vegetables and kale and blueberry salad with vegan buttermilk dressing! BOOM!: an essential meal for your life!
One last directive and then I'll let you be free: Remember to keep a lookout for Copper River Salmon at your local grocery store, or simply talk to the guy or gal behind the seafood counter to get more information about where the products are sourced.
My cookbook,
Paleo Power Bowls
, is now available! CLICK HERE to check it out. Thank you for your support!
If you make this recipe, please feel free to share a photo and tag me at @The.Roasted.Root on Instagram!
Honey Glazed Salmon
Easy honey-glazed salmon is mouth-wateringly tasty and so easy to make!
Ingredients
For the Salmon
Instructions
Stir together the ingredients for the glaze in a small bowl until well combined. Set aside until ready to use.

Preheat your oven to the high broil setting and lightly oil or spray a baking sheet or casserole dish.

Stir together the paprika, garlic powder, onion powder, dried oregano and sea salt in a small bowl. Place the salmon in the prepared dish and drizzle with olive oil. Use a brush (or your fingers) to spread the oil over the full surface of the fish. Sprinkle the spice mixture over the salmon, creating an even layer of spice.

Place the sheet of salmon on the second-to-the-top shelf in the oven under the broiler. Broil for 6 to 8 minutes (depending on thickness of fish!). Remove salmon from the oven and drizzle with the glaze mixture. Place salmon back in the oven and broil an additional 2 to 4 minutes, or until salmon is golden-brown and cooked through.
Notes
*honey can be replaced with pure maple syrup.
To make this recipe low-FODMAP, use pure maple syrup instead of honey, and omit the garlic powder and onion powder (you can use any other spice or dried herb for replacement if you'd like)
Nutrition
Serving:
1
of 3
|
Calories:
300
kcal
|
Carbohydrates:
6
g
|
Protein:
31
g
|
Fat:
17
g
|
Sugar:
5
g