Make-ahead holiday breakfast recipes that are quick, easy, nutritious, and crowd-pleasing. This roundup of breakfast recipes will please the whole family and make breakfast prep a breeze!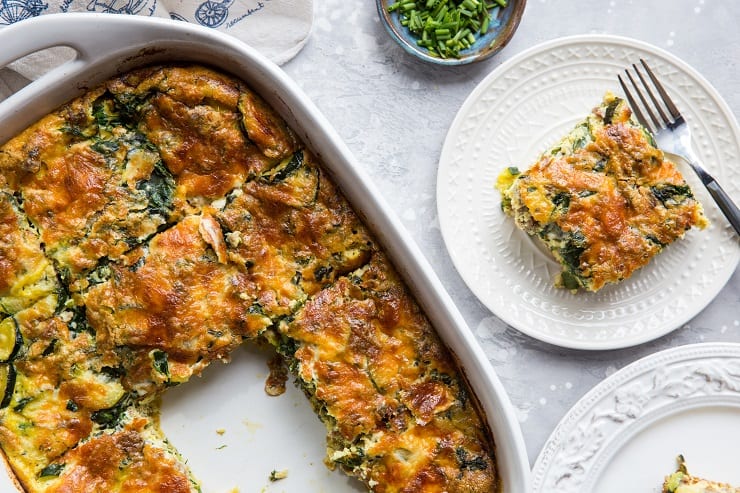 Between entertaining guests and family, travel, wrapping up end-of-year work projects, and the general stress of the holidays, this season is a crazy time of year! For this reason, I have compiled 15 of my favorite make ahead holiday breakfast recipes to take the edge off of cooking and to ensure you have your bases covered for the most important meal of the day.
When we think of holiday season, we typically think of side dishes, main dishes and desserts, but after talking to my friends about their holiday traditions and observing how my own family behaves, I think easy breakfast recipes during the holidays don't get enough attention.
These recipes are all gluten-free, and I have included vegan and paleo options as well as both sweet and savory options. So without further adieu, let's dive into some of the classics from the blog that can be easily made ahead of time and reheated (or served cold)!
1.) Sweet Potato, Sausage, and Kale Breakfast Casserole
A hearty, filling egg casserole that can easily be adapted to include any of your favorite vegetables or breakfast meats. Leave out the cheese to keep it dairy-free!
2.) Spinach Frittata with Zucchini, Sun-Dried Tomatoes, and Goat Cheese
An easy frittata recipe made quickly in your cast iron skillet! This simple recipe is jam packed with flavor and can easily be adapted to fit special diets or tastes.
Grain-free (paleo-friendly) pancakes made in a sheet pan! Make a whole batch of pancakes in one shot by baking them in the oven. You can use cookie cutters to cut out shapes for kids, and the pancakes can easily be made ahead of time and reheated.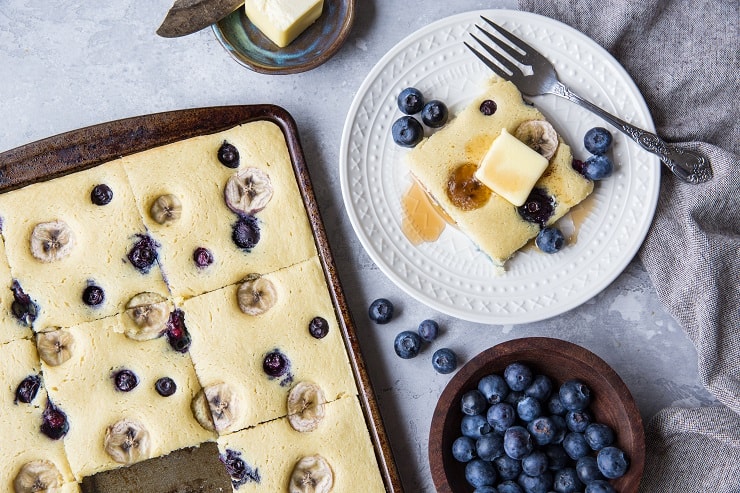 Overnight oats made festive using eggnog! Make the recipe using store-bought or homemade eggnog for a deliciously creamy and fun approach to oatmeal that can be made in a small or large batch ahead of time. Make it vegan by using homemade Vegan Eggnog!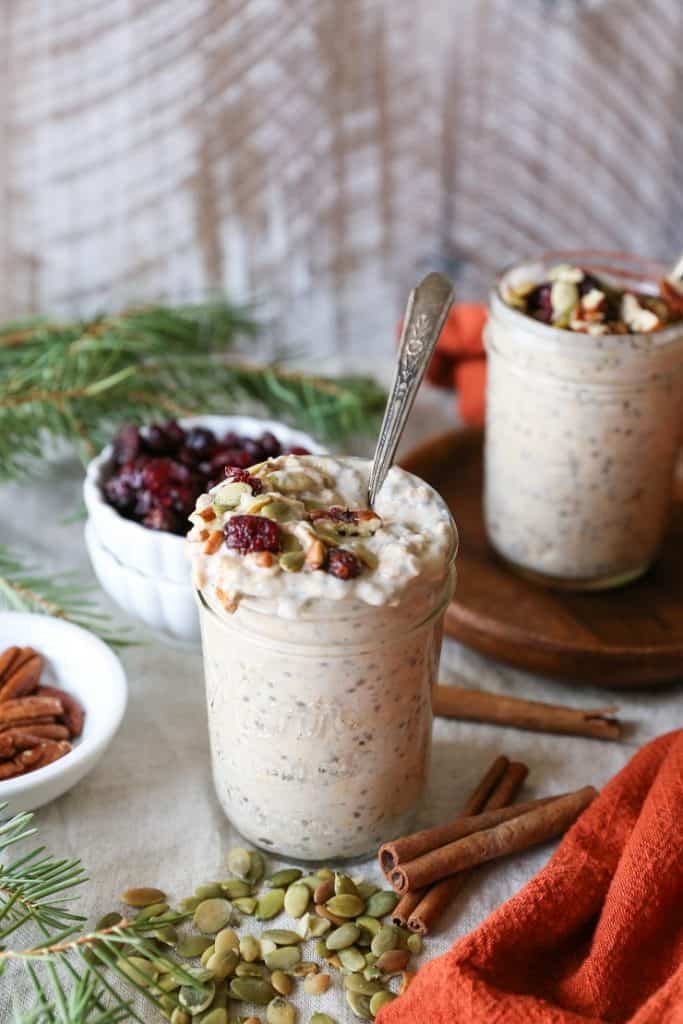 5.) Vanilla Chai Overnight Oats
If you and your family love warm flavors like vanilla and cinnamon, you'll go bonkers over Vanilla Chai Overnight Oats! Make it up to 5 days ahead of time and eat on it throughout the week!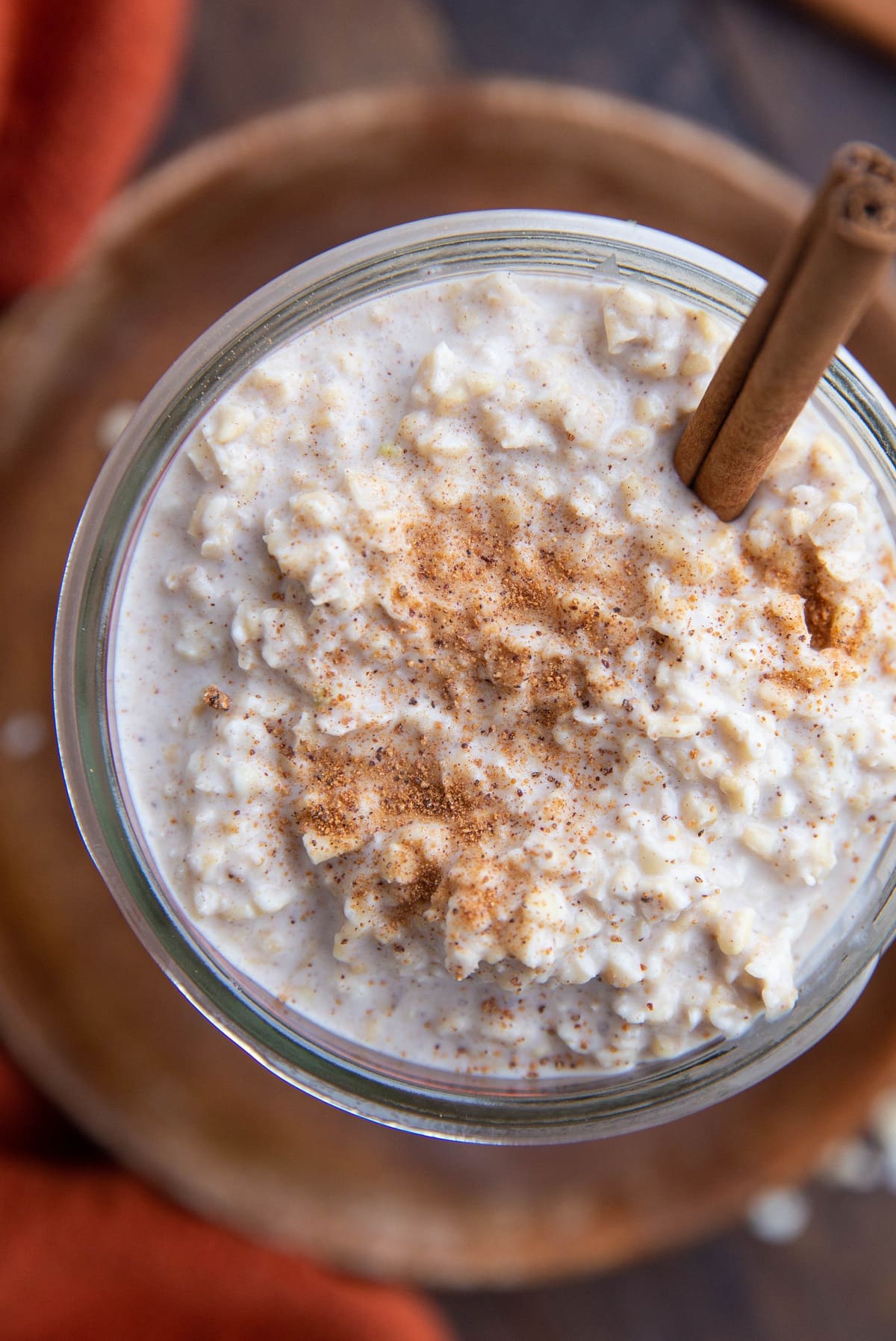 6.) Maple Bacon Butternut Squash Hash with Spinach
A nutritious breakfast hash made with butternut squash and spinach. This warmly-spiced hash with crispy bacon is quick to prepare at a moment's notice, but can also be made up to 5 days ahead of time, stored, and reheated. Swap sausage for the bacon if desired!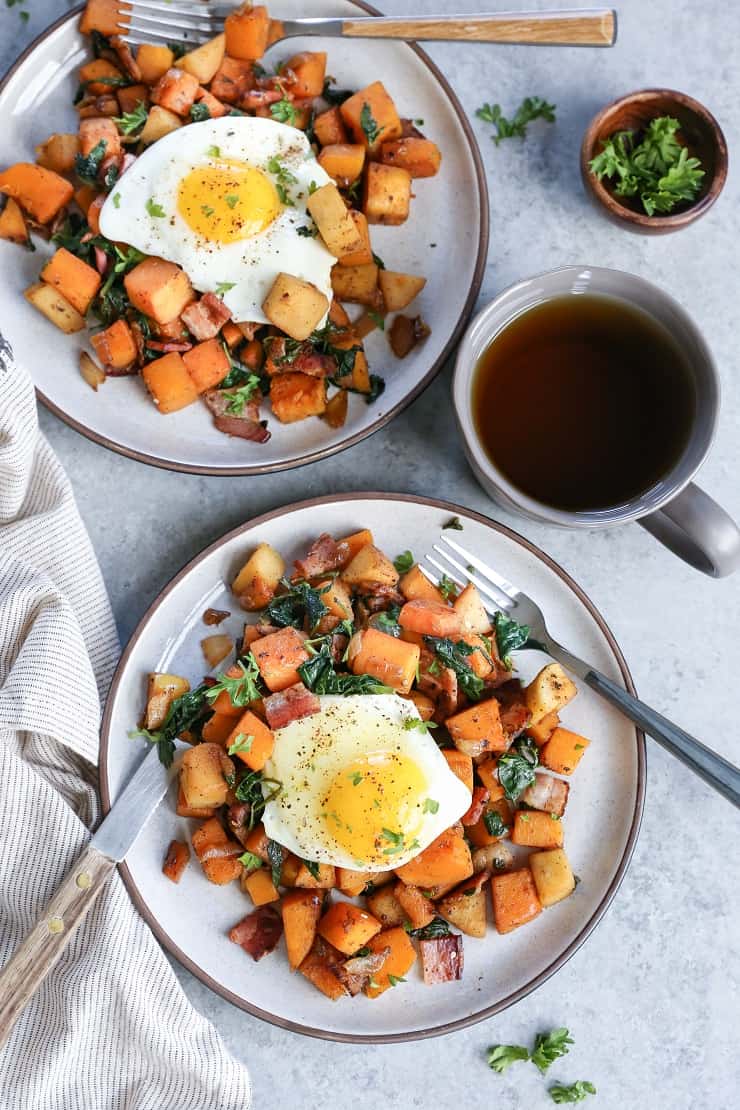 Roast pumpkins and create a build-your-own breakfast bowl bar for your friends and family. Use any toppings you like, or follow the exact recipe in the post. Pumpkins can be roasted up to 5 days in advance.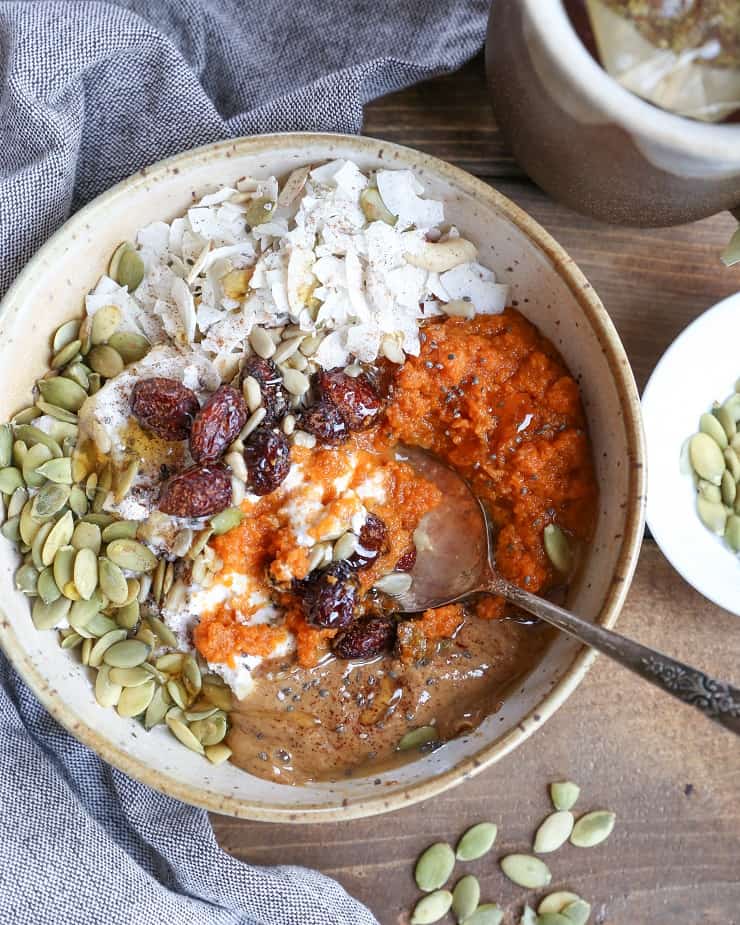 These grain-free gingerbread muffins are packed with holiday cheer! They are a great go-to for breakfast on-the-go or snack. Bake up a batch and serve them for days on end!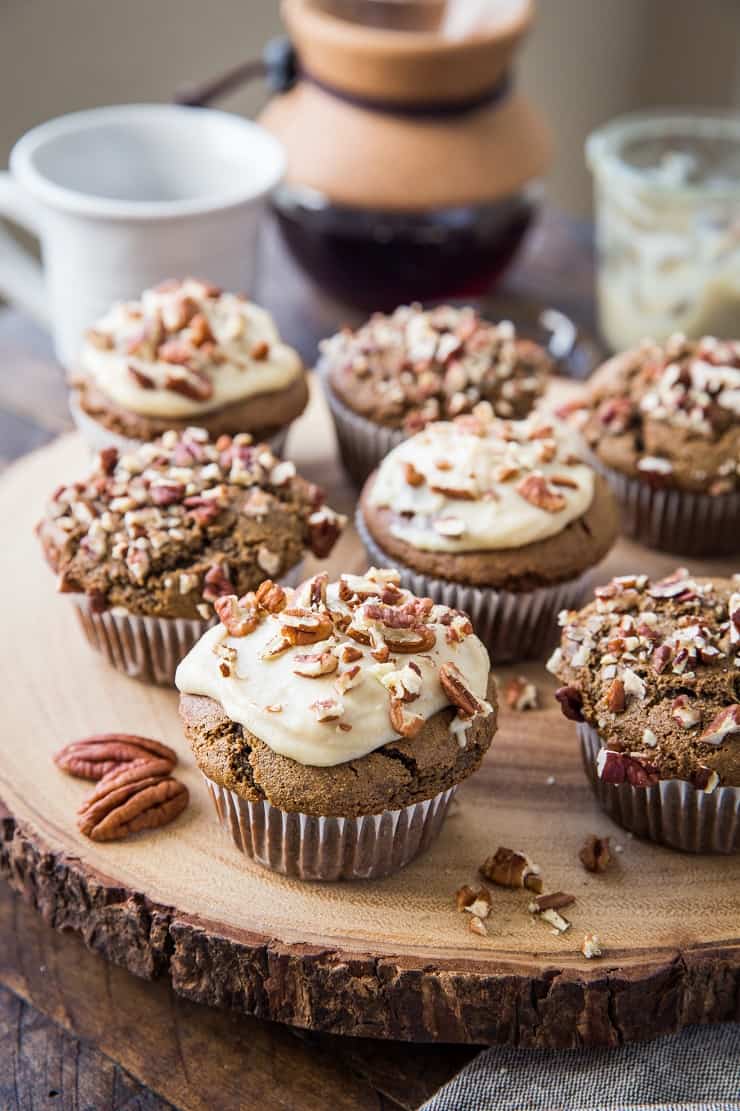 9.) Butternut Squash and Bacon Breakfast Casserole
Fresh, easy breakfast casserole with bacon and butternut squash is perfect for feeding a crowd. This cozy winter breakfast recipe will keep your guests full and happy!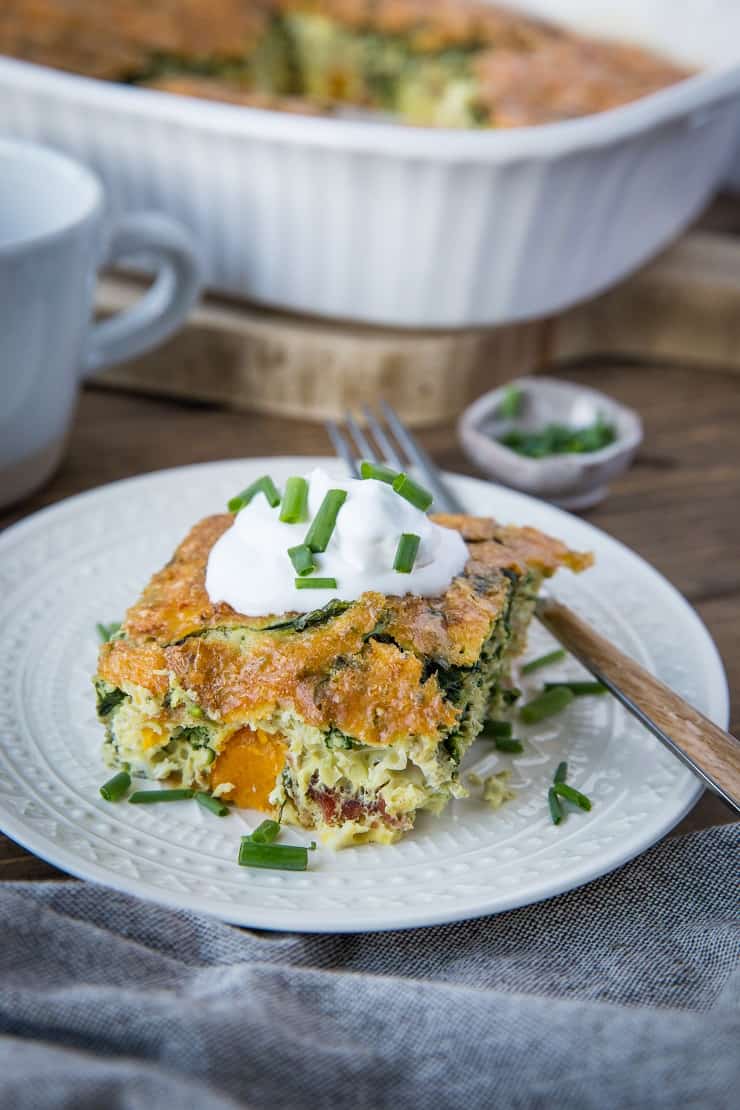 10.) Nut and Seed Overnight N'Oatmeal
For those of you who love breakfast porridge but don't eat oats, this mock oat-free "n'oatmeal" is made using nuts and seeds. Add a drizzle of maple syrup and sprinkle of cinnamon and top with your favorite toppings!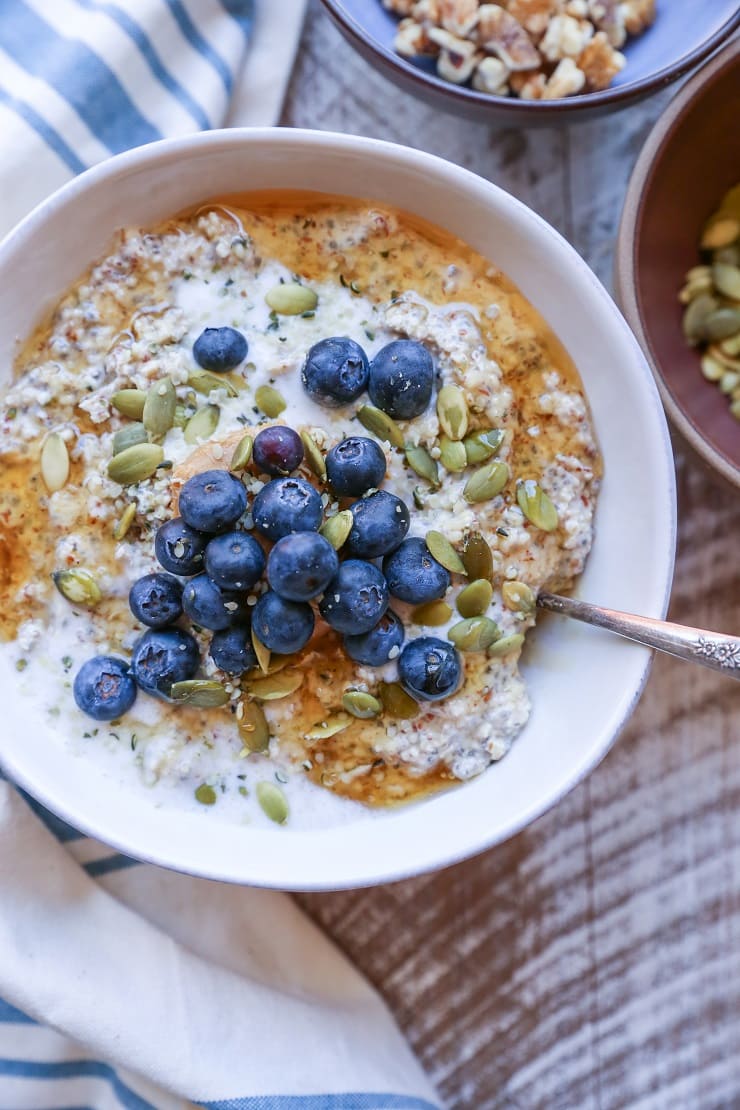 11.) Cauliflower Breakfast Porridge
A plant-based, grain-free porridge recipe using cauliflower! This porridge is filling, creamy, and delicious! Plus, it is paleo and vegan.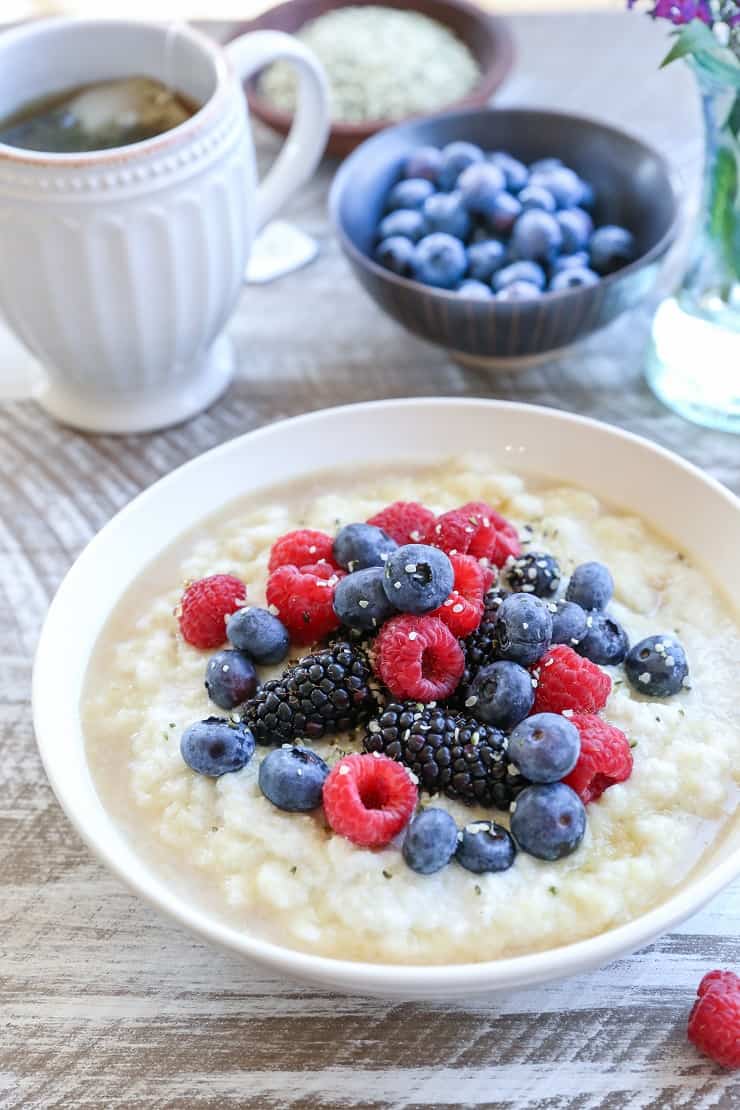 Potato lovers, you'll go bonkers over this sweet potato version of home fries! Top it with egg and avocado for a complete, nutritious meal!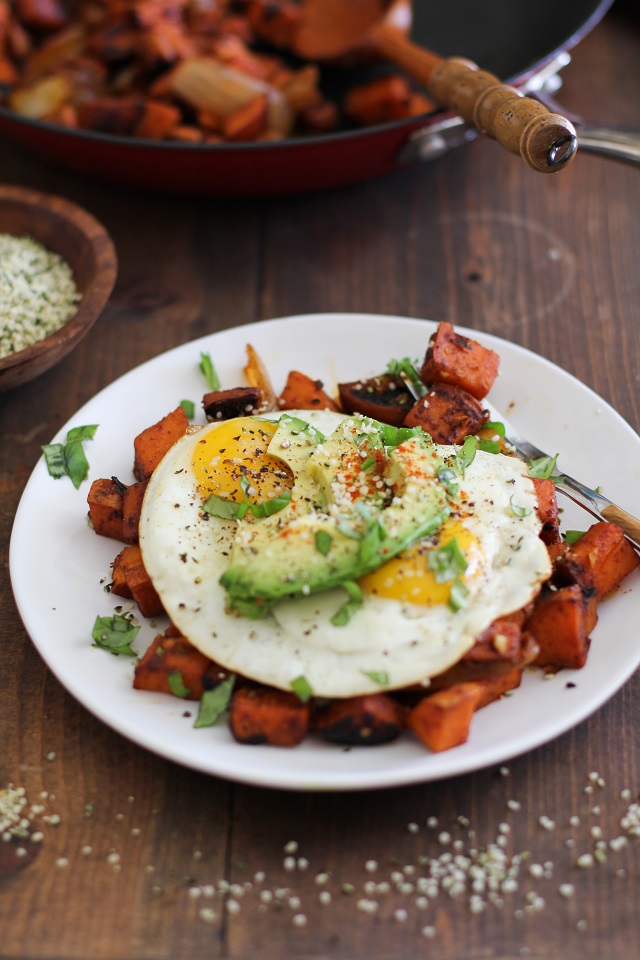 13.) Chocolate Chip Paleo Pumpkin Bread
Moist, warmly-spiced grain-free pumpkin bread with chocolate chips is a mouth-watering breakfast or snack! The loaf can be made up to 1 week in advance and served for days!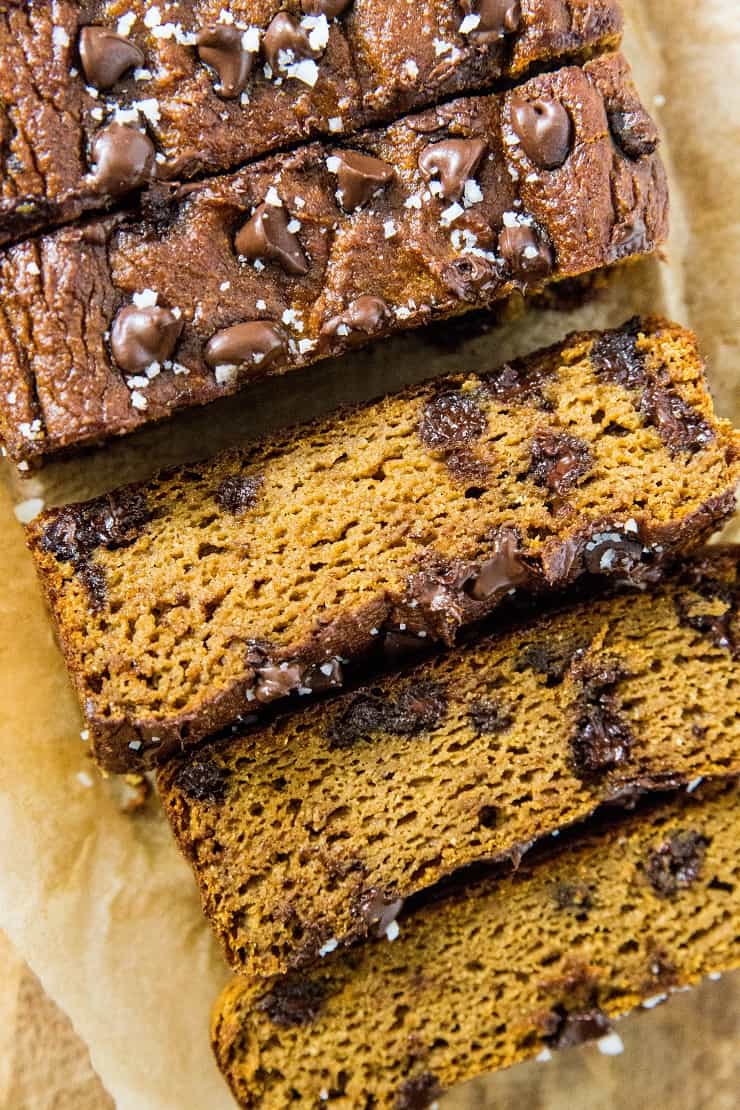 14.) Roasted Vegetable Breakfast Burritos
Make-ahead breakfast burritos with roasted veggies and egg are sure to satisfy your hungry guests! Roast up your favorite vegetables and be sure to include cheese, avocado and salsa for a flavorful breakfast. Use gluten-free tortillas to keep recipe gluten-free.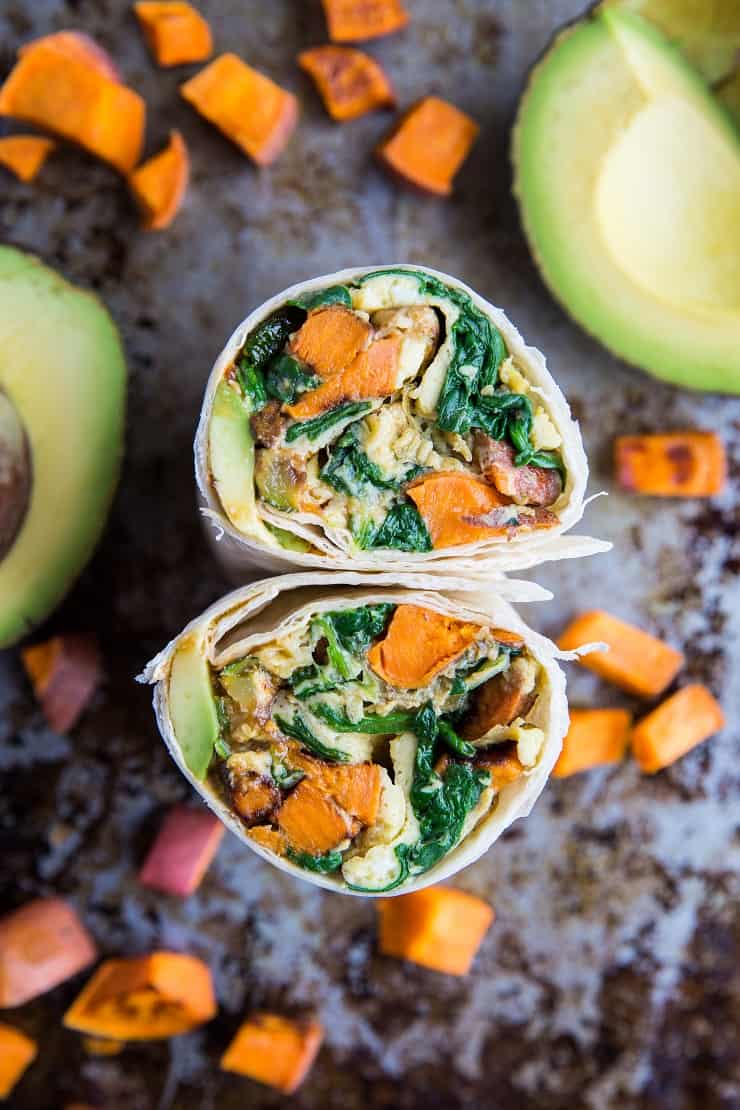 15.) Apple Cinnamon Baked Oatmeal
Make a big batch of baked oatmeal, infused with apple and cinnamon for an easy-to-prepare and easy-to-serve breakfast!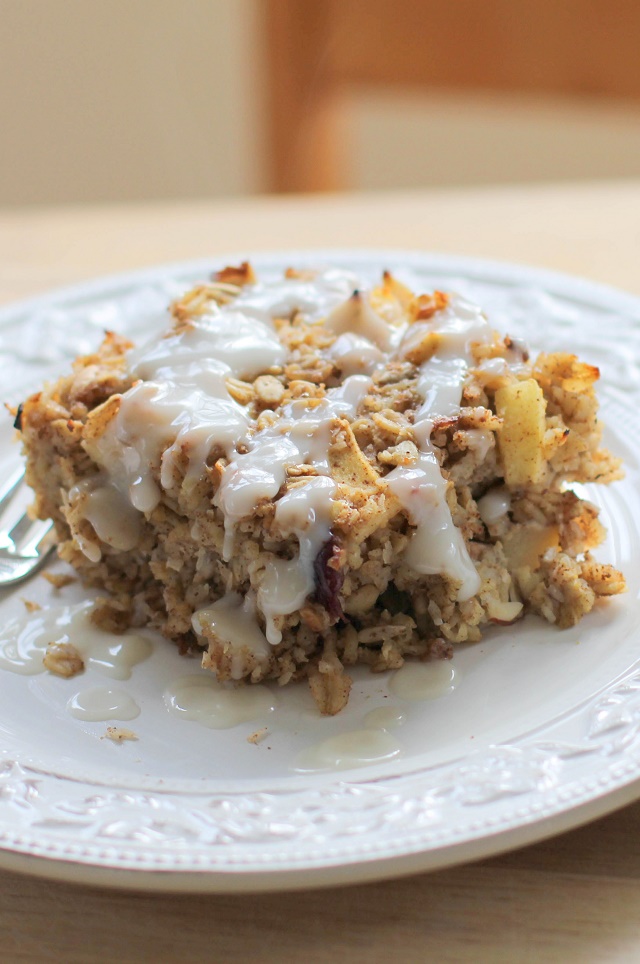 Looking for more inspiration? Check out my breakfast archives 😀
Enjoy!
xo