Pumpkin Breakfast Bowls made with fresh roasted pumpkin, coconut milk, pure maple syrup, and cinnamon for a warmly-spiced meatless breakfast recipe. This delicious breakfast is full of plant-based protein and carbohydrate!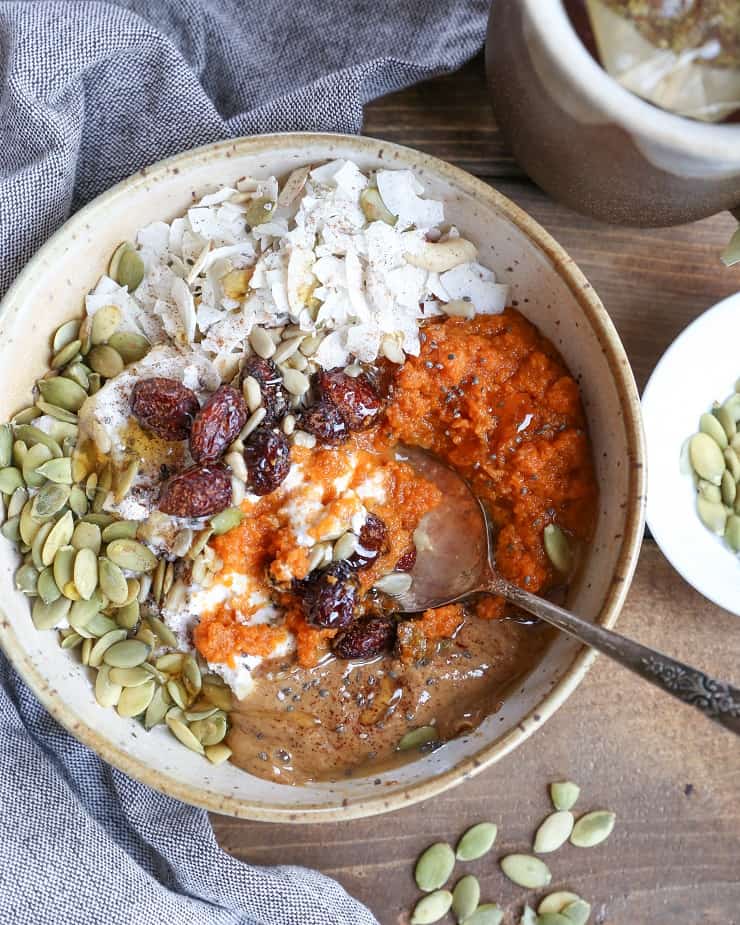 Are you a sweet breakfast eater or a savory breakfast eater? Most of the time, I go for a savory protein-packed breakfast, but from time to time, I can mess with a big bowl of porridge-like sweetness. Enter: Das Pumpkin Breakfast Bowls!
For those times you're in need of some extra carbs to comfort the belly and soul, these sweet potato breakfast bowls are MEGA!
Pumpkins are full of vitamins, antioxidants, and are a great grain-free plant-based source for carbohydrate. Plus, they happen to taste amazing!
HOW TO MAKE PUMPKIN BREAKFAST BOWLS
Simply roast 1 to 2 pie pumpkins or as many as you'd like (hint: this is the perfect make-ahead breakfast to eat on throughout the week).
If you've never roasted a pumpkin and you want to try it, just be sure the pumpkin you buy specifies that it's a "pie pumpkin." Pie pumpkins are smaller and sweeter than regular pumpkins, making them ideal for tasty breakfast bowls, pies, and other pumpkiny treats.
Roasting a pumpkin is no more difficult than roasting any other type of winter squash! I promise, it's the same concept. Simply Cut off the top of the pumpkin to expose the flesh. Cut the pumpkin in half, then scoop out all the seeds and innards. Drizzle the exposed flesh with avocado oil or cooking oil of choice and sprinkle it lightly with sea salt.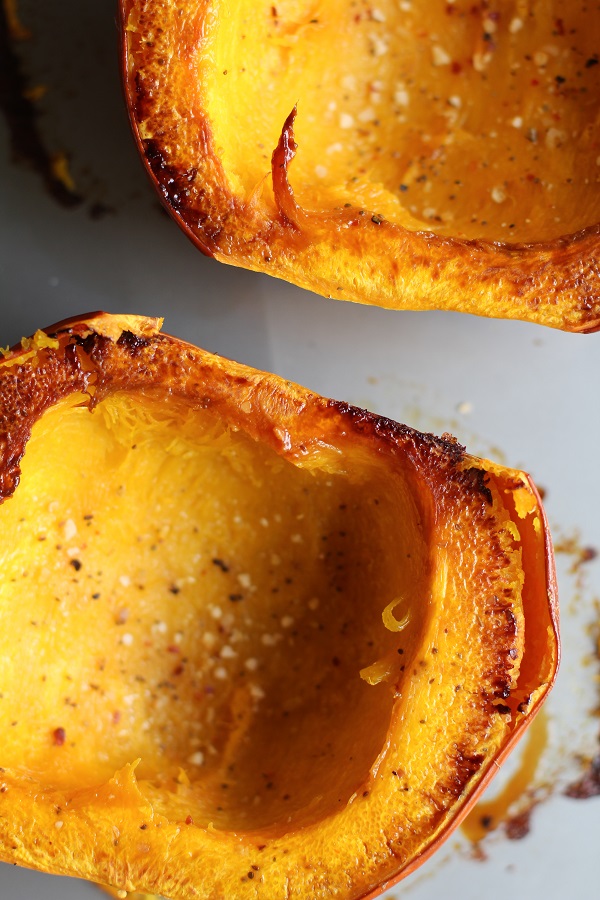 Place the pumpkin halves cut-side down on a baking sheet and roast at 350 degrees F for 45 to 60 minutes, until it's nice and soft when poked with a fork.
Once roasted, scoop out the flesh into a bowl and mash with coconut milk, almond butter, cinnamon, and pure maple syrup. Scoop it into a bowl and serve with your favorite toppings!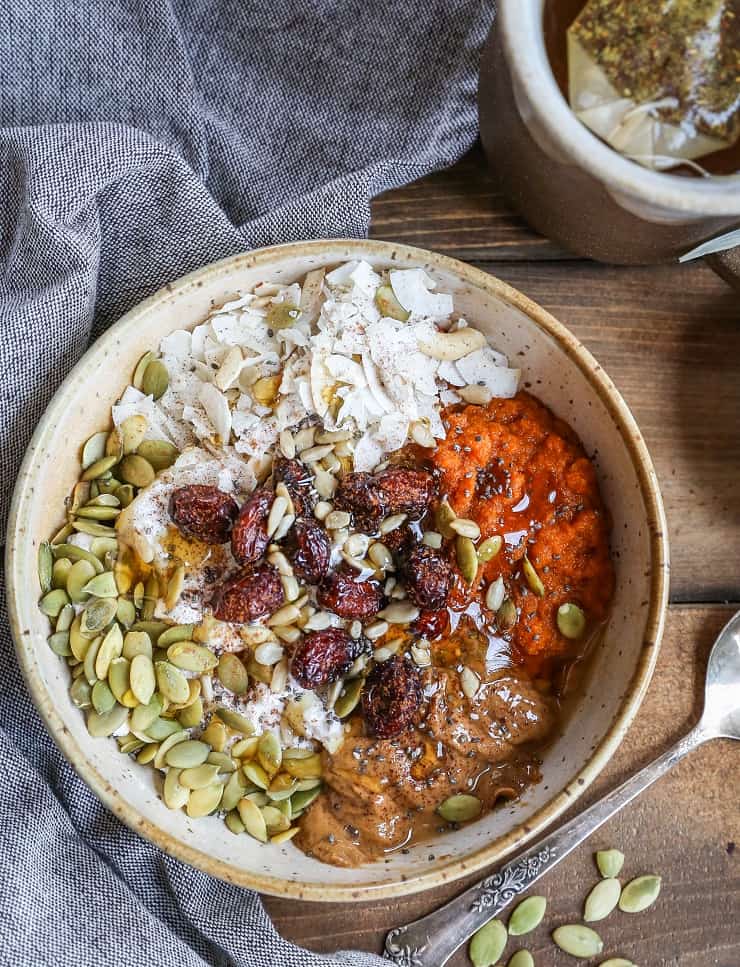 MEAL PREP:
Roast the pumpkin(s) up to 4 days ahead of time and store in the refrigerator. Reheat on the stove top when ready to serve.
CAN I USE CANNED PUMPKIN?
You sure can! In fact, the majority of the time I make these bowls, I use organic canned pumpkin. I do enjoy eating it warm, so I simply stir it up with coconut milk, pure maple syrup, and cinnamon in a saucepan on the stove top until it's nice and steamy.
RECIPE ADAPTATIONS:
Make these bowls using roasted sweet potatoes instead of pumpkin if desired

Use canned pumpkin instead of going through the process of roasting pumpkins yourself. I recommend using organic canned pumpkin if you go this route.

Replace coconut milk with unsweetened almond milk.

Replace pure maple syrup with honey or coconut nectar

To make this Whole30: omit the pure maple syrup.

For some animal protein: replace almond butter with 3 whole eggs. To do so, in step 2, add the coconut milk, pure maple syrup, cinnamon, and sea salt to a skillet and heat over medium. Add the roasted mashed sweet potatoes, followed by 3 beaten eggs. Heat everything together until well-combined.

Add 2 scoops of collagen peptides or protein powder of choice to the mashed sweet potato mixture for added protein

Incorporate any of your favorite nuts and seeds as toppings.

Use raisins instead of dried cranberries

Top with Paleo Granola

instead of flaked coconut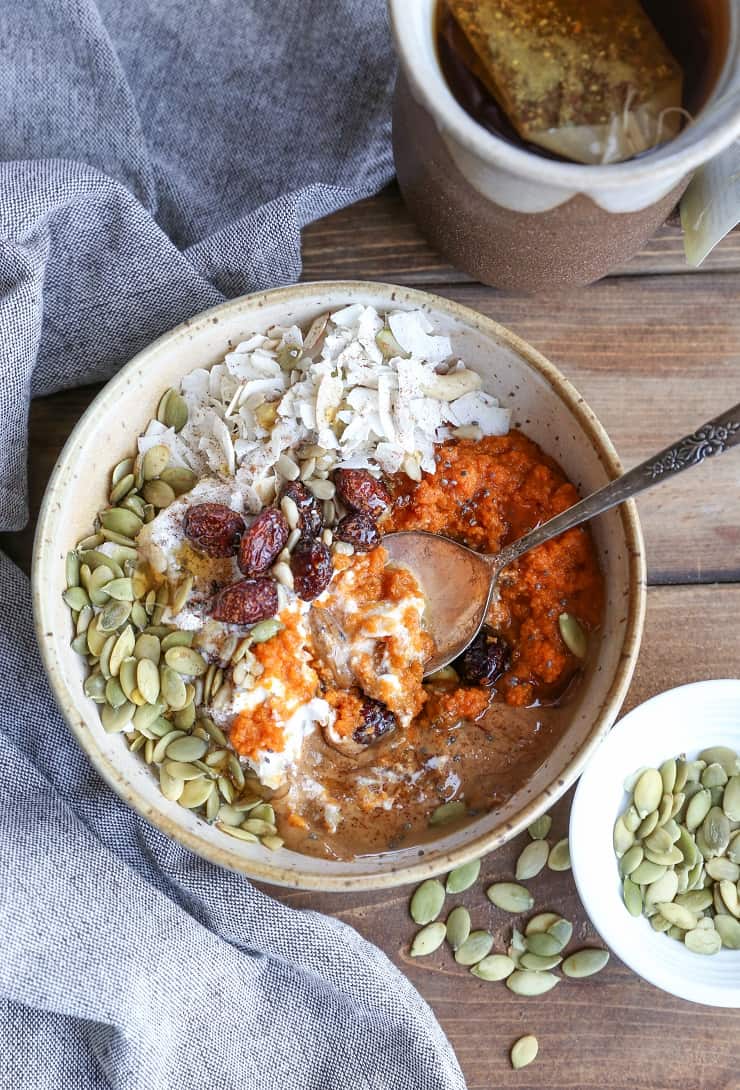 If You Like This Recipe, You May Also Love:
Pumpkin for breakfast!
My cookbook,
Paleo Power Bowls
, is now available! CLICK HERE to check it out. Thank you for your support!
If you make these Roasted Pumpkin Breakfast Bowls, please feel free to share a photo and tag @The.Roasted.Root on Instagram!
Roasted Pumpkin Breakfast Bowls
Pumpkin breakfast bowls are a delightful healthy breakfast that happens to be paleo and vegan
Ingredients
For Each Bowl:
Instructions
Preheat the oven to 350 degrees. Cut the stem off of the pie pumpkin, then cut it in half. Scoop out the seeds and inerds. Drizzle the flesh with oil and sea salt and place face-down on a baking sheet. Roast 45 to 60 minutes, or until pumpkin is tender when poked with a fork. Remove from the oven and allow pumpkin to cool.

While the pumpkin is roasting and cooling, add the coconut milk, almond butter, pure maple syrup, ground cinnamon, and sea salt to a mixing bowl. Scoop the pumpkin flesh into the mixing bowl. Mash and stir everything together until well-combined. Taste mashed for flavor and add more pure maple syrup, cinnamon, sea salt, and/or almond butter to taste.

Add desired amount of the pumpkin mash to a bowl (I do about ⅔ cup) along with coconut milk yogurt (or non-dairy yogurt of choice) and toppings of choice.
Nutrition
Serving:
1
of 2
|
Calories:
457
kcal
|
Carbohydrates:
52
g
|
Protein:
10
g
|
Fat:
27
g
|
Fiber:
11
g
|
Sugar:
28
g