Grain-free, refined sugar-free, dairy-free paleo gingerbread muffins. These moist, warmly-spiced muffins are an epic holiday treat that happens to be healthy enough for breakfast.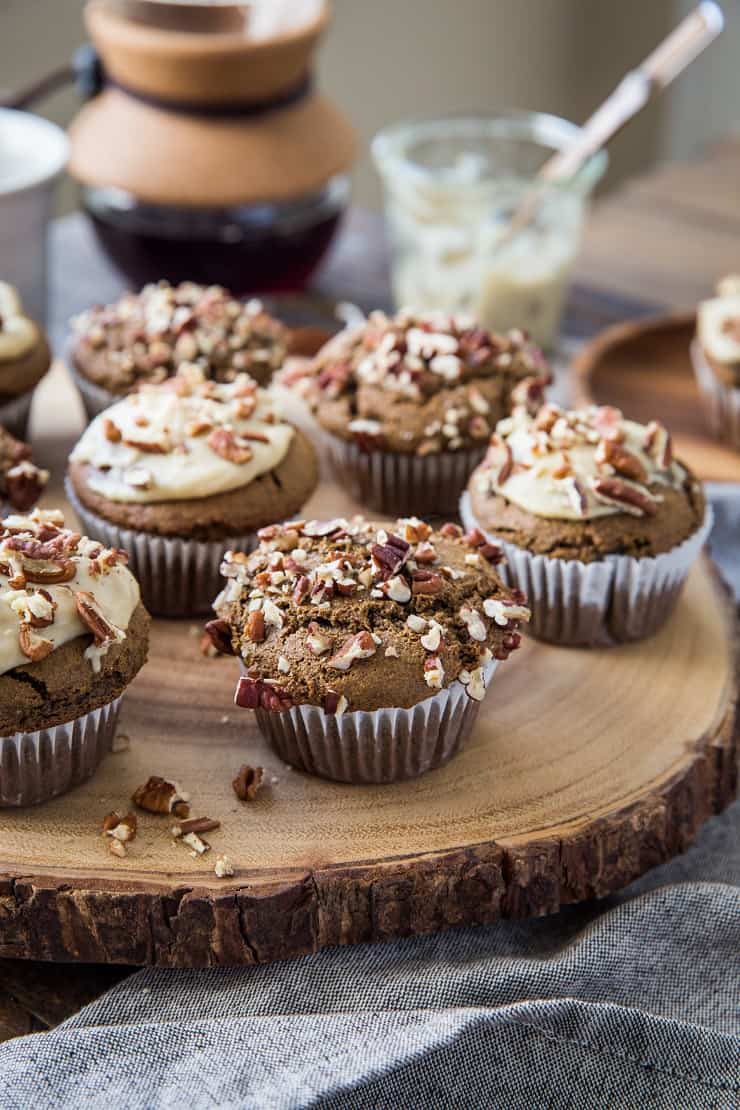 I did a thing.
I turned my Paleo Gingerbread Loaf into muffins and I can't say I regret it.
In fact, this may just be my new favorite muffin, second only to my much-adored Grain-Free Morning Glory Muffins.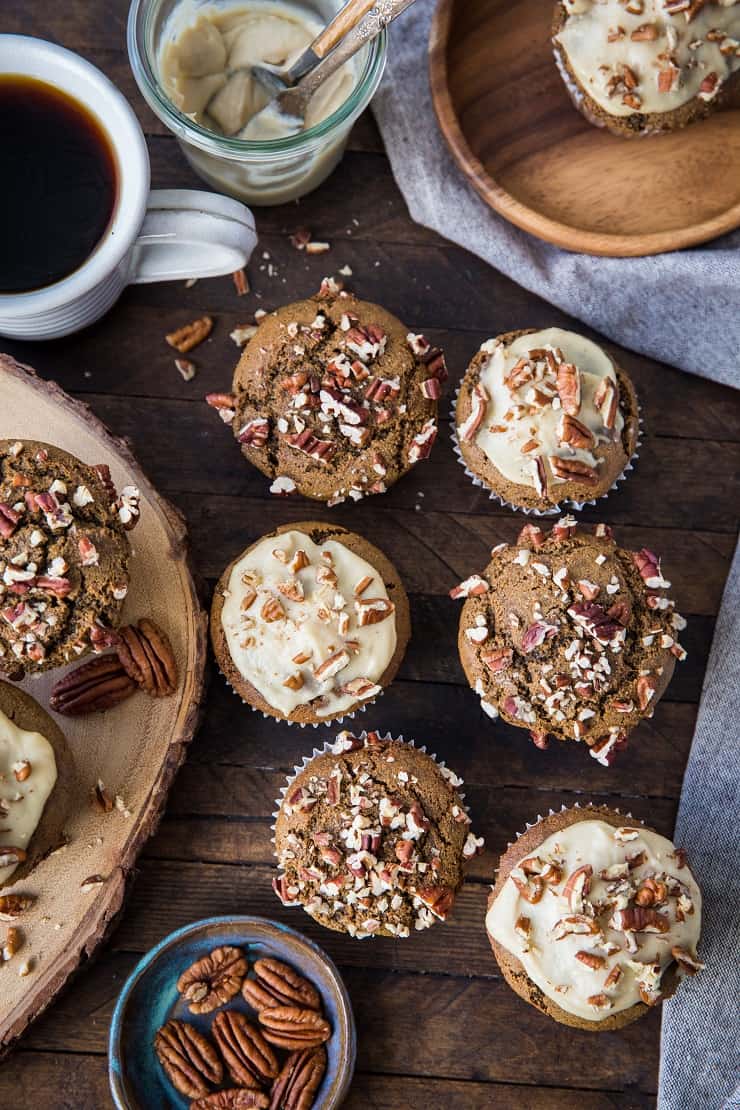 I brought these muffins to Jiujitsu because I knew I would consume half of them in a 5-minute window if didn't immediately remove the temptation.
I was concerned the kids wouldn't enjoy them, because: molasses (I find molasses can be hit or miss with the young ones), but alas, the Jitz kids gave the muffins the ultimate thumbs up. So rest assured, these bad boys are kid tested, kid approved.
…Also approved by my face, but let's face it, I'm a heathen when it comes to sugar, so take my own review with a grain of salt.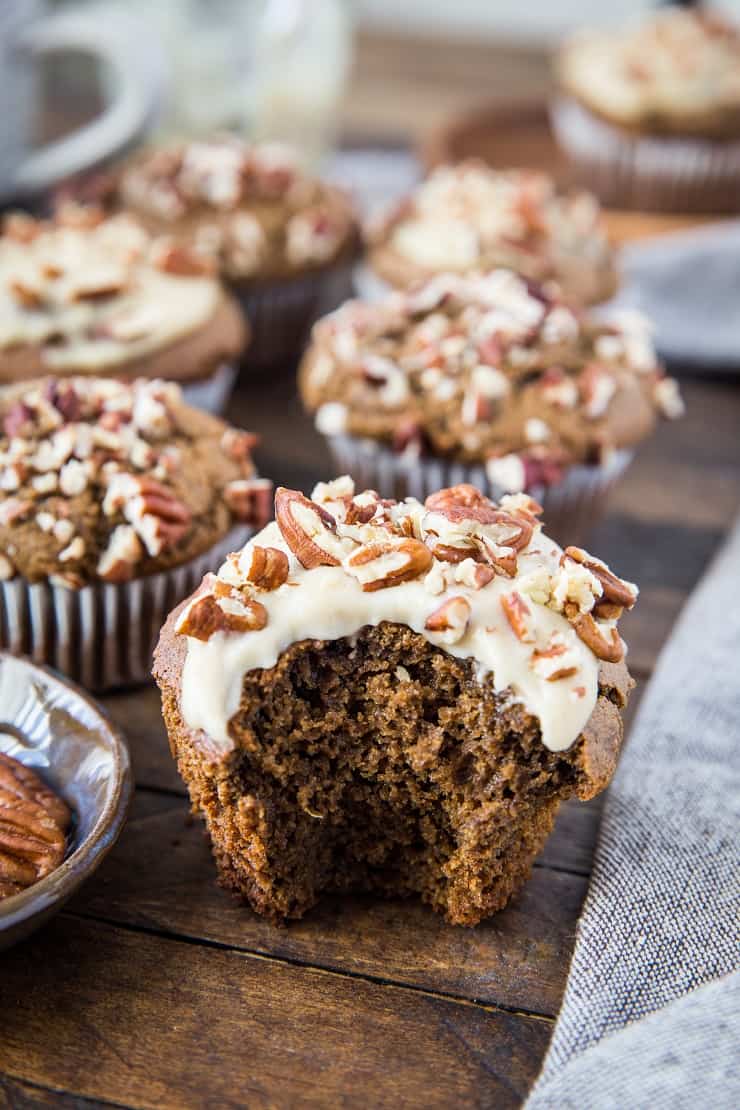 Per usual, I simply whized all the ingredients for the muffin batter in a blender. I baked them up with some chopped pecans on top, and the rest is history.
I shmeared these muffins with my cashew-based Vegan Cream Cheese Frosting because I had some leftover from my Vegan Pumpkin Snack Cake.
I find the tangy creamy frosting gives the muffins a lovely little essence, so of course I recommend it, but the muffins are lovely when they're simply topped with chopped pecans as well.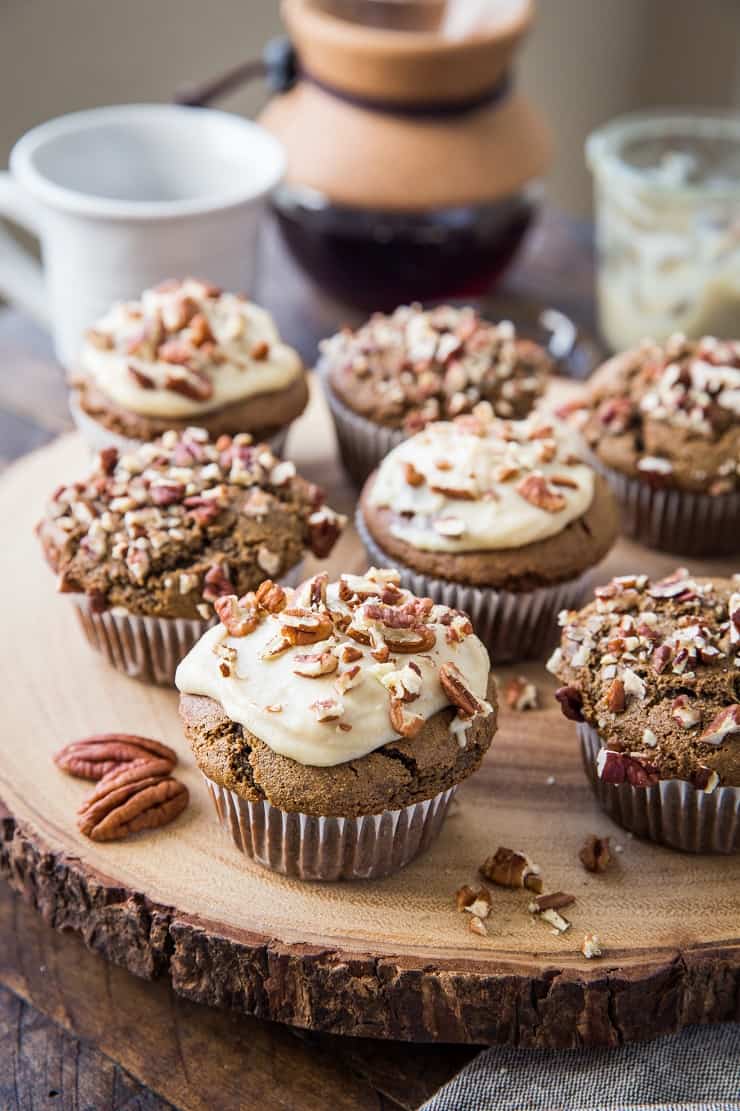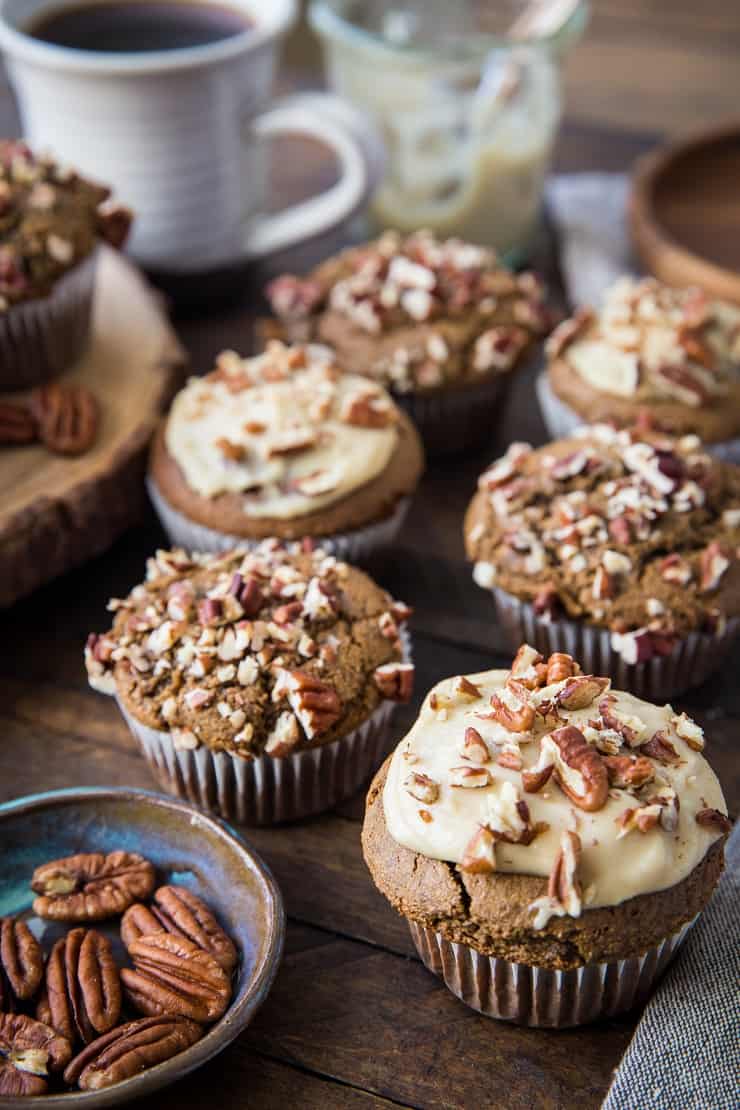 Recipe Adaptations?
Typically I would give you options for changing up my baked goods, but because the sweeteners are liquid and there's coconut flour involved, I strongly recommend you follow the recipe to a T.
Coconut flour is that finicky ingredient around which all other ingredients revolve. The one exception is you can swap the tapioca flour for arrowroot.
I hope you love these warmly-spiced delights!
Paleo Gingerbread Muffins
Grain-free, healthy gingerbread muffins made with all whole food ingredients. These almond flour ginger bread muffins are a lovely snack or breakfast for the fall and winter.
Instructions
Preheat the oven to 350 degrees F and line a muffin pan with muffin papers (or spray with cooking oil).

Add all the ingredients for the muffins to a blender. Blend until completely smooth. Pour the batter into the prepared muffin pan, filling the holes 3/4 of the way up. Sprinkle with chopped pecans

Bake 20 to 25 minutes on the center rack of the preheated oven, until muffins are set up. Turn off the oven and allow muffins to sit in the warm oven another 3 to 5 minutes. Remove muffins from the oven and allow them to cool at least 30 minutes before serving (if you try eating the muffins too early, they will stick to the muffin papers).

If desired, spread Vegan Cream Cheese Frosting on top of the muffins, or serve the muffins with the frosting.
Notes
*You can also use coconut oil or algae oil.
Nutrition
Serving:
1
of 9
|
Calories:
305
kcal
|
Carbohydrates:
27
g
|
Protein:
9
g
|
Fat:
18
g
|
Sugar:
17
g