Vanilla Chai Overnight Oats made dairy-free, refined sugar-free, gluten-free and warmly spiced to perfection. A delicious, healthy breakfast recipe that's perfect for meal prep!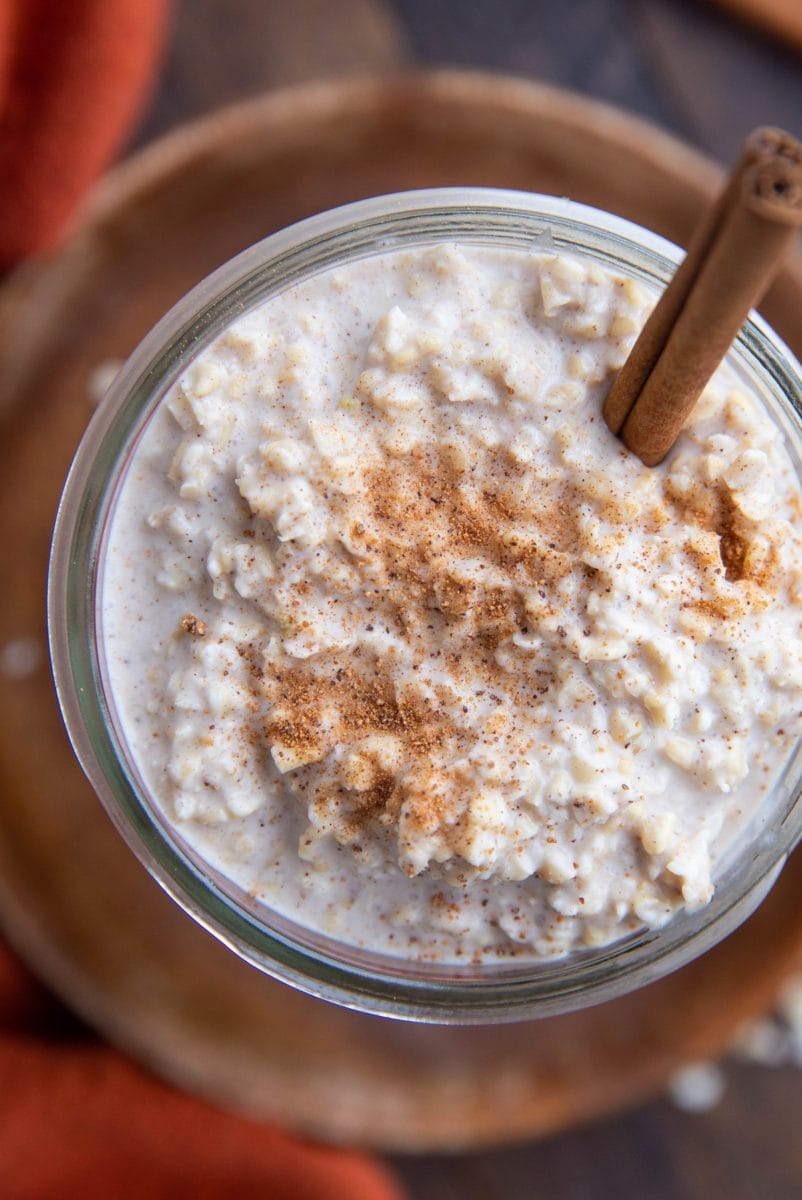 Overnight oatmeal is quite possibly the world's number one favorite quick breakfast.
And for great reasons!
Just think about the ease in which it all comes together. Stir (or shake) up some ingredients in a jar, stick it in the refrigerator, and pop it open for a nice cold brekkie the next morning?
That's delicious convenience for you!
For this easy Vanilla Chai Overnight Oats recipe, we're combining delicious oatmeal with warm chai spices and vanilla for a whirlwind of a delicious experience.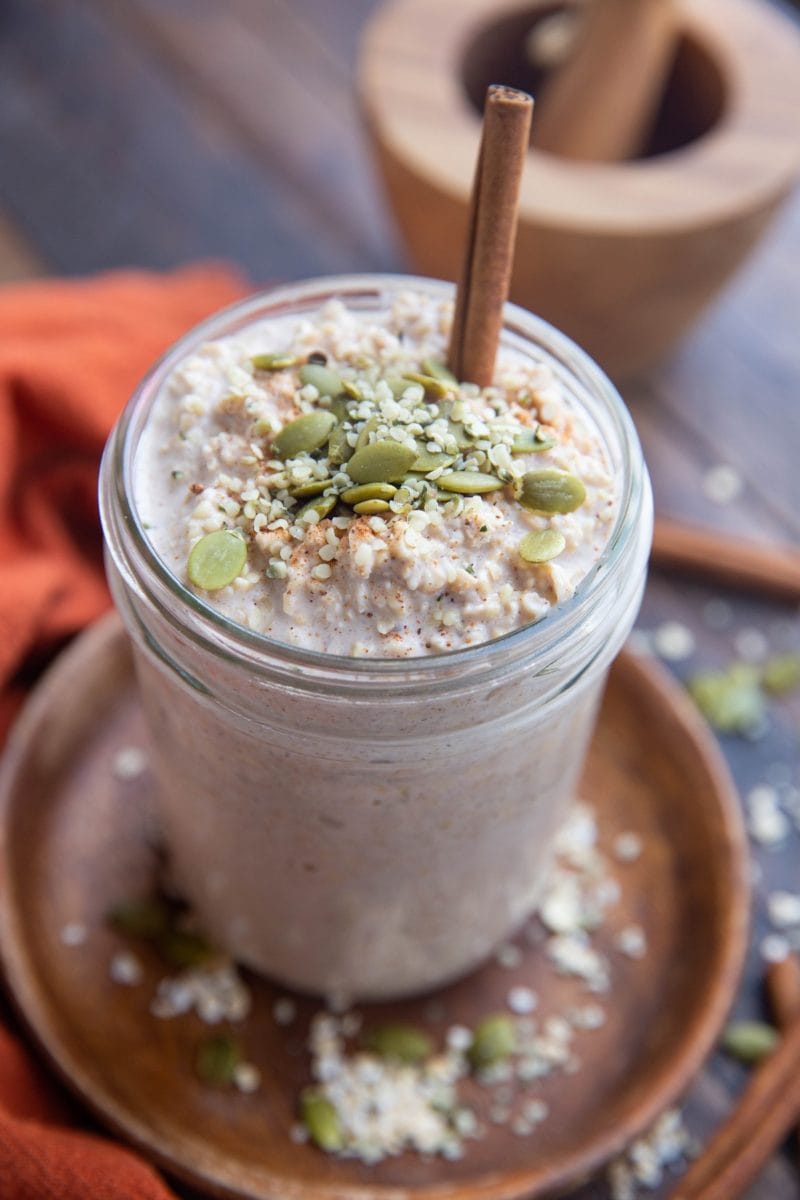 I fancy making big batches of overnight oats, dividing it between small individual jars, and eating on it throughout the week for meal prep.
What's So Special About Overnight Oats?:
In case you haven't tried overnight oats, I can tell you based on years of experience that is is well worth the hype.
First and foremost, overnight oatmeal is easy to prepare, you can make it in any size batch you like, and it turns out so lusciously thick and creamy.
At a baseline, all you need is three ingredients for a basic recipe: oats, any kind of milk, and any type of sweetener.
You can add any variety of fruit, nuts, sweeteners, spices, extracts, etc. to customize it to your taste buds and dietary needs.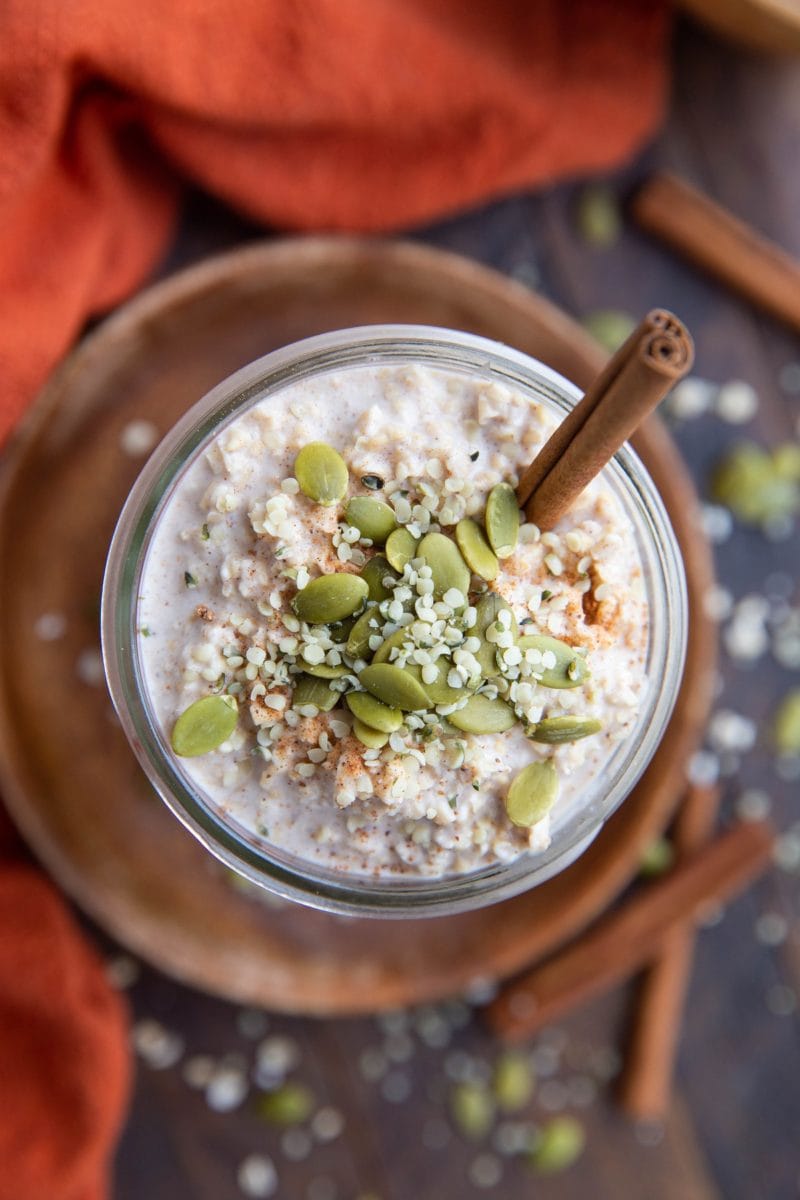 Plus, you can load it up with your favorite protein powder to make it a balanced breakfast if you'd like. It is remarkably versatile!
For the longest time, Banana Bread Overnight Oatmeal was my favorite grab-and-go breakfast, but this chai version has stolen the show.
What is Chai Spice Made Of?:
Chai spice is a combination of multiple spices, and there are infinite different chai spice blends. Ground cinnamon, ground ginger, and cardamom are most commonly used in chai spice. Star anise, allspice, pepper, and nutmeg are often added as well.
You can make your own chai spice blend at home (which is what we're doing in this recipe), or you can purchase store-bought Chai Spice.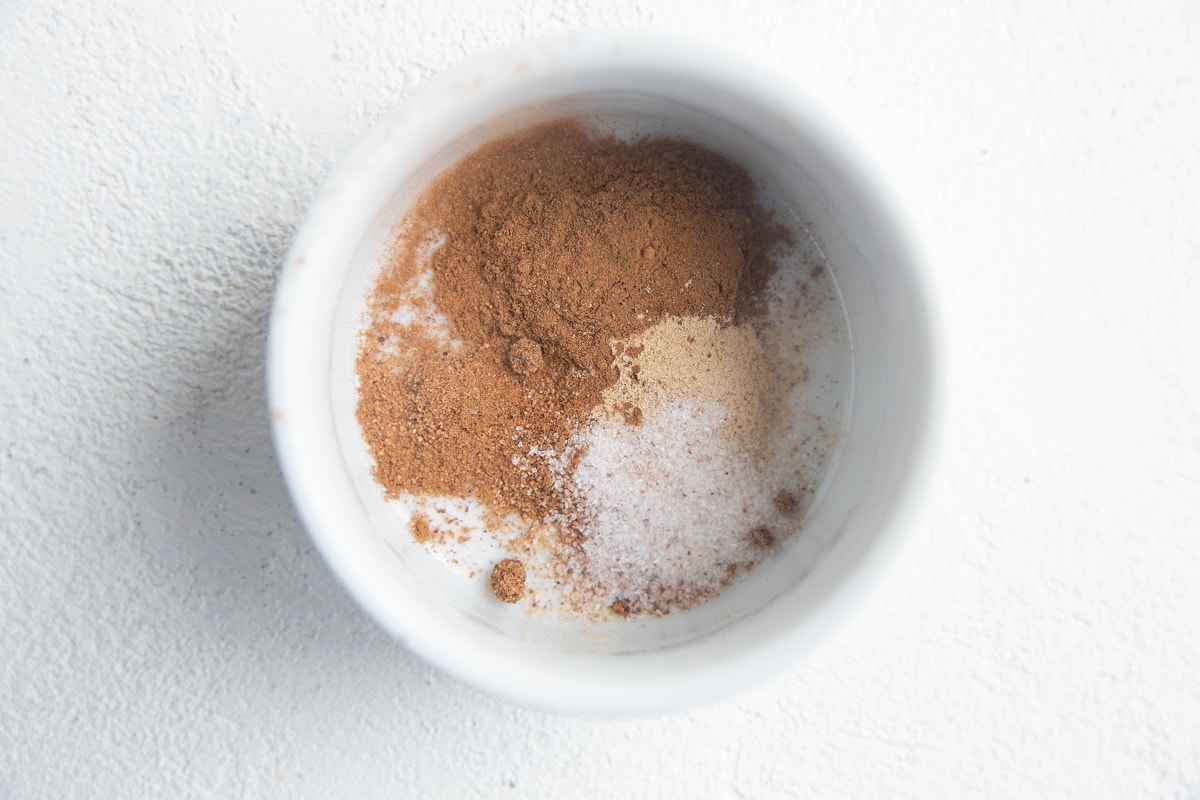 Do you remember when chai was a major thing circa 2000?
It was everything.
Chai was the new hot chocolate, paved the road for matcha, the means to get your buzz on sans coffee.
Truthfully, I'm not altogether sure the chai craze ever dissipated – it was and is just that good.
If you went to my high school and got caught ordering a soy chai latte at a local coffee shop, your cool status shot through the roof. Guaranteed to get a prom date at that point.
Let's discuss the simple ingredients in this delicious overnight oats recipe.
Ingredients for Vanilla Chai Overnight Oats:
Old-Fashioned Oats: Old fashioned rolled oats, instant oats, or quick oats work great for overnight oatmeal. I use sprouted gluten-free oats that are also glyphosate-free.
If you're into steel-cut oats, make my Overnight Steel Cut Oats.
Full-Fat Canned Coconut Milk (Or dairy-free milk of choice): Using full-fat canned coconut milk, this oatmeal turns out super rich and filling with creamy texture.
To cut down on the fat content, you can use any non-dairy milk of choice. Oat milk, unsweetened almond milk, soy milk, cashew milk, any plant-based milk and regular cow's milk all work.
Depending on how thick or runny you like your oatmeal, you may want additional milk for eating the oats after they have sat overnight.
Pure Maple Syrup: My sweetener of choice. Add the amount you like based on your preferred level of sweetness for the best results. You can also use honey, agave, coconut sugar, sugar-free sweetener, or brown sugar.
Vanilla: To really ramp up the warm and inviting flavor, I love using a real vanilla bean for added depth of flavor, but when under a time crunch, vanilla extract does the trick, too!
Chai Spice: I use a combination of cinnamon, ginger, cardamom, allspice, and nutmeg for my homemade Chai spice blend. If you already have a chai spice blend on hand, replace my combination of spices with 1 ½ teaspoons of your blend if you'd like.
Sea Salt: A pinch of sea salt brings out the sweetness and all of the flavors in the recipe.
Optional Additions:
Stir in up to 4 tablespoons of your favorite protein powder. If you add protein powder, you may want to add more milk depending on how thick or thin you like your oats.
For an omega 3 fatty acids infusion, add 1 tablespoon of chia seeds, flax seeds, hemp seeds and an additional ½ cup of your milk of choice.
For Serving:
Serve overnight oats with your favorite toppings such as almond butter, fresh fruit, a splash of your favorite milk, nuts and seeds, a drizzle of honey or pure maple syrup, etc.
I like topping oatmeal with pumpkin seeds, cacao nibs, sunflower seeds, or almonds for a bit of crunch as well as sliced banana and blueberries. You can add any in-season fruit to your liking.
This recipe makes just two servings of oatmeal, so feel free to double or triple the recipe if you're looking for breakfast for several days.
You can use it as a base recipe when creating all sorts of different flavors for busy mornings. Make this delicious breakfast using any of your favorite flavor combinations Sunday night for the easiest breakfast Monday morning.
How to Make Vanilla Chai Overnight Oatmeal:
Transfer the oats to a large mason jar that has a lid. I use a 32-ounce jar, but you can also mix everything up in a mixing bowl if you're making a big batch or if you don't have a big jar.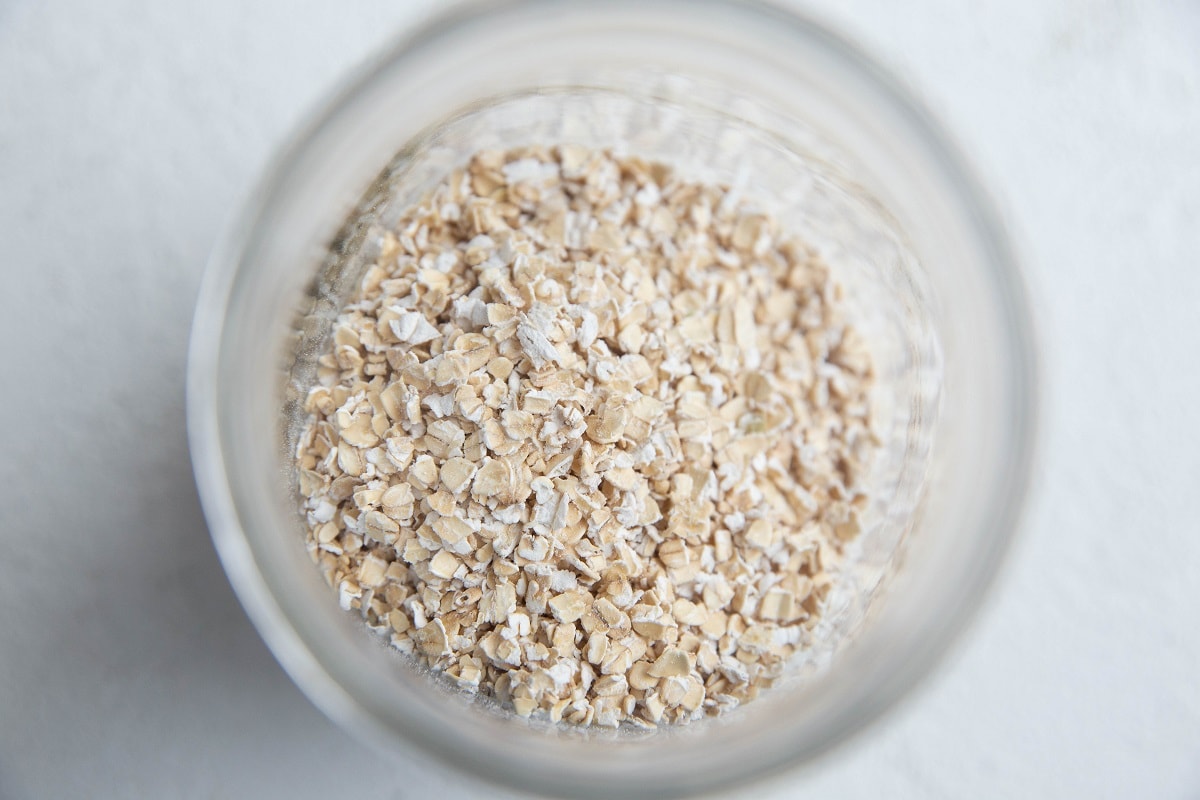 Add the chai spices to the jar with the oats and give it a quick stir.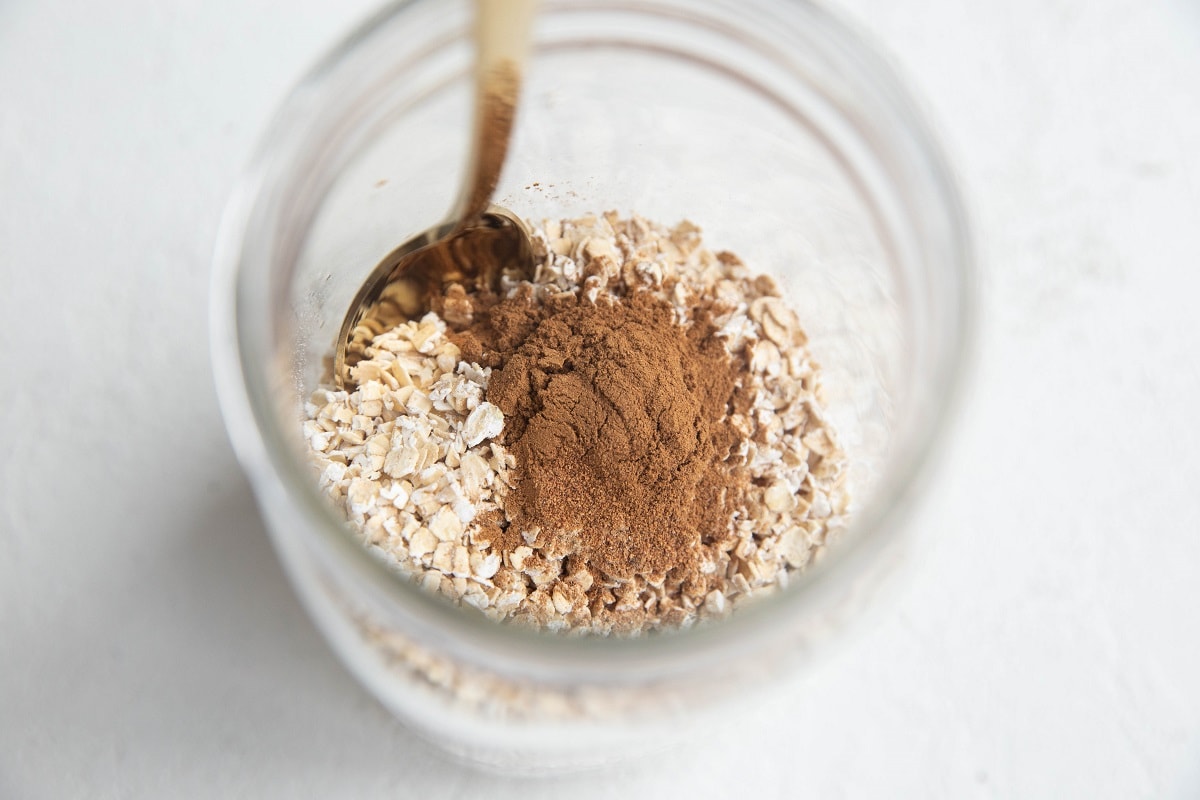 Pour in the pure maple syrup and the coconut milk (or milk and sweetener of choice).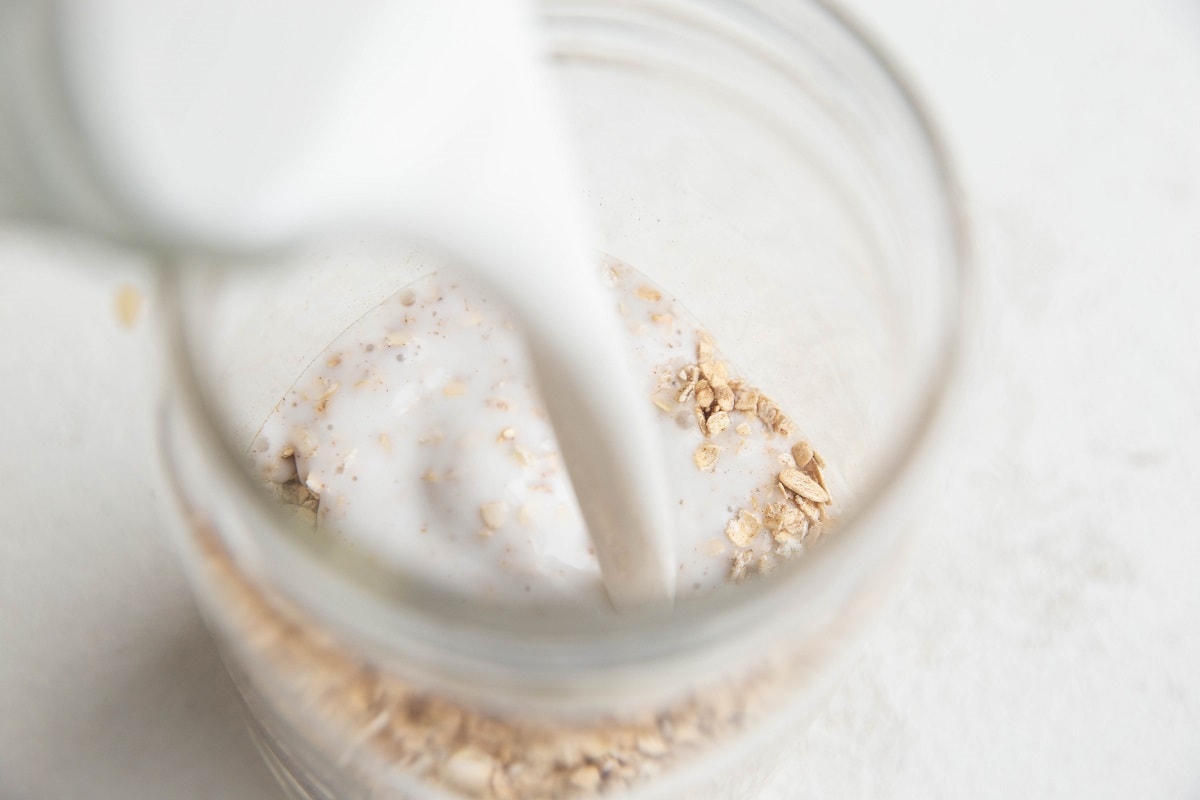 Seal the jar and shake it well until all of the ingredients are combined.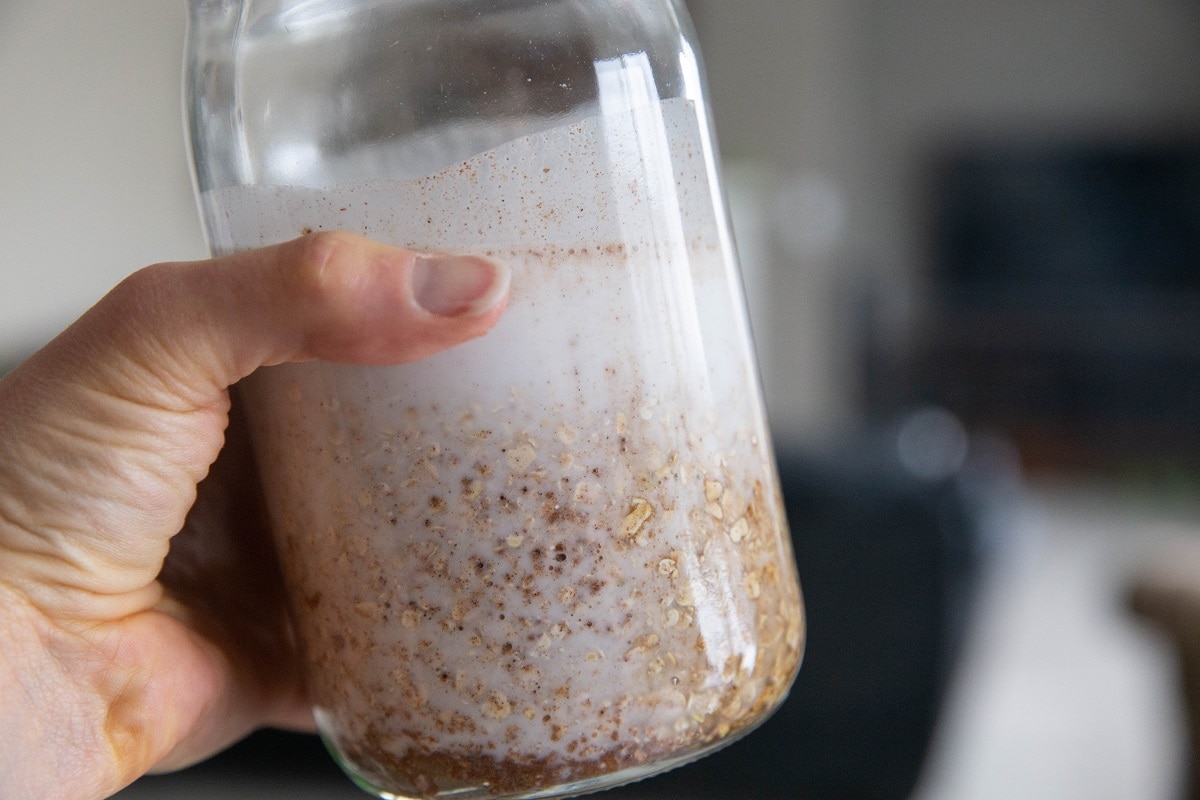 Refrigerate overnight (or at least 4 hours).
Once you're ready to eat the oatmeal, give it a big stir and serve it in a bowl or a jar with your choice of fruit, Greek yogurt, nuts, seeds, chocolate chips, sweetener, etc.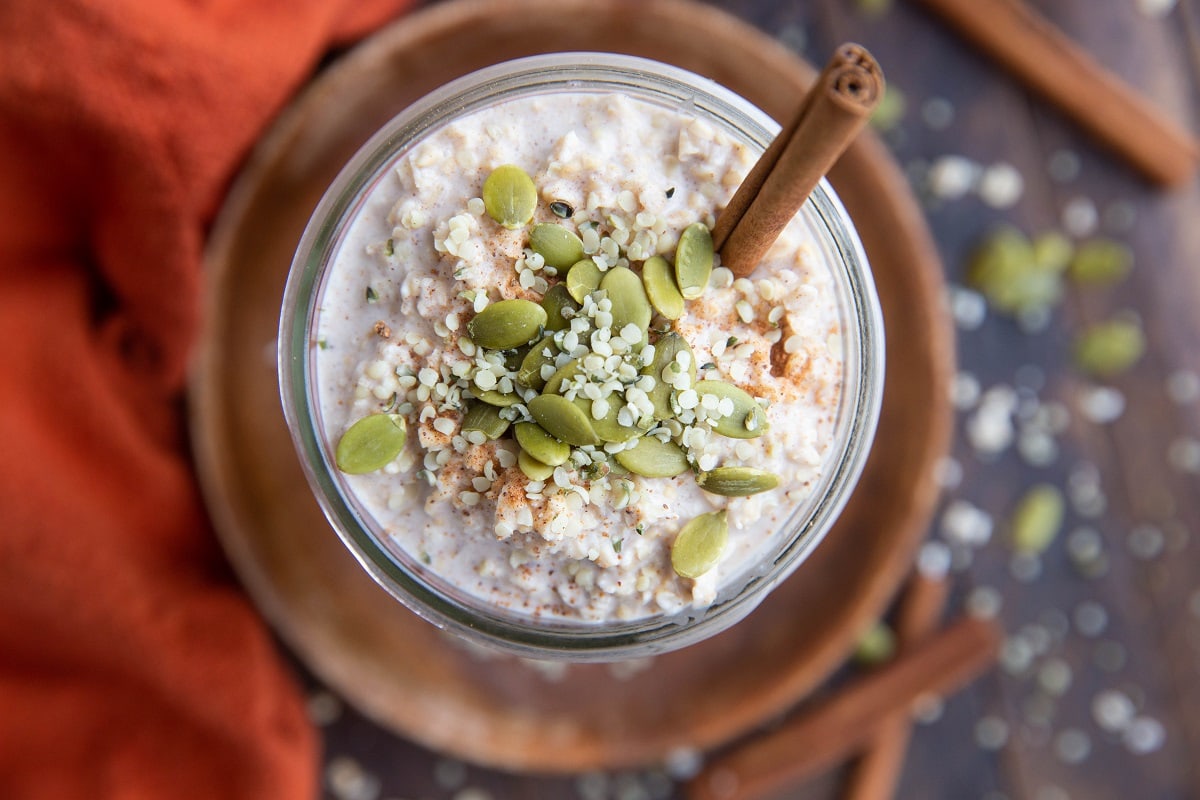 Store this basic overnight oats recipe in the jar you used to make it or an airtight container in the refrigerator for up to 5 days.
All things added together, we end up with a flavorful, satisfying, and healthful breakfast that can be made for your busy work week or shared with friends and family.
You can also prepare this exact recipe and serve it warm by cooking it on the stove top or heating it up in the microwave. The versatility is real here.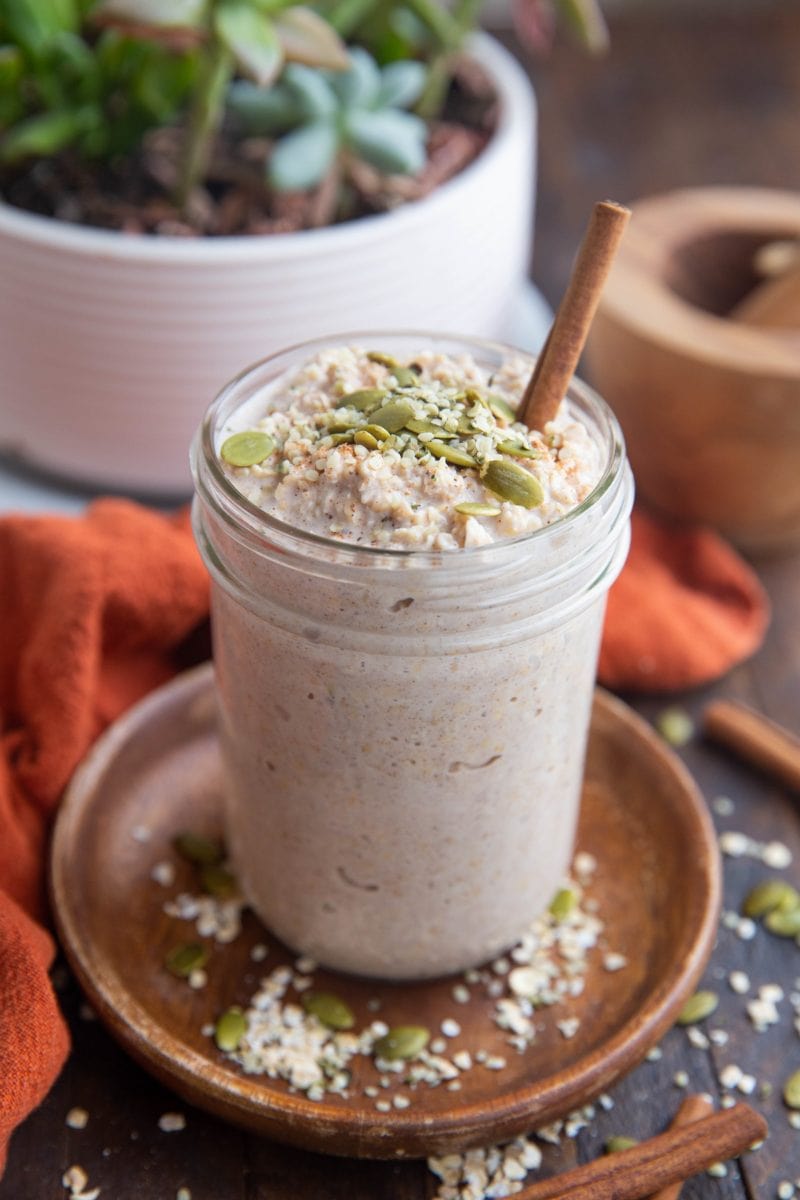 And that's it! A great way to meal prep an easy breakfast to enjoy first thing in the morning.
If you love overnight oats recipes or cooked oatmeal recipes, also try these delicious healthy oatmeal recipes.
More Healthy Oatmeal Recipes:
You may also love Chia Pudding if you're into thick and creamy treats with fun texture.
Enjoy this warmly-spiced decadent breakfast!
Keeping calm and Vanilla Chai Overnight Oat-ing on since 2016.
Vanilla Chai Overnight Oatmeal
Vanilla Chai Overnight Oatmeal is a warmly-spiced infusion of deliciousness perfect for the fall and winter months!
Ingredients
Optional Additions:
1

Tbsp

chia seeds

see note

2 to 4

Tbsp

protein powder of choice
Instructions
Add all of the ingredients for the overnight oats to a large jar. Note: if you're making a big batch of overnight oatmeal and you don't have a large enough jar, use a large mixing bowl to prepare the oats.

Secure the lid on the jar and shake well until everything is combined.

Refrigerate overnight (or at least 3 hours).

When ready to serve, stir well and taste for flavor. Add more pure maple syrup, and/or cinnamon to taste. Serve with your favorite toppings such as fresh fruit, nuts, and seeds.
Notes
If adding chia seeds or flax seeds, also add an additional ½ cup of liquid (water, or milk of choice).
If you have a chai spice blend already, you can use 1 ½ teaspoons in this recipe rather than using all of the individual spices I call out.
Nutrition
Serving:
1
of 3
|
Calories:
237
kcal
|
Carbohydrates:
43
g
|
Protein:
6
g
|
Fat:
6
g
|
Fiber:
6
g
|
Sugar:
16
g
This post contains affiliate links, which means I make a small commission off items you purchase at no additional cost to you.
This post is sponsored by Bob's Red Mill. All thoughts, feelings, and opinions are my own, and I thank you for supporting the brands that help make this site possible.
I originally posted this recipe on March 25, 2016. I updated the photos and the post but the recipe itself is the same.