Creamy, naturally sweet dairy-free easy vegan eggnog recipe made with plant-based whole food ingredients. This healthier eggnog recipe is goof-proof and tastes like the real deal!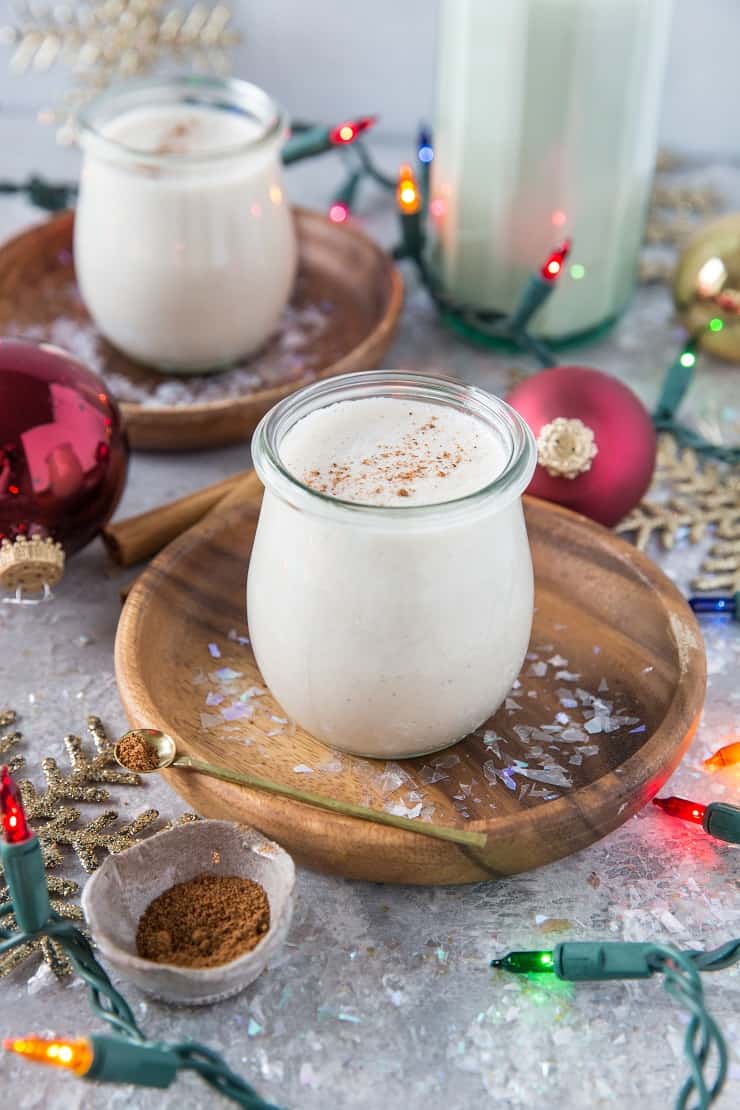 If these walls could talk, they would tell you how assertively I've been sucking down the 'nog.
They'd straight up tell on me.
In all honesty, I shy away from using the terminology, "The Best," but you guys…this really is THE BEST VEGAN EGGNOG TO EVER WALK THE LAND <- All caps for emphasis.
Seriously, I'm shocked by how seamlessly this recipe materialized out of the ether…it basically walked right up to me, smacked me ever-so gently on the face and said, "Make me, you silly woman." You think I'm kidding, and I'm not.
It's the easiest eggnog recipe you'll ever make!
This 'nog was made for you and me.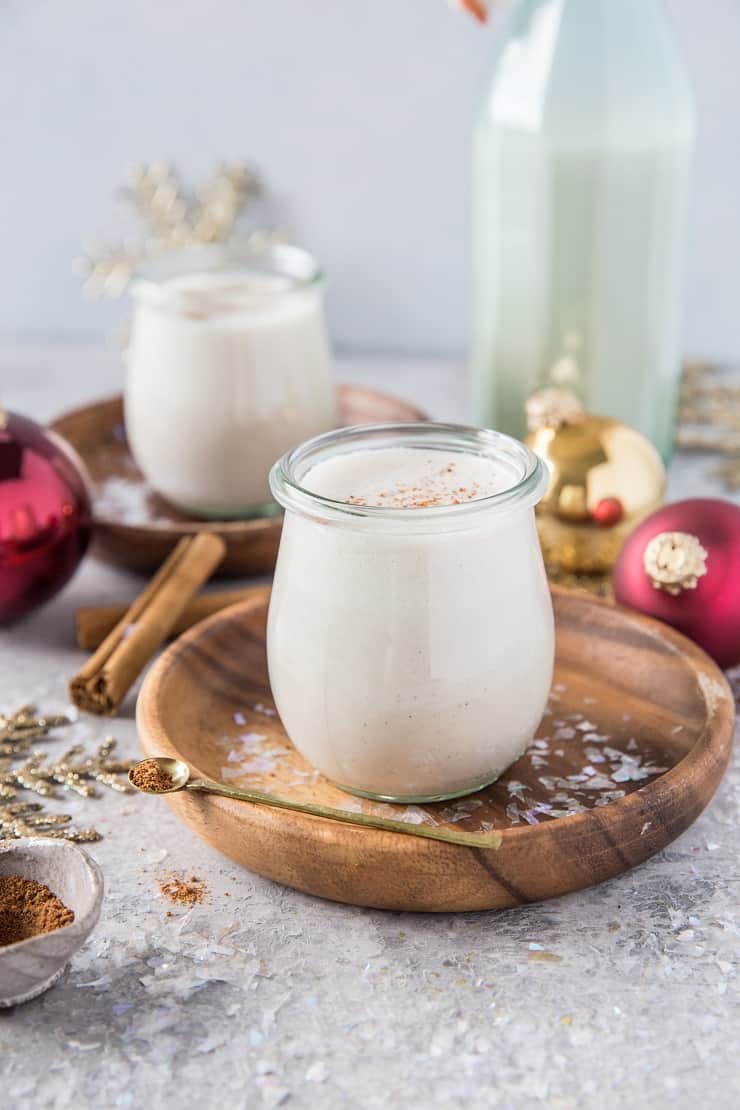 Let's get down to business.
Ingredients for Vegan Eggnog:
Here is what we need to make this eggnog: raw cashews, unsweetened almond milk (or light canned coconut milk), medjool dates, nutmeg (the fresher, the better. If you have whole nutmeg, USE IT), a little vanilla extract, a pinch of sea salt, and that is all.
Can you add brandy to make this a sassy boozy beverage? Why yes, you may!
All of this adds up to an egg-less eggnog recipe that is dairy-free, refined sugar-free, completely plant based, real as can be, and just SO stinking delicious! It's thick and creamy, sweet but not to the point that it will make you regret life, and has just the right amount of nutmeg.
How to Make Vegan Eggnog:
Start by soaking the cashews. Simply stick them in a bowl, fill it with water so that they're covered in 2 inches of water, and allow them to sit for at least 4 hours, if not overnight.
Drain the cashews and put them in your blender along with the rest of the ingredients. Blend on high for 3 minutes (yup, THREE).
Taste the eggnog for flavor – if you need a little something extra, you can add more dates, a tablespoon or two of pure maple syrup, more nutmeg, and/or a splash of brandy.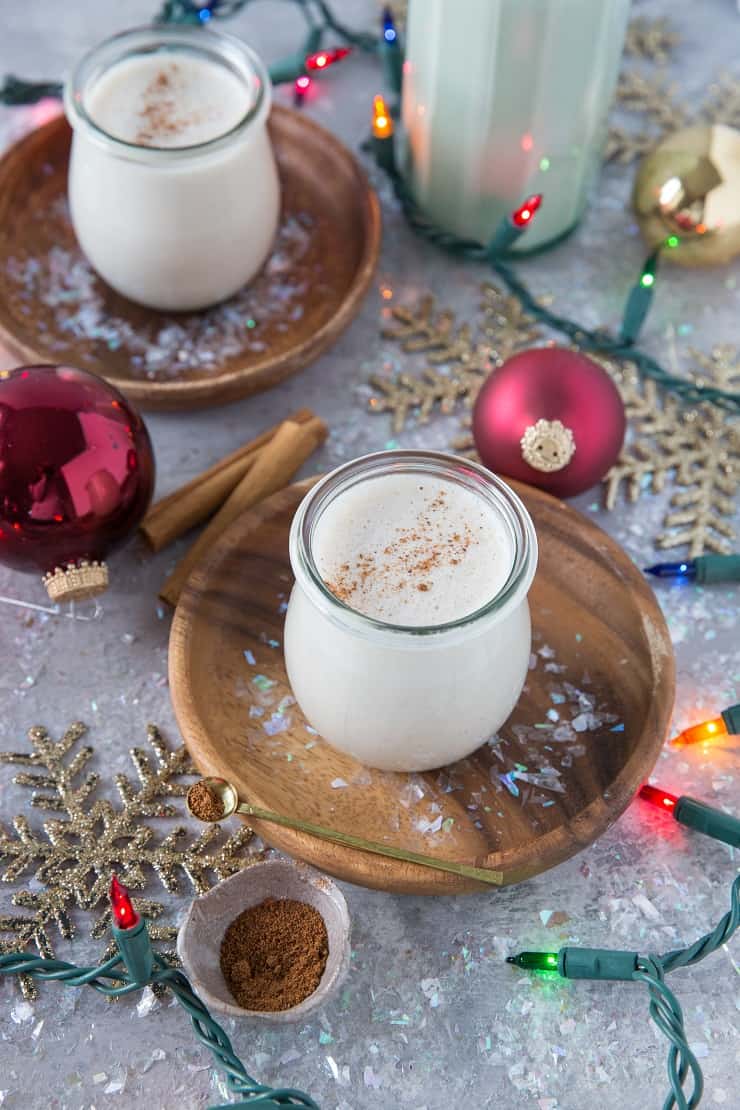 Important Notes:
This eggnog goes quickly, so double the recipe if you're serving more than 3 people.
This is absolutely one of those recipes where the high-powered blender is not optional. If your blender doesn't come with a jet engine, it may not be able to blend the cashews up completely. So long as your blender is a powerhouse, you will have no problem.
Hop, skip, and go eggnog!
The Best Vegan Eggnog
Dairy-free, refined sugar-free vegan eggnog recipe.
Instructions
Place the raw cashews in a bowl and cover with 2 inches of water. Soak at least 4 hours (up to 10).

Drain cashews and place them in a high-powered blender with the rest of the ingredients. Blend on high for 3 minutes (or until eggnog is completely smooth).

Taste eggnog for flavor and add more nutmeg or more dates to taste.

Pour into fancy glasses and enjoy! Eggnog can be served warm or chilled.
Nutrition
Serving:
1
grams
|
Calories:
292
kcal
|
Carbohydrates:
35
g
|
Protein:
7
g
|
Fat:
16
g
|
Sugar:
24
g