A nutritious weekly vegetarian meal plan with well-balanced dinner recipes, and options for gluten-free and vegan meals.
How's your fall going so far? In the Sierra Nevada, the aspen trees are vibrant with fall color and with the first day of fall, the autumnal equinox also marked our first day of snow. Sure, sure, it was less than a centimeter, and it disappeared almost instantaneously, but it was quite exciting nonetheless! I'm ready for all-things fall and winter, including comforting meals.
And for this week's meal plan, we have comforting meals, indeed! The ladies and I broke out some of our fall-inspired dishes to provide you with cozy yet healthful meals this week. On the roster?: soup, pizza, veggie burgers, salad, and a veggie bake. Remember you can serve any of these meals with a side of your favorite animal protein if you're not vegetarian.
Aside from meal prepping and making those pumpkin pancakes I showed you yesterday, what are you up to this weekend? I have no ginormous plans. I'll be packing for my trip to Bermuda, doing some trail jogging, and will hopefully get in some reading and baking. Hope you enjoy this week's meal plan, and…
Have a great weekend!
…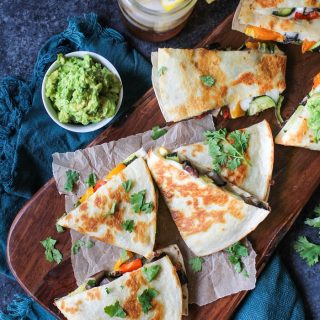 By Julia 6 Comments
This is a sponsored conversation written by me on behalf of Lipton. The opinions and text…