By Julia 7 Comments
This post is sponsored by the Cranberry Marketing Committee in partnership with the Healthy Aperture Blogger Network.
A classic dark and stormy cocktail, spruced up with homemade cranberry simple syrup using fresh cranberries – a fun and festive beverage to share with your buds at your Friendsgiving celebrations.
The holidays, you people…they're upon us like white on rice. Halloween is just a hopscotch away, and I'm so ill-prepared!  Per my usual procrastinating way, I have no costume in the pipeline, though I'm 200% ready to hand out Halloween candy comas, make pumpkin treats, and watch scary movies. I fill the silent observer role much better than I excel at participation. Closely following All Hallows' Eve? Friendsgivings all around!
If your pre-Thanksgiving weeks look like one Friendsgiving after another or twelve, and you're always up for any excuse to feast and make merry with a glass of cold booze, I have just the cocktail for you. It involves the ever-so vibrant, tart, and nutrient packed (drum roll, please) cranberry. If you've followed this blog for a hot minute (err..more than a year), you know I'm all about side dishes and sauces using fresh cranberries, particularly around the holidays. In addition to the edibles, I'm pretty amped about cranberry cocktails in general, and of the dark and stormy varietal in particular.
Each year, cranberries hit the produce section right in time for the festivities. Whenever I spot them, I snag a couple of bags, freezing one in its original packaging to use throughout the year, and using one for my holiday eats, treats, and drinks. Cranberries stay fresh for ages, which makes using them in all sorts of recipes a cinch for weeks on end. For those of you who will be incorporating cranberries into your Friendsgiving eats and treats, stay tuned at the end of the post for cool contest information!
…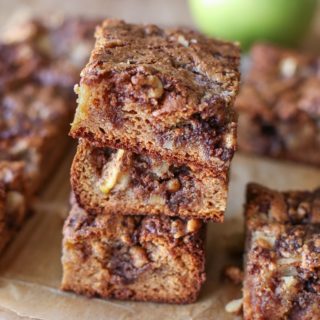 By Julia 17 Comments
Moist, sweet, buttery apple coffee cake made entirely without grains, refined sugar, or dairy. This easy,…