By Julia 3 Comments
The easiest homemade vanilla ice cream recipe you'll ever make. Just three ingredients and no ice cream maker necessary! 
High octane dairy + sugar alert!
Fair warning, this fully-leaded recipe contains all the dairy and sugar. For those who follow a dairy-free and/or sugar-free lifestyle, avert your eyes now, lest you get hooked into the cosmic tractor beam of creamy bliss and faceplant into a vat 3-Ingredient No-Churn Vanilla Ice Cream before you even know what hit you.
For everyone else: Oh, momma.
I had a hot debate with myself regarding whether or not to post this recipe since I tend to shield you all from the magical ways of heavy duty dairy and refined sugar, but in the end, the recipe won. It's simply too good not to share.
…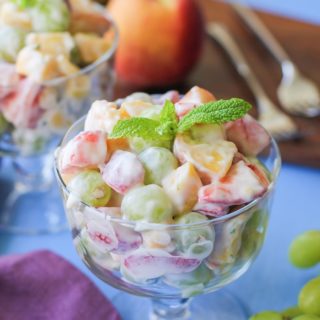 By Julia 9 Comments
Funky fresh fruit salad with ripe seasonal fruit and naturally sweetened coconut whipped cream. The perfect…