The BEST Almond Flour Chocolate Chip Cookies with Walnuts are so addicting! Perfectly crispy on the outside and gooey on the inside, you'd never guess these paleo chocolate chip cookies are grain-free and sweetened with just a touch of pure maple syrup for a healthier cookie recipe.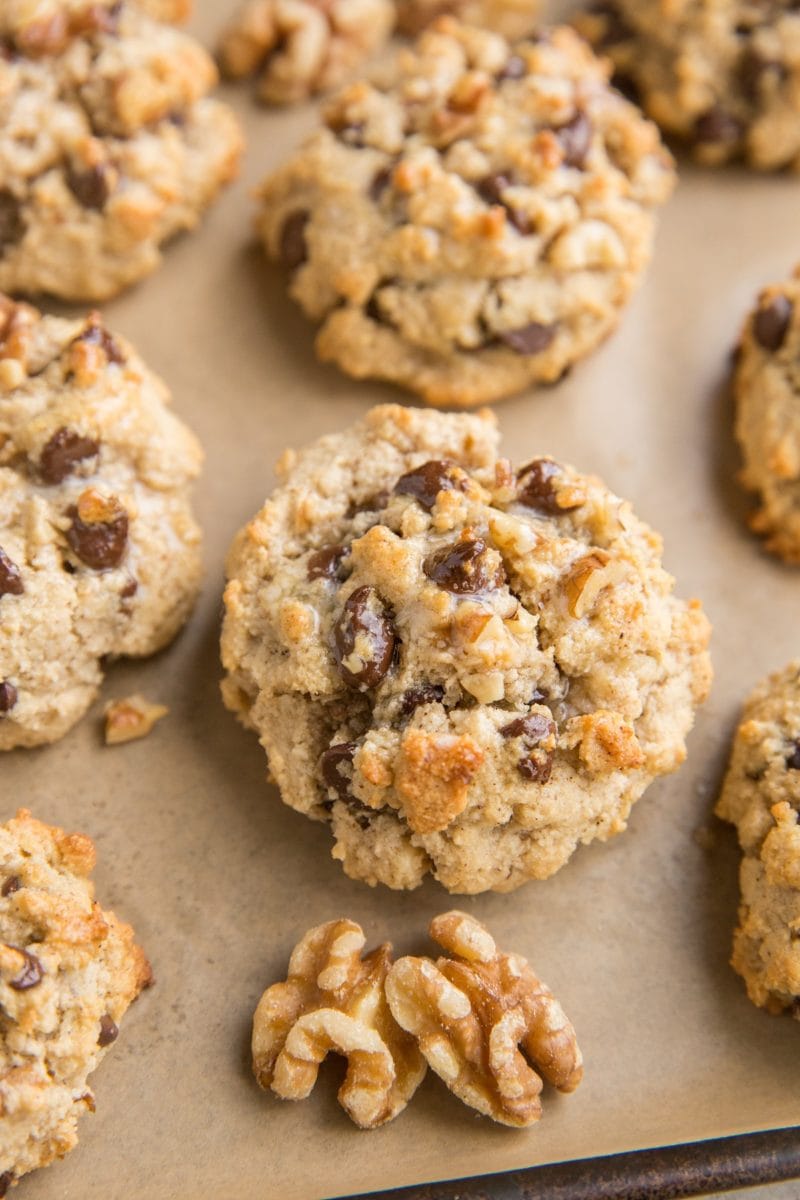 You may have read in my post for The BEST Giant Paleo Chocolate Chip Cookies that I take my cookies pretty seriously, and their size even more so.
The crispy edge? The molten inside? There's nothing that compares to that buttery chocolate-studded melt-in-your-mouth perfect bite!
These almond flour chocolate chip cookies with walnuts are exactly that – texturally pleasing with that incredibly soft inside, perfectly sweet with just the right amount of chocolate, the delectable crispy edge, and livened up with crunchy walnuts.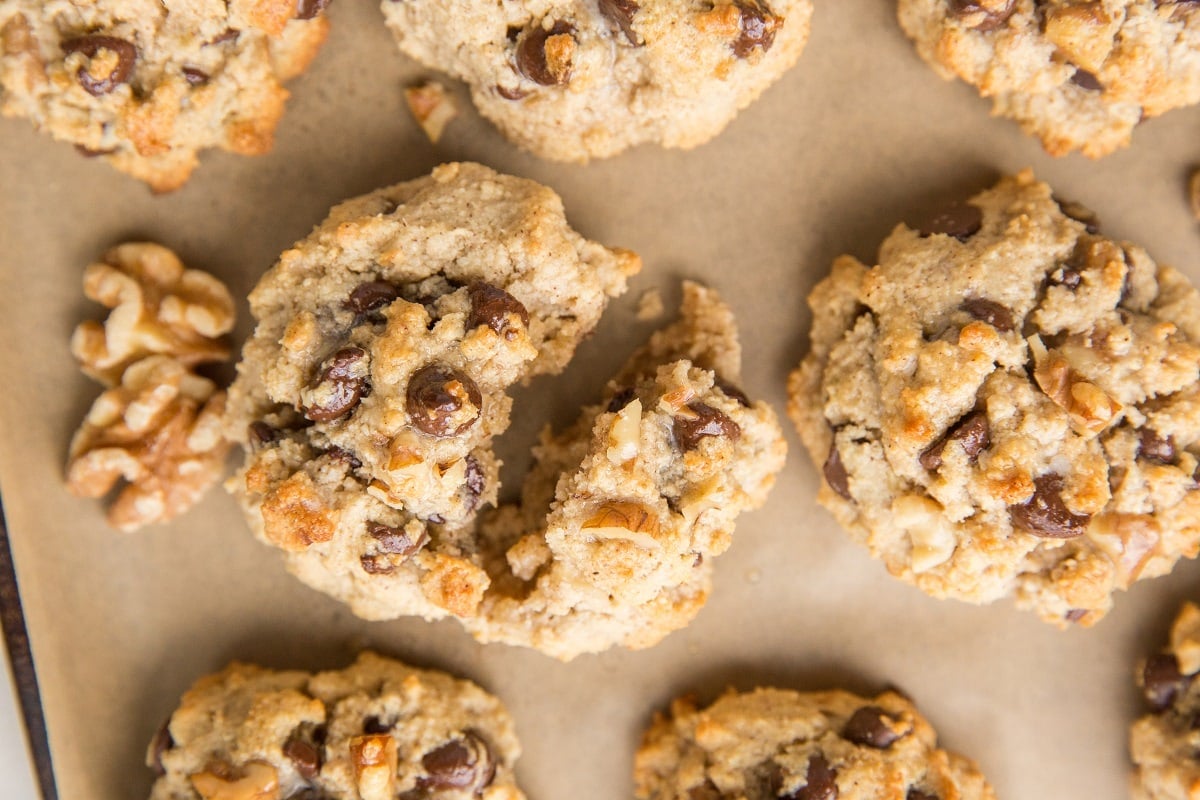 I totally understand why some folks prefer their treats nut-free (my brother and a good friend of mine won't touch walnuts with a 10-foot pole), but after making these cookies, I'd be hard pressed to choose cookies without walnuts.
That poppy little crunch with the rich nearly indescribable flavor adds a unique essence and makes the cookies that much more enticing!
I found this to also be the case with pecans in my Keto Cowboy Cookies.
One of the many reasons I love this recipe is you can whip it up at a moment's notice without needing to refrigerate the dough. It's already ready to pop in the oven!
And let me just tell you…these cookies are absolute heaven when they're fresh out of the oven!
Let's give into the details on these paleo almond flour chocolate chip cookies!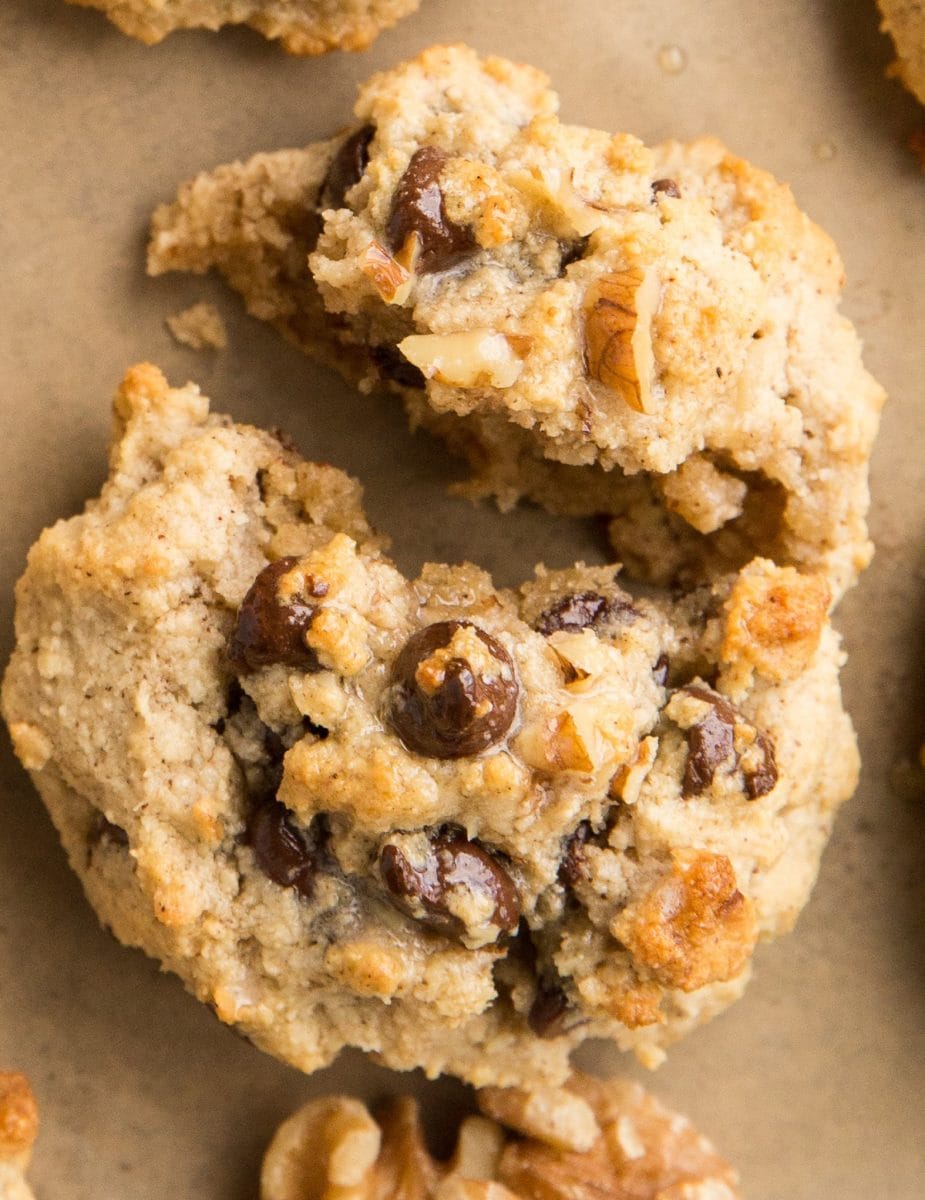 Ingredients for Almond Flour Chocolate Chip Cookies:
Butter or Coconut Oil: The fat portion of the recipe that makes all our dreams come true. I've made this recipe dozens of times using butter OR coconut oil, and both are amazing! I have a slight preference toward butter, but coconut oil makes an incredible dairy-free option.
Egg: The egg ensures the cookies fluff up and stay together.
Pure Maple Syrup: In keeping the cookies refined sugar-free and paleo friendly, I use pure maple syrup to sweeten them.
Vanilla Extract: Adding warmth and depth of flavor, vanilla extract is one of those iconic ingredients that enhances a cookie. If you don't have any on hand, you can skip it and the cookies will still be amazing.
Almond Flour: The star of the show here! Can you make chocolate chip cookies with almond flour? Yes, absolutely! In fact, the texture turns out exquisite with the perfectly crispy outside and amazingly soft and gooey inside.
Baking Powder & Baking Soda: Our leavening agents! Baking soda and baking powder ensure the cookies don't spread while baking. They help keep the cookies held together nicely so that they can rise and form delicious domes of bliss.
Sea Salt: A touch of sea salt goes a long way in making a cookie taste incredibly rich!
Ground Cinnamon: A touch of ground cinnamon brings a unique warmth that levels up the whole experience.
Chocolate Chips: The YUM factor of the cookies which brings that molten goodness! Select your favorite chocolate chips to make these radical cookies.
Walnuts: A supporting actor that you support to win the big award! Walnuts not only bring a nice little soft crunch to cookies, they also contribute a nutty richness that is difficult to describe. They're like a solid version of nature's tree butter. You can quote me on that.
How to Make Almond Flour Chocolate Chip Cookies with Walnuts:
This recipe is a little different than your standard chocolate chip cookie recipe, because we melt the butter (or coconut oil) before mixing it with the other ingredients. Trust me, it'll all work out and you'll be left with the BEST almond flour cookies!
Preheat the oven to 350 degrees Fahrenheit.
Melt the butter (or coconut oil) in a microwave-safe mixing bowl (avoid bringing it to a boil). Whisk in the egg, pure maple syrup, and vanilla extract until creamy.
In a separate bowl (or measuring cup), stir together the almond flour, baking powder, baking soda, sea salt, and cinnamon until combined.
Pour the flour mixture into the mixing bowl with the wet mixture and stir until a thick dough forms.
Stir in the chocolate chips and walnuts until they're well-incorporated into the cookie dough.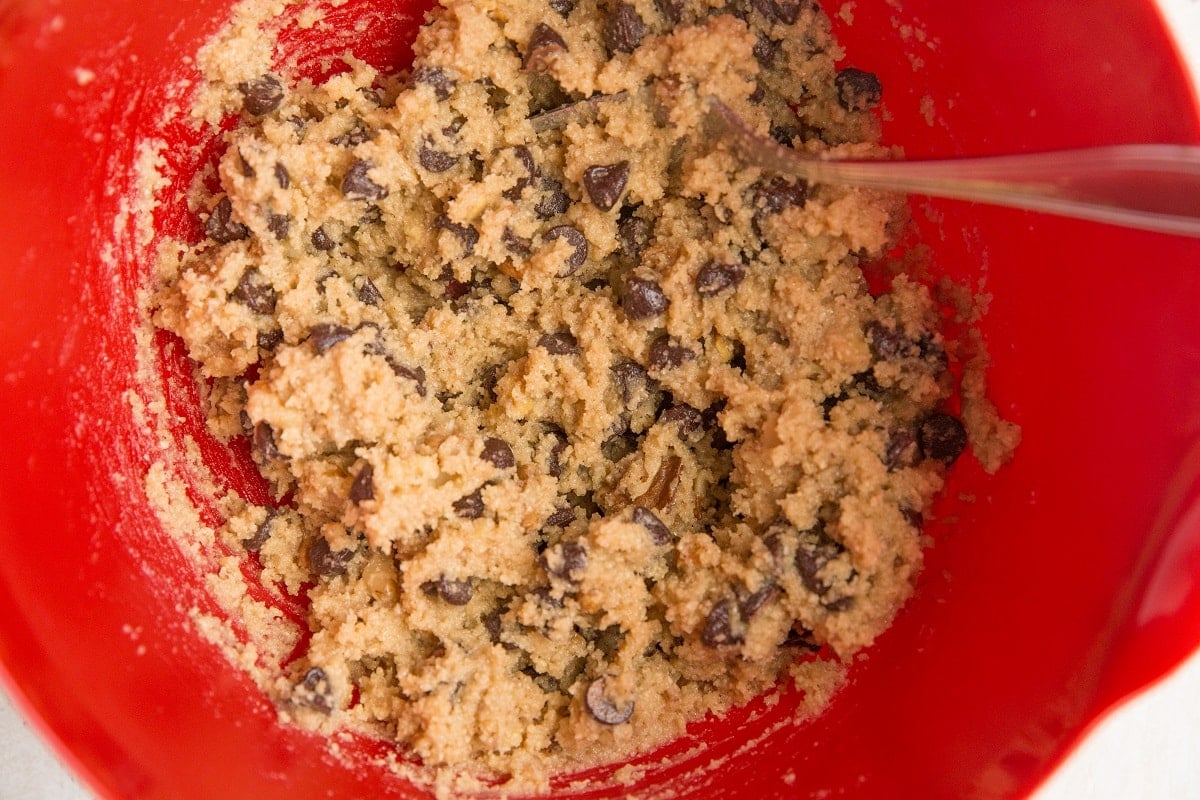 Scoop mounds of dough onto a parchment-lined baking sheet. Note that the cookies won't spread or shift form while baking very much, so form the dough into the final shape you're going for.
Bake on the center rack of the preheated oven for 8 to 12 minutes (I do 10).
Remove the cookies from the oven and allow them to cool for 15 minutes before diving in!
If you love these almond flour chocolate chip cookies, also try my Paleo Double Chocolate Chip Cookies, Paleo Morning Glory Cookies, or my Paleo Espresso Chocolate Chunk Cookies.
Almond Flour Chocolate Chip Cookies with Walnuts
Paleo chocolate chip cookies made with almond flour and pure maple syrup, studded with walnuts for incredible texture and flavor!
Instructions
Preheat the oven to 350 degrees Fahrenheit.

Stir together the almond flour, baking powder, baking soda, sea salt, and cinnamon in a bowl (dry ingredients).

Whisk together the egg, coconut oil, pure maple syrup, and vanilla extract in a separate bowl (wet ingredients).

Pour the dry ingredients into the bowl with the wet ingredients and stir until combined. The dough will be very sticky. This is normal!

Stir in the chocolate chips and chopped walnuts until they are well-incorporated throughout the dough.

Scoop heaping mounds of cookie dough onto a non-stick baking sheet. Note: The dough will not spread much during the baking process and will maintain the same shape throughout. For this reason, form the dough into the shape you would like to end up with.

Bake 8 to 12 minutes (I do 10 on the dot), or until the edges of the cookies are golden brown. Remove from the oven and allow cookies to cool a couple of minutes before transferring them to a wire rack to finish cooling.
Nutrition
Serving:
1
of 12
|
Calories:
189
kcal
|
Carbohydrates:
9
g
|
Protein:
5
g
|
Fat:
16
g
|
Fiber:
2
g
|
Sugar:
6
g
I originally posted this recipe on June 20, 2015. I re-photographed the cookies and updated the post to provide more information, but the recipe is the same otherwise.