By Julia 8 Comments
Lemony Braised Chicken and Kale for every weeknight dinner from now till Kingdom cooooome.
I've got something to tell ya. I've got news for you. <- Vengaboys reference, anyone? Yeeeer welcome.
You look like you could use a drumstick. That's my news.
I've been meaning to share one of my favorite dinner recipes from that cookbook I wrote…have you heard of it? Let Them Eat Kale!? Word has it, there's 75 recipes and all the things kale inside. But no kale brownies. Because chocolate + beets = bueno, but chocolate + kale = blarf.
Anyhoo, the Lemony Braised Chicken and Kale recipe from the book was one of my favorites, and can be made on any weeknight. Get your protein, get your fiber, save your sugars for all the black bean brownies to be consumed post-meal.
…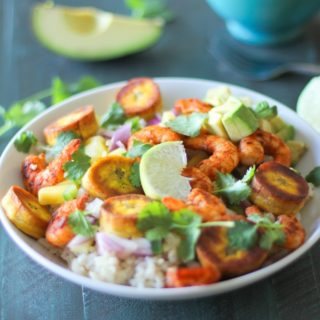 By Julia 19 Comments
Cuban Shrimp Bowls with Mango Salsa, Coconut Rice and Fried Plantains. Because all Mondays should come…