By Julia 17 Comments
Lookit these lumps.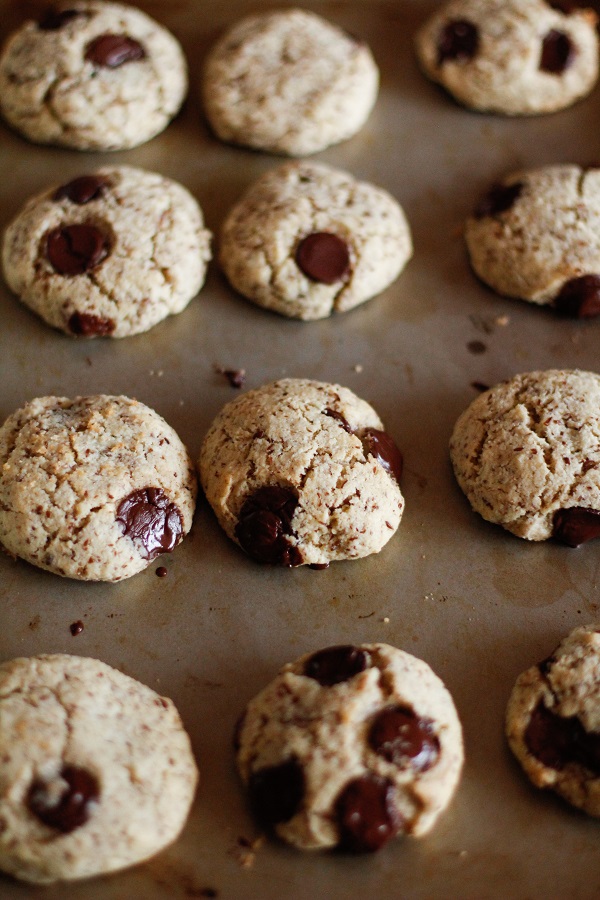 I've been on the prowl for THE perfect gluten-free chocolate chip cookie recipe for many moons, and I daresay, I have found it!
But this isn't it.
Just kidding, it totally is.
IMO, there's absolutely nothing that compares to a fresh-out-of-the-oven chocolate chip cookie. BUT, because I don't eat the glutens, my life has been shamefully void of my favorite baked treat for just the longest while. Thanks to Nicole Morrissey from Prevention RD and her newly released cookbook, Prevention RD's Cooking and Baking with Almond Flour, I am back on the cookie-dough-for-dinner freight train.
When I was perusing Nicole's book, I stopped dead in my tracks when I saw her Ooey Gooey Chocolate Chip and Flax Cookies (pg. 156, just fyi) and knew that in spite of the myriad of recipe options, this would be the one I'd be making, consuming, and sharing. I know what you're thinking: a cookie is a cookie is a cookie, but no. Nay. This recipe is different.
It's clutch.
Just get a load of the cookie deets: These cookies are made with almond flour and coconut oil – no gluten, no butter. While the original recipe calls for brown sugar, I replaced it with coconut sugar and the cookies still turned out great. Basically this means we have a dairy-free, gluten-free, naturally sweetened, protein and omega-packed cookie, which by my calculations can only mean one thing: feast.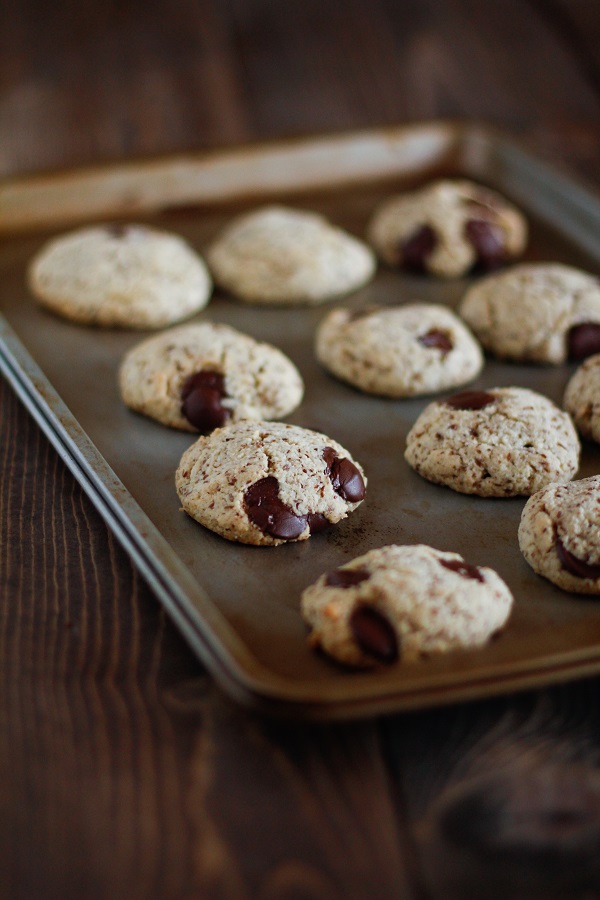 Brief aside: Does it look like there are zero chocolate chips in these cookies? I swear there are more than zero chocolate chips in these cookies. Nicole recommended I use the mini chocolate chips, and instead, I went with my go-to ginormous chocolate chips because a.) old habits die hard, b.) someone was standing in front of the mini chips at the grocery store, and I chose to be passive rather than say, "mi scusi," c.) I'm notoriously bad at following instructions. Case in point: I recommend you use small chocolate chips, lest it appear as though there are zero of them in your cookies. End aside.
Nicole's book includes 75 recipes using my all-time favorite gluten-free flour: the almond kind. It contains recipes for Breakfast, Sides & Starters, Entrées, Quick Breads, Muffins, and Desserts. One of the reasons I love the book is the entrée section. I've made my fair share of almond flour pancakes and desserts, but I've been wanting to use it in savory recipes in place of breadcrumbs for quite a while.  As it turns out, almond flour is very versatile, which Nicole shows in her book.
…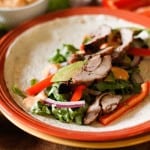 By Julia 20 Comments
Southwest Grilled Tequila-Marinated Chicken wraps are perfect for your summertime backyard barbecues. This post is sponsored by Pacific Foods. If I were to summarize my idea of the quintessential summer barbecue with friends, it would look a lot like this… Okay, it would look exactly like this. Yeah, it would be this. Warm weather, great…