Sweet, cinnamony vegan pumpkin scones made with coconut oil in place of butter. These gluten-free treats are refined sugar-free, dairy-free, and are a healthful alternative to regular scones. Stay tuned for two ways of preparing this recipe – a gluten-free version, and a grain-free, paleo version.
This post is sponsored by San Francisco Bay Coffee.

It's that season, friends! The season for baking, sharing, giving, carbs and sugar and starches, oh my!, hot beverages, slippers, and fleece. You guys, 'tis the season for scones. The season for cozying up, getting lost in a stack of good books, going to bed earlier, putting a dash of cinnamon on everything under the sun, apple-scented candles, and working on your hibernation layer – bikinis be gone. And did somebody say, "scones??"
Ohhhh momma, have I got a scone for you!
Of the pumpkin spice varietal.
It's not your run-of-the-mill standard issue flour-butter-sugar situation, either. It's a lightened up, yet equally delicious, you'd-never-know-it's-vegan-sugar-free-and-gluten-free type of shindig.
If you're into fall flavors and treats to go alongside your morning Joe, if you dig a well-placed glaze, and/or if you're not allergic to fun, you're going to get a kick out of these coffee-glazed lumps of pumpkin sconeage.
…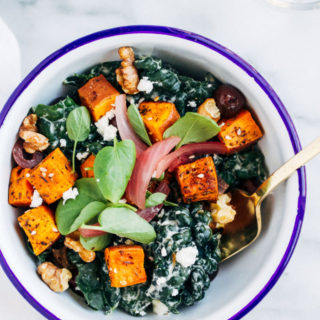 By Julia 2 Comments
A delicious and healthy vegetarian meal plan to make your weeknight eats easy, approachable, and tasty!…