Hey hey heeeeeey!
What are you all up to this weekend?  On account of the fact that we don't have any new snow to report in the mountains, I'll be playing a little game called Catch the Eff Up. Performing tasks that have been back burnered for the last week…okay, three weeks….okay, three months. Such as…clean the house, cut the toenails, get on top of the freelance work, website maintenance (fingers crossed I don't break this thing…now you see me, now you do–  $%!*Ctrl Alt Delete. Just kidding).
Anyhoo, there's a sizeable amount of adulting going on in my neck of the woods this weekend. I may watch a fooseball game. You may have heard of it. It's called the Super Bowl.
Get a load of this menu! We're curry-ing, tortellini-ing, spaghetti-ing, stuffing, and chili-ing this week. Have a marvelous time doing your thang, and may your upcoming week be filled with health, happiness, and a helluva lotta food.
Over and out.
…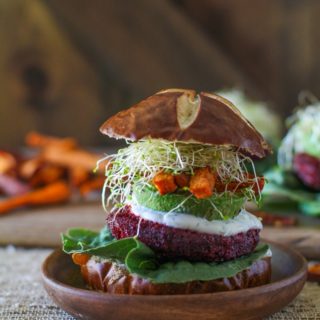 By Julia 2 Comments
These burgers have got it going ON. Beets, carrots, brown rice mixed up with Moroccan spices…