Hello from the (currently windy) snowy Sierra Nevada! We have more snow in the forecast (puh-raaaaaaise!), and as you may have seen on my personal instagram account, the ski conditions have been amazing.
Anything new in your neck of the woods? I began reading The Uglies series this week on account of a reader's recommendation. It's very enjoyable so far! Super quick and easy to read, the characters are relatable, and the books are based on a dystopian world (my favorite type of novel!). If speedy, thought-provoking reads are your jam, I highly recommend!
Let's talk food.
All sorts of variety this week.
We're doing a cozy soup, a rocking nutrient-packed salad, comforting yet healthful pasta, lentil and halloumi curry, and a veggie-and-bean packed Buddha bowl. Holler at your girl if you have any questions, and enjoy your weekend!
…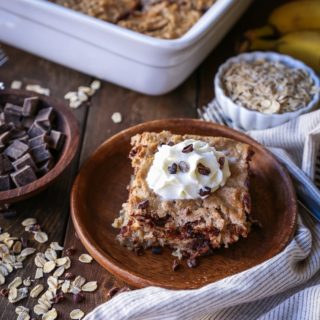 By Julia 10 Comments
Gluten-free baked oatmeal with banana bread flair for an ultra flavorful and fun breakfast. This easy…