By Julia 11 Comments
Cream cheese-less cheesecake! These gluten free, naturally sweetened cheesecake bars are healthy enough to eat for breakfast. Which means you should eat them for breakfast.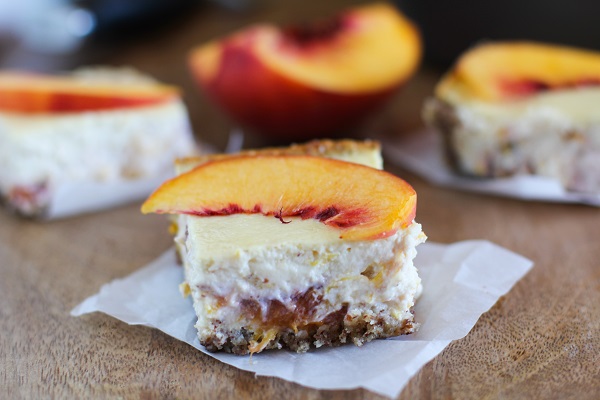 I'm going to miss the peaches. There, I said it. I'm just as excited about cool weather, scarves, butternut squash and hot toddies as the next eager beaver, but can we freeze time for a hot minute and bask in the last moments of ripe, drippy summer fruit? Because once that ish goes, it's gone, man. And then we're left with what? Persimmons? Ugh. PUH-lease.
Let's all call a spade a spade and say that summer is the best of all the fruit seasons. I mean, what will this cheesecake look like come winter? Persimmon cheesecake? Ugh. Inconceivable.
#FirstWorldProblems.
BUT the disappearance of peaches and all the other summer fruit is future tense. In the present tense, we still have peaches (hooraaah!). Let's roast them and put them in yogurt cheesecake.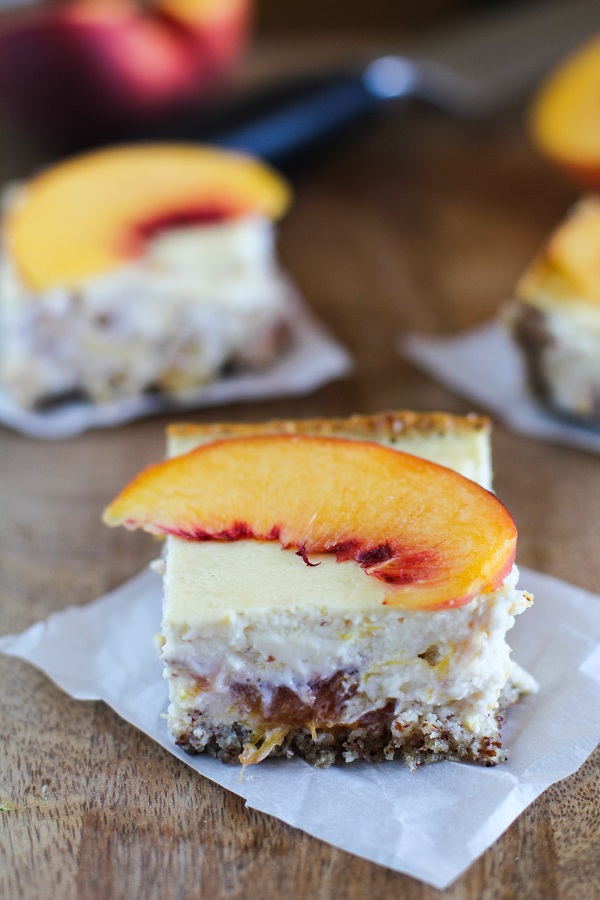 You're looking at these bars like you want one in the palm of your hand. This is why we're friends.
This is definitely not your run-of-the mill cheesecake. First off it's made without cream cheese. Plain full-fat yogurt, pure maple syrup, vanilla extract, and tapioca (or corn) starch are all you really need for the base.
Bonus points: this cheesecake is made in a blender.
More bonus points: the crust is made with almond meal, maple syrup, and coconut oil, making for a completely healthful  gluten free treat.
The cheesecake isn't overly sweet, which is how I prefer my…sweets [< - thesaurus, anyone?]. You can easily add more maple syrup to the cheesecake base, or just douse it in maple syrup, agave, or honey when you serve it. Case in point: sweeten to taste.
…
By Julia 20 Comments
This post is sponsored by Hampton Creek; however, all opinions are my own. Last call for zucchini!…