By Julia 6 Comments
Creamy almond flavored coconut milk popsicles dipped in dark chocolate magic shell for a dairy-free, vegan, and paleo-friendly dessert.
This summer has flown right by, and I haven't even posted a single popsicle recipe. For shame, you'uns, for shame! Why didn't you say something. Kidding.
Butforrealz, do you loveth the Almond Joy? It took me until my late teens to become an Almond Joy believer, but once I was there, man, I.was.there. Since most of the popsicles I make are coconut milk-based, I had a brilliant idea – mimic the coconut//almond//chocolate combo of the Almond Joy candy and turn it into a healthier popsicle. Okay, okay, it's nothing revolutionary, but I can tell you my face buds got quite a kick out of it.
…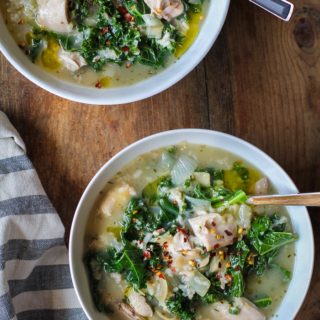 By Julia 8 Comments
Hearty and healthy crock pot chicken, artichoke, and kale soup – a simple recipe that requires…