By Julia 6 Comments
Funky fresh fruit salad with ripe seasonal fruit and naturally sweetened coconut whipped cream. The perfect fruit salad to bring to a picnic or barbecue.
Oh yeah, that Memorial Day Weekend… Happeniiiiiing…NOW!
Long weekends are my favorite for playing in the mountains and putzing around in the backyard, so imagine my surprise when I woke up and realized we're plummeting headfirst into one this very second.
Weather? Supposed to be nice. Activities? Mountain bike my face off. Food plans? All the grill. Side dishes? Fruit salad and fruit salad some mo'.
For me, Memorial Day marks the beginning of summer even though there are still three-ish weeks until the summer solstice. It's the first uuuge barbecuing weekend of the year, where we break out our sundresses, sangria, and steak…to me, all the aforementioned = summer. Never look back. Never surrender.
As for summer side dishes? This fruit salad (or as I like to call it, The Only Fruit Salad Recipe You'll Ever Need)  is PERFECT for whipping up and bringing to your Memorial Day Barbecue…slash any barbecue/grill out…slash any picnic…fruit salad for life.
…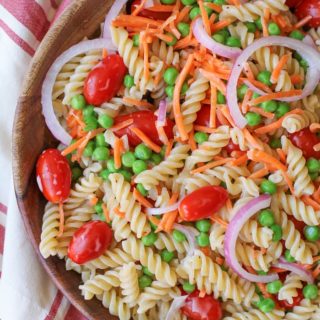 By Julia 6 Comments
Refreshing and simple gluten-free pasta salad with cherry tomatoes, peas, carrots, red onion, and homemade lemon…