'Tis the season for leftover repurposing. Use your leftover cranberry sauce for this Cranberry Bourbon Cocktail!
I see that look of yourn. Lemme guess: Tooooo much junk in the trunk.
Too much feasting yesterday, and too many leftovers today. What shaaaall we do?
We shall repurpose them. Let Project Remodel Thanksgiving Leftovers begin!!
If your Thanksgiving feast resembled my family's, you have about 12 trillion pounds of leftovers and are looking for places to stash them. Don't throw that junk away! There are plenty of ways we can use leftovers without getting sick of them. There is a slew of recipes for Thanksgiving leftovers floating around the intraverse. Plus, last year, I rounded up 50 Thanksgiving Leftover Recipes, giving you options for excess turkey, mashed potatoes, stuffing, and cranberry sauce.
Which reminds me of something I've been meaning to tell you. Cranberry sauce is my favorite leftover to play with.
Each year, I make Cranberry Sauce with Ginger and Maple, which yields a ton of sauce and results in leftovers. Last year, I made cranberry vinaigrette for my Thanksgiving Leftovers Salad, and Cranberry Sauce Pancakes with the leftover sauce. This year, I figured I'd go the bevvie route by mixing some of the leftover sauce with  Bulleit Bourbon. If you like yourself a cocktail, I highly recommend you try this!  The warmly-spiced flavorful sauce goes really well with the liquor, and because the cranberry sauce is cane-sugar free (sweetened only with maple syrup) it adds natural sweetness to the drink without being overly sweet.
And now I will address the elephant in the room: chunks in your cocktail. Can you hack it?
…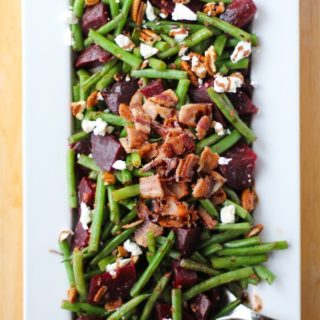 By Julia 9 Comments
Sauteed green beans and beets with bacon, pecans, goat cheese, and balsamic reduction. Chitty chitty bang…