Hey hey heeeeeeey. Whacha doing?
It's basically summer weather here in the Sierra Nevada this weekend, so I'm heading up to Tahoe to go paddle boarding today, and am fixing to go on a road or mountain bike ride tomorrow. Cool wind in my hair..sun on the skin…the whole bit.
The ladies and I have some awesome eats for you this week! We start with spring veggie pasta, move to spring veggie rice casserole, followed by goat cheese and tomato pasta, and then that crispy curry salmon I showed you on Wednesday. We end the week with 30-minute spicy orange shrimp teriyaki for a quick yet flavor-blasted meal. Check it out and don't forget to print out your grocery list to make your shopping life easy! Have a great weekend!
Monday
Fusilli with Asparagus, Peas, and Arugula from Spoonful of Flavor
Tuesday
Skillet Spring Vegetable Brown Rice Casserole from Cook Nourish Bliss.
Prep Ahead: The onion, mushrooms and asparagus can be prepared a day in advance.
Wednesday
Goat Cheese and Tomato Pasta Sauce from greens & chocolate.
Prep Ahead: This pasta sauce comes together in 20 minutes, so no prep ahead is really needed! If you really want to save on time, you can chop the onion a day in advance.
Serve with your favorite pasta or spaghetti squash.
Thursday
Crispy Curried Salmon with Basil Coconut Rice from The Roasted Root.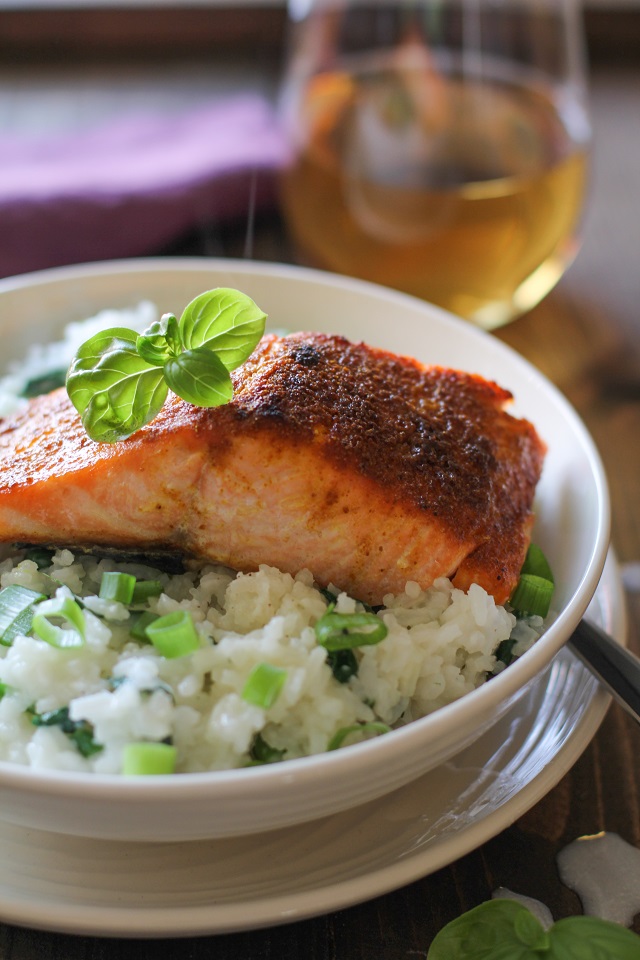 Prep Ahead: The rice can be cooked ahead of time.
Friday
30 Minute Spicy Orange Teriyaki from Flavor the Moments.
Prep Ahead: This is meal comes together very quickly, but you can definitely prep the veggies ahead of time.
Vegetarian Option: Make this vegetarian by omitting the shrimp and adding tofu or beans!
Click HERE to print the grocery list below:
Click HERE to print the customizable menu below:
Click HERE to view all healthy weekly meal plans