Mediterranean-inspired salmon in parchment paper with sun-dried tomatoes, dill, capers, artichoke hearts, kalamata olives, and pesto sauce is a mouth-watering experience for a lovely evening in. PLUS, it's easy! Let's do this!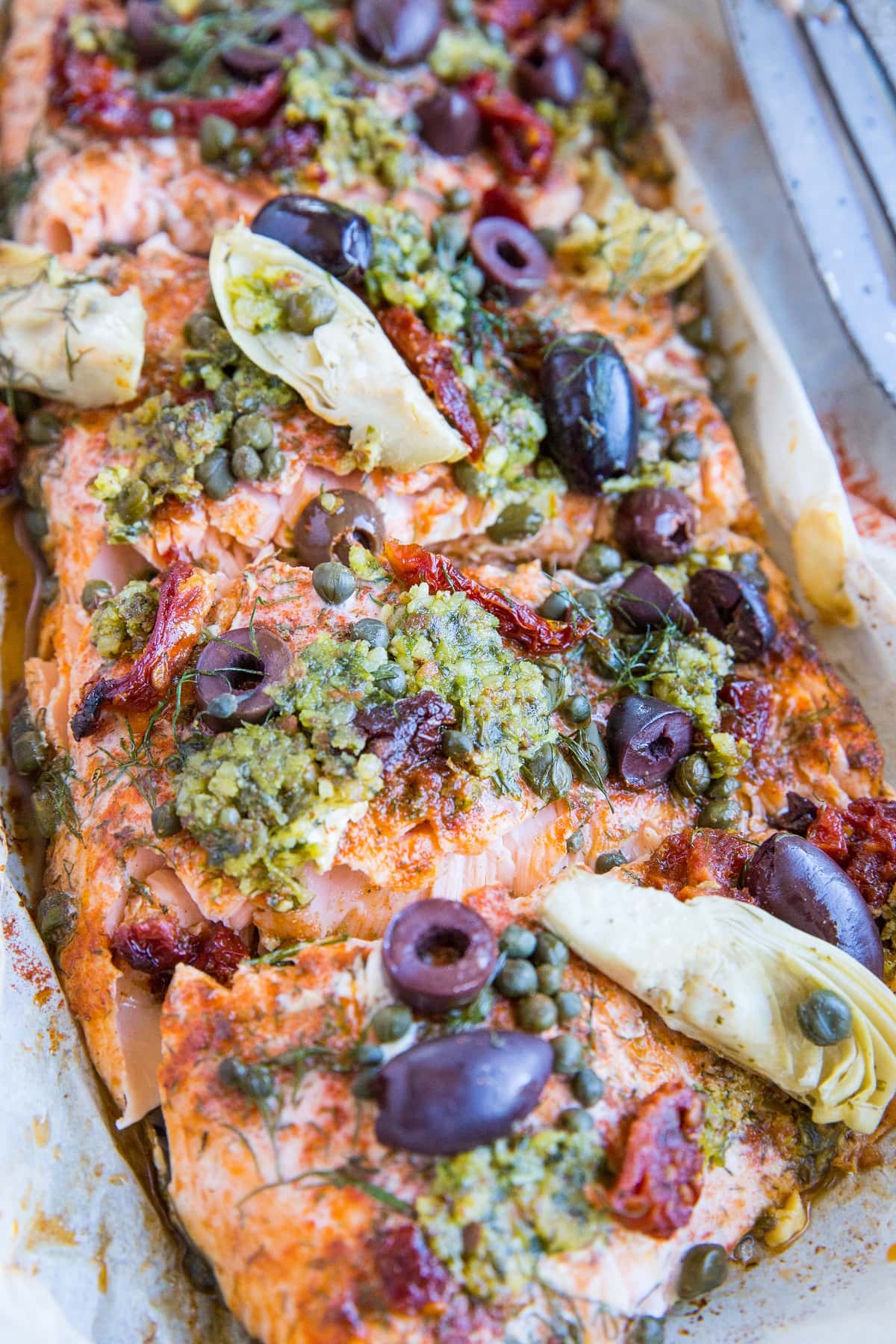 Have you ever made salmon in parchment paper (or fish en papillote, if you will)?
Holy mackerel, it's a treat!
One of the astonishing facts I learned on my trip to Cordova, Alaska was that 80% of the fish and seafood that is consumed in the U.S. is consumed at restaurants.
Why? Because folks tend to be afraid of either preparing it improperly and getting sick, or preparing it in a way that isn't palatable.
Completely understandable. No one loves a parasite, and good seafood is pricy, so why risk messing it up and having the whole thing go to waste?
While I understand the risk aversion, I've been wanting to dispel this fear ever since.
Making fish and seafood at home is no more complicated than preparing any other form of protein, and we don't have to save our seafood experience for the occasional special night out!
I have shown you The Only Grilled Salmon Recipe You'll Ever Need , My Go-To Crispy Salmon Recipe (which involves broiling), and my Crispy Skillet Salmon method,
I have yet to show you how I prepare salmon in parchment paper, also known as fish en papillote or salmon en papillote.
You guys, this is so dang easy.
AND FUN!
The reason I love cooking fish in parchment paper is you end up with this marvelously moist and beautifully textured result every time.
AND THE FLAVOR…holy mackerel, the flavor!
This particular recipe is chock full of big, bold Mediterranean-inspired ingredients, so you're slated for that perfectly cooked salmon experience with all the flavor to back it up.
Here's how we do this thing!
How to Make Mediterranean Salmon in Parchment Paper:
Procure a large salmon fillet. I use wild salmon (wild-caught salmon, King salmon, Coho salmon, or sockeye salmon are all great. Mine was 1.75 pounds.
Simply lay a long sheet of parchment paper on top of a large baking sheet. Use a large rimmed baking sheet if you have one, but any sheet pan will work.
Place salmon fillet on top skin side down.
You can purchase smaller fillets and make individual packets, or cut the fillet into smaller pieces for individual portions. I like making it in one big parchment paper packet to save time (and parchment paper).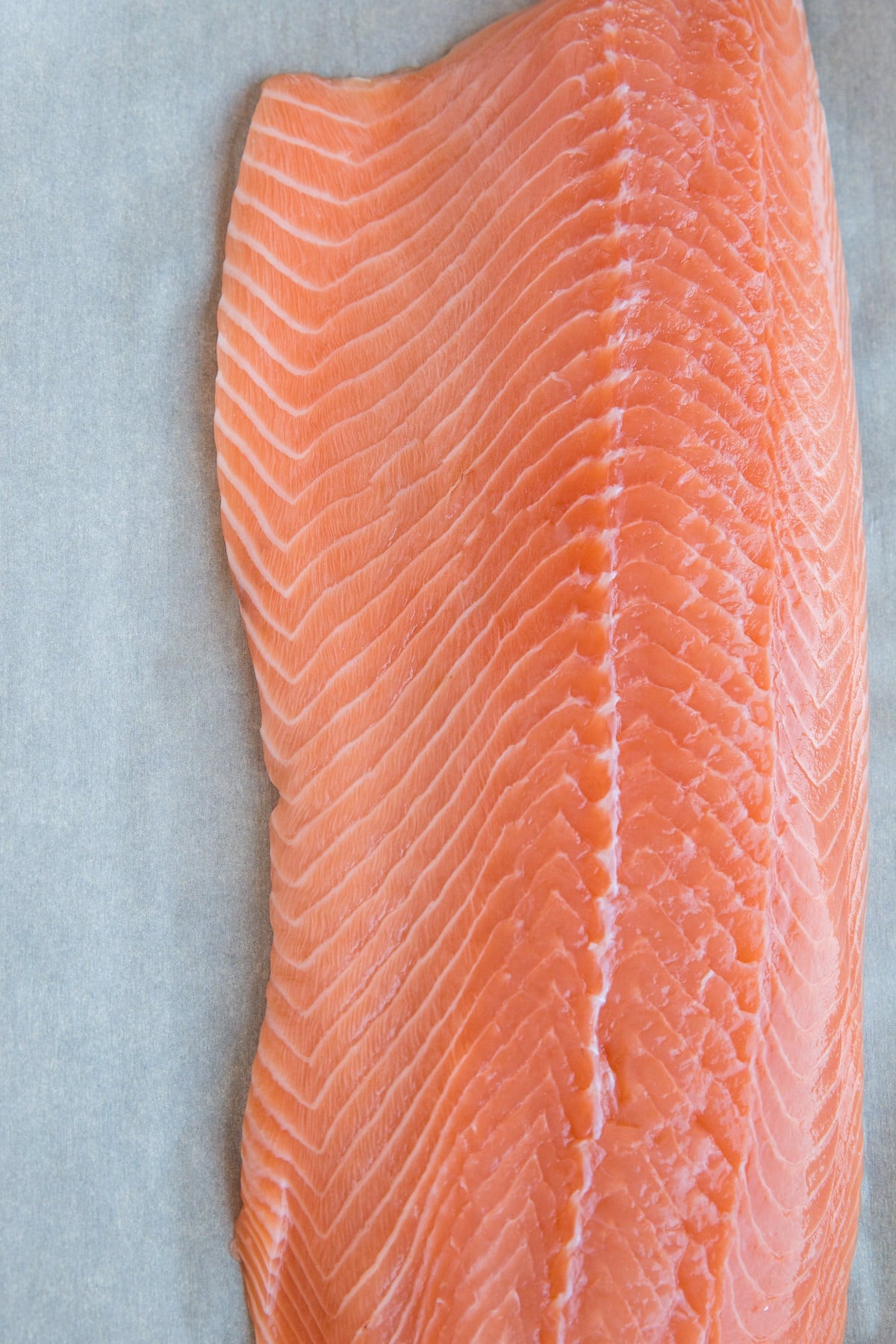 Drizzle the salmon with a light coat of avocado oil or a little olive oil.
Season salmon with sea salt and your choice of spices. I use paprika, dried dill, and ground ginger.
Cumin, garlic powder, and onion powder are also great choices!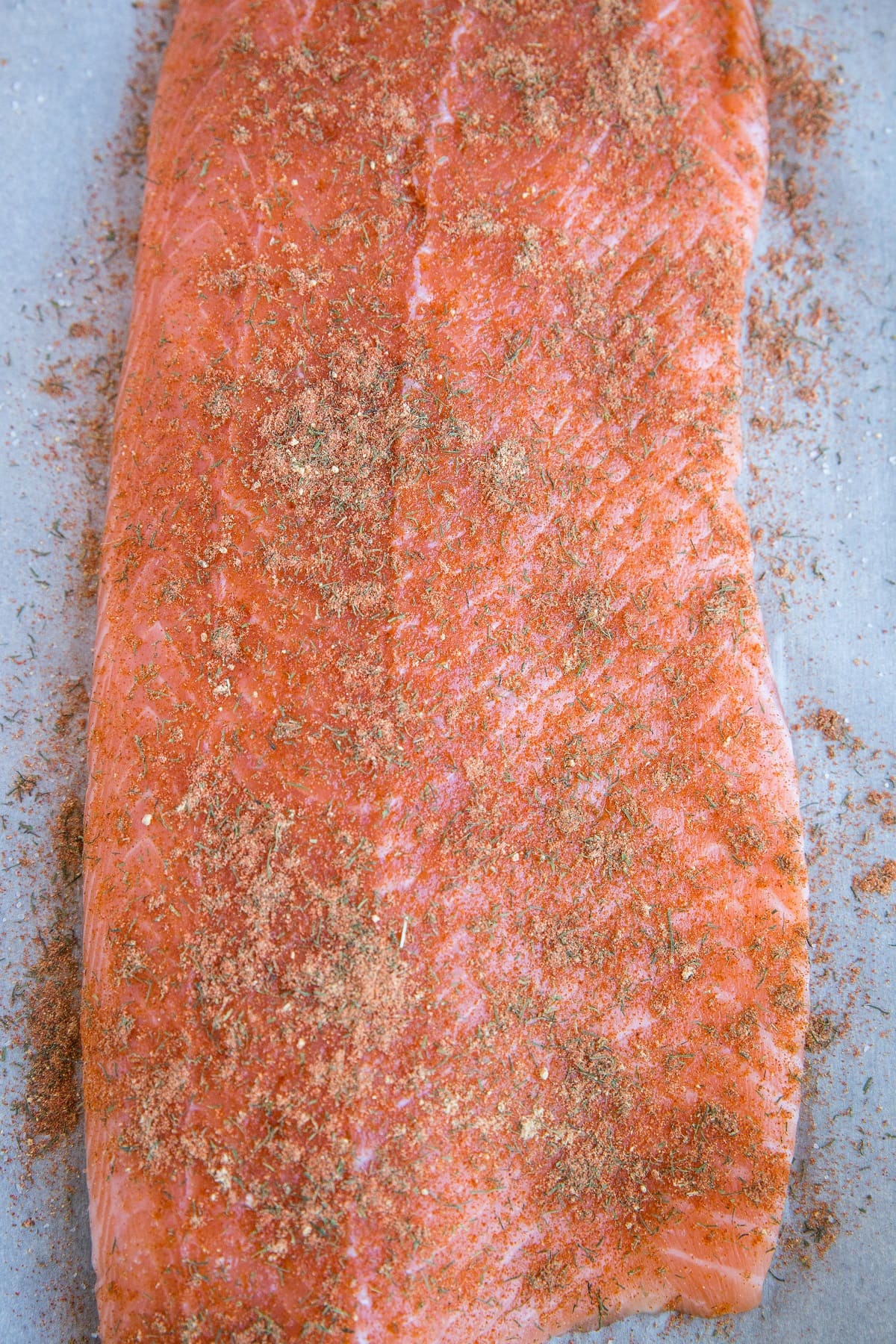 After seasoning the fish, add whatever flavor-blaster ingredients you'd like on top.
I went with sun-dried tomatoes, capers, fresh dill, artichoke hearts, kalamata olives, and pesto sauce. Use toppings that sound great to you, like cherry tomatoes or slices of lemon.
You can use my Basil Pesto Sauce Recipe or my Low-FODMAP Pesto Sauce or any of your favorites!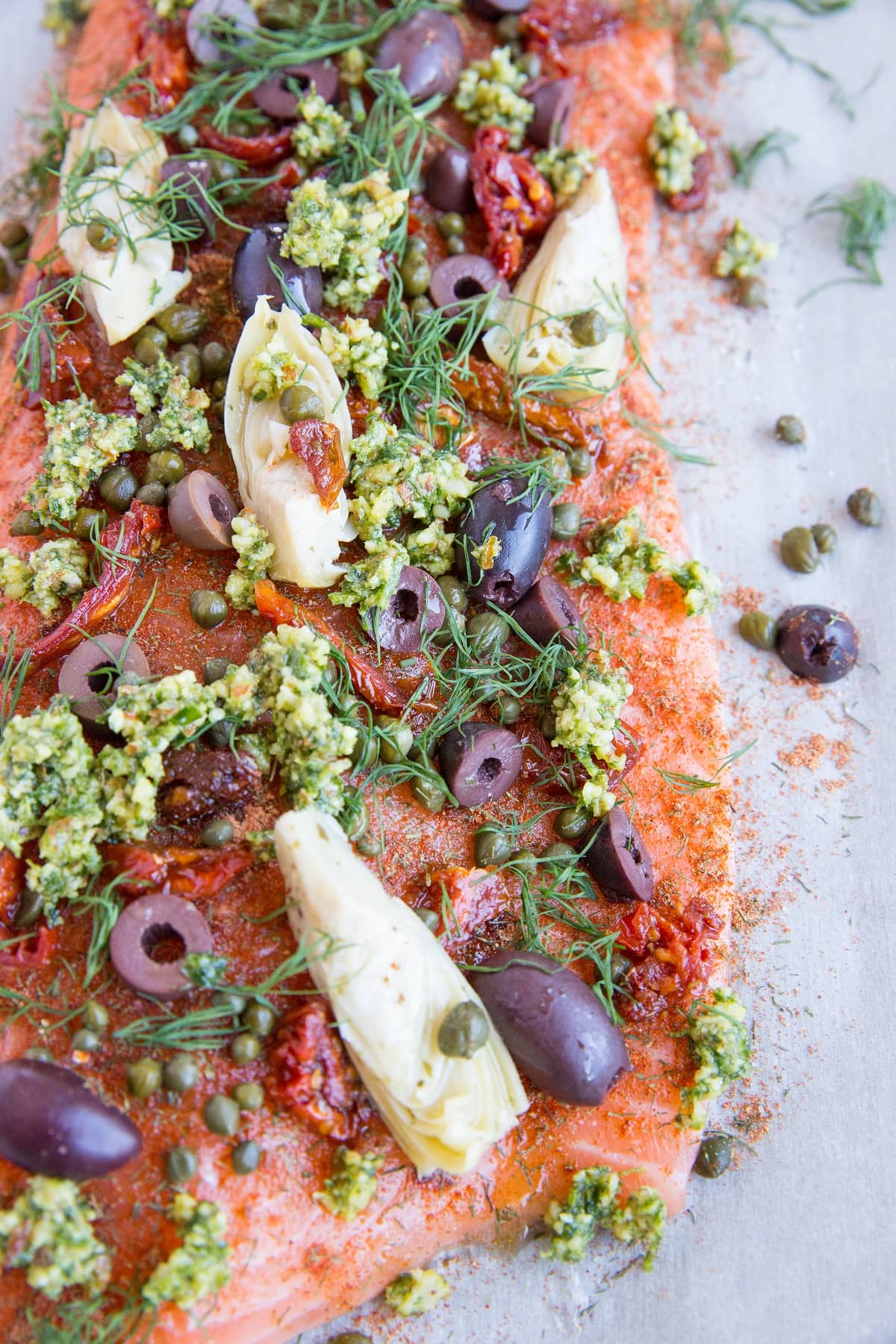 Once your ingredients are nestled on top of the fish, you're going to wrap up the parchment paper to make it all nice and snuggly in a parchment pouch. Gather edges of the parchment paper and fold them over, like you're wrapping a little salmon gift.
The parchment paper will want to come apart, so I use three pieces of kitchen twine to keep it enclosed – one piece on either end and one for the middle.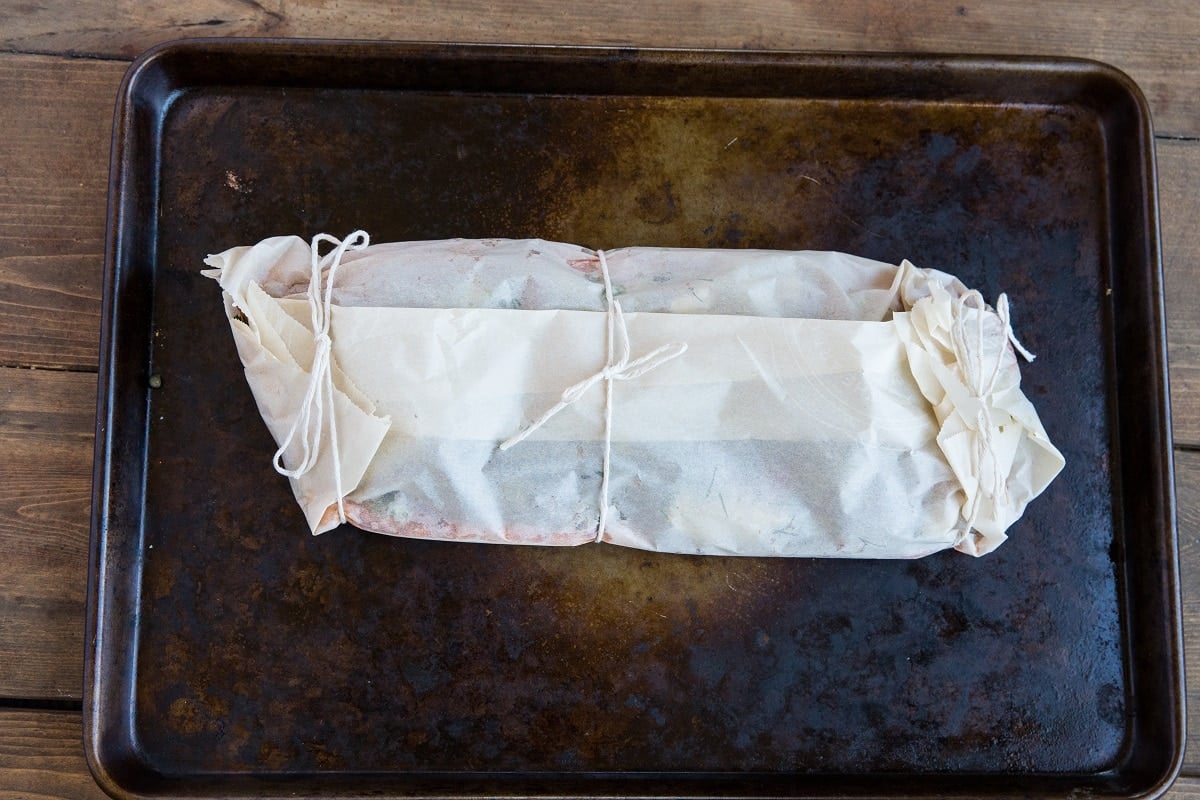 Now that we officially have our salmon en papillote, we simply bake it in the preheated oven.
I bake mine for 20 minutes at 400 degrees F. If you have a thicker piece of fish, you'll be looking at the 25 to 30-minute time range to cook it all the way through.
Et voila!
Cut the twine, un-wrap your papillote, cut the filet into individual servings, and have yourself a glorious dinner!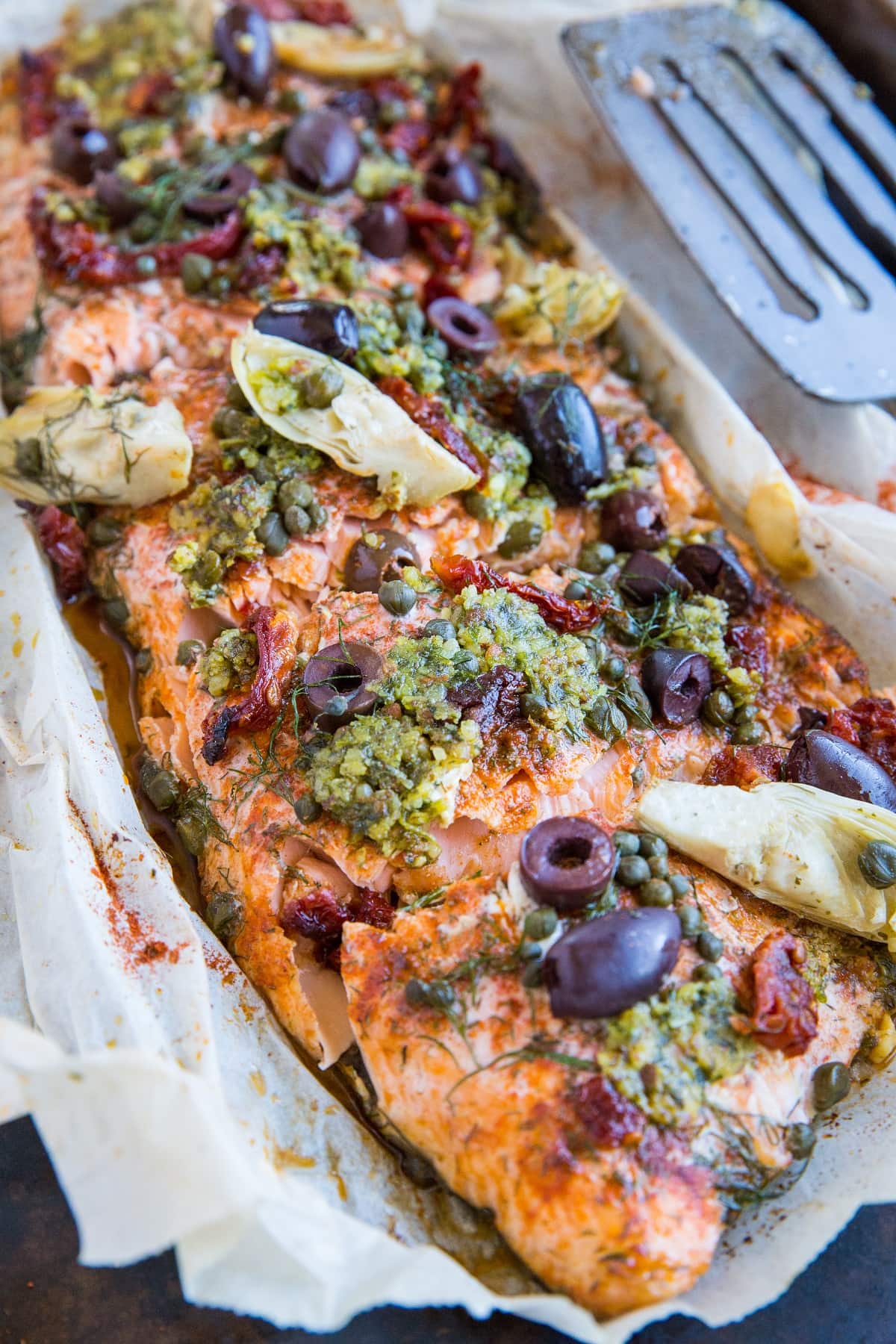 Fish is considered fully cooked when it reaches an internal temperature of 145 degrees Fahrenheit. For the best result, use a meat thermometer to check the temperature to guarantee the salmon is neither undercooked or overcooked.
Insert an instant read thermometer into the thickest part of the fish and wait until the numbers stop moving to get an accurate read.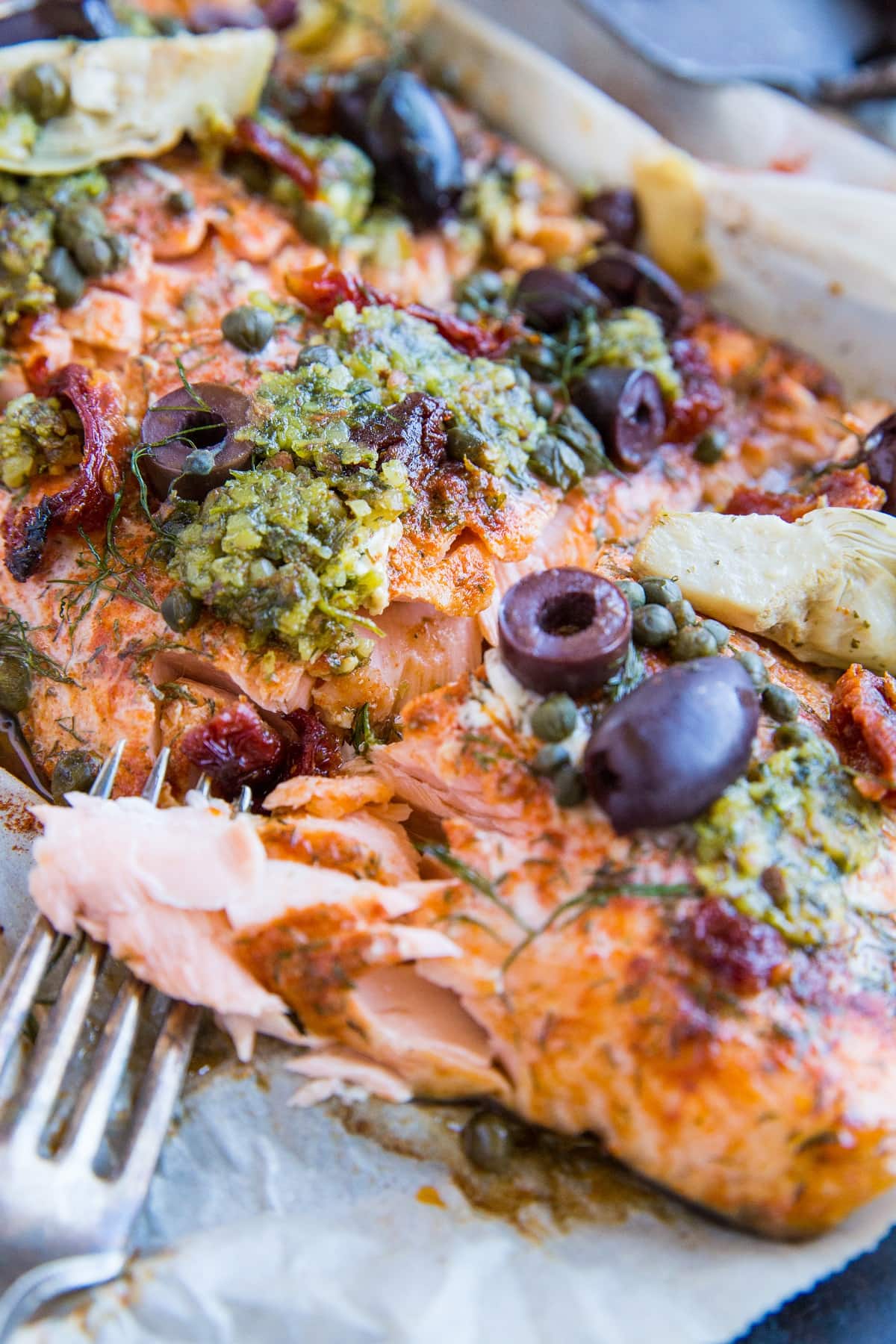 Recipe Adaptations:
You can use any type of fish or seafood for this recipe Cod and halibut are amazing too!
As an alternative to the Mediterranean theme, you can keep it simple and sprinkle the salmon with salt and black pepper and lay lemon slices and fresh herbs on top. Get creative with your toppings!
Make individual packets by using smaller filets or cutting a large filet into smaller fillets. You can cook all of the parchment packets on the same baking sheet.
If you don't have parchment paper on hand, aluminum foil works too. You can also make this recipe leaving the salmon open (without wrapping it at all), although the parchment method results in the most tender fish.
Serving Options:
Now that the parchment paper salmon is cooked, you can cut it into individual portions and serve with your favorite side dishes. The following are some of my favorite side dishes to pair with the Mediterranean salmon.
I've been using this as my favorite way to meal prep, since salmon is one of my favorite sources of animal protein.
The bold flavors make for such a delicious dinner. It's truly a treat!
I simply make a big fillet at the beginning of the week, store it in an airtight container, and eat on it over the next 4 to 5 days.
The recipe is simple enough to make for any weeknight meal, yet fancy enough to serve at a dinner party for a special occasion.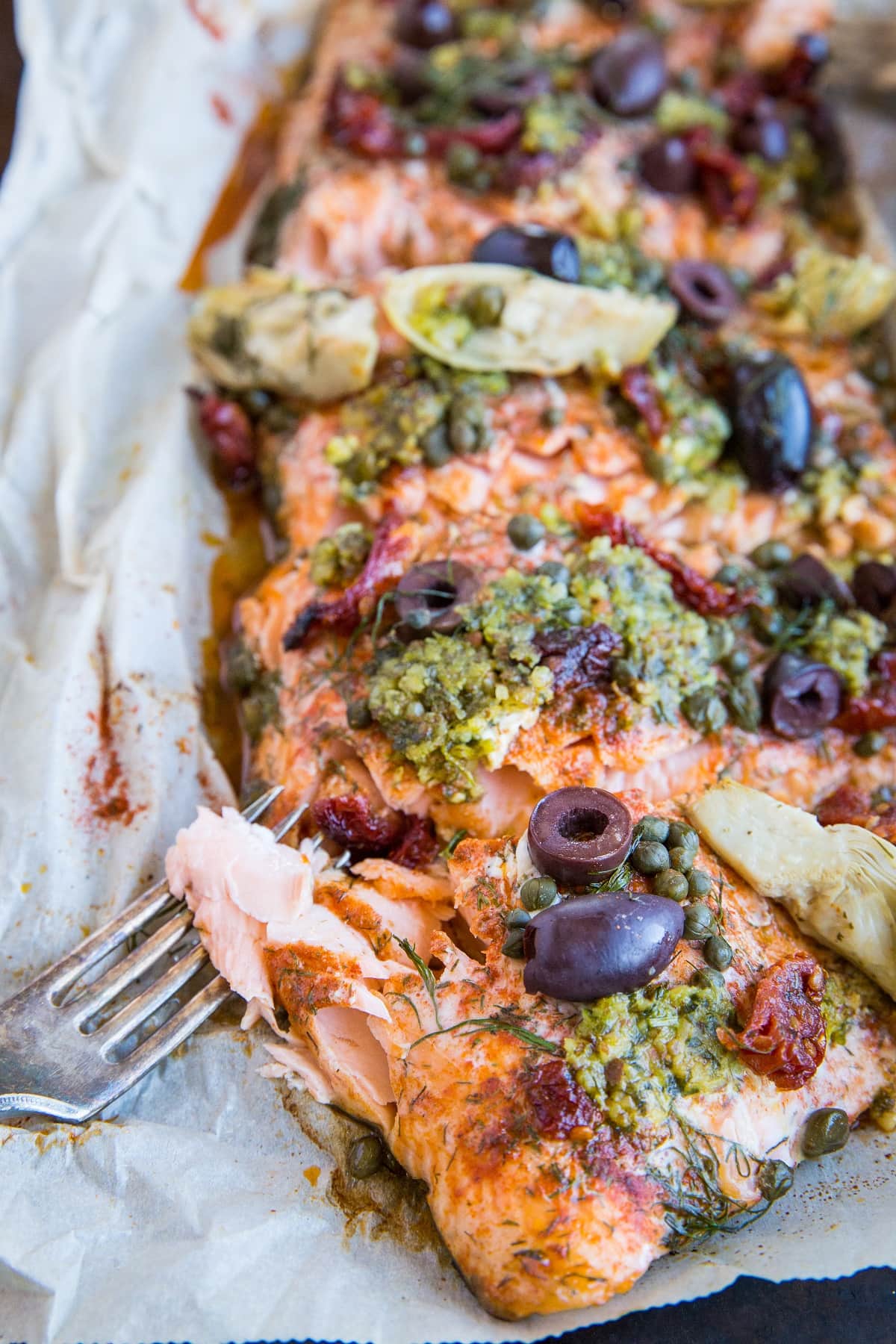 There she be, folks!
Your newest obsession and favorite cooking method for preparing your fillet o' fish every single time.
The next time you meal prep or entertain guests, you'll have this goof-proof method at your disposal!
More Healthy Salmon Recipes:
Enjoy the most flavorful, best salmon recipe!
Mediterranean Salmon in Parchment Paper
Mediterranean Salmon in Parchment Paper is an easy, flavorful low-carb dinner recipe perfect for those who love a clean and delicious meal! Paleo, keto, and whole30, this recipe is suitable for many diets.
Instructions
Preheat the oven to 400 degrees F and lay a long sheet of parchment paper on a large baking sheet.

Place salmon fillet on top of the parchment paper and sprinkle with sea salt, paprika, ground ginger, and dried dill.

Top salmon with the remaining ingredients, trying to get an even distribution over the full fillet.

Fold the sides and ends of the parchment paper, creating a packet. Secure with kitchen twine.

Bake on the center rack of the preheated oven for 20 minutes, or until salmon is cooked through. Thicker cuts of fish will require 25 to 30 minutes.

Remove fish from the oven, cut the twine and un-wrap the parchment paper. Salmon is fully cooked when it reaches an internal temperature of 145 degrees F. Use an instant read thermometer to check the internal temperature by inserting it into the thickest part of the fish.

Cut into individual-size portions and serve with your choice of side dishes.
Nutrition
Serving:
1
of 5
|
Calories:
243
kcal
|
Carbohydrates:
7
g
|
Protein:
33
g
|
Fat:
10
g
|
Sugar:
1
g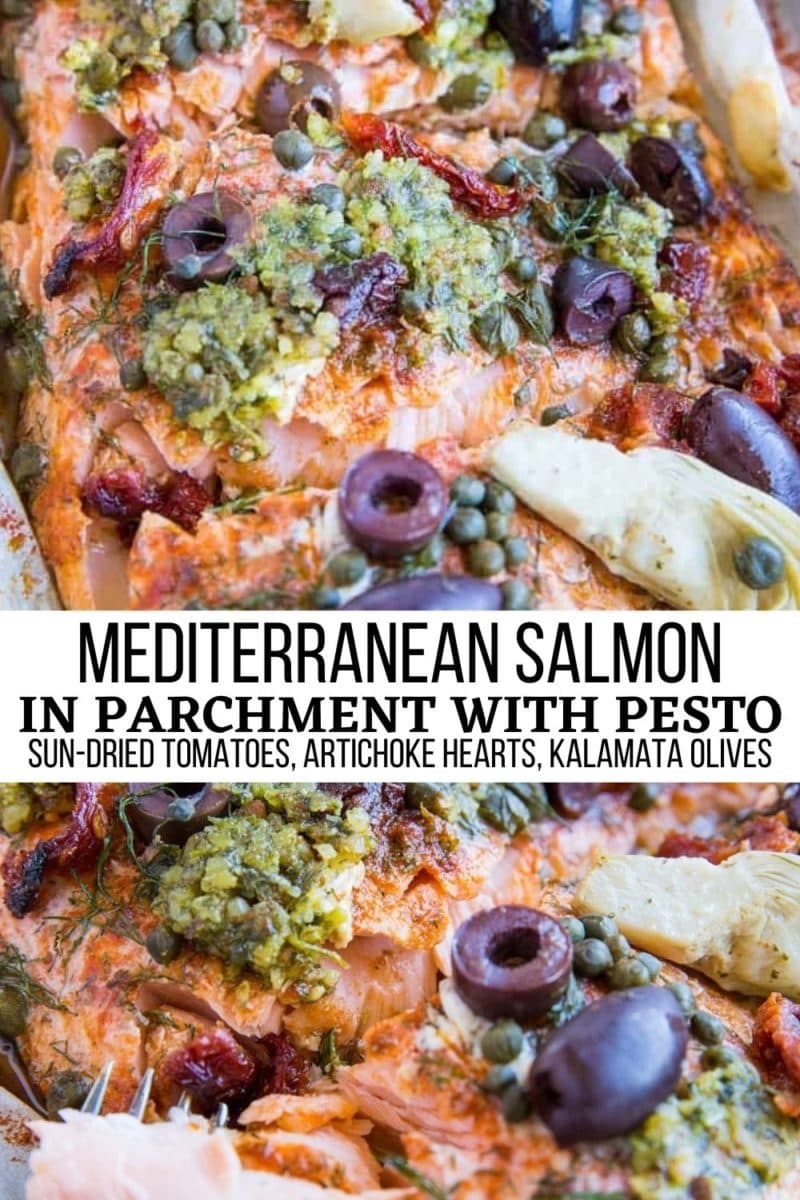 This post contains affiliate links, which means I make a small commission off items you purchase at no additional cost to you.
I originally shared this recipe on July 26, 2018. While I updated some of the information, the recipe itself is the same.