Happy root vegetable Mondaaaaaaaaaay!…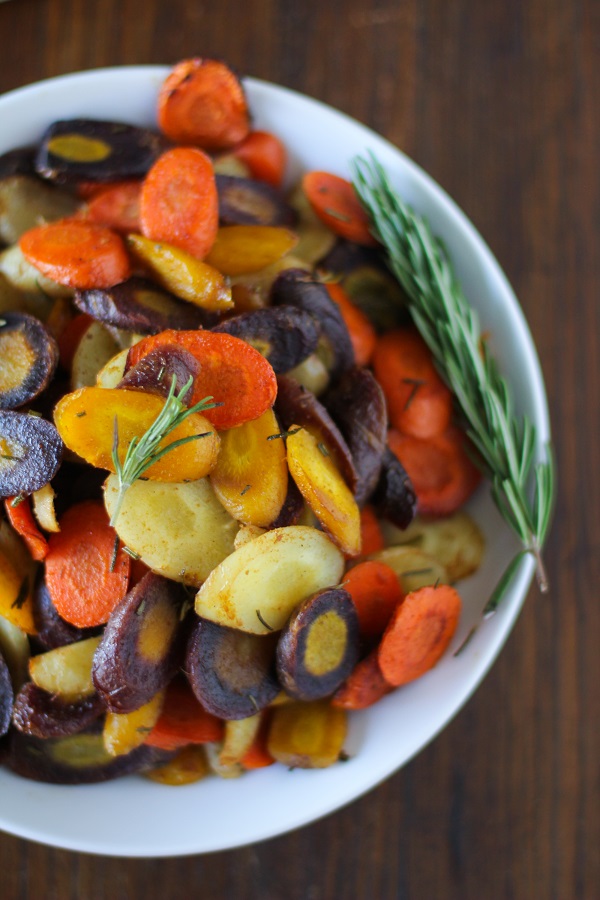 Have a bouquet of carrots!
IIIIII know…In the bustling metropolis of the root vegetable kingdom, carrots aren't the most adventurous. They would be the type of root that sits at home and plays Sudoku, not the kind that goes skydiving over an erupting volcano.
BUT you know what I say to that? There ain't nothing wrong with Sudoku.
Plus, rainbow carrots were on sale at the Whole Foods.
Plus, plus, look at how pretty they are!: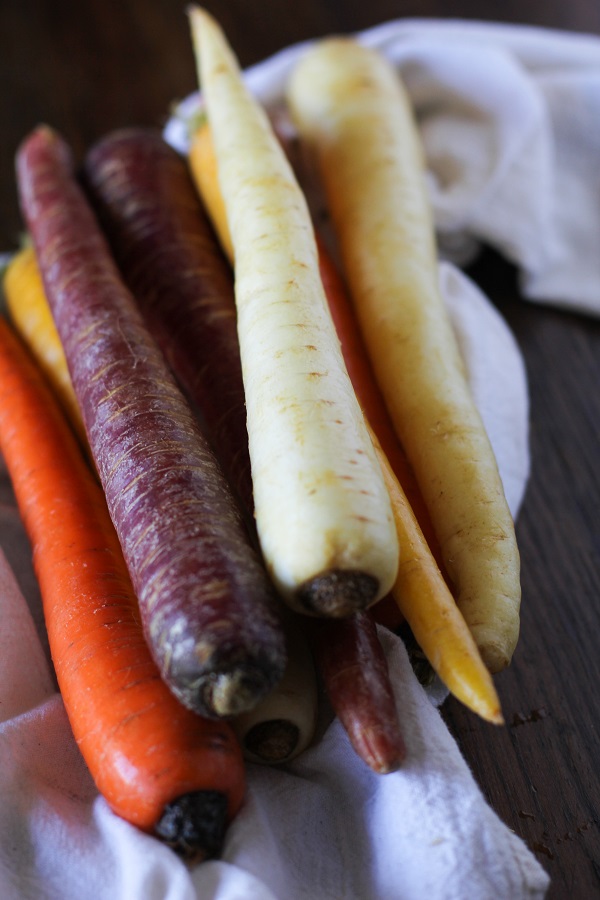 In spite of the carrot being arguably the most commonly used root vegetable intheentireworld, I haven't given it a whole lot of attention on my blog. Mostly because we're all so familiar with carrots, that there isn't very much edjumukation I can provide that you don't already know.
Buuuut haste:
Have you ever tasted the rainbow… carrot?
Turns out, a carrot is not a carrot is not a carrot. Meaning, these multicolor roots may all be of the carrot name, but they're not all the same.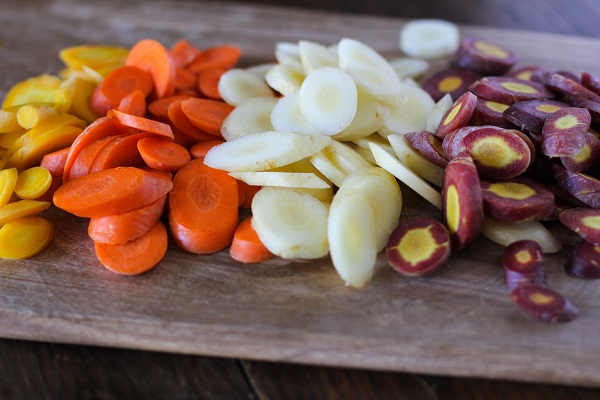 It's not just the color that distinguishes these carrots from one another, as they also tote around unique health benefits. Puh-retty cool if you ask me. As we all know, orange carrots are packed with Vitamins A and C. Check it: the purple carrots contain anthocyanins as well as slightly more vitamin A than the orange.
The red variety (which didn't come in my bag), have lycopene, which lowers your risk of certain cancers, specifically prostate cancer. Yellow carrots have Xanthophykks and lutein which are great for your eyes and also help prevent cancer. White carrots? Yeeeah, they don't have many notable health benefits, although they do have the benefit of fiber going for them.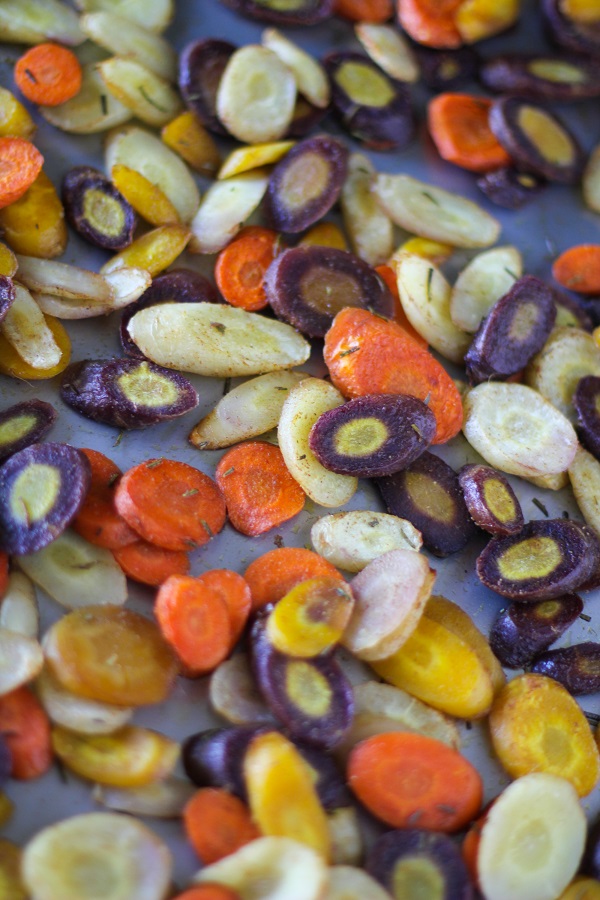 How do rainbow carrots taste, you ask? They all taste like regular ol' orange carrots. ALTHOUGH, the purple variety seems slightly sweeter and firmer than the others, with a bit of a peppery flavor. The main bullet point here, is that you can pick up a bag of rainbows with the expectation that none of the flavors will taste weird or different from what you're used to. They're predictably tasty.
These easy and flavorful roasted carrots are a great side dish to go along just about any entrée, and would be the perfect addition to your Thanksgiving or Christmas feast. It's an easy dish to whip up quickly in bulk and is seasoned with all sorts of warm flavors.
It's totally cool to play Sudoku with roasted carrots. < – Just roll with it.
Rosemary and Cumin Roasted Carrots
Rosemary and Cumin Roasted Carrots are a fabulously herby side dish, great to go alongside any main entrée!
Instructions
Preheat oven to 400 degrees F.

Wash the carrots and pat them.

Slice carrots diagonally (you can peel them first if you'd like. I left the peel on) and place in a large mixing bowl.

Add the remaining ingredients to the bowl and using your hands, toss everything together until all of the carrots are coated.

Spread the sliced carrots over one large baking sheet (or two small), and roast in the oven for 25 to 30 minutes, or until carrots are golden-brown and softened. Stir the carrots with a spatula once half-way through the roasting process.

Serve roasted carrots with your favorite entrée.
Nutrition