Spicy Kale Caesar Salad with Roasted Garlic and all the Parmesan in the world. This unique, delicious kale Caesar is loaded with flavor for a wild adventure!
First kale salad of 2015! Let's break the internet with it!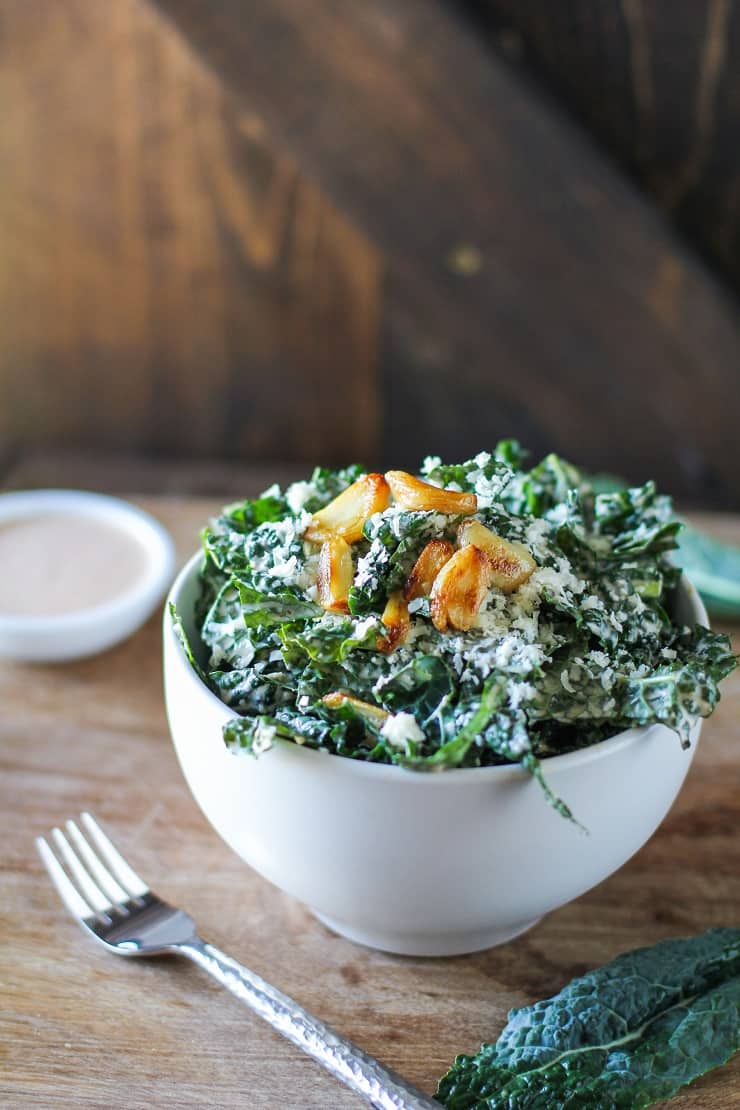 My intention for this post was to talk about creating healthy habits in the New Year. And then actual New Year's Eve happened. I realized mid-hangover on New Years day that any sort of discussion about "health," "balance," or "grabbing life by the balls" would have to wait for a day that felt – oh, I don't know – more healthful, balanced, and grabby life by the balls-y.
I wanted to chat about goals and resolutions and motivate you to never eat anything processed again, but then realized I'm ill-qualified for the position.
As I was attempting to type balance-y homeostasis words, I was nursing a massive red wine-induced headache, with an overly-full belly of spaghetti squash con chicken chile colorado con huevo con guacamole y 6 ibuprofen, y 20 ounces of bulletproof café con butter. And a side of blueberry oatmeal, because why not?
In my pajamas on the futon with an un-washed face, disheveled hair, wearing glasses that are held together in the middle with masking tape (Harry freaking Potter-style) because, oops, I stepped on them a few weeks ago.
I took one look at myself in the metaphorical mirror and went, "Huh uh." This girl knows no moderation.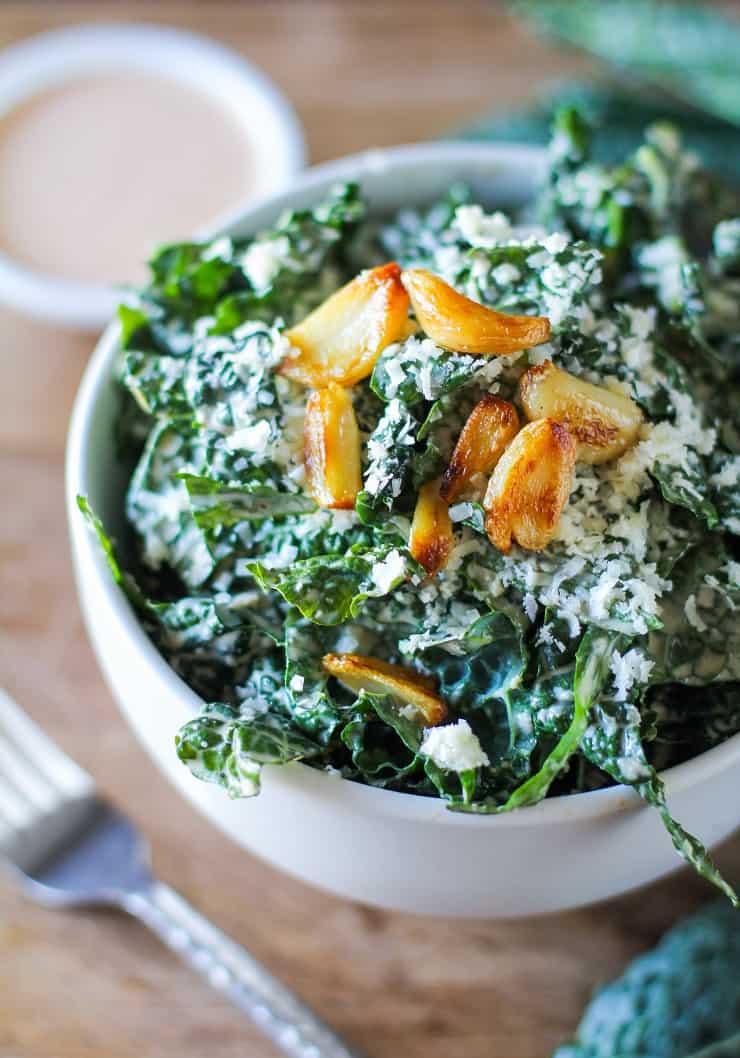 There's a saying among writers that you should always write what you know.
What do I know being "healthy?" I know being "healthy" requires some semblance of "balance," which is a magical chemical equation about which I know very little. For me, balance is an averaging of the peaks and troughs on this sinusoidal wave of life.
For instance, my stints of super clean eating are immediately backlashed by full pints of Ben & Jerry's New York Super Fudge Chunk something or other…consumed in 8 minutes flat all by me onesie. This is my balance. So what do I know about being healthy? I shrug my shoulders and say it's in the eye of the beholder.
Oh my gosh, here's where I talk about kale. Are you ready for the shift? Kale's the yin to your Ben and Jerry's yang < – proven fact.
Kale Caesar Salad:
Kale Caesar salad. It's an old soul with new soul spunk. Meaning, kale Caesar is yesterday's news but it's still freaking DUH-licious today.
And it ignites our metabolism like whoa.
Say sayonara to all the Christmas cookies and cocktails. I made this recipe months ago and held onto it knowing you'd be ready for it in due time (after all the Christmas cookies had been eaten) I figured some of us would be turning over new leaves and making resolutions involving kale.
The real wonderment of this recipe is in the parmesan cheese and the roasted garlic.
You're pretty much guaranteed to win the awesome-at-life award if you go super liberal on the parm n' garlic.
I adapted the dressing from Running to the Kitchen's Sriracha Kale Caesar Salad.
Adding a little heat to the dressing puts such a positive spin on the thing, but if you're spice-adverse, you can leave the sriracha out.
Taste it down deep in your loins.
Spicy Kale Caesar Salad with Roasted Garlic
Spicy Kale Caesar Salad with Roasted Garlic is a fresh and unique take on Caesar that is loaded with flavor.
Servings:
2
Large Caesar Salads
Ingredients
For the Salad:
2

heads kale

thinly sliced

1

large bulb garlic

roasted

½

cup

to 1 parmesan cheese

grated (to taste)
For the Caesar Dressing:
½

cup

whole milk Greek yogurt

3

tablespoons

mayonnaise*

1

tablespoon

sriracha

2

tablespoons

lemon juice

1

tablespoon

stone ground mustard

2

tablespoons

olive oil

1

tablespoon

anchovy paste**

1

tablespoon

cider vinegar
Instructions
Roast the Garlic:
Preheat the oven to 400 degrees F. Chop the top off of the bulb of garlic, and drizzle the with olive oil. Wrap the bulb in foil and place in the oven. Roast for 45 to 60 minutes, or until garlic cloves are very soft and golden brown. Allow bulb to cool before peeling the cloves.
Prepare the Caesar Dressing:
Add all ingredients for the dressing to a small blender and blend until smooth. Refrigerate until ready to use.
Prepare the salad:
Remove and discard the stems from the kale leaves. Thinly slice the kale and place in a large serving bowl. Add desired amount of caesar dressing and toss well. (Optional: place salad in the refrigerator for 1 to 2 hours - this will help make the kale leaves softer). Add the parmesan cheese and roasted garlic and serve!
Notes
*I used Hampton Creek mayo
**You can substitute anchovy paste with one anchovy fillet
You can also blanch the kale leaves to make them softer.
Nutrition
Serving:
1
Salad
|
Calories:
464
kcal
|
Carbohydrates:
35
g
|
Protein:
23
g
|
Fat:
29
g
|
Fiber:
10
g
|
Sugar:
7
g
Looking for more kale recipes? Check out my cookbook,
Let Them Eat Kale!