This recipe for Low-FODMAP Pesto Sauce is perfect for those who are sensitive to garlic, have IBS, or follow a dairy-free (or vegan) diet. This boldly flavored sauce is great for all your pesto-ing needs!.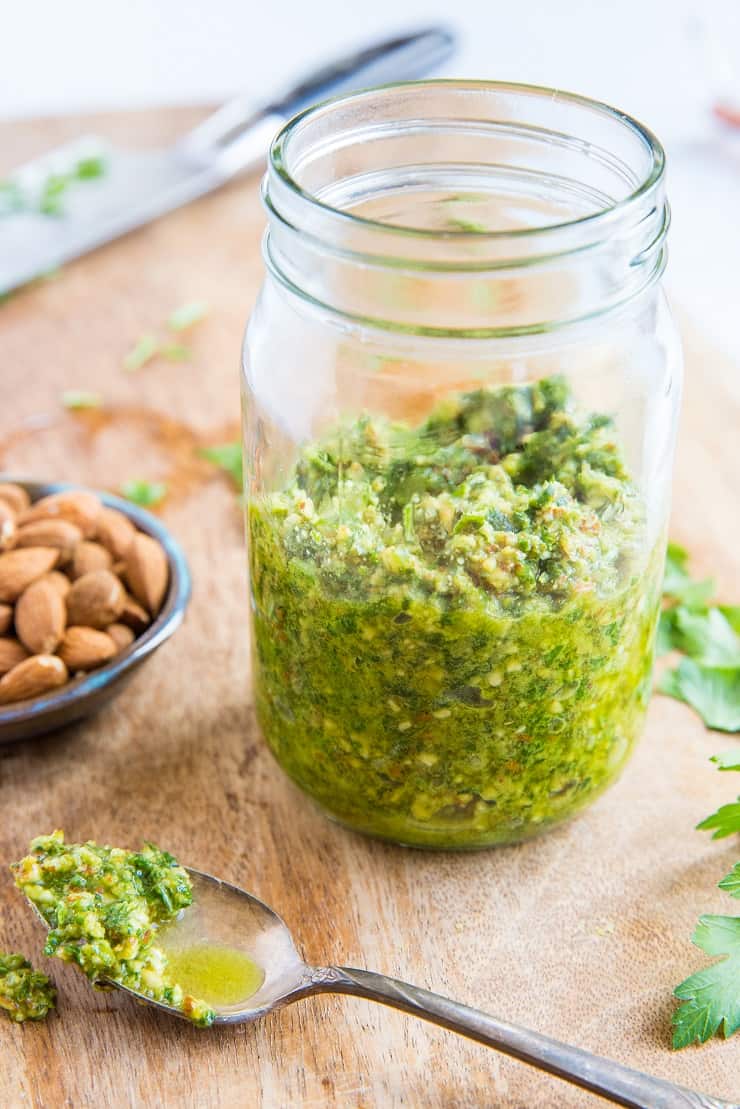 Pesto sauce adds an incredible pop of flavor to everything it touches. I've always been a huge fan of pesto, and have made it homemade for over a decade. I recently changed up the way I make pesto because I'm sensitive to garlic, which is a high-FODMAP food that triggers my IBS symptoms.
In addition, while fermented dairy isn't a huge trigger for me, I do try to avoid dairy when possible. In essence, I go garlic-free and dairy-free when I make pesto, which may sound like an epic snooze fest, but rest assured, I have a formula for low-FODMAP pesto that is easy on my digestive system while still being super flavorful.
In order to make Low-FODMAP pesto sauce (that is also vegan), I replace the garlic with cider vinegar and the Parmesan with nutritional yeast. These two swaps make the pesto nearly indistinguishable from your classic pesto.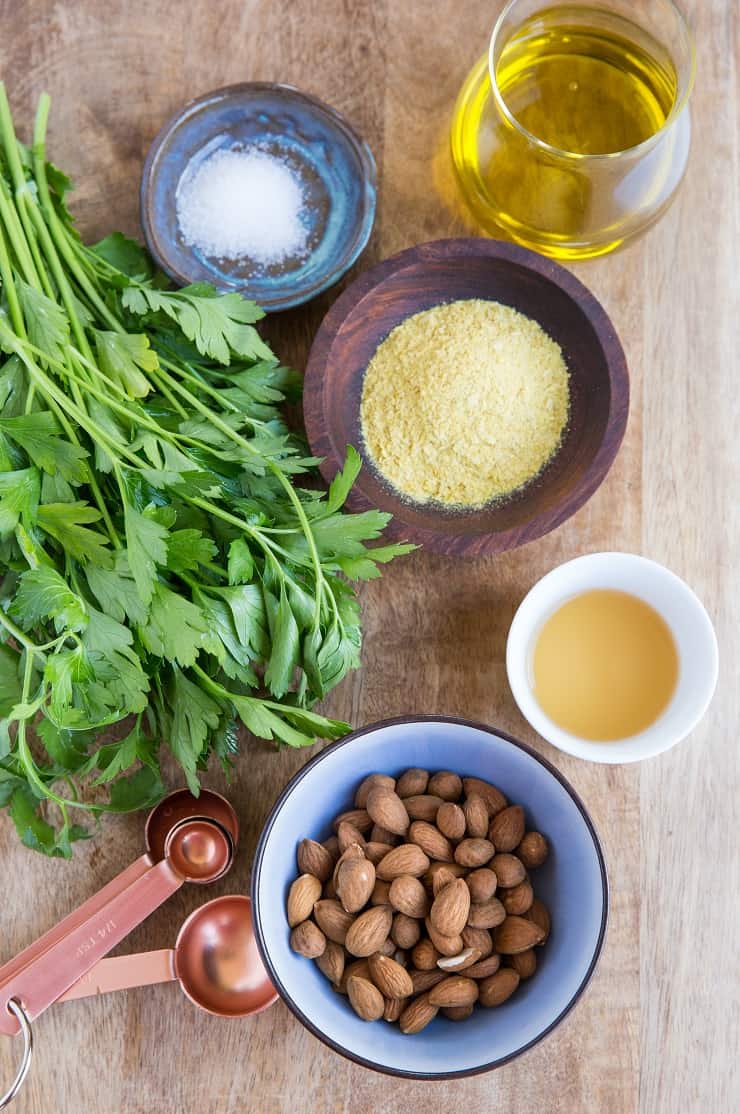 All you need is your favorite fresh herb, nuts (or seeds), olive oil, nutritional yeast, cider vinegar, and sea salt. There are a million variations and permutations you can take in terms of which herb (or leafy green) and nut combination you go with. Lettuce discuss those options!
Leafy Greens/Herbs: Select any combination of herbs or greens for your Low-FODMAP pesto. You can go with classic basil, or go with a different herb like parsley, sage, or oregano. Rather than using herbs, you can use carrot tops (the greens attached to organic carrots), beet greens (the greens attached to your bushel of beets), kale, arugula, and more. You can also mix and match! One of my favorite combinations is kale and basil.
Nuts/Seeds: Classic pesto calls for pine nuts, but you can use any nut or seed you'd like. My favorites are almonds, walnuts, pecans, pistachios, and pumpkin seeds. You can also go raw or roasted. I love the depth of flavor the roasting process adds to nuts and seeds, so I typically roast mine before making pesto.
Oil choice: I'm a huge fan of avocado oil, but you can also go with olive oil, grapeseed oil, or almond oil. Whatever you have on hand works (so long as it isn't canola oil, pretty please).
Nutritional Yeast: This is a pivotal ingredient for making the pesto sauce taste cheesy without the use of cheese. I've made Low-FODMAP pesto without nutritional yeast and I definitely still enjoy it, but the nutritional yeast is pretty awesome in the flavor department. If you keep it in your pantry regularly, definitely use it, but don't feel like you have to purchase it if this is going to be your one and only use for it.
Vinegar: I use vinegar to give the pesto sauce tang since we aren't using garlic. You can use any vinegar you have on hand, but I love the flavor of cider vinegar in this application. Balsamic, red wine vinegar, and rice vinegar work great too. You can also go with lemon juice or lime juice.
Alright, so now that you have the basics, you can get creative with your flavor combinations. I had a bunch of parsley in my refrigerator that needed to be used and almonds in the pantry, so for the purpose of this post, I used parsley and almonds.
All you do is toss everything except the oil in a food processor…
And pulse it until it's nice and chopped.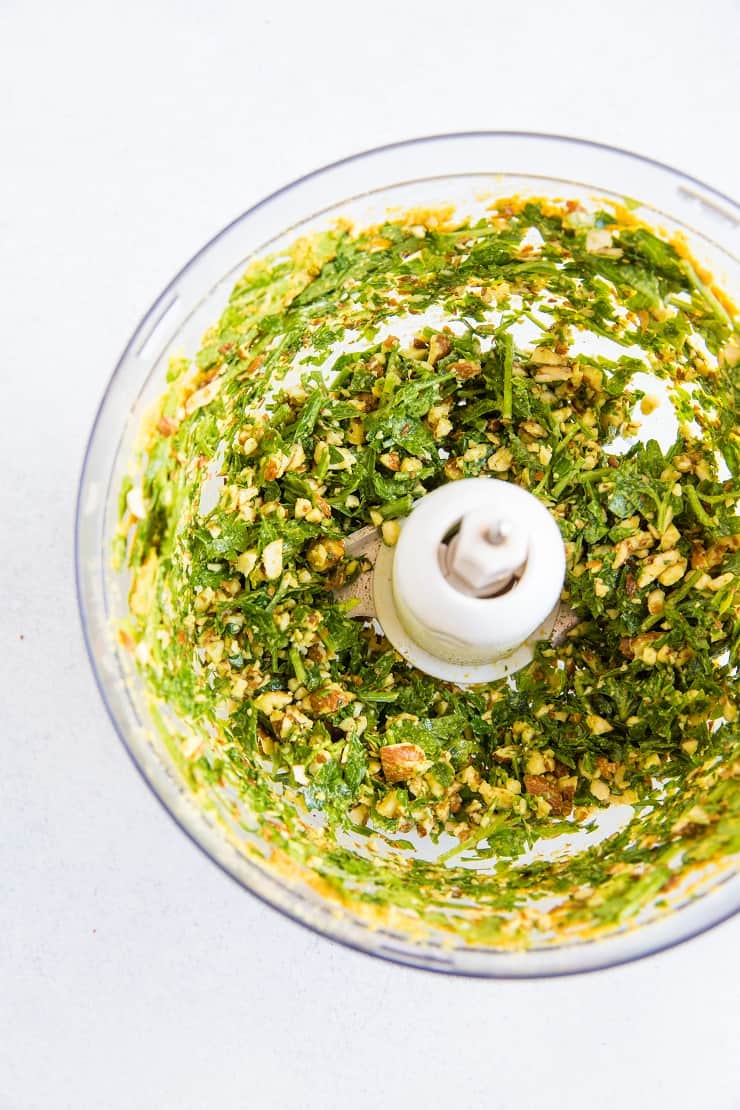 Leaving the food processor on, stream the oil through the hole in the top.
Your sauce will turn out thick (this is how I prefer my pesto)..for a thinner consistency, simply add more oil.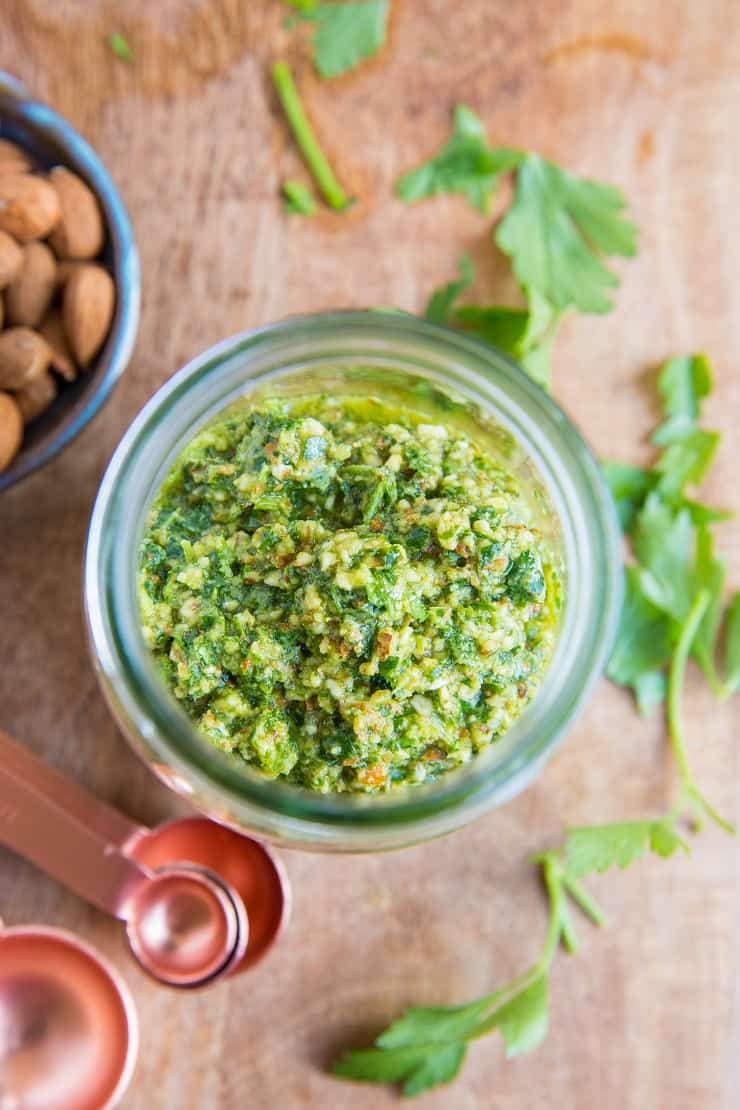 Taste the pesto and add more cider vinegar and/or sea salt to taste. You can use this pesto sauce any way you'd like! Use it on pizza, pasta, drizzle it on scrambled eggs or over your summer buddha bowls, incorporate it into salad dressing, make Pesto Smashed Potatoes, the Pesto Quinoa Salad I showed you recently or Pesto Burgers… you name it!
I hope you enjoy your low-FODMAP pesto!
Low-FODMAP Pesto Sauce
Low-FODMAP Pesto Sauce is dairy-free and contains no garlic, but is still very flavorful! A perfect condiment for those with gut issues.
Instructions
Add all ingredients except oil to a food processor. Pulse until ingredients are chopped. Leaving the food processor on, stream the oil through the opening in to top. Taste pesto for flavor and add more sea salt or cider vinegar.

Use immediately or store in an air-tight jar in the refrigerator. The pesto sauce will stay fresh for 7 days in the refrigerator.
Notes
*Replace parsley with basil, mint, kale, carrot tops, arugula, etc.
**Replace almonds with raw or roasted walnuts, pecans, pistachios, pumpkin seeds, or pine nuts
***Replace olive oil with avocado, almond, or grapeseed oil. Add more oil for thinner consistency.
Nutrition