A stack of gluten free hazelnut pancakes with chocolate coconut cream sauce will do your taxes for you. Just kidding, but it tastes mighty fine!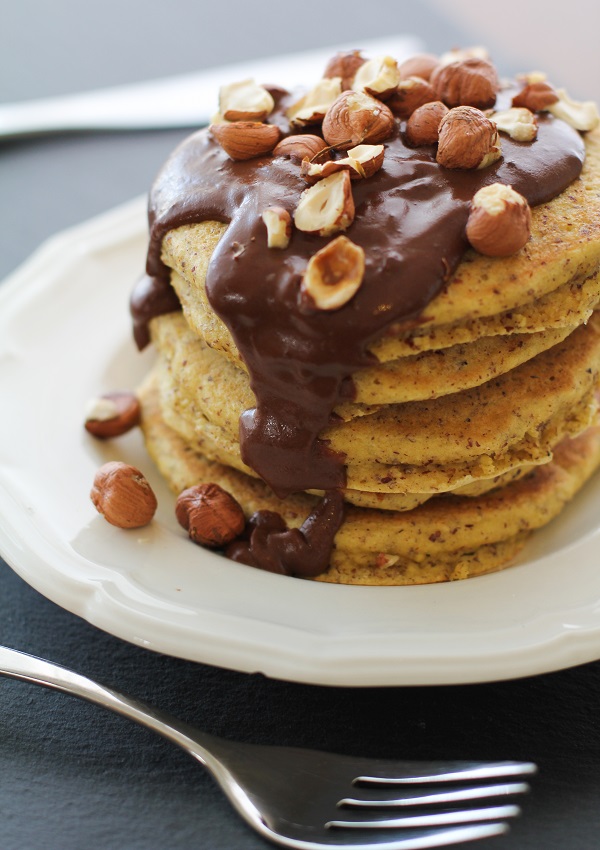 This post is sponsored by Bob's Red Mill, but all opinions are – and will forevermore be – my own.
Yooooosemite Sam, have I got breakfast for you?! It's been a hot minute since I've shown you a steamy succulent stack of gluten free pancakes. But it was well worth the hiatus because oh.my.lanta, these things are supercalifragilisticexpialidocious!
I've made my fair share of gluten free almond flour, coconut flour, brown rice flour, etc., etc., pancakes, but never had I ever made hazelnut pancakes until…just now.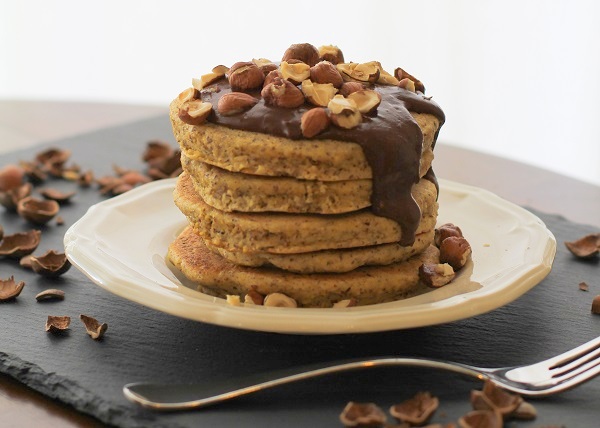 I used Bob's Red Mill's hazelnut flour and brown rice flour to fashion up this stack. They turn out nutty, fluffy, moist, and insanely addicting. I'm 98% sure no other stack I've made can measure up to these hot cakes, and those are strong words considering my undying love for the gf flippity flapjack.
Can we just address the elephant in the room here? The chocolate coconut cream elephant? The elephant you're thinking turns a stack of breakfast pancakes into plate of dessert cakes, but totally doesn't? It's a real mind blow. Like an Andy Warhol painting. It will, beyond the shadow of a doubt, jettison you into outer space.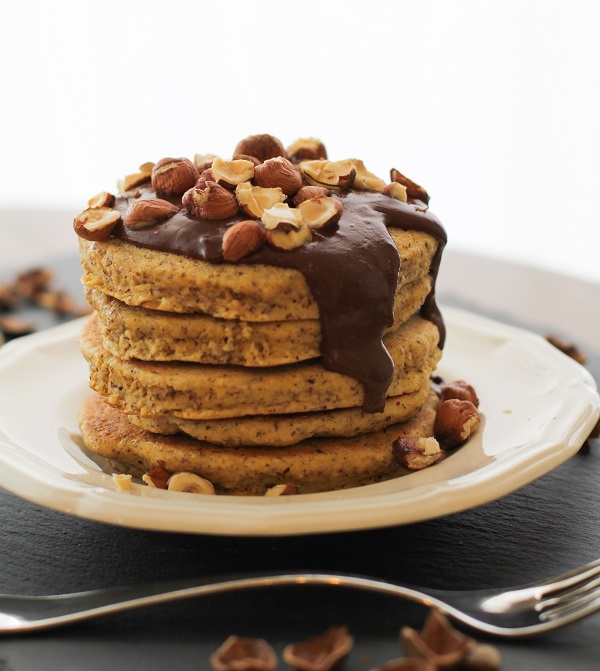 The chocolate coconut cream is nothing more than full-fat coconut milk, raw cacao powder, and pure maple syrup. This translates into a naturally sweetened and – I do declare – completely healthful topping for your stack o' nutrish.
Don't not do this. Do this.
Hazelnut Flour Pancakes with Chocolate Coconut Cream (gluten free)
Hazelnut Flour Pancakes with Chocolate Coconut Cream are an incredible celebration of chocolate for breakfast!
Ingredients
For the Hazelnut Pancakes
For the Chocolate Coconut Cream:
Instructions
To Prepare the chocolate coconut cream:
In a medium sized pot, add all ingredients for the chocolate topping and bring it to a full boil. Reduce the heat to a gentle boil and cook until thickened and smooth, stirring consistently, about 25 to 30 minutes.
To Make the Pancakes:
In a mixing bowl, combine the hazelnut meal, brown rice flour, salt, cinnamon, and stir together well.

In a separate bowl, whisk together the eggs, maple syrup, and coconut milk.

Pour the dry mixture in with the wet and mix until combined. Allow the batter to sit 5 to 10 minutes.

Heat a large skillet or griddle to medium heat and add just enough oil to lightly coat the surface.

Measure out a heaping 1/8 cup of pancake batter and pour it on the hot skillet. You will likely need to spread the batter into a circle shape using a spatula or fork. Allow pancake to cook on the first side about 2 to 3 minutes, until the sides set up. Flip and cook another couple of minutes until cooked through.

Serve pancakes with desired amount of chocolate topping and hazelnuts.
Nutrition
More Gluten-Free Pancake Recipes: