Grain-free protein pancakes made grain-free, dairy-free and oil-free with almond flour are moist, fluffy, and make for an amazing healthy breakfast.
Top these beauties with fig preserves, almond butter, and chopped almonds for the ultimate protein pancakes!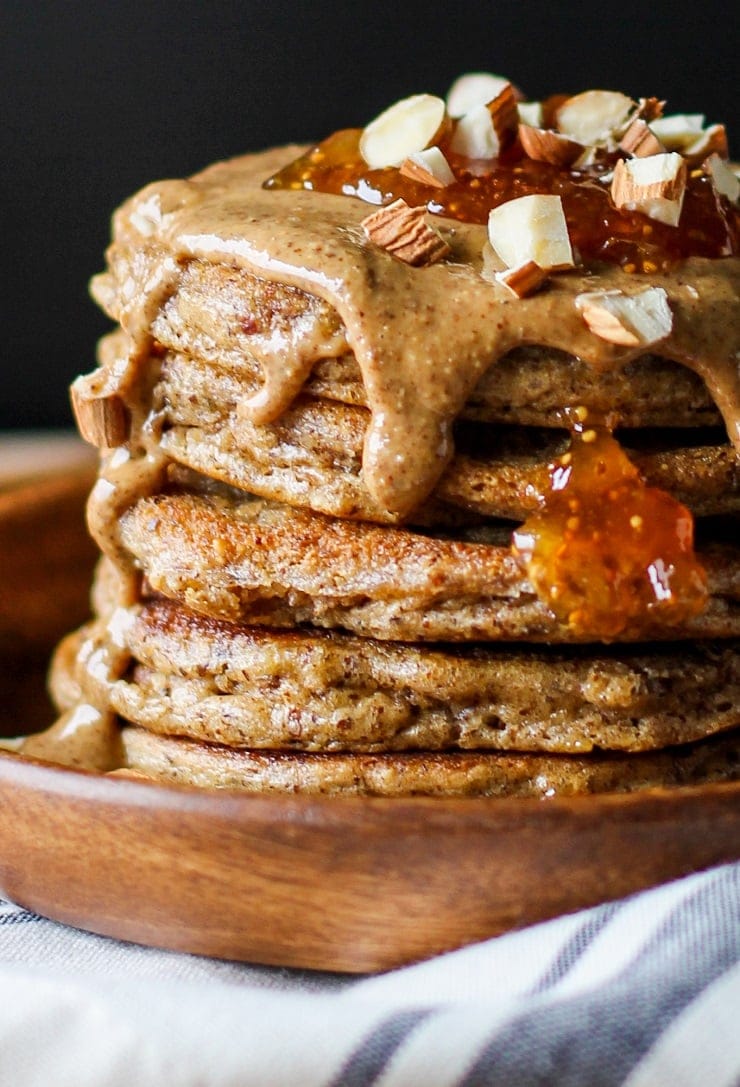 Let's play a little game called Let Protein Be Thy Excuse, mmkay?
…wherein protein is our catchall reason for anything and everything indulgent that we take upon ourselves to consume. For instance..
Bacon

1.23 pounds of self-serve fro yo

A 5.6-pound carne asada wet burrito

The entire jar of nut butter

CHEESE

That can of refried beans (with a dabble of rice to complete all essential amino acids)

A whole batch of pancakes on a Saturday morning.
Not that these pancakes need an excuse, as they're loaded with health benefits, but if you feel an excuse is warranted for a pancake treat, let protein be thy excuse 😉
These pancakes are ideal for those who follow a low-carb or carb-conscious diet and want a boost of plant-based protein in their morning flapjack.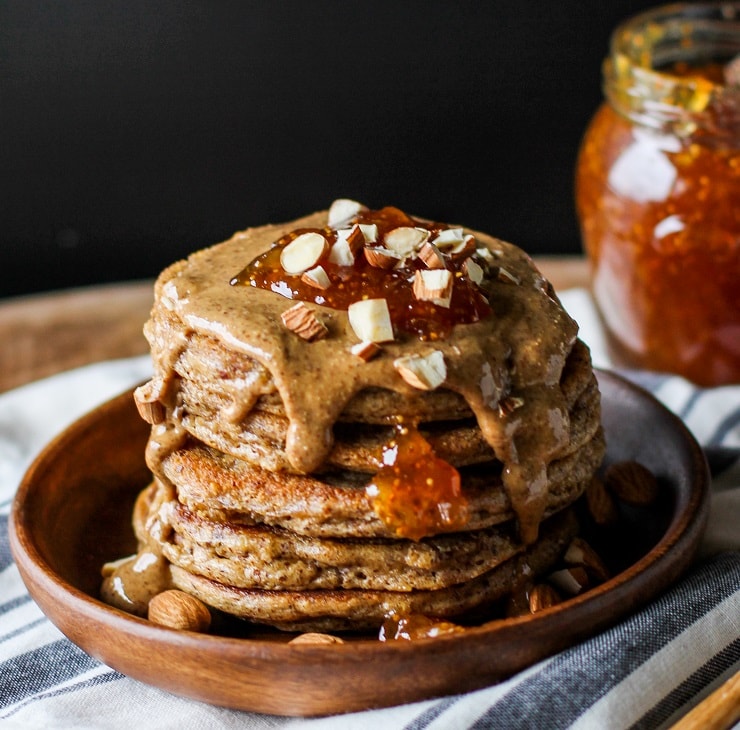 These fluffed-out hunks of almond buttery bliss truly are nutritious. A great boost of omega-3 fats, plant-based protein, and some antioxidants wins us a filling and health-conscious way of beginning the day.
Not to mention, the pancakes on their own (without sugary toppings) are keto!
We're looking at a grain-free, low-carb, high-fat, protein-rich, refined sugar-free, paleo-friendly, perfect-excuse-to-indulge-in-almond butter pancakes.
Note: If you aren't as concerned about your protein intake as you are about a recipe for grain-free pancakes that requires fewer ingredients, check out my Paleo Almond Flour Pancakes recipe!
Ingredients for Almond Butter Protein Pancakes:
Almond Flour: Almond flour is the base of these protein pancakes. Varying brands of almond flour have varying absorbencies, and I use Bob's Red Mill's Super Fine Almond Flour. If you find the pancake batter is too thick or dry, simply add more almond milk until it resembles a thick batter but isn't too thick. If the batter is too runny, add more almond flour and/or tapioca flour.
Tapioca Flour: Tapioca flour is a very light starchy flour that when combined with almond flour generates a consistency similar to regular all-purpose flour. If you don't have it on hand, you can replace it with arrowroot flour in a 1:1 ratio, or with 1/4 cup additional almond flour.
Protein Powder: I use about 3 heaping tablespoons of hemp protein powder in order to give the pancakes an additional protein boost. Instead of hemp protein, I sometimes add collagen peptides.
You can use your favorite protein powder, but bear in mind protein powders have different absorbencies. If the batter turns out overly thick (like dough), add more almond milk! Also note that different protein powders contain different amounts of protein, so the nutrition facts in the recipe card will change based on what you use.
Almond Butter: Almond butter takes the place of some of the liquid in this pancake recipe and also adds a bit more protein. It creates a thick and rich pancake that tastes like no other! I use well-stirred creamy unsweetened almond butter for these pancakes. You can also go with peanut butter, cashew butter, tahini, or sunflower seed butter, but make sure it's well-stirred.
Unsweetened Almond Milk: Almond milk helps blend the ingredients together to make a batter! You can use regular cow's milk, your favorite non-dairy milk from a carton or even canned coconut milk for an ultra rich pancake.
Baking soda, sea salt, cinnamon: Leavening and flavor!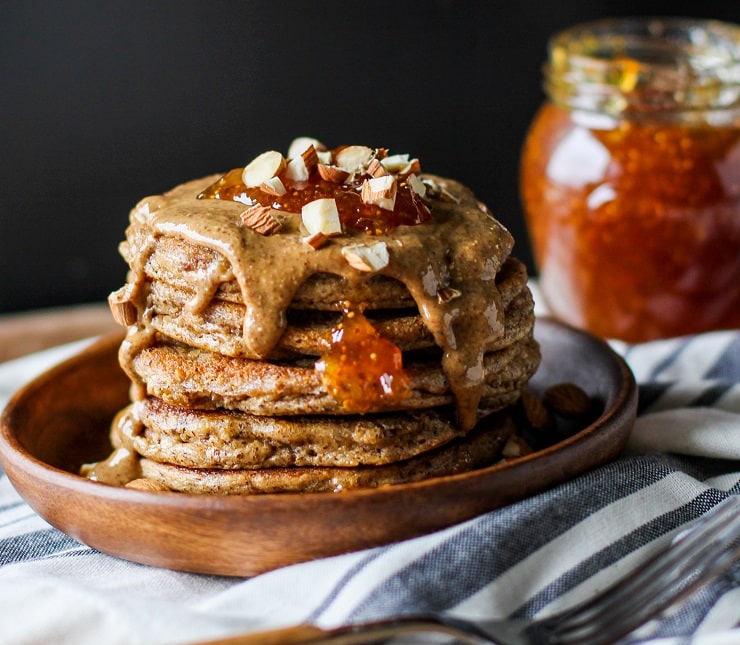 How to Make Almond Butter Protein Pancakes:
We simply add all of the ingredients to a blender and blend until thick and smooth. Badda bing, badda boom: pancake batterooski for your lazy weekend brekkie.
Cook the pancakes in a non-stick skillet over medium-low heat until each side is golden-brown and the pancakes are cooked through. This will take longer than standard pancakes, and you won't see bubbles rise to the top, so be sure to keep a watchful eye while cooking.
And we serve with fig preserves. Because we're total bosses like that.
If you follow a low-carb, ketogenic diet, drizzle some sugar-free maple syrup on top!
Recipe Adaptations:
You can use hazelnut flour instead of almond flour

Substitute cow's milk or coconut milk for almond milk

Incorporate peanut butter or cashew butter instead of almond butter

Serve with pure maple syrup, jam, jelly, fresh fruit, a slice of bacon, you just let your hair down, smalls.

Make pancake PB&J sandwiches and put them in your kid's lunch box. Or your lunch box. Take these hiking/biking/skiing/kayaking/spelunking.
Tips for Making Perfect Grain-Free Pancakes:
If you're experienced with grain-free pancakes, you know they require more attention than pancakes made with regular all-purpose flour. The batter tends to be thicker and the pancakes require more time to cook.
Be sure you use a non-stick skillet for cooking the pancakes, and coat it generously with oil or butter (I use avocado oil or coconut oil). Heat the skillet to medium-low and allow it to heat for about 5 minutes before you begin making the pancakes. This ensures the pancakes cook evenly throughout the cooking process.
If it appears as though the pancakes are burning or cooking too quickly, simply lower the temperature. On the other hand, if the pancakes aren't getting a golden-brown crust, increase the heat slightly.
As I mentioned before, various brands of almond flours have varying consistencies, so if your pancake batter appears too thick or too thin, adjust the amount of almond flour or almond milk accordingly. The pancake batter should be very thick, thicker than regular pancake batter, but should not be as thick as dough.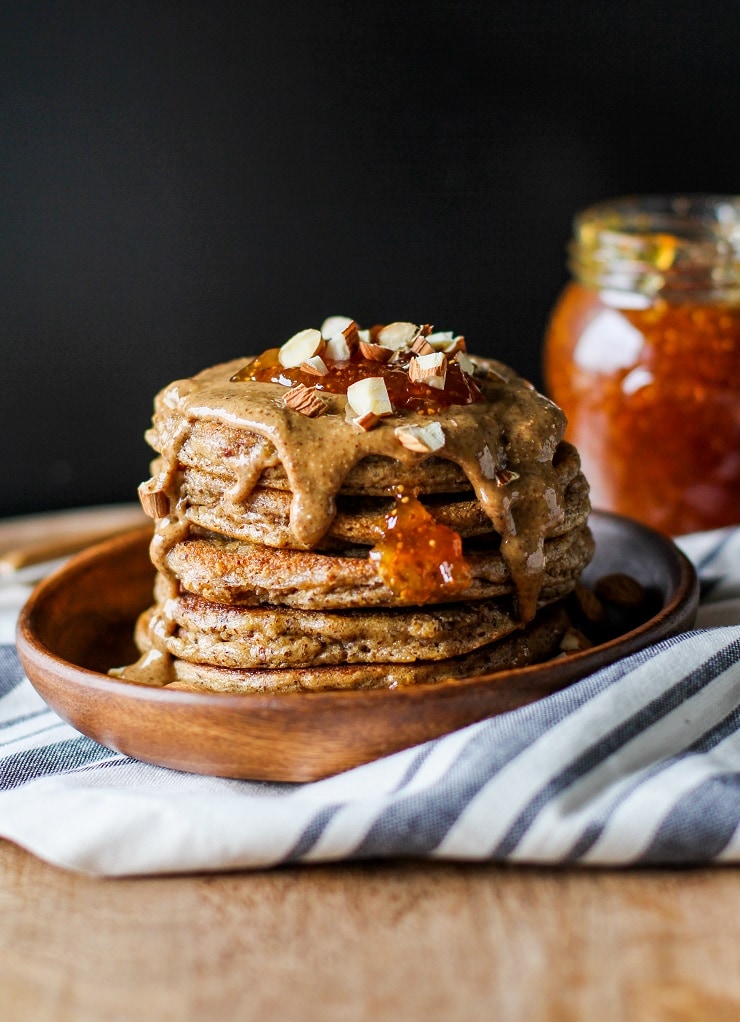 More Healthy Pancake Recipes:
My cookbook,
Paleo Power Bowls
, is now available! CLICK HERE to check it out. Thank you for your support!
If you make this recipe, please feel free to share a photo and tag @The.Roasted.Root on Instagram!
Grain-Free Protein Almond Butter Pancakes (Keto, Paleo)
Grain-Free Protein Almond Butter Pancakes are moist, fluffy, paleo and delicious
Ingredients
For Serving:
Almond butter

or regular butter

Fig Preserves

Roasted almonds

chopped
Instructions
Add all of the ingredients for the pancakes to a blender and blend until smooth. (Note: The batter can turn out thick if your almond butter is very thick. Add more almond milk to the batter as needed).

Heat a large non-stick skillet to medium-low and add enough coconut oil (or olive oil) to generously coat the surface. Once skillet is completely hot, measure out 1/4 cup of batter and pour onto the hot surface. Cook until the edges of the pancake appear as though they are firming up (bubbles likely won't rise to the top), then flip and continue cooking until the pancakes are cooked through, about 3 to 5 minutes per side (these pancakes take longer to cook than regular pancakes!!) Repeat for remaining batter (you can cook 3 to 4 pancakes at a time).

Serve with almond butter, fig preserves, chopped roasted almonds, and/or pure maple syrup. If you follow a low-carb, ketogenic diet, drizzle some sugar-free maple syrup on top!
Nutrition
Serving:
1
of 12
|
Calories:
144
kcal
|
Carbohydrates:
5
g
|
Protein:
7
g
|
Fat:
11
g
|
Fiber:
3
g
|
Sugar:
2
g