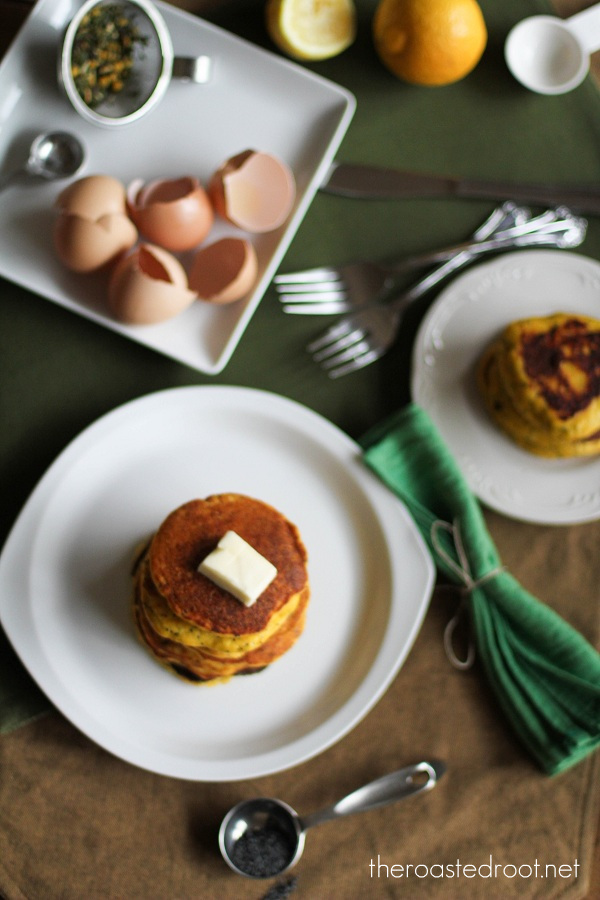 Let it flow, let yourself go
Slow and low, that is the tempo.
Week 4 of the gluten free Pancake Project, and we're holding strong! This week I'd like to highlight a pancake that is very dear to my soul. The coconut flour pancake.  Of the lemon poppy seed variety. Coconut flour is the very first Bob's Red Mill flour I ever purchased.  After trying their coconut flour, I made the rounds through almost all of their products, and the baking clouds have parted to unveil a clear and beautiful realm of high nutrition food. I happily give thanks to Bob's Red Mill for creating such usable, high quality products that fit even the peskiest diets.
So what you need for gluten free coconut flour pancakes, also known as the set it and forget it pancake, is time, patience, and hunger for something deeeelectable. My first go-round with coconut flour pancakes dern near made me late for work, but it was also an incredibly tasty experience.  Coconut flour absorbs liquid like no other flour I have used. For this reason, coconut flour recipes include more eggs, milk, and/or oil/butter in proportion to the flour. Coconut flour pancakes are also fragile up until the point that they're fully cooked…for this reason, flipping the coconut pancake requires focus. The pancakes also require the slow and low method – a lower temperature and a longer period of time. I would be lying if I told you these pancakes took less than 8 to 10 minutes to cook. Each. So save the coconut flour pancakes for when you have no pressing engagements.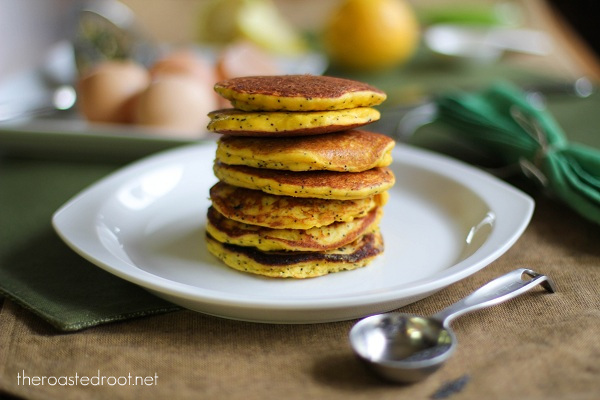 With a short attention span, I'm just fine with walking away from projects to dabble into something else and return to the original project later, which is why coconut flour pancakes and I are a great fit. I highly recommend multi-tasking while making coconut flour pancakes…such as paying your bills, washing your car, bathing your children. The pancakes simply require that much time on the stove. Zen Land of Patience is where you'll need to be for the cook time and flipping portion of this recipe. Once they're actually cooked, flipped and set on a plate, you'll be in Zen Land of Heavenly Bliss.
So far, so good with the Pancake Project – Here's the line up so far:
Week 1: Cranberry Orange Oat Flour Pancakes
Week 2: Bacon & Egg Buckwheat Stacks
Week 3: Almond Flour Pancakes with Pomegranate Sauce
Week 4: Lemon Poppy Seed Coconut Pancakes
For a chance to win Bob's Red Mill Coconut Flour, simply leave me a comment below. The winner of the coconut flour will be notified Wednesday, February 6. Keep in mind, I will be giving away Bob's Red Mill flours as part of the Pancake Project for many more Fridays to come, so join me here often!
Slow and low, that is the tempo!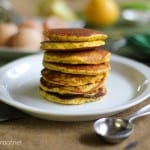 Lemon Poppy Seed Coconut Flour Pancakes
Print
Ingredients
4

eggs

1

cup

almond milk

or coconut or regular milk

1

teaspoon

pure vanilla extract

2

tablespoons

agave nectar

or honey or sugar

1

tablespoon

lemon juice

Zest of one lemon

½

cup

coconut flour

Bob's Red Mill

2

teaspoons

baking powder

½

teaspoon

salt

1

tablespoon

poppy seeds
Instructions
In a mixing bowl, whisk together the eggs, milk, vanilla extract, agave and lemon juice.

Add the lemon zest, coconut flour, baking powder, salt and poppy seeds and mix until completely smooth. There may be pesky hunks of coconut flour…just smash them down and mix them in.

Allow batter to sit for at least 10 minutes. Definitely do this step.

Heat a large skillet to medium-low and add just enough oil and/or butter to coat the surface (about 1 tablespoon)

Measure out 1/8 cup of coconut pancake batter and pour into the heated skillet. Give the pancakes plenty of space (I only do 2 at a time on a 10" skillet).

Cook for like a billion years…juuuuust kidding. Cook for about 6 to 8 minutes on one side (seriously) until the pancake is set up enough to flip.

Cook 1 to 2 minutes on the other side and repeat for the remaining batter.

Serve with agave, honey, butter, and/or powdered sugar. MMMM MMMM goooood!
Recipe Notes
You can turn your oven on its lowest setting and keep your pancakes on a plate in the oven until they have all been made and you're ready to serve. Oh, and if you're a fan of the heaping portion size-of-your-plate pancakes, I would advise against it with coconut flour. Keep them small…they're much more manageable that way.