Gluten free rice flour banana pancakes are the perfect weekend pancake breakfast to share with your family.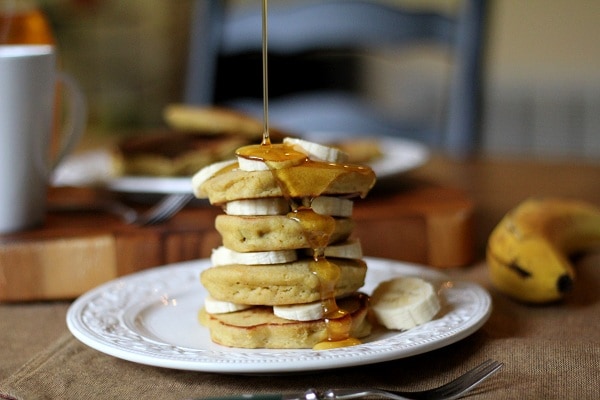 This recipe is meant to keep you from doing what you're supposed to. Waking up to early, maybe we can sleep in. I'll make you banana pancakes, pretend like it's the weekend now. We can pretend it all the time. Can't you see that it's just raining…there ain't no need to go outside.
If I knew Jack Johnson's home address, I'd send him a pancake-o-gram with a stack of these pancakes all tucked away. I'd likely be feeling generous enough to include a cup of coffee because it is Jack Johnson, it's the least I can do. He'd answer the door with no shirt strumming an ukulele. And in his smooth nurturing voice, he'd happily accept the pancake-o-gram and then start singing about it.
None of this is creepy at all.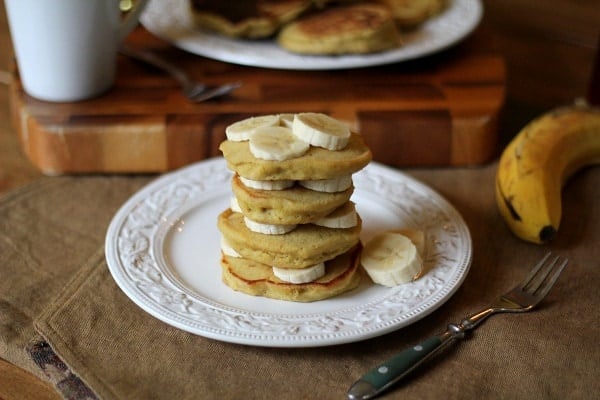 During the last rain storm (the one that increased my soup recipe inventory), I had a couple wonderful pinterest sessions. One such session brought me glorious banana pancakes from Sea Salt with Food.
The cozy scent of pancakes cooking in the morning brings a warm familiarity which is almost just as good as the actual eating part of the pancake experience. Thank you, social media, for the scents and tastes you deliver from one home to mine.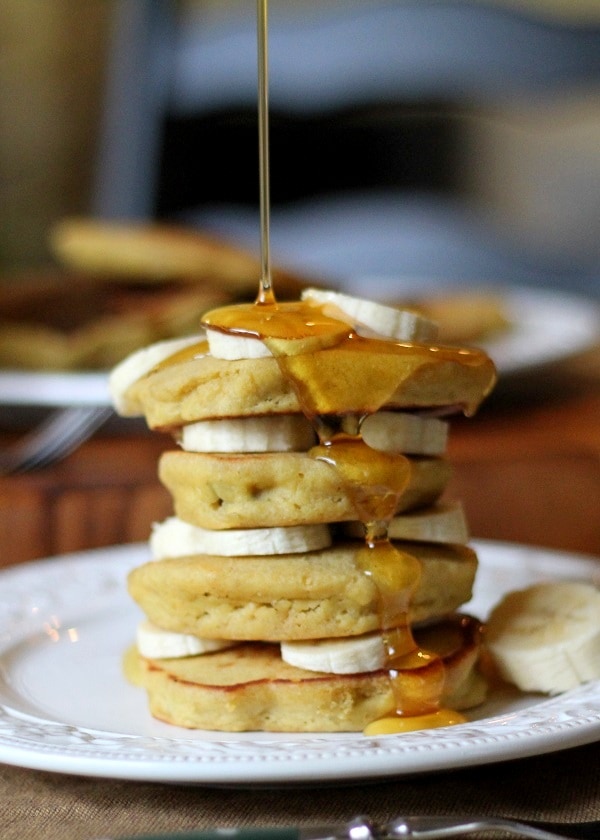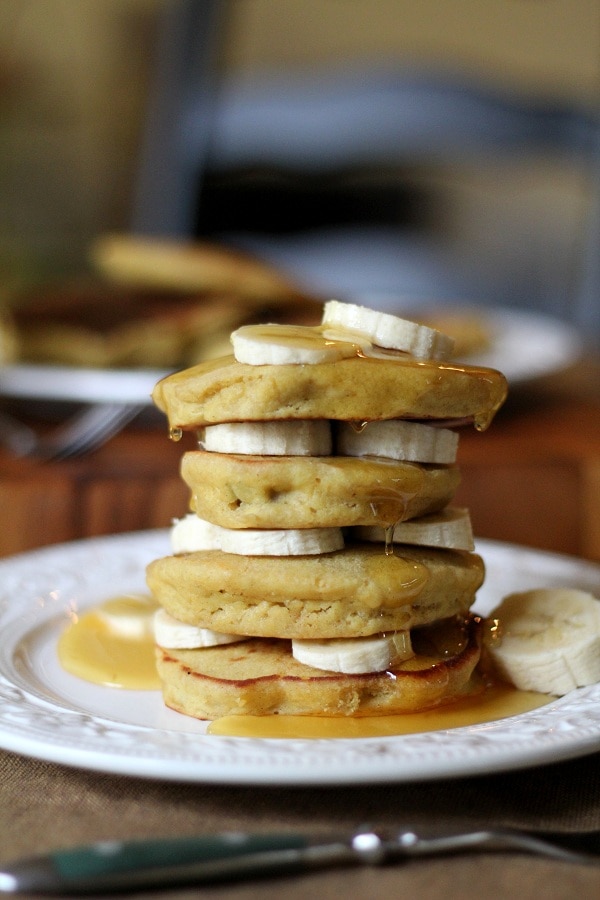 Dabbling into different gluten free flours is a hobby of mine. I have had joyous experiences, frustrations, outright failures (ahem, gluten free thumbprint cookies, ahem cough) while using various flours. Made with brown rice flour, this pancake recipe is without a doubt one of my favorite non-wheat flour recipes.
The original recipe calls for mung bean flour, which I have never heard of nor seen at the store. While I'd try it in an instant, I simply replaced the mung bean flour with more brown rice flour.
I will say these gluten free brown rice flour pancakes do turn out denser than a wheat flour pancake, which is fine by me, but for those who like airy pancakes, I'd recommend coconut flour or almond meal pancakes instead. If you like to experiment, using whipped egg whites, ricotta or applesauce may lighten these pancakes up a bit.
Sing a banana pancake song and stack them as high as they'll go. Feed them to your gluten-free roommates, save the rest for a pancake snack to be consumed at midnight, dream about ukuleles, repeat.
More Gluten-Free Pancake Recipes:
My cookbook,
Paleo Power Bowls
, is now available! CLICK HERE to check it out. Thank you for your all your support!
If you make these gluten-free rice flour banana pancakes, please feel free to share a photo and tag @TheRoastedRoot on Instagram!
Pretend like it's the weekend now…
Gluten-Free Rice Flour Banana Pancakes
Gluten-Free Banana Pancakes made with rice flour are amazingly fluffy, moist, and taste just like banana bread!
Servings:
10
small pancakes
Instructions
In a mixing bowl, mash the bananas with a fork until mostly smooth.

Add the eggs, milk, oil and agave. Mix until combined.

In a separate bowl, combine the flour, salt, baking powder, cinnamon, and cardamom. Stir to combine.

Incorporate the flour mixture into the banana/egg mixture and stir just until combined.

Heat a skillet to medium heat and add a dollup of butter or some oil.

Form small pancakes on the skillet (about 2-3 tablespoons each) and allow them to cook a couple of minutes, until the sides begin to set up, before flipping to the other side (be gentle, these pancakes are more fragile than your average pancake).

Cook another 3 to 5 minutes until pancakes are cooked all the way through.

Send Jack Johnson a pancake-o-gram
Notes
Adapted from this recipe: http://www.seasaltwithfood.com/2012/11/gluten-free-banana-pancakes.html
Nutrition
Serving:
1
of 10
|
Calories:
142
kcal
|
Carbohydrates:
25
g
|
Protein:
3
g
|
Fat:
3
g
|
Fiber:
2
g
|
Sugar:
4
g