Cinnamon swirl snickerdoodle paleo pancakes made grain-free and dairy-free are ultra light, fluffy, and moist! Make them any time you're craving delicious, unique pancakes!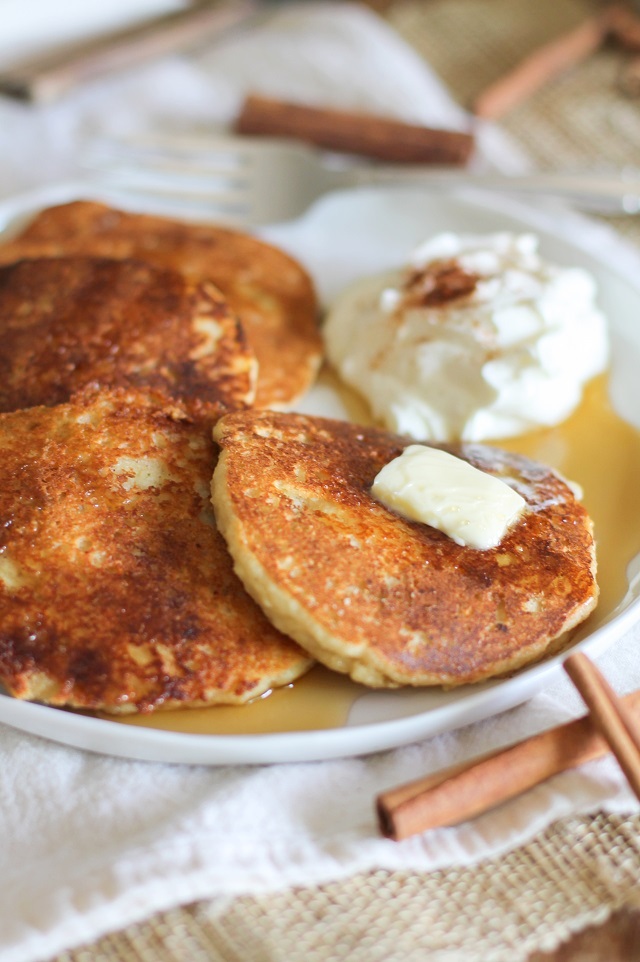 Yooooooosemite Sam holy hot diggity daaayum chitty chitty bang bang wall walla washington Magical Mr. Mistoffelees Supercalifragilisticexpialidocious, Mary Poppins!
Thank you. That felt so right.
Basically, these pancakes have made me lose my marbles. Have a gander: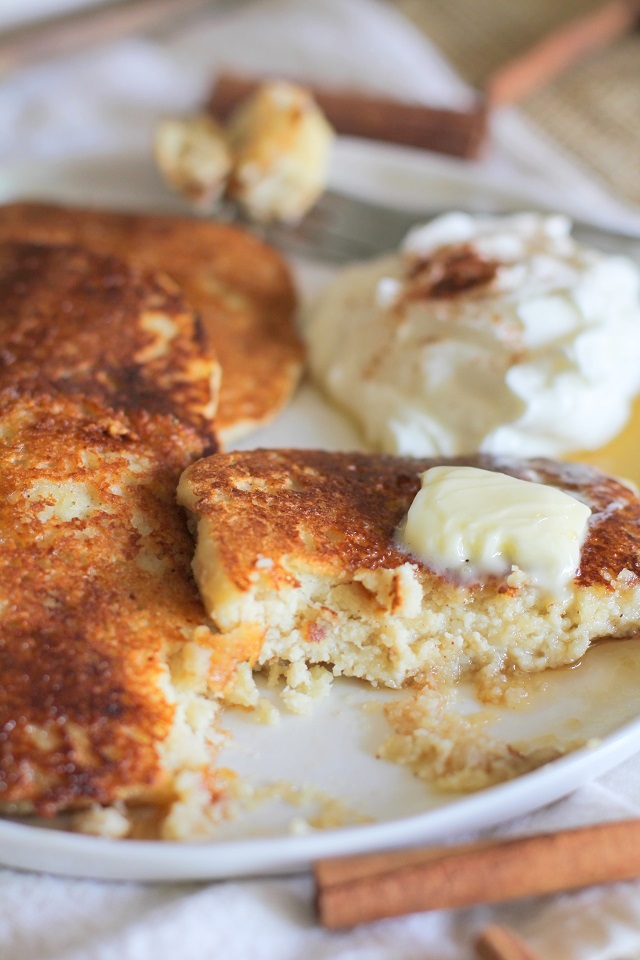 Before you lose your bloomin' britches over these pancakes, lemme give you all the informations. They are crispy on the outside and molten on the inside, like a down and dirty caramelized pancake churro concoction that doesn't make any sense it's so wrong that it's right.
They are LITRALLY crispy.
…on account of the coconut sugar.
…it caramelizes in the pan.
…creating the crisp.
…you will never be the same.
…nor will your kids.
…molten on the inside, though.
…like you're biting into a churro factory.
…serious biznatch.
…almond flour has protein in it. Just sayin'.
The order of operations for these cheeky hot cakes is you make a regular batch of almond flour pancake batter, then swirl in this coconut sugar/butter/cinnamon mixture (a.k.a. salve from heaven). If you want, you can draw inappropriate pictures in the swirl. Illustrate like no one is watching.
While the pancakes cook on the skillet, the coconut sugar and butter create a flavor and texture so obnoxious it can't be explained with words. Churro. <- Okay, it can.
If you need to use brown sugar instead of coconut sugar, that might work. No guarantees, don't quote me on that.
I wanted to name these pancakes Cinnamon Roll Paleo Pancakes SOBAD, but they look nothing like a cinnamon roll. I even felt weird and cagey about calling them "cinnamon swirl," since you can't see the swirl in the photos. So then I debated calling them Churro Pancakes, but thought that might be confusing and off-base. But they do taste like a cinnamon roll…pancake, that is…churro-syle…ramalamadingdong. Are we still talking about my thoughts? Let's stop.
Oh hey, these are grain-free, refined sugar-free, gluten free, dairy free and paleo friendly! <- Buzz words for SEO purposes, m'dear.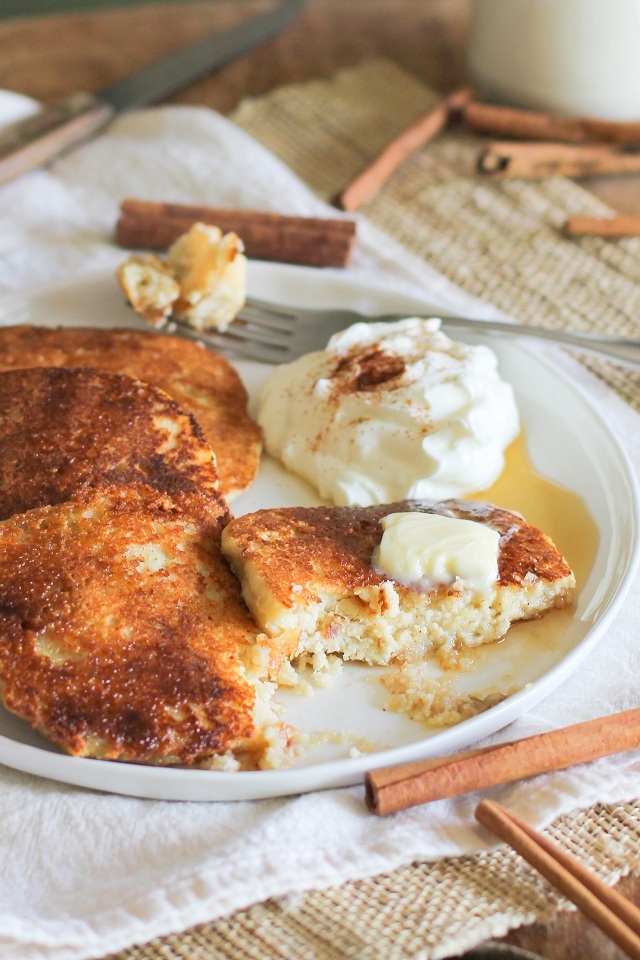 The pancake batter itself is made using almond flour and almond milk, and the cinnamon swirl concoction consists of butter (use grass-fed to be paleo-friendly, or use coconut oil), coconut sugar and cinnamon. You could probably throw some walnuts in there, too, for some added crunch.
Word to the wise: be careful when flipping these, as they're more delicate than the average pancake.
Have I mentioned, the pancakes turn out crispy on the outside and molten on the inside? Just like a freaking churro? I feel like I'm repeating myself repeating myself.
That dollop of white you see in the photos is plain Greek yogurt, because cinnamon + sugar needs some tang for the palate balancing, yes? Yogurt is not paleo, but it's still rad. You could spread these things with cream cheese, you wicked creature you. Cream cheese is not paleo…but…still rad.
My cookbook,
Paleo Power Bowls
, is now available! CLICK HERE to check it out. Thank you for your all your support!
Pancakes for life!
Crispy Cinnamon Swirl Paleo Pancakes
Crispy Cinnamon Swirl Paleo Pancakes are a unique, delicious pancake recipe to share with friends and family.
Servings:
8
medium-sized pancakes
Instructions
Stir together the almond flour, tapioca flour, baking powder, baking soda, cinnamon, and salt in a mixing bowl (dry ingredients).

In a separate bowl, whisk together the eggs, vanilla extract, almond milk, and maple syrup. Pour the wet mixture into the bowl with the dry mixture and stir well to combine.

Add three tablespoons of the pancake batter to a small bowl. Add the melted butter, cinnamon, and coconut sugar and stir well to combine. This mixture will be thick.

Pour the cinnamon and sugar mixture into the bowl with the pancake batter and swirl.

Heat a large nonstick skillet over medium and add enough coconut oil to generously coat the surface, about 3 tablespoons.

Measure 1/4 cup of batter and pour on the hot skillet. Cook until sides begin to firm up, about 2 to 3 minutes. Carefully flip and cook another 2 to 3 minutes, until pancake is cooked through. Repeat for remaining batter, adding more coconut oil to the skillet as necessary.

Serve pancakes with butter, pure maple syrup, and plain Greek yogurt (or spreadable cream cheese).
Nutrition