THE BEST Healthy Spaghetti Squash Recipes from around the web! These nutritious meals are either paleo, keto, vegan, or vegetarian, and can be made any night of the week. Plus, they will surely nourish your belly all fall and winter long!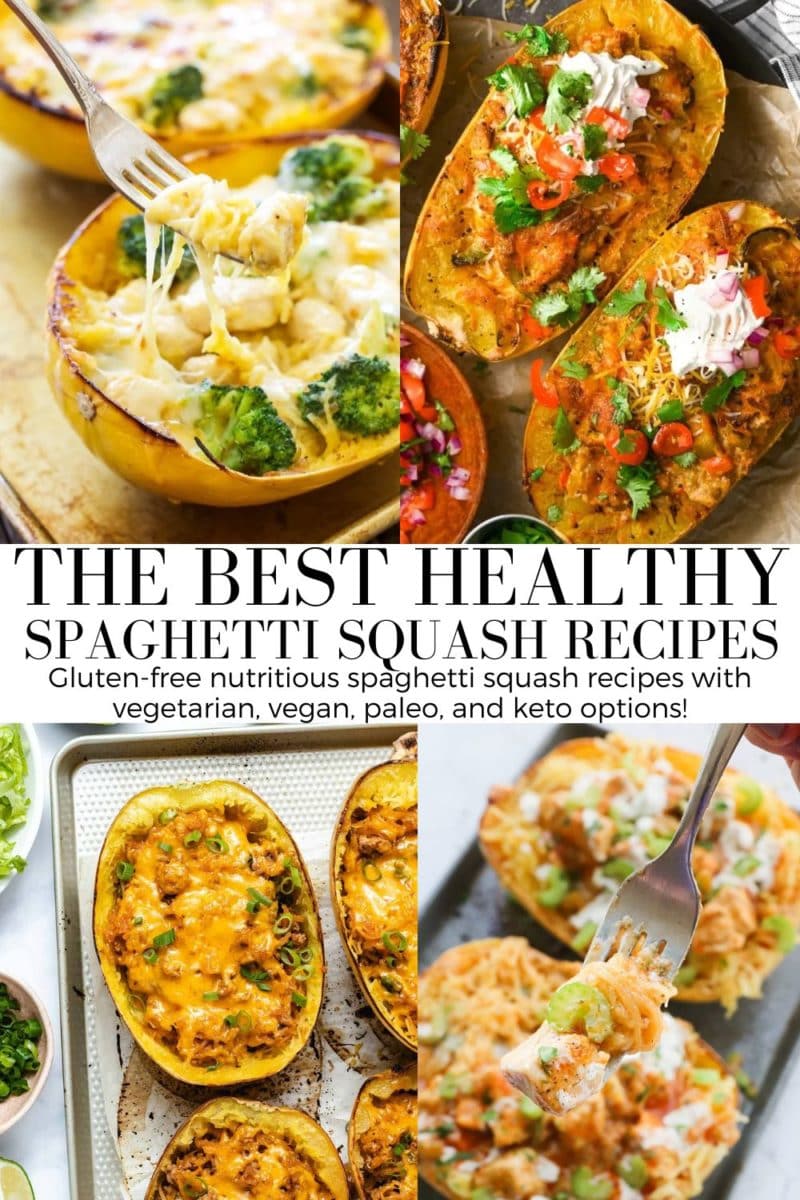 Behold! The most delicious and healthy spaghetti squash recipes the internet has to offer!
During winter squash season, recipes for spaghetti squash are on constant rotation in my household.
Its mild, slightly sweet flavor makes it a great canvas for just about any sauce, protein, or veggie. It pairs well with so many other ingredients for a nutritious meal!
In this sense, there are endless ways to serve spaghetti squash so that you're taking advantage of its health benefits without ever getting tired of it.
Plus, spaghetti squash is filling due to its fiber content, yet is low-carb and low calorie. The perfect comfort food when you're aiming to feel full without overconsuming calories.
Let's discuss the nutrition facts of spaghetti squash!
Health Benefits of Spaghetti Squash:
Spaghetti squash is a nutrient-dense food in the sense that it is low in calories but packs a great deal of nutrition relative to the amount of energy it takes to burn.
A good source of pantothenic acid, fiber, Vitamin C, manganese, vitamin B6, and niacin, spaghetti squash is quite the powerhouse.
One cup of cooked spaghetti squash (prepared without other ingredients like oil) contains 42 calories, 10 grams of carbohydrate, 2 grams of fiber (and therefore 8 grams of net carbs), less than one gram of fat, and 1 gram of protein.
For those who follow a low-carb diet or keto diet, spaghetti squash may fit into your daily macros.
Personally, I enjoy the overall experience of spaghetti squash and love feeling full after eating dinner so I find it to be a great tool for my own diet.
Recipes for Spaghetti Squash:
I rounded up the absolute best spaghetti squash recipes from across the internet to ensure there would be plenty of variety here.
You'll find all sorts of flavors, cuisines, and delicious concoctions to keep your spaghetti squash flame strong.
This roundup includes options for paleo, keto, vegan, and vegetarian spaghetti squash recipes. All are nourishing, healthful, and approachable any night of the week!
If you've never made spaghetti squash, I've got you! Simply follow my tutorial on How to Roast Spaghetti Squash or Instant Pot Spaghetti Squash for two easy cooking methods.
Let me know which ones you try and what you think!
The Best Spaghetti Squash Recipes:
Creamy Tuscan Spaghetti Squash with sun-dried tomatoes, artichoke hearts and spinach. This crowd-pleasing dish is the perfect healthy side or light meal. Add your favorite protein for a complete meal! Paleo, keto, low-carb, and vegan!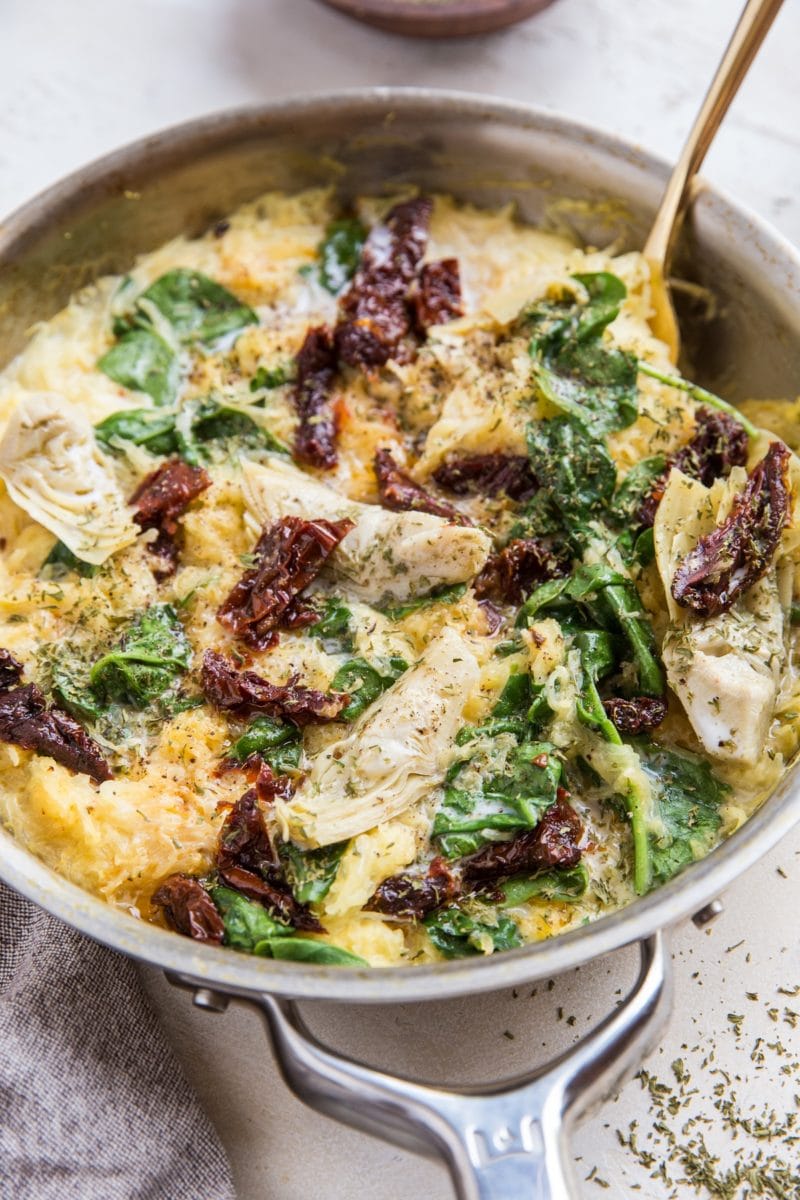 Roasted Garlic and Kale Spaghetti Squash with Sun-Dried Tomatoes – Spaghetti Squash with roasted garlic, kale, sun-dried tomatoes and walnuts makes for a comforting, low-carb meal requiring only 5 main ingredients! Add your favorite animal protein for a hearty dinner!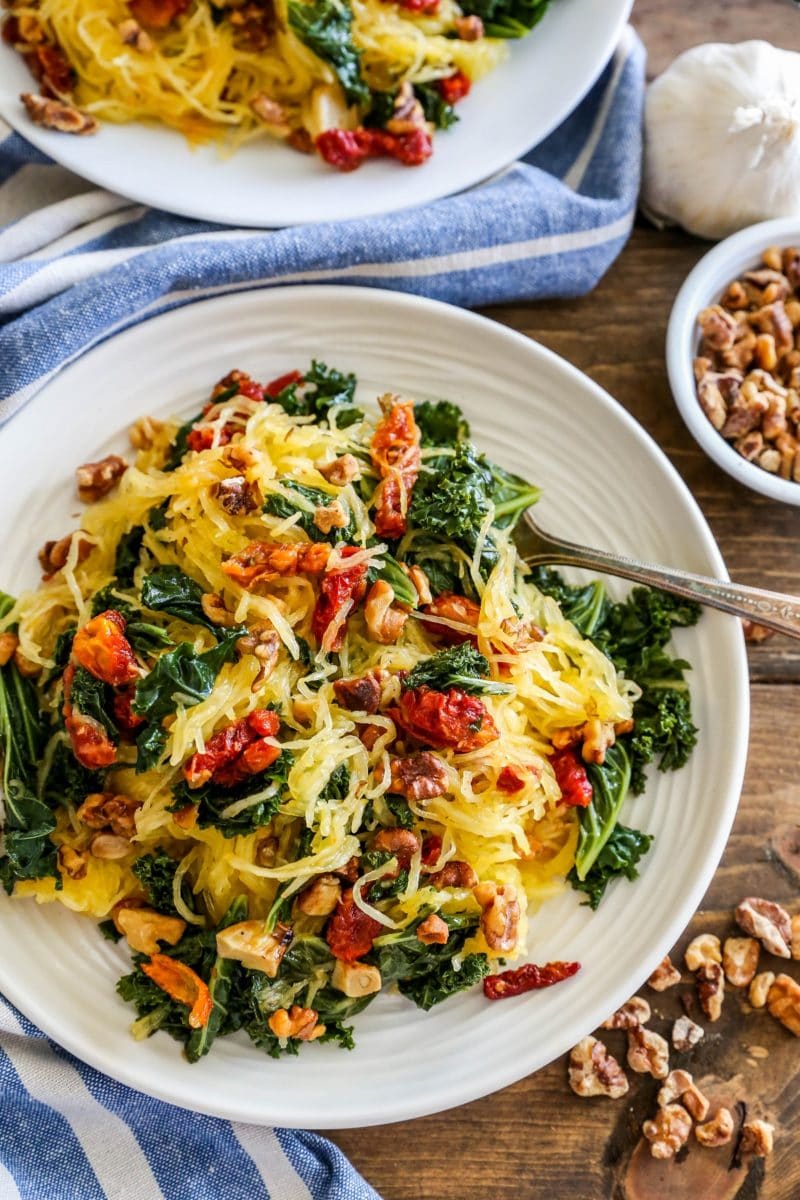 Cheesy Chicken Broccoli Spaghetti Squash – Spaghetti Squash stuffed with a creamy, cheesy, chicken and broccoli filling and topped with more melted cheese! This Cheesy Chicken and Broccoli Stuffed Spaghetti Squash makes a great gluten free, low carb comfort food dinner!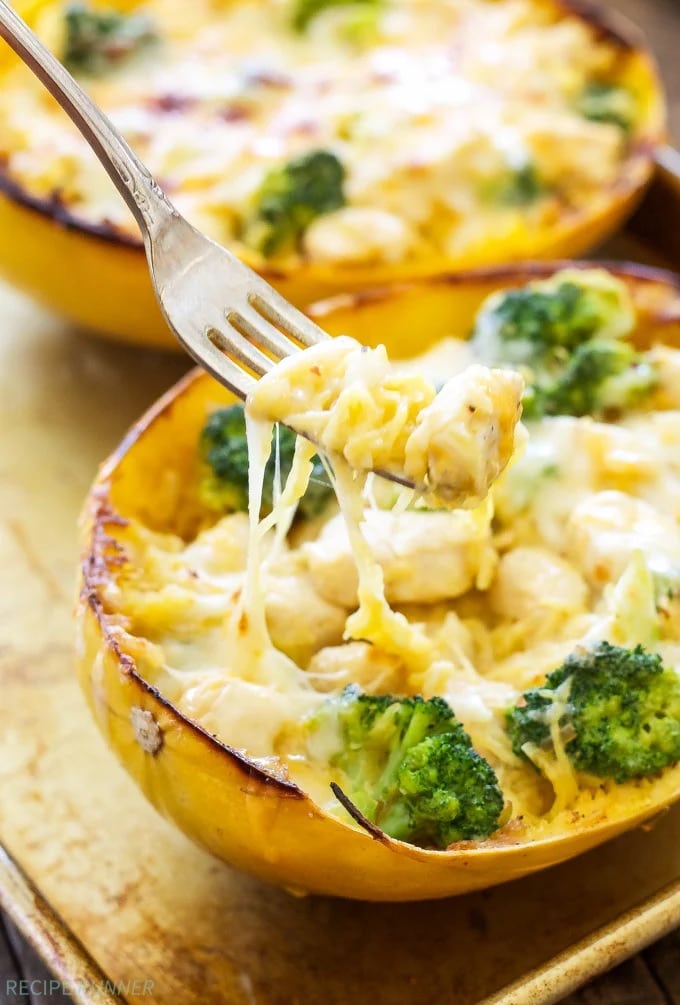 Instant Pot Turkey Meatballs Spaghetti Squash – Ultra flavorful Whole30, gluten-free and Paleo turkey meatballs and spaghetti squash in marinara sauce. This entire meal cooks together in the instant pot in as little as 7 minutes!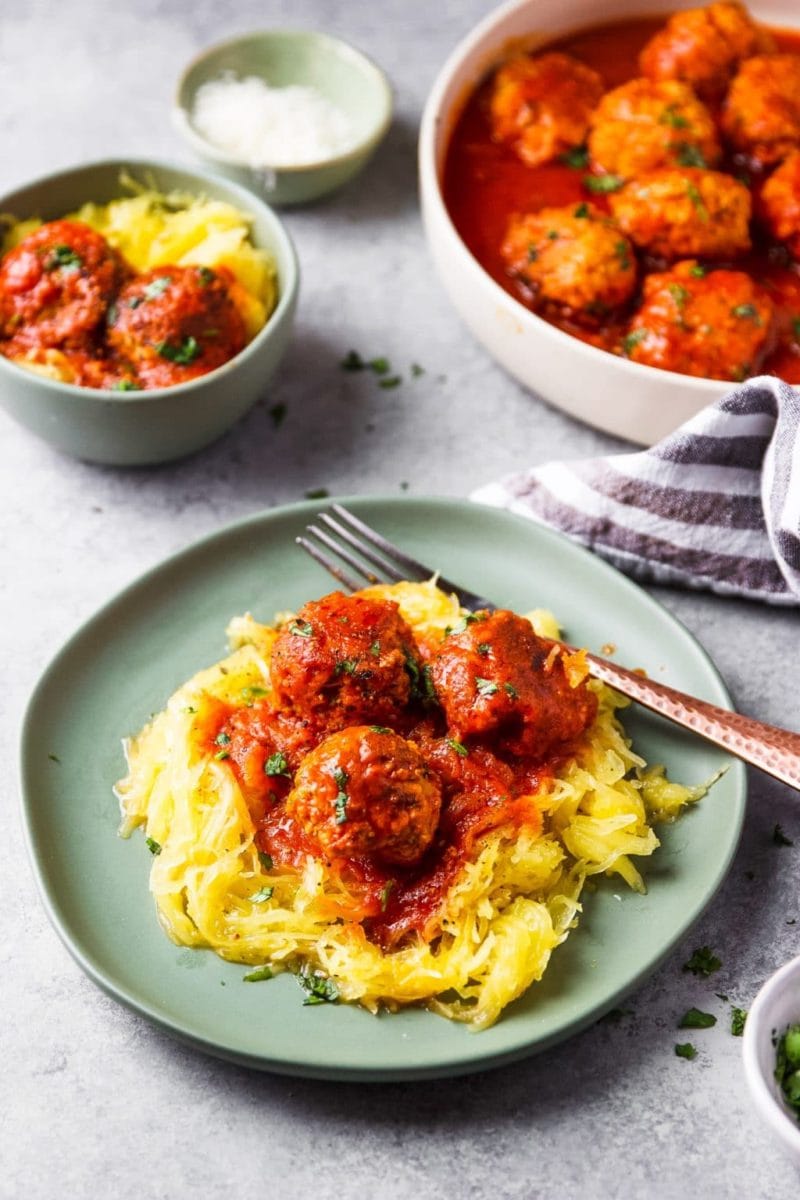 Taco Stuffed Spaghetti Squash – Taco Stuffed Spaghetti Squash is what happens when you mix taco filling with spaghetti squash and top it with melty cheddar cheese. It's a healthy, high-protein meal your entire family will love!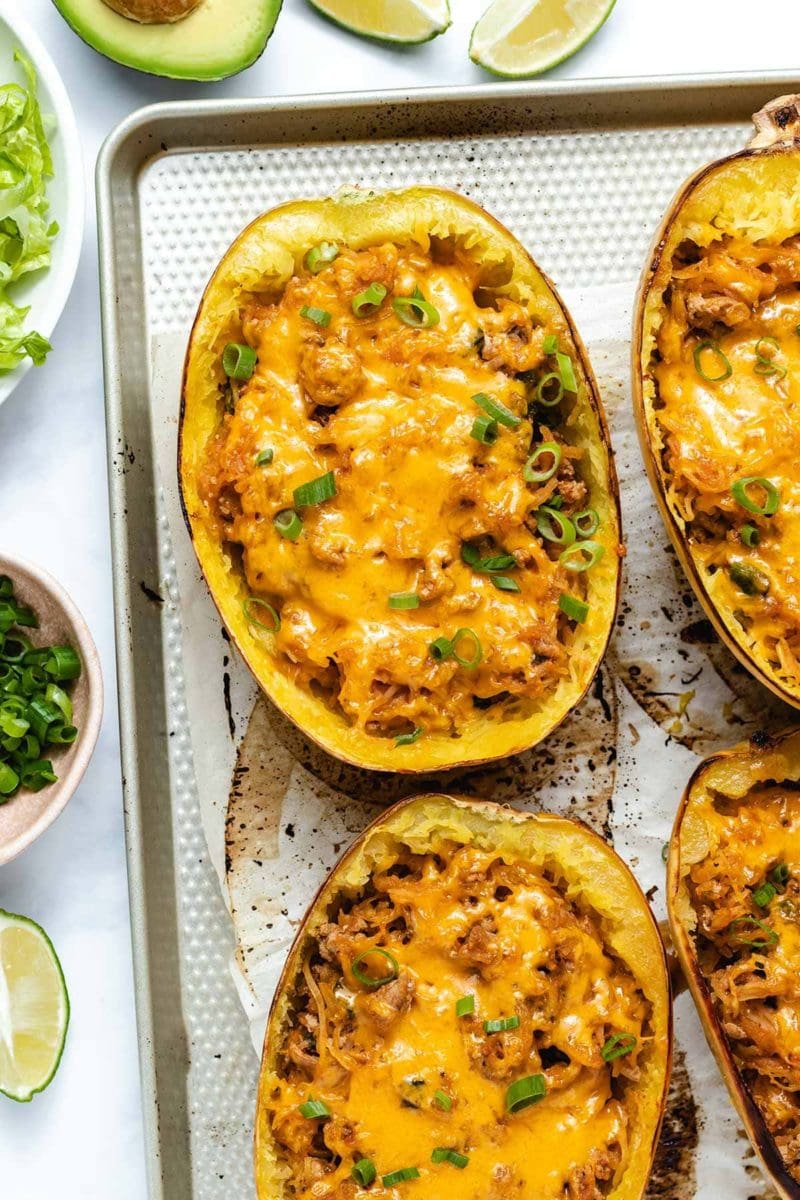 Chili Stuffed Spaghetti Squash Bowls – Baked spaghetti squash filled with a hearty two-bean vegan chili. A warm and satisfying meal that's perfect for cold weather! Vegan, gluten-free and grain-free.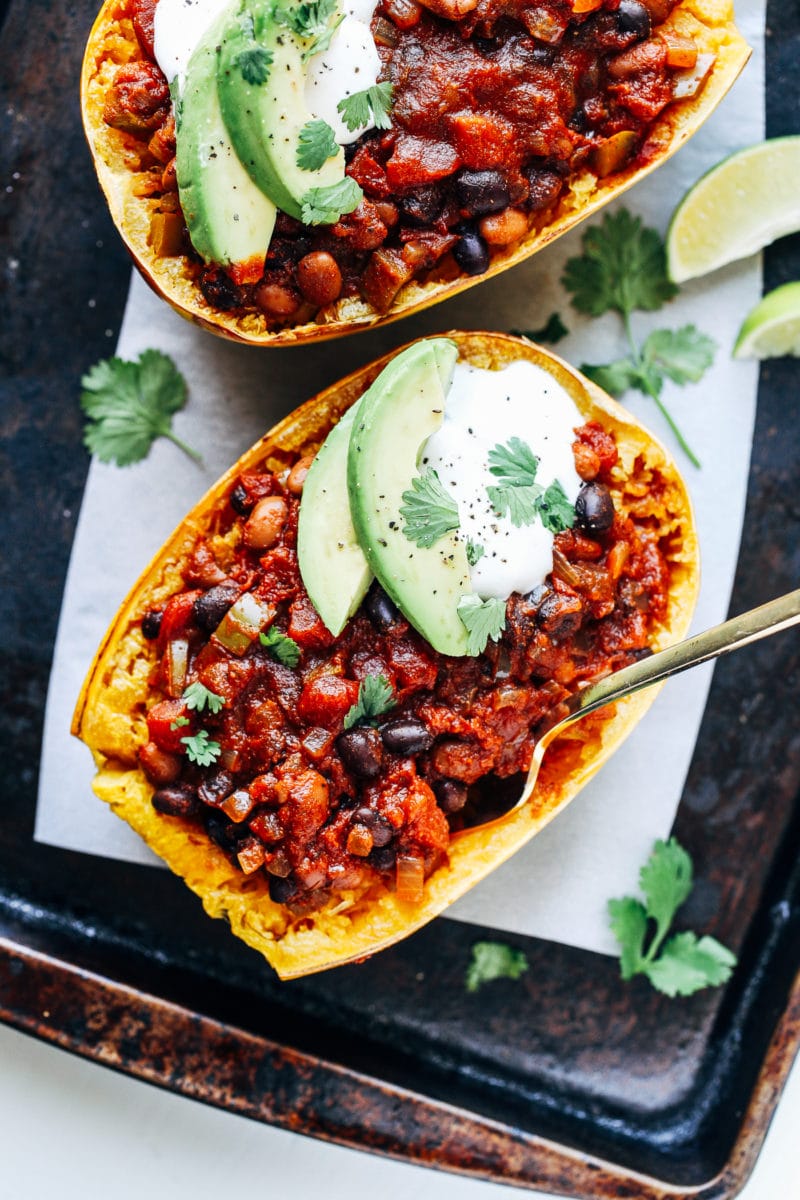 Spaghetti Squash with Chicken and BBQ Sauce – Simple whole30 spaghetti squash with chicken and BBQ sauce finished with a drizzle of creamy dairy free sauce. The spaghetti squash boats are baked in the oven until tender, then stuffed with shredded chicken breast and tossed together in a delicious BBQ sauce – a nourishing lunch or dinner made with only whole foods!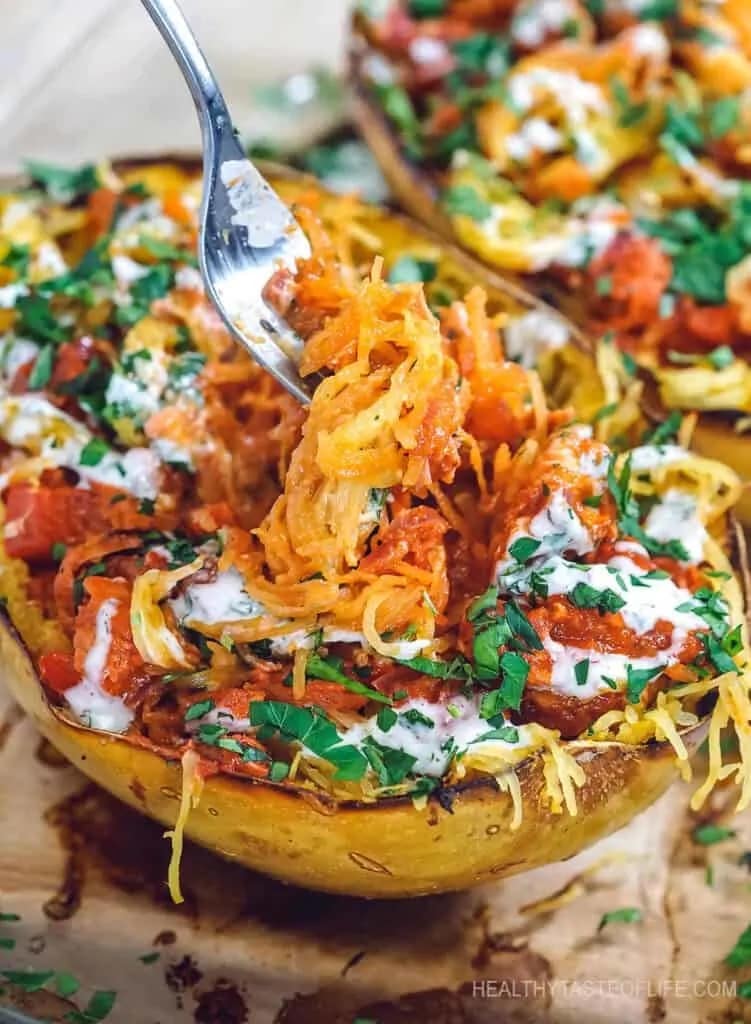 Spaghetti Squash with Mushrooms, Kale and Cashew Alfredo – Roasted spaghetti squash is topped with balsamic mushrooms, garlicky kale, and creamy cashew alfredo sauce. The perfect healthy comfort food for spaghetti squash season!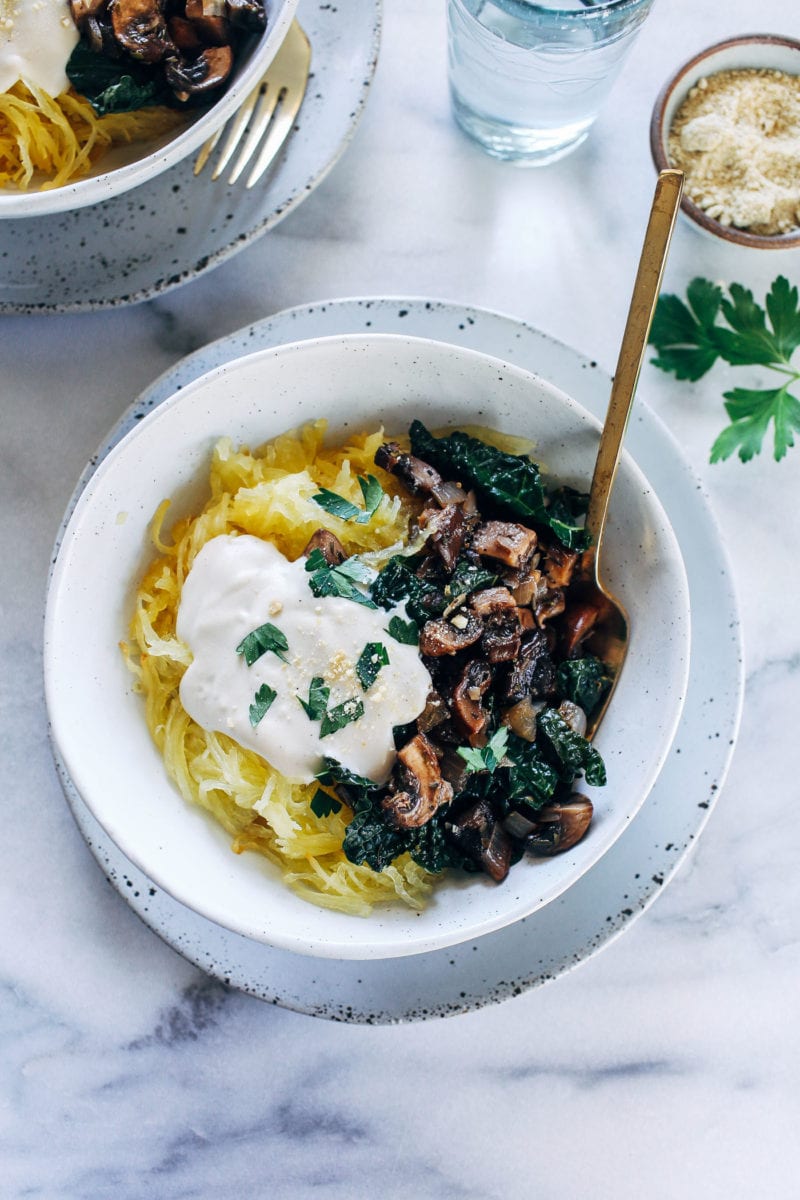 Spaghetti Squash Shakshuka – Spaghetti Squash Shakshuka is a creative spin on the classic baked eggs in a spicy tomato sauce. It's perfect for breakfast, lunch, or dinner!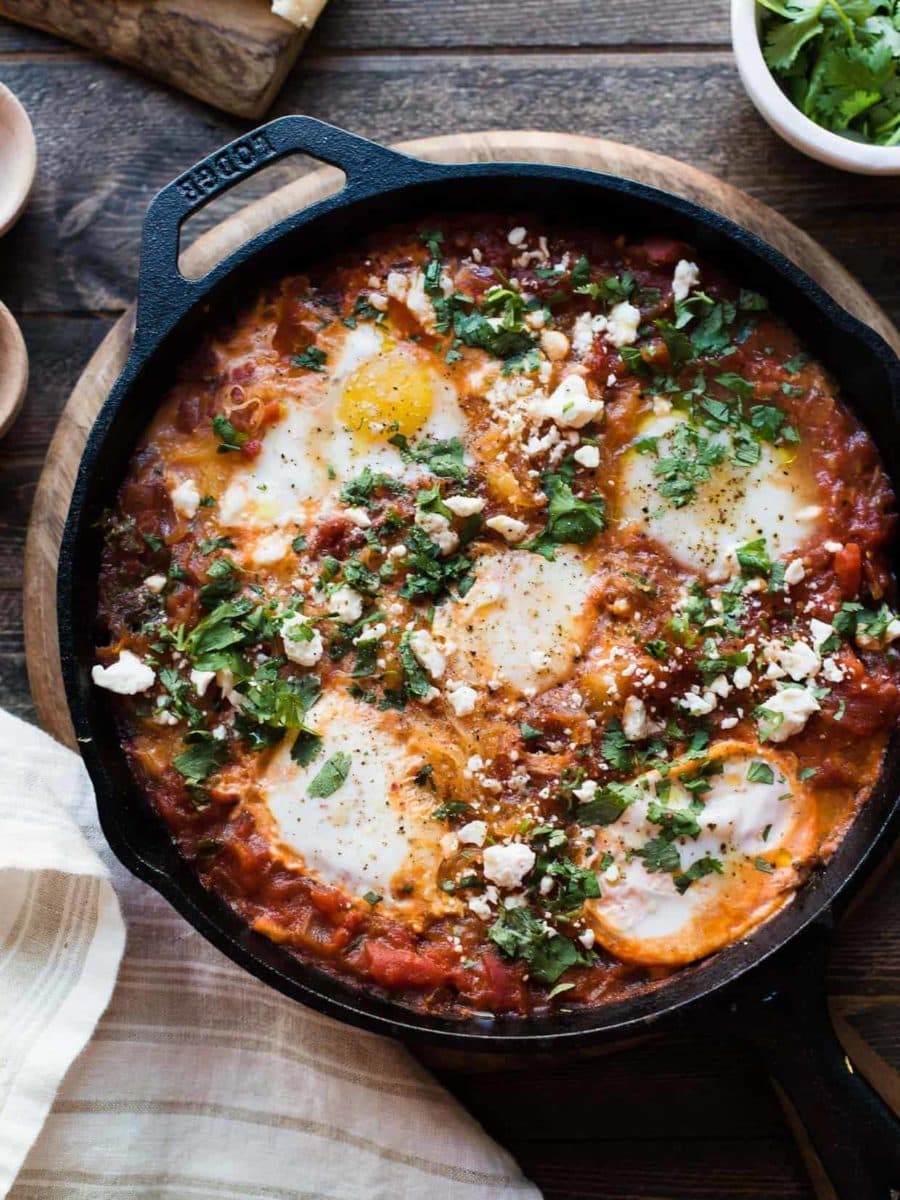 Ground Chicken Fajita Spaghetti Squash – This stuffed ground chicken fajita spaghetti squash is packed full of flavor and is super easy to make! Made with ground chicken, flavorful spices, peppers, onions, and stuffed into a soft roasted spaghetti squash. Trust me, you'll love this low carb healthy dinner that is perfect for any day of the week.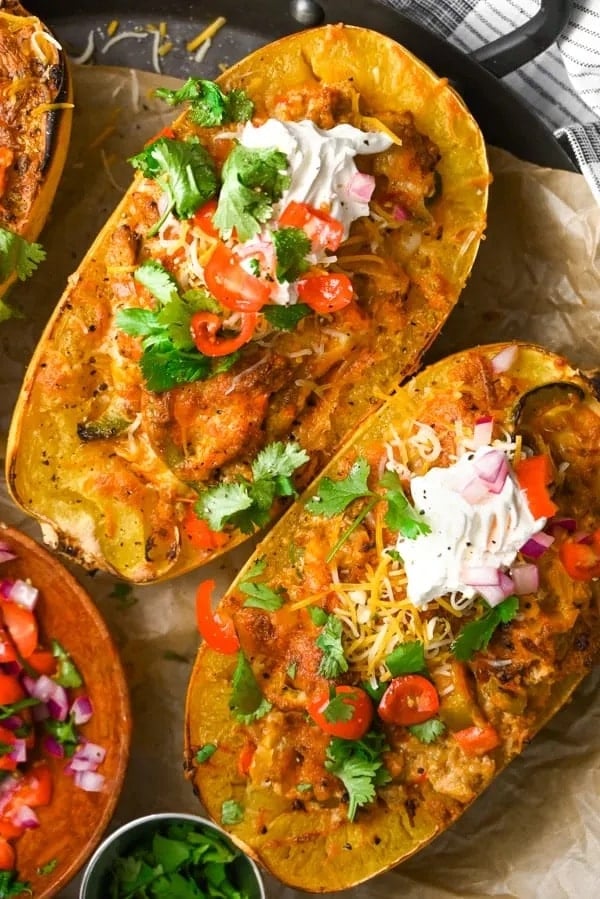 Baked Spaghetti Squash Mac and Cheese – This easy & healthy Spaghetti Squash Mac and Cheese Recipe is low-carb and keto-friendly! It's creamy, cheesy and delicious.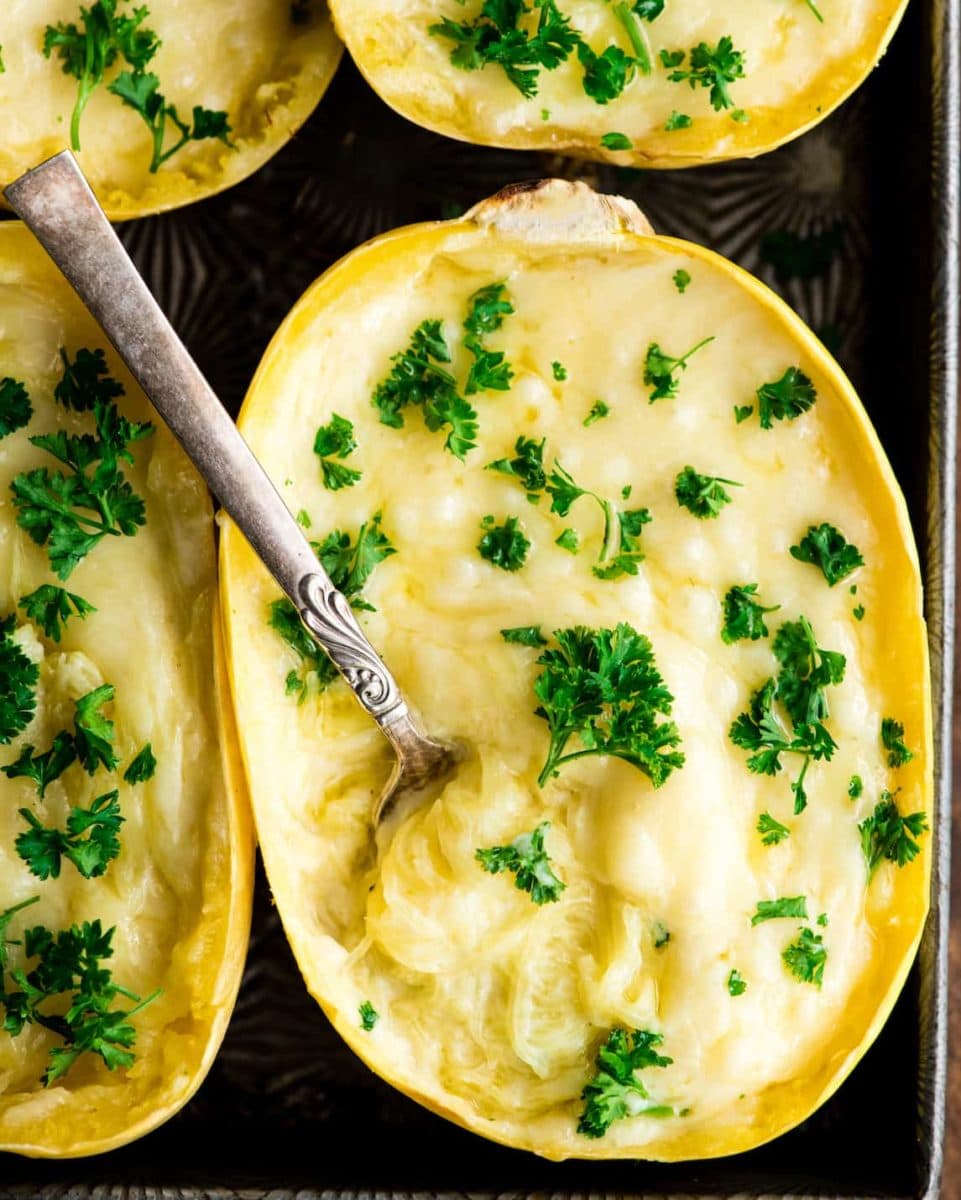 Crispy Salmon Bowls with Pesto Spaghetti Squash – Salmon bowls with spaghetti squash tossed in pesto sauce with sautéed vegetables. These bowls can be prepared year-round with seasonal produce and are paleo, keto, low-carb, and whole30.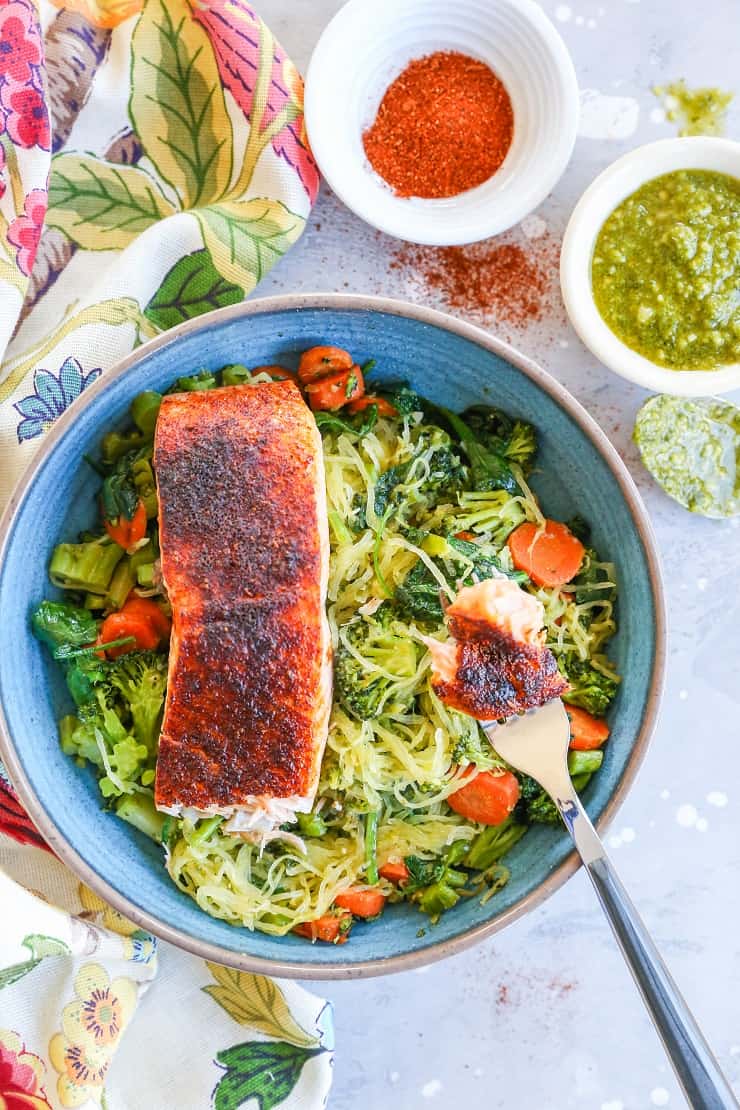 Mushroom Bolognese Spaghetti Squash Casserole Comforting three cheese spaghetti squash casserole with mushroom "Bolognese" sauce – an ultra pleasing gluten-free vegetarian meal.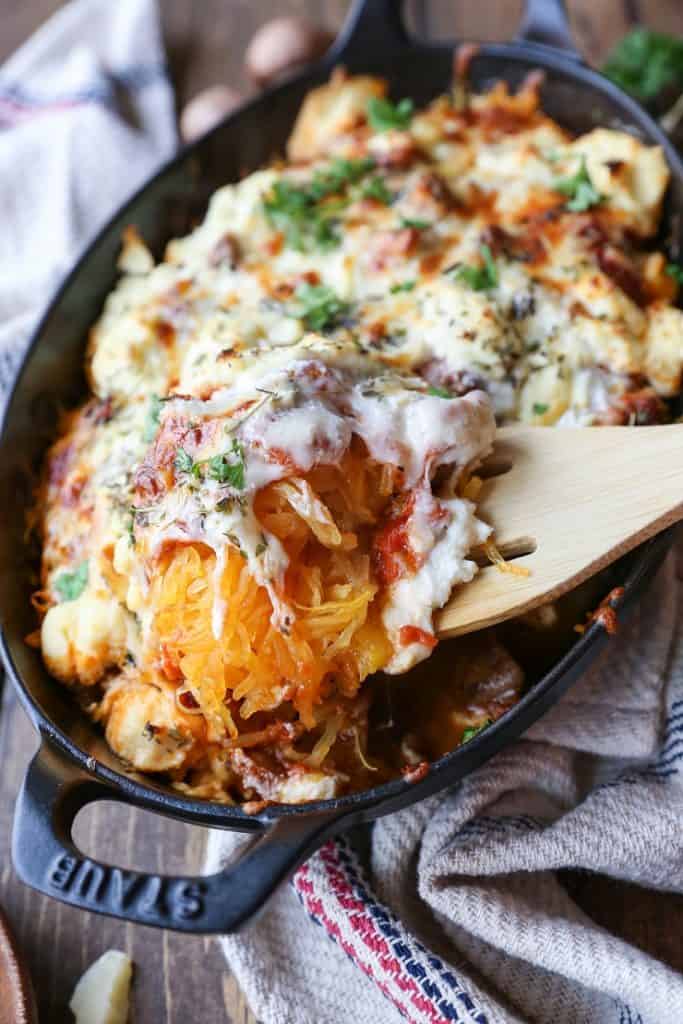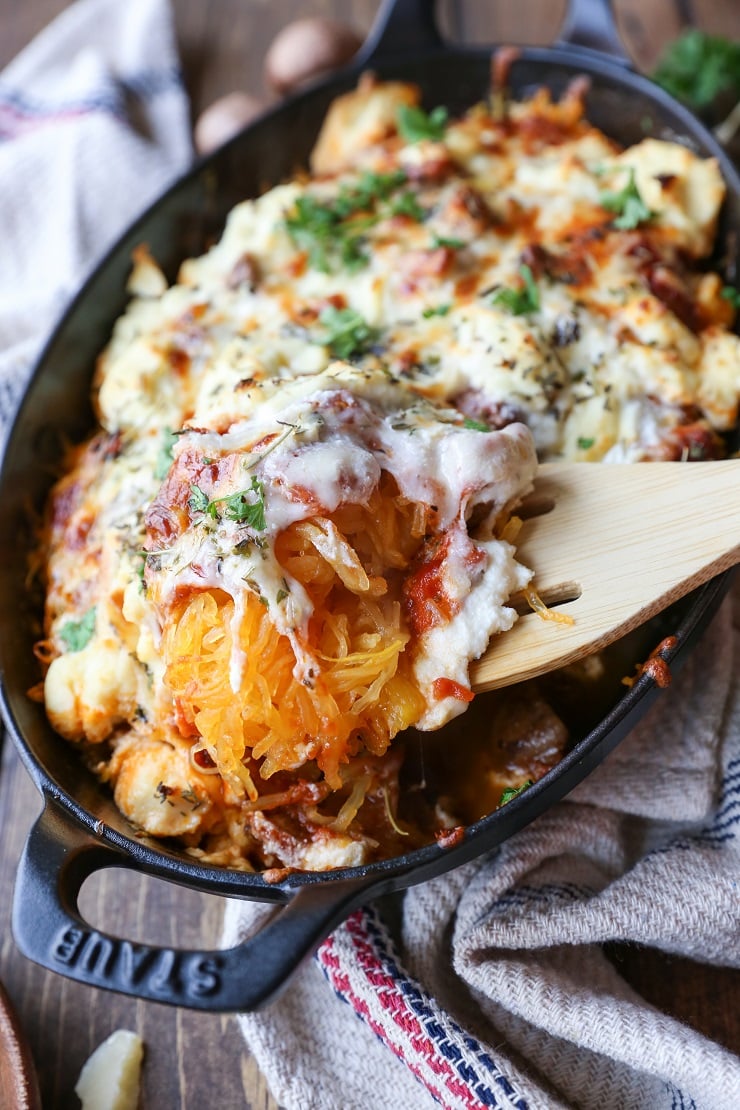 Twice Baked Spaghetti Squash – Delicious twice baked spaghetti squash is filled with spinach, artichokes, tomatoes and cheese. A lower carb, vegetarian and gluten-free dish that can be enjoyed as a side or meatless main course!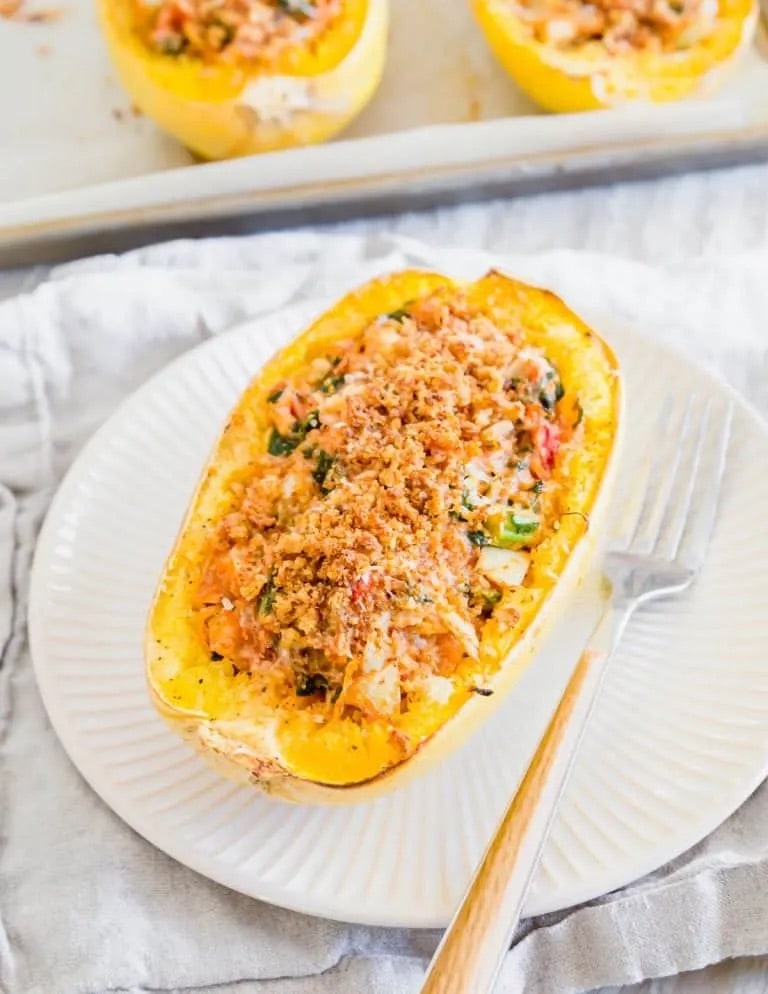 Easy Bolognese Stuffed Spaghetti Squash Easy bolognese-stuffed spaghetti squash is amazing low-carb comfort food! Whip it up any time you're craving Italian!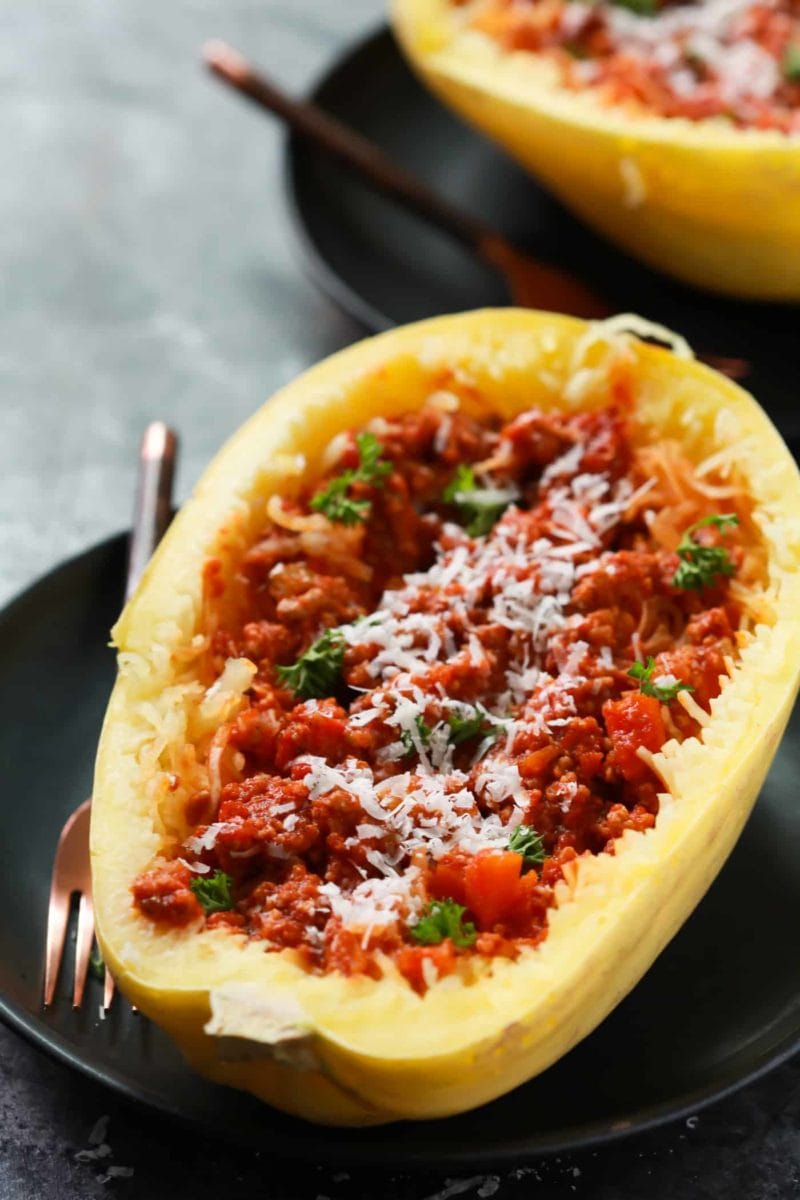 Chicken Pesto Spaghetti Squash – Chicken Pesto Spaghetti Squash is an ultra easy meal to prepare that happens to be paleo, whole30, low-carb, and delicious! Make it for the whole family or as a meal prep recipe.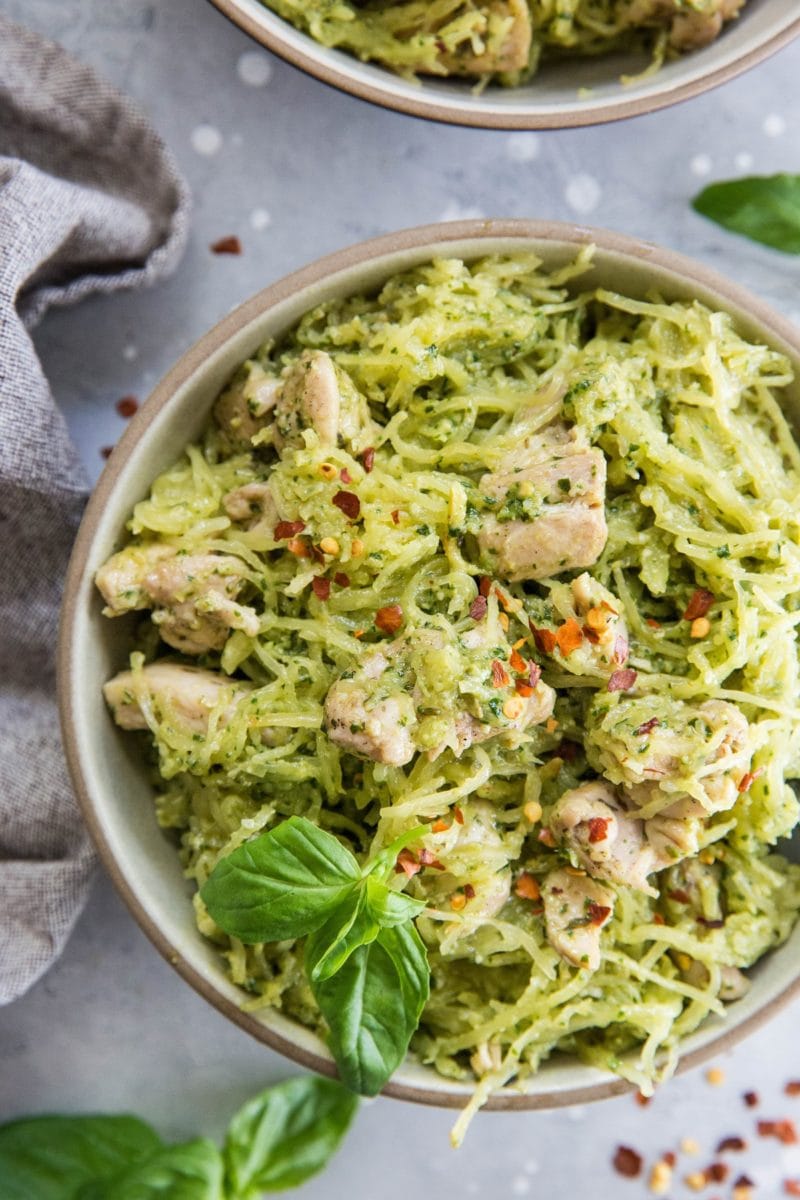 Garlicky Spaghetti Squash with Chicken, Mushrooms, and Kale Garlicky Spaghetti Squash with Chicken, Mushrooms, and Kale is a squeaky clean and satisfying meal, loaded with zesty, rustic flavor! Perfect for those who are into clean eating, or anyone who follows a ketogenic, whole30, or Paleo lifestyle.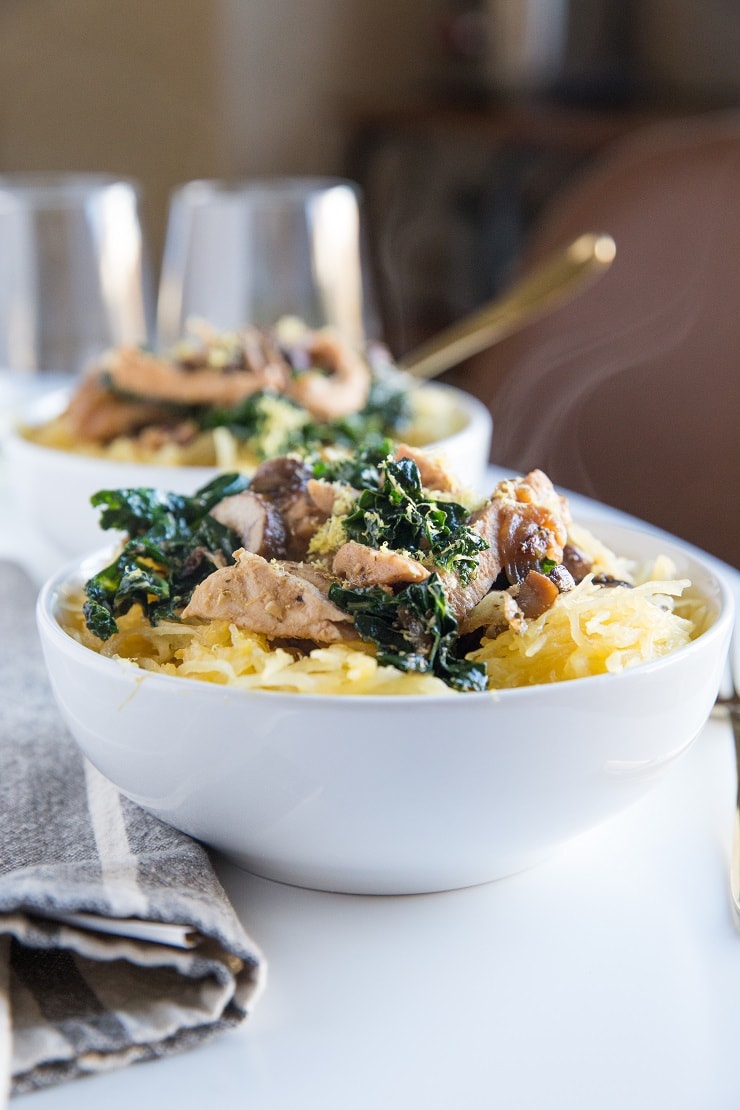 Quinoa Lentil Bolognese with Spaghetti Squash This simple lentil bolognese sauce is a vegan version of the Italian classic, made with hearty quinoa, whole peeled tomatoes, and all-natural ingredients.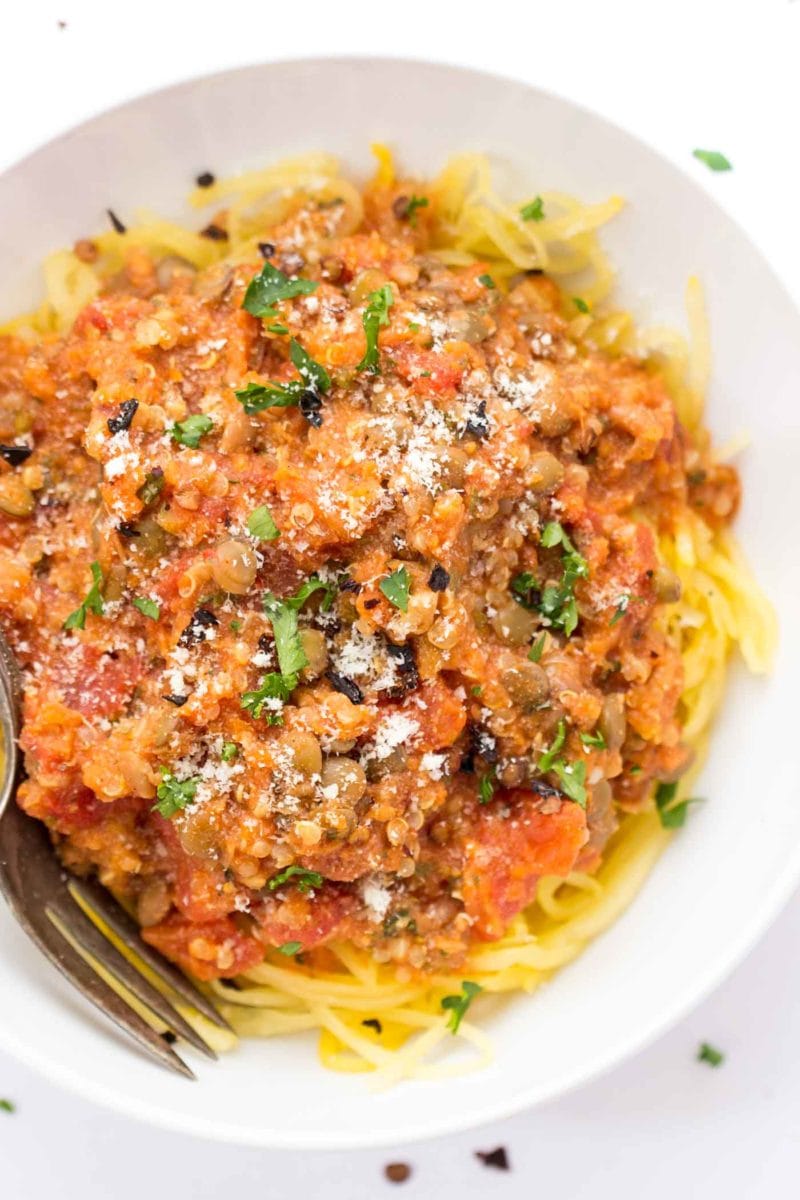 Spaghetti Squash Lasagna Bake Flavorful, hearty 10-ingredient Spaghetti Squash Lasagna Bake with simple tofu ricotta and vegan parmesan cheese! A plant-based dinner that's perfect for fall and winter for those looking for a meatless meal.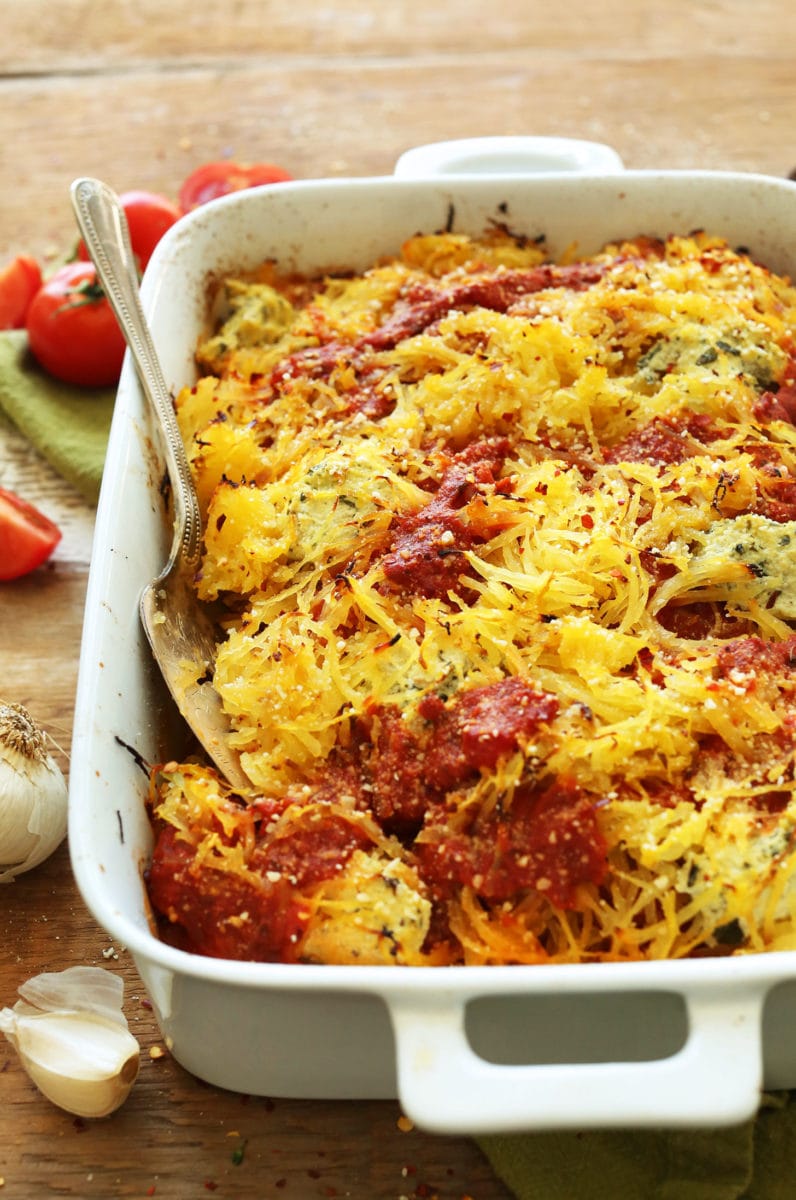 Spaghetti Squash with Pesto and Sauteed Shrimp – Pesto Spaghetti Squash with Sautéed Shrimp is a flavorful, nutrient dense healthy low-carb paleo friendly dinner recipe that happens to also be Whole30 compliant! Plus, it's ideal for anyone who enjoys big filling meals that come with health benefits!
Stuffed Spaghetti Squash Lasagna Boats – Spaghetti squash lasagna boats are cheesy, comfort food with simple ingredients and prep. Easy, healthy, and low carb for those times you're craving lasagna but want to keep it carb-conscious.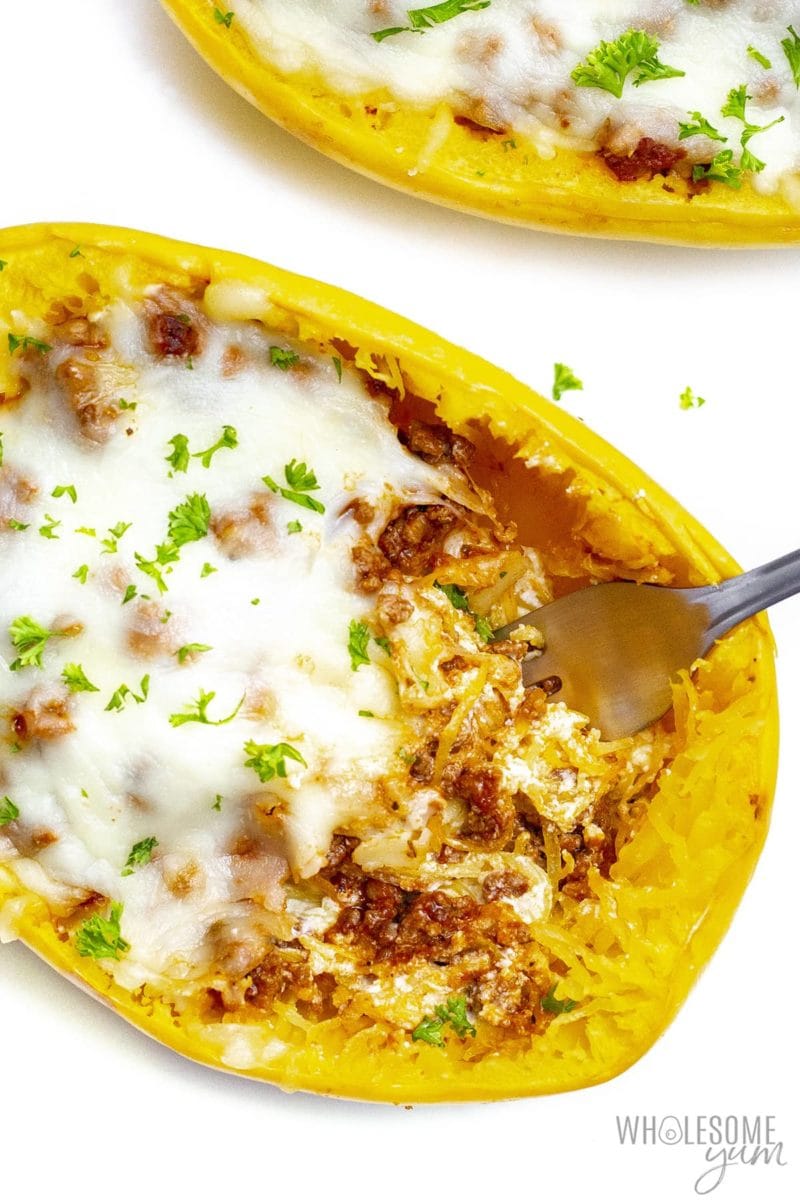 Spaghetti Squash Drunken Noodles – Spaghetti Squash Drunken Noodles is a low-carb version of classic Thai Drunken Noodles (also known as Pad Kee Mao). A nutritious healthy dinner recipe loaded with sweet, savory flavors, tender chicken and fresh vegetables, this easy recipe is winning comfort food!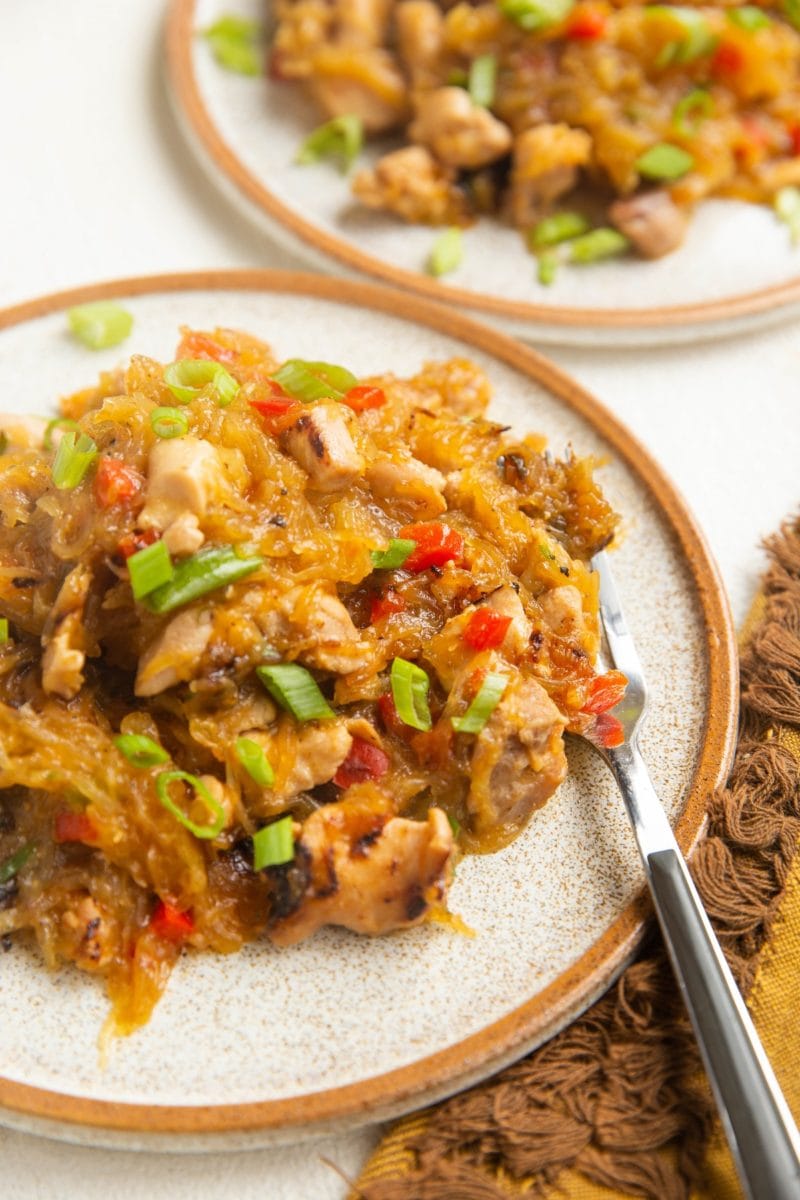 Creamy Pesto Spaghetti Squash – These creamy pesto spaghetti squash noodles are a healthier, lower carb way to enjoy the decadence and comfort of creamy pasta.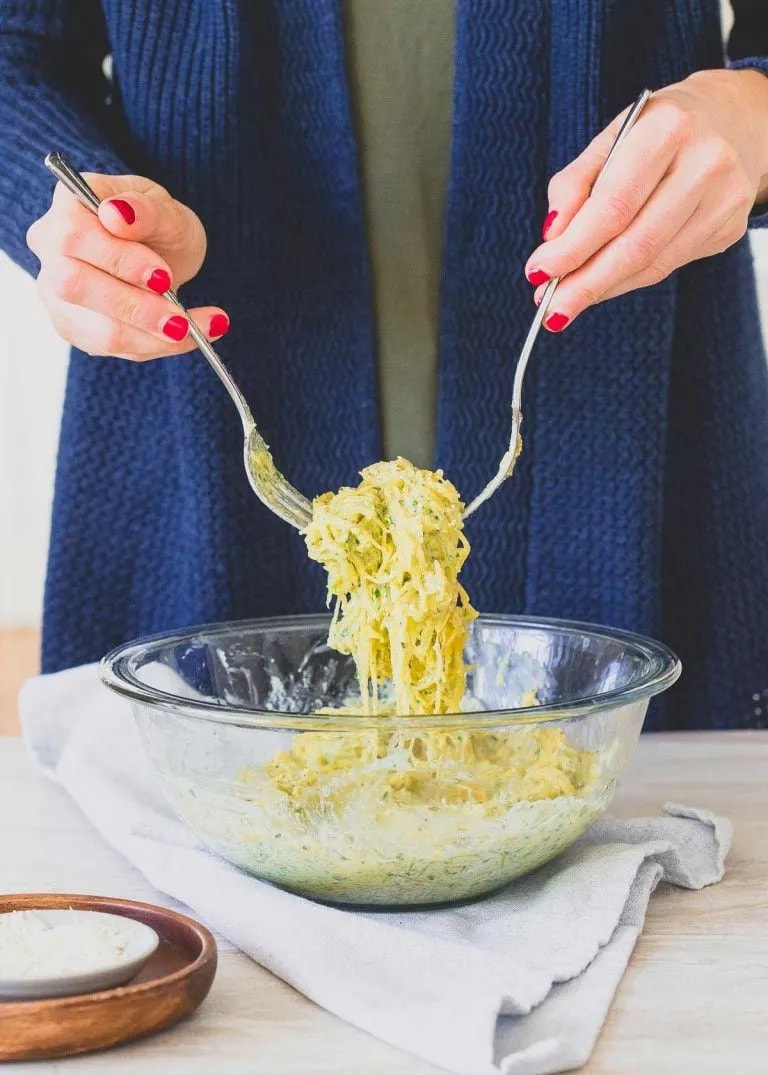 Buffalo Chicken Spaghetti Squash – Meet your new favorite healthy dinner! Spicy, zesty, buttery, and tangy, this Buffalo Chicken Spaghetti Squash is everything you want in an exciting weeknight meal. Not only is it fast and easy to make, but it's Whole30 and low carb friendly, too!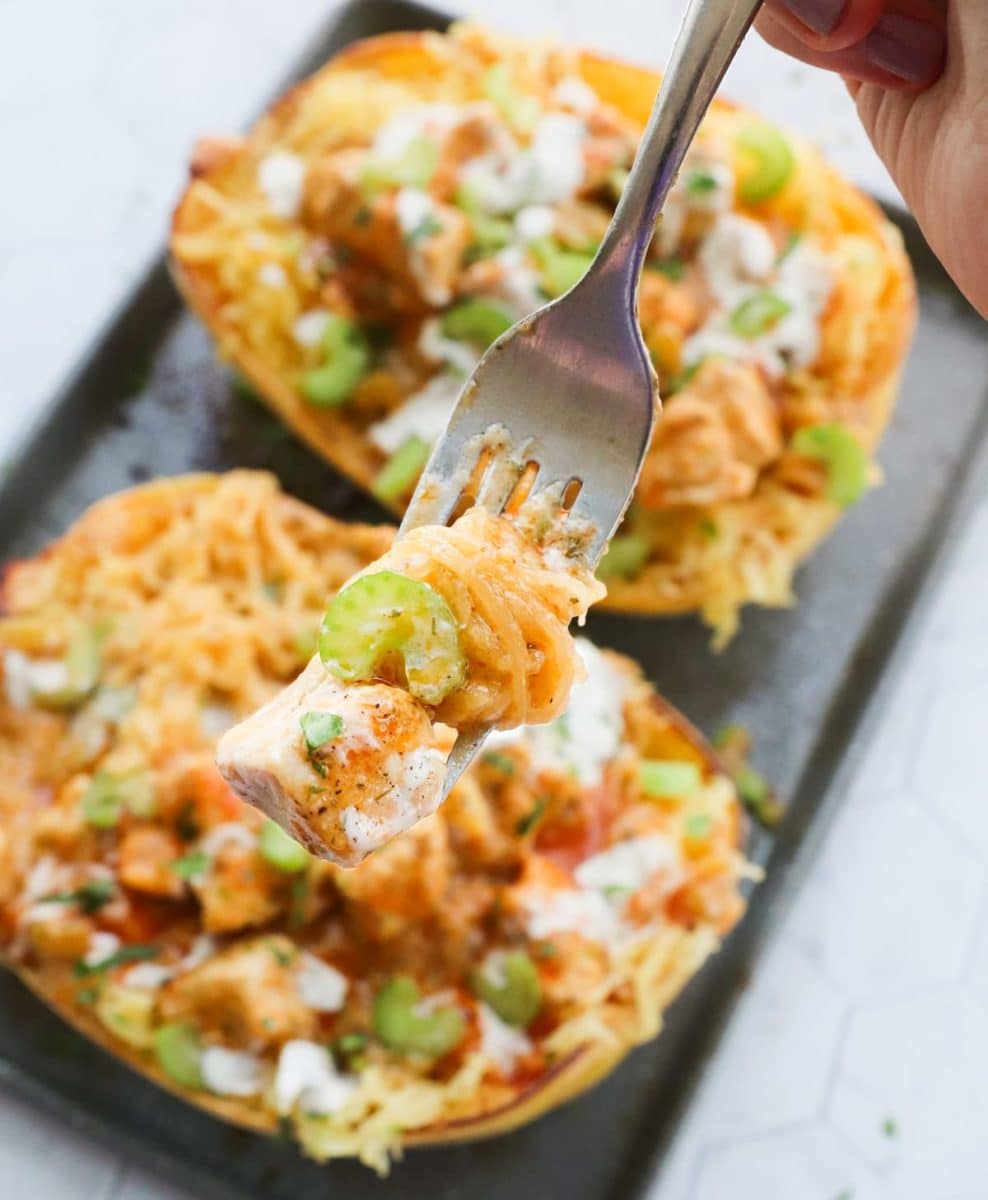 Looking for even more delicious spaghetti squash recipes? Check these out!
MORE HEALTHY SPAGHETTI SQUASH RECIPES
ENJOY!
xo