Paleo-friendly and Whole30 compliant Pad Thai made with spaghetti squash noodles in place of rice noodles, and a delicious cashew ginger sauce. An un-traditional yet delicious take on classic Pad Thai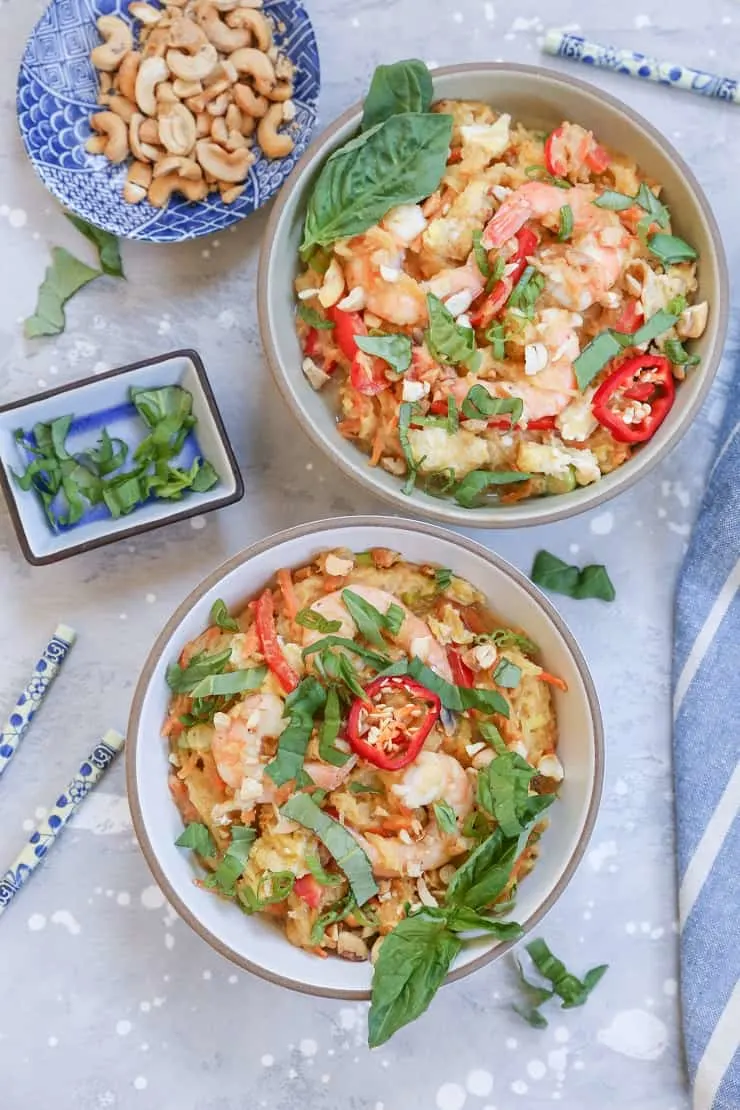 Roughly 67.3% of my diet circa 2000 consisted of Pad Thai. I had the blinders on so hard, I could barely see straight, much less acknowledge other foods. I'd rate Thai restaurants based on the quality of their Pad Thai alone. Too dry? Too oily? The perfect chicken-to-shrimp ratio? Al dente noodles just the way I like? All the right sauce in all the right places? I practically had a score card.
But true to form, the high volume of Pad Thai I consumed eventually yielded diminishing returns until I basically lost interest. It had been a several-year stint since I had eaten the noods…but then one of my girlfriends made a spaghetti squash Pad Thai for dinner, and I about blew a gasket. In a good way, people. In the best way. Visualize it? Yeeeeah!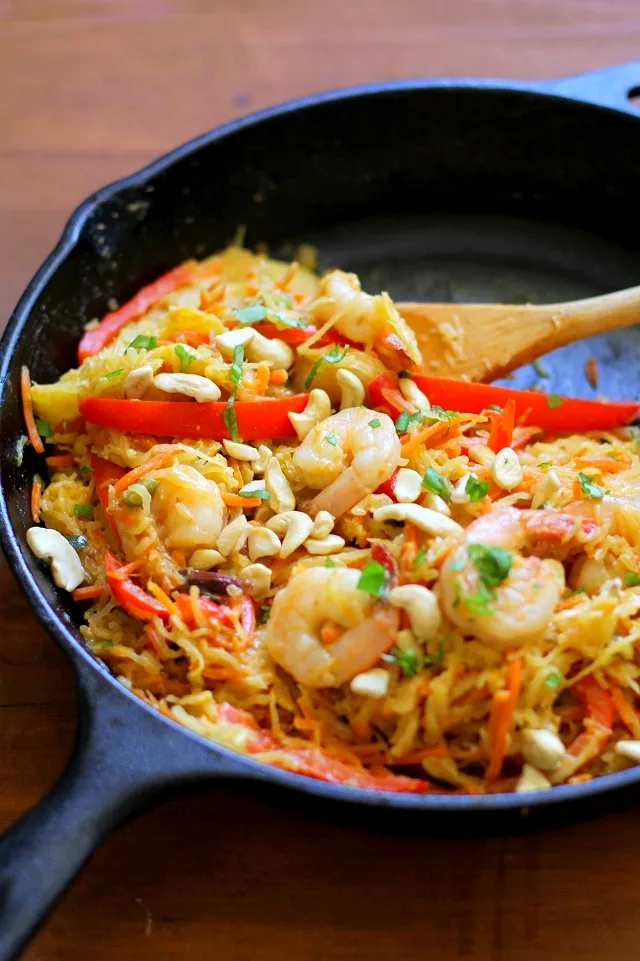 Now that I've bared my renewed unrelenting obsession for Pad Thai, lemme just say this recipe is super inauthentic. Really great, though!
Normally, Pad Thai is made with rice noodles and includes bean sprouts, chicken, scrambled egg and a peanut sauce. So basically, this recipe bears little, if any, resemblance to the real deal. But titling it for what it is: Spaghetti Squash with Sauteed Shrimp, Bell Pepper, and Cashew-Ginger Sauce just seemed to downgrade the meal from awesome status. Ergo, here is my extremely loose interpretation of the classic dish. If you are looking for a more traditional recipe using actual rice noodles, check out my 30-Minute Chicken Pad Thai recipe.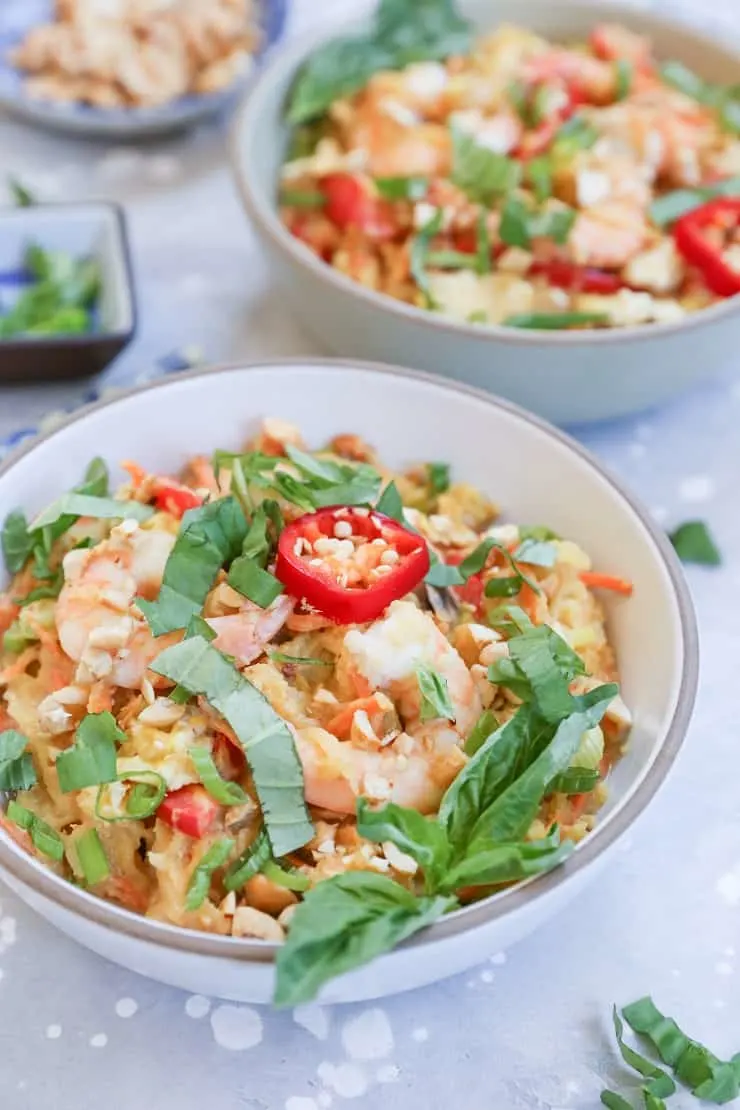 The important features you need to know are the following:
Gluten-free and Grain-Free

Soy-free

Peanut-free

Hypoallergenic <- I kid, but seriously…unless you're allergic to cashews.

Low-carb

Super healthful

Easy to prepare

Heaven fairies for your head hole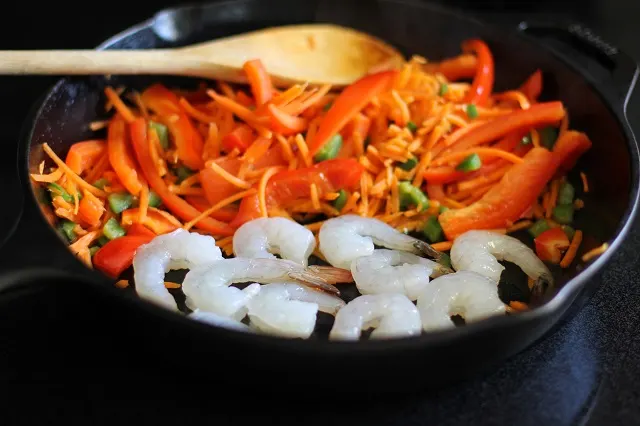 Preparation deets? It takes a bit of time on account of the squash roasting, but it's fairly simple. If you've never roasted a spaghetti squash, follow my tutorial on How to Roast Spaghetti Squash. While the squash is in the oven, you can make the rest of the recipe. Saute the veggies, scoot them to one side of the skillet, then sear the shrimp. Once that portion is finished, whiz up the cashew-ginger sauce in a little blender. Spaghetti the squash, then add it to the skillet with the veggies and shrimp. Pour in the sauce and BINGO we've won the awesome meal lottery.
Jump on it!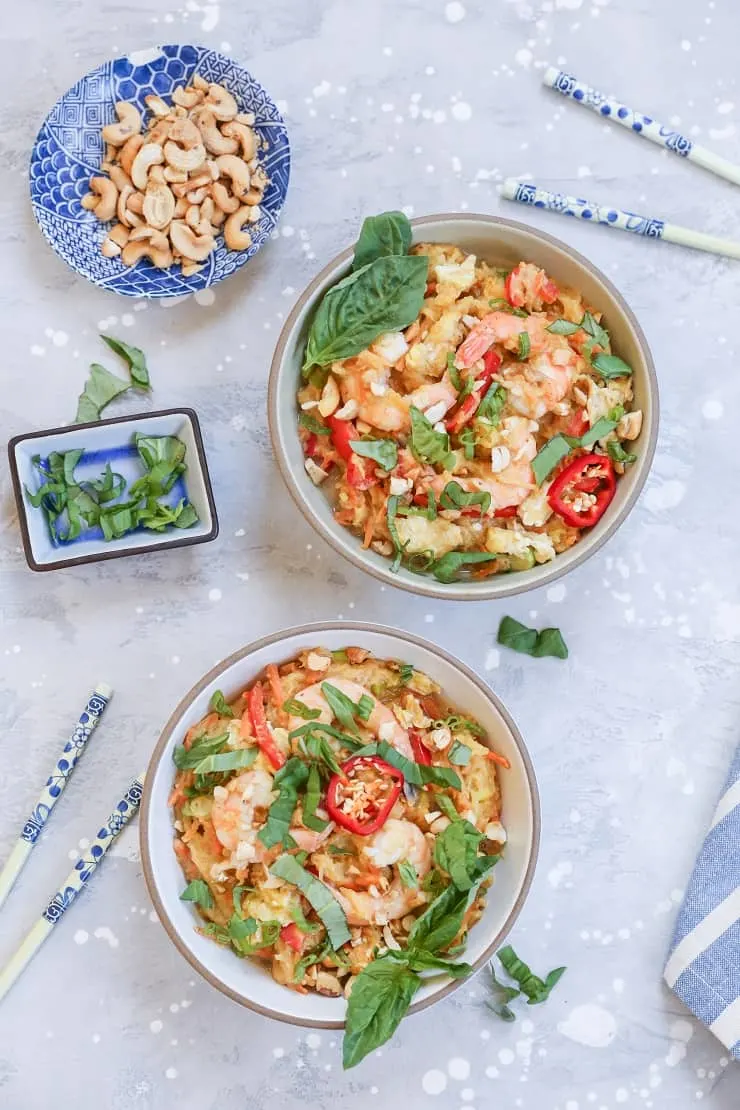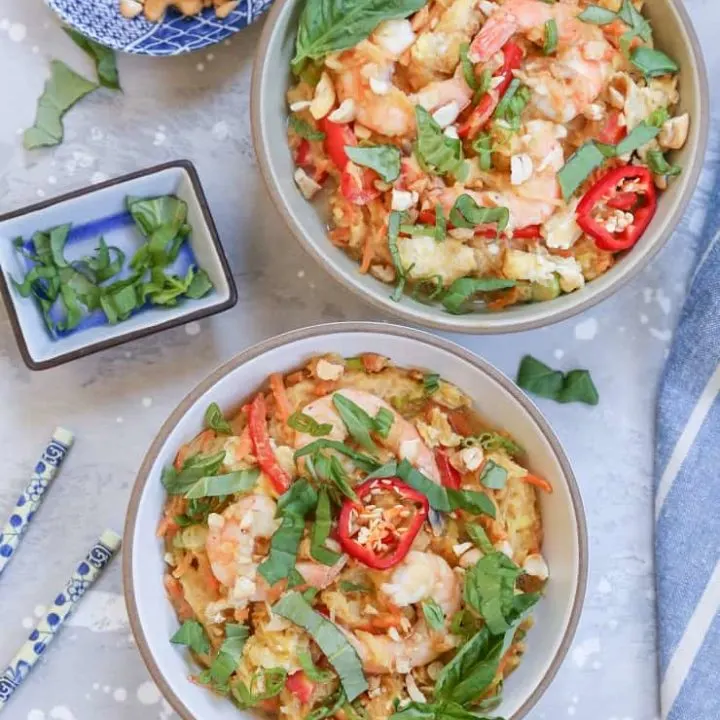 Spaghetti Squash Pad Thai
Cook Time:
1 hour
20 minutes
Total Time:
1 hour
50 minutes
A grain-free Pad Thai Recipe using spaghetti squash instead of rice noodles for a veggie-centric low-carb meal!
Ingredients
1 small spaghetti squash, roasted
1 red bell pepper, cut into match sticks
1 jalapeno, seeded and chopped
1-1/2 cup grated carrot
3 cloves garlic, minced
½ pound shrimp, peeled and deveined
Cashew Ginger Sauce:
2 tablespoons lime juice
1 tablespoon red chili sauce, such as sriracha
2 teaspoons fresh ginger, peeled and grated
Instructions
Preheat the oven to 400 degrees F. Chop the tip and tail off of the spaghetti squash cut in half lengthwise. Remove the seeds and innards with a spoon. Drizzle 1 tablespoon of coconut oil or olive oil over each half and rub into the flesh so that the whole surface is coated. Sprinkle with salt and pepper and place cut-side down on a large baking sheet. Bake for 45 to 55 minutes, until spaghetti squash strings release easily when scraped with a fork. Allow squash to cool before using a fork to scrape from one end of the squash to the other, releasing spaghetti strings. Repeat with other half of the squash
Add all of the ingredients for the sauce to a small blender and blend until smooth. Set aside until ready to use.
Heat 2 tablespoons of coconut oil in a medium-sized non-stick skillet over medium heat. Add the bell pepper and jalapeno and saute, stirring occasionally for 3 minutes.
Add the grated carrot and garlic and saute until bell pepper has softened but is still al dente, about 3 to 5 minutes.
Move the vegetables over to one side of the skillet and add the raw shrimp. Cook about 1 to 2 minutes, flip and cook an additional 1 to 2 minutes until shrimp is plump, pink, and cooked through.
Add the cashew-ginger sauce and cook an additional 2 to 3 minutes. Add the spaghetti squash and stir everything together until everything is coated in the sauce.
Serve with fresh chopped basil or cilantro and raw cashews.
Notes
*omit pure maple syrup to make recipe Whole30-compliant
Nutrition Information
Serving Size

1 g
Amount Per Serving
Unsaturated Fat

0g