Spaghetti squash with sautéed shrimp and basil-parsley pesto makes for an nutrient-packed low-carb paleo-friendly dinner that happens to also be Whole30 compliant!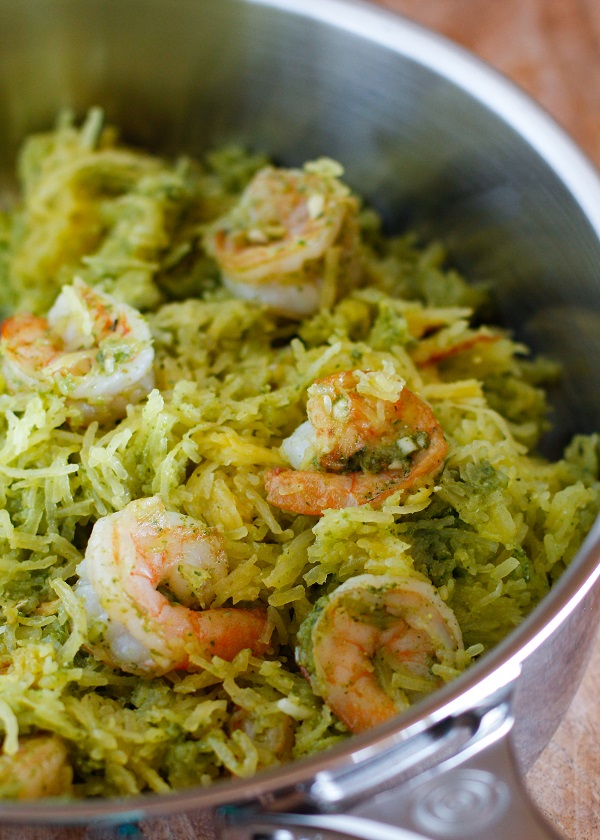 Truth: I've been roasting winter squash for weeks.
Behind the scenes, there has been a whole lot of preheating to 400, chopping, scooping, roasting, squash in my hair, on my spoon, in my coffee, in, on, around my pancakes and brownies.
Just kidding. I haven't been making brownies lately.
While I wish summer fruit and veggies were available year-round, I can't help but feel giddy when butternut, spaghetti, and kabocha squash wriggle their way into the produce section.
I could really just live on it.
I've kind of been living on it.
It's all I've eaten for 2 days.
I've been sitting on this here recipe for weeks and I just can't stand it any longer. Spaghetti squash is one of my favorite squaaarshes because it makes me feel like I'm eating pasta, even though I'm not – I'm eating squash.
I whipped up a batch of basil-parsley pesto, sautéed some shrimp, and whamity slamity calamity Jane, what a glorious meal was made.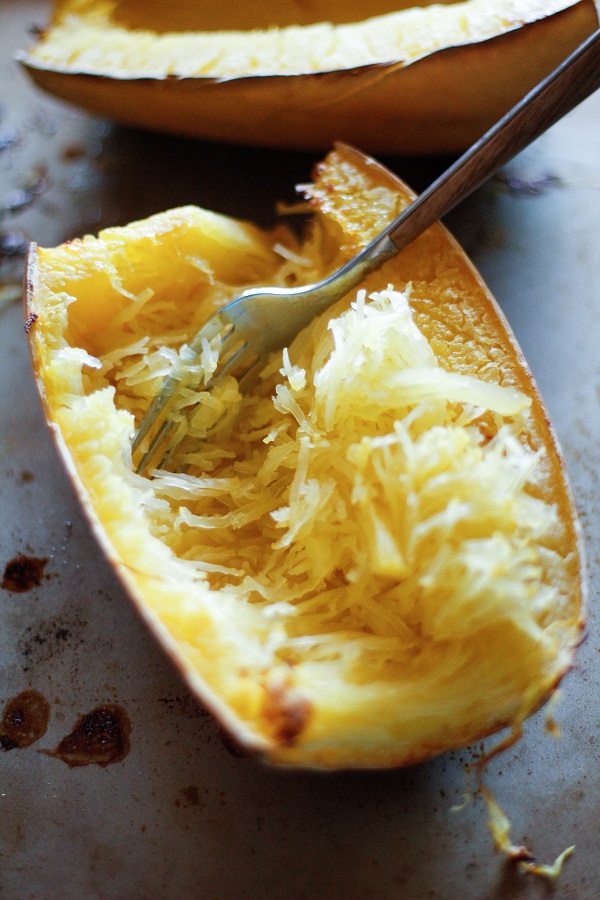 I know. My spaghetti strands are unimpressive. We can't win at all the things.
During my squash-roasting fests, I've been thinking, "Wow, Julia, it's an ace move to get a jump-start on winter produce in the ol' blogisphere."
Get a load of this:
How to Make Spaghetti Squash with Pesto and Sautéed Shrimp:
Begin by roasting the spaghetti squash. If you've never done this, follow my instructions on How to Roast Spaghetti Squash.
While the spaghetti squash is roasting, make the pesto sauce (or use store-bought).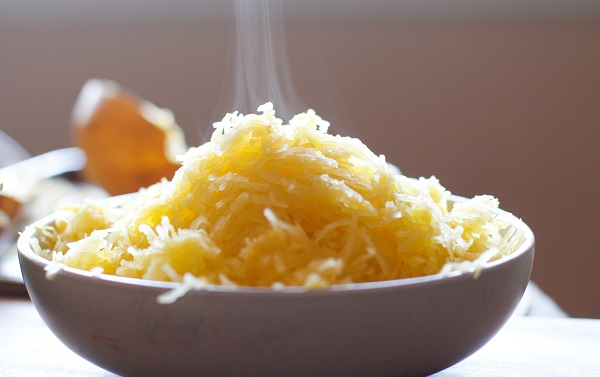 Look at that steam shot! I want to live in this bowl.
Saute the shrimp in a large skillet. Once the shrimp is cooked and the spaghetti squash is spaghettied, add the pesto sauce and the roasted spaghetti squash to the saute pan with the shrimp, and heat everything together.
I serve it all up with fresh squeezed lemon and pine nuts. You can totes grate up some parmesan cheese, too!
Get a jump-start on winter squash season. Put it in all the places. Except your brownies.
Over and out.
My cookbook,
Paleo Power Bowls
, is now available! CLICK HERE to check it out. Thank you for your support!
If you make this recipe, please feel free to share a photo and tag @TheRoastedRoot on Instagram!
More Healthy Spaghetti Squash Recipes:
Spaghetti Squash with Basil-Parsley Pesto and Sautéed Shrimp
Total Time:
1 hour
5 minutes
Spaghetti Squash with Basil-Parsley Pesto and Sautéed Shrimp is a clean, delicious low-carb dinner recipe. Also paleo and whole30!
Ingredients
Basil-Parsley Pesto Sauce:
For the Shrimp:
For Serving:
Instructions
Roast the Spaghetti Squash:
Preheat the oven to 400 degrees F.
Chop the tip and the tail off of the spaghetti squash, and stand the squash up-right on a cutting board. Carefully cut the squash in half length-wise - gravity will help you chop from top to bottom.
Use a spoon to scoop the seeds out of each of the halves.
Rub about a tablespoon of olive oil over the flesh of each half. Sprinkle generously with salt and pepper.
Place both halves cut-side down on a baking sheet.
Roast the squash for 45 to 50 minutes or until the flesh is tender. Remove from oven and allow squash to cool about 10 minutes.
When the squash is cool enough to handle, use a fork to gently scrape the flesh, releasing spaghetti-like stands. Do this until both halves of the spaghetti squash are scraped clean and place the "spaghetti" into a large serving bowl and set aside.
Prepare the Basil-Parsley Pesto Sauce:
Add all ingredients for the pesto sauce to a small blender (or food processor) and blend until it reaches desired consistency. I blended mine until smooth.
Sauté the Shrimp:
In a large skillet, heat the oil to medium.
Carefully place the shrimp on the hot skillet, and add the garlic.
Allow shrimp to cook until it begins to plump and turn pink, about 1 to 2 minutes.
Flip shrimp to the other side and allow it to cook an additional 1 to 2 minutes, or until cooked through.
Lower the heat to medium-low, and add the pesto sauce and prepared spaghetti squash. Fold everything together and cook until everything is hot.
Serve heaping portions with pine nuts, fresh lemon wedges, and grated parmesan cheese.
Notes
*Use grapeseed oil, almond oil, or olive oil if you're okay with recipe not being Whole30
Nutrition Information
Serving Size

1 g
Amount Per Serving
Unsaturated Fat

0g