Spaghetti squash with broccoli, zucchini, mushrooms, onion, and more with homemade marinara sauce – a hearty and healthy vegetarian meal.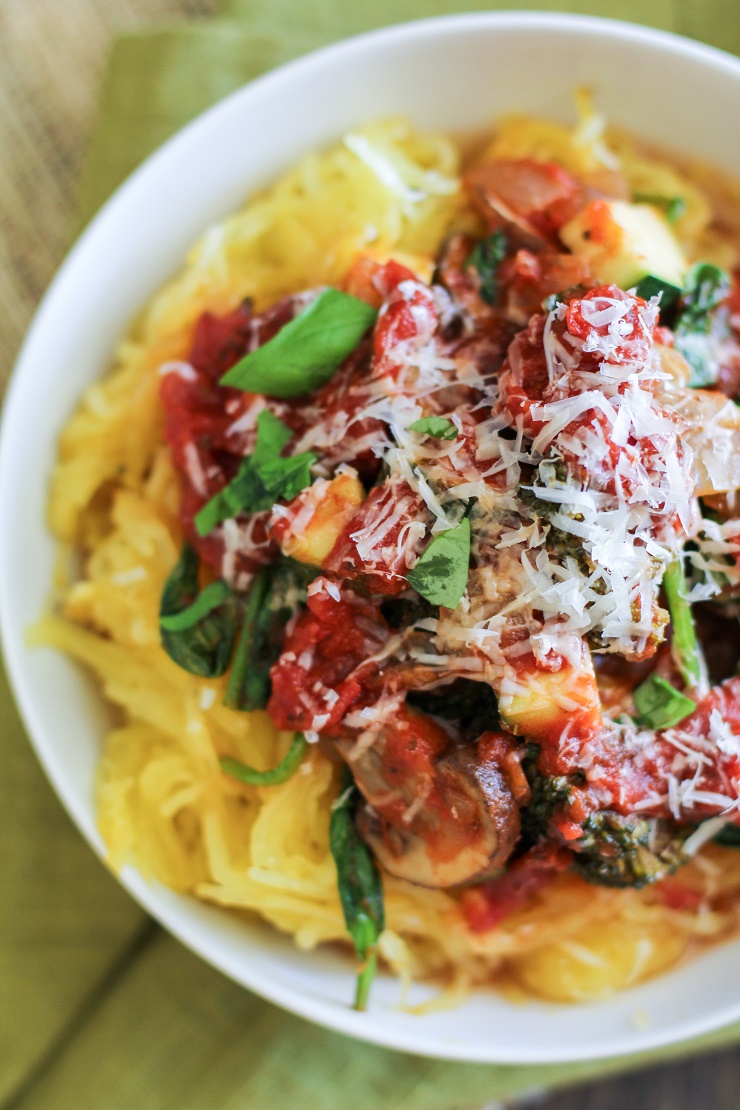 Hypothetical situation:
It's the Monday following a major food holiday…what do you eat?
Air?
Rummage through your crisper and throw everything leafy and green into your juicer slash blender and guzzle away the toxins?
Do we even try to get back to normalcy at this point? Or set sail on bacon cheddar biscuit mashed potato pumpkin pie land and say better health and luck to ourselves next year?
Whenever I get a little cray cray with the food situation and dig myself a little too deep into feastland, I try to keep a level head and simply clean things up for a hot minute.
I usually skip the meat for a couple of meals and go full-tilt veg in order to re-set the digestive system and attempt to exorcise whatever toxins are lurking around in my soul fibers.
Enter this meal.
Spaghetti squash + fresh sauteed veggies + homemade red sauce feels clean, unadulterated, welcome. This meal requires a few parts, so it's not exactly the lowest maintenance meal following a big cooking spree, but it does make a good amount of food to last you for days.
Your body will welcome the vitamins and fiber following the pool of gravy debauchery you likely just swam through.
Plus it tastes good, so there is that.
Options for changing things up? We have some! You can really use any fresh hearty vegetables you like. I realize it's no longer zucchini and yellow squash season, so if you want to go the winter squash route, you can 200% do the butternut/acorn/pumpkin route…just note that winter squash takes longer to cook than summer.
You can also do pesto instead of red sauce, or some sort of lemon-garlic sitch. Whatever your selection, a big pile of fresh and funky'll do ya good.
Meatless Monday, here we coooooome!
Vegetable Spaghetti Squash Marinara
Vegetable Spaghetti Squash Marinara packed with healthy vegetables
Ingredients
Marinara Sauce:
3

tablespoons

olive oil

1/2

large yellow onion

finely chopped

4

cloves

large of garlic

minced

1 28-

ounce

can crushed tomatoes

1/2

teaspoon

fine sea salt or to taste

1/2

teaspoon

dried oregano

1/2

teaspoon

dried thyme

1/8

teaspoon

ground black pepper

1/8

teaspoon

red pepper flakes

or to taste

1/4

cup

fresh basil

chopped
Mixed Vegetable Spaghetti Squash:
1

large spaghetti squash

roasted

2

tablespoons

olive oil

1

large yellow onion

finely chopped

2

cups

baby bella mushrooms

chopped

1

small crown broccoli

chopped

3

cloves

garlic

minced

1

medium zucchini

chopped

1

medium yellow squash

chopped

2.5

ounces

baby spinach

2 handfuls
Instructions
Prepare the Marinara Sauce:
Heat olive oil in a large saucepan over medium heat. Add the chopped onion and sauté, stirring frequently, until translucent, about 10 minutes. Add the garlic and sauté another two minutes.

Add the remaining ingredients except for the basil and bring to a gentle boil. Reduce the heat, cover, and simmer for 20 minutes. Stir in the chopped basil and remove sauce from heat. Set aside until ready to use.
Prepare the Vegetable Pasta:
Roast the spaghetti squash according to these instructions

Add the olive oil to a medium-sized saute pan and heat to medium-high. Add the onion and saute, stirring occasionally, until transluscent, about 5 minutes.

Add the mushrooms, broccoli, and garlic. Continue cooking, stirring occasionally, until mushrooms and broccoli have softened, about 10 to 15 minutes.

Add baby spinach, cover, cook until wilted, 2 minutes.

Once spaghetti squash has finished roasting, use a fork to scrape out the "noodles." Serve spaghetti squash with desired amount of sauteed vegetables, marinara sauce, and fresh grated parmesan cheese on top (or skip the parm to make this vegan and paleo).
Nutrition
Serving:
1
of 4
|
Calories:
242
kcal
|
Carbohydrates:
18
g
|
Protein:
12
g
|
Fat:
14
g
|
Fiber:
11
g
|
Sugar:
10
g