An easy tutorial with photos on how to roast spaghetti squash, PLUS recipe ideas for serving your roasted spaghetti squash noodles.
Would you believe me if I told you one of the meals I crave the most is a steamy bowl of spaghetti squash with a meaty red sauce, fresh basil, and parmesan cheese? I know, it may sound odd, but my Spaghetti Squash Bolognese is my idea of a perfectly comforting meal.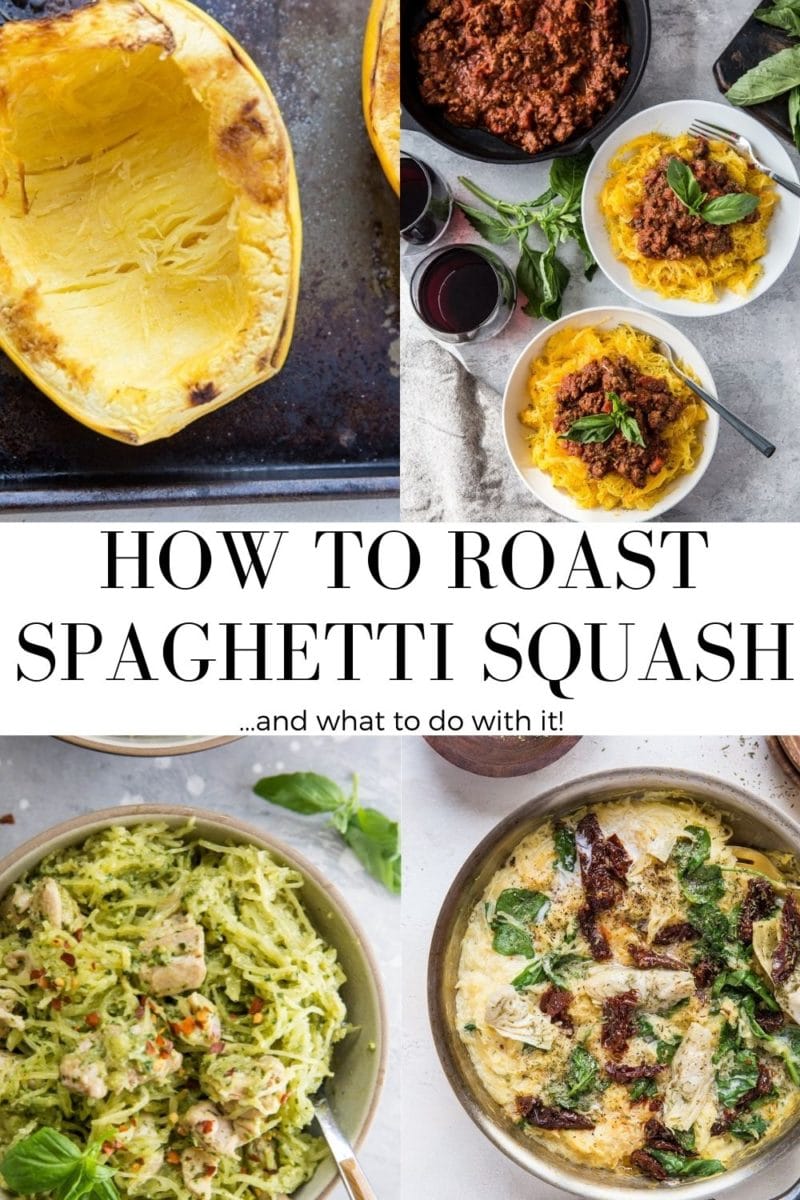 During the fall and winter months, I find myself craving pasta in all forms, and love the idea of re-creating my favorite hearty pasta dishes using spaghetti squash in place of noodles.
It's a lower-carbohydrate, more nutrient-dense option. Plus I wake up the next morning feeling energized!
My first attempt at spaghetti squash was one of utter confusion, but after understanding the mechanics of the marvelous squash, it's now one of the easiest things to make!
I figured if I had trouble figuring out how to tap into the magical land of the spaghetti squash, there had to be others in the same boat. For that reason, I decided to make a little tutorial – hopefully you find it helpful!
Be sure to watch the video in this post for the step-by-step visual.
So let's hop to it! Stay tuned at the end of this post for ideas on how to serve your spaghetti squash noodles.
How to Roast Spaghetti Squash
Preheat the oven to 400 degrees Fahrenheit. Grab your spaghetti squash and chop off the tip and tail. Halve it length-wise.
Stand the squash upright on a cutting board. Use a sharp knife, as dull knives likely won't be able to get the job done. Allow gravity to help you cut from top to bottom, and be very careful while cutting – don't force it!
I find gently, but firmly and carefully wiggling the handle of the knife up and down helps generate a little downward momentum, which aids in the cutting. Just take it very slow and make sure your appendages are out of the way!
Scoop out the innards and seeds using a sturdy metal spoon. Get the spoon as close to the flesh as possible while you're scooping so that the innards release easily.
Coat the flesh with olive oil or avocado oil and use your hands to smooth the oil over the full surface of the flesh. Sprinkle salt and pepper over each half.
Place both halves cut-side down on a baking sheet.
Roast for 40 to 50 minutes, or until the flesh is very tender when poked with a fork. Note: You can adjust the bake time according to your personal taste – roasting the squash for less time will result in al dente "noodles."
Using a fork, gently scrape the flesh, releasing strings of squash.
Do note that some spaghetti squashes contain more water than others. For this reason, you may end up with excess liquid in your noodles. If you don't prefer the moisture, simply use a colander to strain out the liquid.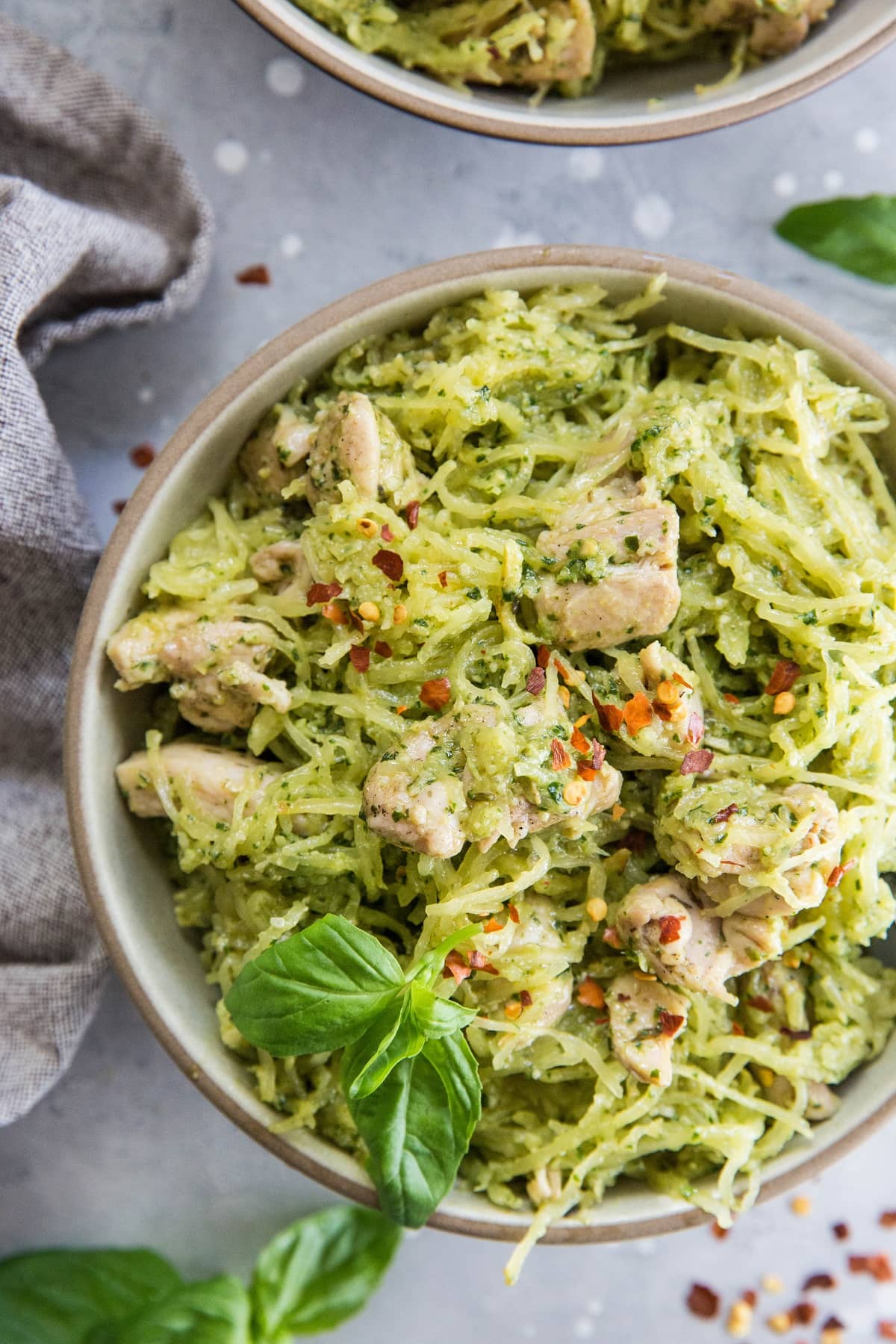 Now we know how to cook spaghetti squash, what shall we do with it?
You can serve spaghetti squash with your favorite sauce and parmesan cheese, or try one of my favorite recipes below:
What to Do with Spaghetti Squash:
These easy, nutritious recipes will make you swoon!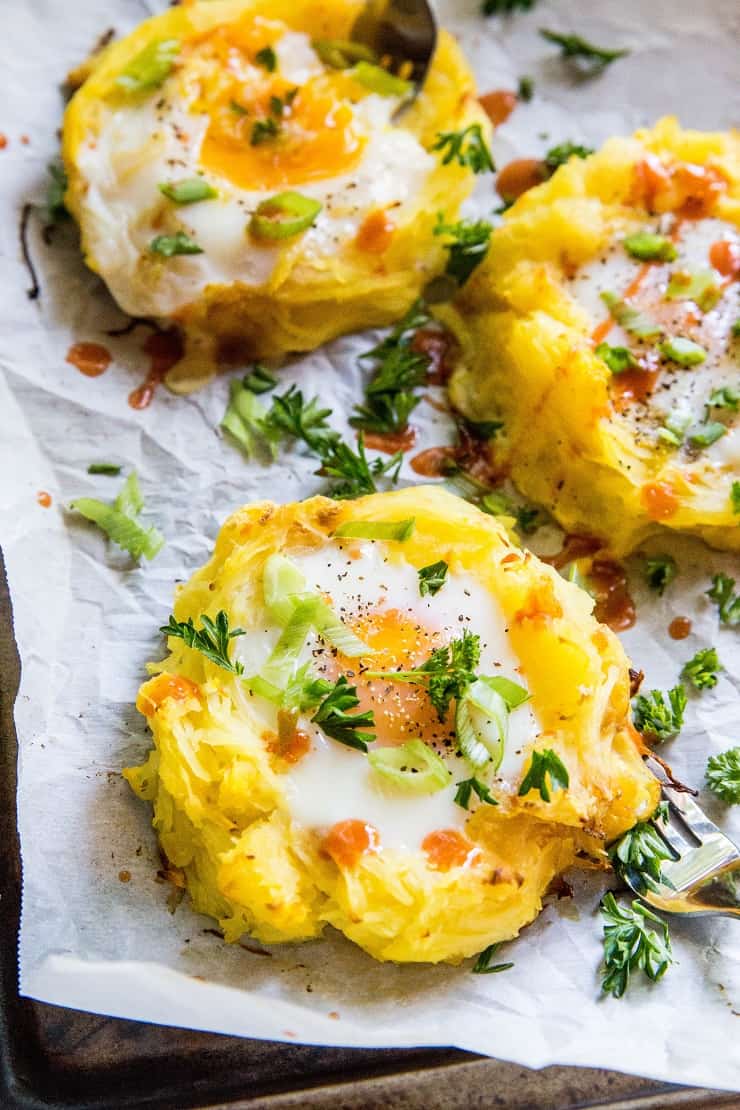 My cookbook,
Paleo Power Bowls
, is now available! CLICK HERE to check it out, and thank you for your support!
If you try this recipe, feel free to share a photo on Instagram and tag @The.Roasted.Root!
What'll you put on yours?
How to Roast Spaghetti Squash
An easy method for roasting spaghetti squash to get the BEST spaghetti squash noodles each and every time! 😉
Ingredients
1

large spaghetti squash

2

tablespoons

olive oil

kosher salt and fresh ground black pepper
Instructions
Preheat the oven to 400 degrees F.

Chop the tip and the tail off of the spaghetti squash, cut it in half length-wise, and scoop the seeds out of each half.

Rub about a tablespoon of olive oil over the flesh of each half. Sprinkle with salt and pepper.

Place the squash cut-side down on a baking sheet.

Roast the squash for 35 to 50 minutes or until the flesh is tender. Note: For crunchy noodles, roast for 35 minutes. For al dente noodles, roast for 40-45. For tender noodles, roast for 50 to 55 minutes.

When the squash is cool enough to handle, use a fork to gently scrape the flesh, releasing spaghetti-like stands. Do this until both halves of the spaghetti squash are scraped clean and place the "spaghetti" into a large serving bowl.

Note that some water will seep out of the "spaghetti" – in order to drain the water, allow the spaghetti to sit in a bowl (or fine colander) and use a slotted spoon to scoop it on plates.

Serve spaghetti squash with your favorite sauce and parmesan cheese.
Nutrition
Serving:
1
cup
|
Calories:
48
kcal
|
Carbohydrates:
11
g
|
Protein:
1
g
|
Fat:
1
g
|
Fiber:
2
g
|
Sugar:
4
g