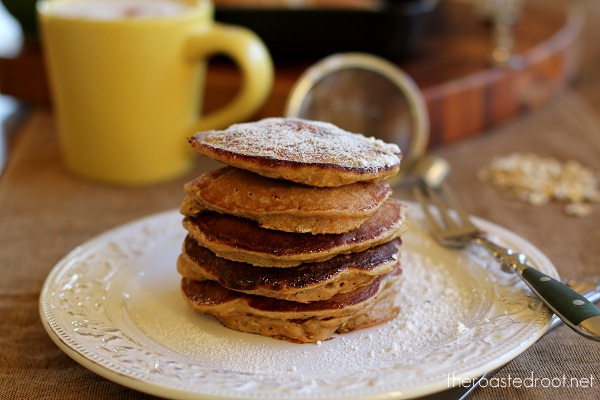 You….yeah, you… You ring my bell. Life has been a hustle and bustle lately and I certainly hope I'm not the only one who feels as though she's gone through the spin cycle….7 times in a row.  The great news is The Pancake Project is back…for one last go. That's right folks, this is my last Pancake Project post (for now) and with it, I have an even bigger Bob's Red Mill Giveaway!!
As much fun as I have had creating these little circles of joy, it is time for pancakes and I to part ways momentarily. Will I be posting more gluten-free pancakes in the future? Yoooooou betcha.
For you newbies: Bob's Red Mill sponsored The Pancake Project through supplying me with the flours and nut meals I used to create my pancake recipes. Each Friday, I have posted a gluten-free pancake recipe, and along with each recipe, they Bob's Red Mill has hosted a giveaway of their products.  All opinions about Bob's Red Mill products are my own. I have had wonderful experiences with their products and friendly staff. BRM will forever hold a great chunk of my pantry real estate! Hip hip hoooooooooooorah!
Besides having one heckofa giveaway for you, I want to share what I have learned along the way during this gluten-free pancake extravaganza. First and foremost, I learned that you LOVE pancakes. Love with a capital L, you la la la looooooove them!  Stacked high and mighty. This leads me to the next learned item, which is that you all love pancakes not only because they're freaking delicious but also because you have very fond memories of them. Pancakes are a Memory Maker.
Some of you shared very heart-warming stories about making pancakes with your parents and grandparents when you were young. Some of you shared the kinds of pancakes you make with your children now. Reading these comments brought tears to my eyes and I truly appreciate you sharing with me.
When I was a kid, my family made pancakes, crepes or waffles every weekend. My sister, two brothers and I each had a different take on pancake toppings.  I "eeeeewed" my brother, Paul's pancakes every time he spread peanut butter on them. Forgive me, Paul, I knew not what I would become. And I gawked over Laura's powdered sugar pancakes. My sis knows what's up!
I was a butter and maple syrup purist; there had to be the perfect ratio of butter to pancake to syrup or else my chi was just thrown right off.  I'd watch our cats lay in the sun next to the sliding glass door while my parents made breakfast and all of us offspring would be glued to the kitchen, still half asleep and ready to get our paws on a stack of fluffy pancakes. These are my pancake mementos. Thank you for telling me yours!
Many of you who made my pancake recipes gave me feedback on what you liked or what you did differently to improve the recipe. This was AWESOME… I thrive on your feedback whether it's positive or negative. The pomegranate syrup did not turn out for those who tried it, someone had to thin out the batter for the Strawberry Shortcake Pancakes using milk because it was too thick; overall, your favorite pancakes were the Almond Flour Pancakes and the Lemon Poppy Seed Pancakes.
So let's nostalgically recap the Pancake Project and discuss how all these hotcakes ranked.
Week 1: Cranberry Orange Oat Flour Pancakes
Week 2: Bacon & Egg Buckwheat Pancakes
Week 3: Almond Flour Pancakes
Week 4: Lemon Poppy Seed Coconut Flour Pancakes
Week 5: Cornbread Flapjacks
Week 6: Garbanzo Bean Flour Pancakes with Pear Topping
Week 7: Strawberry Shortcake Pancakes
Week 8:  Peanut Butter & Jelly Pancakes
Week 9: Pina Colada Pancakes
Week 10: Morning Glory Pancakes
Your Top Three:
1. Almond Flour Pancakes. You took these pancakes viral. You pinned them over 1,000 times, tweeted, facebooked, commented, made them for breakfast. Thank you!
2. Lemon Poppy Seed Coconut Flour Pancakes. Also viral.
3. Cornbread Flapjacks
My Top Three:  (you guessed it) Peanut Butter & Jelly Pancakes followed closely by Pina Colada Pancakes, and finally Almond Flour Pancakes. His Top Three: The ol' boyfriend preferred the Strawberry Shortcake followed by the PB&J and then the Almond Flour Pancakes. Although the story seems to change with each passing day, so let's just say you should make em all!!
In one month, I've made Morning Glory Pancakes four times. Take all the ingredients you would put in morning glory muffins and stick em in a pancake.  Yessss! You know when you agonize over silly things like which photos out of the four batches to post? How about I stop obsessing and give you photos from two of the shoots? Sure!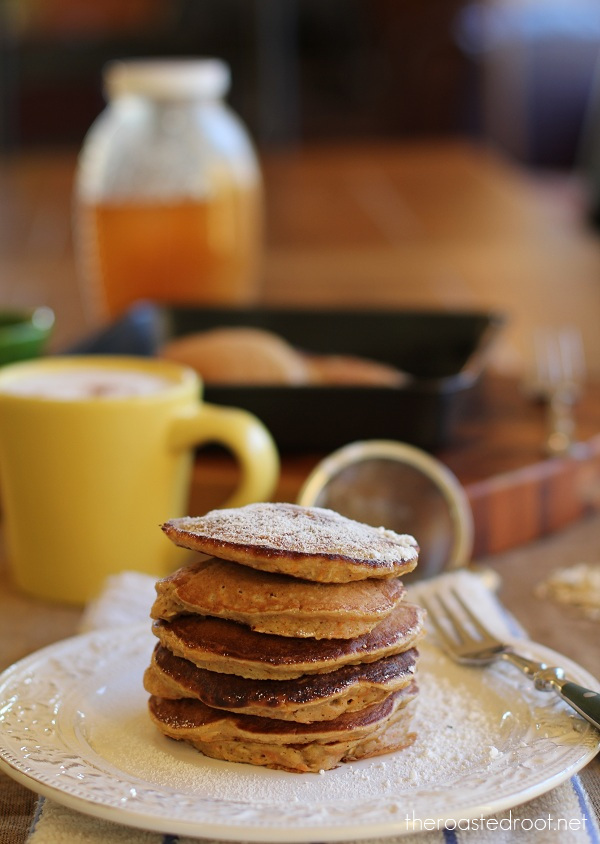 Giveaway Details:
Being as this is the last week of the Pancake Project, Bob's Red Mill and I have a bigger than usual giveaway for you! One lucky winner will be randomly selected and will receive the following Bob's Red Mill products:
1 bag Bob's Red Mill Almond Meal
1 bag Bob's Red Mill Coconut Flour
1 bag Bob's Red Mill Gluten-Free All Purpose Flour
1 bag Bob's Red Mill Brown Rice Flour
That's a whoooooole lotta pancake lovin!
To enter the giveaway, all you need to do is leave me a comment bellow.  For bonus entries, you may (but do not have to) do each of the following, leaving me a comment each time you do:
Like Bob's Red Mill on Facebook
Follow Bob's Red Mill on Twitter
Follow Bob's Red Mill on Pinterest
Like The Roasted Root on Facebook
Follow The Roasted Root on Twitter
Follow The Roasted Root on Pinterest
Subscribe to The Roasted Root through email (you can sign up using the subscription box in my sidebar).
Note that each of these actions counts as an entry, so leave me a comment each time you do one of the above. If you already follow Bob's Red Mill or me through a social network, you can leave freebee comments.
And that's all she wrote, folks! I have loved pancaking with you and will definitely be pancaking in the future. I hope you give these gluten-free love cakes a try and when you do, let me know your thoughts. Next on the agenda: lots and lots and lots of vegetables. Ooo la la!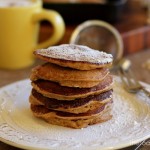 Morning Glory Pancakes
Print
Ingredients
2

eggs

1

cup

almond milk

Zest of 1 orange

1

tablespoon

agave

½

cup

apple

chopped (about ¾ worth of chopped apple)

¼

cup

finely shredded carrot

about half a carrot

1

cup

almond flour

½

cup

brown rice flour

1

teaspoon

baking powder

1/4

teaspoon

ground cinnamon

1/4

cup

raisins

3

tablespoons

chopped walnuts

1/8

teaspoon

salt
Instructions
Combine egg, almond milk, zest, shredded carrot, agave, and apples in a mixing bowl.

In a separate bowl, combine remaining ingredients (all dry ingredients including raisins) and mix together.

Add dry ingredients to wet, stirring just until combined (don't over-mix, now!)

In a large skillet, heat butter or oil to medium heat.

Pour ¼ cup portions of the batter into the skillet and cook until the sides firm up, about 3 to 5 minutes (If you wiggle a spatula under the pancake and it looks like it is going to lose its form, then it is not ready to flip).

Carefully flip and cook another 2 minutes or so, until pancakes are cooked all the way through.

Repeat with remaining batter

Serve with butter, honey or maple syrup.
A winner for the giveaway will be randomly selected on Wednesday 3/27 and notified through email!
Aside: Thank you for your heartfelt comments on my mom's Oatmeal Walnut Muffin Recipe!  You made our hearts fill with joy!