Nutty, naturally sweet Carrot Cake Fat Balls are a beautifully flavored healthy snack that only requires 10 minutes of actual prep. They're grain-free, paleo, vegan, and have lovely carrot cake flavor! Make a big batch to snack on throughout the week!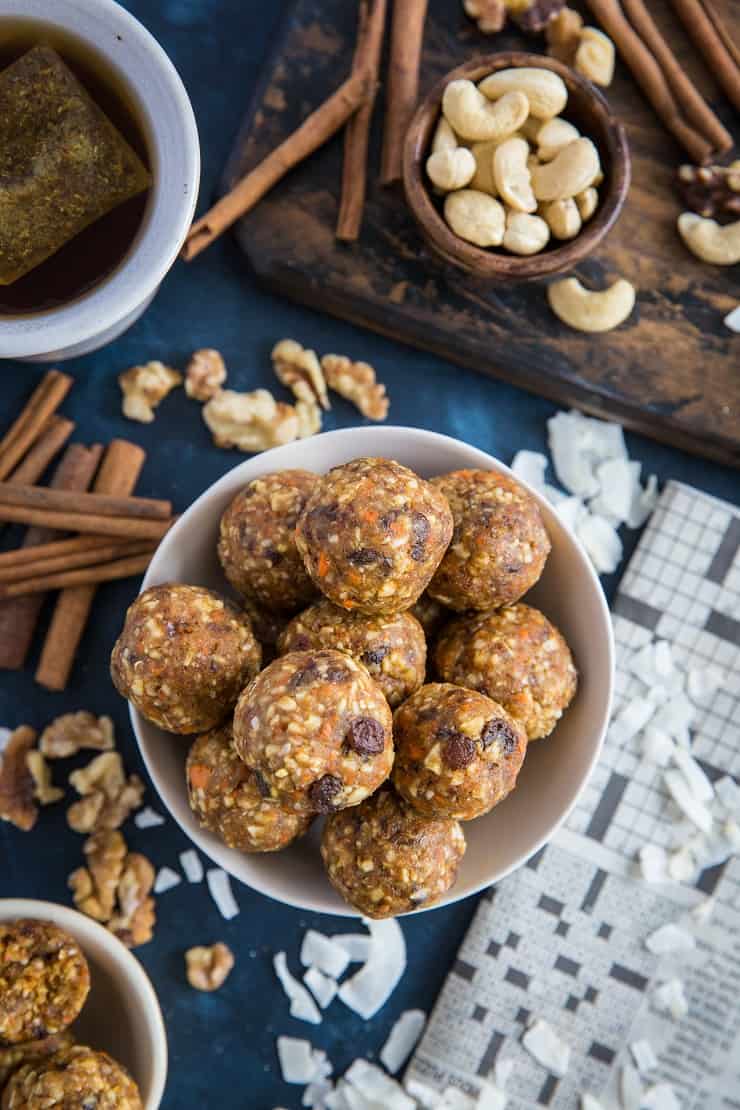 Where do you stand on snacking? I've made this confession in previous blog posts, but I've never been much of a snacker.
I prefer going long periods of time between meals to adequately work up a hunger, and then enjoy a large, satisfying bowl o' food.
In this sense, my version of snacking is enjoying a treat immediately before or after a meal in conjunction with the meal itself.
For instance, I've been known to eat a fat ball or part of a bar of chocolate while cooking breakfast or dinner. I find having something slightly sweet to round out the meal yields a super satisfying experience.
Which brings us to the topic of this post: Carrot Cake Fat Balls.
I've been making fat balls on repeat for the last 4 months. As soon as I run out of a batch, I whip up a new one, each time playing with different flavors.
For this go round, I took a carrot cake approach, adapting my original Paleo Fat Balls recipe to add carrot cake-like ingredients.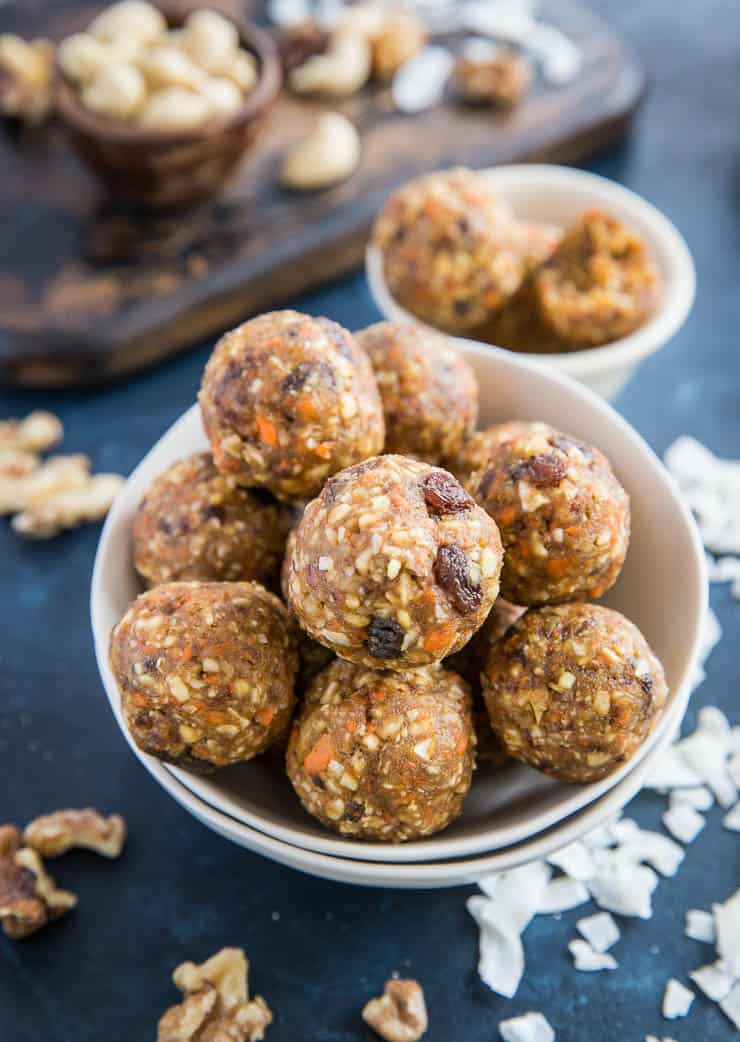 Sweetened with dates and warmly spiced with cinnamon, these fat balls are lower in sugar than your regular snack, but satisfy your craving for something sweet.
The carrot, raisins, and shredded coconut yield that carrot cake flavor, making you feel as though you're eating something truly naughty when in fact, you're consuming something nice.
One of the reasons I've been putting fat balls on repeat is they are just so easy to make. Everything goes into the food processor and gets mixed together, requiring less than 10 minutes of prep.
I refrigerate the fat ball mixture after it comes out of the food processor, which makes ball formation much easier as the base holds together better.
Recipe Adaptations:
For this round of fat balls, I used raw cashews and walnuts, but you can easily mix and match your favorite nut combinations. If you already have say almonds and pecans in your pantry, feel free to use those instead! You can even toss in some pumpkin seeds, sunflower seeds, chia seeds, and/or hemp seeds.
While I love using sunflower seed butter for these carrot cake fat balls, you can absolutely swap it out for your favorite nut butter, such as almond butter, cashew butter, and/or peanut butter.
If you're super into pure maple syrup as opposed to dates, you can make that substitution as well. If you choose to go the pure maple syrup route, start with 4 tablespoons and adjust to taste. Also note that the balls will be stickier if you use pure maple syrup.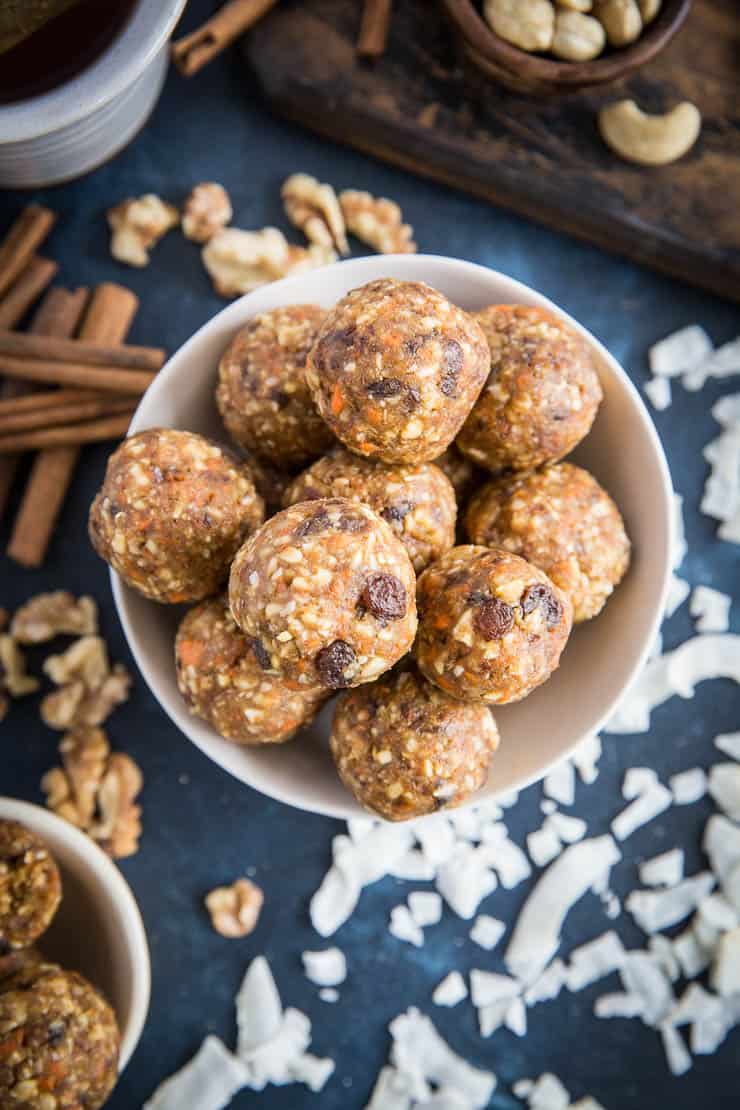 More Ball Recipes:
Get your carrot cake fix!!
Carrot Cake Fat Balls
Carrot Cake Fat Balls are a healthy grain-free snack recipe packed with healthy nuts and seeds.
Instructions
Add all fat ball ingredients to a food processor and process until well combined and a sticky dough forms (Note: if your mixture is crumbly, add 2 to 5 tablespoons unsweetened almond milk, coconut milk, or water, until the sticky dough forms). Transfer mixture to a sealable container and refrigerate at least 2 hours.

Roll fat ball mixture into balls and store in a zip lock bag or sealable container. Store in the refrigerator for up to 1 week, or in the freezer for up to 2 months.
Notes
*You can replace the sunflower seed butter with any nut butter
Nutrition
Serving:
1
grams
|
Calories:
124
kcal
|
Carbohydrates:
9
g
|
Protein:
3
g
|
Fat:
9
g
|
Sugar:
6
g