Almond Flour Carrot Cake with vegan "cream cheese" frosting for a grain-free, refined sugar-free, dairy-free dessert! You'd never guess this moist and decadent paleo carrot cake is actually healthy!
This post is sponsored by Bob's Red Mill.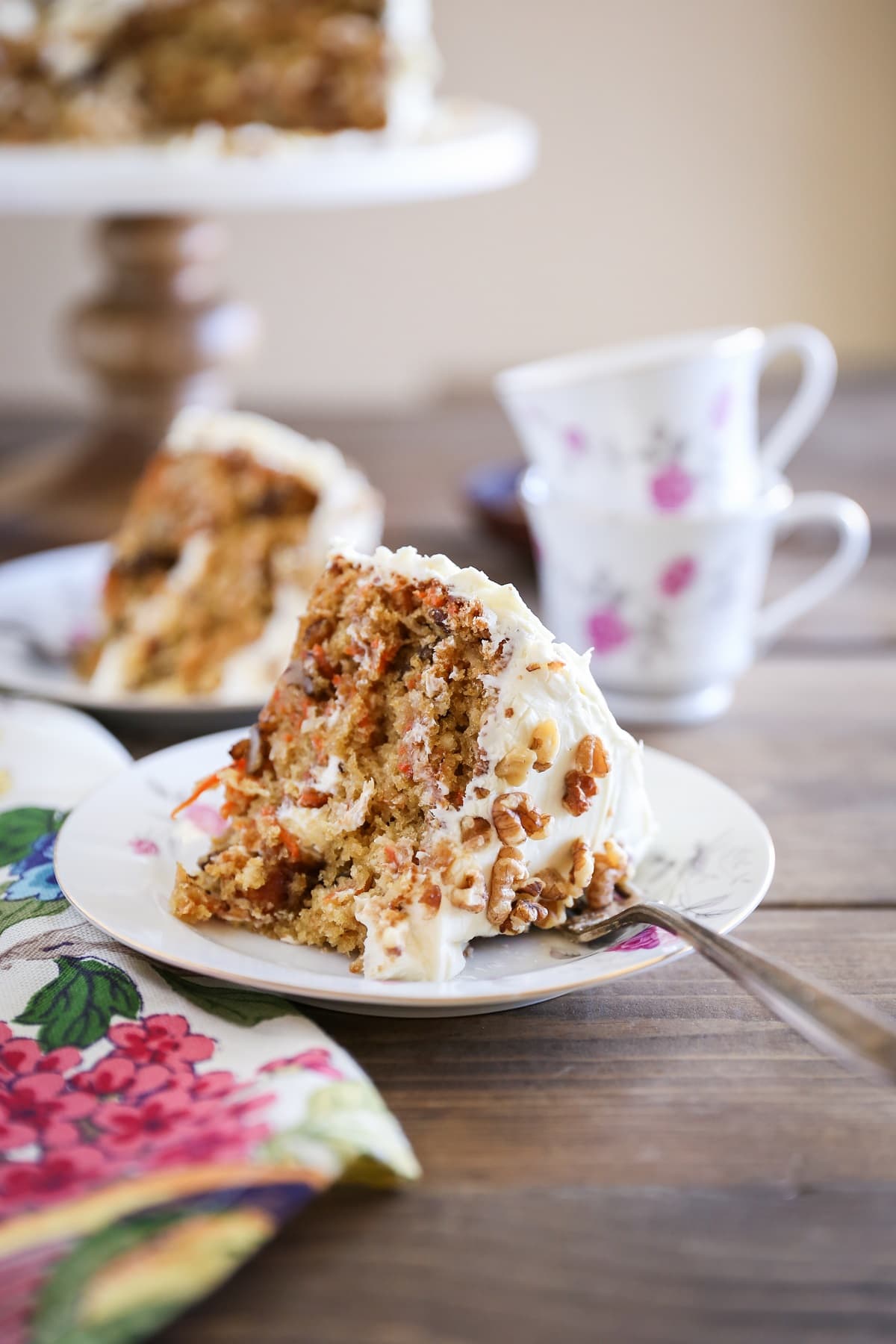 Alternatively titled: The Best Carrot Cake You Ever Did Eat.
Carrot cake. Do you have preferences?
My guess is the first thing that pops into your head when you think about your ideal carrot cake is whether or not it has pineapple.
Whether or not it includes shredded coconut. Whether or not it's studded with walnuts.
Do we dare bring up the topic of raisins??
I'm getting heart palpitations just thinking of all of the carrot cake variations.
If you're like me and you're easily overwhelmed by options, you probably don't know where to start when it comes to the never ending supply of carrot cake recipes floating around the internet.
Recipe Highlights:
I'm heavily biased, but I think this healthy carrot cake recipe is a great place to start and finish. This may just be the ONLY carrot cake recipe you'll ever need.
This dream boat of an almond flour carrot cake is:
a.) refined sugar-free
b.) gluten-free and grain-free
c.) dairy-free
d.) easy to prepare
e.) made with wholesome ingredients
Let's discuss the ingredients for almond flour carrot cake.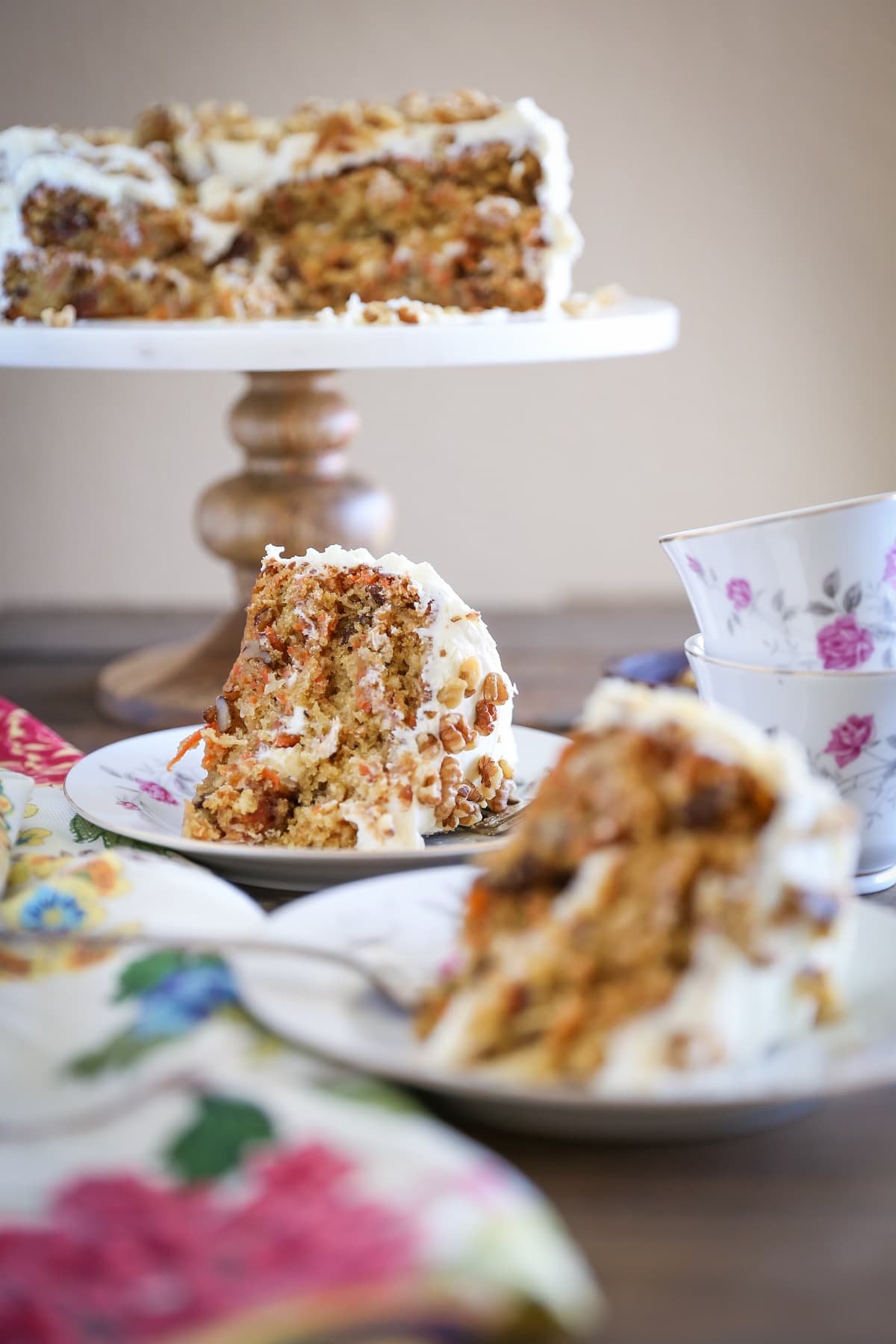 Ingredients for Grain-Free Carrot Cake:
Almond Flour and Tapioca Flour: The base of this grain-free carrot cake recipe is a almond flour and tapioca flour, which take the place of all-purpose flour. The combination of these two flours generates a tender crumb that you'd never guess is grain-free!
I used Bob's Red Mill Super-Fine Almond Flour to prepare this cake. I have found the combination of fine almond flour and tapioca four to yield the fluffiest grain-free treats. While I recommend a finely-ground almond flour for the best results, almond meal works too.
I don't recommend substituting coconut flour for the almond flour, but cassava flour works as a 1:1 substitute.
Dating further back than this iconic recipe for Almond Flour Pancakes, BRM's almond flour has been my go-to for years.
Avocado Oil: The fat portion of the recipe. I like using avocado oil because it has neutral flavor but melted coconut oil, vegetable oil, or olive oil work too.
Pure Maple Syrup: Used to sweeten the carrot cake and keep it refined sugar-free. Coconut sugar and keto sweeteners also work here.
Large Eggs: We need some large eggs to fluff up the cake and ensure it holds together. Bring the eggs out of the refrigerator 10 minutes before you start the recipe to bring them to room temperature if you have the time.
I haven't tested this cake recipe with flax eggs. I believe it would work but I think the cake would turn out thin and dense.
Vanilla Extract: For warm flavor. Skip it if you don't have it on hand.
Shredded Coconut: Unsweetened coconut is a customary addition to carrot cake recipes, although you can absolutely skip it if you don't like coconut flakes.
Baking Powder, Baking Soda, and Lemon Juice: The leavening agents here. Lemon juice is used to create a chemical reaction with the baking soda to bring more rise to the cake.
Ground Cinnamon, Ground Ginger, Sea Salt: Using warm spices like ground cinnamon and ground ginger give the carrot cake that iconic traditional carrot cake flavor.
Raw walnuts, raisins (or golden raisins), and grated carrots: These are the classic carrot cake goodies! If you aren't a fan of walnuts or raisins, you can skip them, but my favorite cake includes those sweet bursts and the nutty flavor.
You can't even tell this cake is gluten-free, not to mention grain-free and paleo!
Now that we're familiar with the simple ingredients for this healthy carrot cake recipe, let's make the best almond flour carrot cake recipe!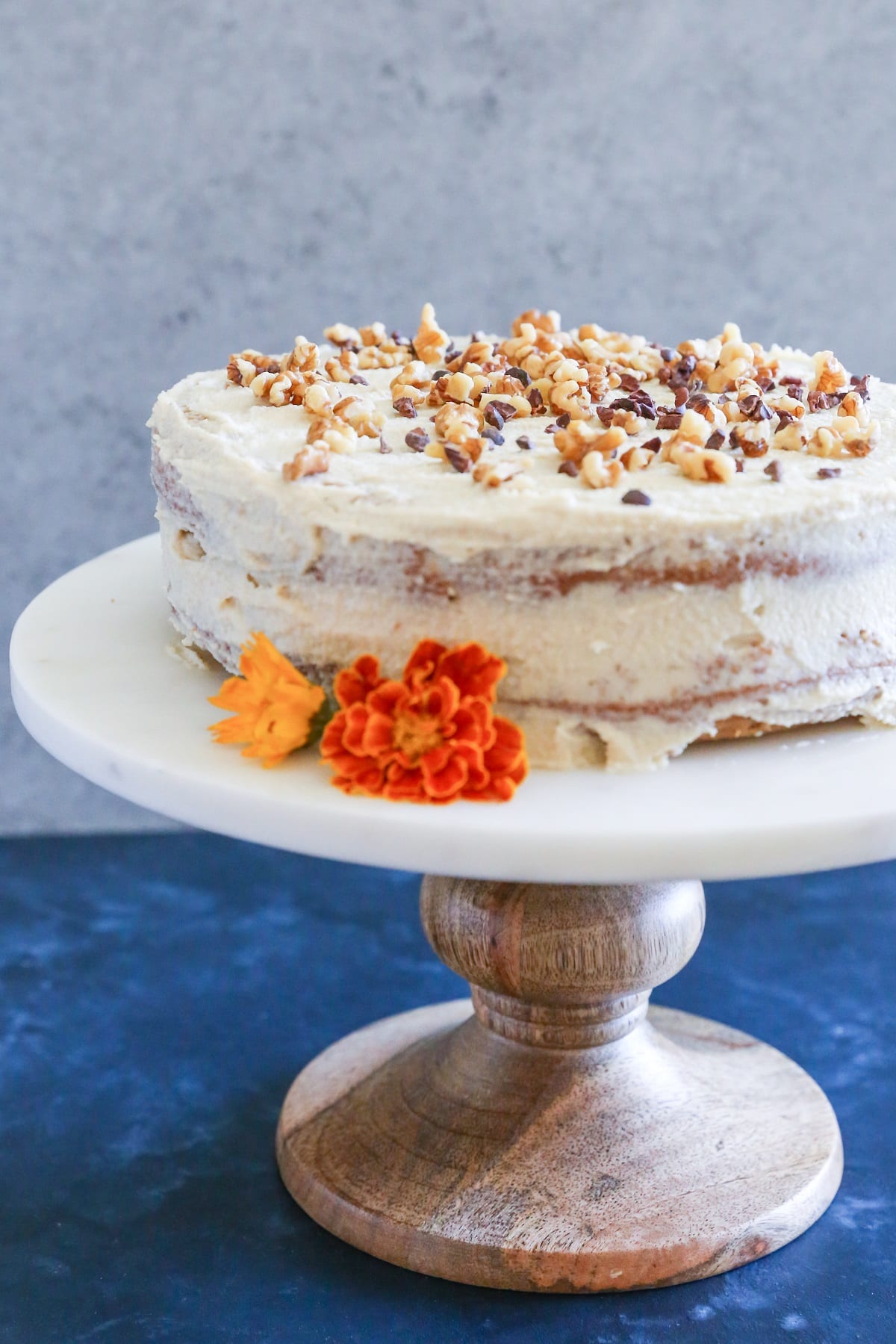 How to Make Paleo Carrot Cake:
Preheat the oven to 350 degrees Fahrenheit and line two 8-inch cake pans with parchment paper liners.
Add all the ingredients for the cake except the walnuts, raisins and carrots to a high powered blender or food processor.
Blend until smooth, then fold in the walnuts, raisins, and shredded carrots. That's right – both the wet ingredients and the dry ingredients go in the blender at the same time.
For those of you who prefer using a stand mixer or mixing bowls to prepare your cake batter, feel free to take that approach! You can use an electric mixer and a large bowl to prepare the cake batter.
Divide the carrot cake batter between the two parchment-lined spring form cake pans, then bake!
Once the cake has cooled, you can frost it with the vegan cream cheese frosting. I recommend preparing the frosting the day or night before to cut down on some of the prep.
Place the cake layers on a cake stand or a serving dish to frost. You can decorate the top of the cake with shredded coconut, chopped walnuts, or colorful frosting carrots.
If you prefer regular cream cheese frosting or a dairy free cream cheese frosting, feel free to go that route as well!
How to Store Carrot Cake Leftovers:
Should you end up with leftovers, you can store them in an airtight container in the refrigerator for up to 1 week.
After about 5 days, the cake will begin to dry out, so if you can't get through the cake in 5 to 7 days, you can freeze it!
Simply wrap the cake securely in plastic wrap then stick it in a zip lock bag, and freeze it. I like to wrap in plastic wrap AND put it in a zip lock in order to ensure the cake doesn't get freezer burned. Freeze the cake for 2-3 months.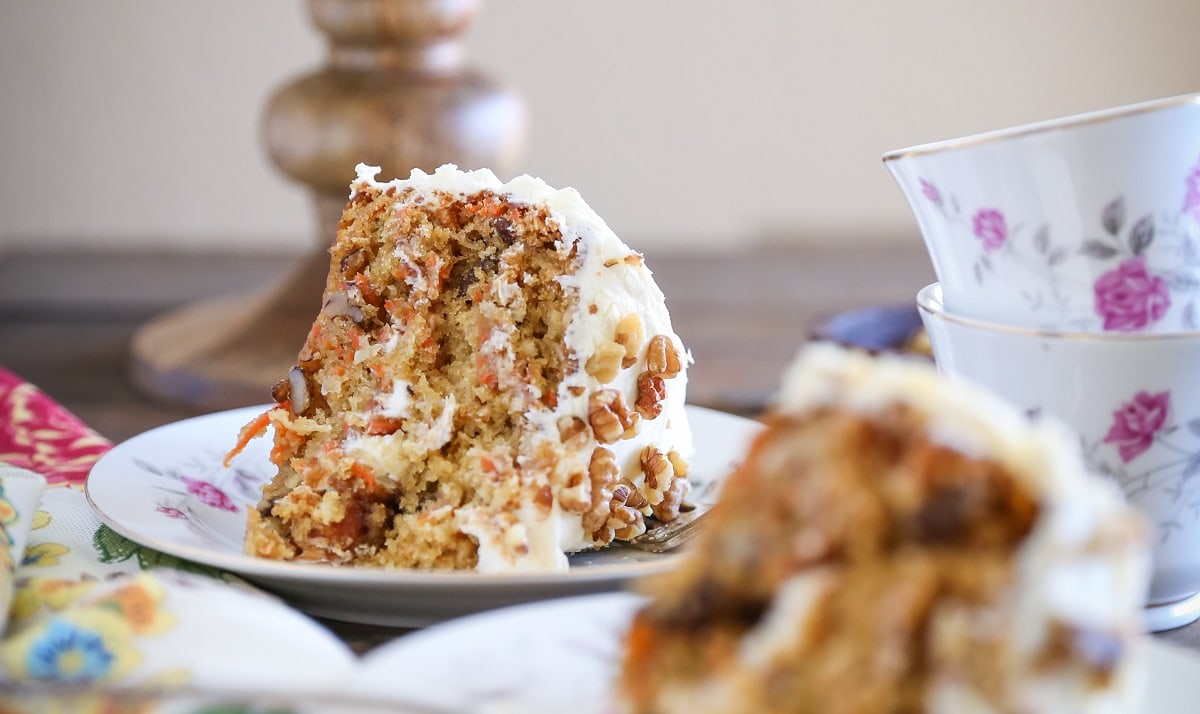 This cake isn't as sweet as your run-of-the-mill carrot cake.
For me, it's the perfect sweetness, but you can 200% add more pure maple syrup, brown sugar, or a sugar-free sweetener to further sweeten it.
If you follow a keto diet, you can make this a low carb carrot cake by using your favorite sugar-free sweetener.
My intentions for you and the cake is to share it with your family on Easter.
But make no mistake, I'm a year-round carrot cake consumer, as well as a dessert hogger. So if you feel compelled to bake this gorgeous thing for your onesie on any given Sunday, you do you like you've never done you before!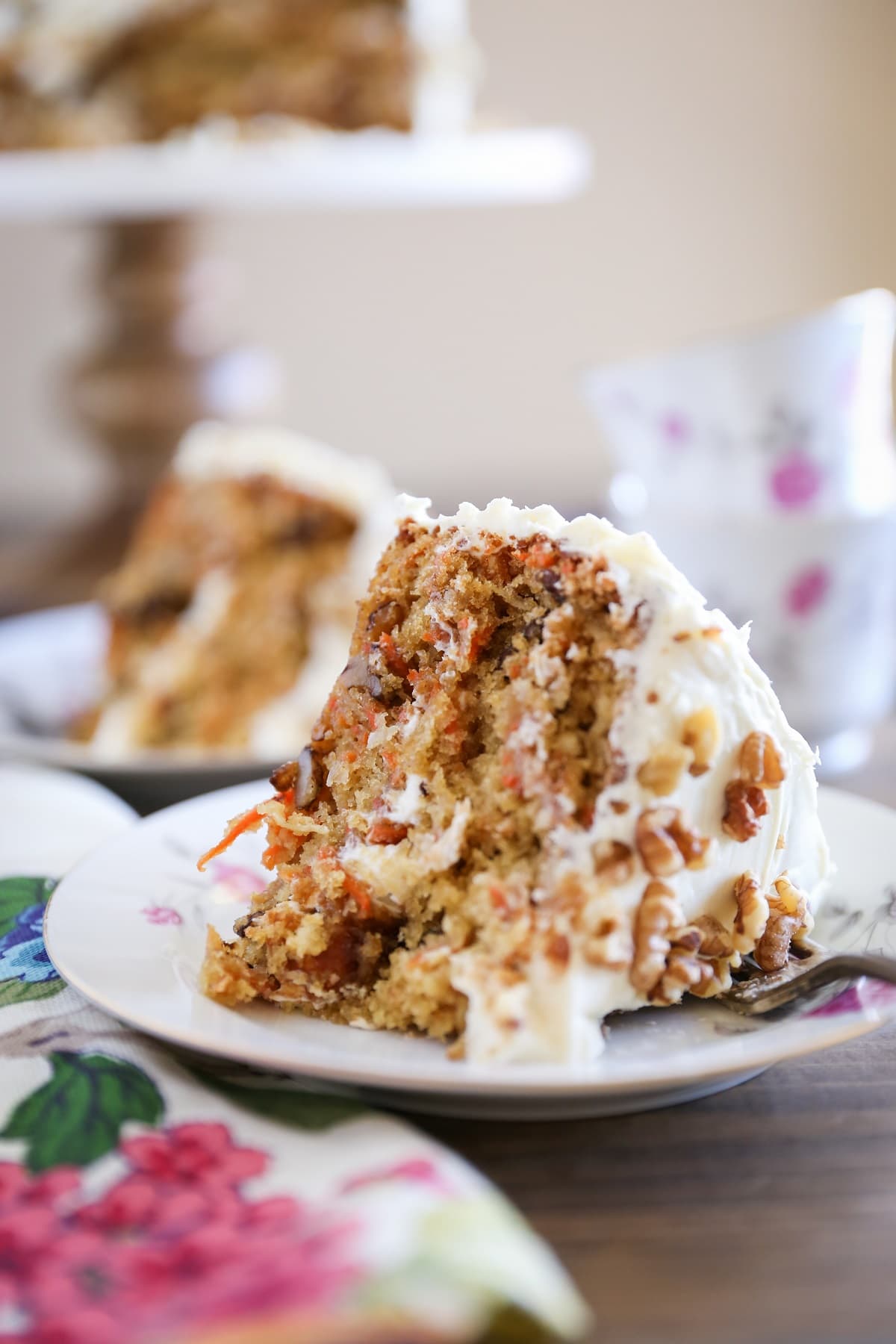 Recipe Adaptations:
Try a sugar-free version by making my Low-Carb Carrot Cake.
Add 1/3 cup of crushed pineapple (get the canned kind that's stored in juice, not syrup) and omit the oil.
Use a combination of carrots and parsnips – I used parsnips in my Grain-Free Carrot Cake recipe a couple years ago, and it turned out marvelously!
Make it vegan by following my Grain-Free Vegan Carrot Cake.
If you're not into the 2-tier action, you can bake the cake in a single layer in a 13″ x 9″ baking dish.
And that's it!
Make your super tender, moist, fluffy perfectly textured paleo carrot cake for your every brunch gathering.
Paleo Carrot Cake
You'd never guess this Paleo Carrot Cake is grain-free, refined sugar-free and dairy-free! Incredibly moist and flavorful, this healthier carrot cake recipe is a true delight.
Servings:
1
8-inch 2-tier cake
Ingredients
For Frosting:
2

tablespoons

raw walnuts

chopped, optional

2

tablespoons

cacao nibs

optional
Instructions
Preheat the oven to 350 degrees F and line two 8-inch cake pans (or spring form pie pans) with parchment paper.

Add all of the ingredients except for the walnuts, raisins, and grated carrot to a blender or food processor and blend until combined.

Add the walnuts, raisins, and grated carrot and fold into the batter until well-combined.

Divide the cake batter between the two cake pans and spread into an even layer. Bake on the center rack 20 to 35 minutes, or until cakes are golden-brown and test clean when poked in the center. Cake is fully cooked when it reaches an internal temperature of at least 190 degrees Fahrenheit. If you have an instant read thermometer, insert it into the center of the cakes to be sure they are fully cooked.

Allow cakes to cool completely to room temperature before releasing them from their pans.. Place one of the cakes on a cake stand or large plate and frost the top with Vegan Cream Cheese Frosting. Place the second cake on top and frost the whole cake with the remainder of the frosting. Garnish with chopped walnuts and cacao nibs, cut into thick slices, and serve!
Notes
*You can also use olive oil, vegetable oil, melted coconut oil, grapeseed oil, almond oil, algae oil, etc.
**I used pre-grated carrots, but you can also chop up whole carrots and toss them in your food processor to quickly grate them. Or use a box grater 🙂
Nutrition
Serving:
1
of 12
|
Calories:
342
kcal
|
Carbohydrates:
23
g
|
Protein:
8
g
|
Fat:
24
g
|
Fiber:
4
g
|
Sugar:
12
g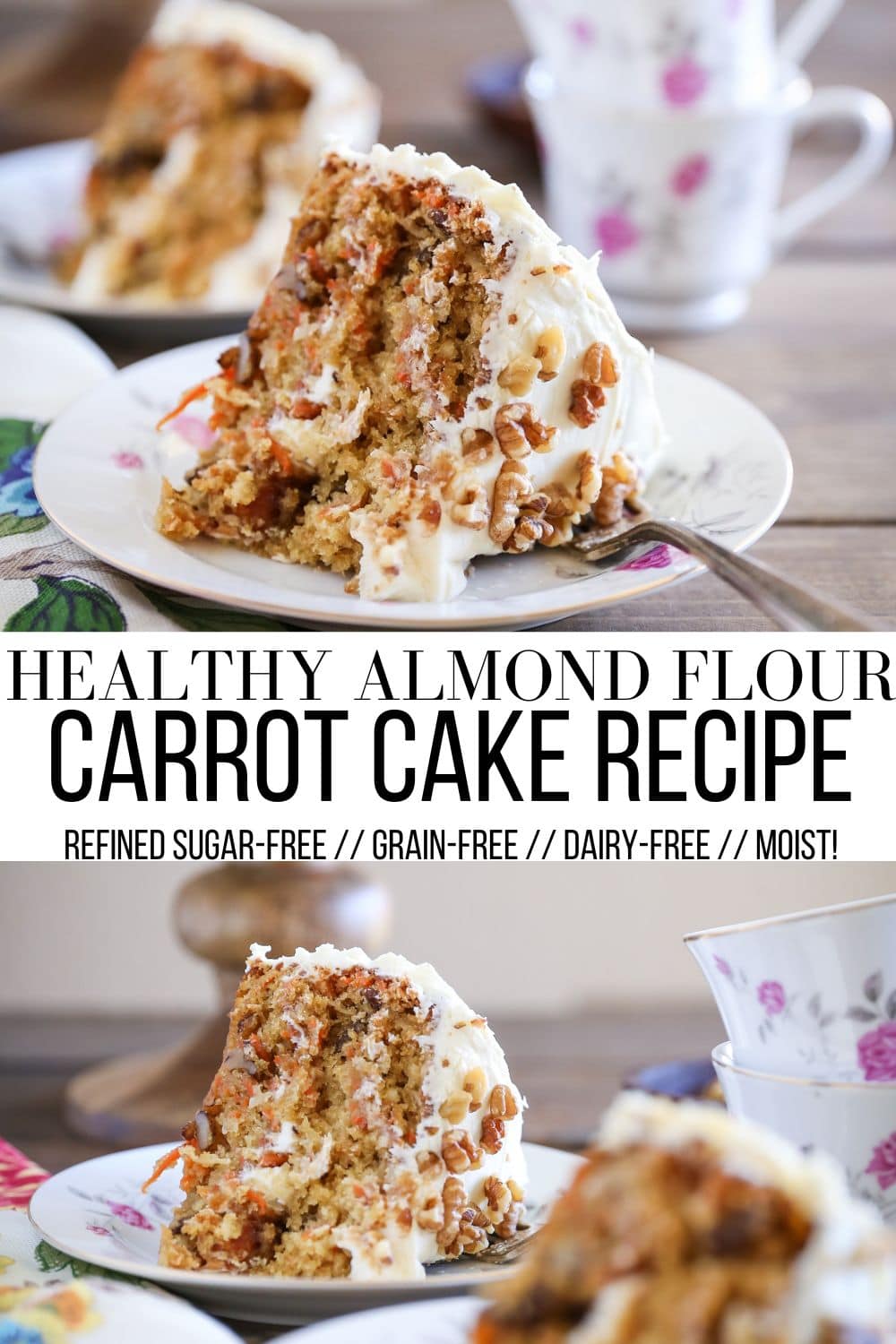 This post contains affiliate links, which means I make a small commission off items you purchase at no additional cost to you.