A basic recipe for Fluffy Coconut Flour Pancakes – a grain-free, dairy-free, paleo-friendly pancake recipe perfect for those who have multiple dietary restrictions and/or follow a paleo lifestyle. Everything you need to know about making the BEST coconut flour pancakes is right here!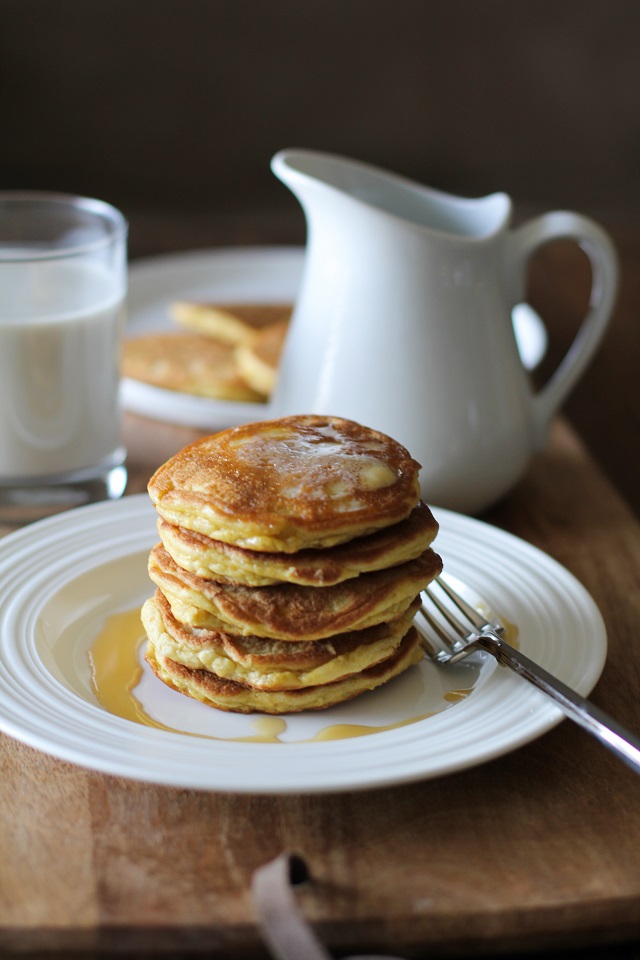 It's been a while since we've shared a steamy stack of pancakes, and it dawned on me the other day I've never really shared my recipe for classic, basic coconut flour pancakes.
We've shared Lemon Poppy Seed Coconut Flour Pancakes, Fluffy Apple Walnut Pancakes, Lemon Ricotta Coconut Flour Pancakes, and a whole kit and caboodle of pancakes made with all sorts of other grain-free flours…
But never have I ever posted my stripped down, fool-proof, go-to plain jane recipe for fluffy coconut flour pancakes.
So here we go!
This recipe is one of the first pancake recipes I created when I did my long paleo stint a number of years ago. It was how I got my sweet tooth fix both at breakfast and snack time. While my diet no longer resembles anything close to paleo, I still love these coconut flour pancakes and appreciate their health benefits.
All things considered, these pancakes are..
Grain-free

Gluten-free

Dairy-free

paleo-friendly

High in fiber
I have an arsenal of tips, tricks, suggestions, and adaptations to share with you, because as you probably know, coconut flour is a completely different ball of wax from all other flours.
It absorbs three to 4 times the amount of liquid as any other flour, so recipes using it can be finicky and challenging.
If you set out to make this recipe, make it to a T first, then make your adaptations from there.
Depending on the type of coconut flour and coconut milk you use, as well as the elevation you cook at, you may need to change the measurements slightly to get a batter that works.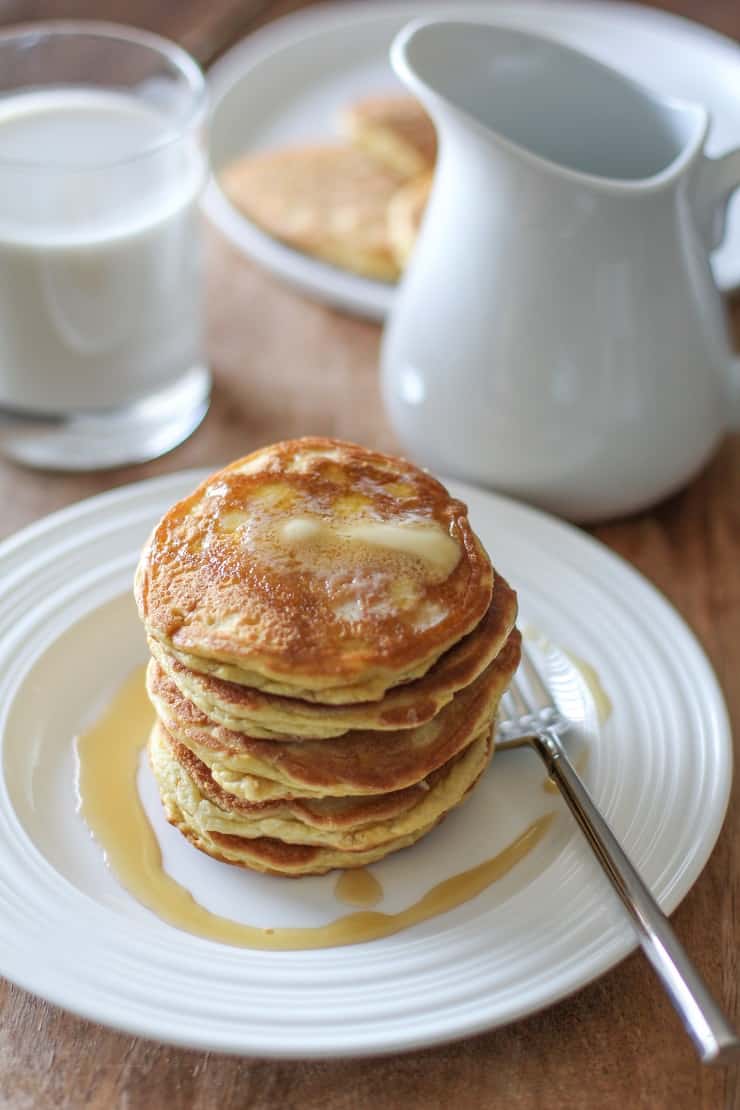 So without further ado, here are my..
Tips & Tricks:
The pancake batter will be thick – this is normal. After preparing the batter and allowing it to sit, do a trial run by cooking one pancake. If it turns out too dry or crumbly, add a small amount of coconut milk. If the pancake won't flip after several minutes of cooking without turning into a scramble, add a small amount of more coconut flour – note that a tiny bit of coconut flour goes a long way!
Patience, grasshopper…these pancakes take much longer to prepare than regular pancakes. You'll want to allow the batter to sit for about 10 minutes after preparing it, and the cook time on these is about 10 minutes per pancake. To make the process quicker, break out your large pancake griddle or multiple non-stick skillets in order to fire a bunch out at one time.
Be sure to keep your skillet/griddle well-lubed, as the batter has a tendency to stick. You can add a small amount of coconut oil (or any cooking oil of choice) to the skillet between batches.
While cooking the pancakes, little or no bubbles will rise to the top, unlike other pancakes. Don't be alarmed- this is normal. You'll know the pancake is ready to flip when the sides firm up and you can get the spatula underneath the pancake easily without it spreading. In this sense, remember these pancakes do require a substantial amount of time to cook properly.
Recipe Adaptations:
Almond milk can be used in place of coconut milk, but the texture won't be quite as moist or fluffy and the pancakes will crumble slightly.
You can halve the recipe if you're making pancakes for 2, or make the whole batch and enjoy the pancakes as a snack or breakfast during the week. Also check out my Blueberry Coconut Flour Pancakes for One if you're cooking for just your onesie.
Note that the tapioca flour in this recipe is optional. I always use tapioca flour in my grain-free recipes, because it helps with binding and fluffing. If you don't have tapioca flour on hand, and you don't shy away from a little pancake crumble, there's not need to make an extra trip to the store for the tapioca; however, if you truly are looking for a fluffy pancake, I strongly encourage tapioca flour. If you decide to omit the tapioca flour, reduce the amount of coconut milk to 2/3 cup and add 1 tsp baking powder.
There is no easy replacement for the actual coconut flour in this recipe – the recipe itself is very specific to coconut flour, so please do not try to replicate the recipe using any other flour. I know some of you will ask if the coconut flour can be replaced with almond flour in this recipe, and yes, it certainly can – but the rest of the recipe will change as well. If you're looking for pancake recipes using other flours, I encourage you to check out my Almond Flour Pancakes recipe, or have a look at my whole kit and caboodle of pancakes recipes.
My all-time favorite ways of topping pancakes are:
Homemade blueberry syrup/compote (or any fresh fruit compote for that matter)

Almond butter + maple syrup

Butter + maple syrup
You can get ultra creative with your toppings as well as the flavors you add to the batter itself.
Questions? Comments? Results? Let me know! Enjoy your stack of coconut flour pancakes!
Basic Fluffy Coconut Flour Pancakes
Grain-free pancakes made with coconut flour are dairy-free and paleo friendly
Instructions
Add all of the ingredients for the pancakes to a blender and blend until smooth. The batter will be very thick.

Heat a griddle or skillet to medium and add enough coconut oil (or cooking oil) to coat the surface, about 2 tablespoons. Wait 3 to 5 minutes for the skillet/griddle to heat up all the way before cooking the pancakes.

Measure a scant 1/4 cup of batter and pour onto the hot surface. Cook 3 to 4 minutes, until the sides of the pancake begin to firm up. Carefully flip and cook on the other side an additional 2 to 4 minutes, or until pancake is cooked through. Repeat for remaining batter (Note: I cook 3 pancakes at a time on a 10-inch skillet).

Serve pancakes with choice of toppings
Notes
*you can also use almond milk, but coconut milk results in a more moist and texturally pleasing pancake
**replace the coconut oil with olive oil, grapeseed oil, almond oil, etc if desired.
Nutrition
Serving:
1
pancake
|
Calories:
162
kcal
|
Carbohydrates:
10
g
|
Protein:
4
g
|
Fat:
11
g
|
Fiber:
2
g
|
Sugar:
4
g
More Grain-Free Pancake Recipes: