Gluten-Free Apple Walnut Pancakes made with coconut flour are cinnamony and taste like a fall explosion in a pancake. Whip them up this weekend!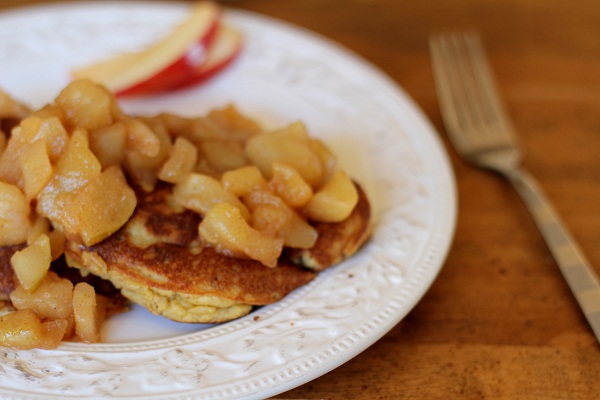 Tell me. I need to be told.
Julia. You're not the only one who is 26 and still doesn't have it all figured out. "It" is not easily figurable. "It" doesn't have to be "it" forever. "It" is a pain in the booty. I need this to be told to me daily….nay, minute-ly. Teeeeeell me.
Hey Julia, you know that skirt you've been wearing since 2000? It's 12 years old. It may feel new to you, because it hasn't been stained, ripped or stolen, but it has gone through 7 moves with you; it's sick of traveling. And it's 12 years old. Get. A. New. One. You should tell me this.
Hmm…you should probably prune the garden. If you don't, there will be tears. When left ignored, some things attract colonies of you-don't-want-that-crawling-on-your-food. Don't ignore leafy greens…or anything for that matter. Say these words to me, it's fine.
It okay, you can tell me that just because Spice Girls' Wannabe is stuck in my head does not mean it needs to be sung out loud. Please remind me. Tell me twice. Unless it's Halloween or International 90s Day, in which case, you should be singing too.
I need to be told a lot of things, sometimes with a loud voice and big eyes, sometimes more than once. Sometimes recipes require more than one go-round.
Like coconut pancakes. The finickiest pancake on the planet. They're full of protein, naturally gluten-free and they have wonderful flavor…but they are finicky and I never seem to make them the same way twice.
Nevertheless, they're worth the hassle and they're excellent for a slow Saturday morning. You can make them while you're being told not to sing Spice Girls.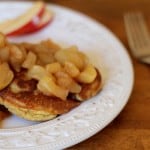 Fluffy Apple Walnut Pancakes
Fluffy Gluten-Free Apple Walnut Pancakes are an amazing fall breakfast.
Print
Ingredients
For the Gluten-Free Coconut Flour Pancakes:
For the Apple Topping:
2

honey crisp apples

peeled and chopped

1

teaspoon

whole wheat flour for thickening

optional – leave this out to make the whole recipe gluten-free

2

tablespoons

water

1

tablespoon

heaping honey

¼

teaspoon

ground cinnamon

½

teaspoon

fresh ginger

grated
Instructions
For the Apple Topping:
In a small sauce pan, add the chunks of apple and water. Cook on medium heat until juices are seeping out and the contents come to a full boil. Add the honey, flour, cinnamon and ginger, mixing well. Reduce heat to medium-low and cover, stirring every few minutes. Cook until the apples are soft and they're coated with a thick syrup, about 45 minutes to an hour.
For the Coconut Pancakes:
Mix wet ingredients together in a bowl then add the dry ingredients and stir to combine. Let the batter sit for 10 minutes and then adjust the batter if necessary from there (see note below).

Add a dollop of butter or a small amount of oil to a large skillet. Heat skillet to medium-low (allow it to heat all the way up to the medium-low setting). Stick with small to medium-sized pancakes, using a tablespoon or two of batter per pancake (On a 12" skillet, we cook 3 small pancakes at a time). Cook on one side for 5 to 7 minutes and then very carefully work a spatula all the way underneath the pancake to flip it. These pancakes are easy to "break". Cook on the other side an additional 3 to 5 minutes until cooked all the way through. Repeat for all of the batter.

Scoop a heaping portion of the apple topping onto your pancakes and enjoy
Recipe Notes
If you are a must-follow-a-recipe-to-the-T person, coconut flour pancakes may not be for you. They are very sensitive to the amount of baking powder you add and over time the batter thickens (more so than with any other flour I've used), so the density of the pancake is commensurate with the amount of time the batter sits. If you make a batch and the batter spreads out on the hot skillet, let it sit another 5 minutes and if that doesn't help, add a more coconut flour a teaspoon at a time. If you thought you had the perfect portion of ingredients but the batter sat for more than 15 minutes, you'll probably need to add some liquid. If the pancake does not puff up when cooking on the skillet and cooks out flat, add another egg. While I'm fine with a fiddle-as-you-go approach, I know not everyone is. Send me an email if you have questions.